On one of our last evenings together in SF, my boyfriend took me out for what was undoubtedly the most delicious sushi meal of my life so far.  Practically every mouthful was of the freshest, most buttery, melt-in-your-mouth fish I'd ever tasted.
We went to Akiko's and ordered the Omakase (chef's choice), per J's foodie friend's recommendation.  And boy were we grateful for that recommendation.  Let me take you on a beautiful journey of mouthwatering morsels.
Are you ready?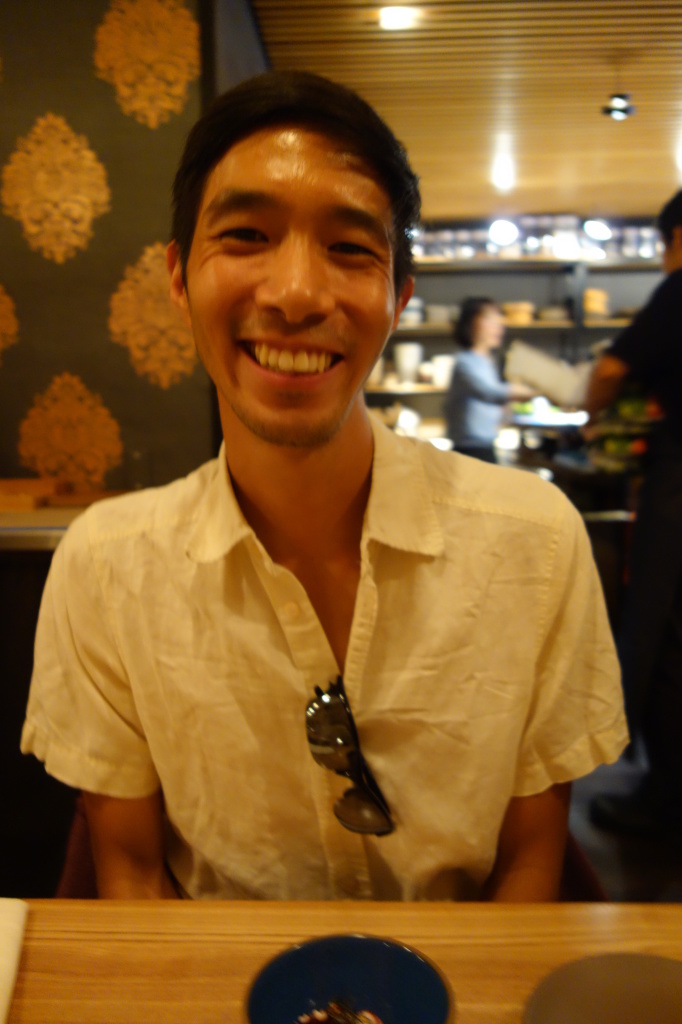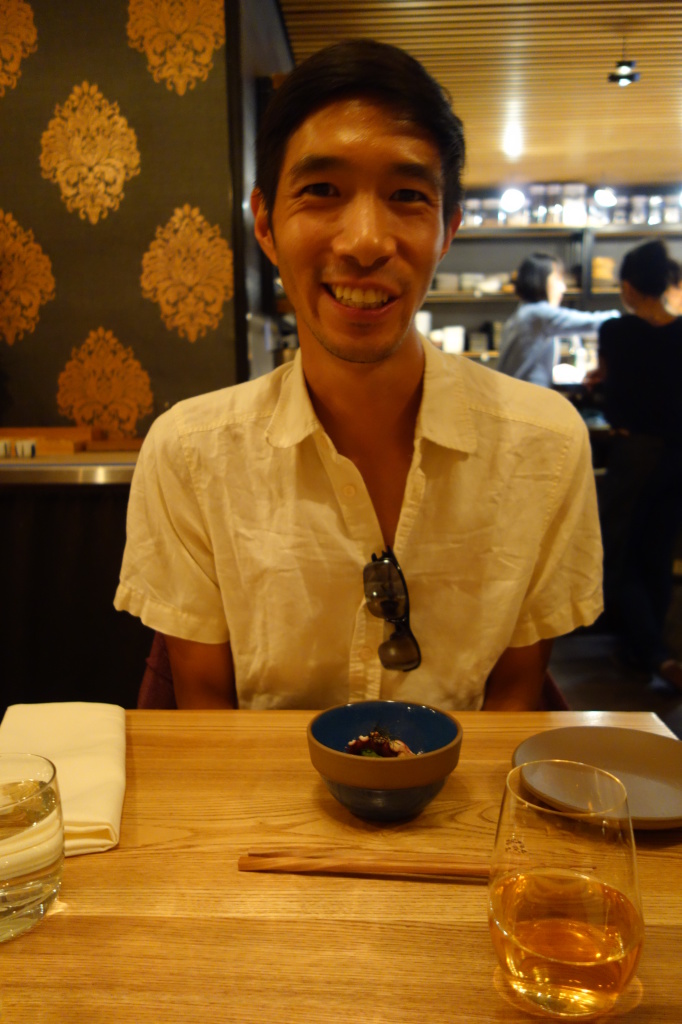 We ordered some Umeshu (plum wine) as that's my go-to Japanese restaurant drink.  It wasn't the best I'd had and honestly not really worth the money.  Yes, $10 for that small glass not-full, so I wouldn't really order it again.
The food, however.  Oh, the food!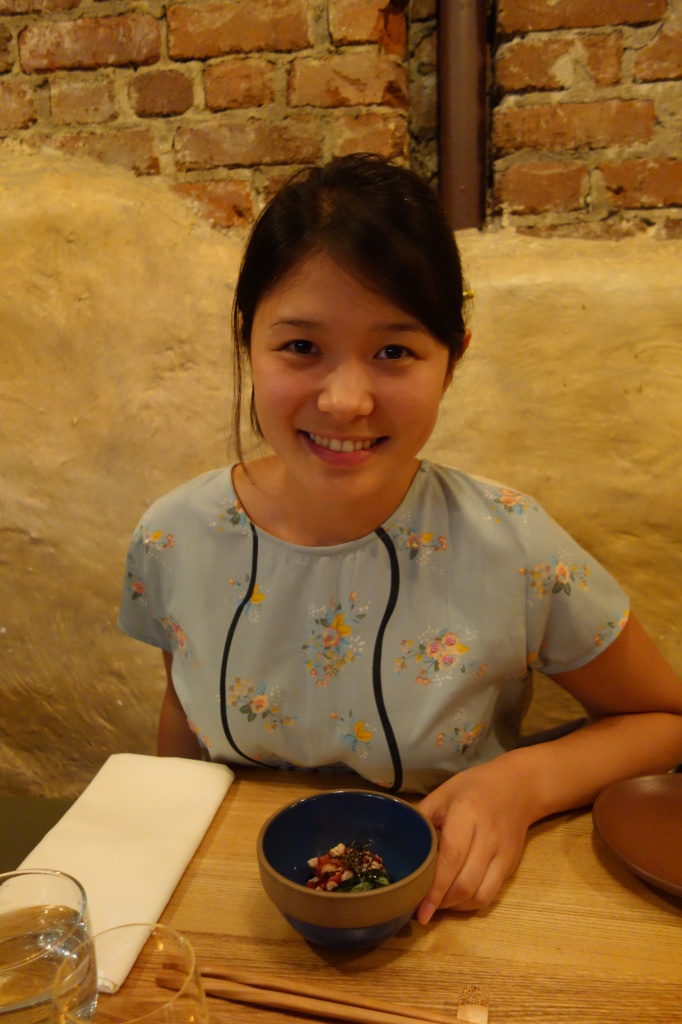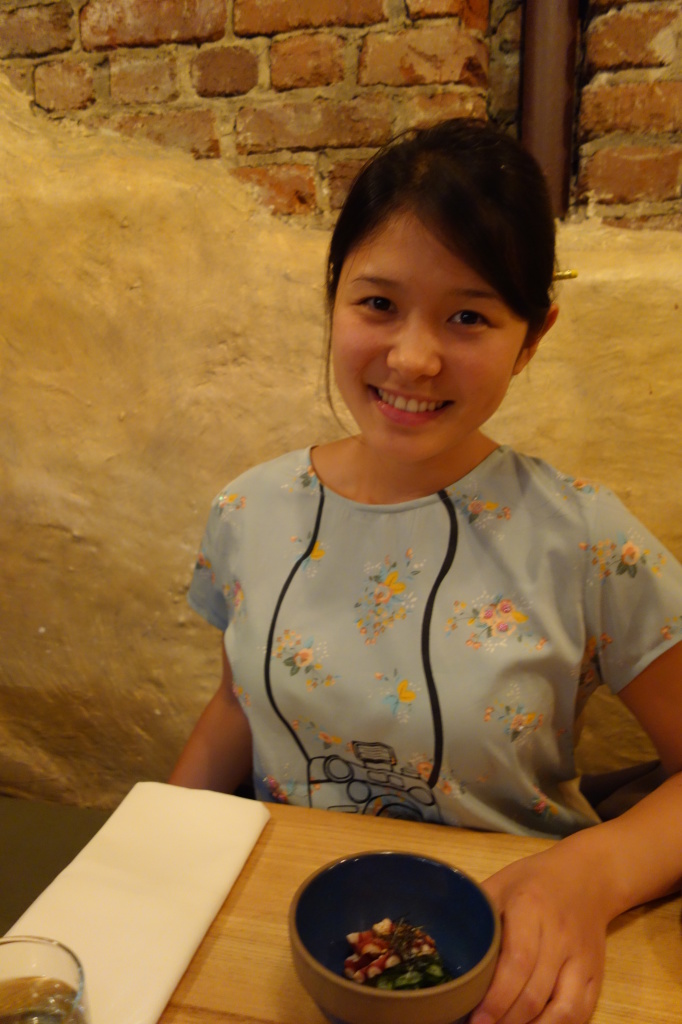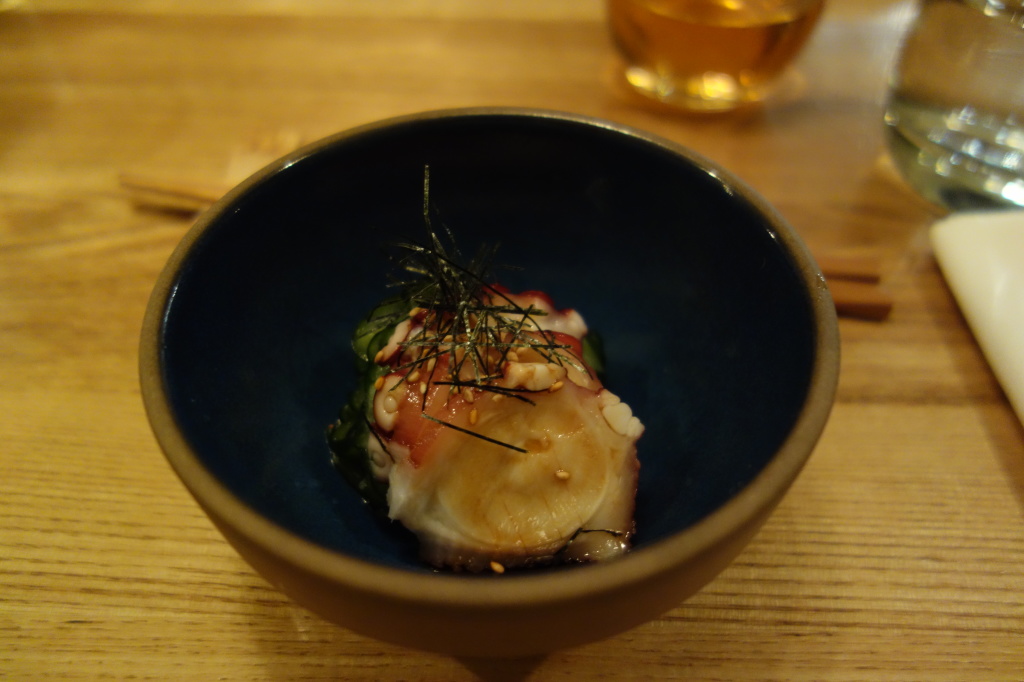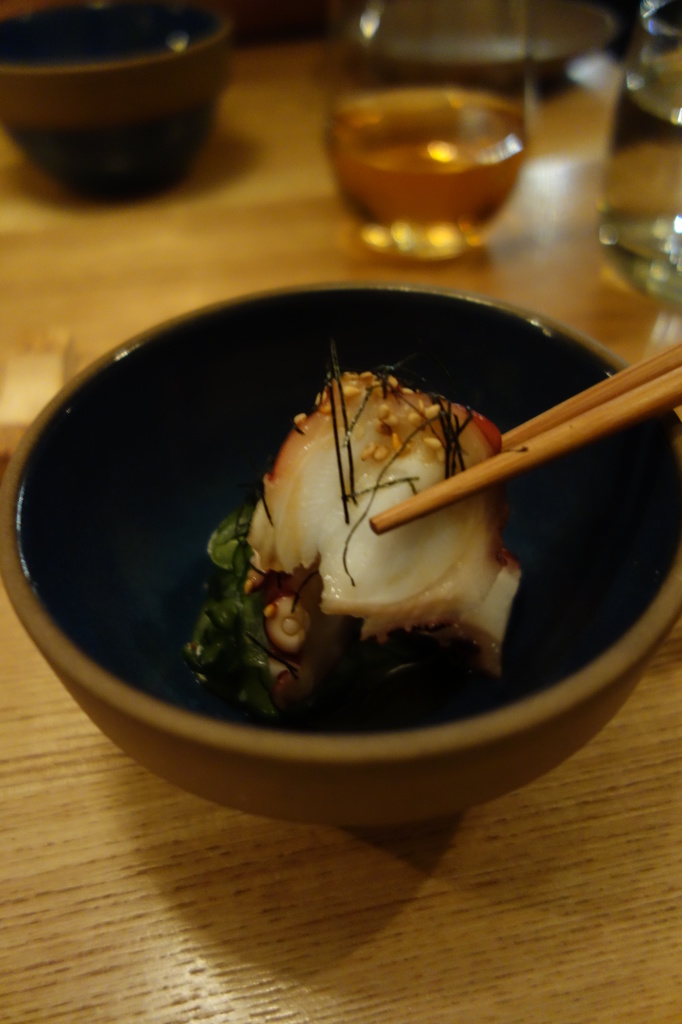 The Omakase was comprised of 4 sashimi and 8 nigiri with a small starter salad: squid in a sweet soy sauce with crunchy, flavoursome Japanese cucumber, garnished with sesame seeds and seaweed.
Perfectly seasoned and the flavours complemented each other perfectly.  It also helps that they probably used the finest ingredients as I have never tasted such tender squid before in my life.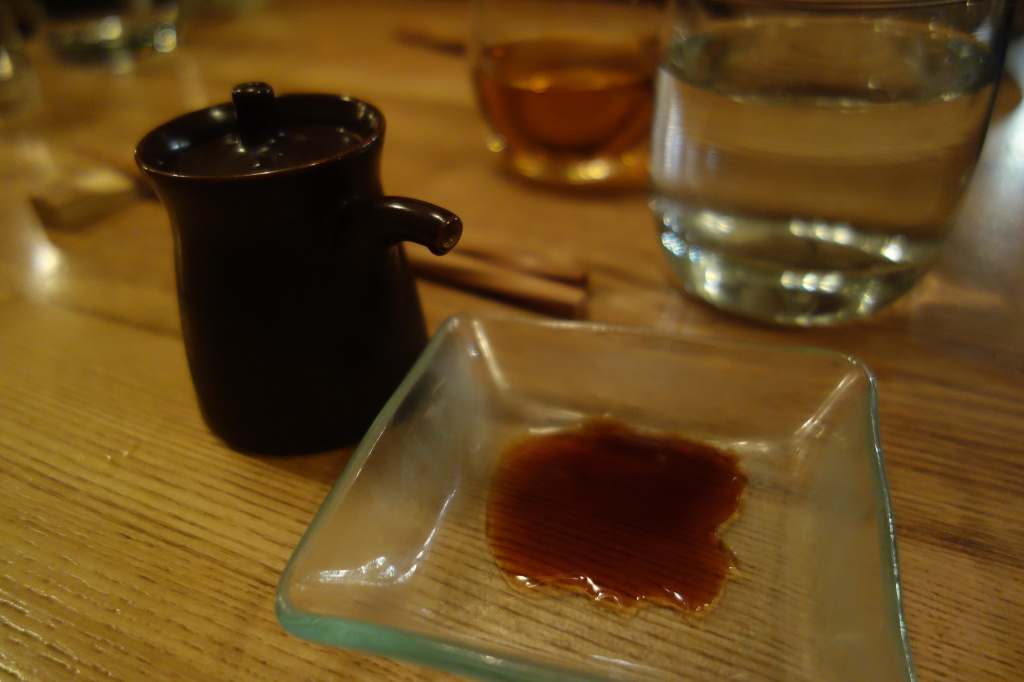 Even their soy sauce was special.  Every portion was explained to us by the serving staff.  I did feel they often rushed through the descriptions and the restaurant itself was very loud so I could hardly hear what they were saying.  Either way, I didn't quite hear what was special about it (something about how they're made fresh in the restaurant then aged for 125 days or something?), but it tasted lovely.
Then they brought on the sashimi.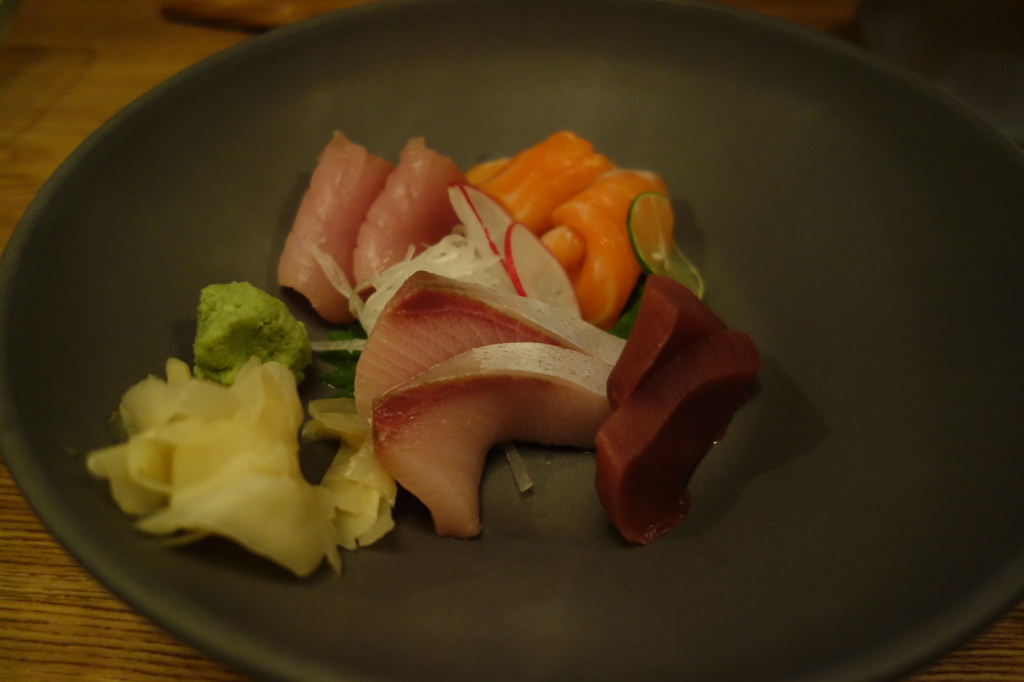 Oh. My. Word.  I tried to take photos.  I did take a few photos.  I had good intentions.  But when every slice became the most mind blowing mouthfuls of deliciousness I'd ever had, my poor camera was quickly forgotten.  It's safe to say my taste buds and culinary senses exploded in pleasure and are now spoiled for the rest of my life.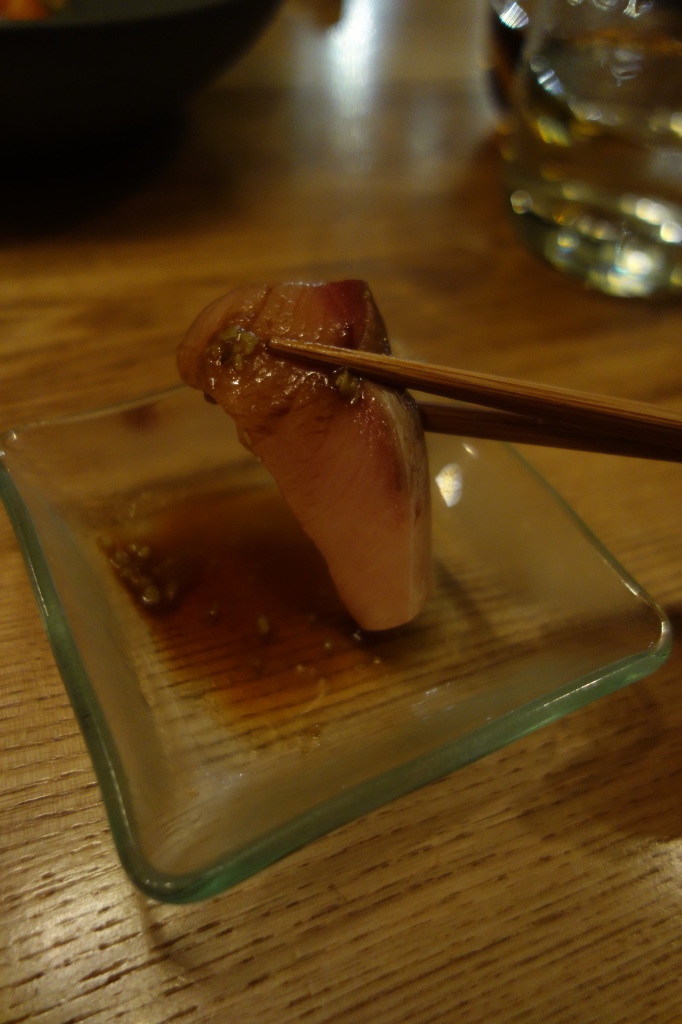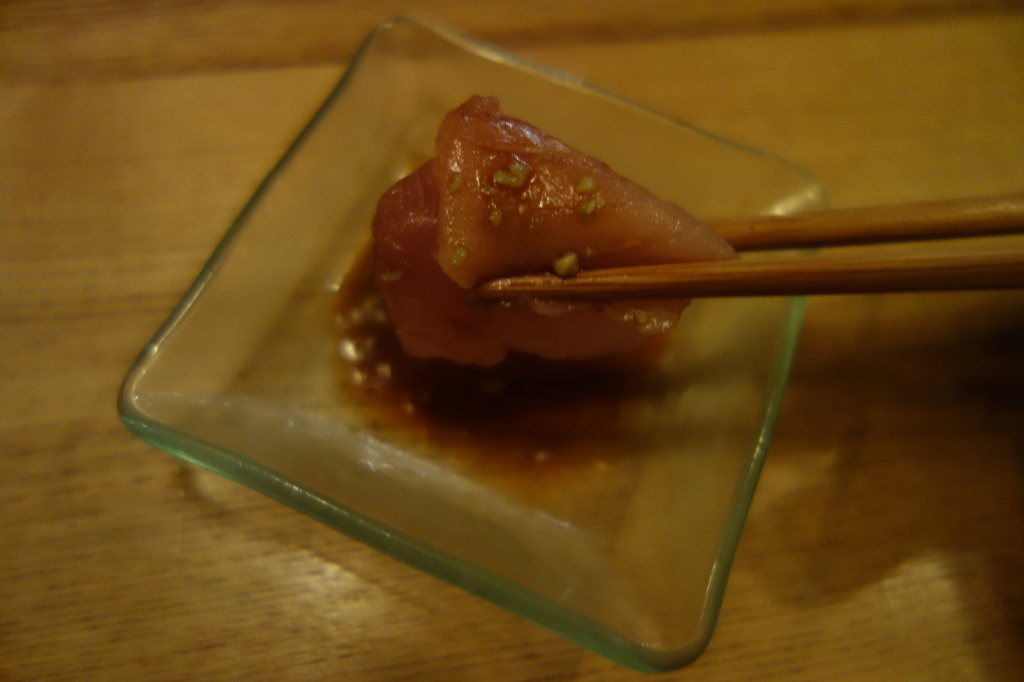 Honestly… the. most. delicious. sashimi. I've. Ever. Tasted.
I will never be able to eat sashimi and not compare it to this.
They hit us next with sardines, topped with ginger and spring onions over a pocket of sushi rice, pre-seasoned with a drop of soy sauce:
These were not my favourite.  I'm not a fan of sardines in general, but my piece especially was full of fish bones.
However, as I was trying my sardines, the nigiri selection plate was placed in front of us. You only need to see my reaction video to know what we thought of those:
Unsurprisingly I was so in love with the first two I forgot to take photos.  In fact, we loved it so much we forgot to take videos as well.  But here are some pics of the final two: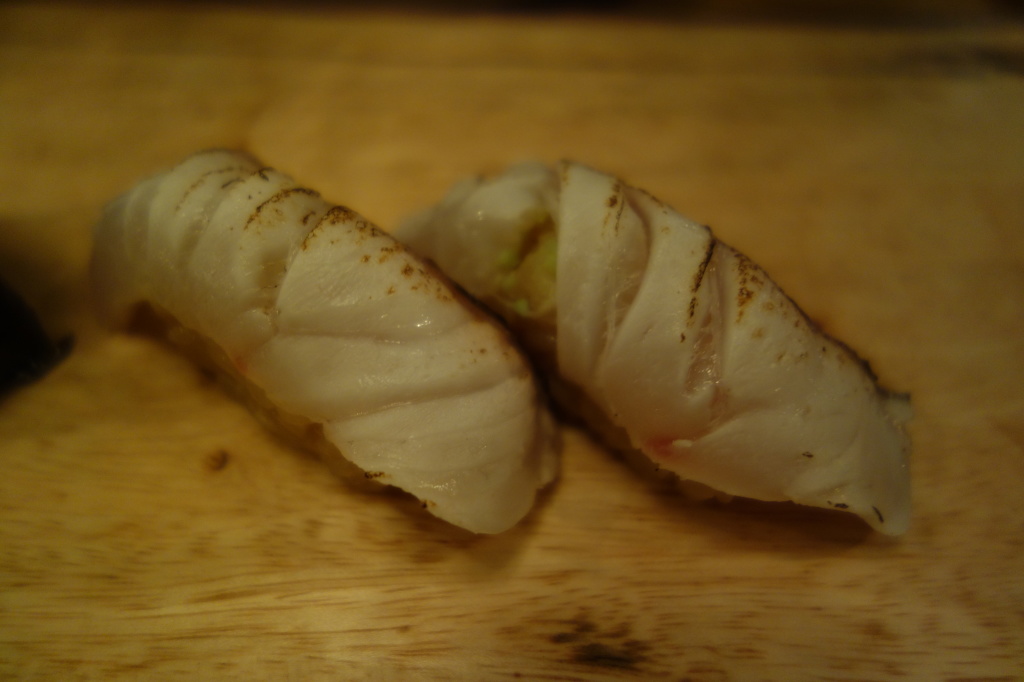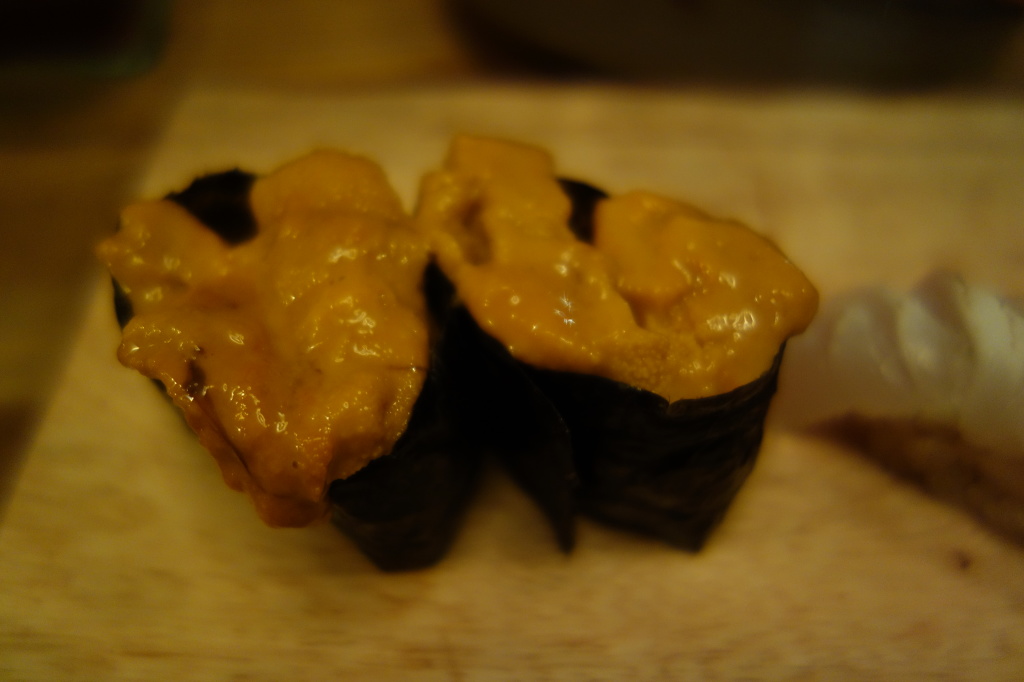 This was the Santa Barbara Sea Urchin.  Read that again: sea urchin.  Yup.  Ugh.  This was the only mouthful of the entire meal that was unpleasant.  In fact, it made me physically sick, I actually gagged.  The taste, the texture… I felt the texture was of mush and the taste was akin to the dirty crap you get in prawns.  Yes, I am comparing it to sh*t.
I had to drink a lot of water to wash it away.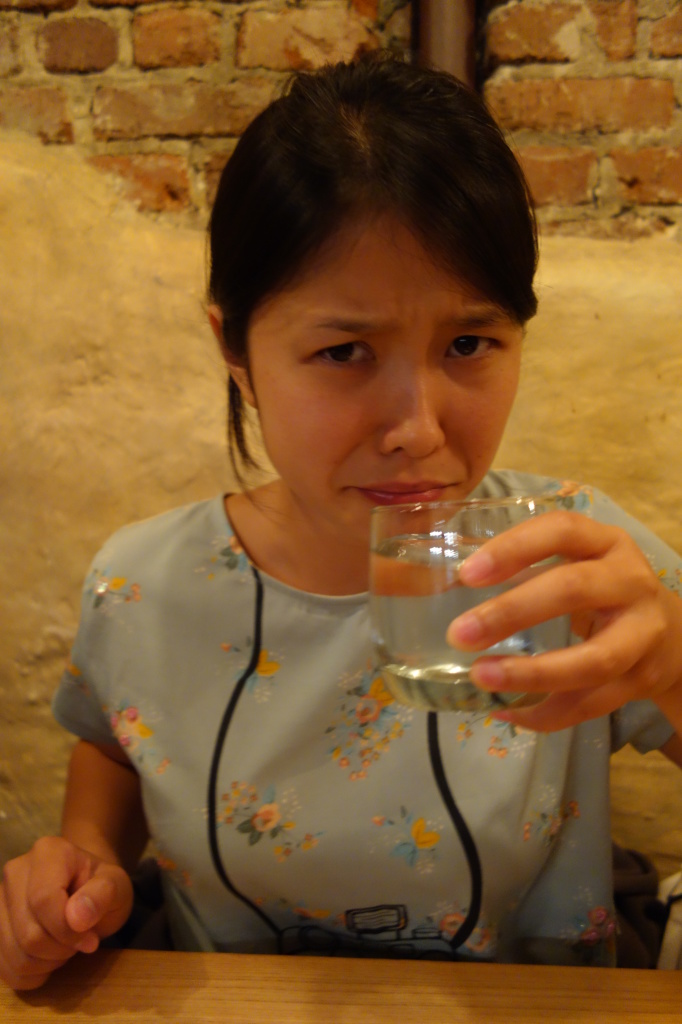 I had a look at the menu and it's $12 individually!  Gosh.  Unless it's part of the Omakase or you have very strong (or weak, depending on how you look at it) taste buds, don't get it. J actually thought it wasn't too bad, but "not too bad" is definitely not what I'd expect at $6 a piece.
However, the final slate more than made up for that.  In fact, it blew our minds.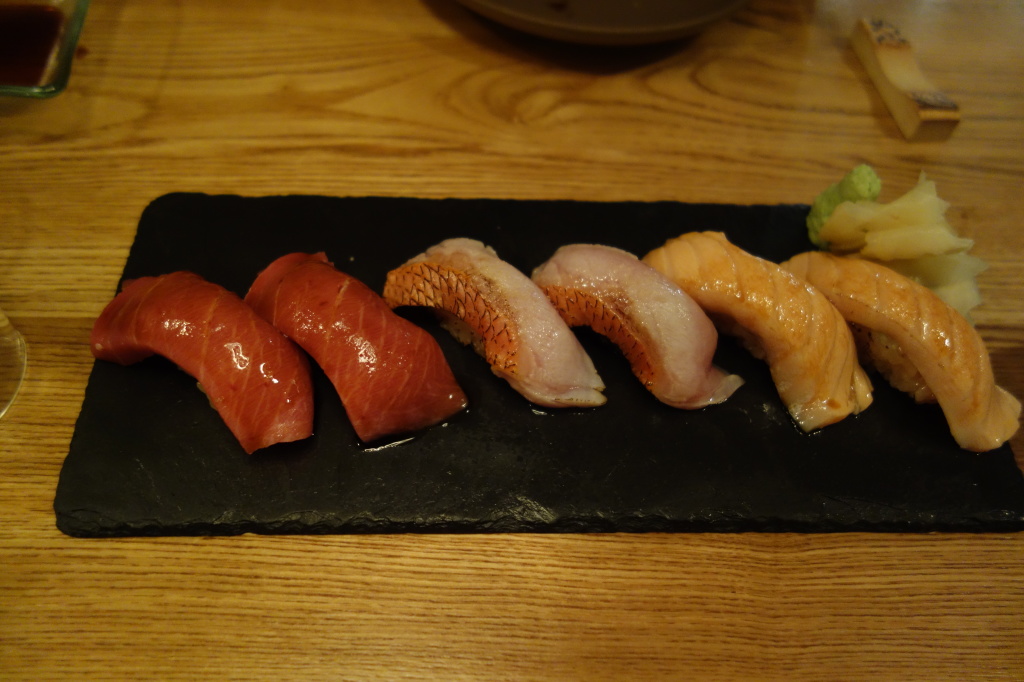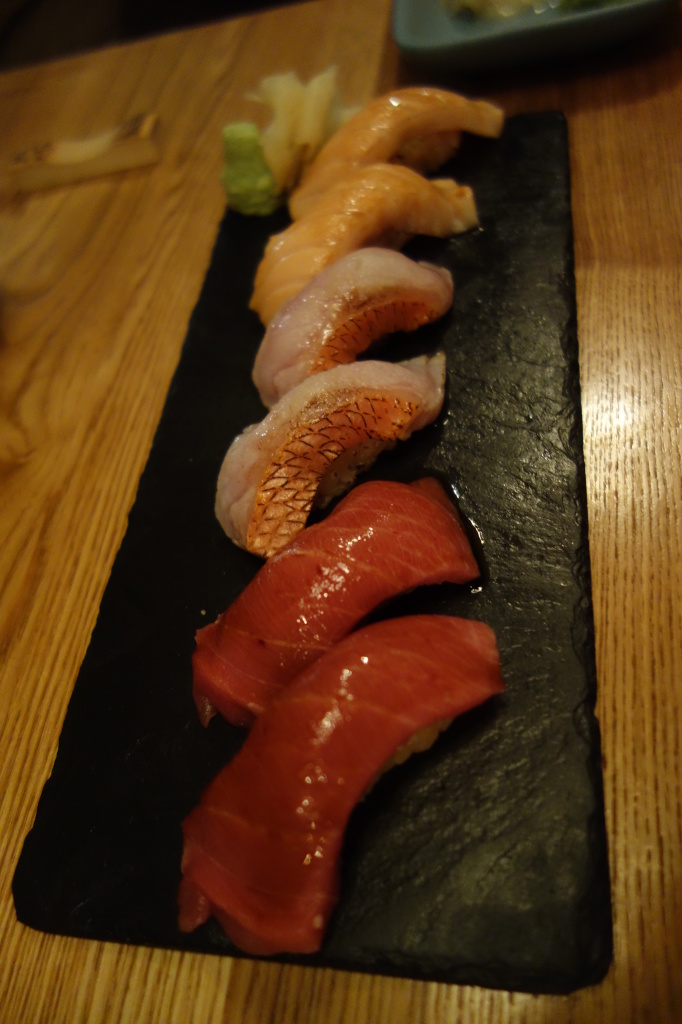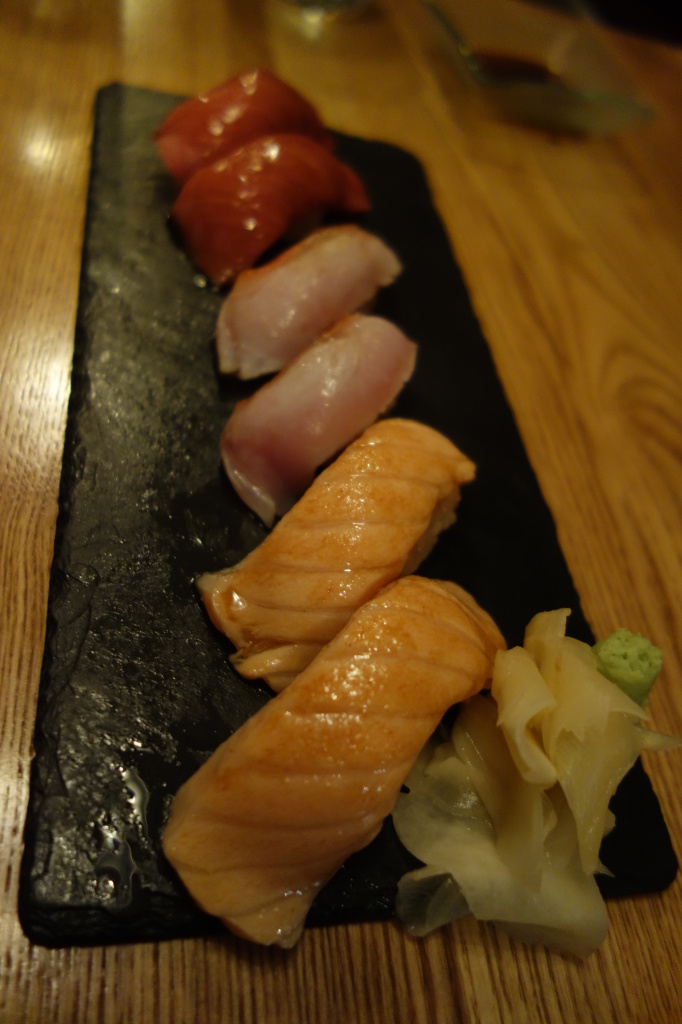 We started with the salmon:
He generously offered his piece of salmon to me as well, which I was almost genuinely tempted to take. But I knew it was his favourite so insisted he should enjoy it. And enjoy, he did.
The correct answer is yes. Yes, it is. Next up, smoked something. If you can identify said something, please let me know because I would quite like to buy a truck load of it and eat it for the rest of my life.
J went first for the last one.
In case you hadn't yet guessed from our 'ooh's, 'ahh's and various other sighs of pleasure or speechlessness, the food was pretty exceptional.
We also ordered an extra portion of Tamago (egg omelette) because I love the stuff, but after all of that delicious fish this was a bit of an uninspiring finish, but served well as a piece of 'dessert' sushi. It was cooked well and was subtly sweet.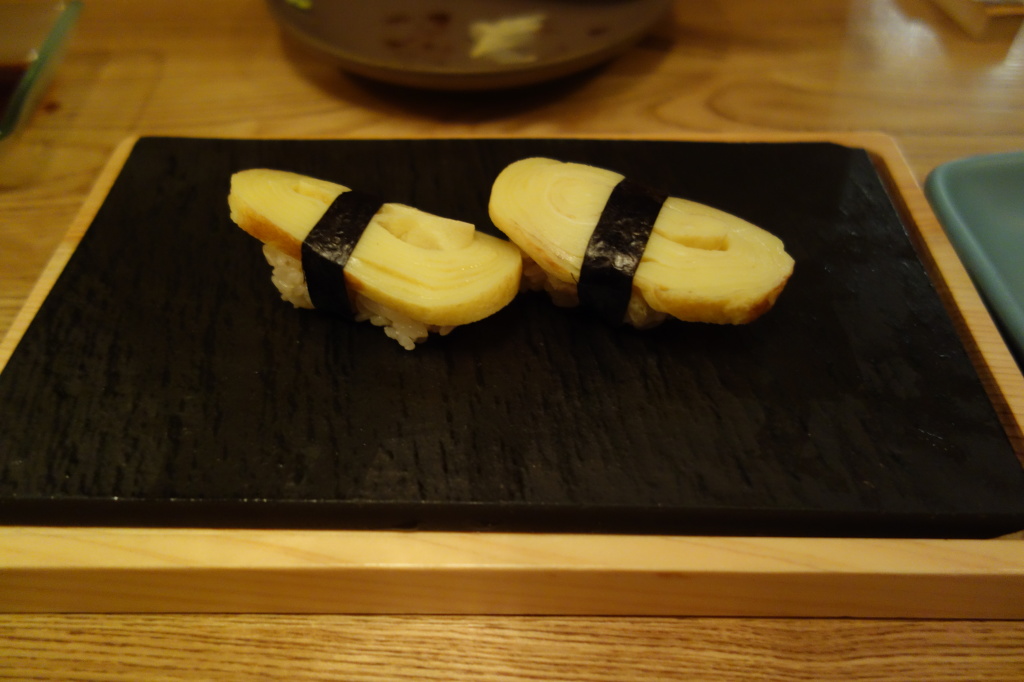 Unfortunately not the best Tamago nigiri I've had either. But that should absolutely not put you off from paying Akiko's a visit.  Just don't order an extra piece of Tamago ;)
If you would also like to have one of the best sushi tasting experiences of your life, make sure you book a table in advance.  They'll rarely – if ever – have tables available if you simply show up.  And get the Omakase.
It's not cheap, and unfortunately won't fill up a very hungry soul (the Omakase cost something like $80 per person and you've seen it's only ~12 pieces of fish) but for a special occasion and some outstanding sushi, it is well worth the money.
Perhaps a Christmas treat for a loved one?  Or if you're seriously trying to impress a business partner (although do beware on this one – I think you can hear quite easily from my recordings that it gets very noisy in there)?  Either way, I would undoubtedly recommend this place to anyone.  Any day, any time.
I'm a massive sushi lover and have had my fair share of good raw fish in my life, but this was really something else. So much so, that I thought this place deserved its' own blog post.  Yup, it was that good.
J – thank you so much for taking me! …My bf is so good to me *happy bunny face*.
Muchos love,
Bobbie
p.s. In case you were wondering, my lovely little photography top is from Yumi Direct. Unfortunately the top is now no longer in stock but it's become one of my favourite brands. I have so many gorgeous dresses from there i.e. my blue floral print dress that made an appearance in both my Santa Barbara and previous San Francisco (the more beady eyed of you may have spotted it in the Terra Cotta restaurant pic) posts.
Do have a snoop and see if you can spot a gem!