There are simply too many photos to share, and I'm majorly behind on blogging.  I don't want to forget recent events because I've delayed writing about them for so long, so looks like the plan is to squish the rest of my States trip into one or two more posts, and start writing about recent stuff.
Sit tight, this one's a long one and very photo-heavy!
8th Sept – Final Day in LA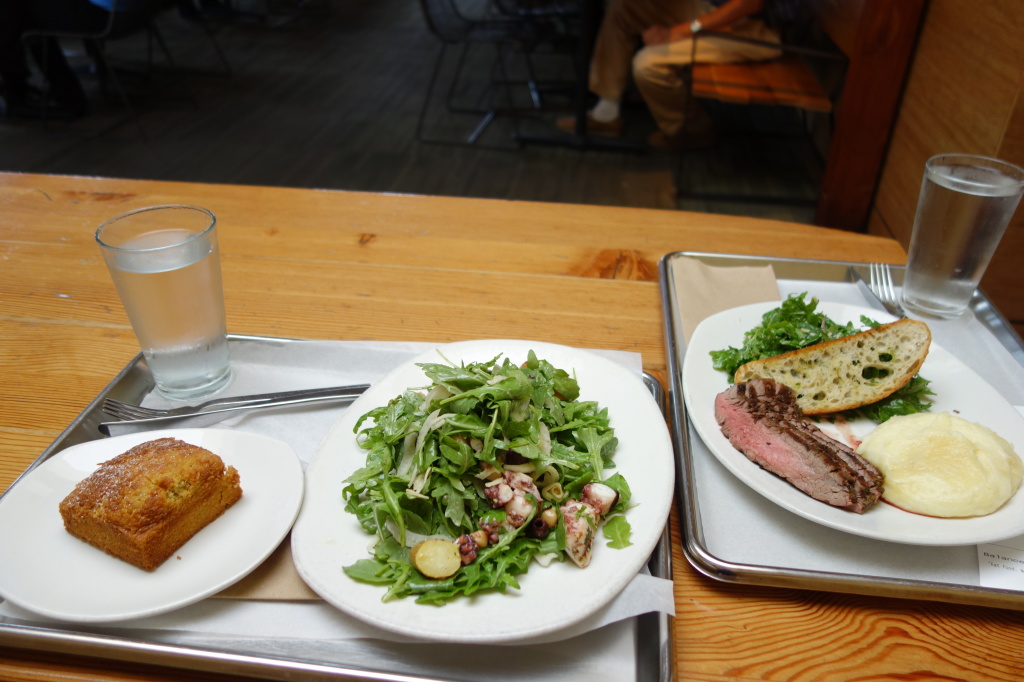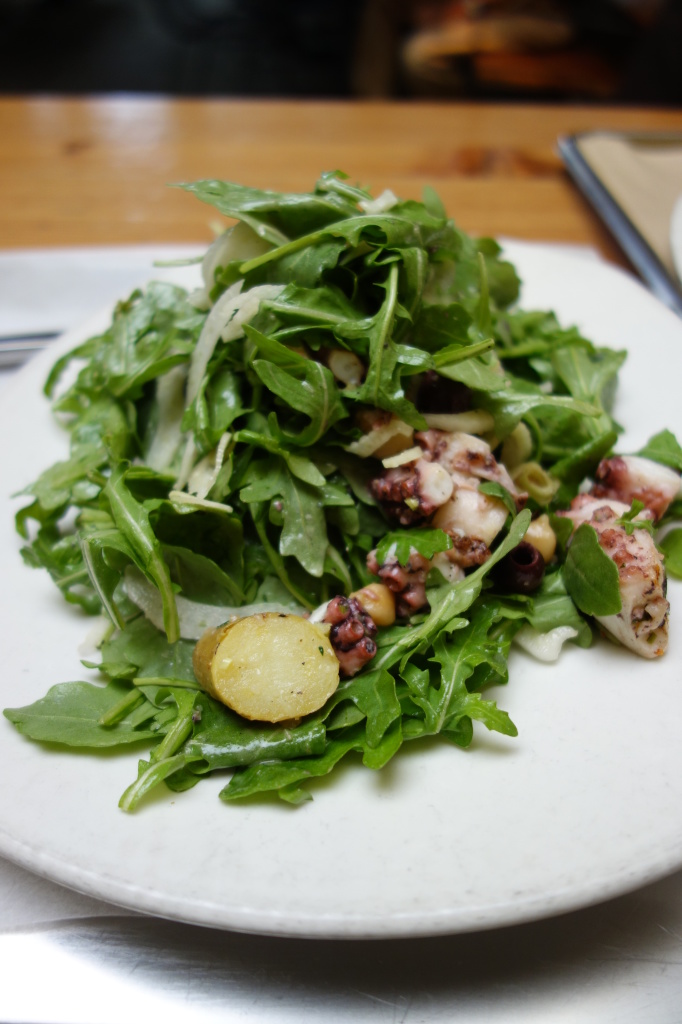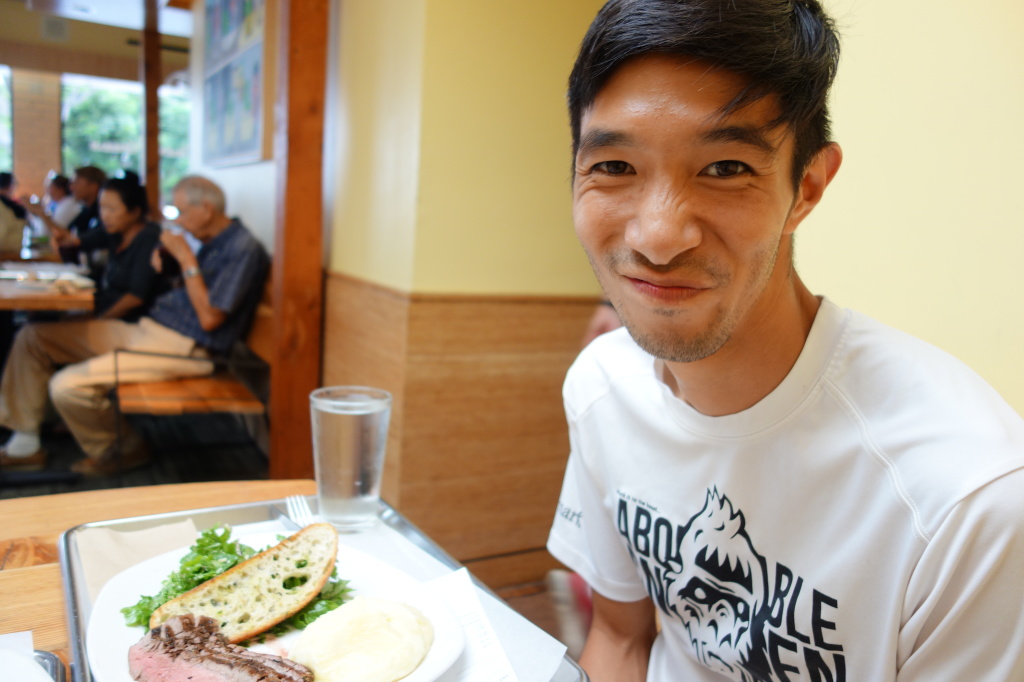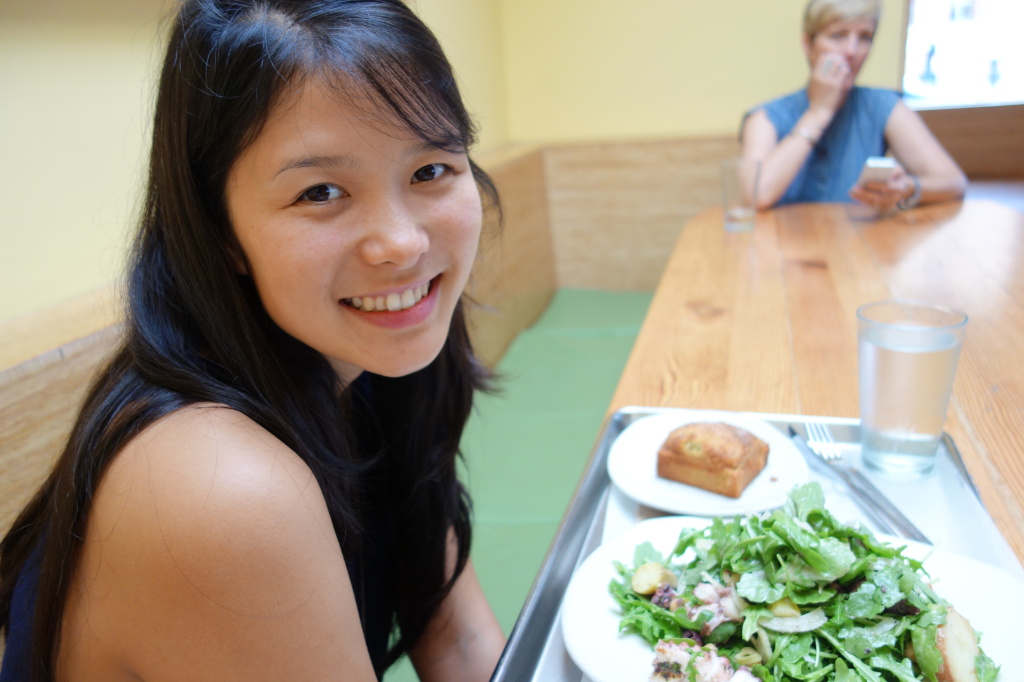 We had a healthy, organic lunch at Tender Greens.  It's not really my favourite type of salad.  I like salads where I know I'm eating a salad but it feels like I'm tucking into a roast dinner, bursting with flavour and deliciously filling, which is the type of salad I'm used to getting in London at the coffee/lunch spot a stone's throw away from my office, Coffee Junction.
I felt like a bit of a rabbit at Tender Greens.  And my salad was pretty drenched in sour salad dressing.  Not filling, not really to my tastes either.  The lemon and poppyseed cake was tasty though.
We chilled and wandered around the rest of the afternoon.  Then evening came.  Guess where we went!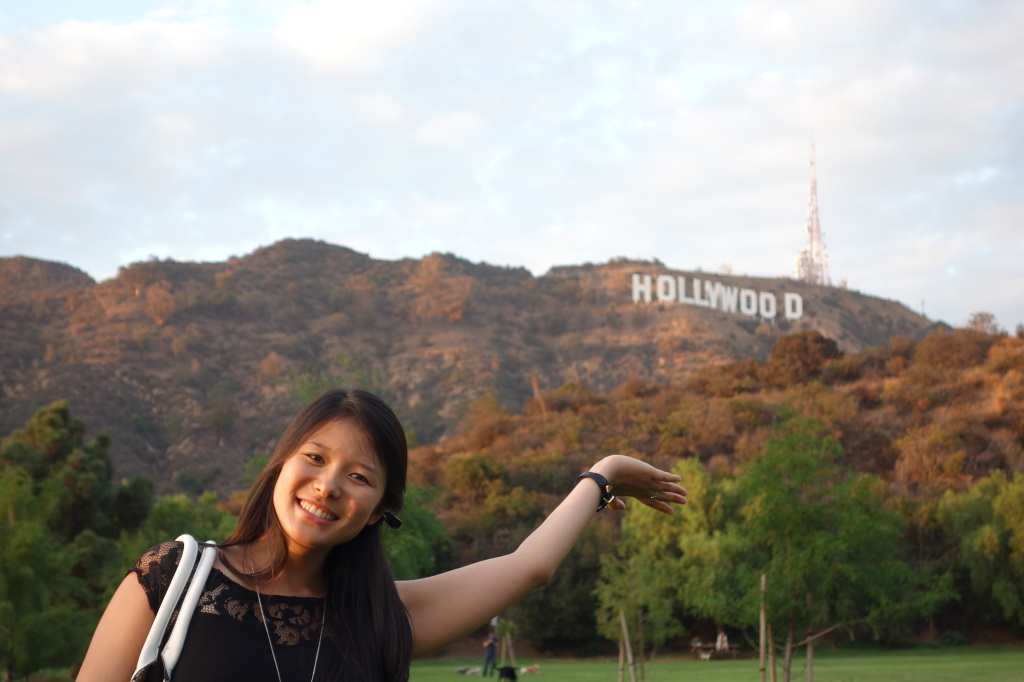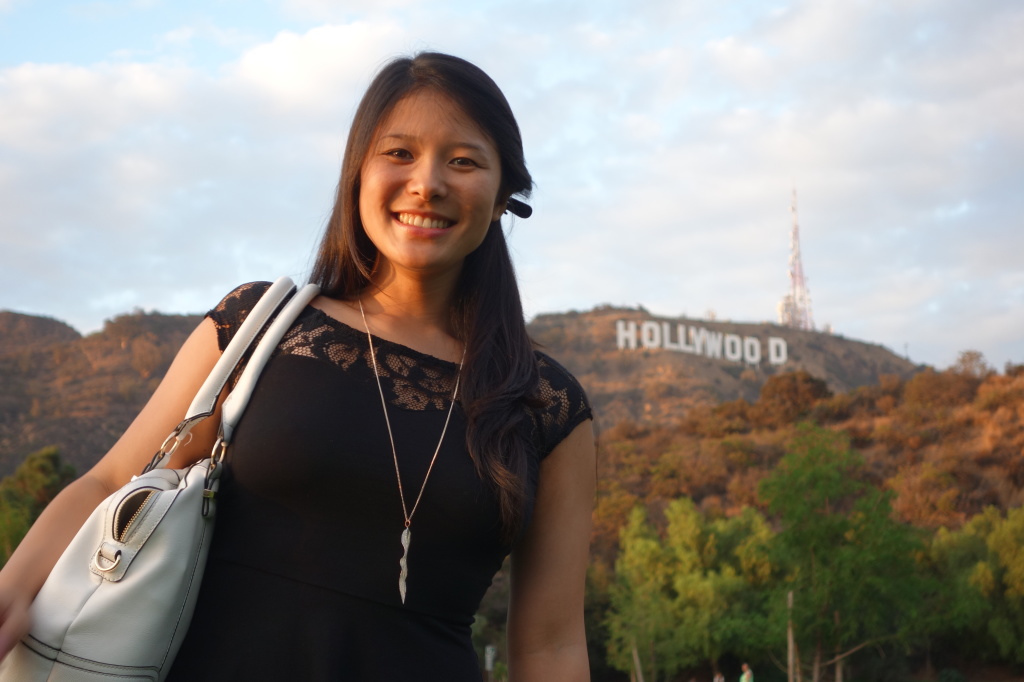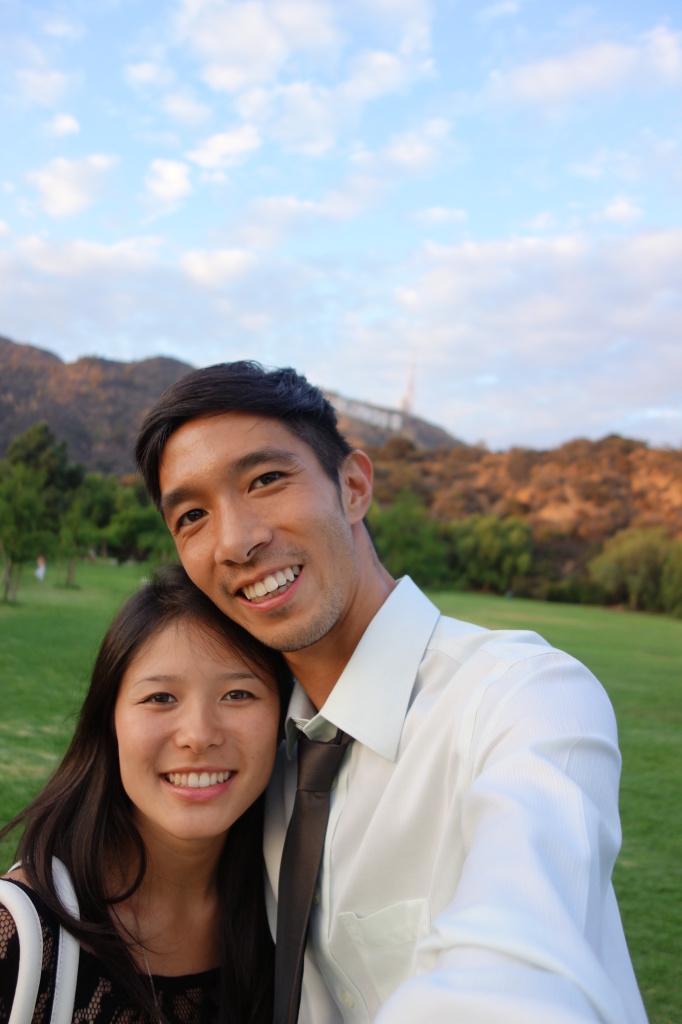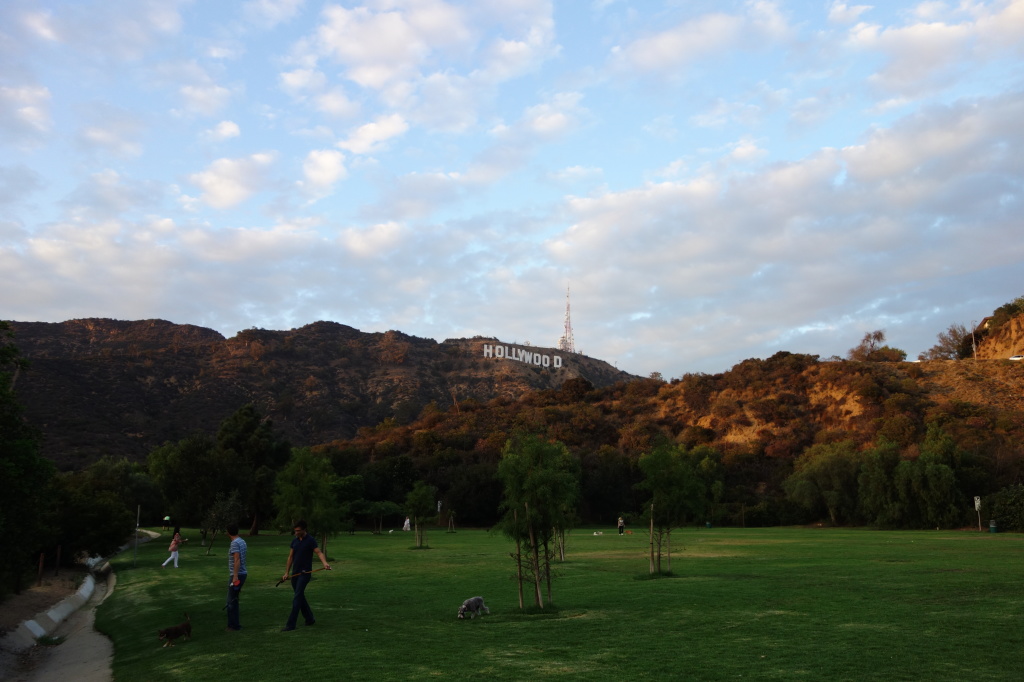 And had a gorgeous view from the LA Observatory: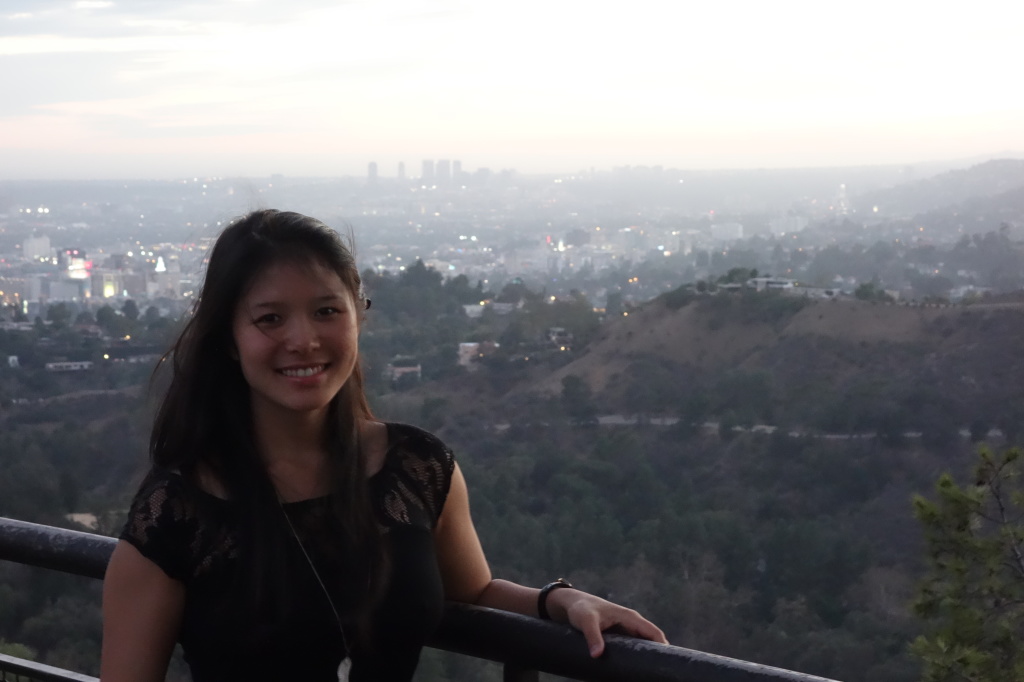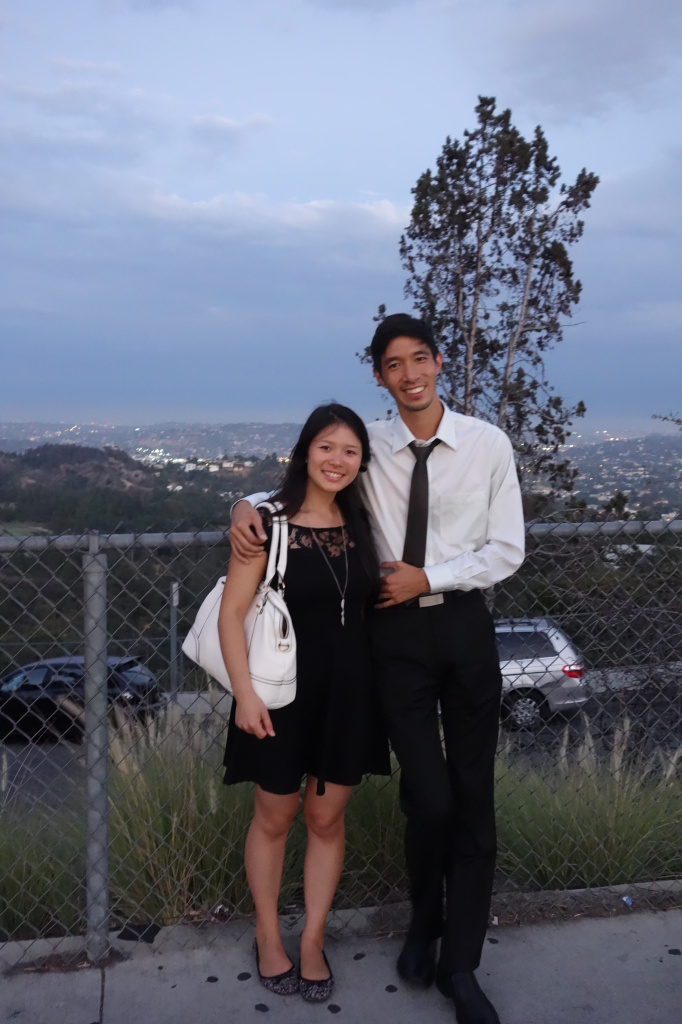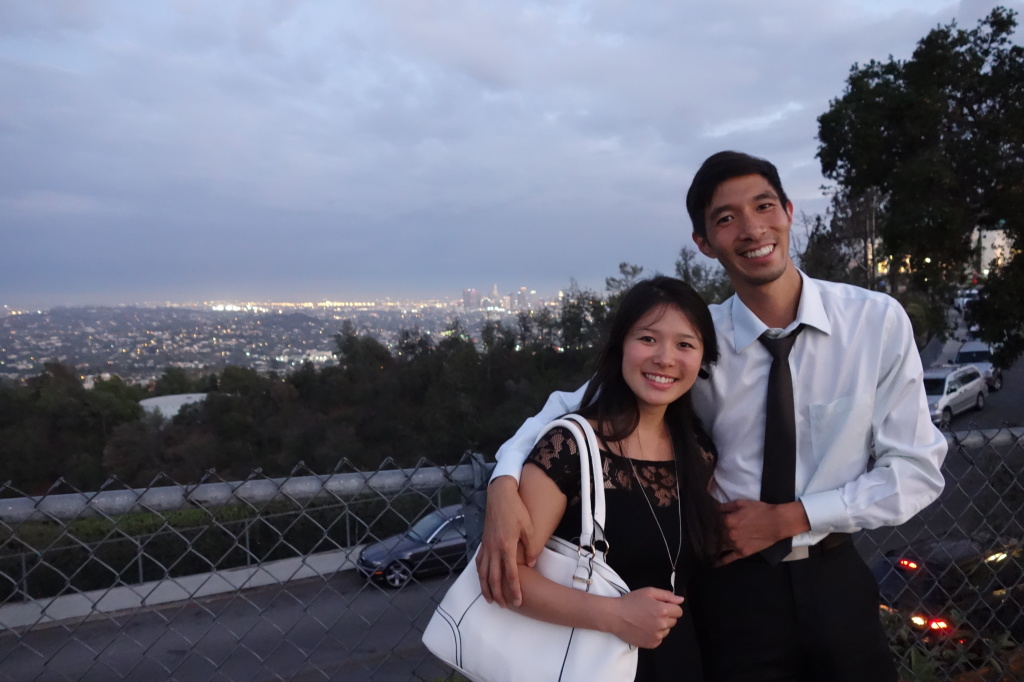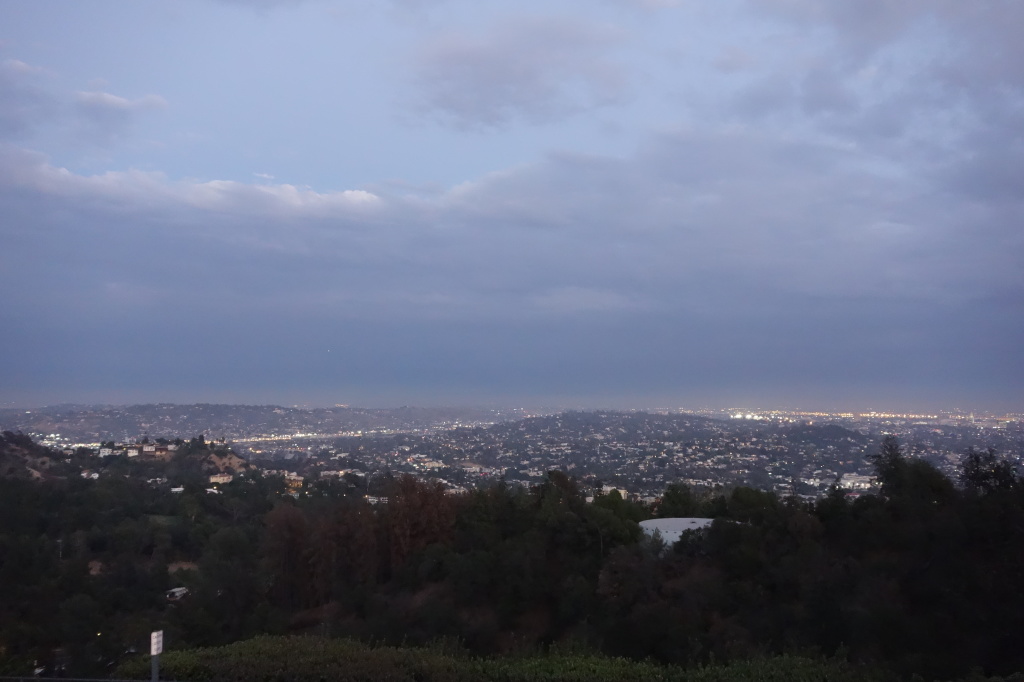 Finally finishing off with a nice meal at Ado: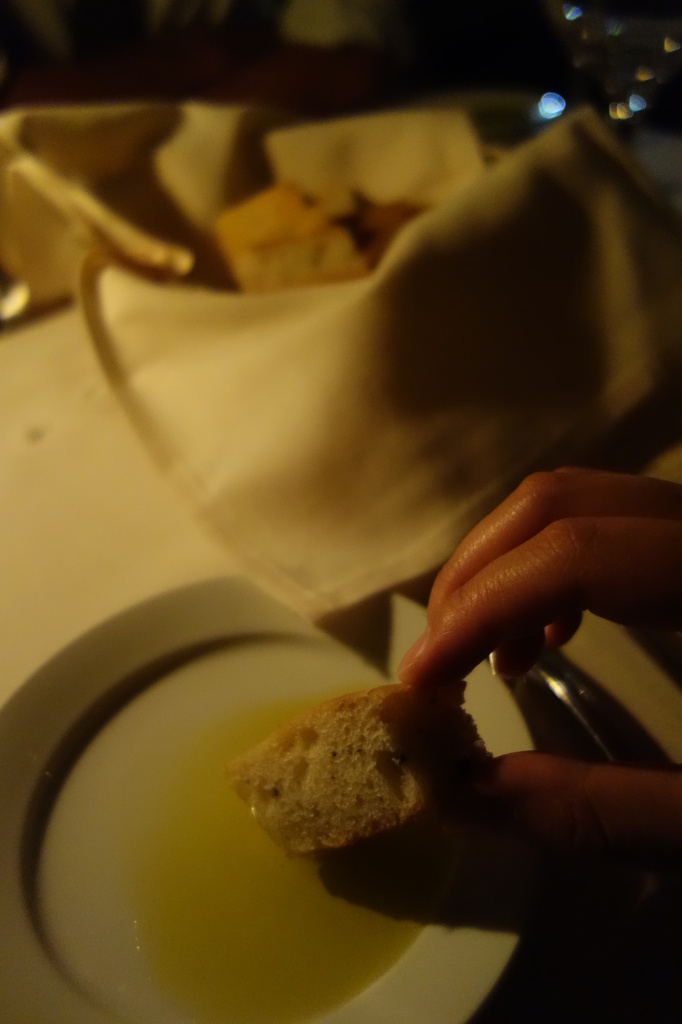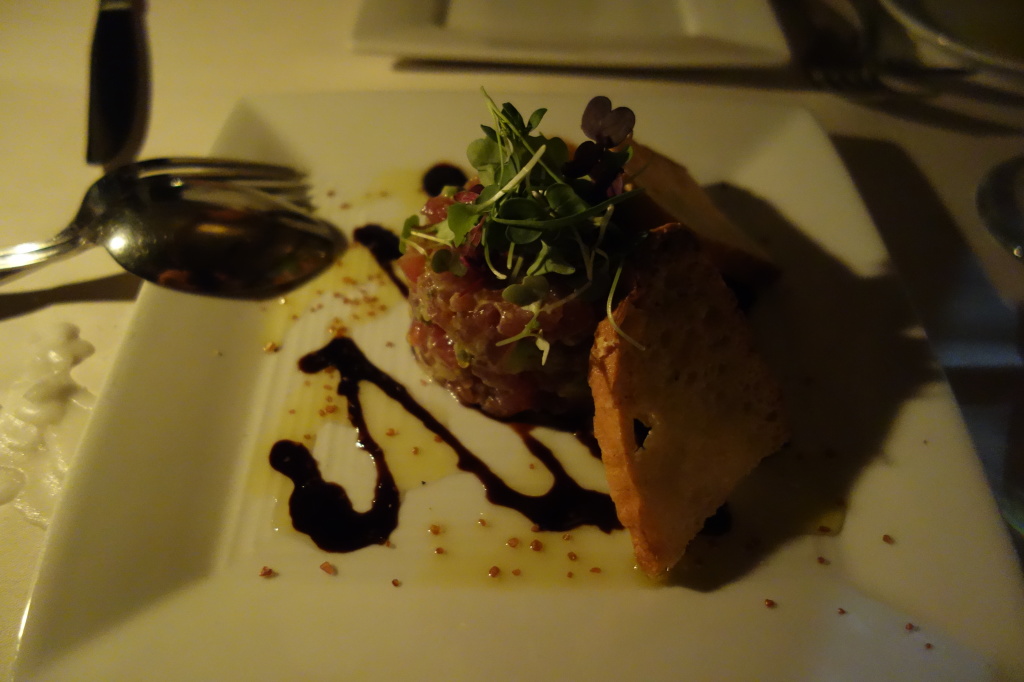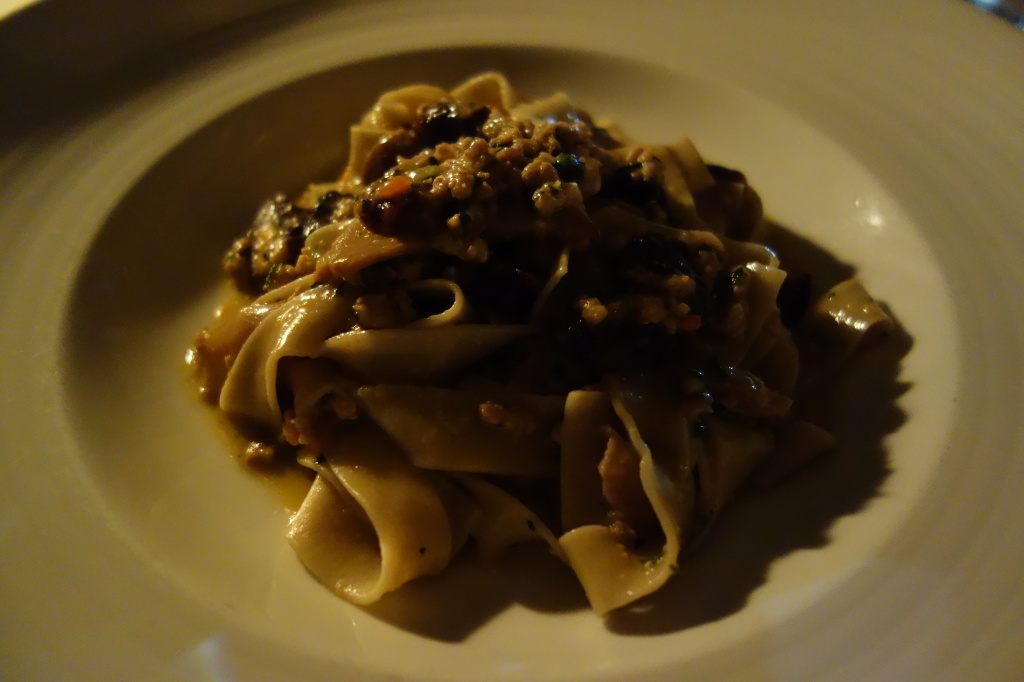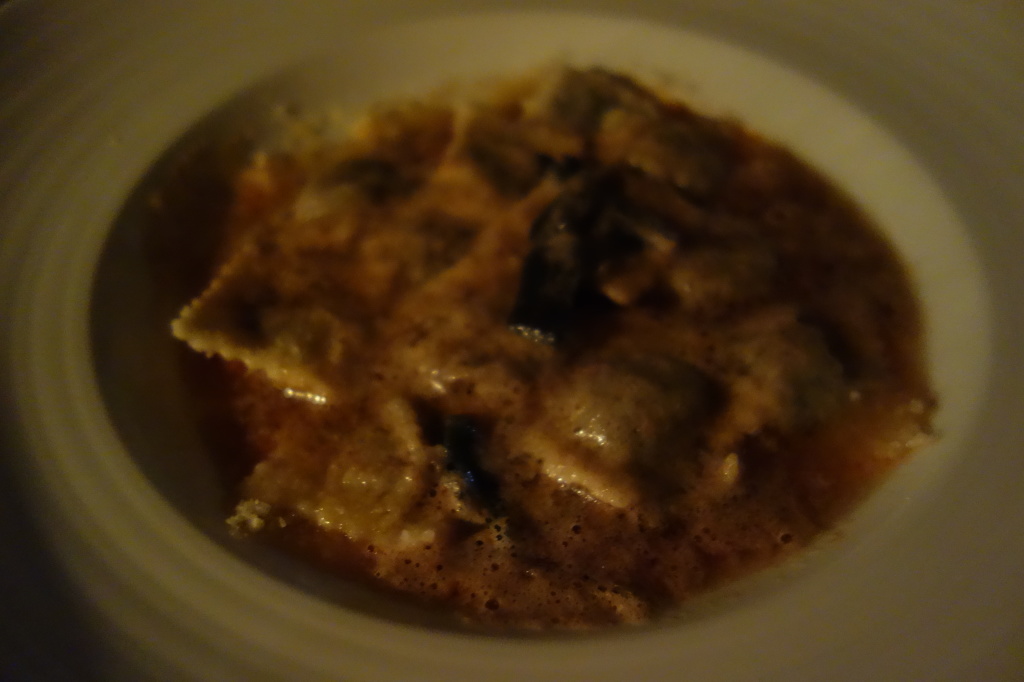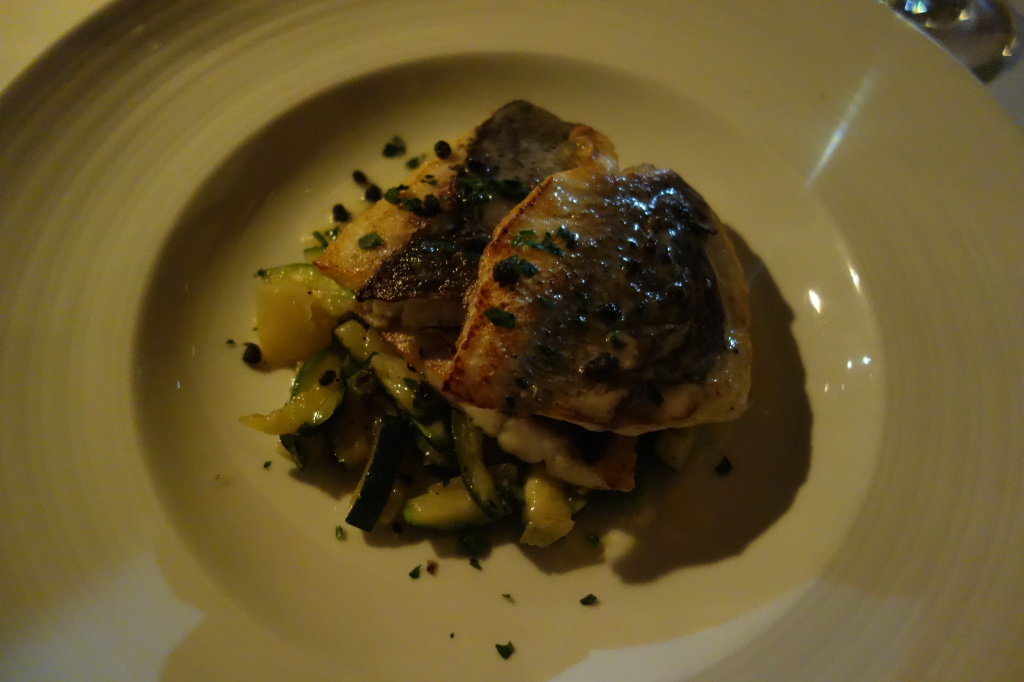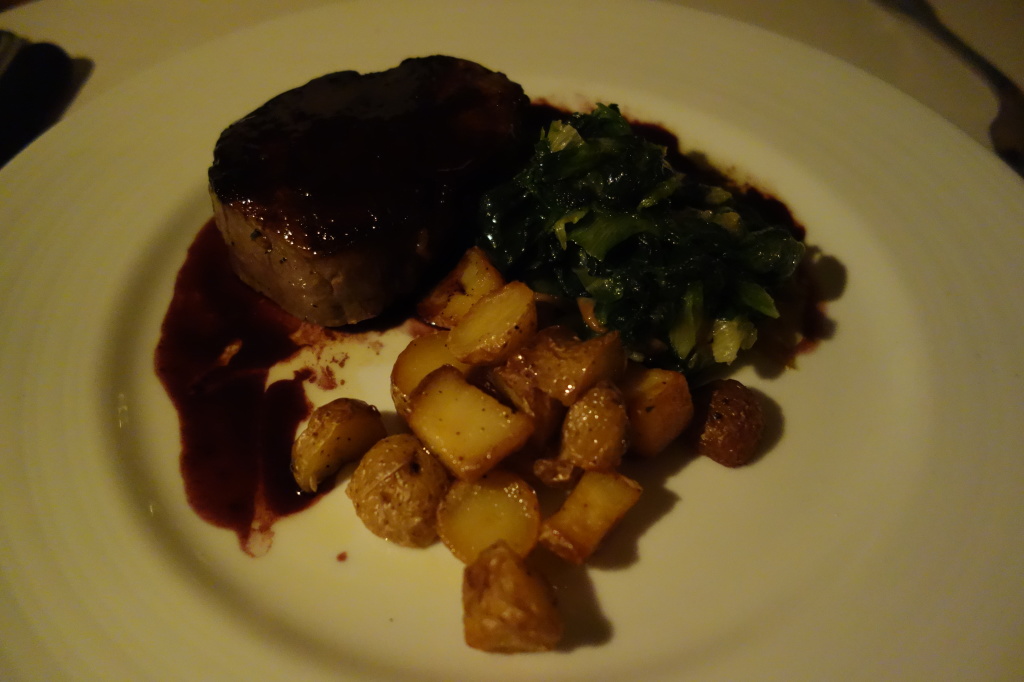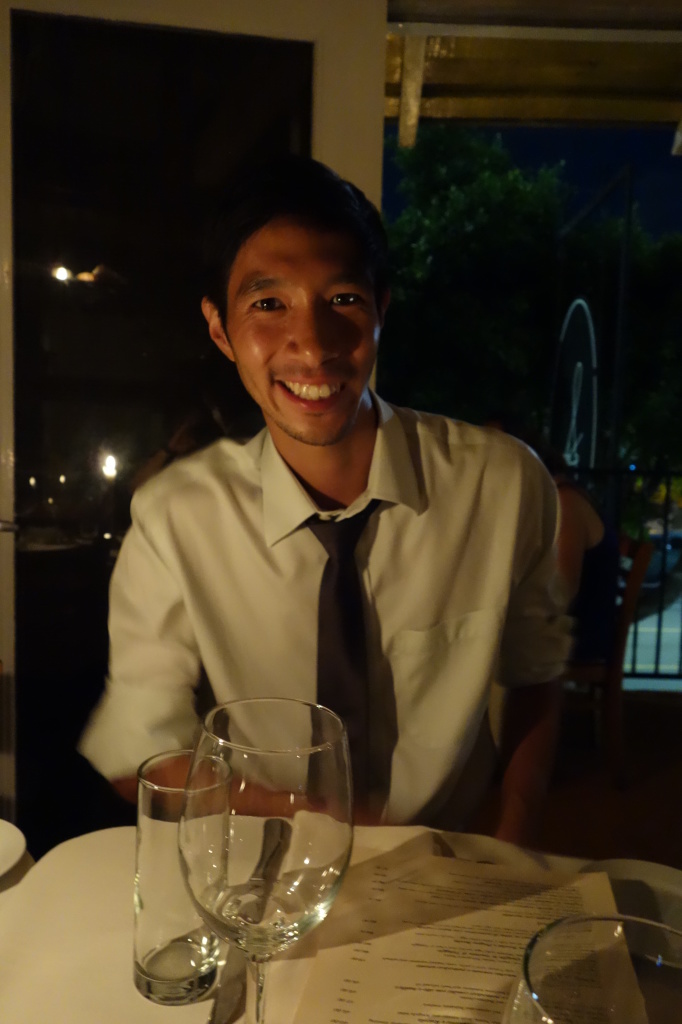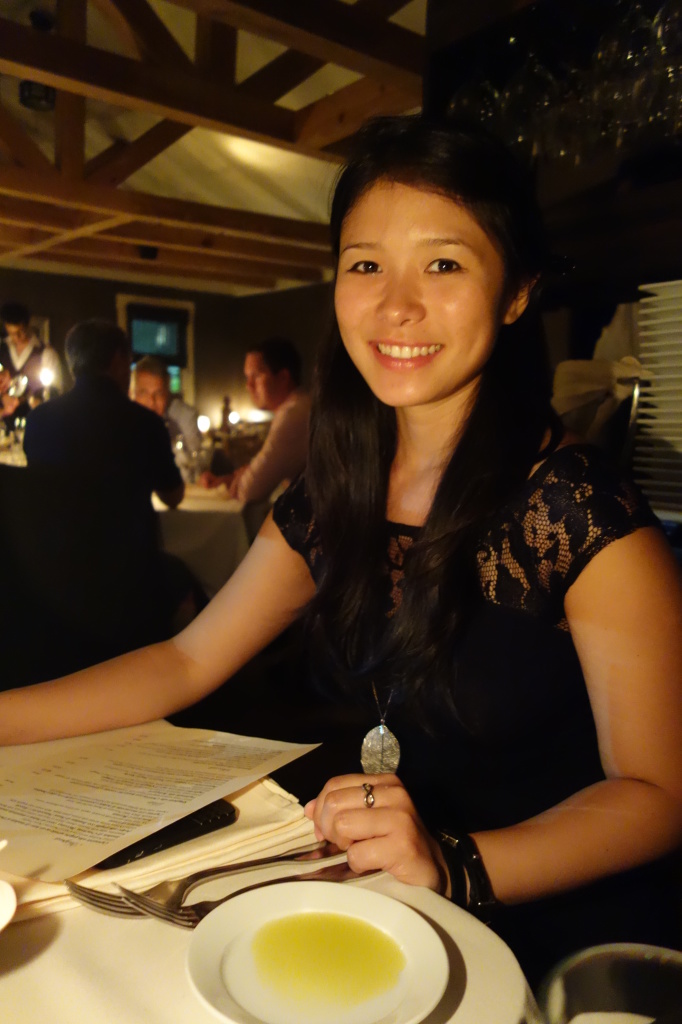 New Look Dress | Accessorize Necklace | Reiss Leather Bracelet
The food was good.  Not the best Italian food I've had, and sadly definitely not worth the money.  For the price we paid I'd have expected jaw-dropping flavours of food cooked to perfection, which Ado sadly did not deliver.  The bread was decent, tuna tartar good, but the spaghetti, ravioli and steak were too salty, the potatoes were bland and I don't really remember the rest.  The ambiance was very romantic though.
9-11th Sept – Santa Barbara
My colleague and I were to attend a conference in Santa Barbara.  She flew down to LA as J had kindly volunteered to drive us up.  A 3-4hr drive, and we made a pit stop for fuel along the way: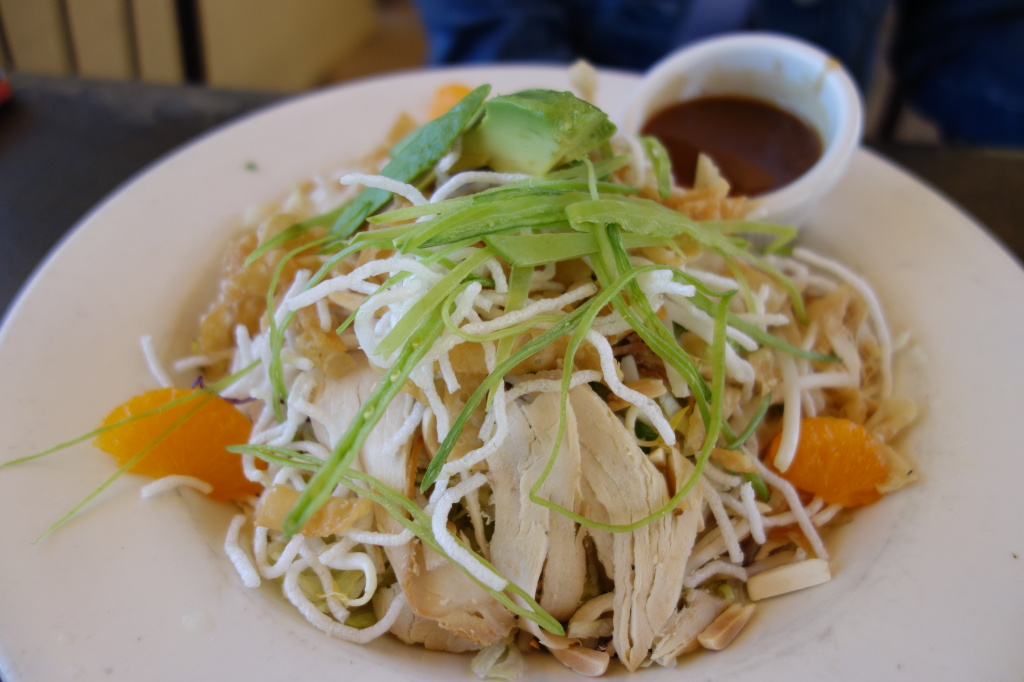 Chicken and Avocado Salad for L.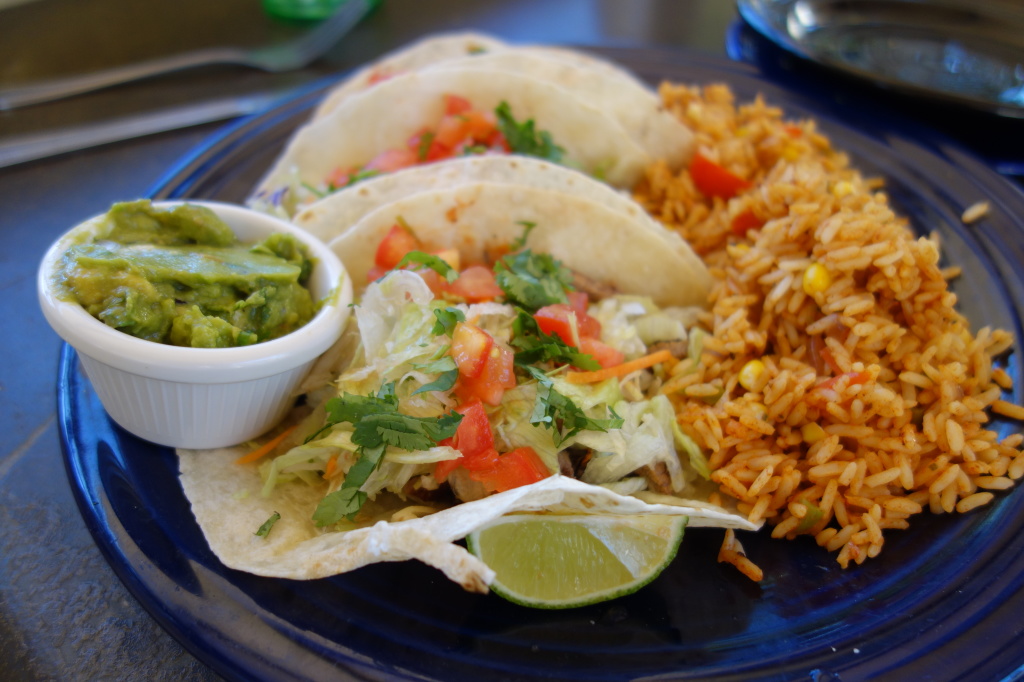 Tacos and guac for JT.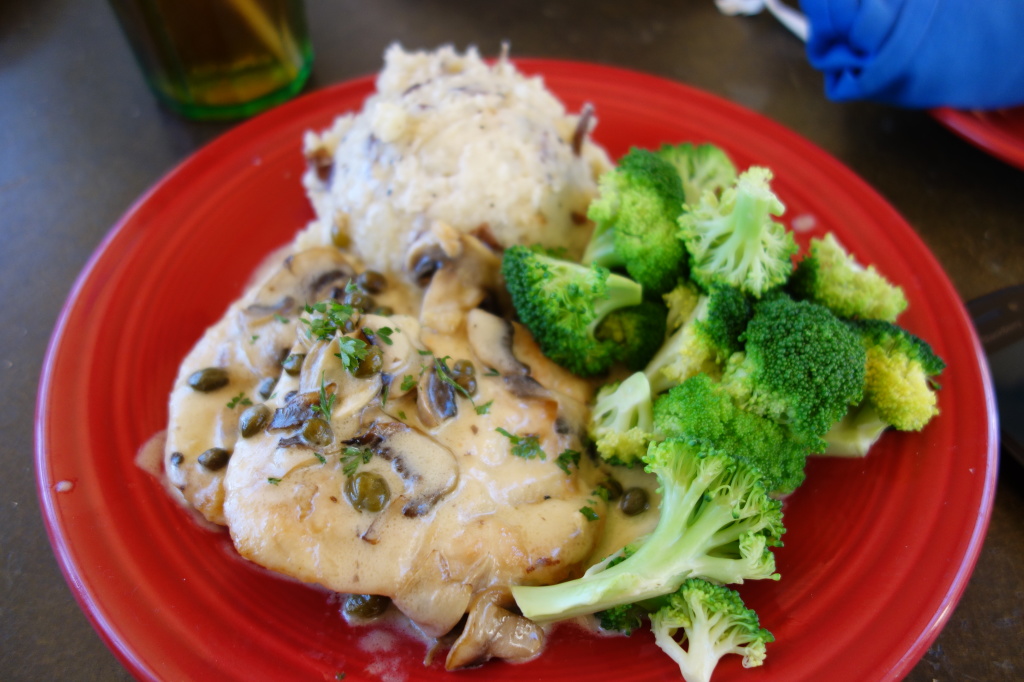 Chicken, mash and greens for me.
Such a shame I can't remember the name of this place cos the food was delicious! And very well-priced. My chicken breast was so tender, and the mash was so creamy and everything was perfectly seasoned. And the craziest part? My portion of food was apparently "petite". Yes, the regular sized portion is even larger. What the hell?? I couldn't even finish my own food. J had to finish it for me.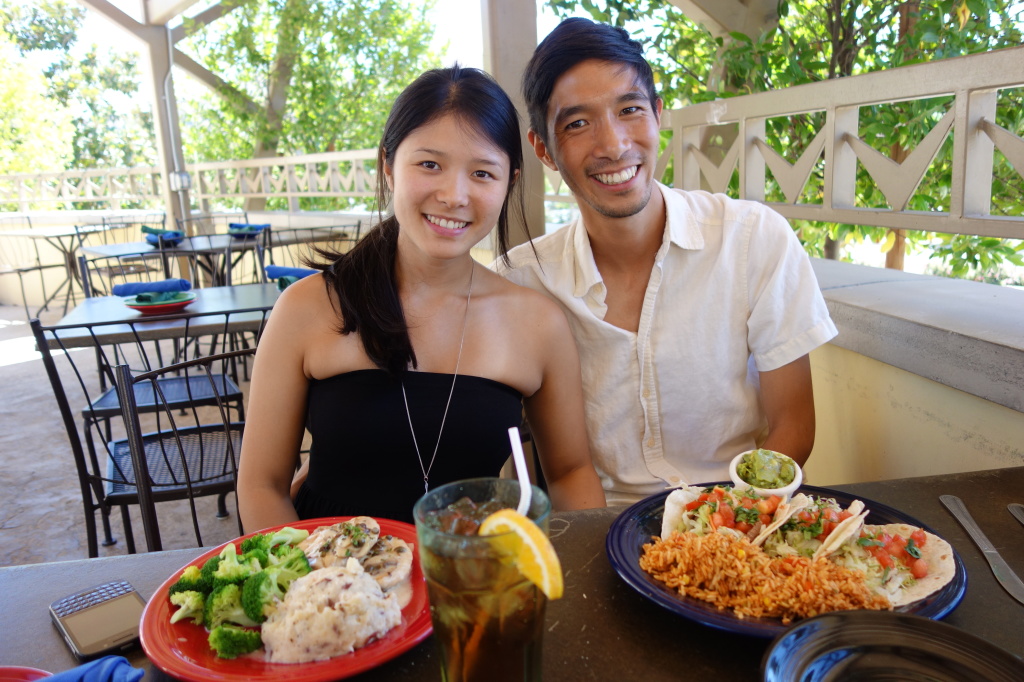 Oh!  And unlimited iced tea refills – whaaaat.  Not that I needed many.  Do you see the size of that glass?
It wasn't long before we arrived in Santa Barbara, which must be one of the most beautiful places I've ever been to in my life.  Our conference was held at a location that had sea on one side and mountains on the other.  J joined us as paparazzi (we snuck him in – but hey, we needed a photographer!) for a smashing time at some end-of-conference-day-1 events: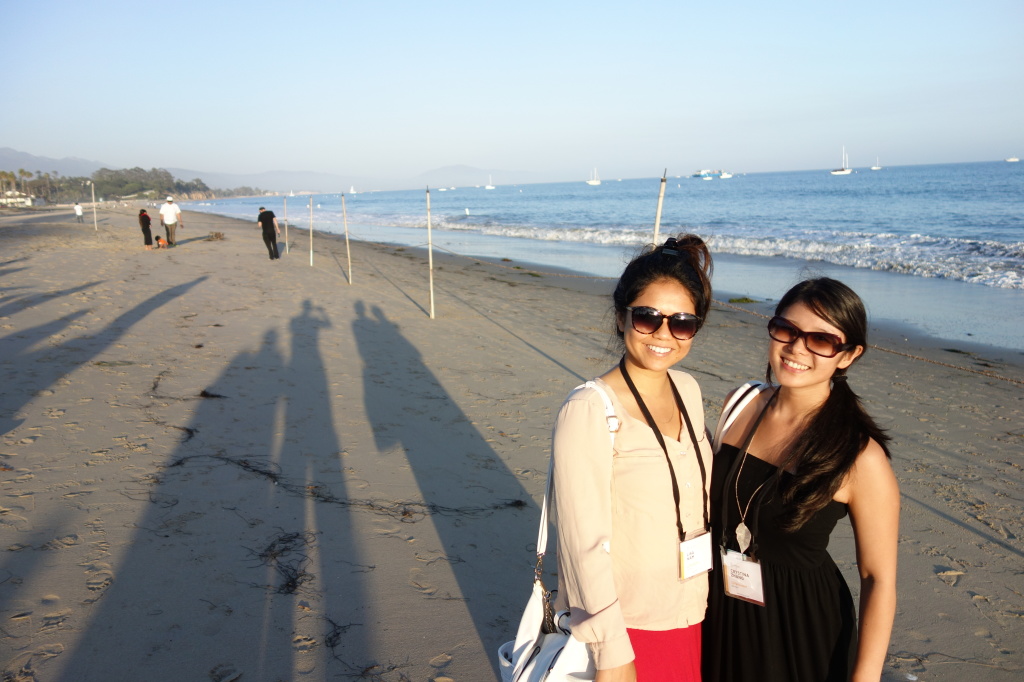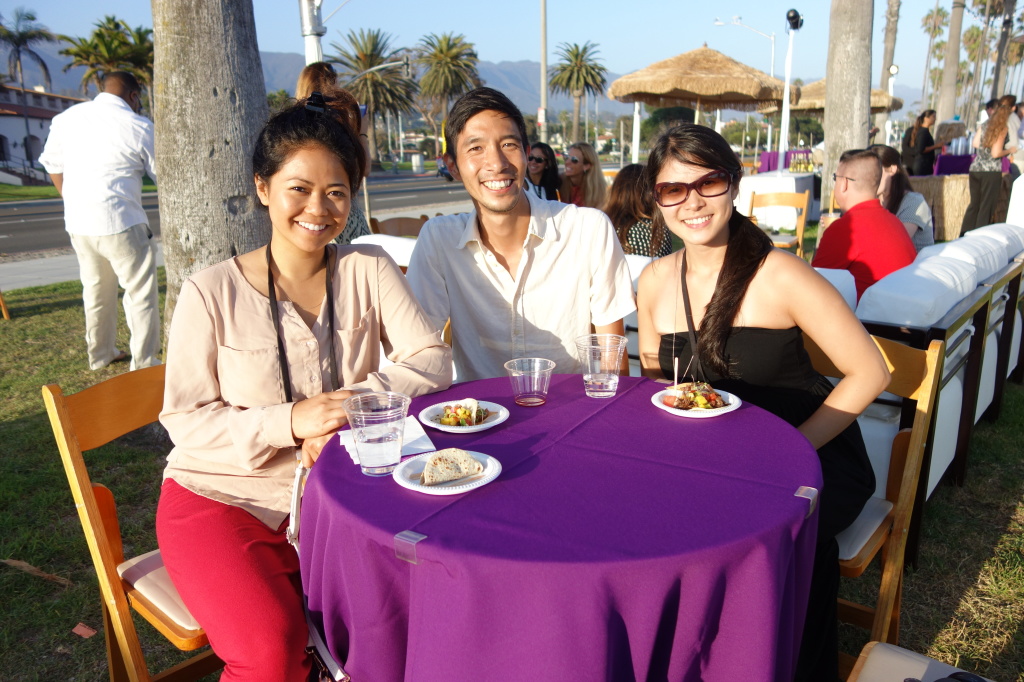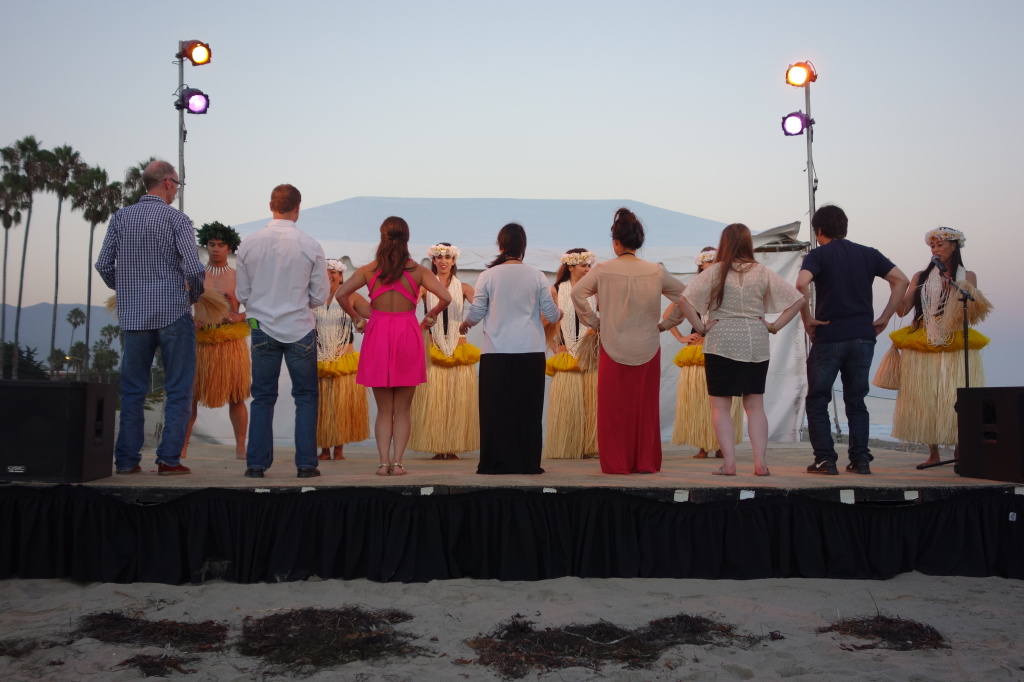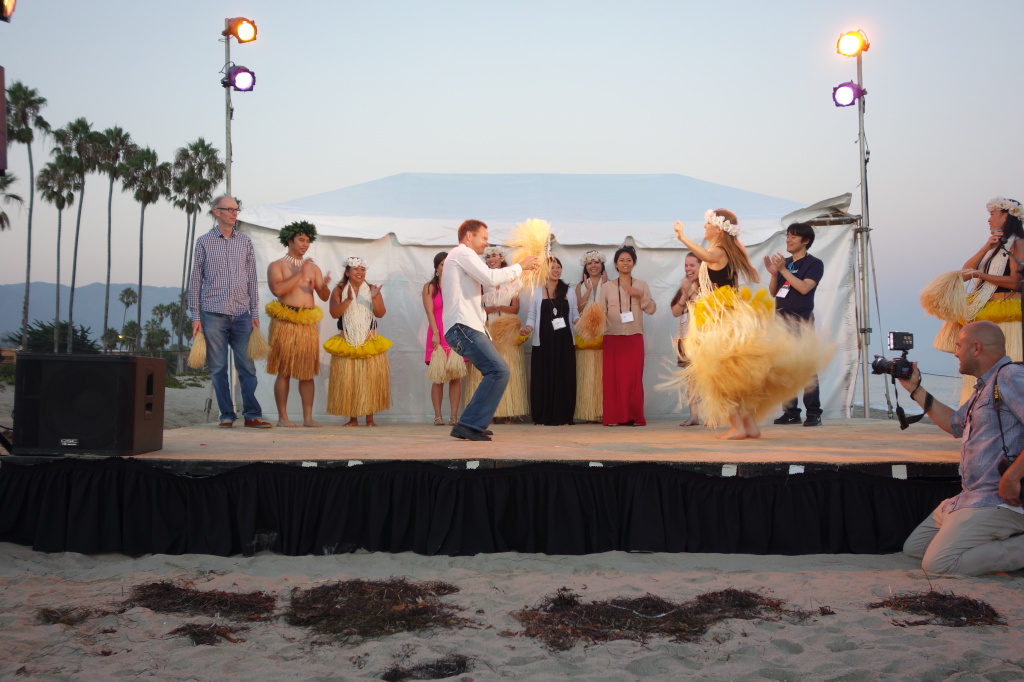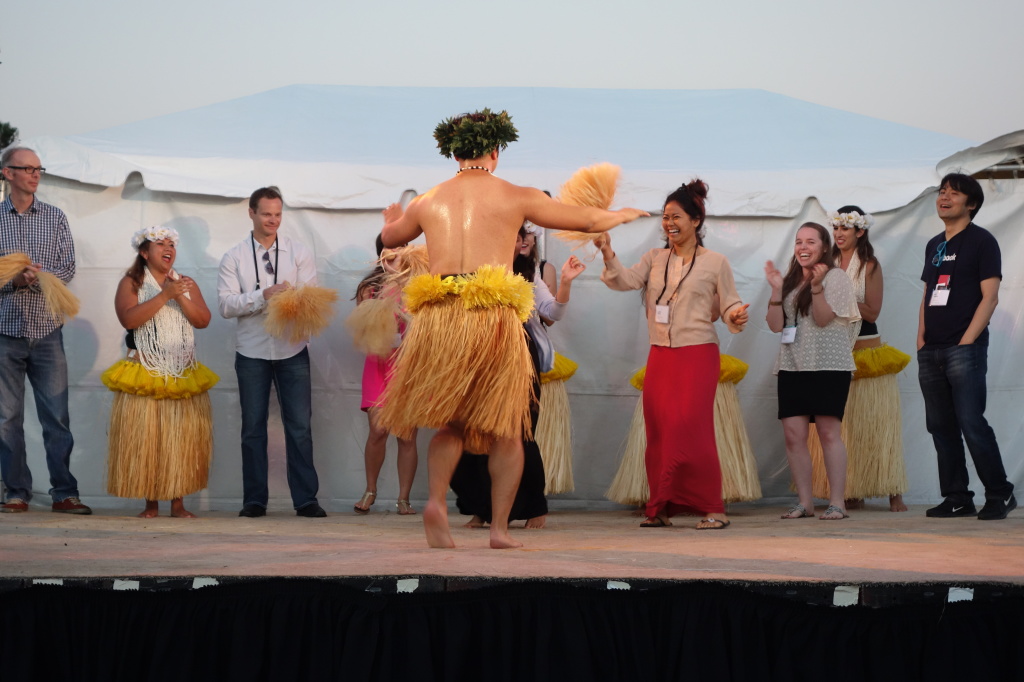 We were dragged invited on stage with other attendees to do the Luau.  Yes there are videos, no you may not see them.  Here are some selfies instead: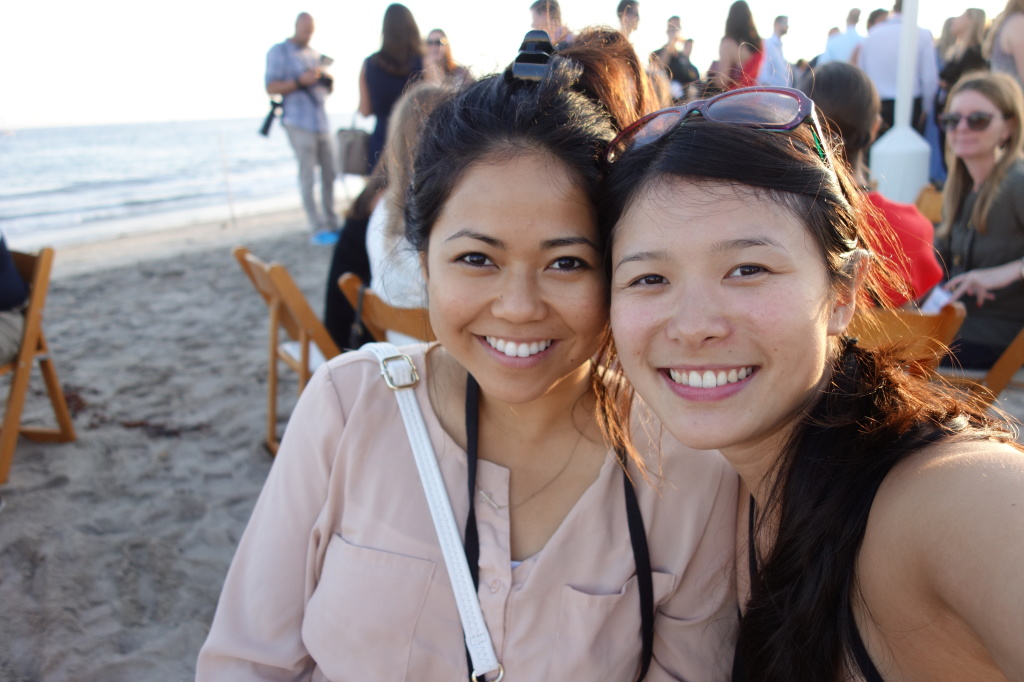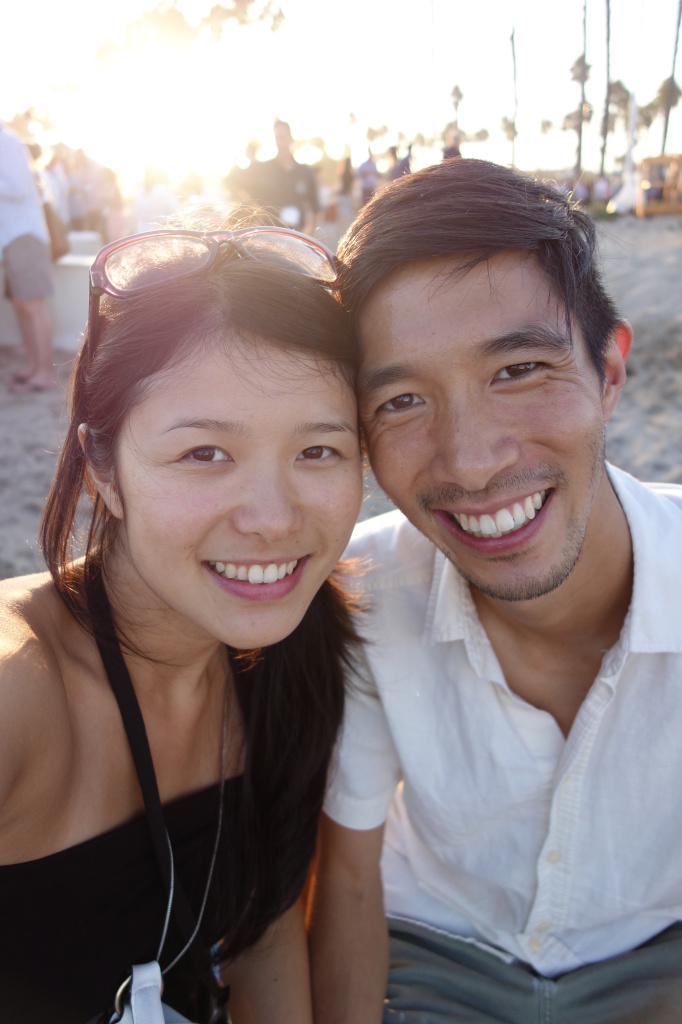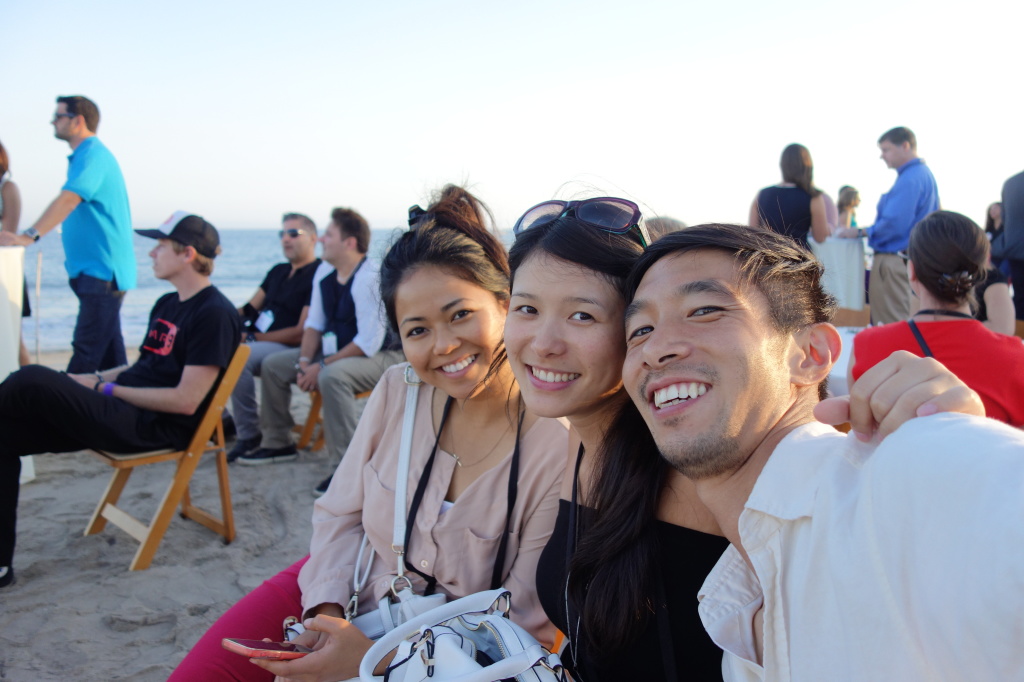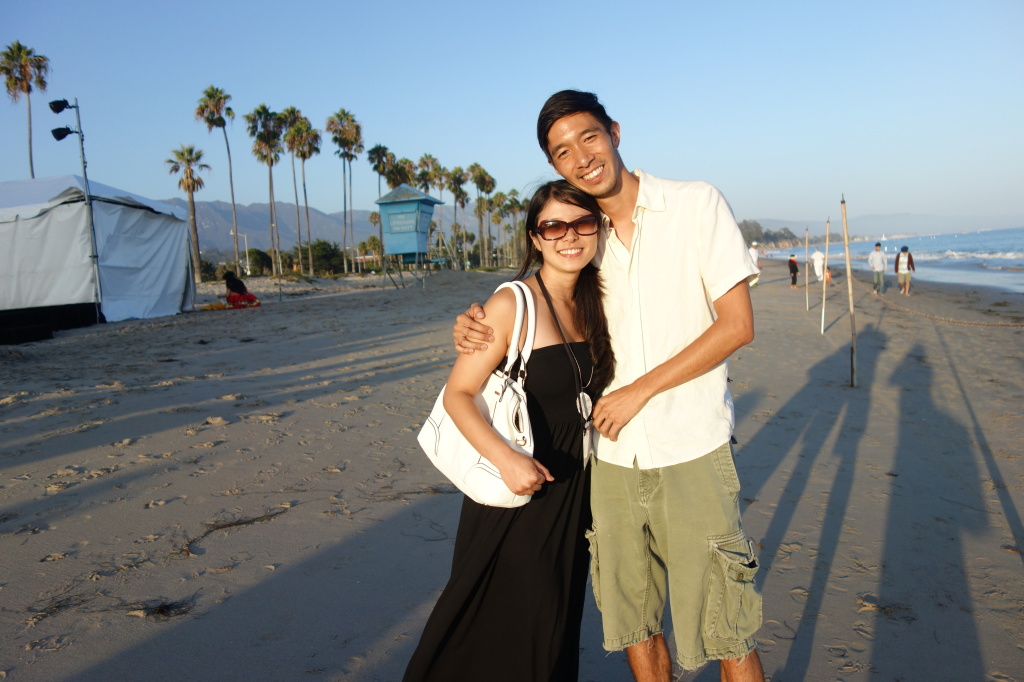 Remember the Asos maxi dress I blogged about in my previous entry?  Here it is again!  I wore sandals but took them off on the beach.  My white bag is from Accessorize (I did not realise they also sold such beautiful bags at reasonable prices as well!), I can't find my exact one but did spot this similar – and dare I say slightly nicer – one here.
Day 2 of the conference was intense.  I had meeting after meeting, which was great!  Then evening came and it was chill (dinner) time.  I do love food.  I do have photos but it wasn't a great meal – my food came cold and generally didn't taste great.  I don't blame them, they literally had hundreds of mouths to feed.
This amused me though: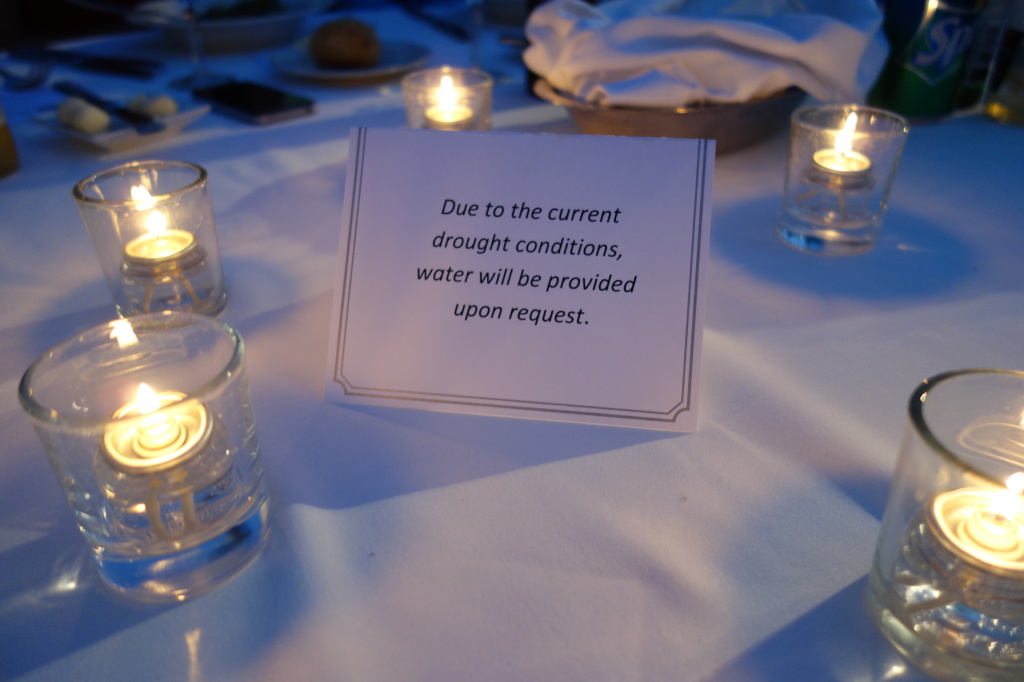 I knew it probably shouldn't have.  Drought is not a laughing matter, but I can't help but giggle when I think of the constant showers we get here in the UK.  Honestly I wouldn't really mind a bit of drought.  It did get frustrating when we had to ask for water 3 times before they finally gave it to us – and only because we asked for wine first.
Final morning we only had a couple meetings, and J re-joined us up in Santa Barbara.  The lovely hotel we stayed at had free bike rentals, even after check out!  So the three of us hopped on some bikes and took a ride by the sea: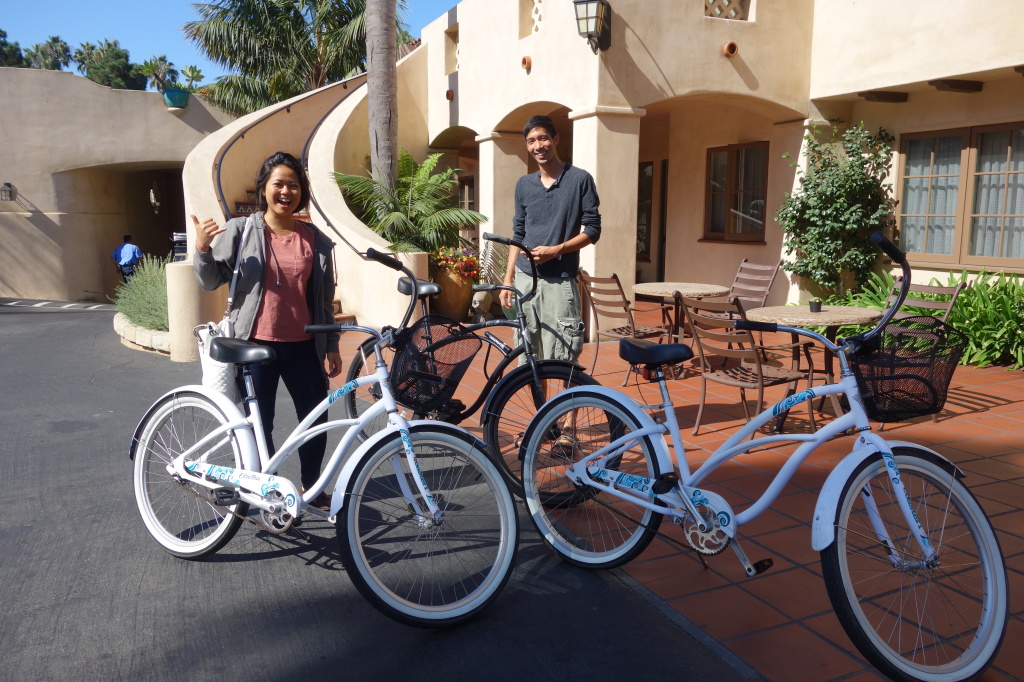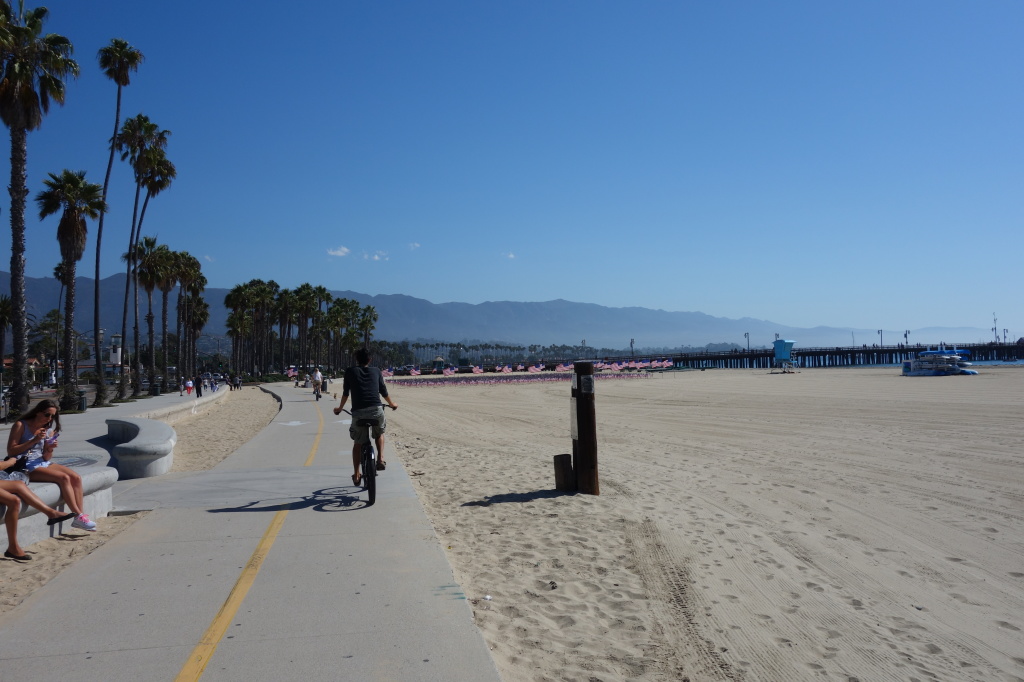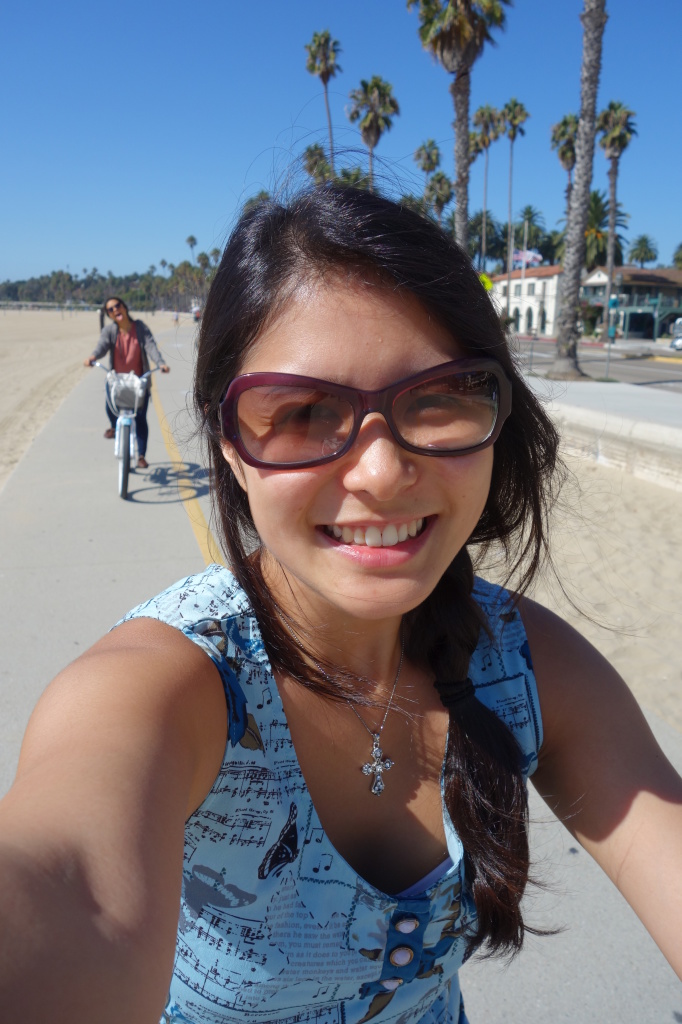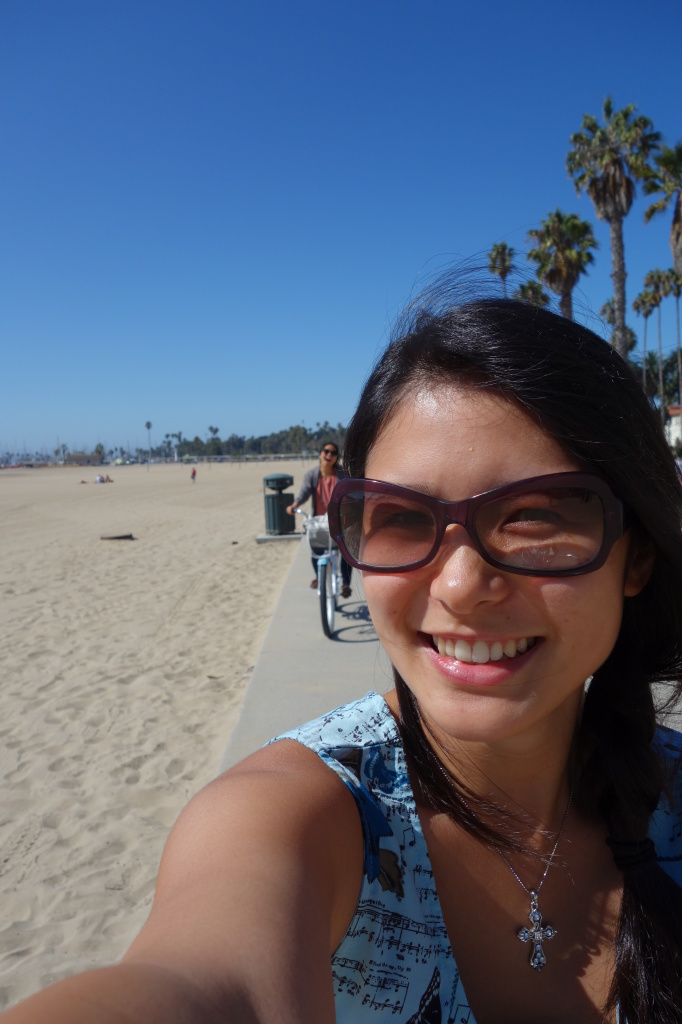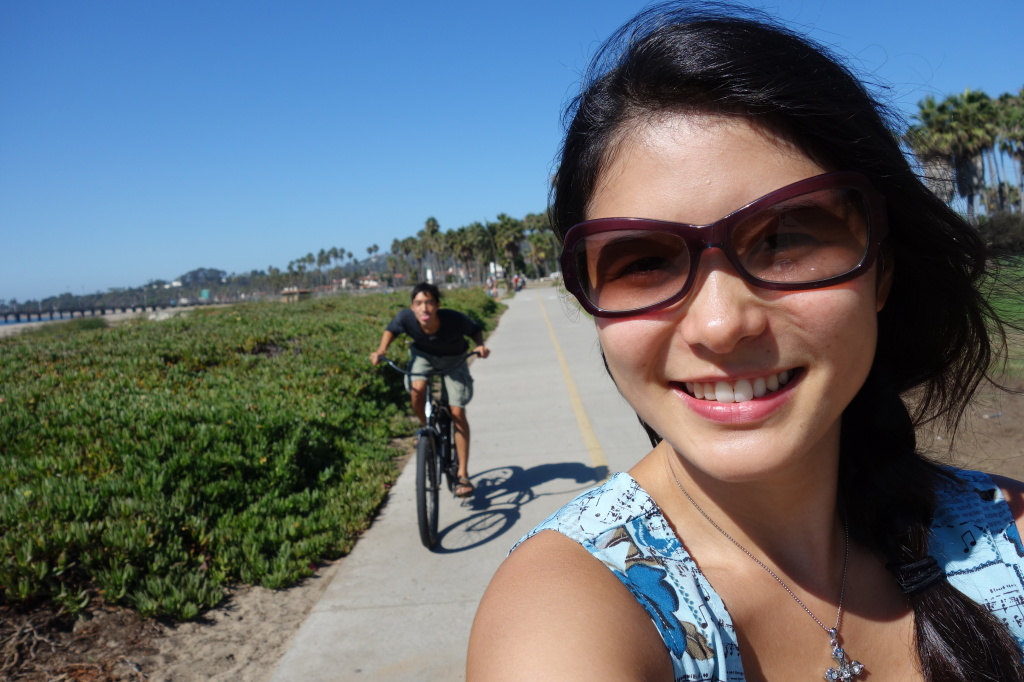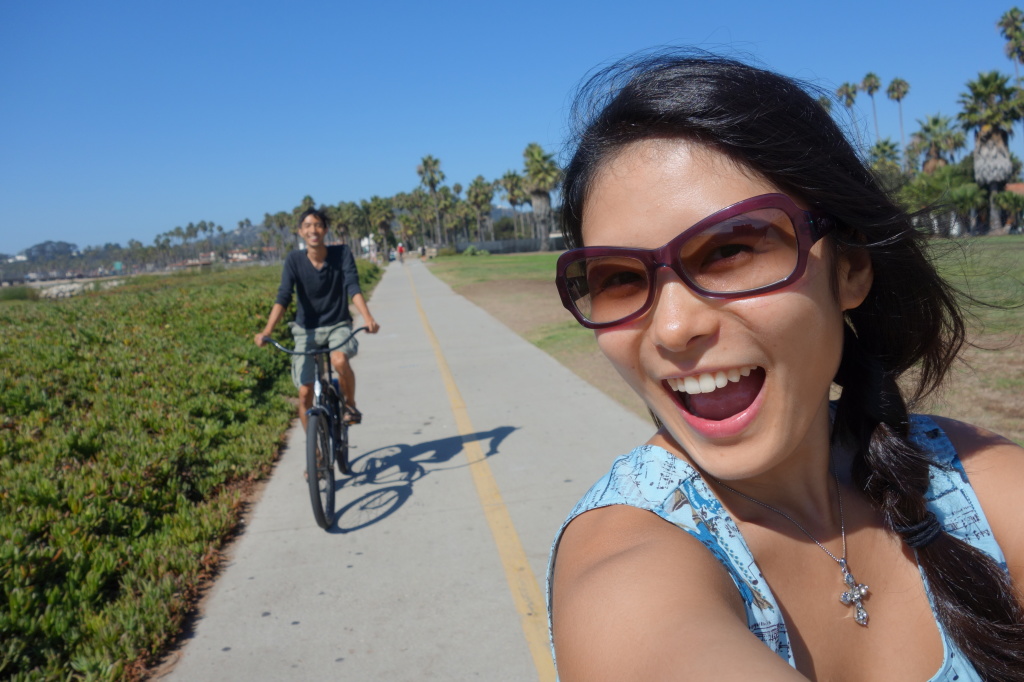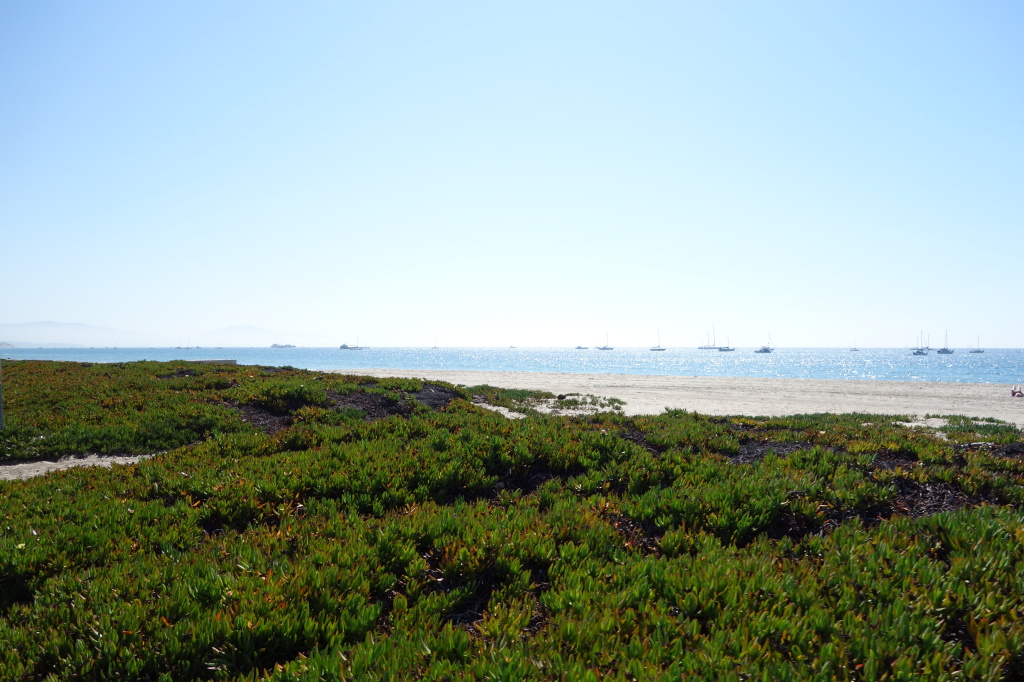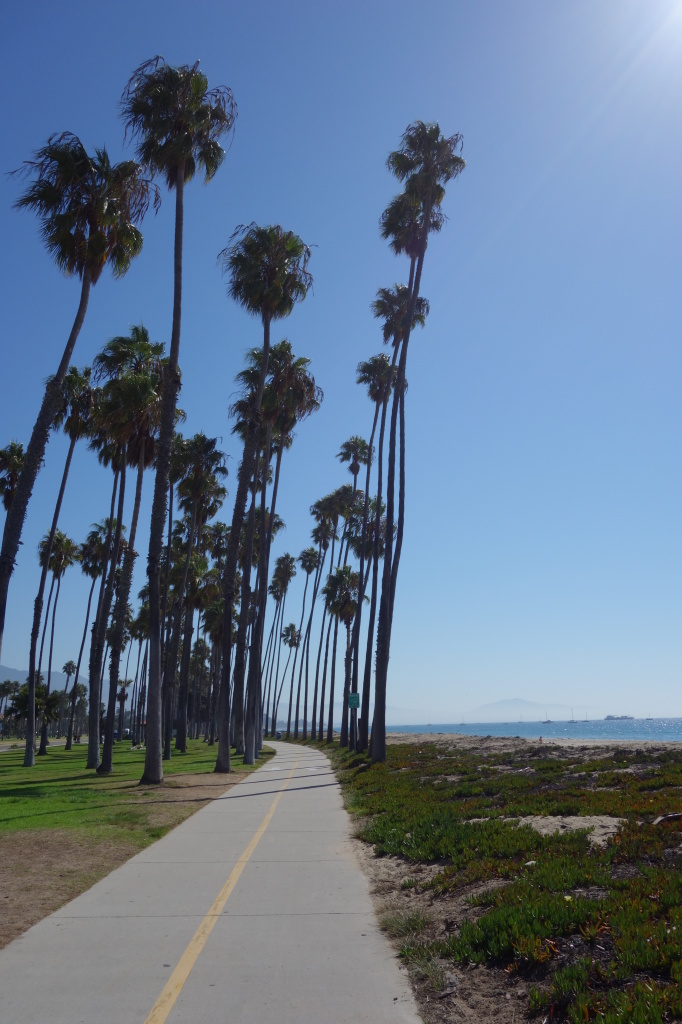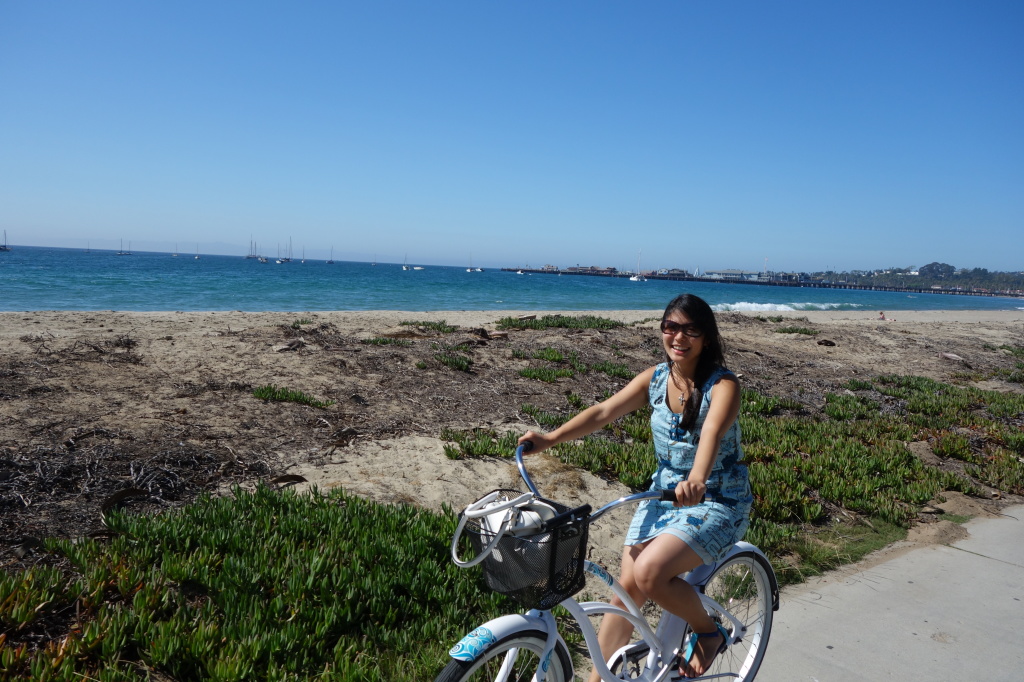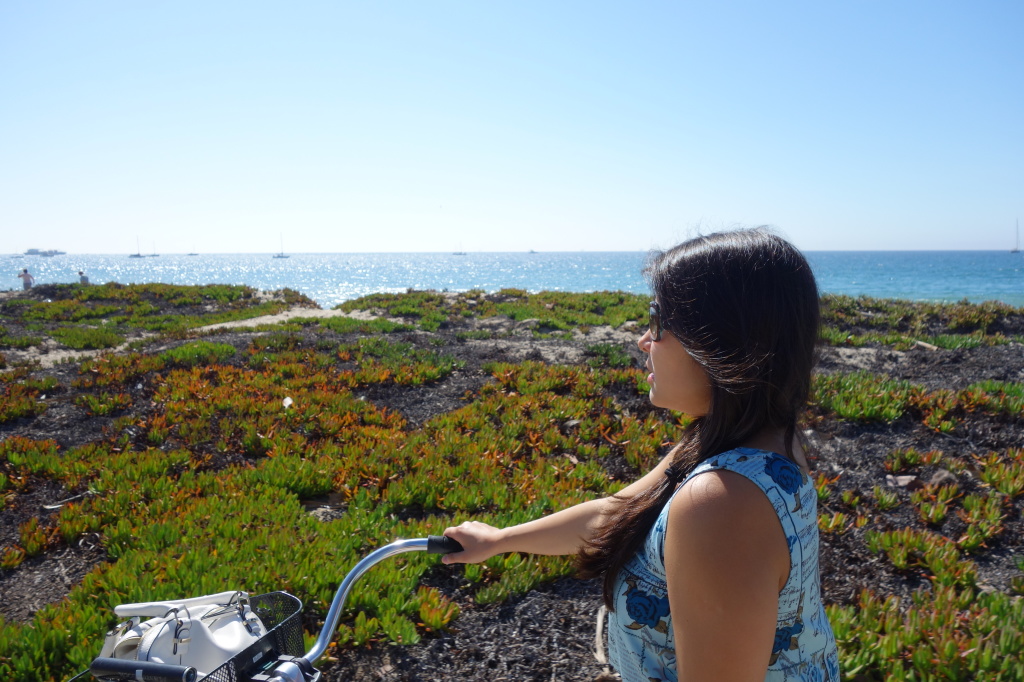 We returned our bikes and headed back to the conference for some final meetings, before finally retreating to the rooftop terrace of for brunch.  Check out this view: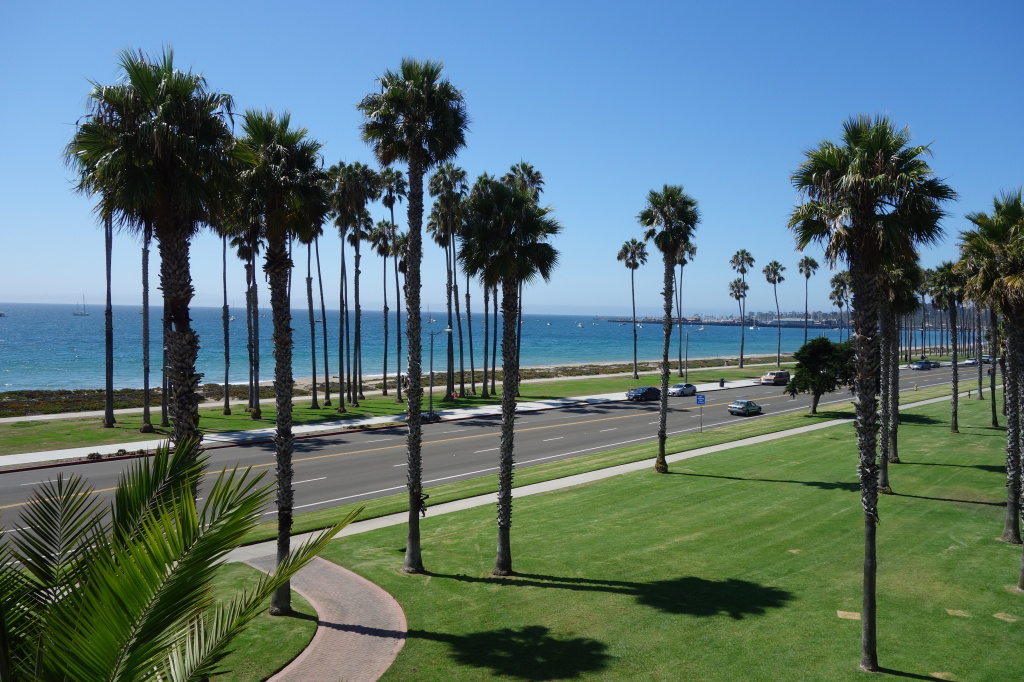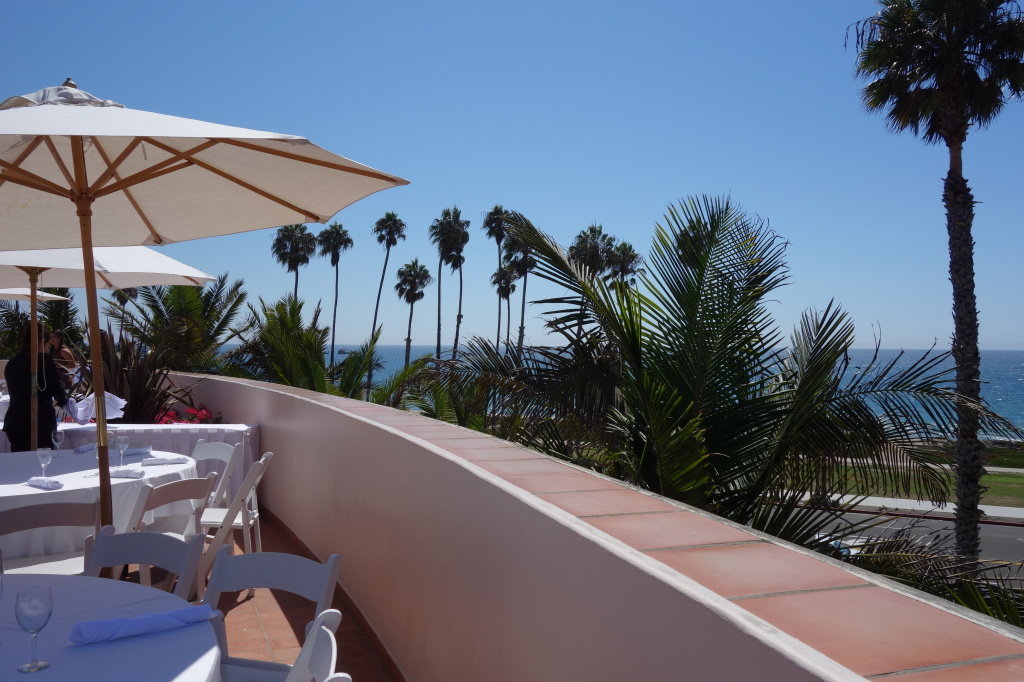 This view is from the Fess Parker DoubleTree Resort, which is incredibly beautiful.  We stayed at the Inn by the Harbor Hotel though, and honestly I cannot recommend it enough.  As well as an outdoor pool and jacuzzi, they also have free DVD rentals with a vast library of films to choose from, free bike rentals for the more energetic of us, a good variety of food for breakfast, cheese and wine in the afternoon, and finally finish up with free milk and cookies before bedtime.
The staff were simply wonderful – super friendly, and would go out of their way to help us (we arrived early and they allowed us to check in as soon as our rooms were ready) and made sure we knew of all the best places to visit and all the fantastic freebies (as above) the hotel had to offer.
I'd live there if I could.
Alrighty looks like SF has to go into another post.  This one's way too long already!
Muchos love,
Bobbie