Disclaimer: as far as I know The Sunglass Hut and Golden Gate Bridge have nothing to do with each other. We were just taking photos with our new sunglasses (brought from the Sunglass Hut, and there's a story about them below) at the Golden Gate Bridge, hence the title. Apologies in advance for any confusion or disappointment, I hope it won't stop you reading the post ;)
The next day was our last day together, so I took a half day off, and was whisked away to take selfies at the Golden Gate Bridge.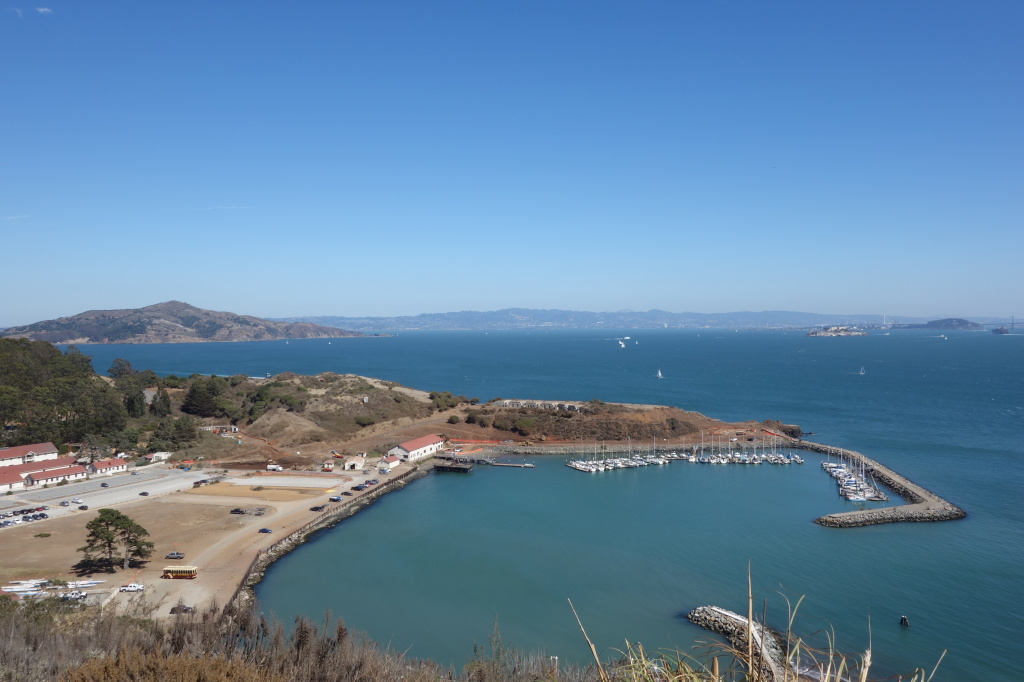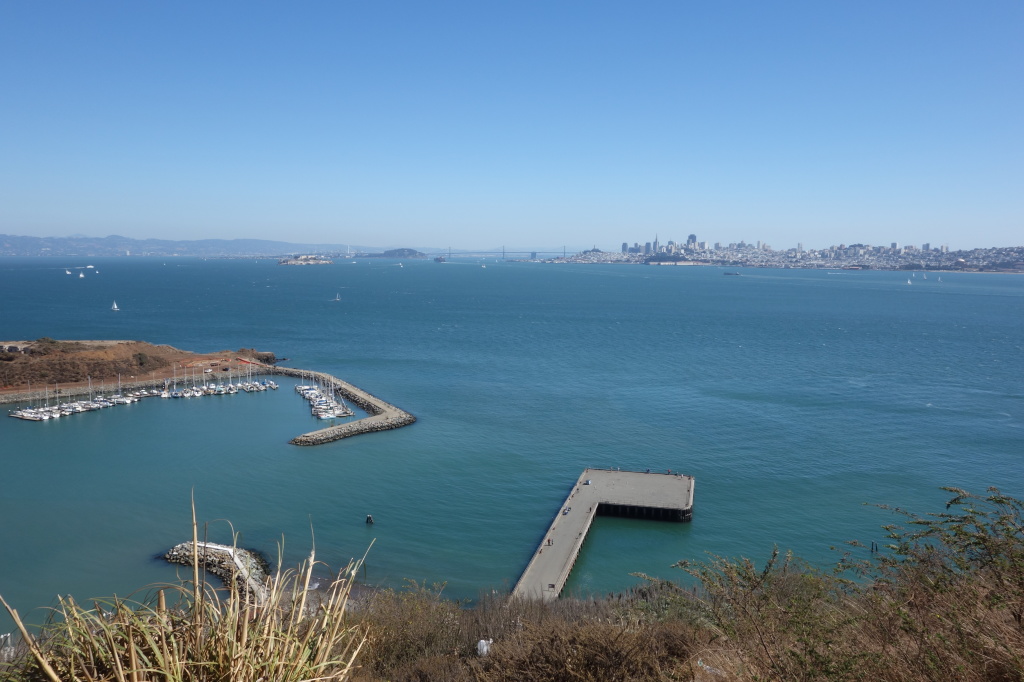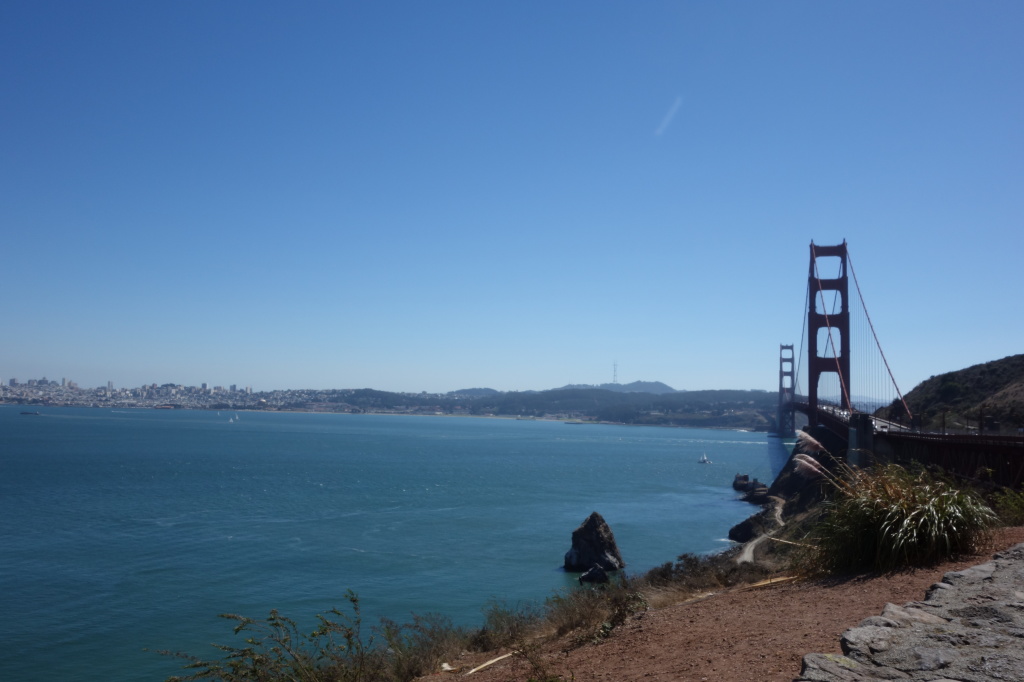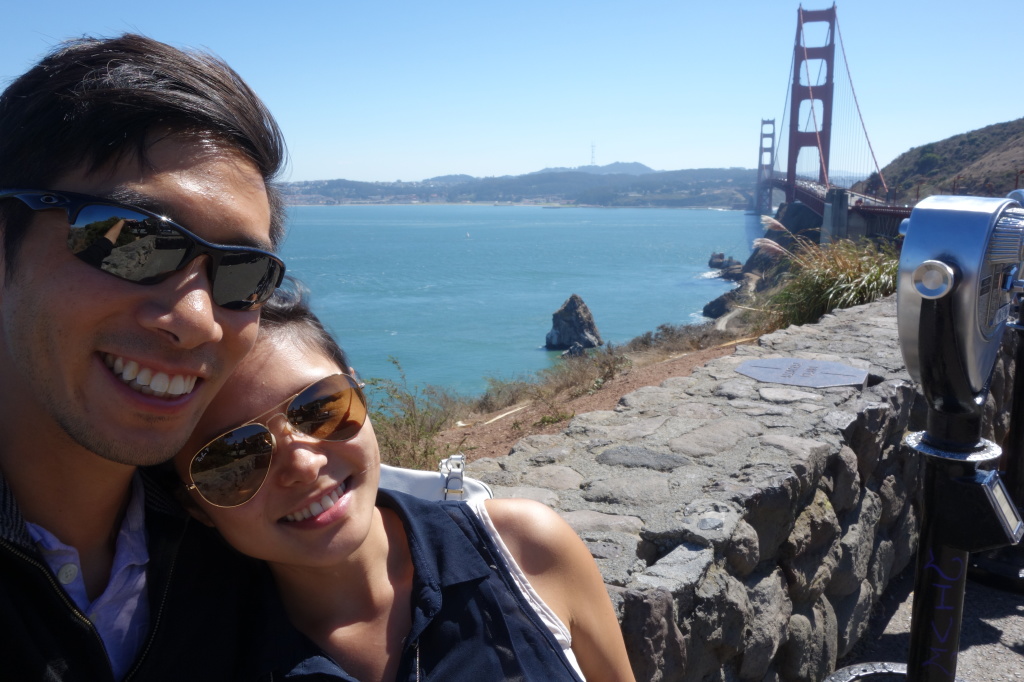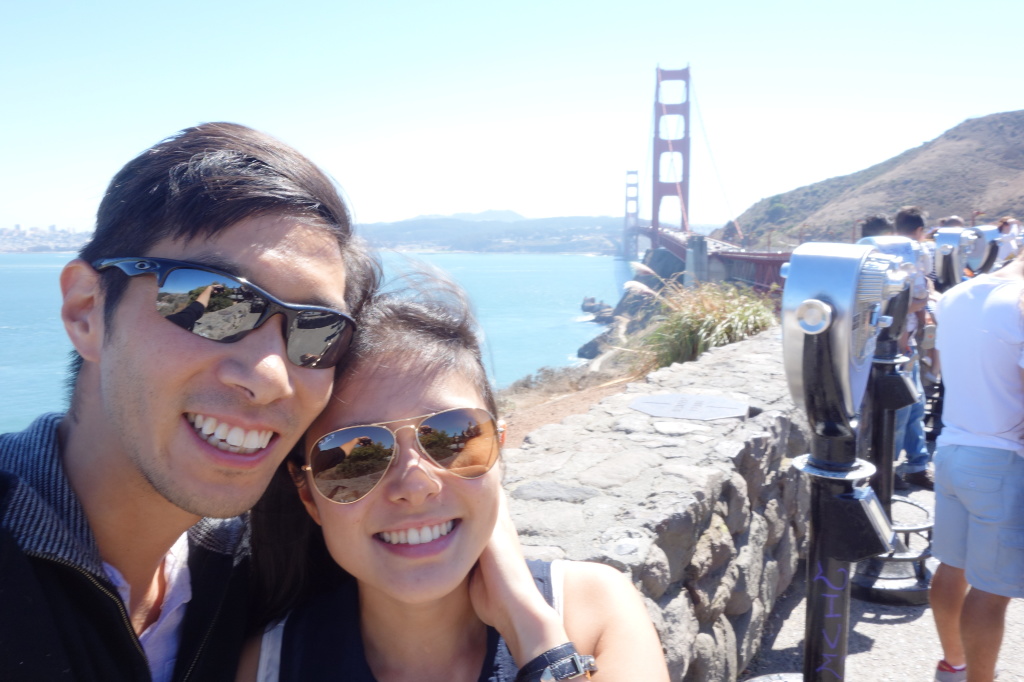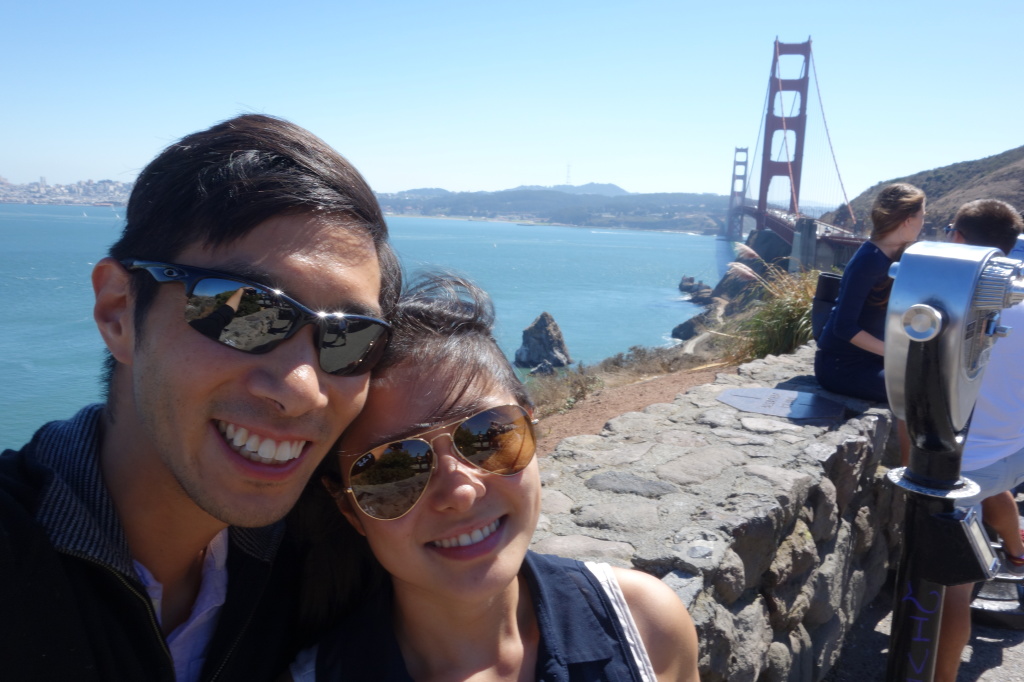 Not gonna lie, it was seriously windy that day.  We asked some kind tourists to take a few photos for us, and I did my best to tame my unruly hair.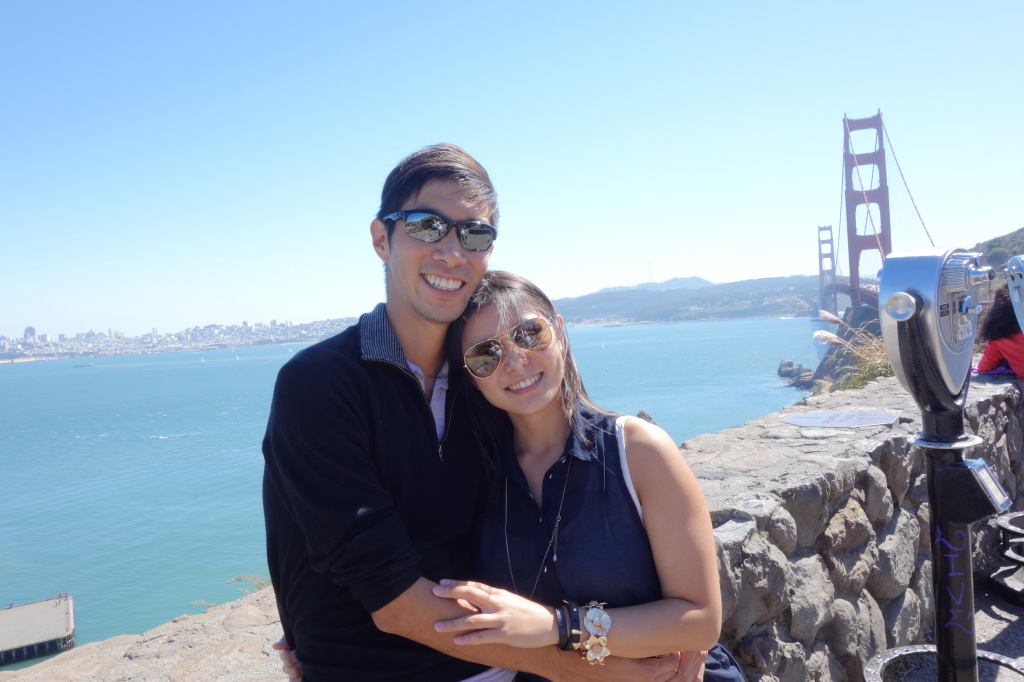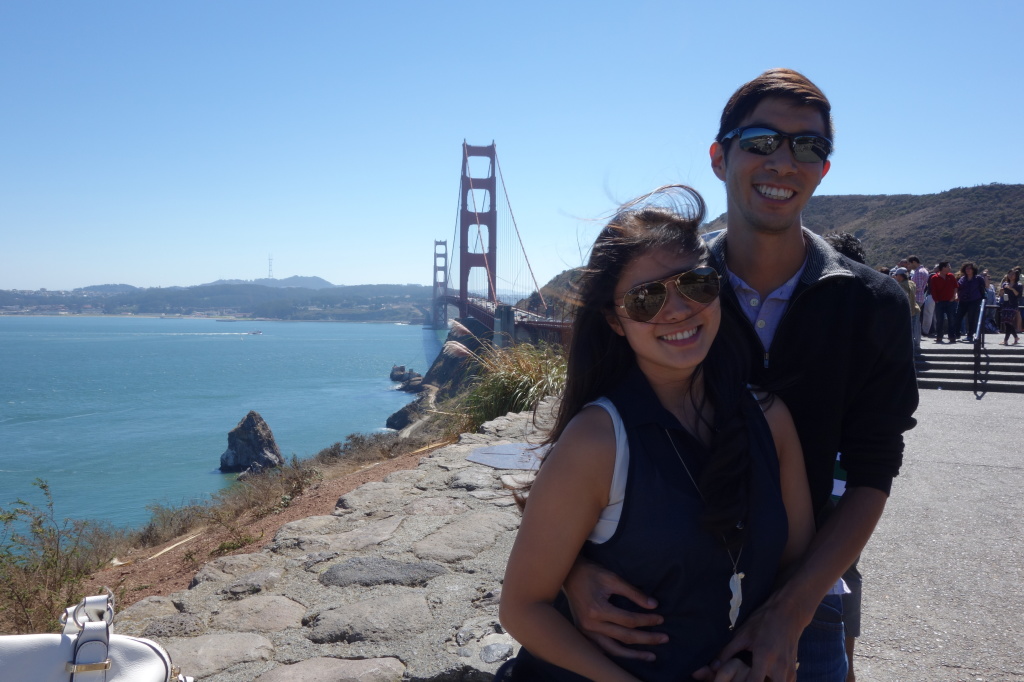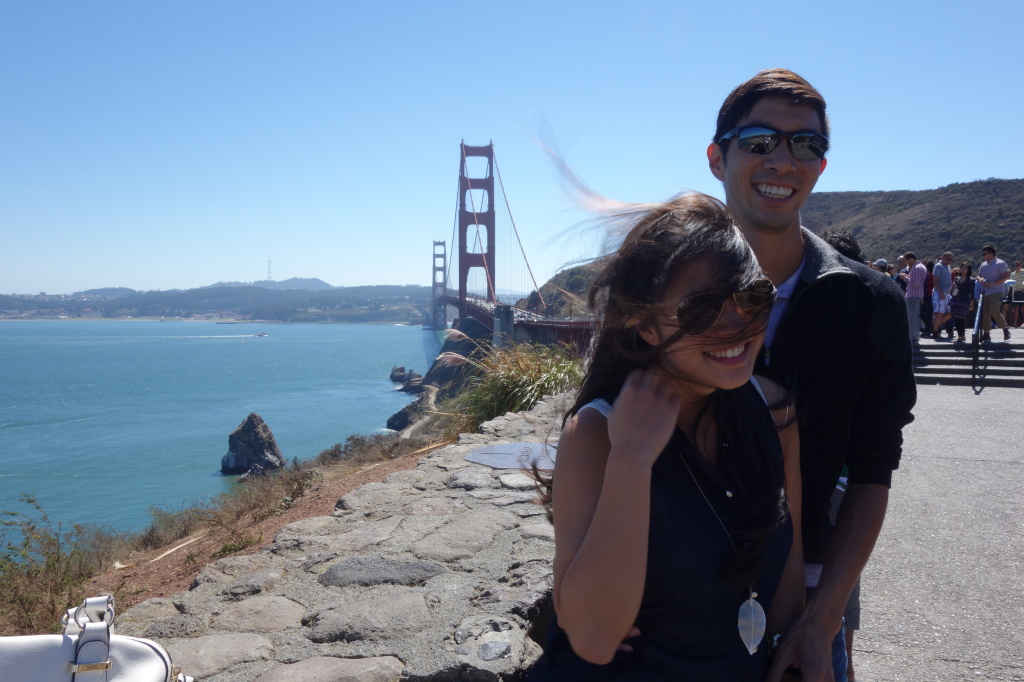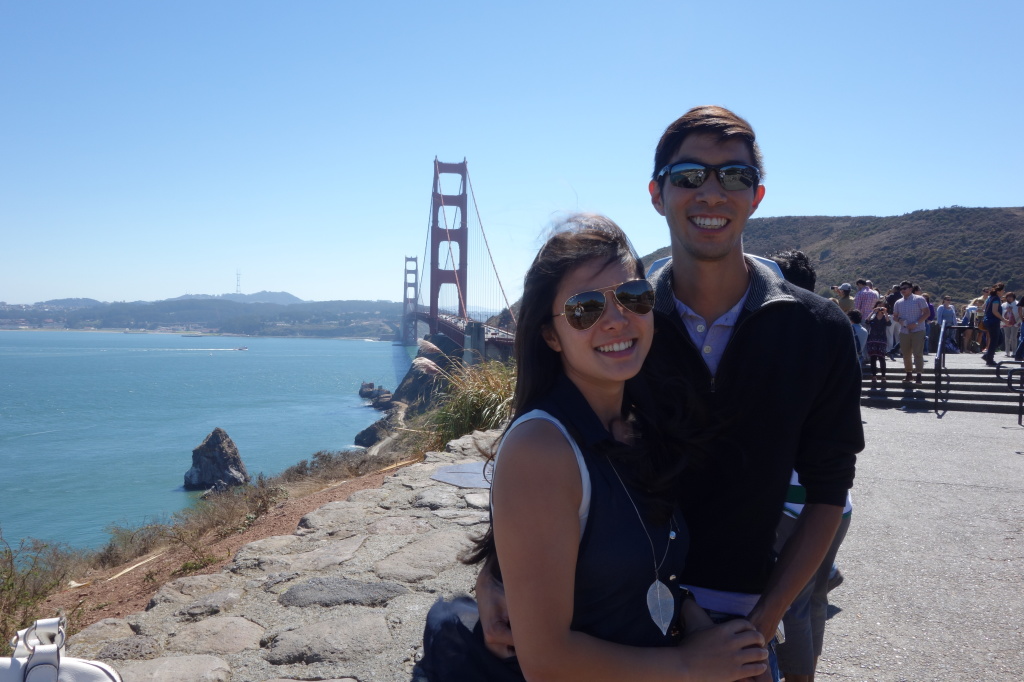 Success!  That'll do.
By the way, did you notice my sunglasses changed half way through the trip?  Yes I am now wearing Original Polarised Ray-Ban Aviators (US click here)!  And the boyf is wearing Oakley.  Two posts ago I promised you a story about this.  Here it is: as you know I've wanted a pair of Ray-Bans for the longest time, but wherever I looked I couldn't find a pair that didn't make my face look like a potato.
So, having searched high and low, and the fact that J always loses sunglasses and hasn't a pair left, I decided to get us some nice sunglasses and see if we couldn't find a good pair together.
We spent a couple of days searching various department stores, then in one last attempt to find something decent (after our delicious sushi meal at Akiko's!) we stumbled into a random Sunglass Hut somewhere as we were wandering through the San Fran shopping district.
I cannot compliment Elizabeth (or so it says on my receipt) enough for her fantastic service.  A bubbly, friendly, young sales assistant, she kindly showed us many different types and brands of shades before we both found the perfect ones, and then patiently adjusted mine for me so that it actually fit my lil' Asian face, even after closing time.
I felt she knew exactly what she was doing, and luckily for us they even had an offer on in-store so that we could buy two pairs of polarised sunglasses and get $40 off, win!  Apparently the offer is still on online in the States – enter code 40OFF2 at checkout – here – ends 11/24.
The best part – and the part where their service really exceeded my expectations – was that during this day I realised my sunnies had a small chip in them on the inside.  Brought them back into store the next day (it was my last chance as I was flying back on Saturday) and bam!  New pair, perfectly polished, no fee, no questions asked.
Elizabeth was there and recognised me, and went on an instant hunt for a brand new pair for me, apologising profusely that she'd sold me a chipped pair of sunglasses.  And then she literally spent 10-15 minutes adjusting them to the perfect shape for me.
I cannot compliment her enough as that experience has just wow'd me and left me with the best impression of the Sunglass Hut ever.  You also get one year's free guarantee, and if you ever need your sunglasses adjusting again you can pop into any Sunglass Hut branch (even the UK ones I was promised) and they'll adjust them for free.  Previously I'd heard of them but not really known or cared for them, but now I would absolutely recommend them to anyone.
I'm still loving my sunnies, and the boyf has since taken his ultimate frisbeeing (yes it's a thing), hiking, climbing as well as other such pansy sporting activities, and continues to thank me for his super great sunglasses :)
His are actually made for sports, so the sweatier you get, the more the material glues to your face.  The glasses cleaner is actually the case itself, so they are super handy for grab-n-go and you won't need to worry about losing little bits and pieces here and there.  There are plenty of Oakley sunglasses to choose from if you're thinking of buying a pair, but J's in particular are Polarised Oakley Bottle Rockets (click here for US).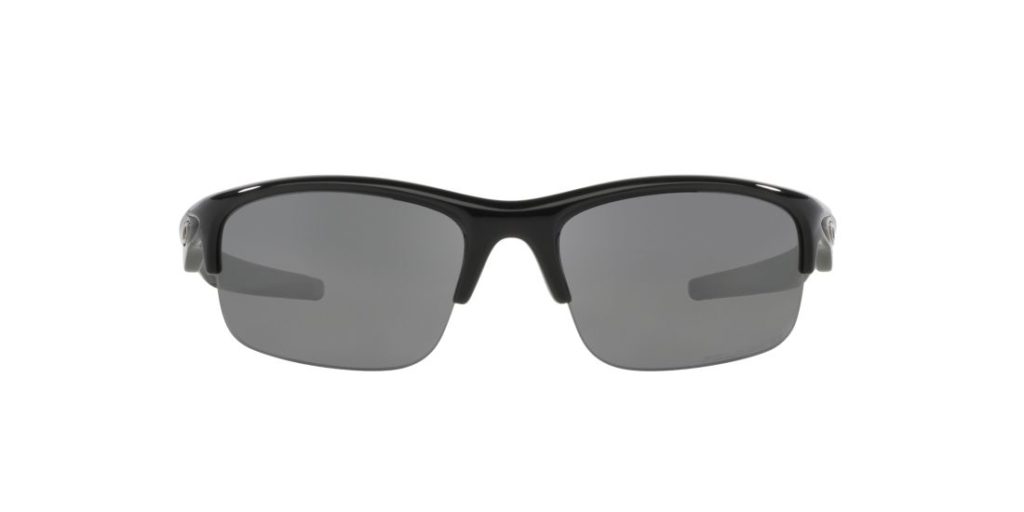 If you're in SF and would like to go to the particular branch I was at, the address is Sunglass Hut, 104 Powell St.  Find Elizabeth :)
I'll leave this post short 'n' sweet, as later on we're taking you to Napa Valley for wine tasting and gondola riding.  It'll be tram-endous.
Muchos love,
Bobbie