Goood morning! Today is a special day. For me, anyway. Becauuuuseeee… it's my birthday! Today I am officially turning quarter of a century years old oh my gosh that is terrifying 21, yay me! And I will continue to turn 21 again every year for the foreseeable future. Nevermind that I am no longer being ID'd when purchasing alcohol.
My bf's bday is also in April but as we wouldn't be able to see each other then, he paid me a visit last week. We decided to celebrate our birthdays in advance so I had two special meals planned, the first of which was the one and only Michelin Starred Hakkasan.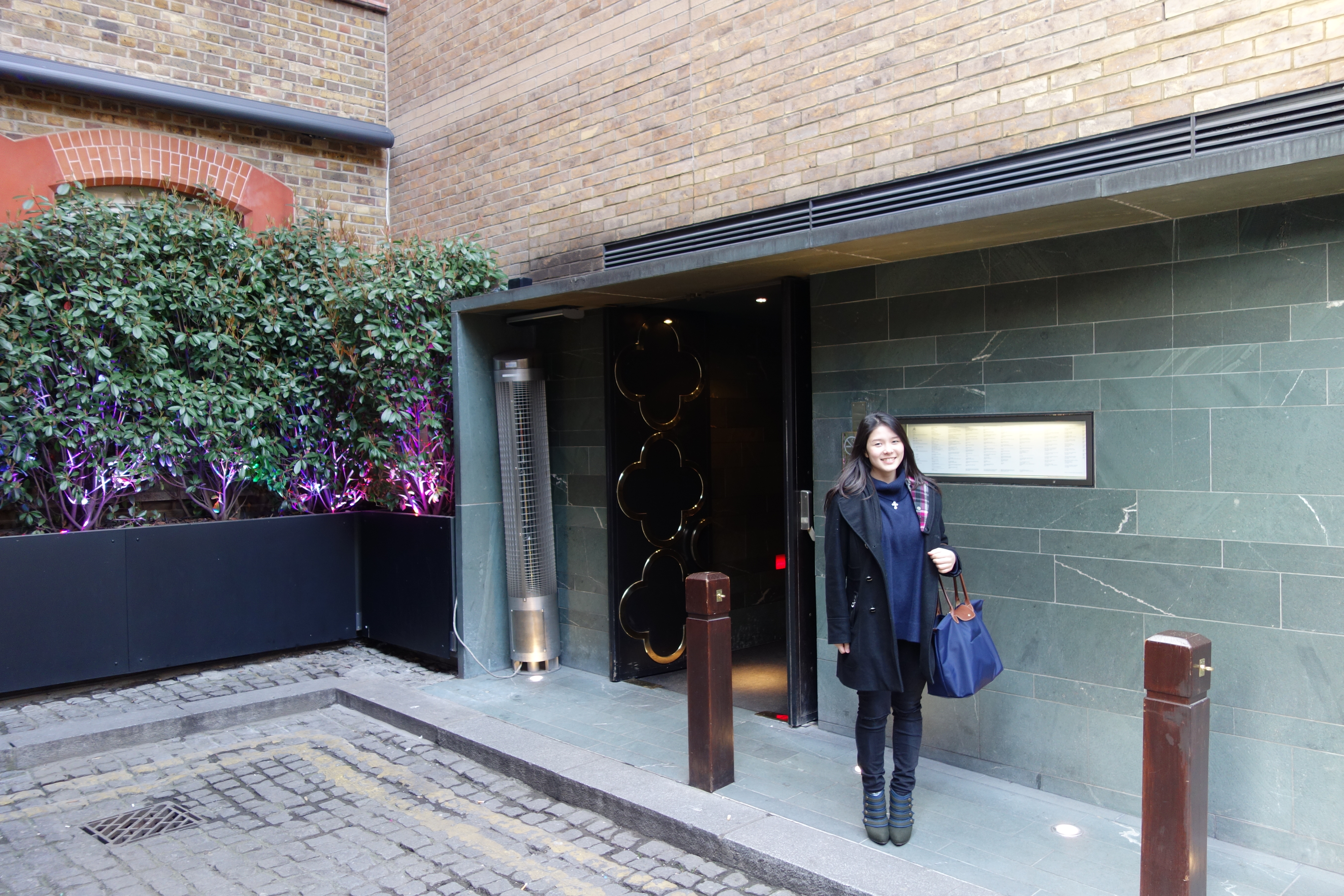 I will say this right now: you should not read this post if you are hungry. You are about to be bombarded with foodporn pics that will have you wanting to lick the screen. If you have not eaten yet, I highly recommend getting something to nibble at right now. If your tummy is already satisfied, feel free to read on. Regardless, you will probably end up drooling. You have been warned.
Seriously, it was one of the best meals I've ever had in my life – and this coming from a self-declared foodie snob/Dim Sum regular (I am Chinese after all! I just don't blog about all my dim sum meals otherwise I'll be writing about them all the time).
I booked a table for 2 at their Hanway Place branch via OpenTable. It's tucked away in a small back street off the bustling Oxford Street. A hidden gem indeed; the exterior is nothing fancy and you're likely to miss it if you didn't know where to look. Thank you, Google Maps.
Entering through the door, you're immediately guided down a stone stairwell leading to the basement restaurant where you're greeted politely by receptionists who take your reservation details and offer to take your coats.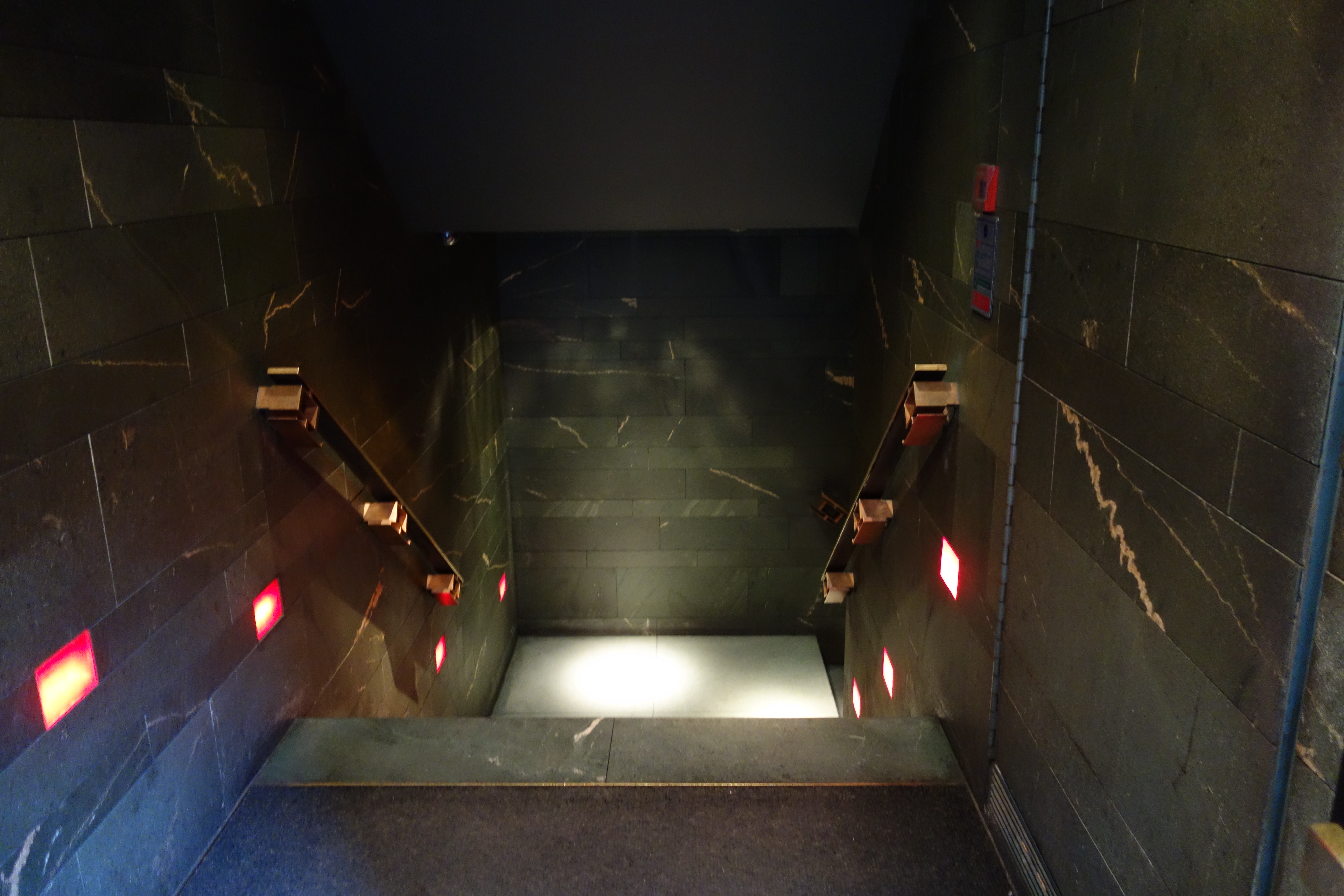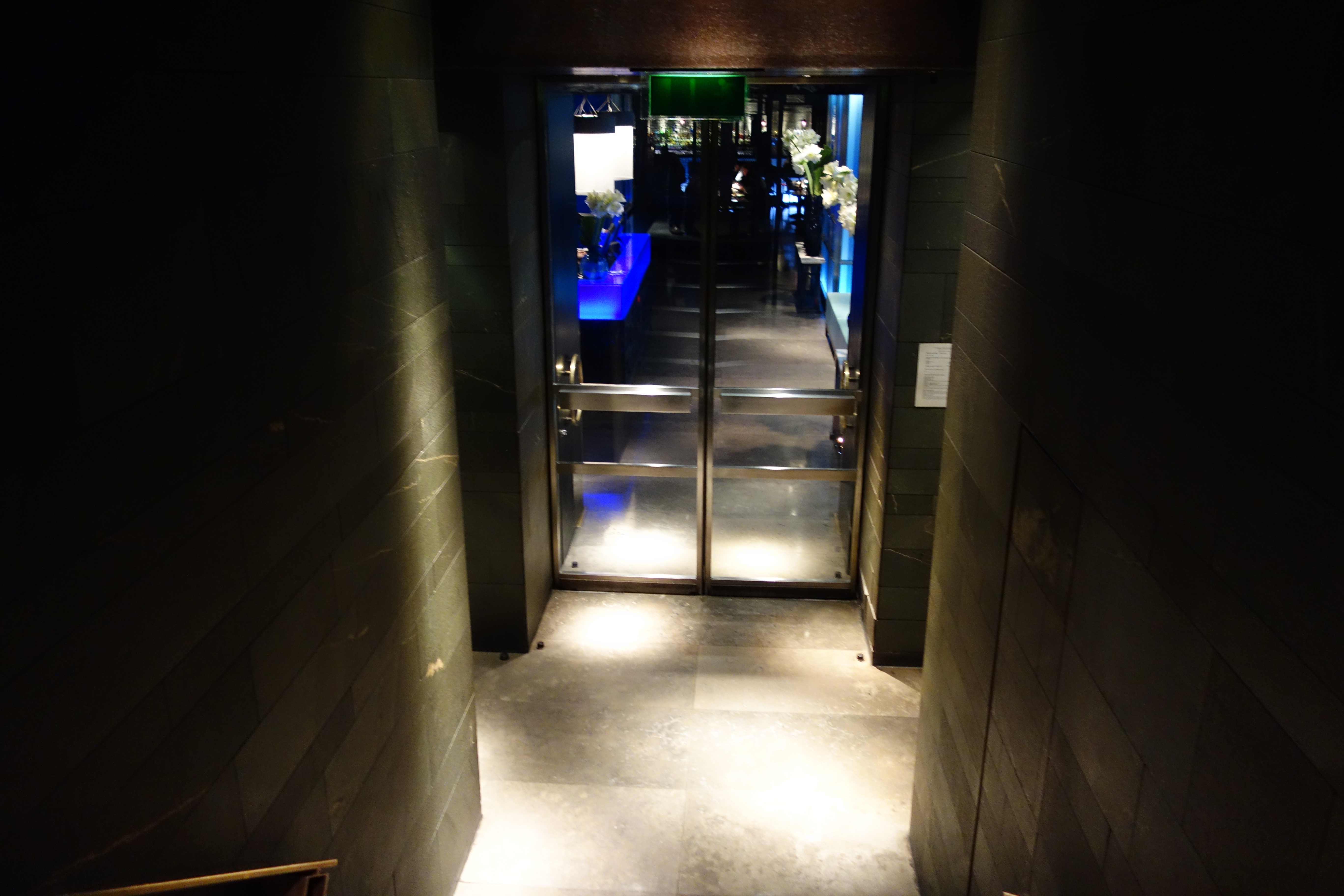 My booking was for 17:30 but we arrived about 15mins early. They were incredibly gracious and offered to seat us immediately. Yes please!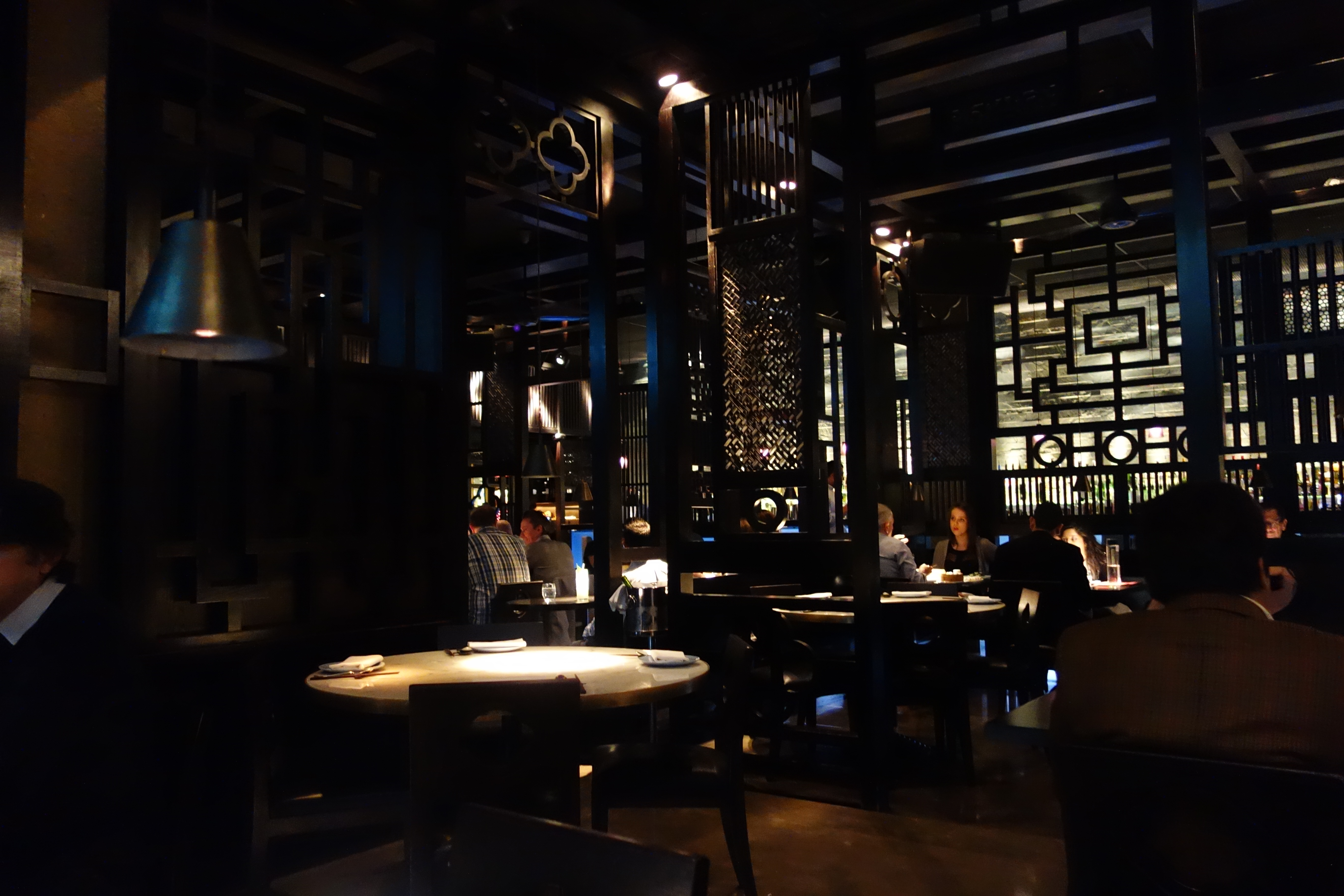 The restaurant was dimly lit and cosy. Tables were placed closely together but not uncomfortably so. You weren't expected to sit with strangers. J commented that the interior reminded him of a nightclub, I agreed. Take that how you will! It was a little unexpected as I tend to prefer light, airy places.
That didn't stop our enjoyment of the food (although it did mean I ended up with some creepy-looking photos due to the lighting!). They have the most amazing Sunday set menu: £48 for 6 courses + a cocktail + tea, or £58 for 6 courses + 2 cocktails + half a bottle of pink bubbly, valid between noon – 6pm.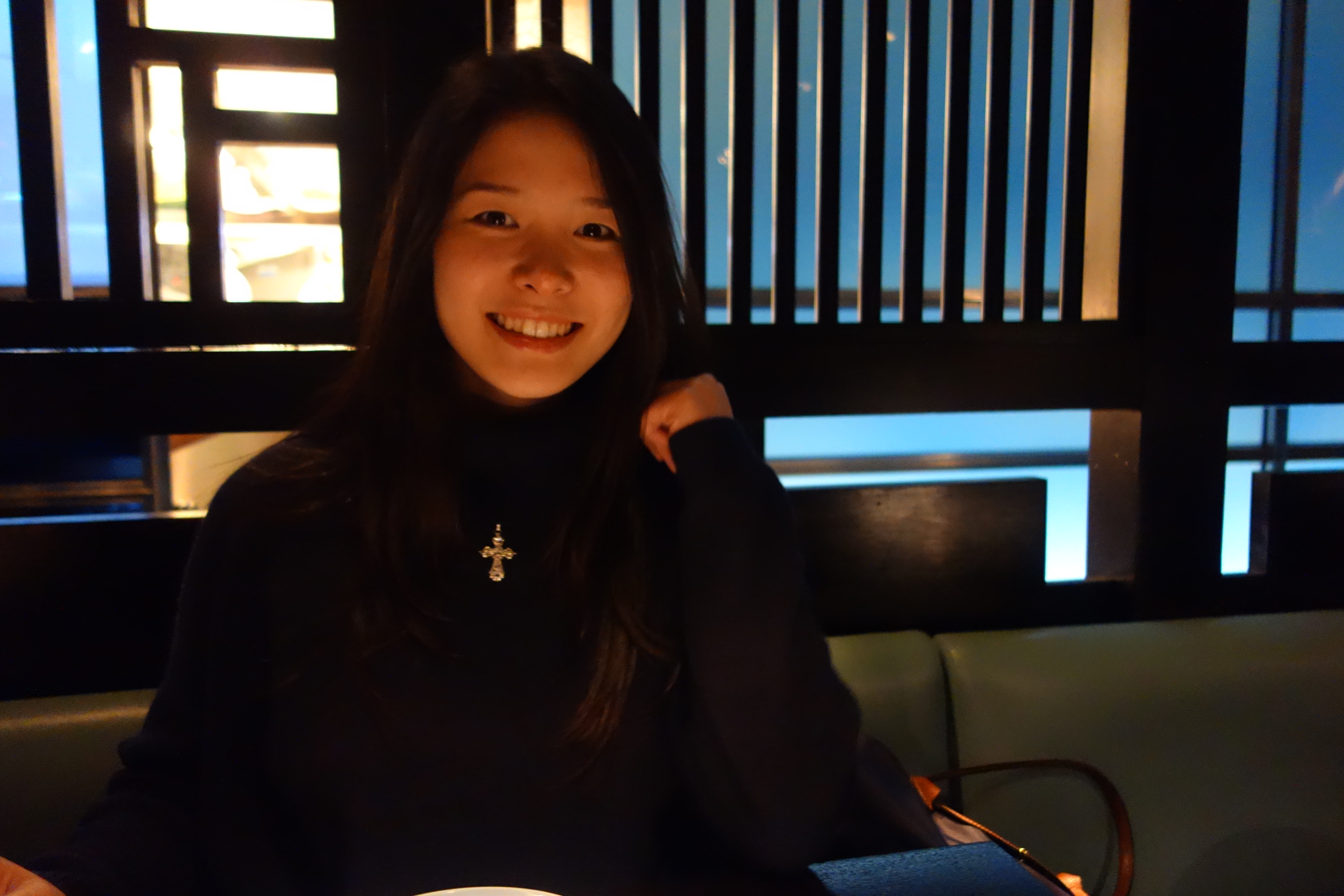 We opted for the first menu as neither of us are big champagne drinkers and we preferred tea anyway. So Asian.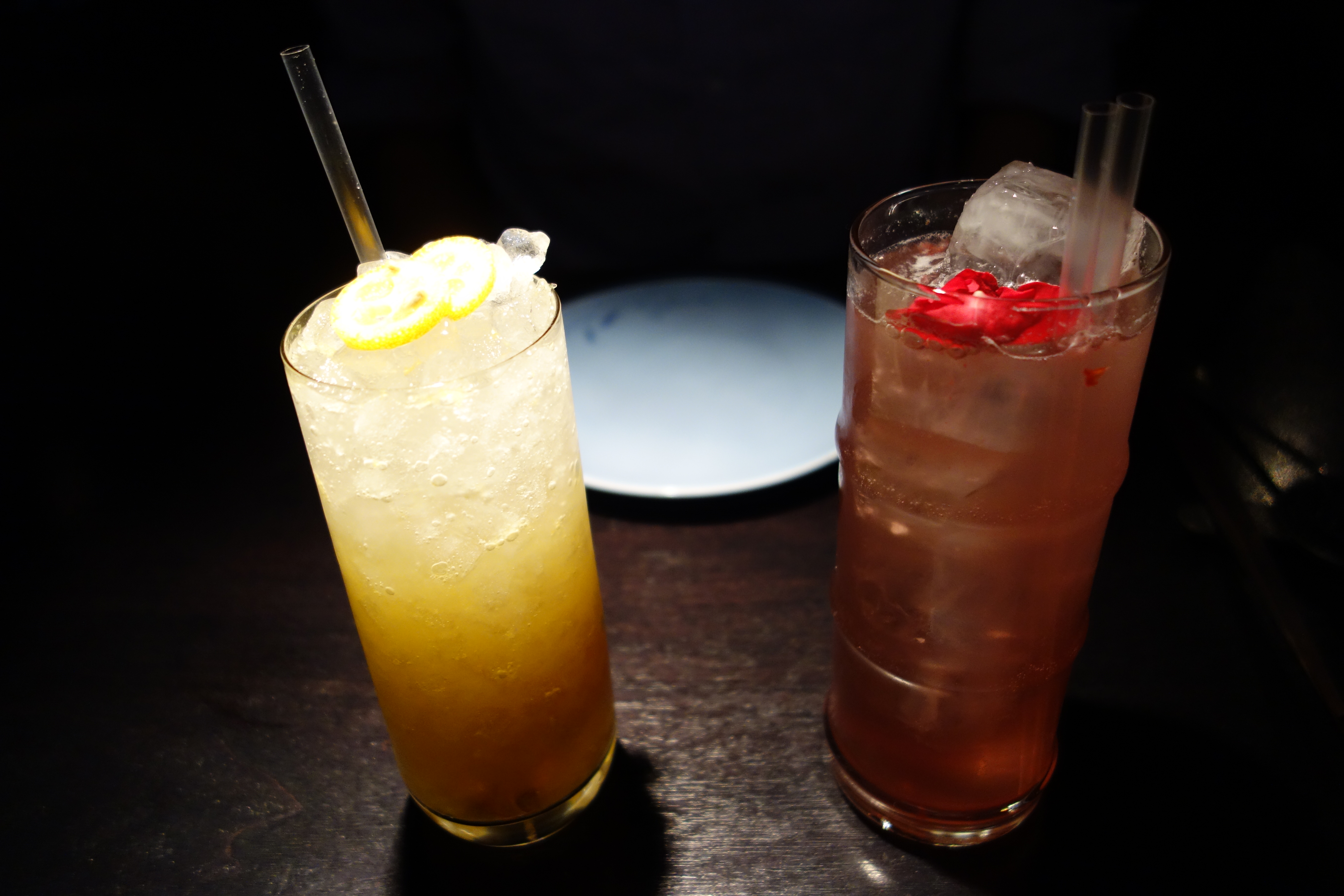 We started off with cocktails. A Hakushu Crush for him – kumquats, yuzu, Suntory Hakushu 12yrs whisky, Drambuie, ginger, cardamom bitters, soda. Fleur de Coco for me – coconut water, raspberry, Belvedere vodka, Akashi-Tai sake. Served with a beautiful rose petal. I loved it – incredibly light, subtly sweet and very tasty. His was much stronger, which he preferred and I did not, so that worked out well.
Let's bring on the food shall we!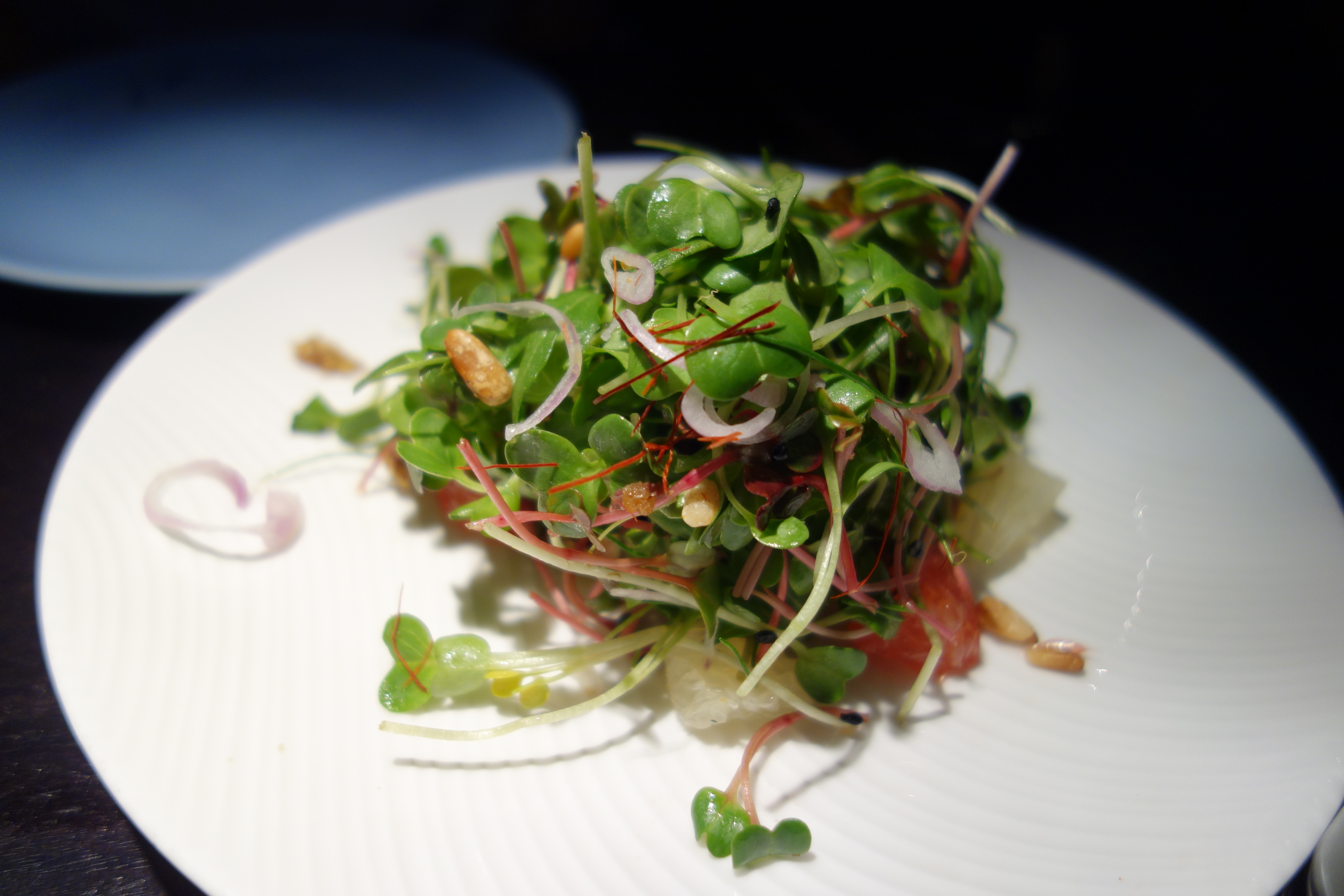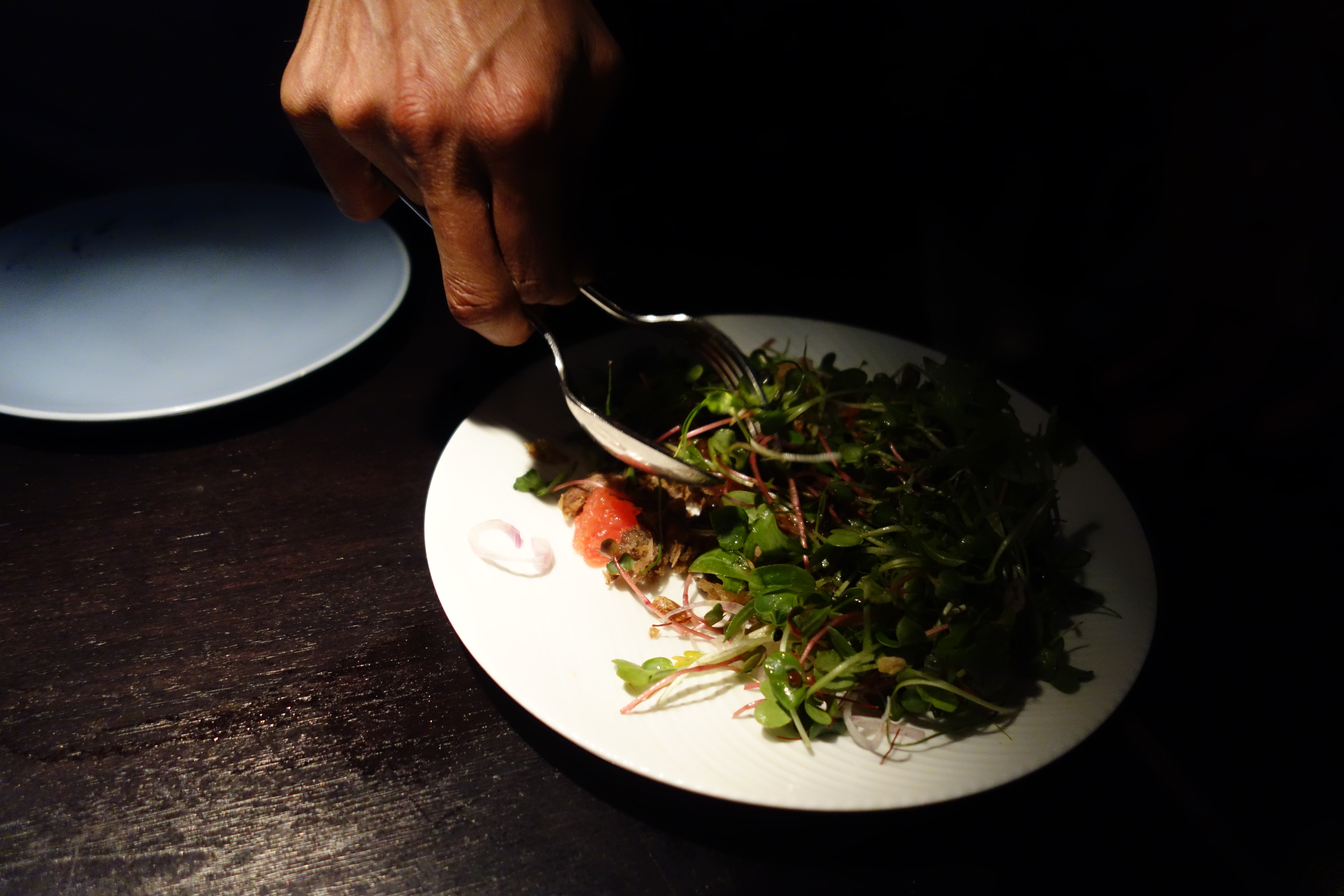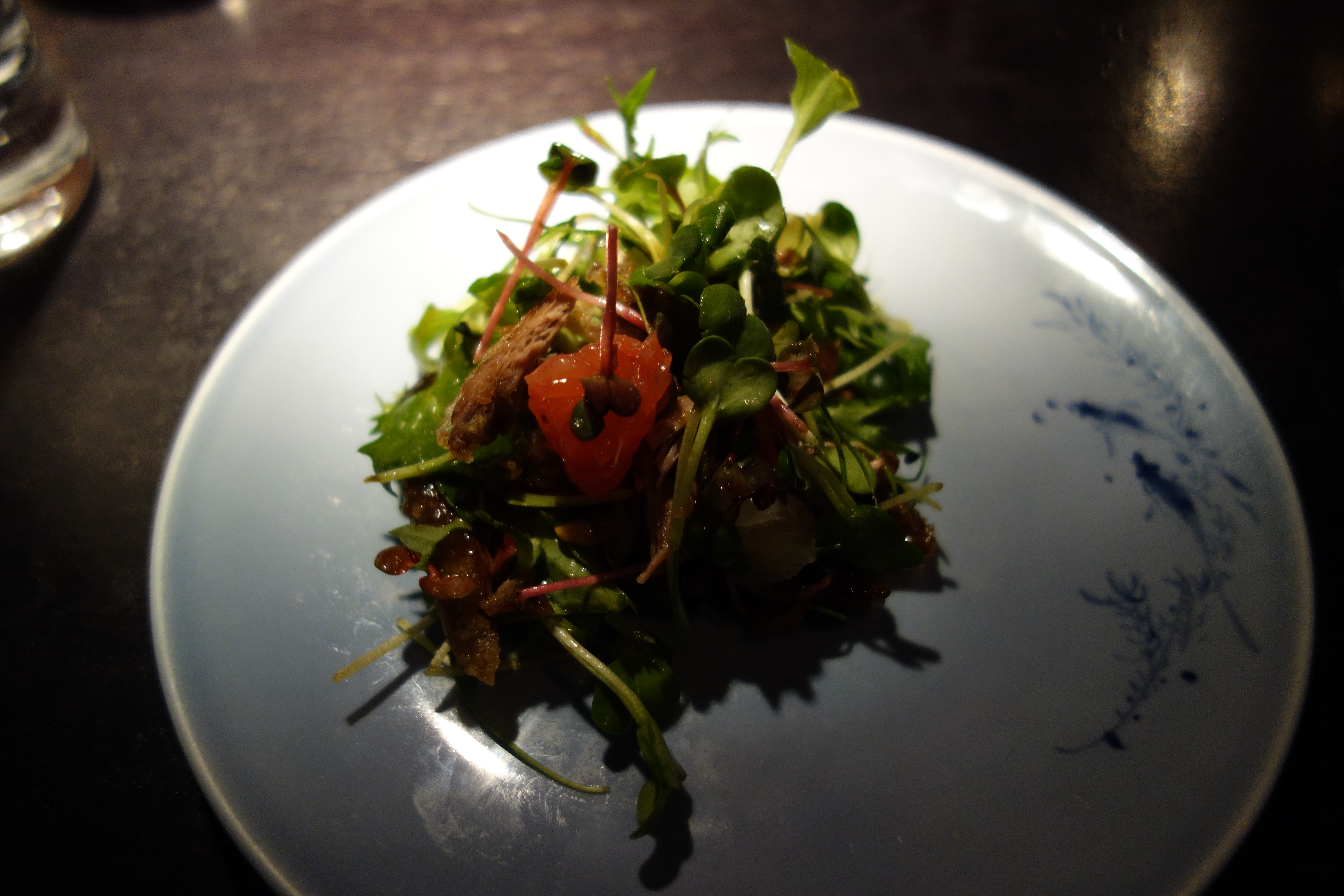 Course 1: crispy duck salad with pomelo, pine nuts and shallots. Flavoursome, juicy duck and crunchy salad with the pomelo giving it an extra burst of sweetness and tang. Brought to you on a plate, expertly split into two portions and served individually.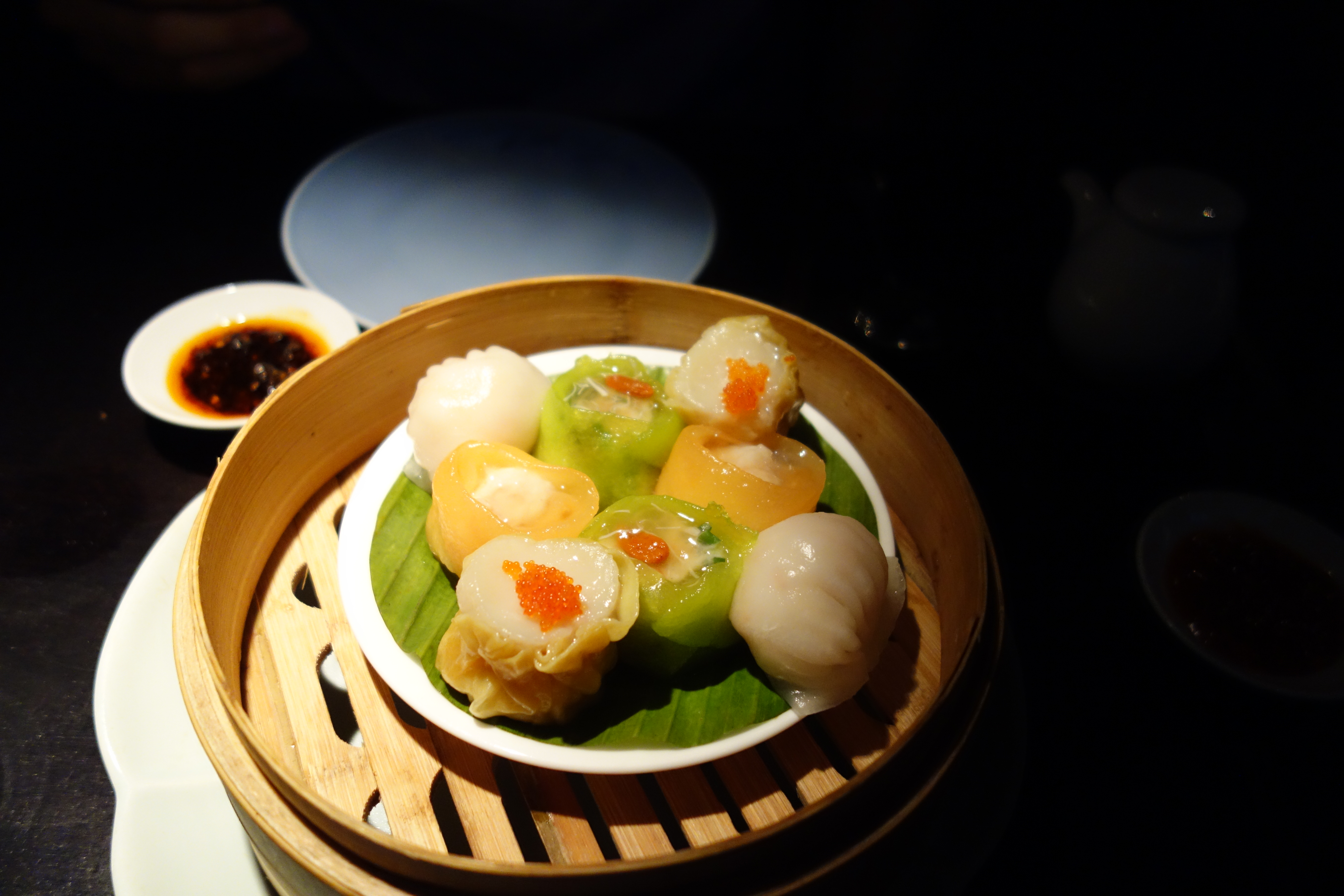 Course 2: a steaming basket with some of the most beautiful colours of dim sum I've ever seen is served. Full marks for presentation here! Celery prawn dumpling, har gau, scallop shumai and Chinese chive dumpling with prawn and crabmeat.
Oh. My. Word.
This is where my eyes rolled into the back of my head and I died of deliciousness. Not a bad way to die, to be honest. But no, seriously, each and every single bite was of the most succulent, delicious prawn with all the other flavours complementing one another perfectly. This was definitely one of my favourite courses.
Do these deserve a close-up? You bet they do!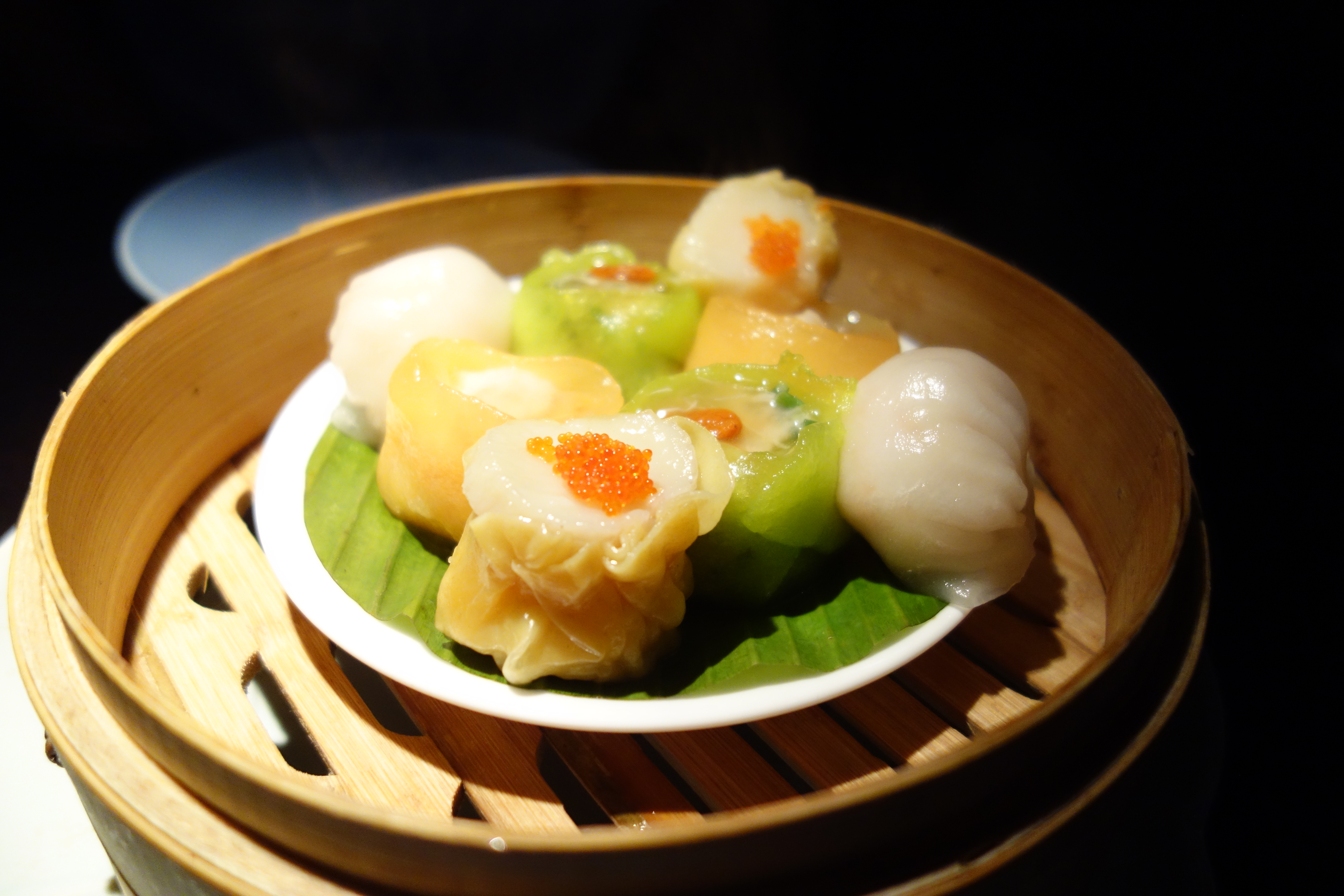 Normally I don't like shumai as it tends to be poorly made with chewy pork and fishy prawn. These were clearly made with the freshest ingredients and the scallop on top was simply wonderful. I could have happily eaten a basketful of these on their own. And another basketful of all of the above as well.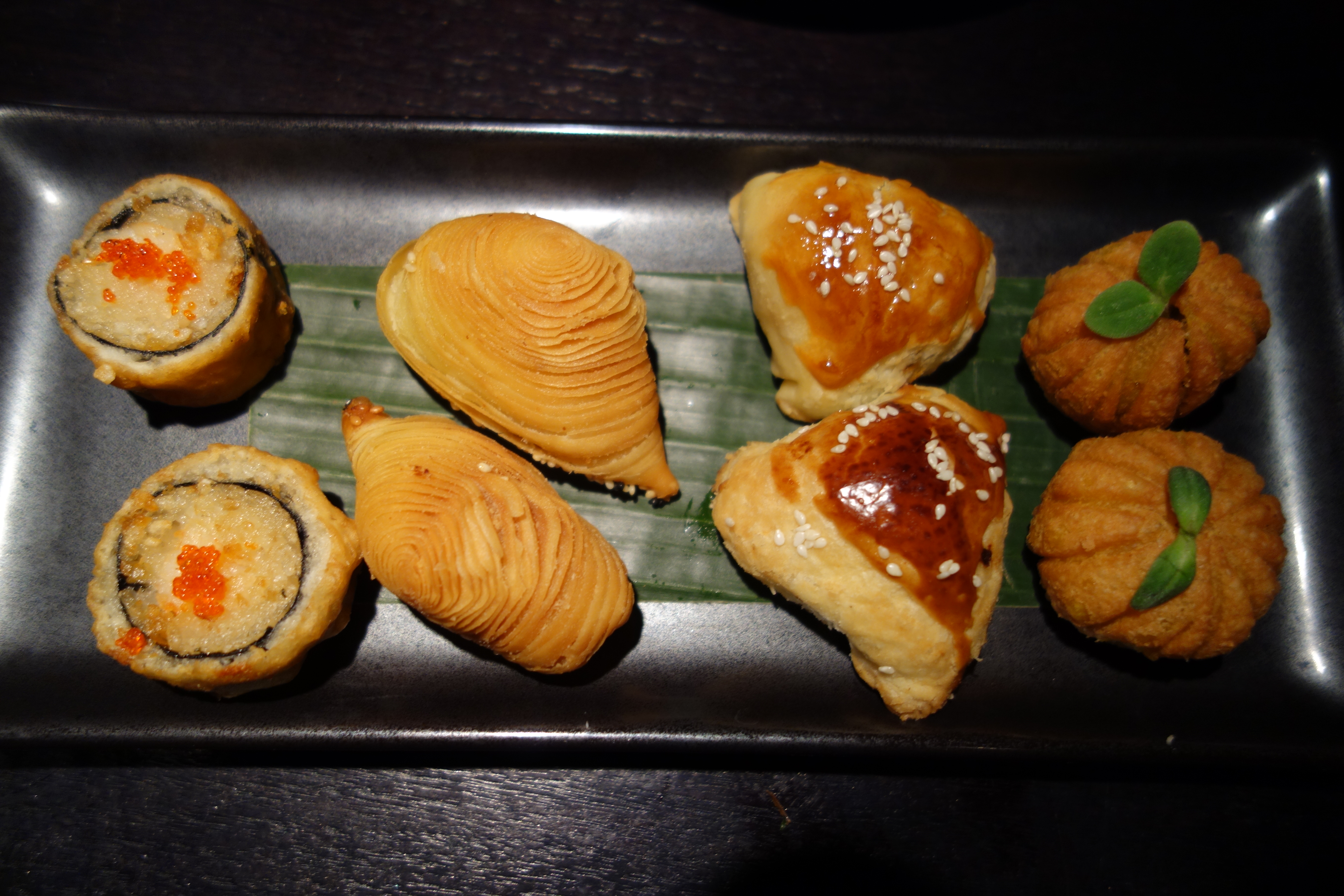 Course 3: (from left to right) seafood glutinous seaweed roll, golden radish crab meat pastry, baked venison puff, crispy smoked duck and pumpkin puff. These were the fried selection. I have to admit I did not like the baked venison puff. I took one bite, didn't like it. J loved it so encouraged me to try again. I did, didn't like it. So I gave mine to him. I think there was cheese in it and you know how I feel about cheese…
Otherwise, the other pieces were delicious. I recall eating my crab meat pastry super slowly so that I could savour it. I didn't want it to end!!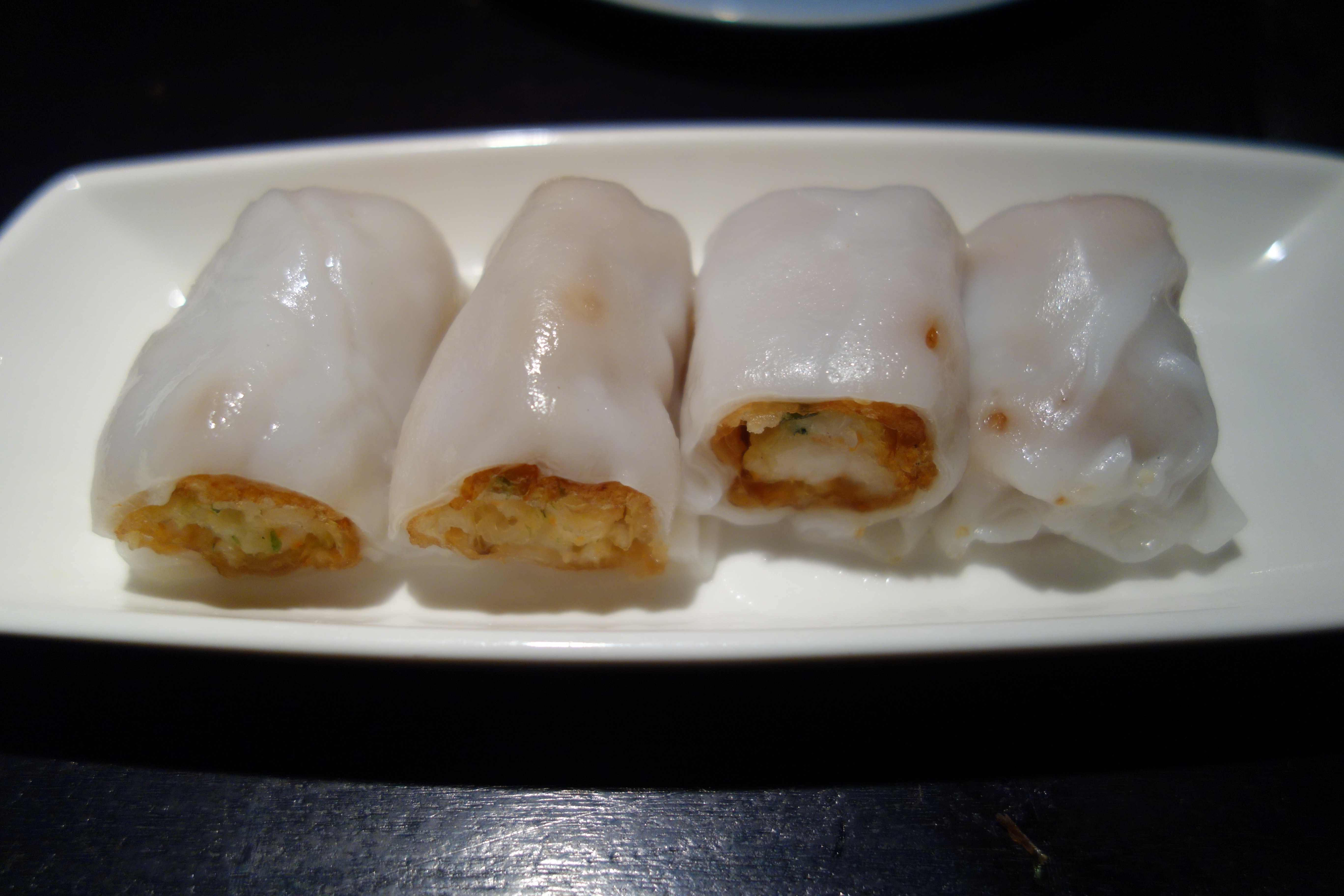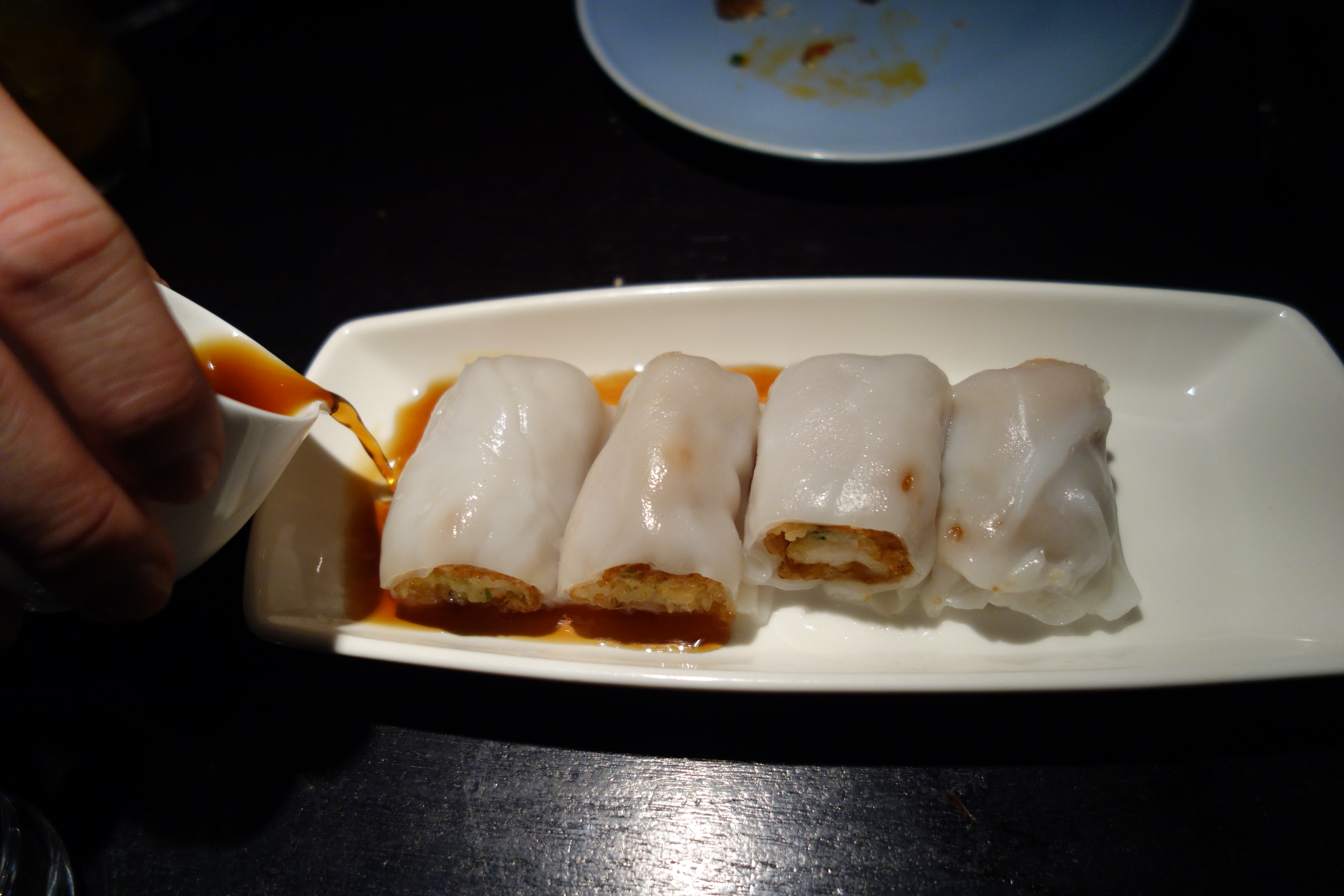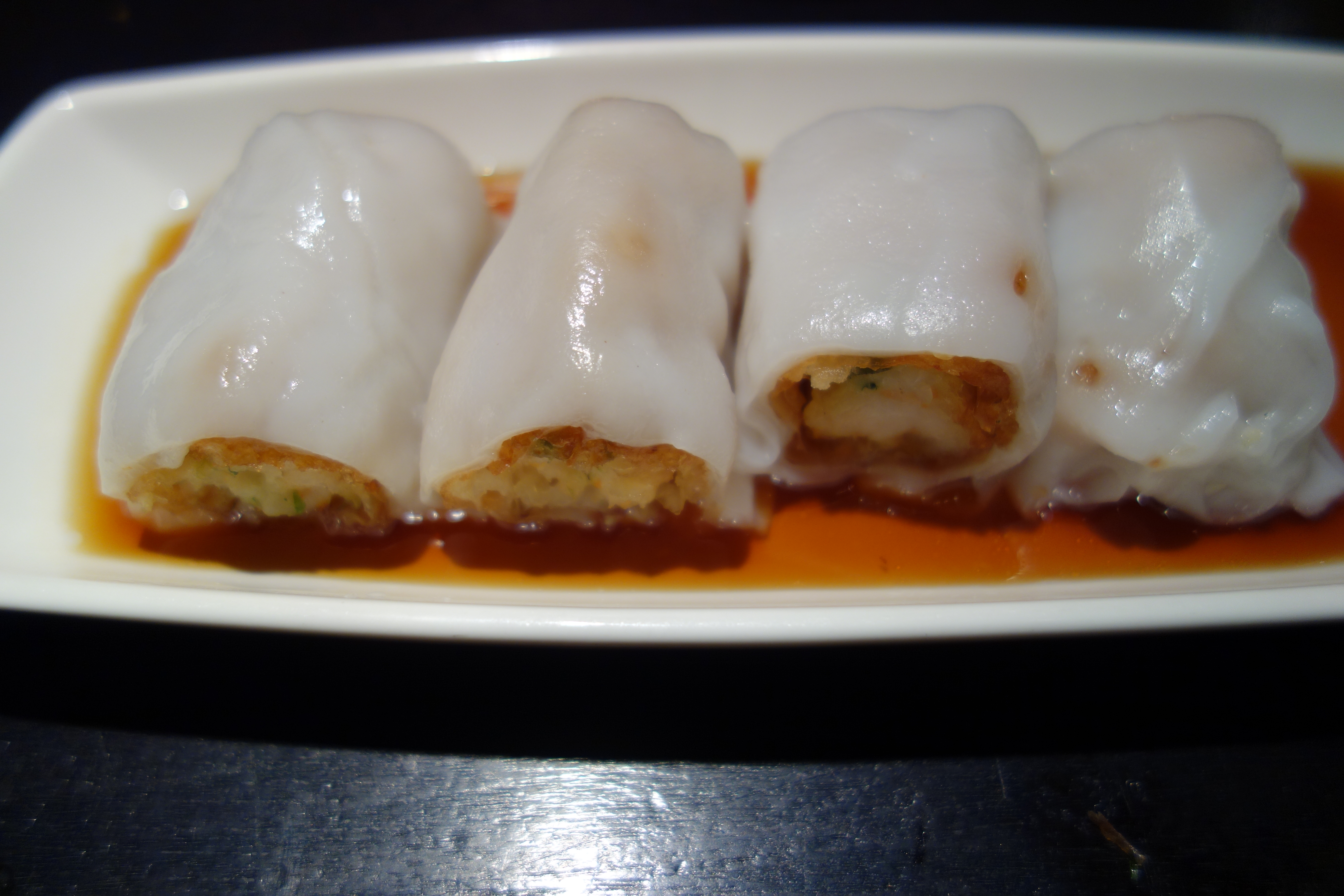 Course 4: crispy beancurd cheung fun with prawn.
I love prawns in dim sum. Seriously, love love love. It's the main dish I order every time I have dim sum so this menu was right up my street. The fourth course was a "small dish" (before the main) where we had a choice between the above, or jasmine tea smoked organic pork ribs. I'm not a fan of pork and both J and I love prawn cheung fun. This decision was a no-brainer.
This was one of J's favourites, we had two pieces each although had I known I would have given him an extra one of mine. By this point I was getting super stuffed already! It was delicious though. I may need to think of another adjective but sadly my vocab is not rich enough, and no superlatives in the world can describe this meal. I would like unlimited quantities of this meal in heaven please.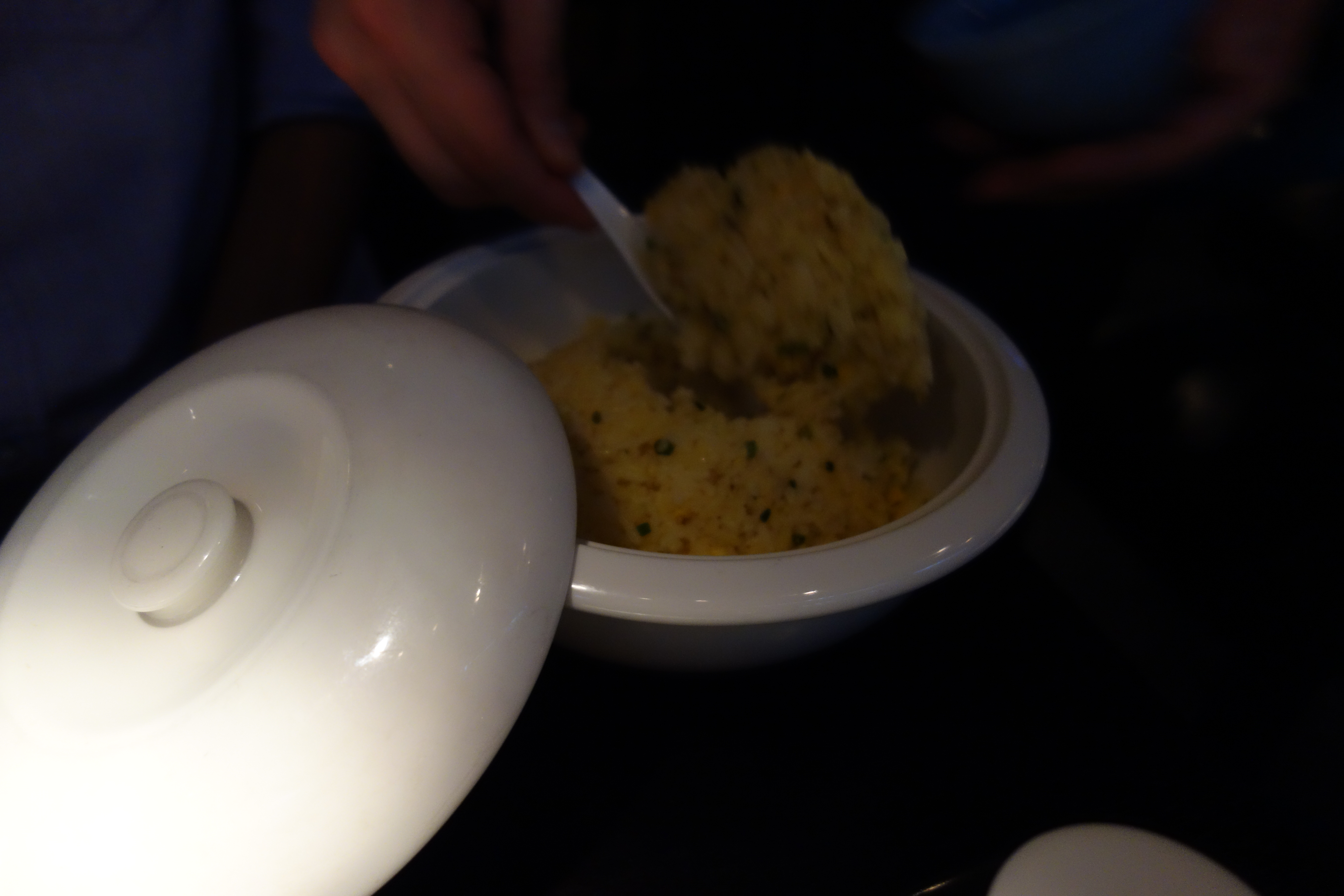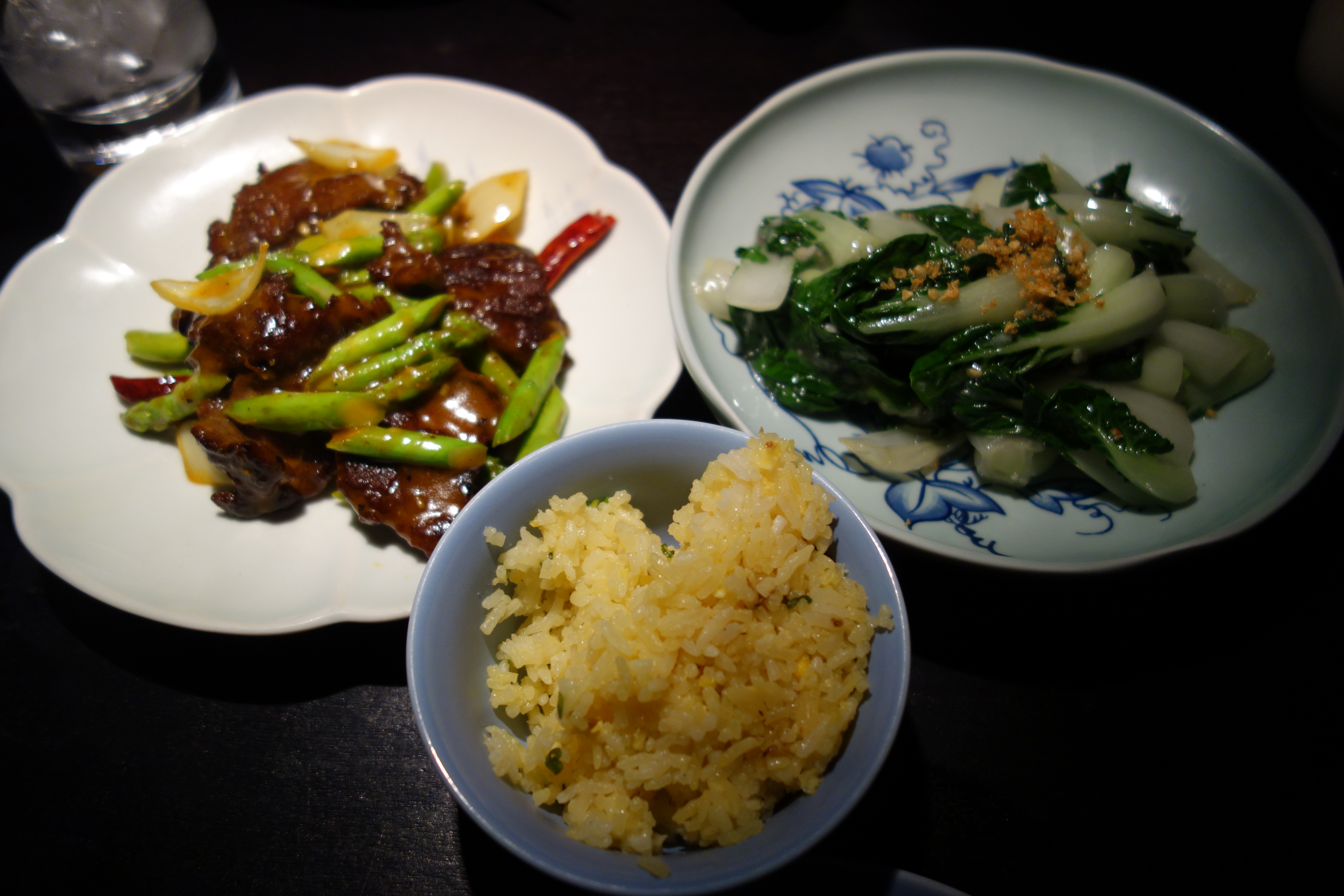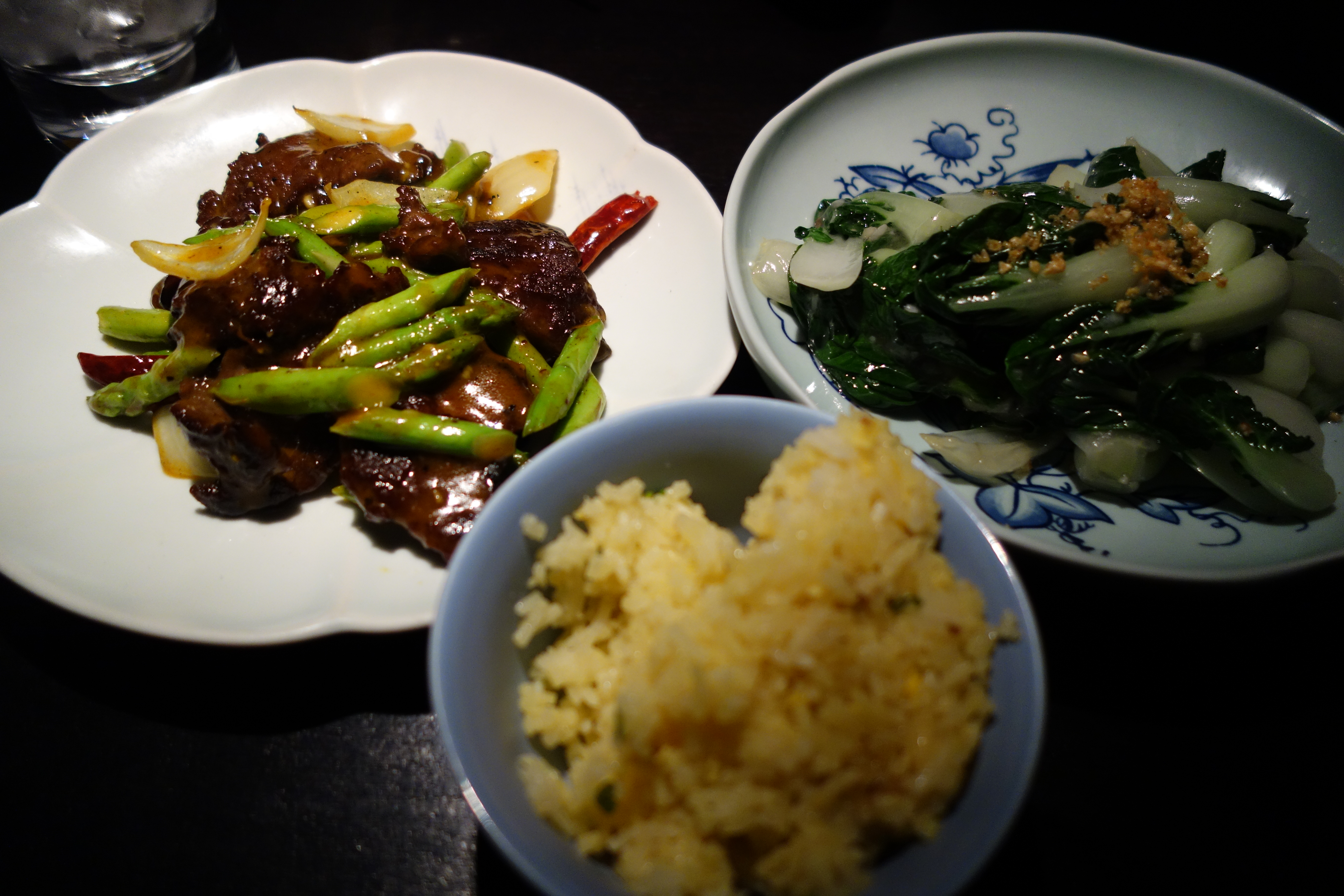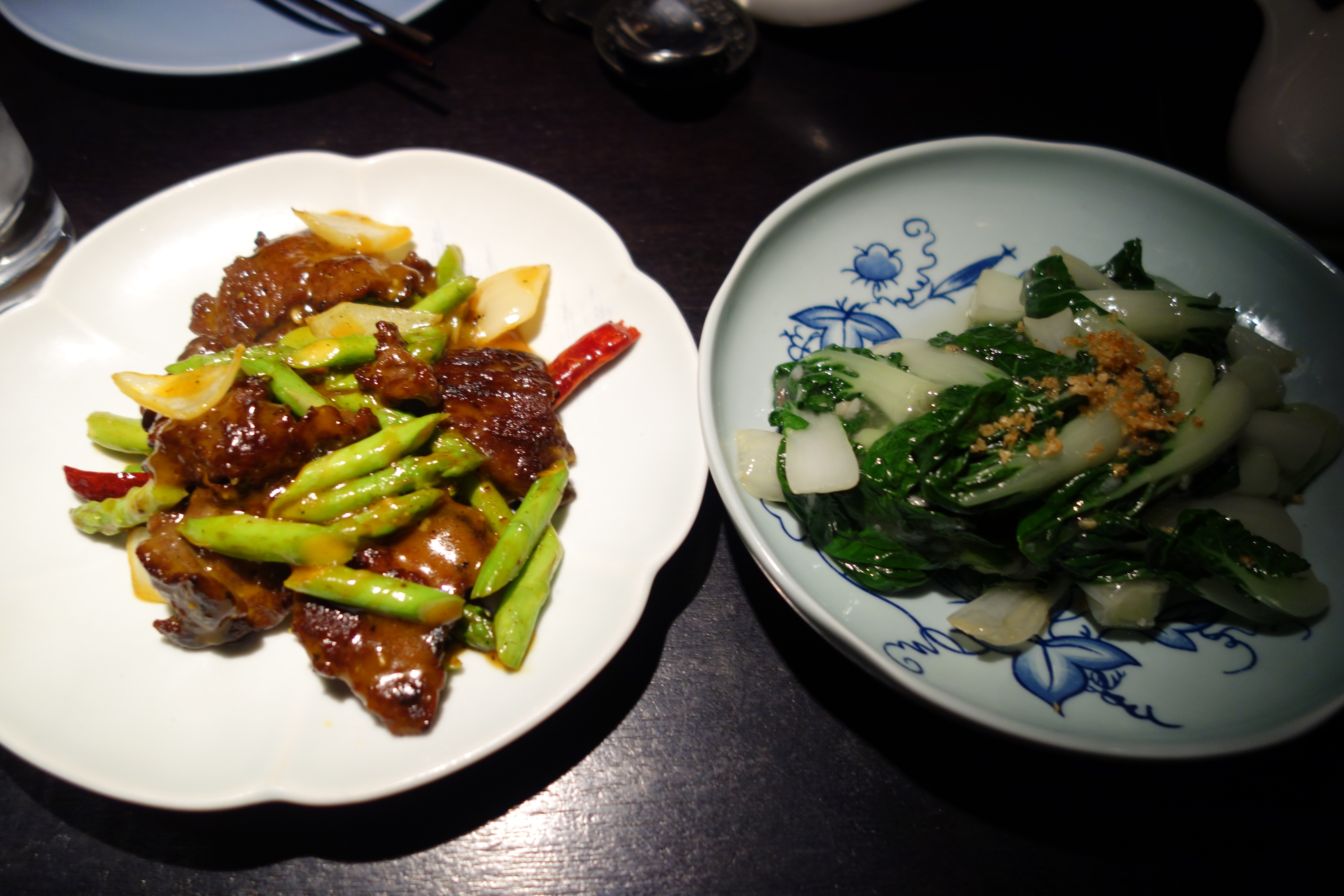 Course 5 (main): sautéed venison fillet in Mongolian sauce and pak choi served with a giant pot of egg fried rice.
I have no idea what Mongolian sauce is, but I will say it was delicious (word-abuse continues). The venison was thinly sliced and stir fried but somehow was still tender and bursting with flavour. The pak choi was stir fried with a crispy garlic sauce and cooked to perfection with just the right amount of crunch. Pak choi is incredibly easy to overcook so the fact that they did this so well and made it so flavoursome deserves some serious accolades.
Egg fried rice I loved but J didn't really like. I think they used glutinous (sticky) rice, which normally tastes a lot better but the texture is, well, stickier. It's supposed to be more refined and taste better than normal dried leftover jasmine rice, but some may not be used to it. I only wish I had enough stomach to eat it all!
Wanna know what I looked like by this point?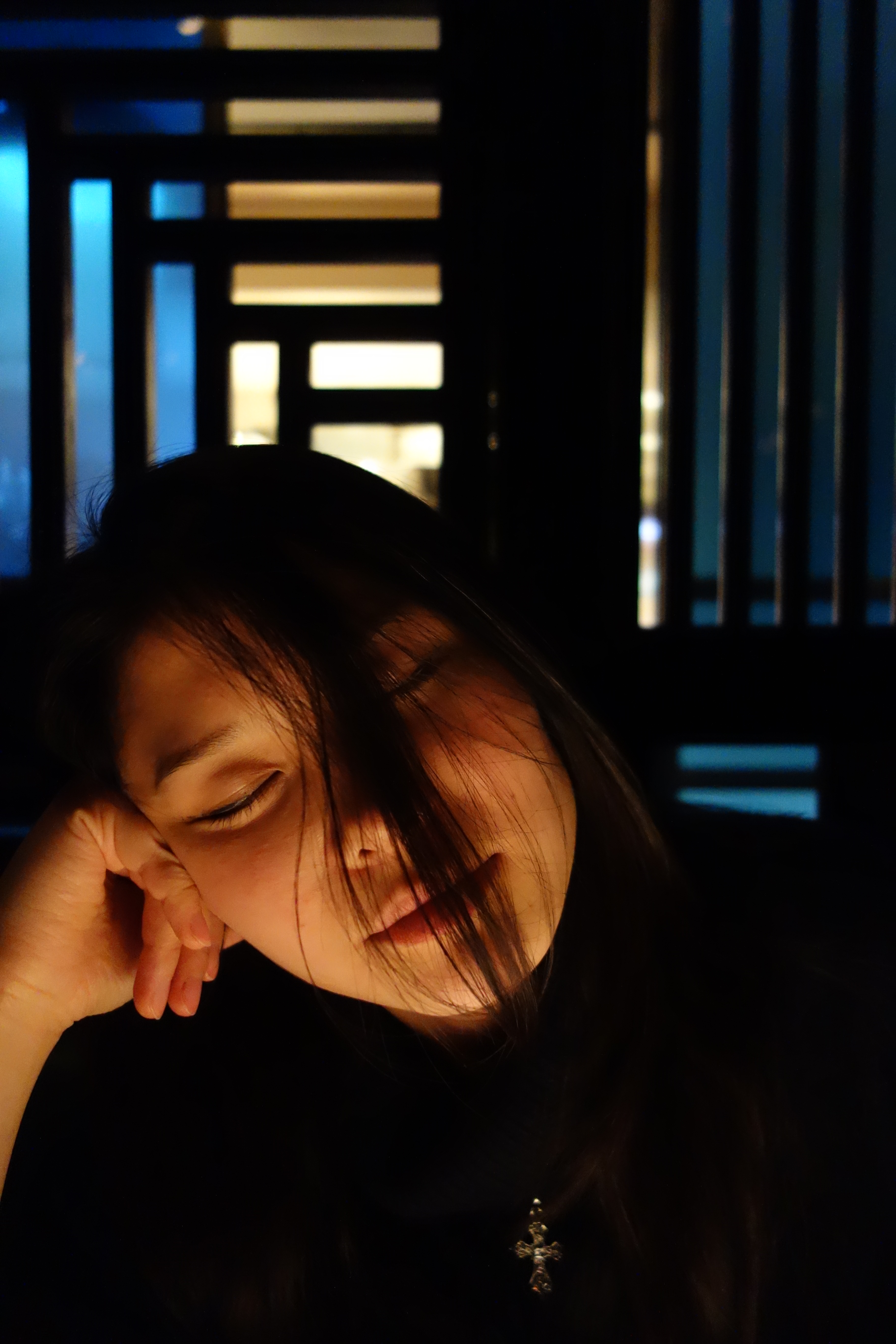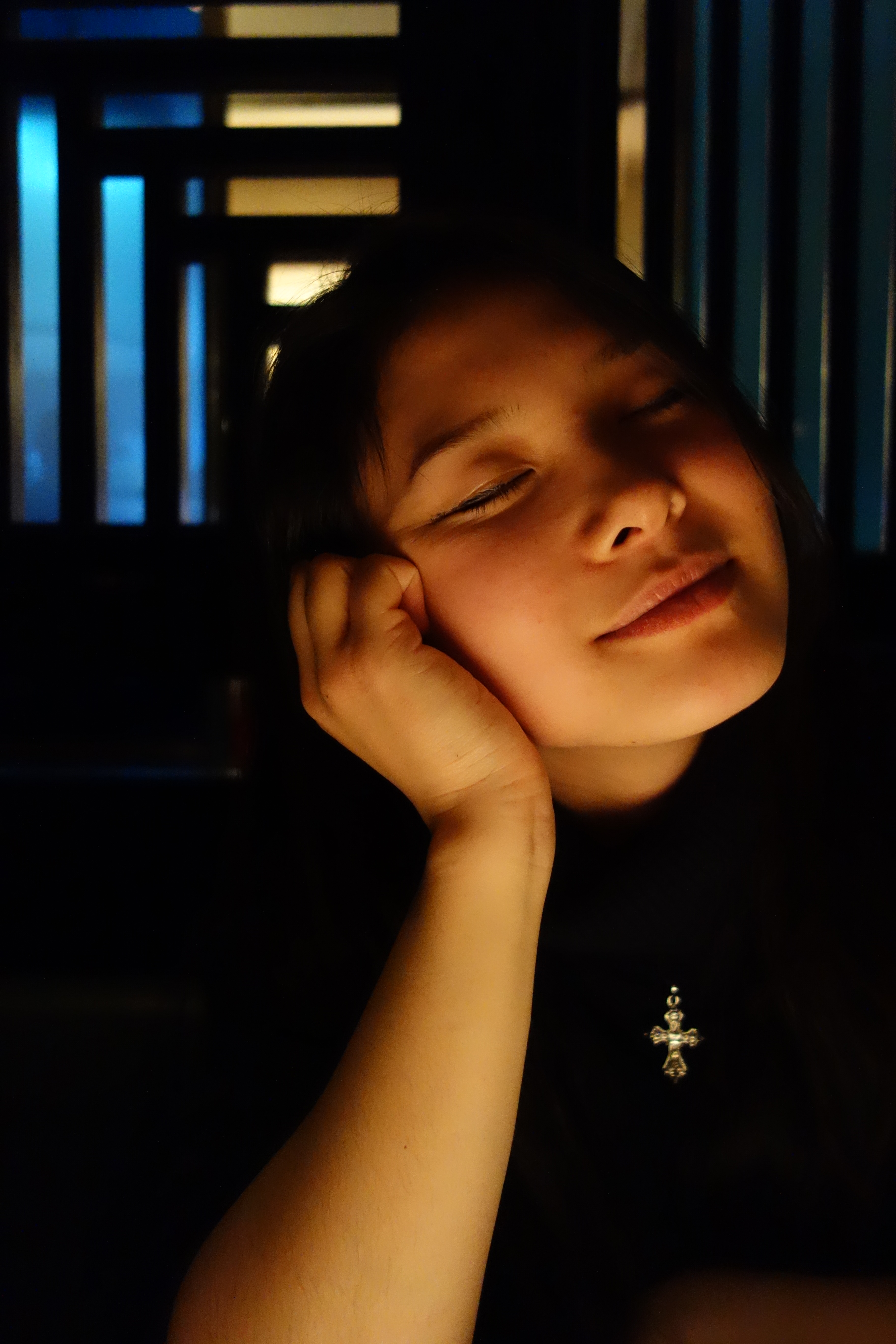 Food coma. But a very happy one at that.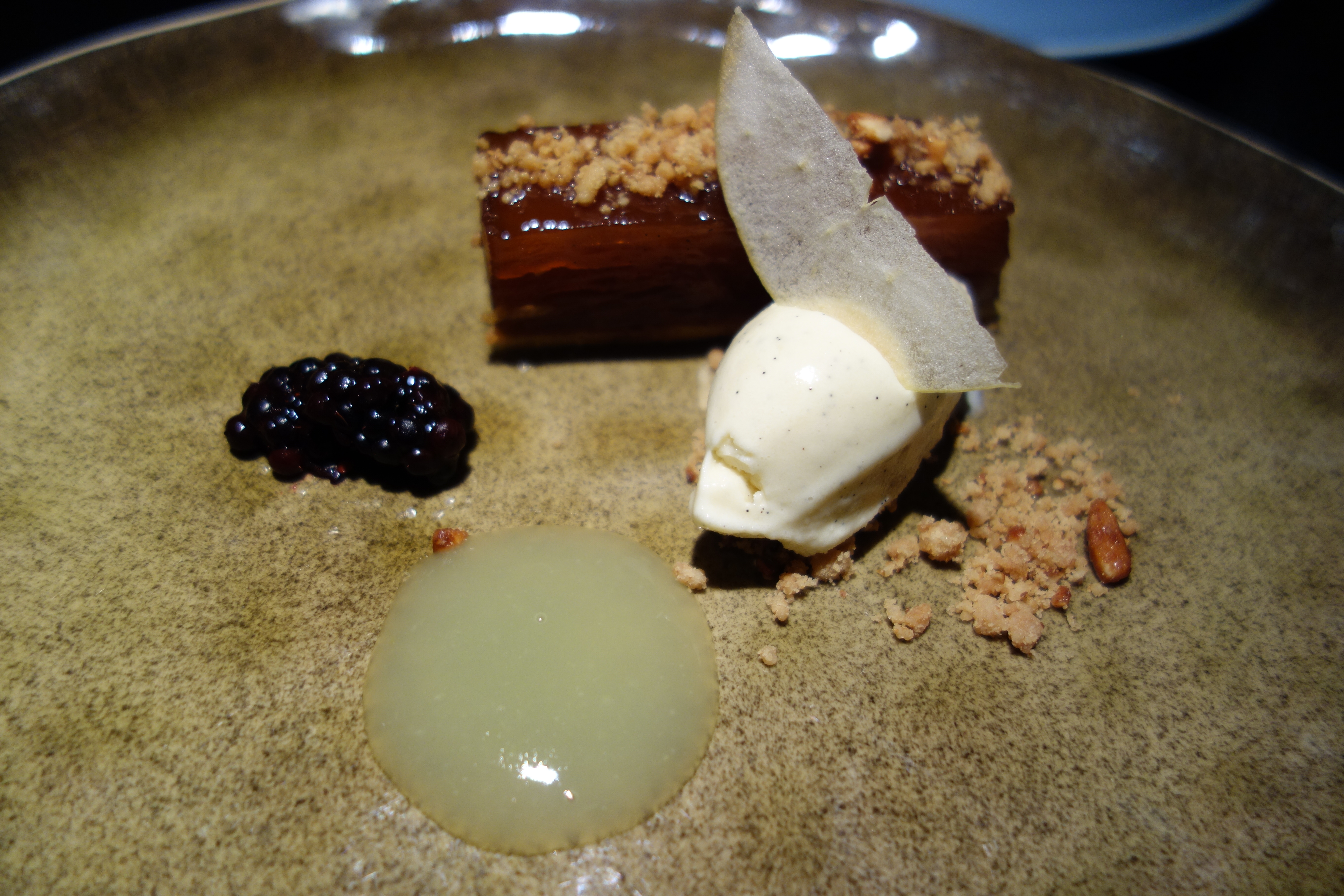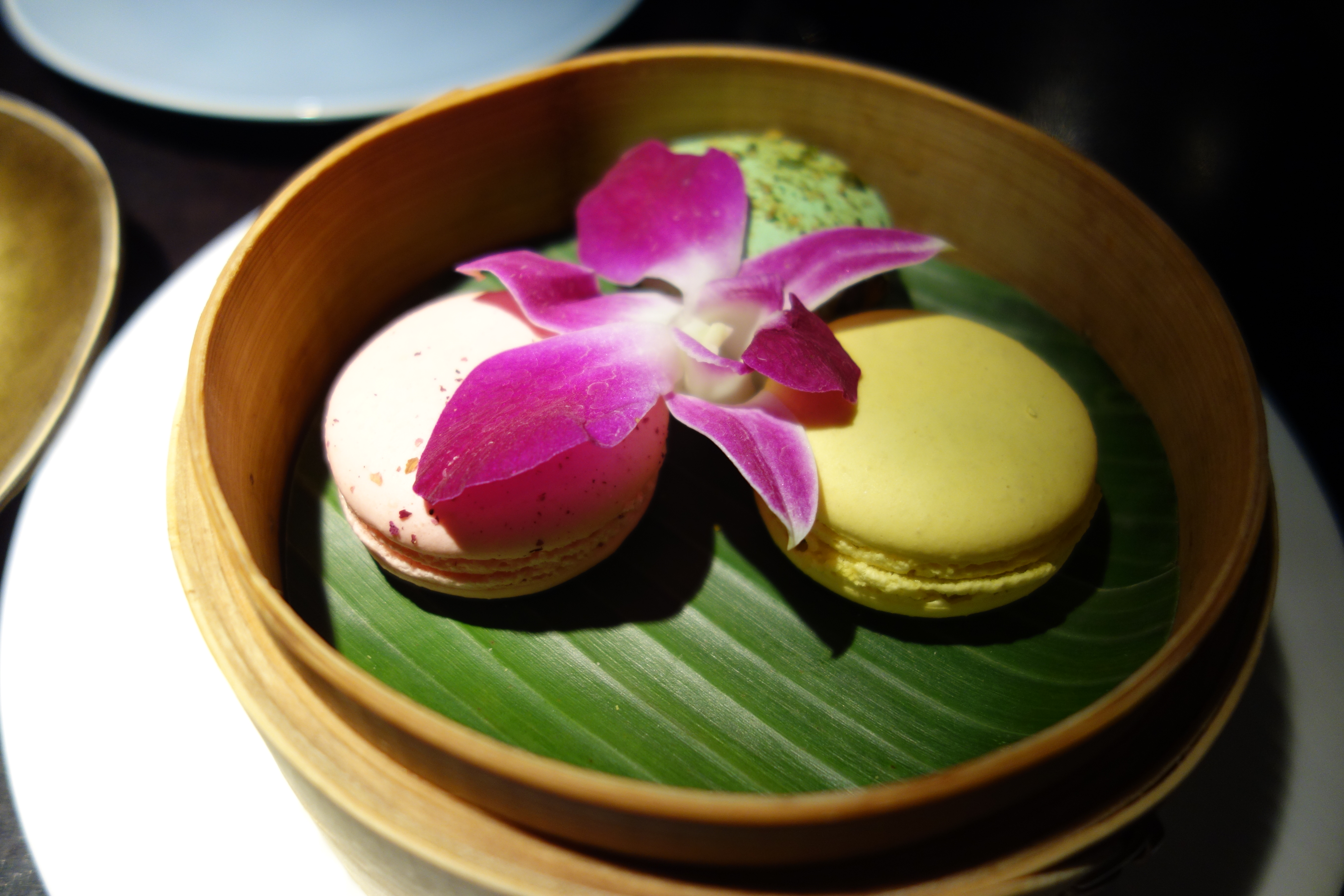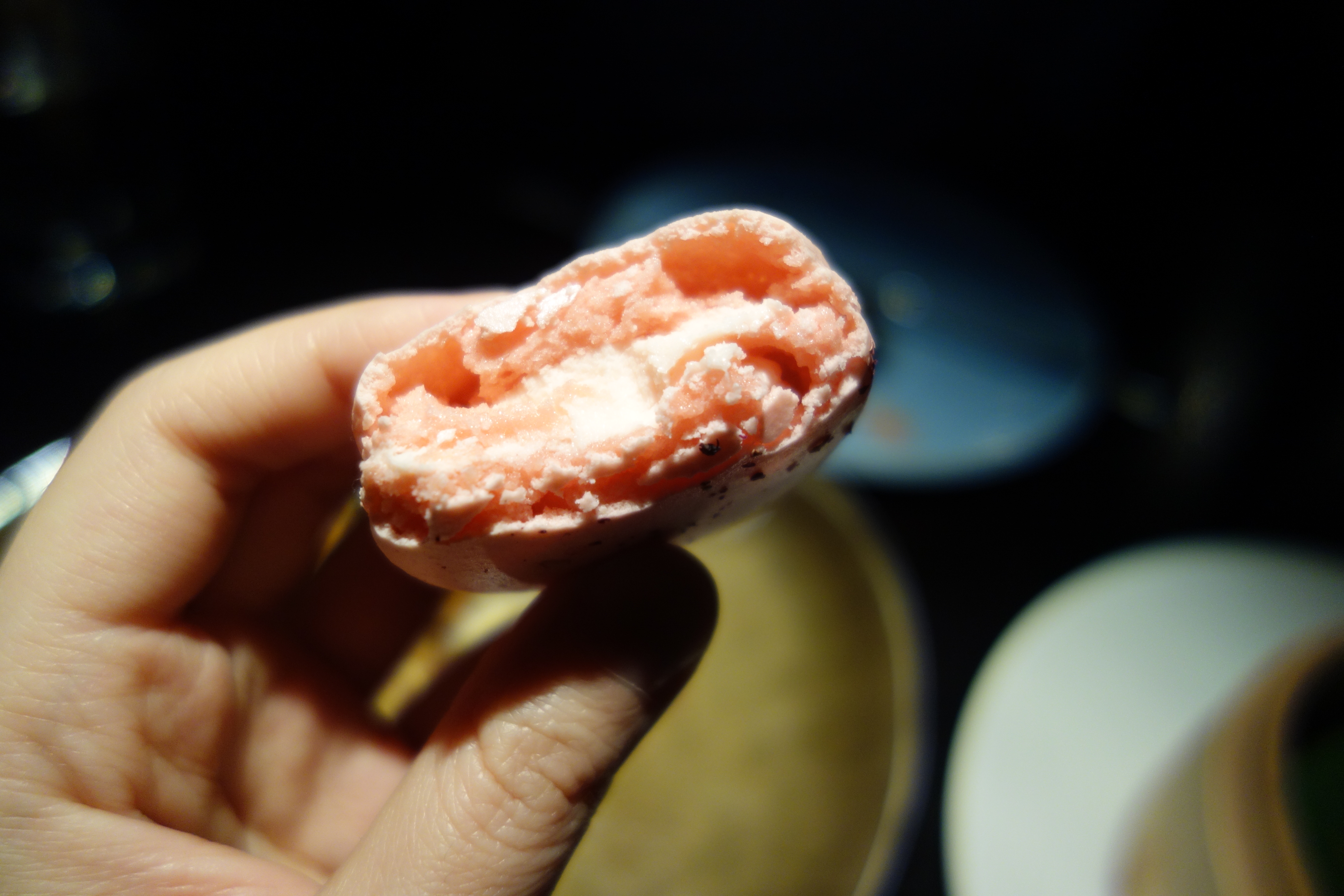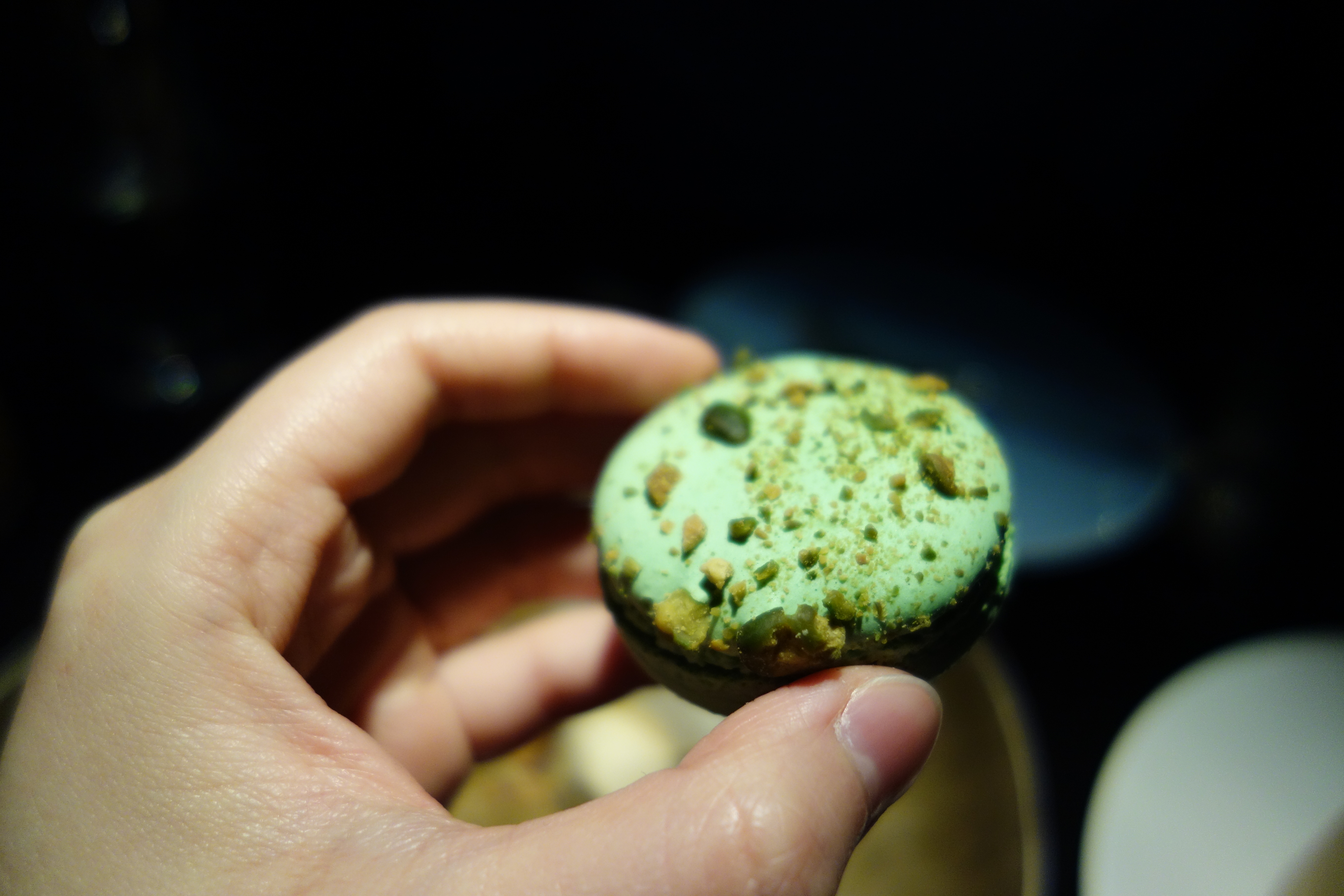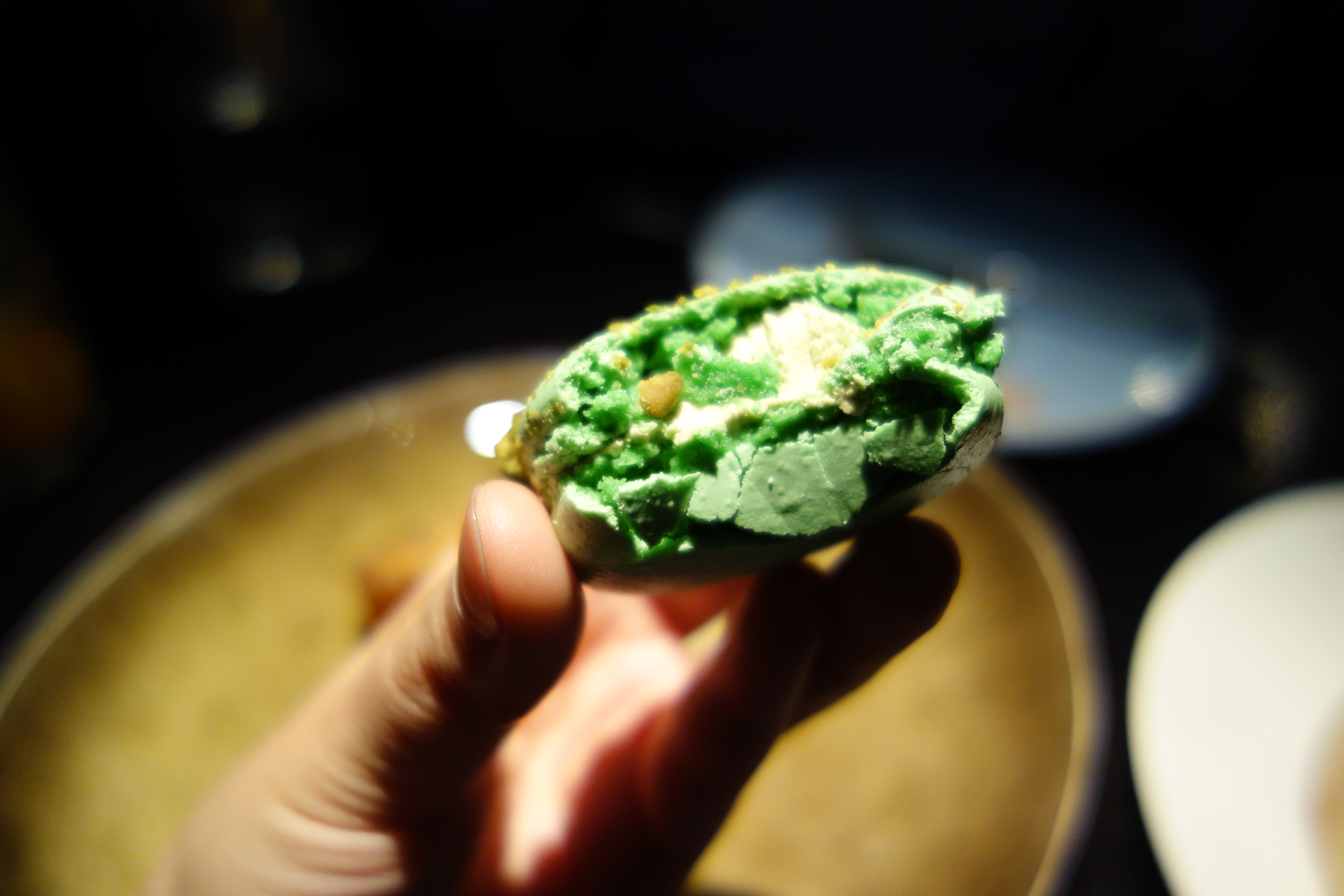 Course 6: dessert for him was the apple tatin with blackberry, almond crumble and vanilla. For me, of course, the macarons. I'm a huge fan of macarons.
The apple tatin was perfectly tasty, but we didn't finish it. It was a bit sticky and difficult to eat (couldn't cut through it with my fork) and I wasn't a massive fan of the big blob of apple sauce. My macarons, however… Aside from the lemon & chocolate macaron, which, sorry, the chocolate filling was so overpowering, rich and sickeningly sweet you could barely taste anything else, everything else were great.
My rose macaron was… heavenly. And the pistachio macaron was simply out of this world. I've never tasted a pistachio macaron so full of pistachio flavour before. Deliciously nutty with the creamy pistachio centre being the figurative icing on the cake.
Finally, tea.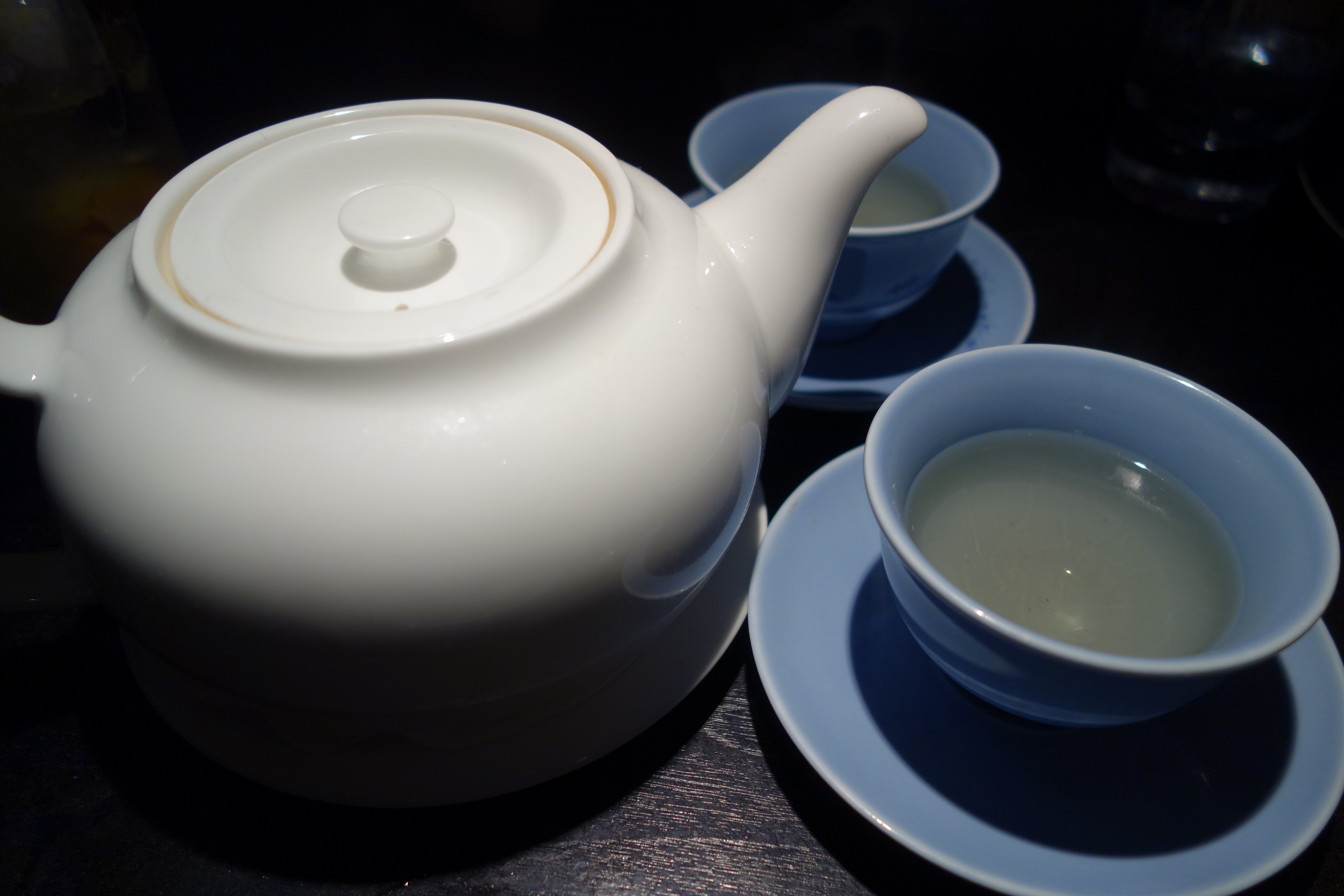 Ahhh *sighs of pleasure*.
Service throughout had been good and the timing of the food had been good for me as well (it was possibly a little on the slow side, but for me that only offered welcome breaks for digestion so I can stuff more food in myself). My only gripe was that our tea took a long time to arrive. It arrived a good 10-15mins after we'd already finished dessert and were a bit anxious to leave.
That being said, I was conscious that Hakkasan had a 2hr turnaround period. For some reason, it seemed they were completely relaxed about time with us. We dined there for over 3hrs and at no point felt rushed to leave. By the time we exited, the sky had long since darkened.
We made our way home, happily stuffed and food-coma induced.
I would easily rate Hakkasan 5/5 and definitely hope to return at some point! So, if you're considering a visit, definitely, definitely make sure you do. Go on a Sunday and order the brunch menu. You will not be disappointed.
P.S. The dress code is supposed to be smart-casual. I wore a Boden cashmere off-duty jumper (now mega reduced!) with Asos skinny jeans and Aldo heels and that seemed fine. I guess they're more strict with men? No sportswear or trainers – jeans okay with a collared shirt and nice shoes.
Muchos love,
Bobbie