Slight break between my China photo uploads (sorryyy I totally haven't had time to sort through the rest of the photos!), but I am too excited about this to not share my most recent discovery with you all.
Following my recent fondness of The Taste, I found the blog of one of my favourite contestants on the show, Guan Chua aka theboywhoatetheworld, and subsequently discovered London's underground restaurant scene: the gastronomic delight known as Supper Clubs.

Outstanding home cooks (and sometimes even trained chefs!) open their homes – and cook up an absolute feast for complete strangers.
Emphasis on outstanding. This is seriously good food – often food you won't find in a restaurant – and a wonderful new dining experience.
Of course, you need to be a lover of food, friendly and just generally sensible about entering someone's personal apartment for a home-cooked meal, but I doubt anyone's ever been kicked out of a Supper Club before.
But trust me, if you haven't been to one you simply haven't lived!
Guan had started his own Supper Club as well, and given one of the UK's top and most talented cooks was willing to prepare a meal for people he'd never met, obviously I had to make sure I took part.
We have so many foodies in the office it was not at all difficult to find 8 for a private event. Can I just say… I'm drooling as I go back through my photos!
Guan was the perfect host. It's terribly rude for people to turn up late, but alas – group members getting lost and seriously tight meeting schedules meant we were a good 30mins late in the end, but Guan was extremely understanding and accommodating, I guess because it was a private party it wasn't that bad.
Don't do something like that if you are attending a public Supper Club event though!
We were welcomed with pretty much the. most. delicious. Gin & Elderflower Tonic I'd ever tasted.
My colleague loved it so much he got the recipe (which I promptly demanded a copy of).
No photo, sorry. Too busy downing my delicious drink.
Kinda wish I had another… and another… and…
Let's just get on with dinner before I make myself sound like an alcoholic, shall we?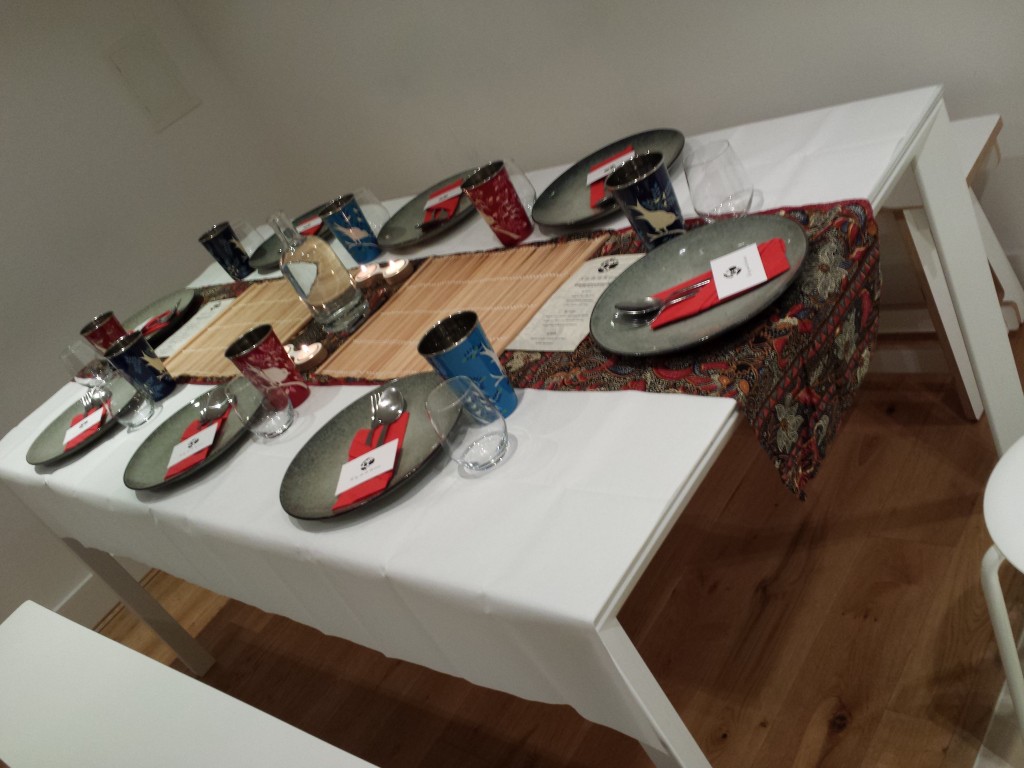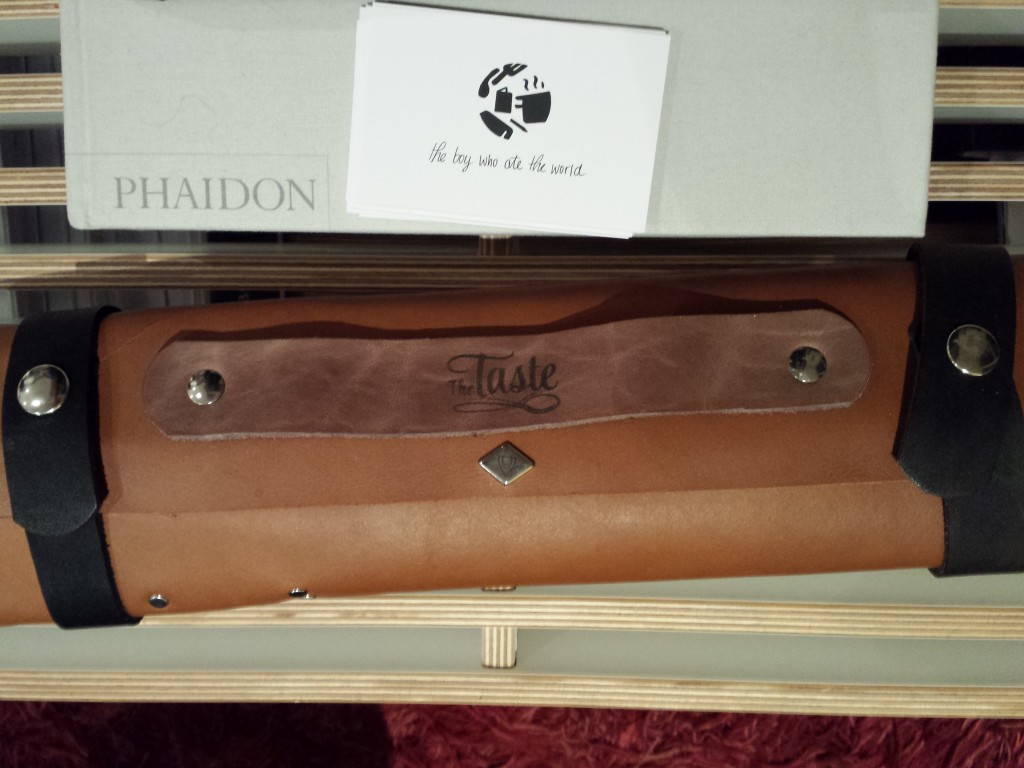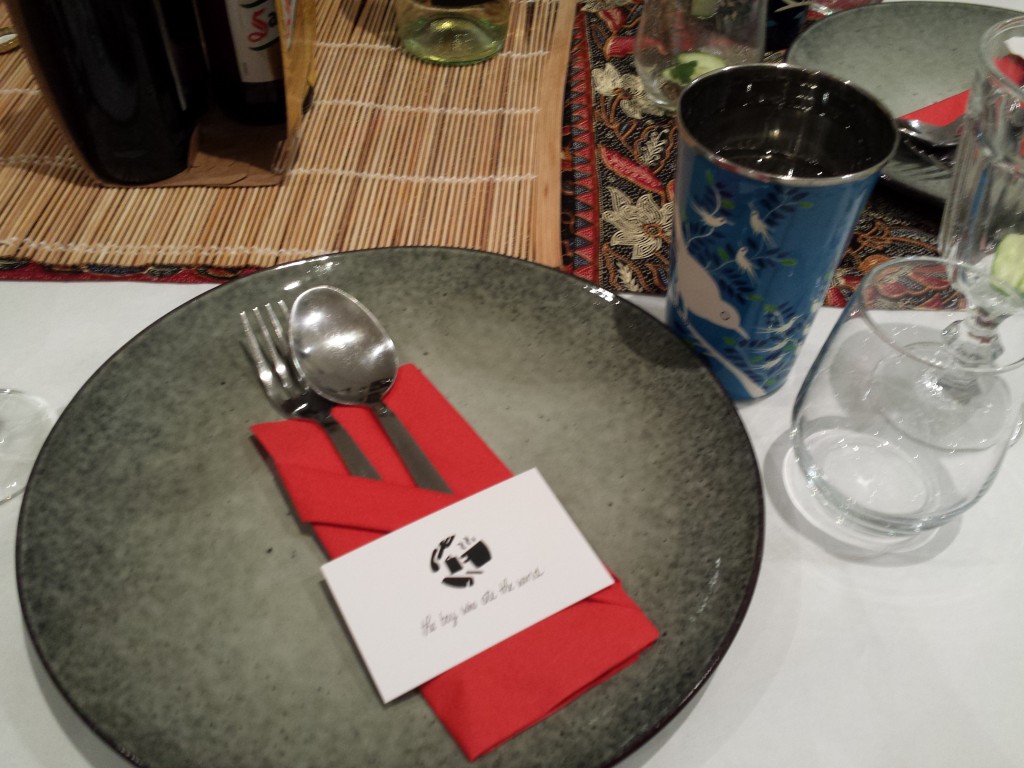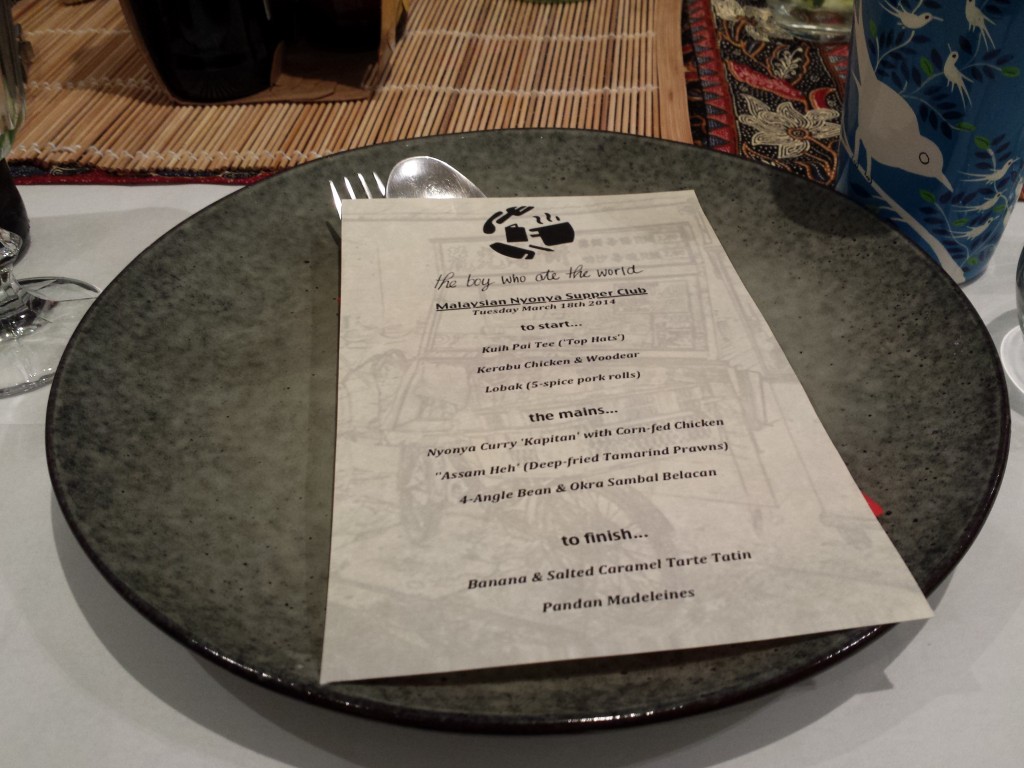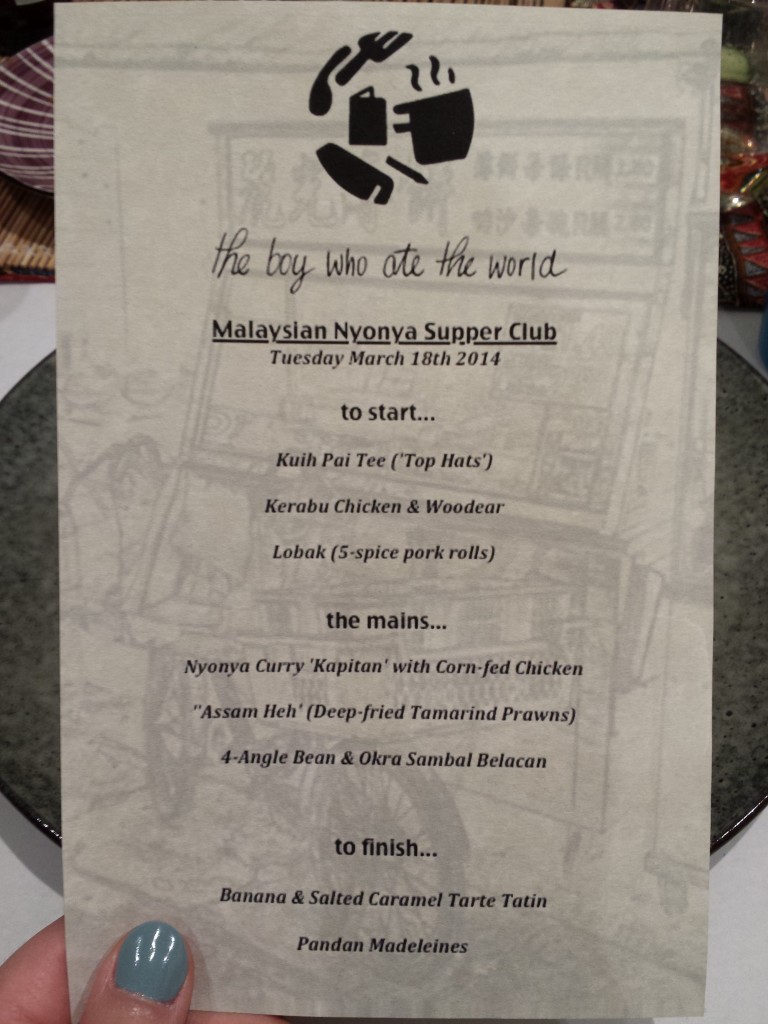 Guan began by telling us about the cuisine itself – its' background history and heritage.
From Guan's blog:
Also known as Straits-Chinese or Peranakan cuisine, the term 'Nyonya' generally refers to the descendants of 15th and 16th century Chinese immigrants who moved to Malaya from Southern China. As they settled in Malaya, a new breed of Malaysian cuisine combining Chinese and Malay influences emerged, incorporating local ingredients such as chillies, lemongrass and fermented shrimp paste ('belacan') amongst others. All this makes for food with a balance, depth and complexity of flavours like no other.
Before each course, Guan would explain to us what we were going to eat, the ingredients that went into it, any background information of how the dish came about, and even showed us unique cooking equipment used to make components of the dish.
To be honest, I wasn't paying as much attention as I should have been as I was too busy eyeing up the food on the table.
That's okay though, if you want to know more about it, you'll just have to head on down to his Supper Club yourself ;)
Every dish was made completely from scratch with fresh ingredients, and tasted like pure heaven.
To start…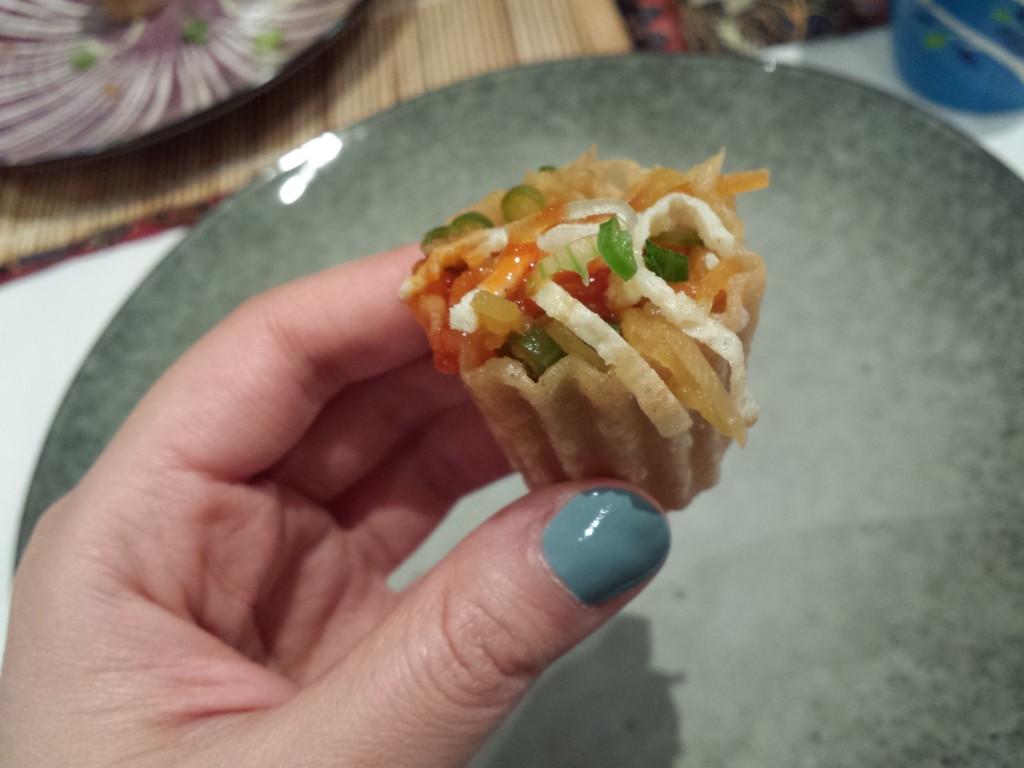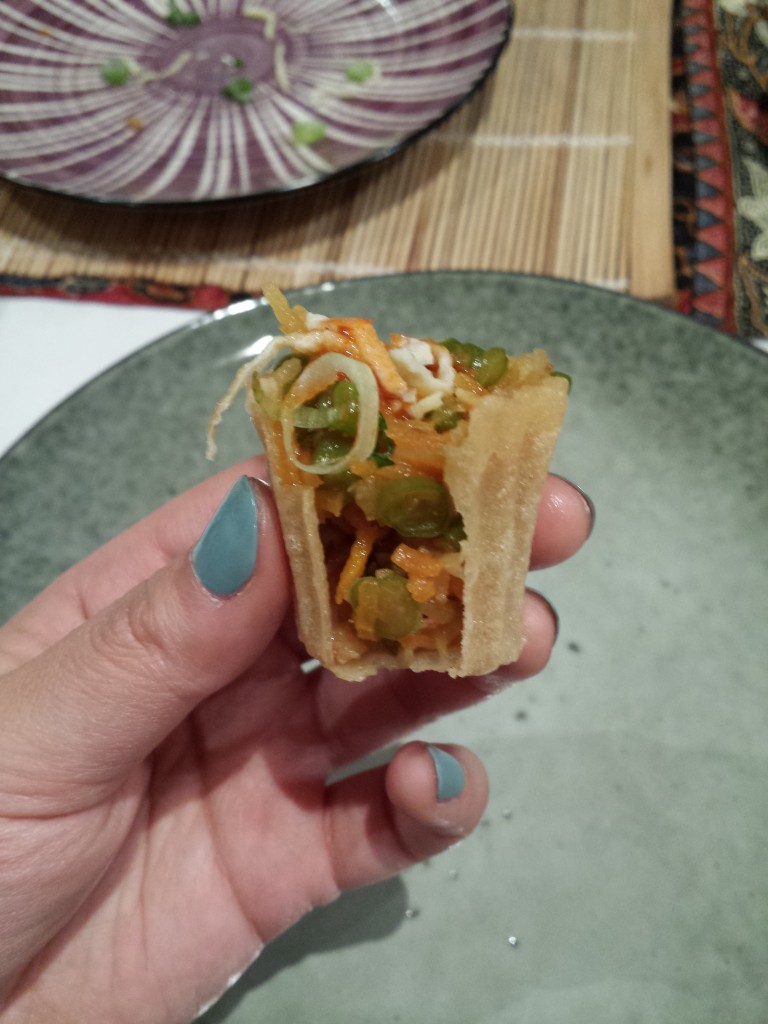 These "Top Hats" were my favourite starter!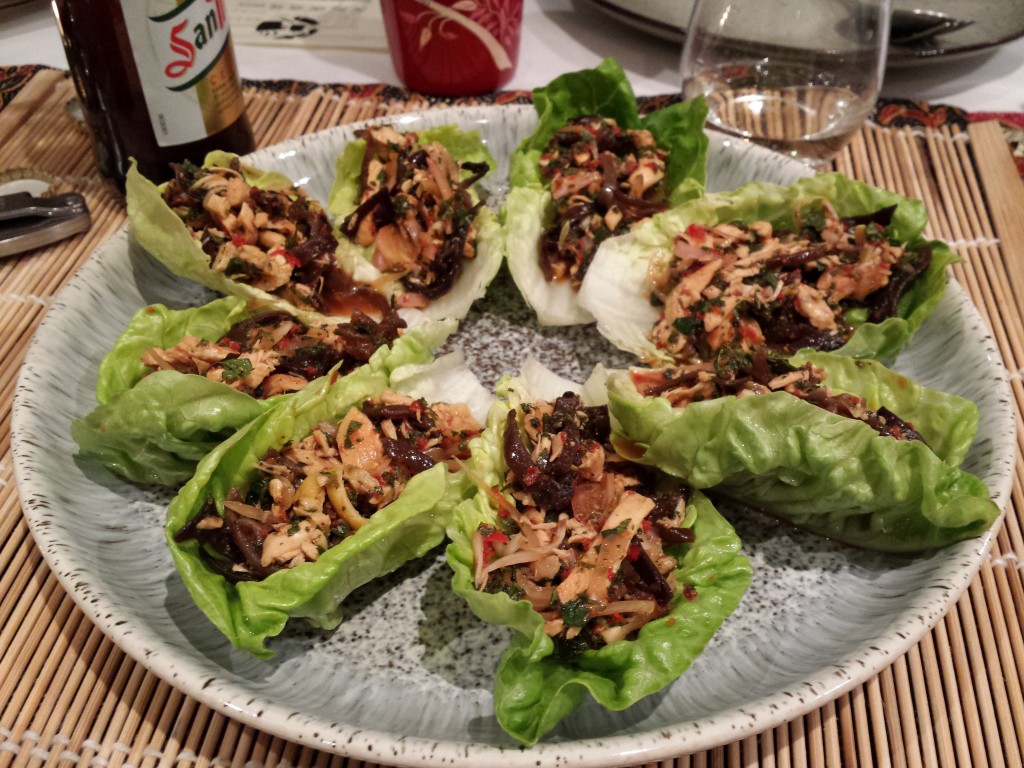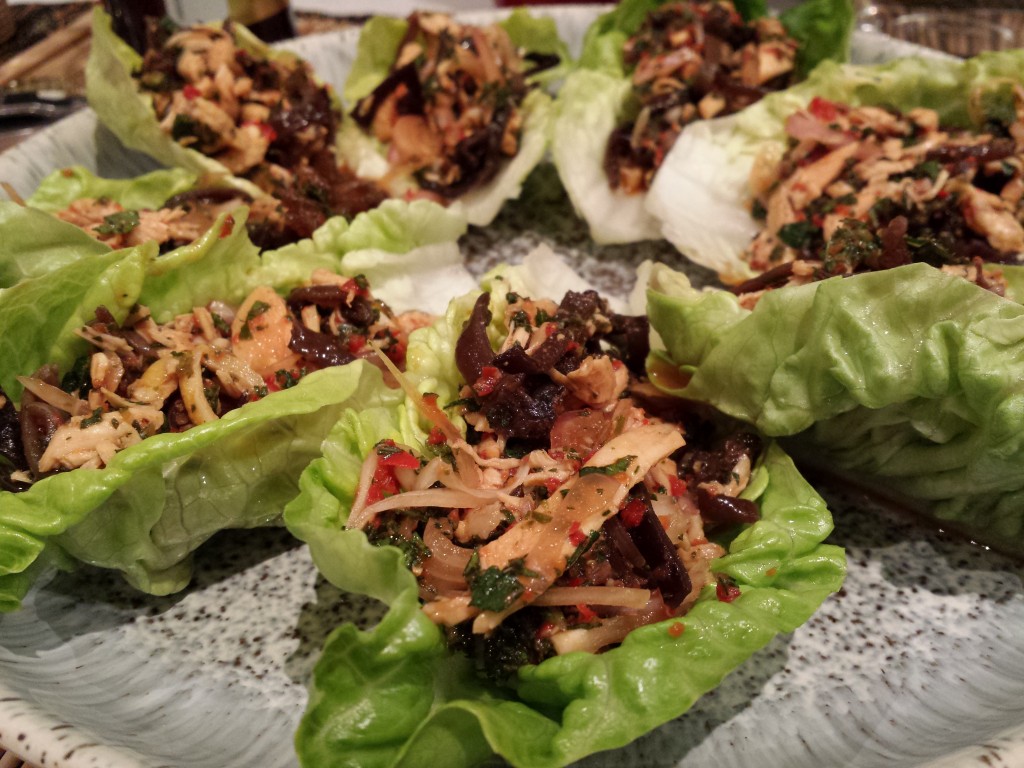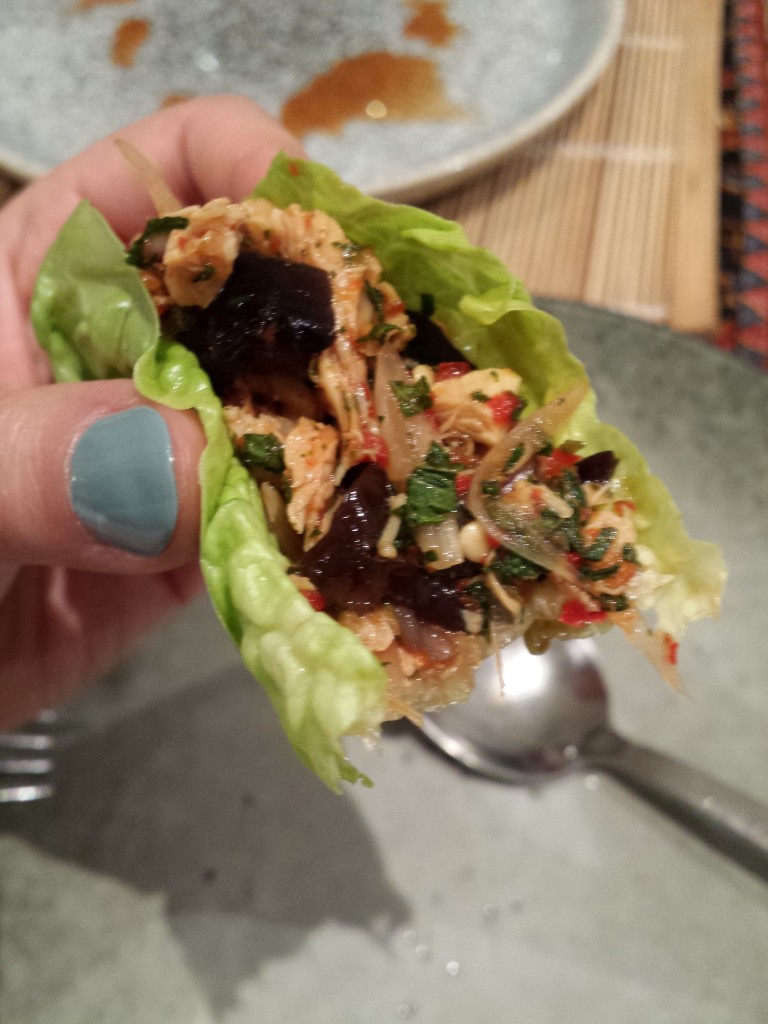 Perhaps my palette is lighter than everyone else's, but I found the sauce slightly overpowering, and thought it would have tasted nicer with a little less sauce – and probably would have been easier to eat!
I thought the spice level was perfect – just enough to tease your tongue. Honestly I don't remember tasting much of the ingredients.
Some of my colleagues said they enjoyed this one the most though!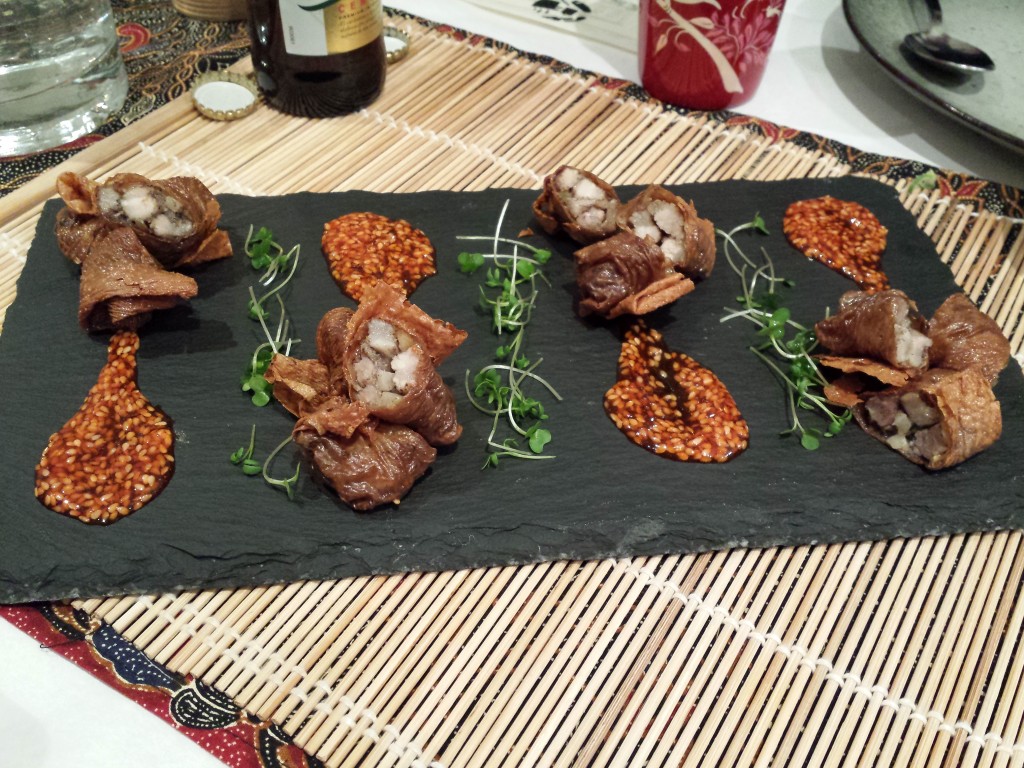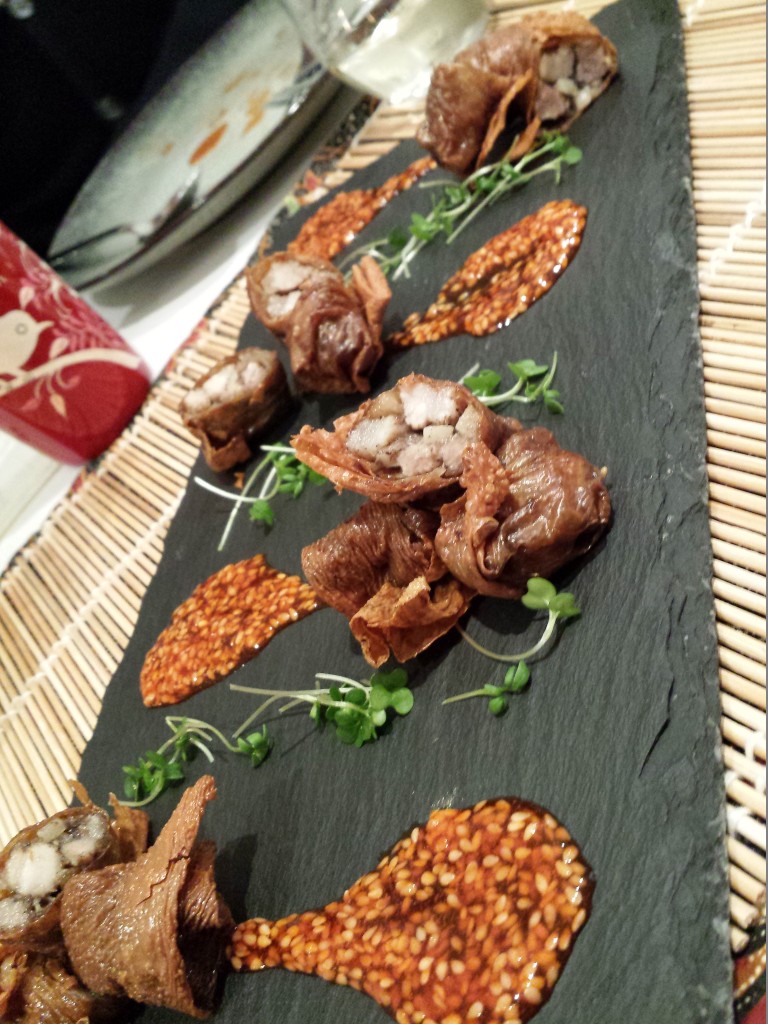 Beautifully presented 5-spice pork rolls. Despite not being a fan of pork, I definitely enjoyed these.
Bring on the mains!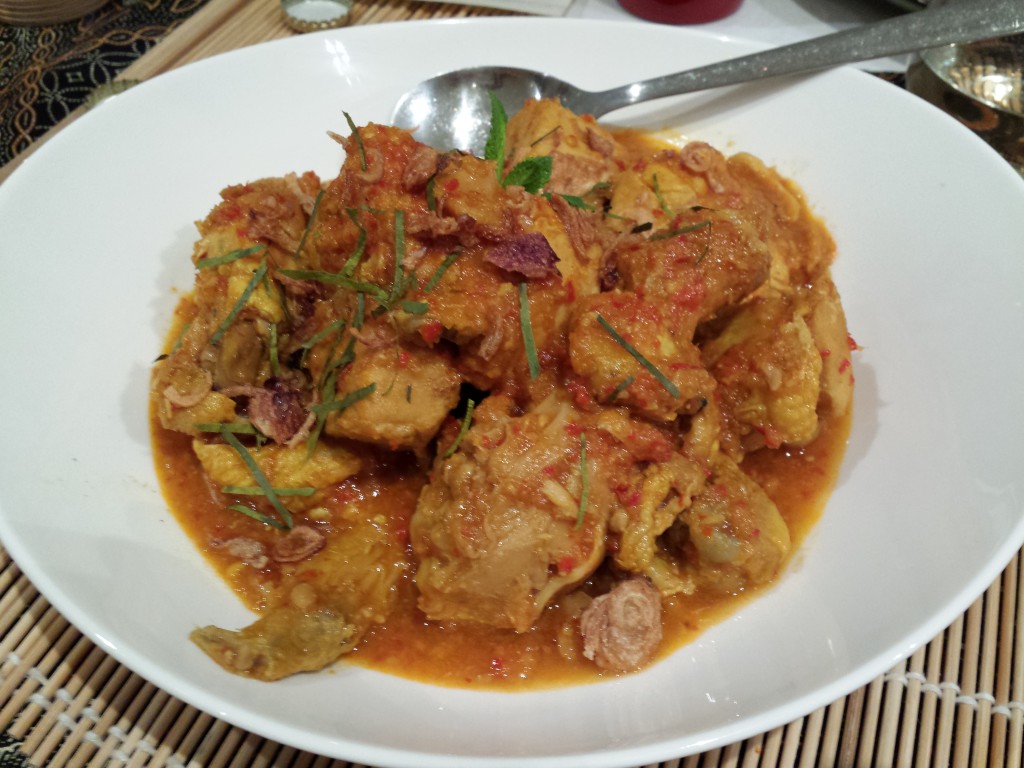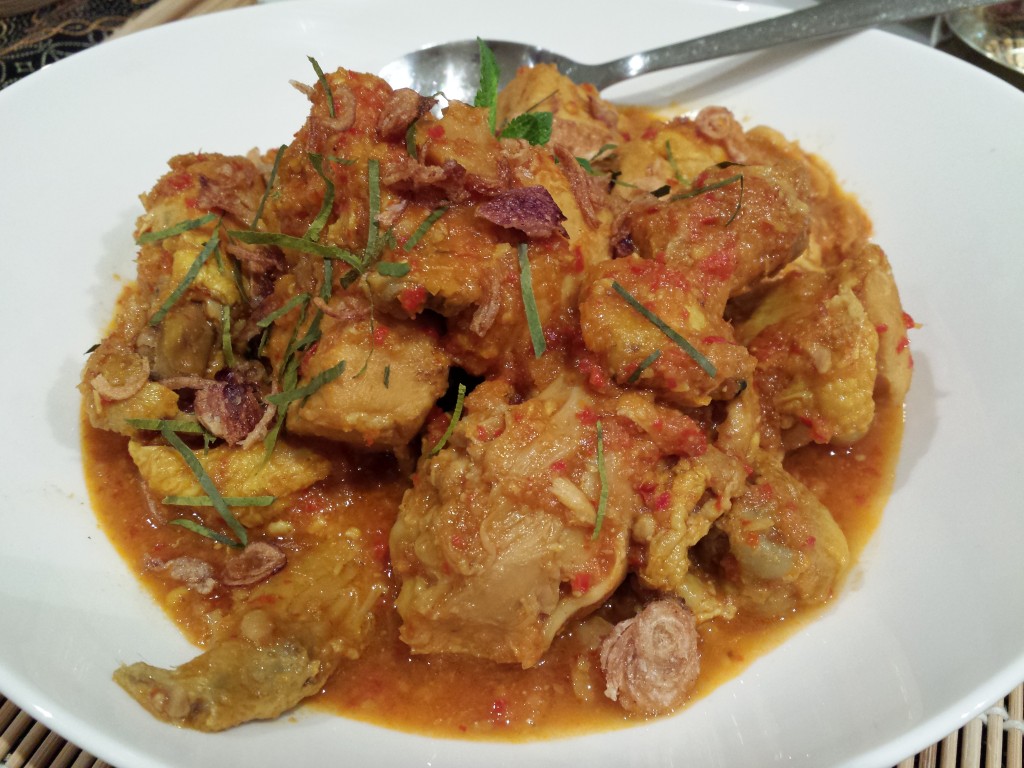 The chicken was insanely tender, topped with fried shallots and garnished with something I forget, but it was seriously delicious.
It was crunchy, sweet, savoury, spicy, tender and juicy all at the same time.
Guan said that this was one of his favourites (I'm not surprised), and if he'd managed to get to the final of The Taste, he would have made this dish.
Not that I'd ever had the pleasure of trying any of the finalist's dishes on The Taste, but this definitely would have been a contender, in my humble opinion.
This was also the dish that made my CEO start declaring her love for me for organising the event, so that's always a good sign!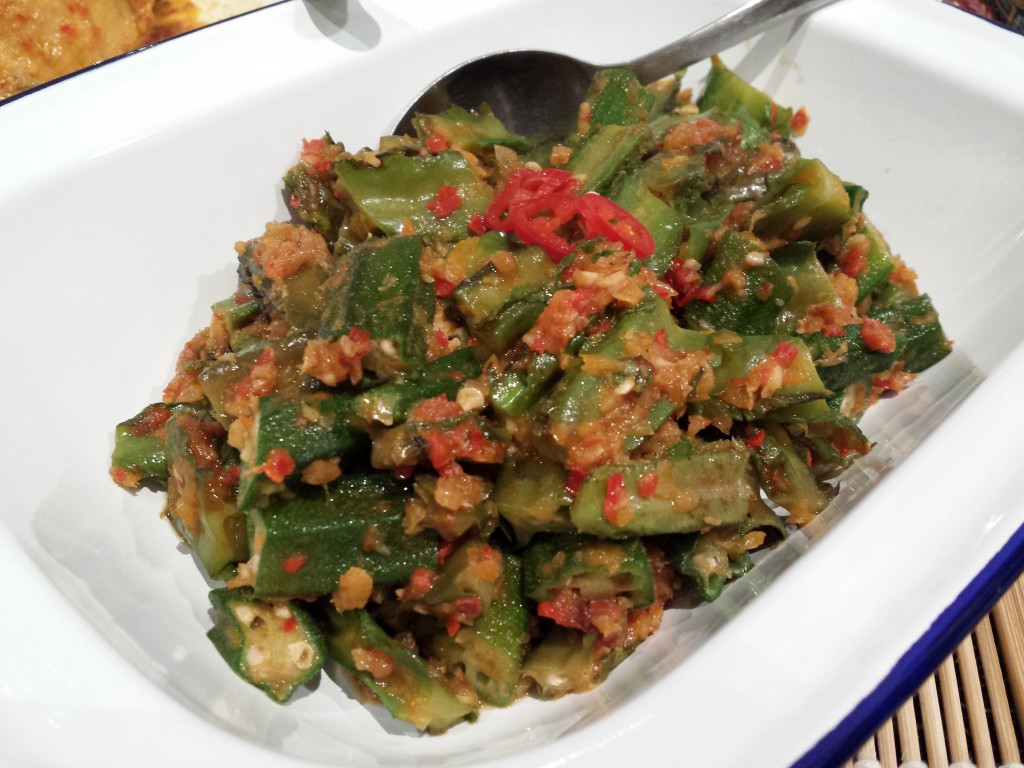 Now this one… I wasn't a massive fan of. Texturally I found parts of this dish a little slimy, which I believe may just be the natural texture of the beans/okra (or 'ladies fingers', if you will), so definitely nothing bad on Guan's part.
He did a smashing job of making this taste good anyway.
I'm pretty sure I ate more than my fair share.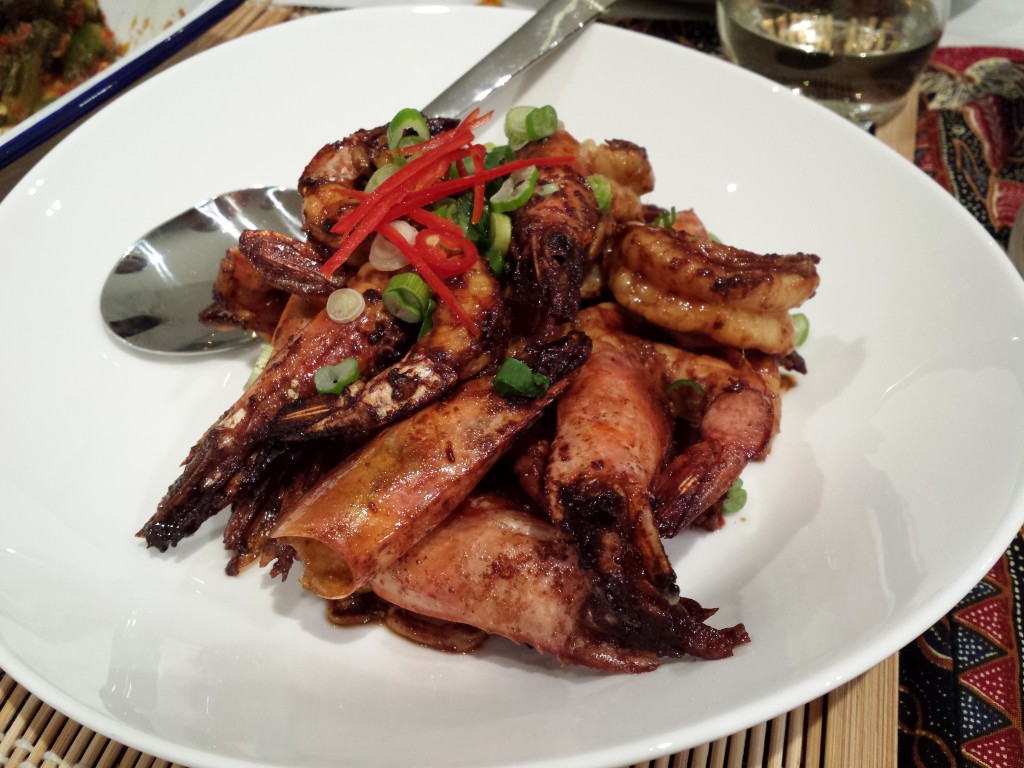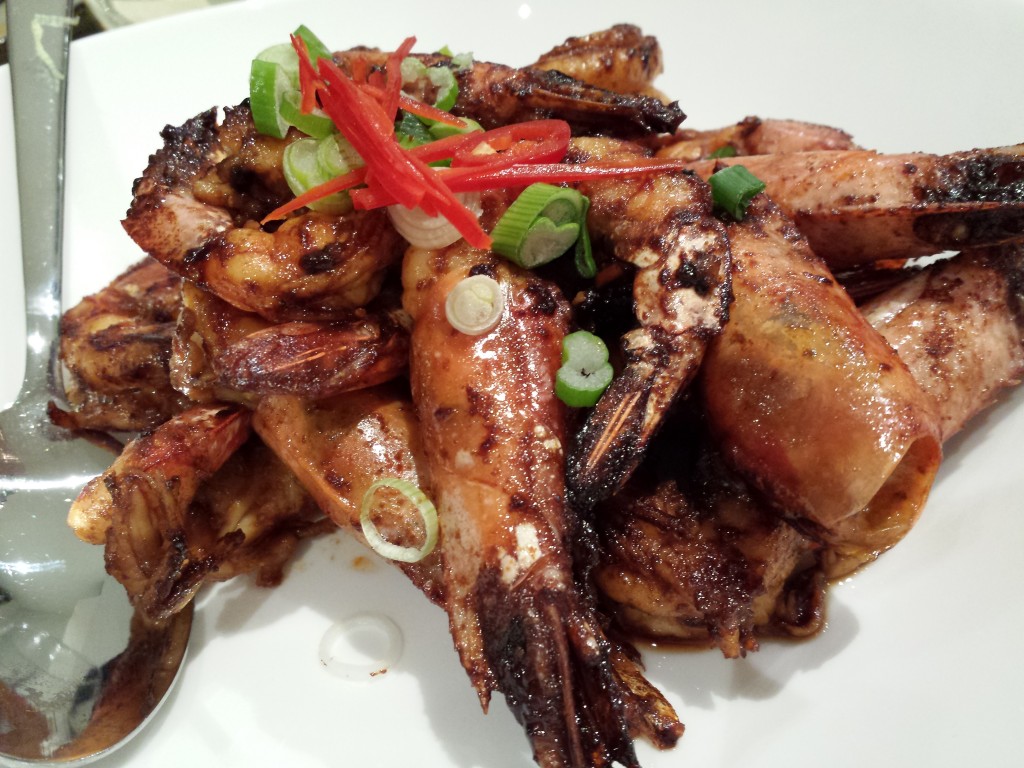 This final dish was… let's just say, I'm not a massive fan of prawns.
But I'm a fan of these prawns.
Never in my life have I tasted prawns as tender as these; cooked to such perfection I'm drooling again as I write.
Now I know what the judges meant when they said his prawns were perfectly cooked!
In terms of flavour though, I'm not sure what it was, but I was a little confused… it made me think. A lot.
That's not necessarily a bad thing, though. I would have needed to try a few more to put my finger on exactly what it was.
Or perhaps (probably) it was just me subconsciously making excuses for myself to eat more prawns.
Onto the puds!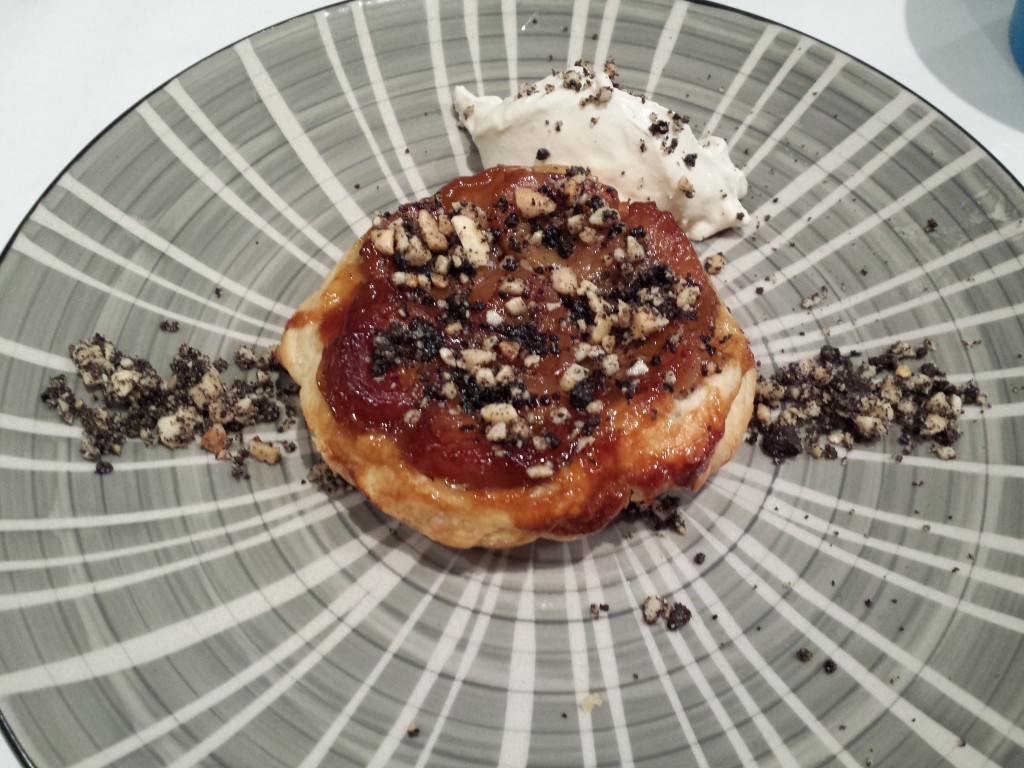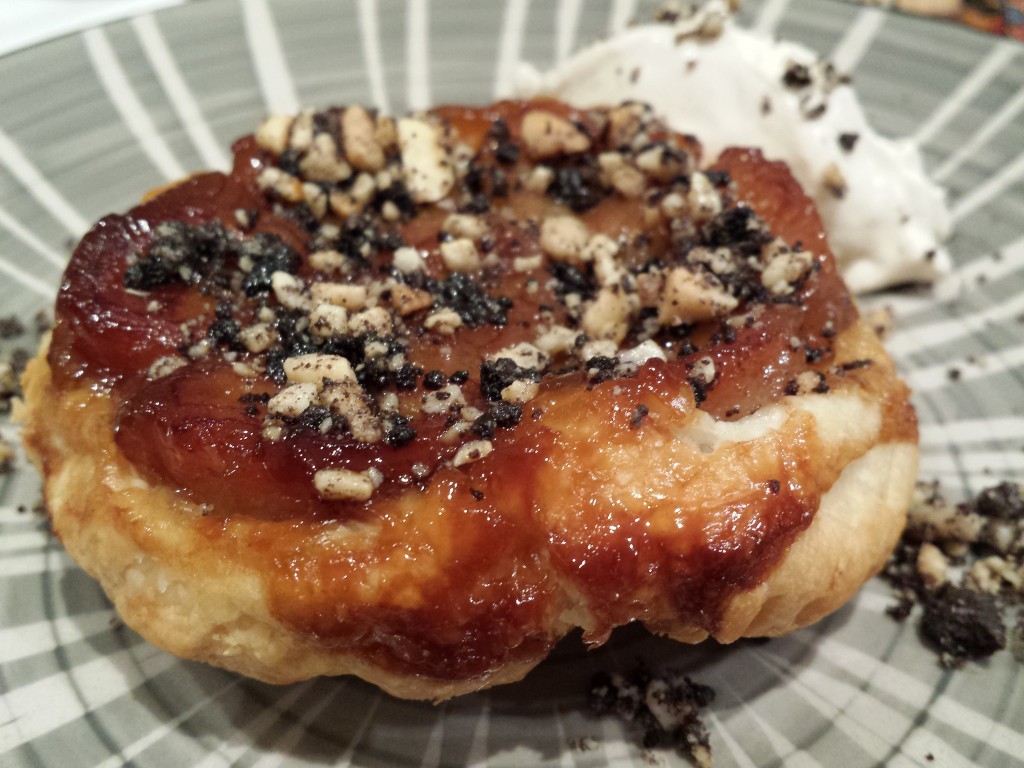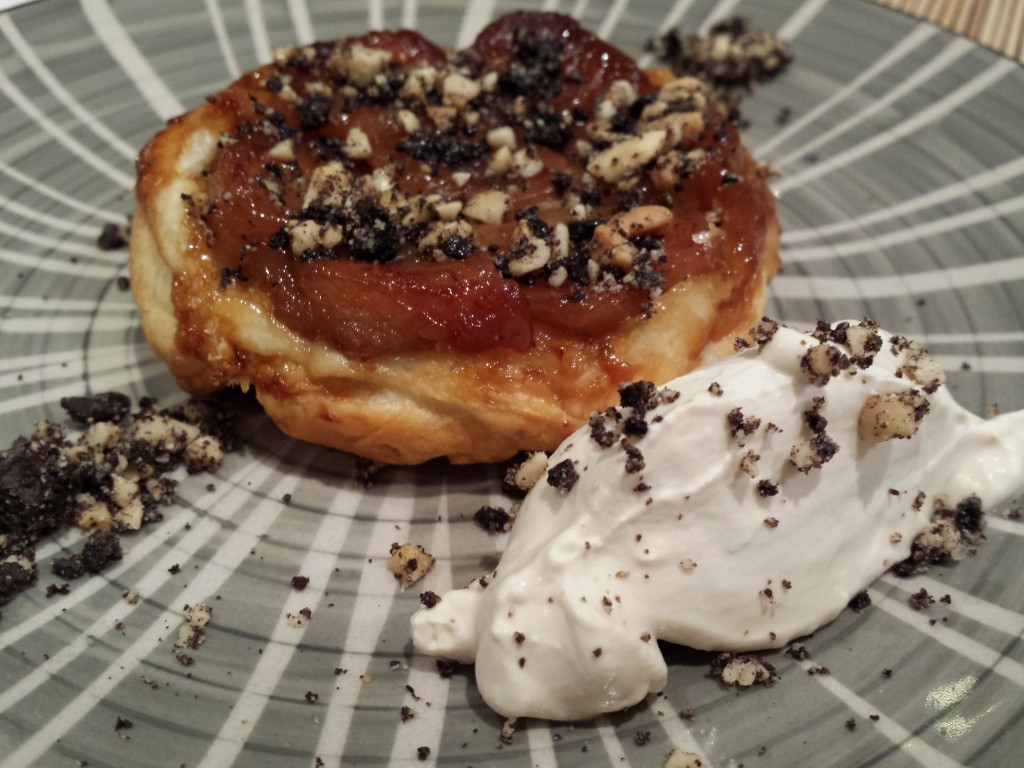 From the first time I saw him making this on The Taste for chocolate week, I super, super, super wanted to try this Banana and Salted Caramel Tarte Tatin.
I even went as far as searching for the recipe for it on the Channel 4/The Taste's website before deciding it was too complex for a cooking n00b like me to attempt.
When I saw this on the menu, I must admit I was super, super happy!!
The whipped cream on the side was infused with some sort of Malaysian… sugar or caramel(?? I think it was some type of rock hard sugar that was a solid when cold. My memory fails me at what it was to be honest. I only know my tastebuds were having the time of their life), and there were salted nuts & cookie pieces sprinkled on top (I believe. Again, too busy stuffing face to pay 100% attention to description).
I'd (stupidly) thought the cream would be rich, super sweet whipped cream so (stupidly) requested my cream to be placed on the side in case I didn't like it.
Lol. Stupid.
Needless to say, I finished the entire thing. It was just the right amount of sweetness and richness.
The cool cream was delicious, the warm Tarte Tatin was even more delicious than I'd imagined it would be, and all components of the dessert complemented each other wonderfully.
Guan even generously gave me one of the spares he'd made to take home! (Promptly devoured the next day).
Even the pudding haters of the group (*shock horror*, I know. Let's remain calm at this atrocity) enjoyed it.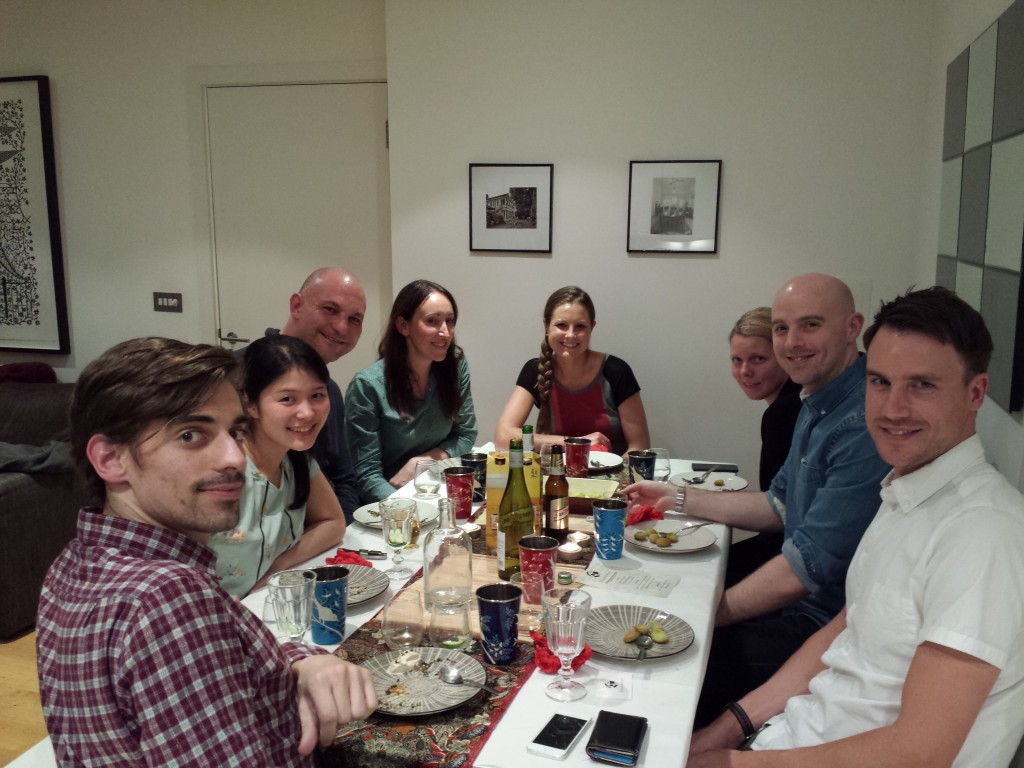 An obligatory "happy & very well-fed diners" photo was taken just before the final course of mini Pandan cake bites was served.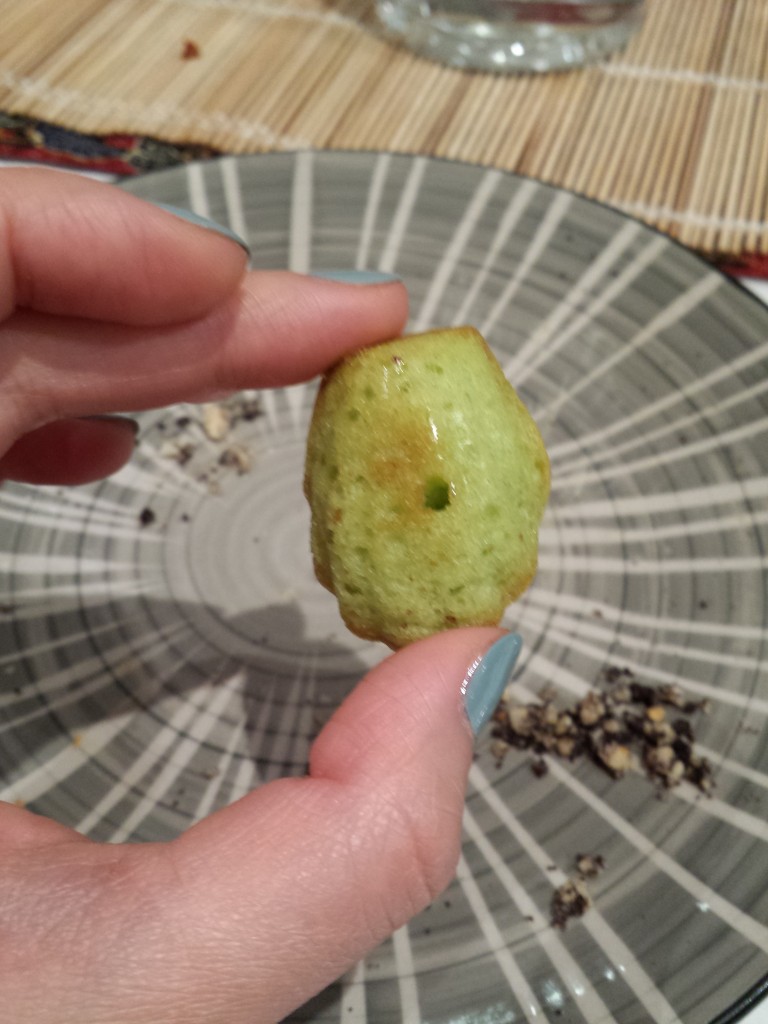 I'm a huge fan of Pandan cake, but never have I ever seen it made from scratch. He showed us the Pandan leaves that he extracted the juice from — I'm just realising how ridiculous that sounds, but… I think it was something like that.
I remember seeing a small container with a green liquid in it, which had been extracted from the Pandan leaf. I really was just eating at this point and not paying any attention until he'd taken out the plant, and by then I'd missed half the conversation.
Typical!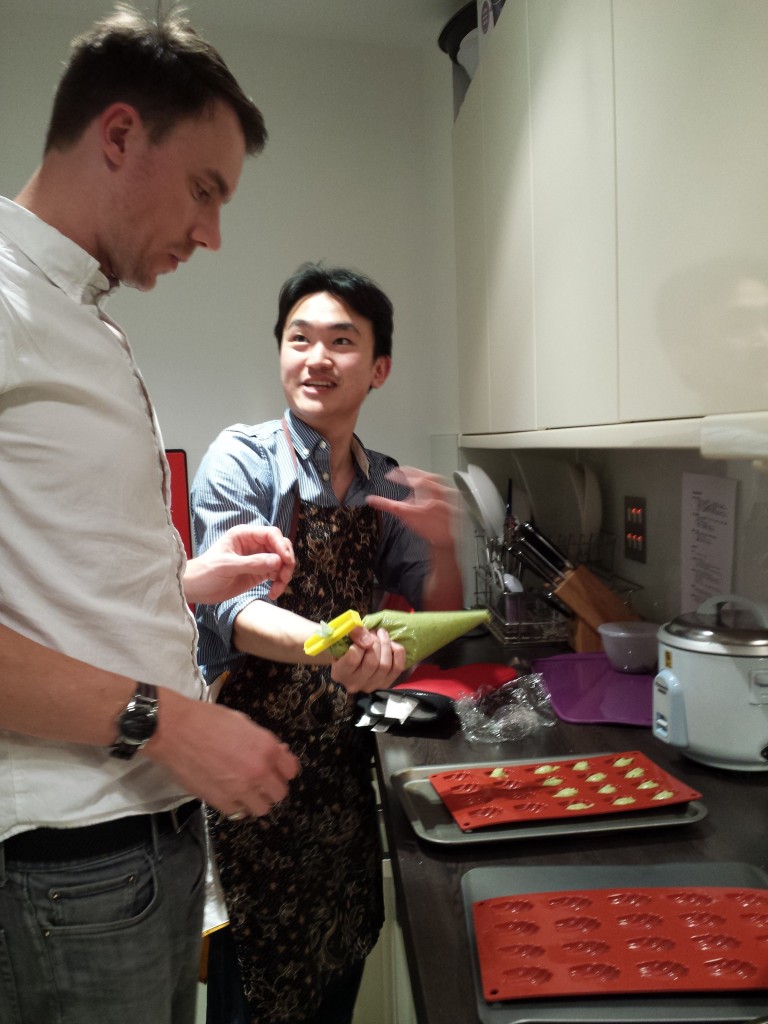 We were even allowed to take part in the cooking! Joe went for it and got a mini course on how to squeeze out the Madeleines.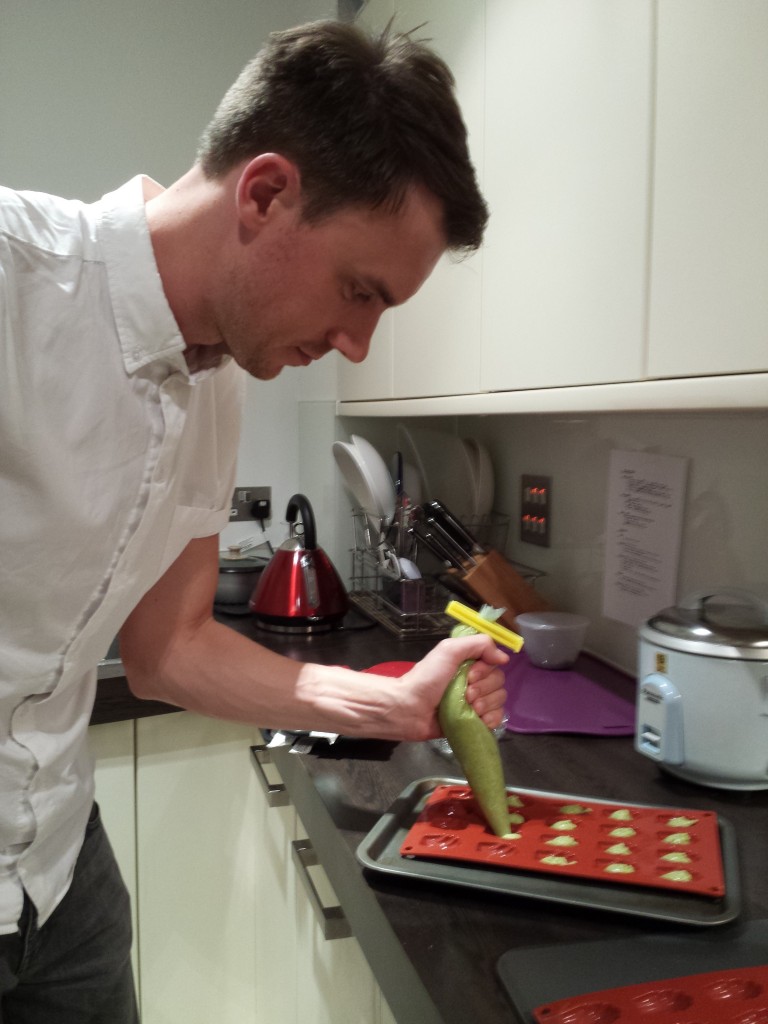 Though he quickly decided to just leave it to the pro.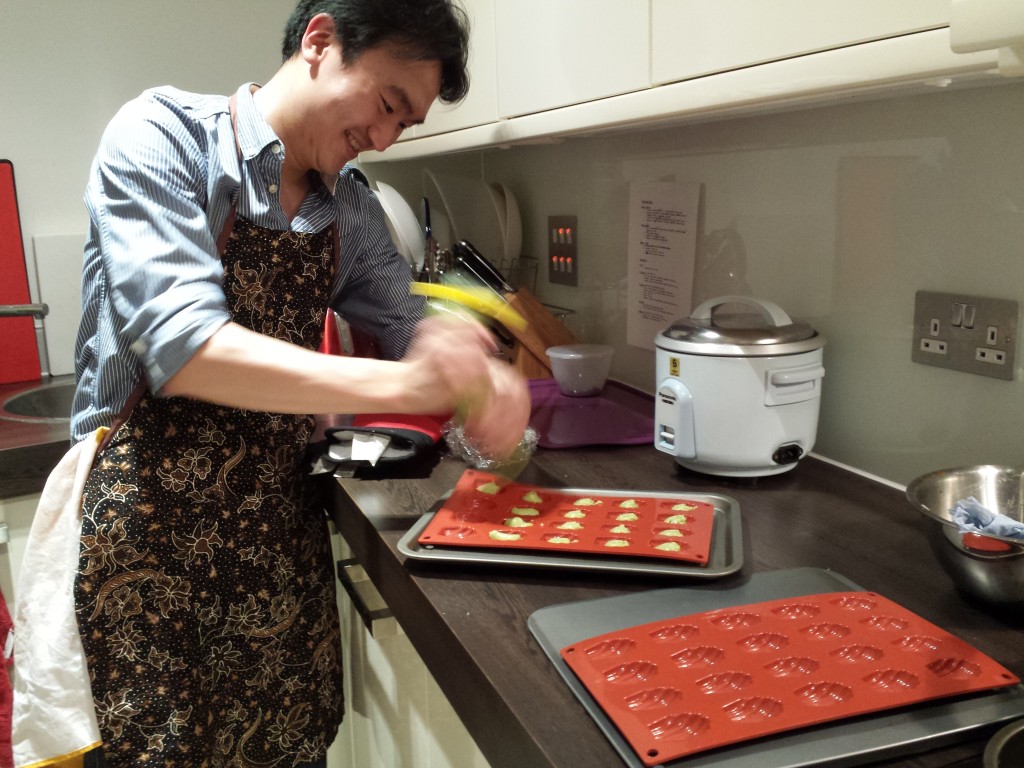 Look at that speed!!
The evening came to a close and we left him thoroughly deserved donations + tips, and I snapped a quick photo with him too, yay!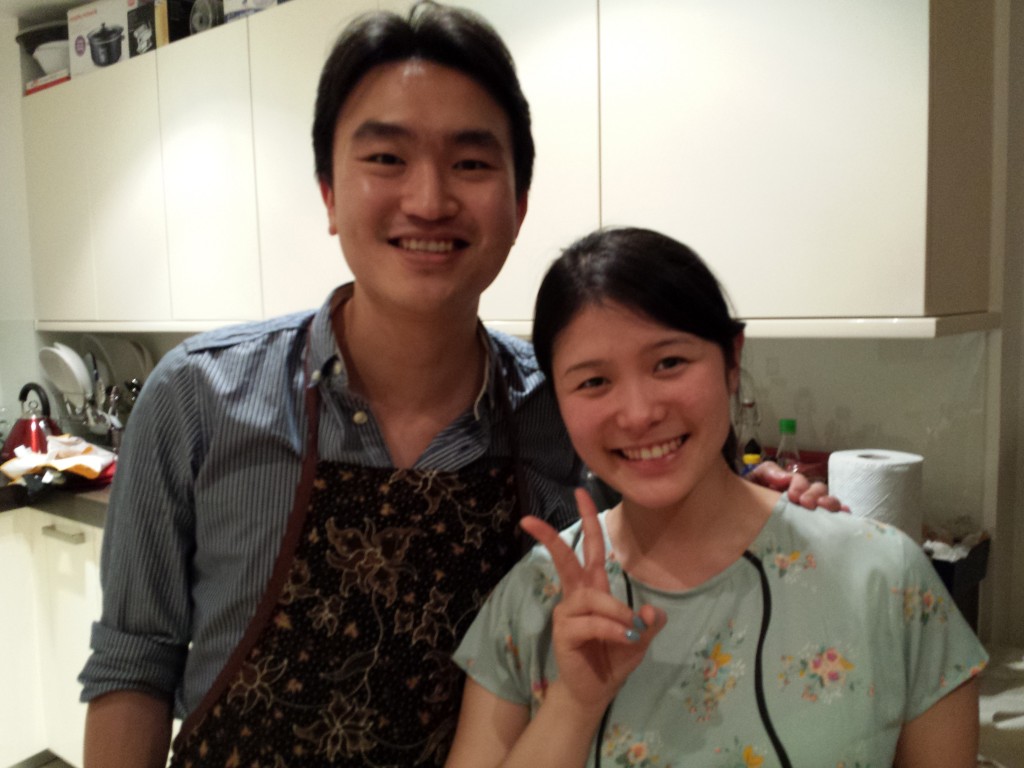 Definitely my new claim to fame.
The entire evening was wonderful, Guan was such a brilliant host – charming and welcoming, and was not hesitant to share his fascinating TV experience with us.
Seriously recommended!
My only regret is that I forgot to get his autograph! Boo!
Oh well, I'm sure we'll have chances to meet again at some point.
If you'd like to go, sign up to his Supper Club mailing list, or email him directly to ask about them.
You can find full details via his website here.
You should check out this post regarding Supper Club etiquette and what to expect before going.
If you want more information on other top Supper Clubs, I've been getting a lot of my info by checking out The London Foodie's Supper Club Reviews.
Looks like I have quite a large list of Supper Clubs to go to!
A little off-topic, but if anyone's interested, my top is from here @ Yumi Direct. I'm completely obsessed and smitten with all of their clothing. They're so high-quality and very affordable too.
Pretty much 70% of my wardrobe is comprised of Yumi Direct and UNIQLO now!
Muchos love,
Bobbie