I promised this place would get its' own review, so here it is :)
It was pure luck that bought me to Hawksmoor the first time. J3 and I were starving and craving steak, and we just so happened to be in Covent Garden. So good ol' Google Maps found me the most highly-recommended steak restaurant in the immediate area.
Google was not wrong.
The place was fully booked when we arrived, but thankfully they still had dining tables in the bar area, which served a full menu anyway. Fine by us!
We started with a couple of cocktails.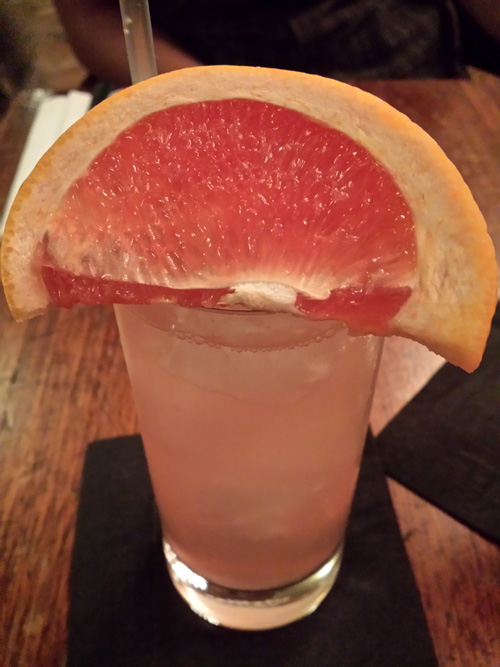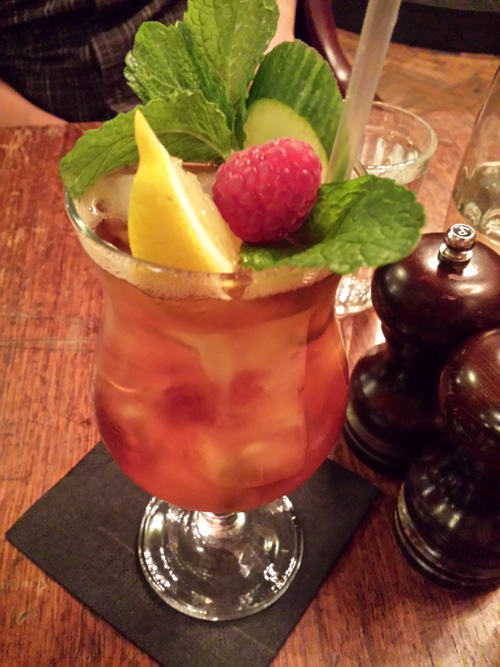 The Hawksmoor Collins (Gin, Lemon, Campari, Bitters & Soda)
& Their version of Pimm's. I forget the name.
I had to at least pretend they weren't both for me.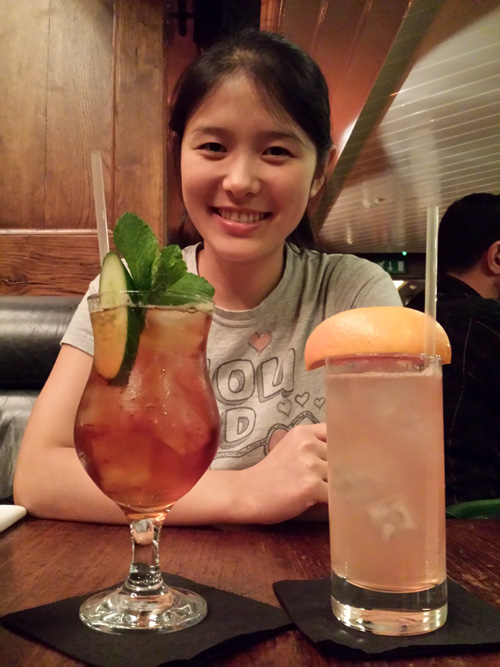 Even though they obviously were ;)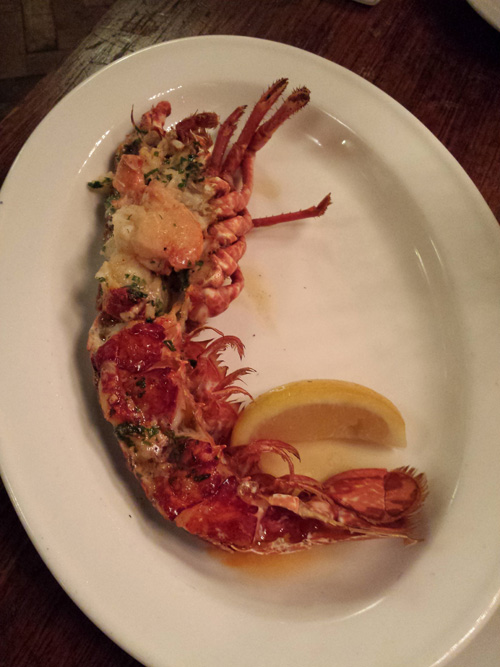 We ordered half lobster as a starter.
Now, I know Hawksmoor are not famous for their lobster – they're best known for their steak – but boy should they win an award for their lobster too!
Forget Burger & Lobster.
This baby was the most tender, delicious, juiciest lobster I'd ever tasted in my life. Full of flavour, and oh-so-tasty.
You can literally pick up the pieces without needing to cut them out at all, not like the slightly chewy and knives-are-necessary types of lobster you might get elsewhere.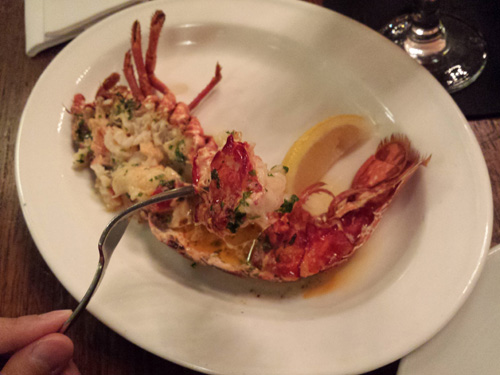 I am spoiled now. J3 promised me we'd go back one day just for the lobster. Yes, it was that good.
And then the meat came…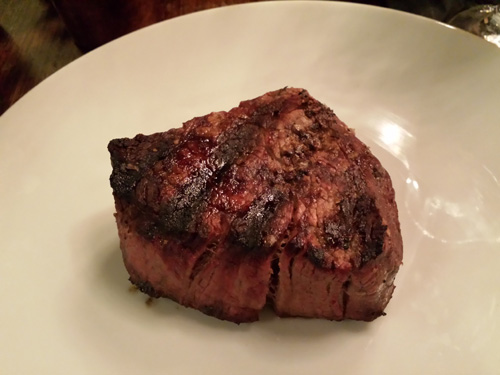 My 300g fillet steak.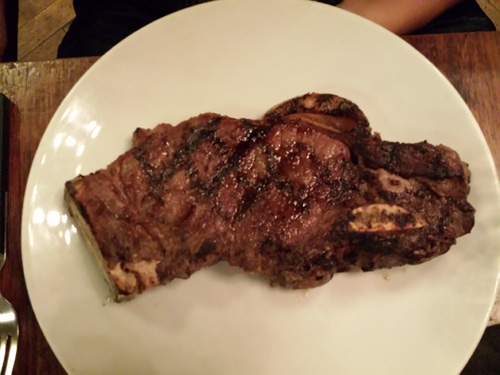 And J3's 500g sirloin.
And of course, an abundance of side dishes and sauce: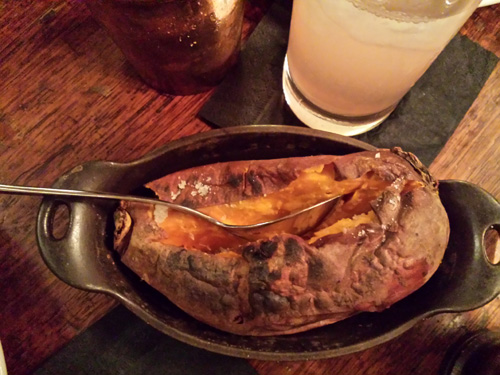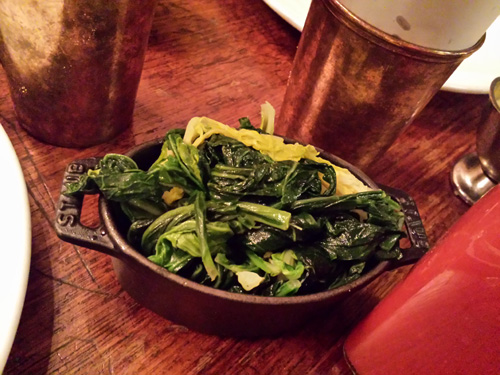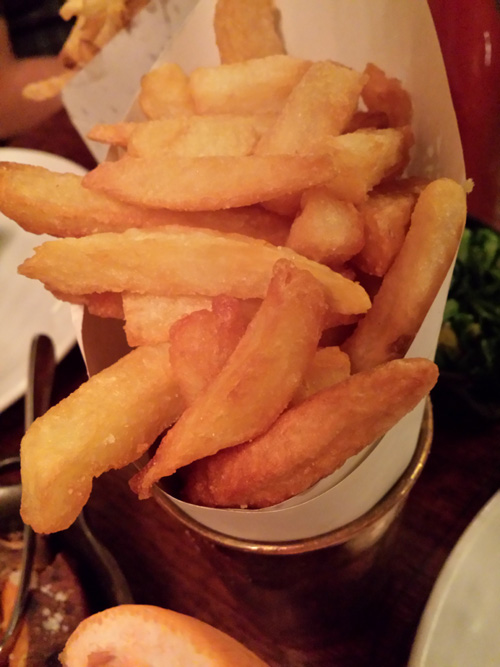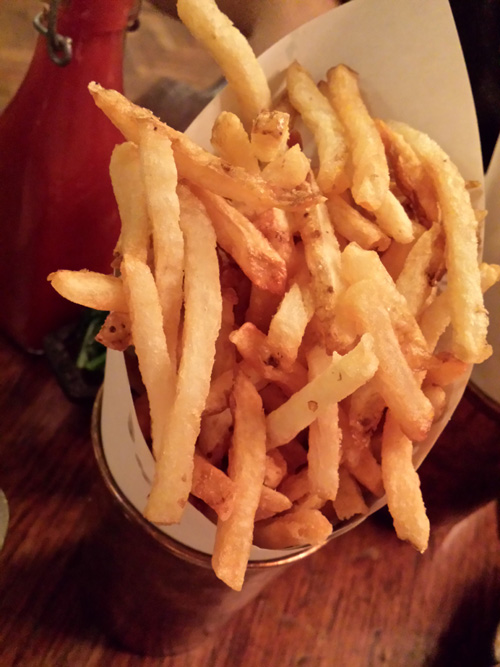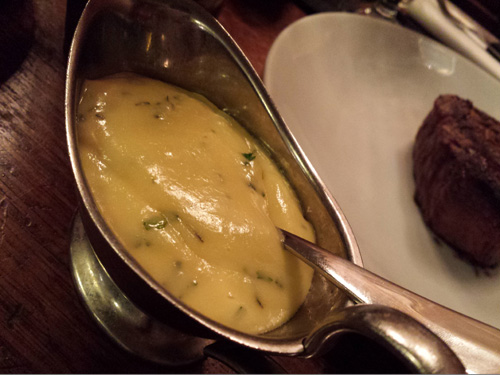 (baked sweet potato, buttered greens, triple cooked fries, beef dripping fries, and Béarnaise sauce)
I absolutely loved the triple cooked fries.
J3 preferred the beef dripping ones, which worked out very well!
Oh, what's that? You didn't get enough of the meat yet? No, me either.
Here you go: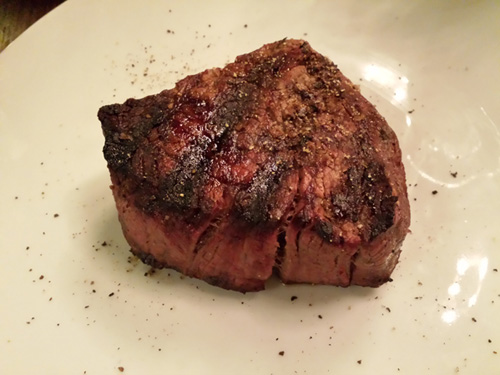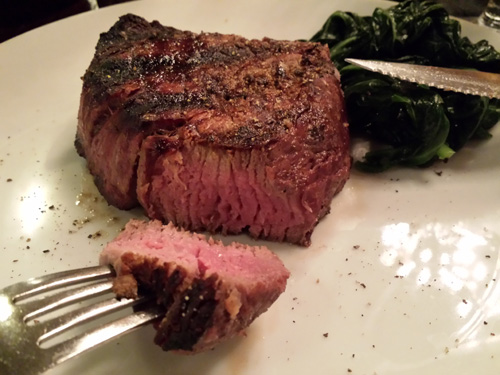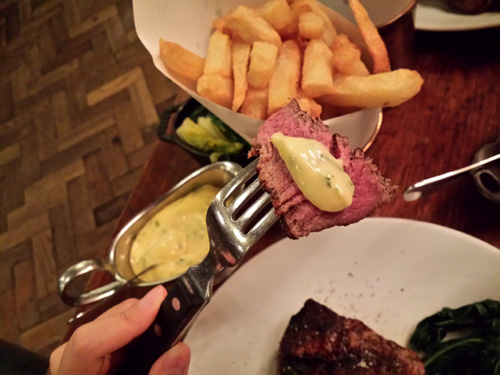 I was sooo happily (albeit a little painfully) full afterwards. I'm not gonna lie, the price tag is a little steep, but you should definitely treat yourself every once in a while.
Also, if you go on a Sunday, you can get Sunday Roast (they say it's roast beef, but it's pretty much a steak in its own right!) for only £20.
Are you kidding? You bet I went back for some of that!
Again, cocktails first. I loved the Hawksmoor Collins (the pink one) so had to have it again. And tried another that I also absolutely loved: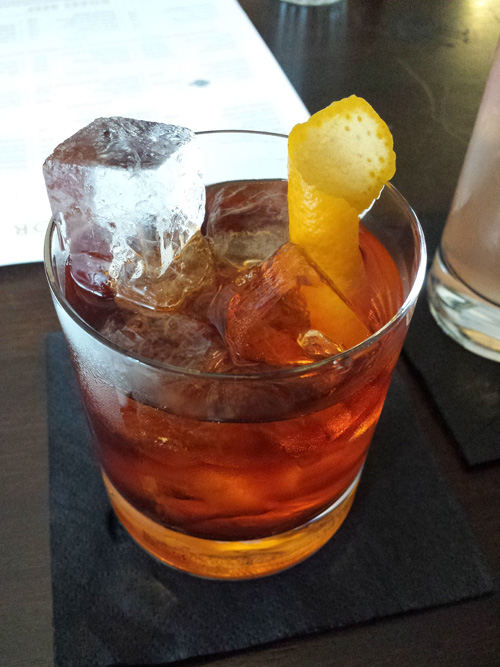 The Sinking Spritz. It was fresh, light, fruity, and was simply perfect.
We went for two starters this time: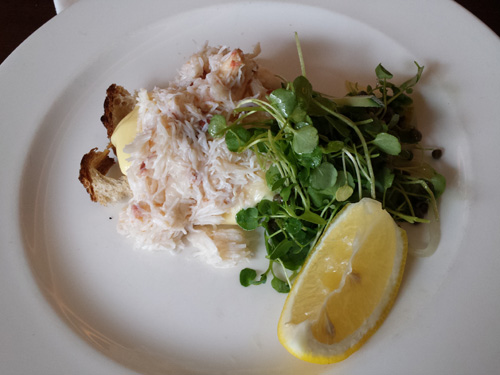 Brixham Crab, which I sadly don't recommend. The entire dish was fairly dry and rather bland.
And Fried Queenies.
Now, apparently people go to the Hawksmoor just for their Queenies.
I was a little skeptical at first…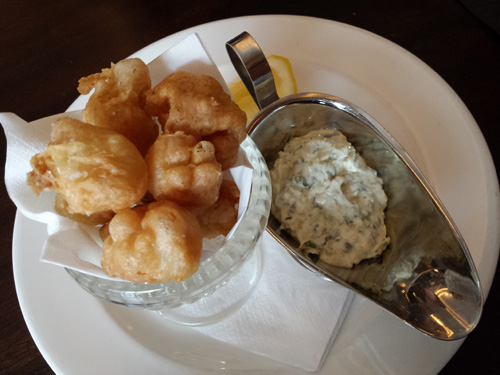 But am now completely sold.
These were so delicious. The batter was light, and the Queenies (tiny scallops) were tender and the sauce just complemented the dish wonderfully.
And at only £8, they were the cheapest dish on the menu!
So worth it.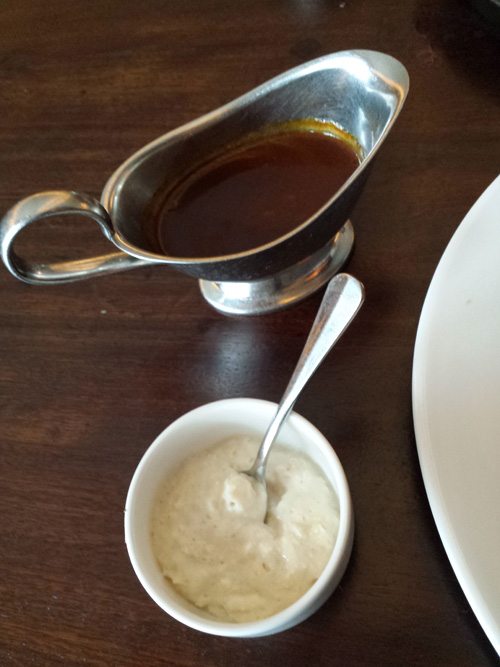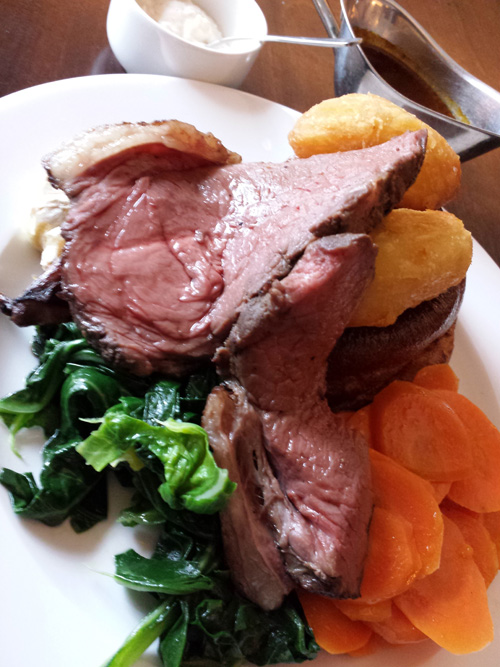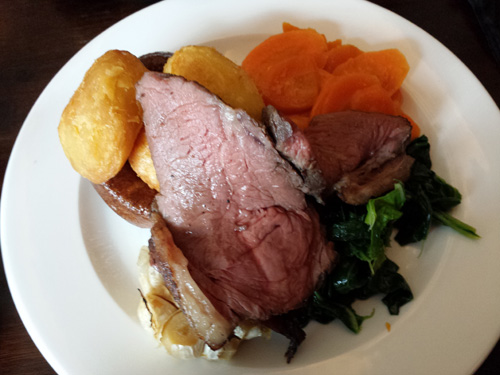 I know, I know. I'm salivating too. Sigh~
I won't lie, it's not cheap. A good meal there is likely to cost you over £100 (plus tip), but I promise you the food is top notch, finest quality, and you will not be disappointed.
These were two different Hawksmoors, the first one I went to was Hawksmoor Seven Dials in Covent Garden, and the second one was Air Street in Piccadilly Circus.
Both were equally delicious, and the ambiance was lovely in both.
The menus were slightly different, but that may just be the time that I went, or perhaps every Hawksmoor is a little different so you'll have to try them all!
The website is here and you can check out their menus on this page. They have four restaurants to choose from so take your pick!
I hear the owners are opening up a new restaurant soon called Foxlow. The restaurant launches exactly a week from now, on 14th November. Apparently if you sign up for updates on their website you can get 50% off your food bill as well. I haven't tried that though, so if you have let me know!
Muchos love,
Bobbie