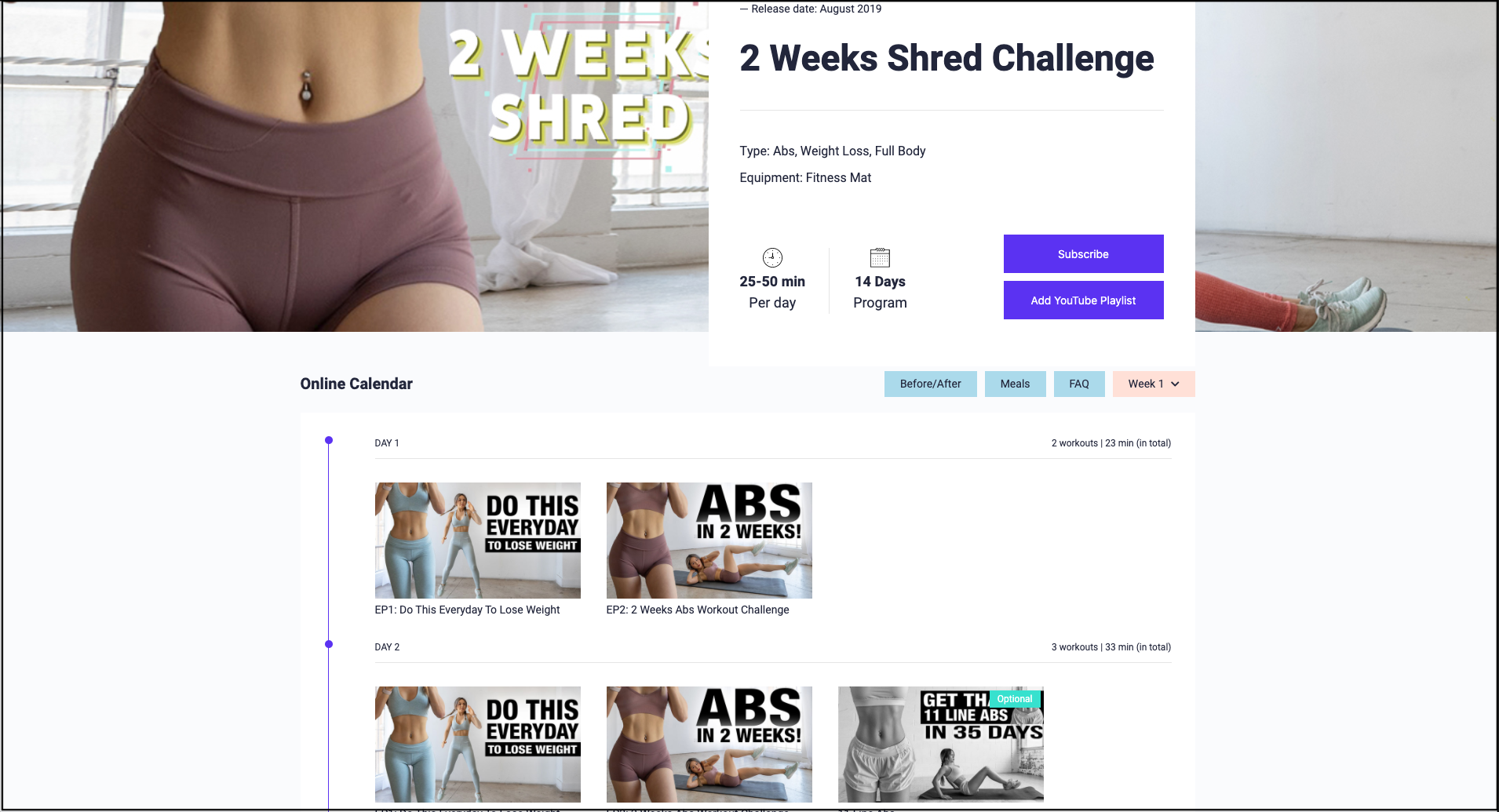 Okay, Chloe. I see you. I see all your recommended videos popping up all over my YouTube. And I've just seen so. many. success. story. videos (<—!!) and okay I'm convinced. (If you're only going to look at one, just watch the last one because, honestly, there are just too many.)
It looks like she has a lot of free workout programs but I think the one I've been seeing the success stories for, and the one I think I can actually commit to, is her 2 Weeks Shred Challenge (click here for the program).
I really love that she's put all the videos together in such a convenient format on the page so all you need to do is literally just bookmark the page and click on the videos each day. Plus you know what you've signed up for in total workout time and total workout videos so you can plan your day accordingly.
In addition, she has a bunch of tips in the FAQ's, meal plans and videos of the before/afters on the page to keep you motivated. This girl has thought of everything! I don't know why I've been avoiding her until now. Thanks, YouTube algorithm, for recommending her to me.
I've been eating way too much sugar lately so let's do this… starting tomorrow. Haha. I've already worked out for 25min today and I think that's about as much as I can handle for now.
Here's the thing: I was actually working out often and even going to the gym for the first time in a decade back in January/February, in preparation for my wedding. I'm really thankful we were able to have our wedding with our friends and family as it took place just a mere couple of weeks before quarantine began.
Unfortunately shortly after all the gyms shut down for quarantine, I also developed some other health problems so I stopped working out entirely, which in turn has probably made my health worse. It's been a bit of a downward spiral. So my goal for this is simply to get back into shape. As in, get fit again, and I'm hoping this 2-week journey will be the start of regular workouts again.
I won't be changing my diet and I don't think I'll lose any weight, but I do hope to tone back up and lose a few cm's if possible. As such, I'll post up my before and after numbers to see if there's a difference. Not that there's anything wrong with how I look now (I literally just posted an Instagram Story about how I liked how I looked haha) but it'd still be nice to know in case it helps to encourage you on your fitness journey.
Please check back on my progress and leave me a message to keep me motivated. That's another reason I'm posting this online — because it's very likely I'll get lazy and give up otherwise. Let's begin!
View Full Post