Hello hello! This post is late, I do apologise! I have no excuse except I was in the throes of an awful YouTube addiction last week, so I never got round to writing this post. Then I quit digital entertainment (story for another time) and I'm finally back on track with writing.
September's set up is fairly different because I realised that I really wasn't using my journal much in August. Probably because of aforementioned YouTube addiction that was causing me to not want to do anything except lazily let my brain rot through hours of entertainment on a daily basis so production level was at an all-time low, but also I realised there were just some pages that weren't working for me.
Bullet journalling is all about exploring and amending to fit your individual needs, so for September, I have made a few amendments: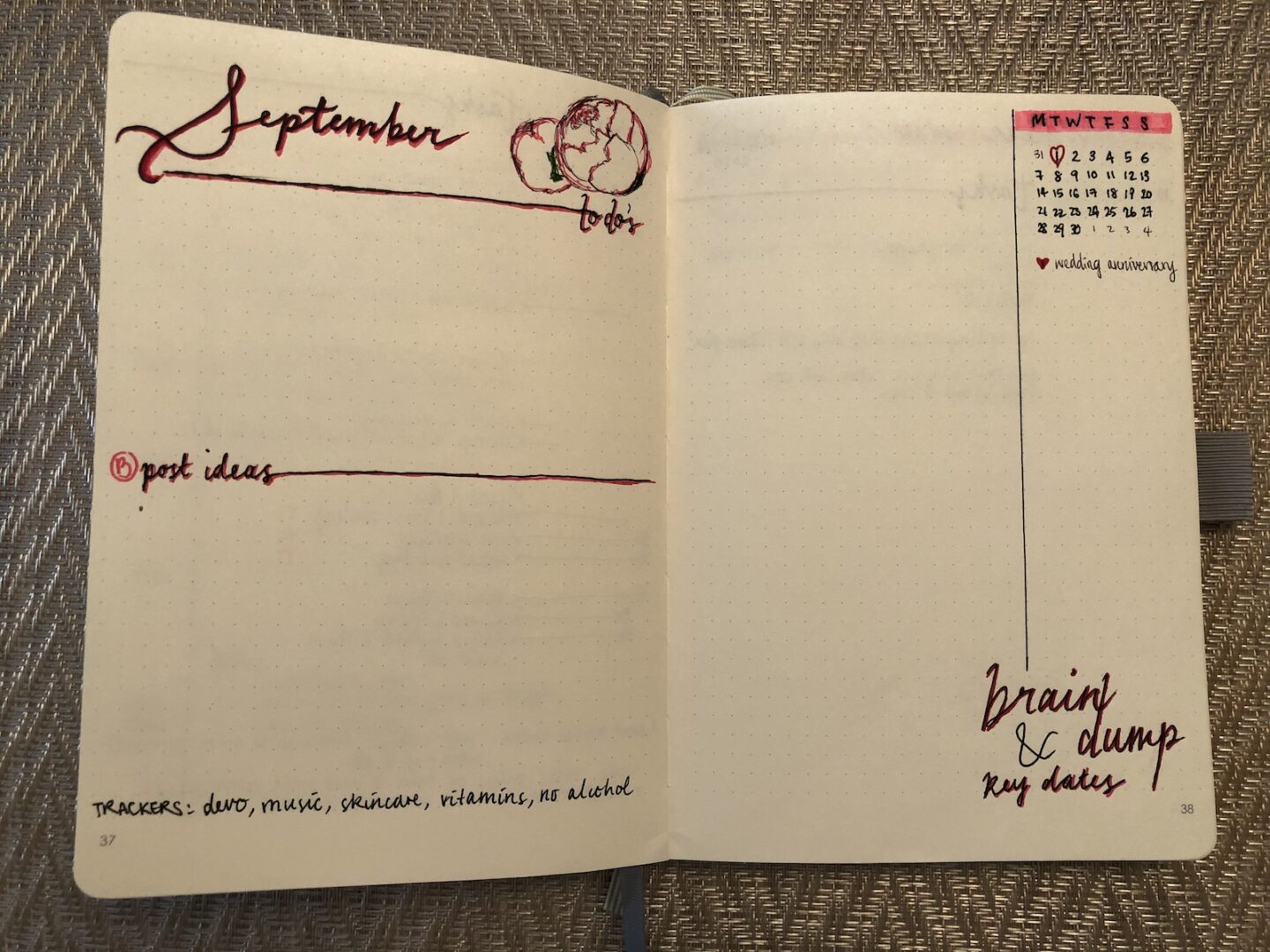 Removed my reading and dates tracker – I realised I really… didn't need those.

In terms of reading, it was to track reading books as a habit, but it's no longer something I care to track. I am not really interested in how many pages of a book I read in a month anymore.
In terms of dates, Jacky and I hang out together regularly at home and we still aren't really going out-out due to COVID; I realised it wasn't really important for me to track all the different TV episodes we were watching together and put a 'date' label on them.

Added a "Bobbieness post ideas" section – so I can write down post ideas that I want to do for the month without necessarily scheduling them for any specific day.
Added a 'key dates' section, as well as a mini calendar on each page. I wanted one, so I added one. It makes life much easier than having to refer to my Google calendar each time I wanted to check the dates.
Shrunk my brain dump section – I'm trying out a notes section on every weekly spread so I don't need a large monthly brain dump page anymore. I've mainly been using those for recipes and meal planning anyway.
Changed up my habit trackers – I didn't want to keep turning to the front page, and I realised I was trying to 'track' too much. I decided to just turn the habits I wanted to keep tracking into tasks on my weekly spread, but noting which ones I wanted to track on my month summary spread.
Read More