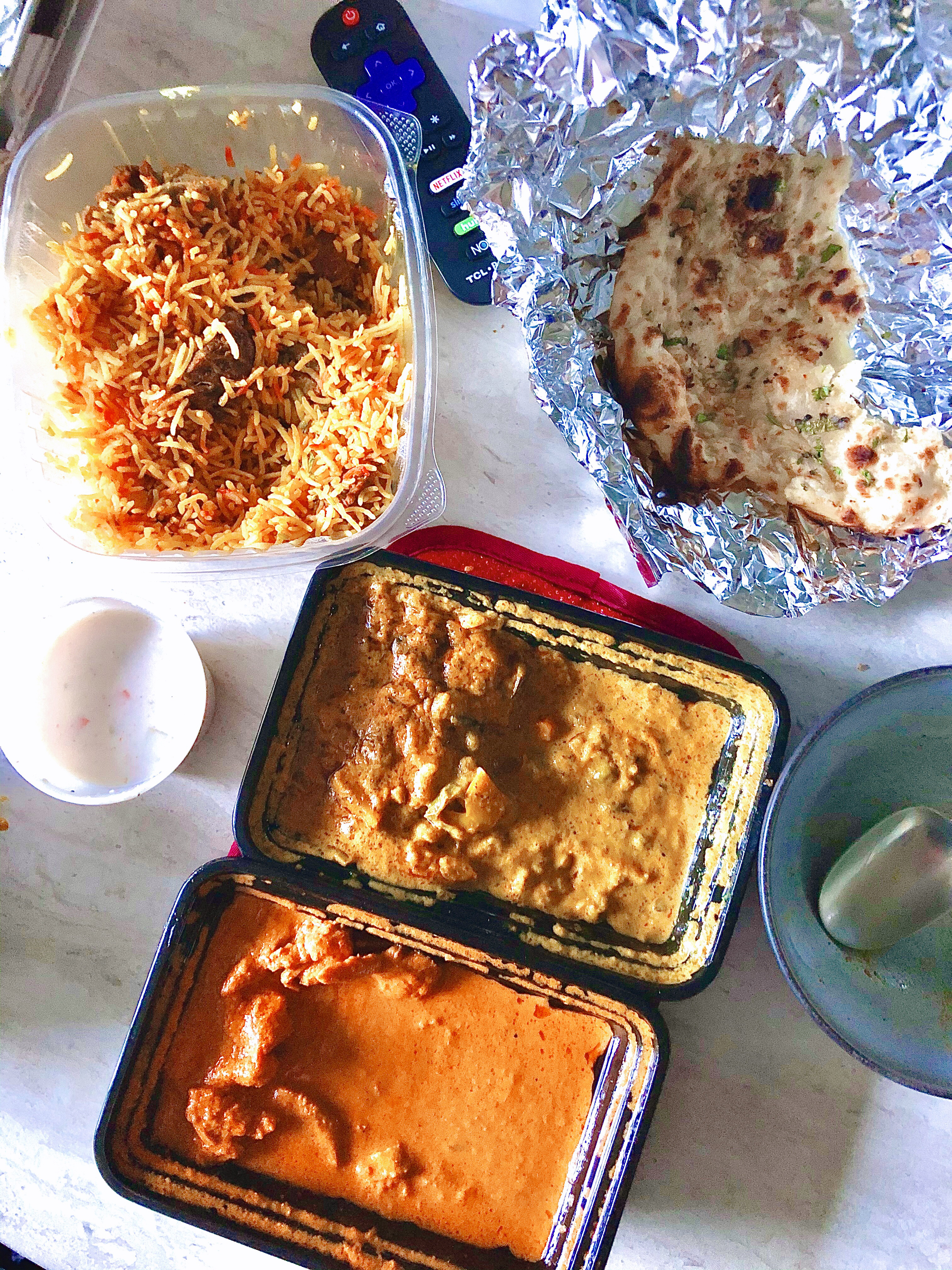 Restaurant: Caraway Indian Cuisine, Livermore
Delivery service used: DoorDash
Date ordered: 8th May, 2020
Dishes ordered:
Butter Chicken – $10.99 – 9/10
Navratilova Korma (9 vegetables cooked in creamy onion sauce) – $9.99 – 9.5/10
Goat Biryani – $10.99 – 9/10
Garlic Naan – $3.99 – 9/10
Bonus yoghurt/minty thing – free – 6/10
As you can see, the photo was from taken from half way through. I was pretty much stuffed by this point, Jacky continued to eat a bit more haha.
Portion sizes: substantial! They really pack as much curry as they can fit into the container. The biryani came in a larger plastic tub. It's definitely enough for 3-4 people… or 2 with very large appetites.
Flavour: yum!!!! Both of the curries were so full of flavour, creamy, cooked well. The chicken was tender and the veggies were soft (as I like them).
The goat biryani was dry, but we were going for that as the carb to eat with our curries. The goat meat was seasoned well and some pieces were so tender they fell apart on my fork when I tried to spoon it out.
I was particularly impressed that the garlic naan actually had a strong but not overpowering taste of garlic (my pet peeve is getting garlic naan where the garlic has clearly just been thrown on, and the rest of the bread does not have a hint of garlic taste). I loved getting a mouthful of the coriander to balance the richness of all the other dishes as well.
I think the yoghurt sauce is also there to cut through any potential heaviness or grease. I personally am not a fan of American dairy yoghurt but even so, I didn't hate this one; it tasted refreshing and had more of a liquid consistency, but I didn't have much because I did not find either curry too creamy or heavy. I'm not going to count that towards my overall rating because it was a bonus extra rather than something we ordered. Can't knock free.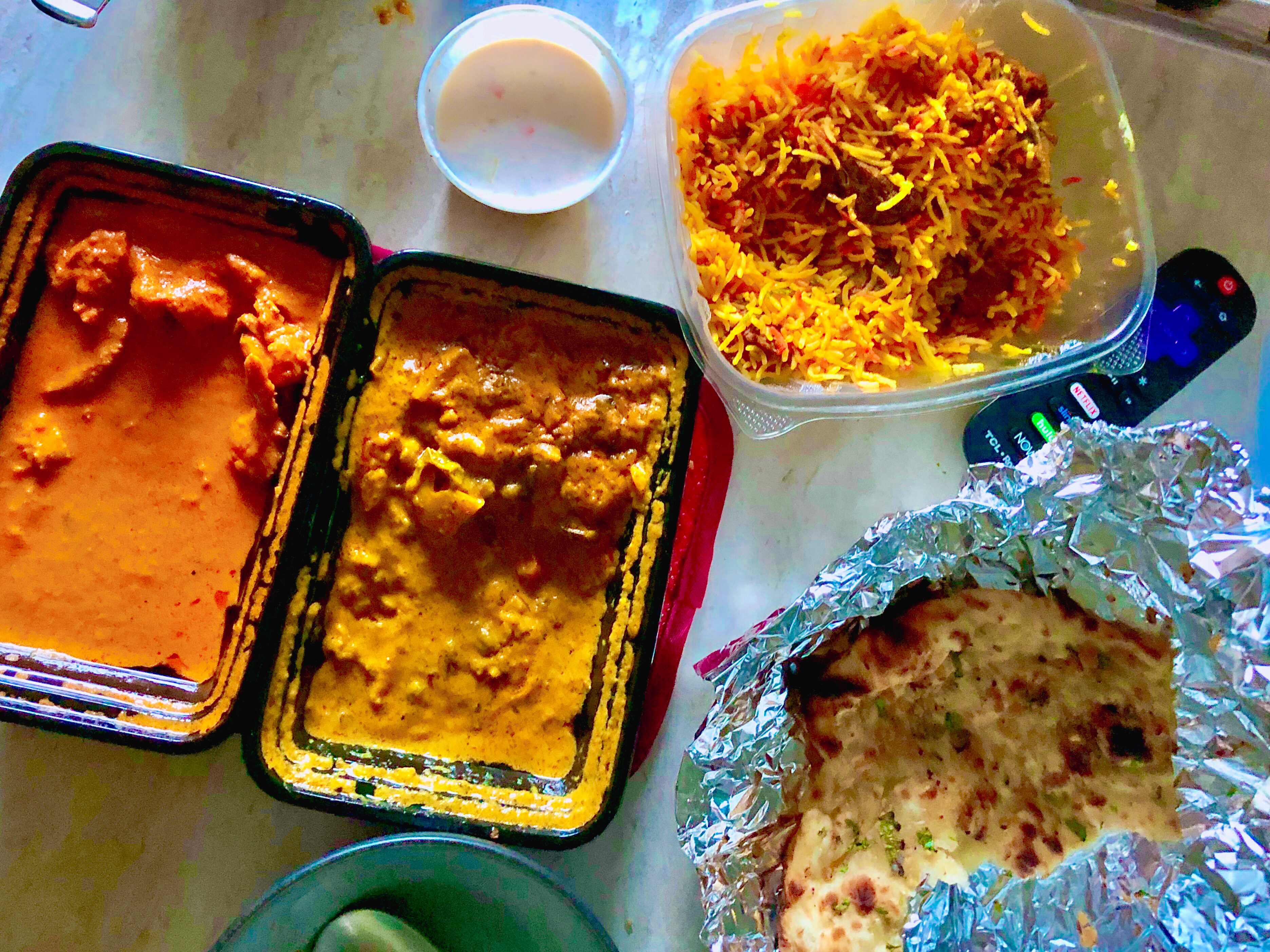 Value for money: 10/10!
If you can pick up your order instead, I'd really recommend you get their combo meals instead. I called them and inquired about ordering the combo meal over DoorDash, but unfortunately because of the fees they have to pay DoorDash (no small percentage for a business like theirs), they'd be paying out of pocket to sell their combo meals, so they decided not to add these to their DoorDash menu.
Even without the combo meal, I still think for the quality and quantity of dishes compared to the price, it's still very worth it.
(Darn it! I just saw via the site that they do free delivery within 5miles and 10% off for orders over $25. PLUS you get a free chai tea. I did not see this when I clicked on their website link while browsing through Yelp. What a mistake to order via DoorDash in this case. We will be ordering directly next time to get this deal as well as better support this local business.
Edit: Actually looks like that was just a limited time offer for March/April – they aren't offering delivery anymore. DoorDash it is, then.)
Other: I really appreciated that these dishes arrived still very hot. Could be to do with the mild heatwave that we're having, but I was very impressed that they still came hot and tasted great despite my DoorDash driver getting a little lost.
Finally, Jacky said that this company caters some of their meals at work and said that everything was good, but he didn't love the Daal. Everything we ordered, we really enjoyed.
Would re-order: 10/10. Definitely would be my go-to for Indian food locally.
Overall Rating: 9.42/10