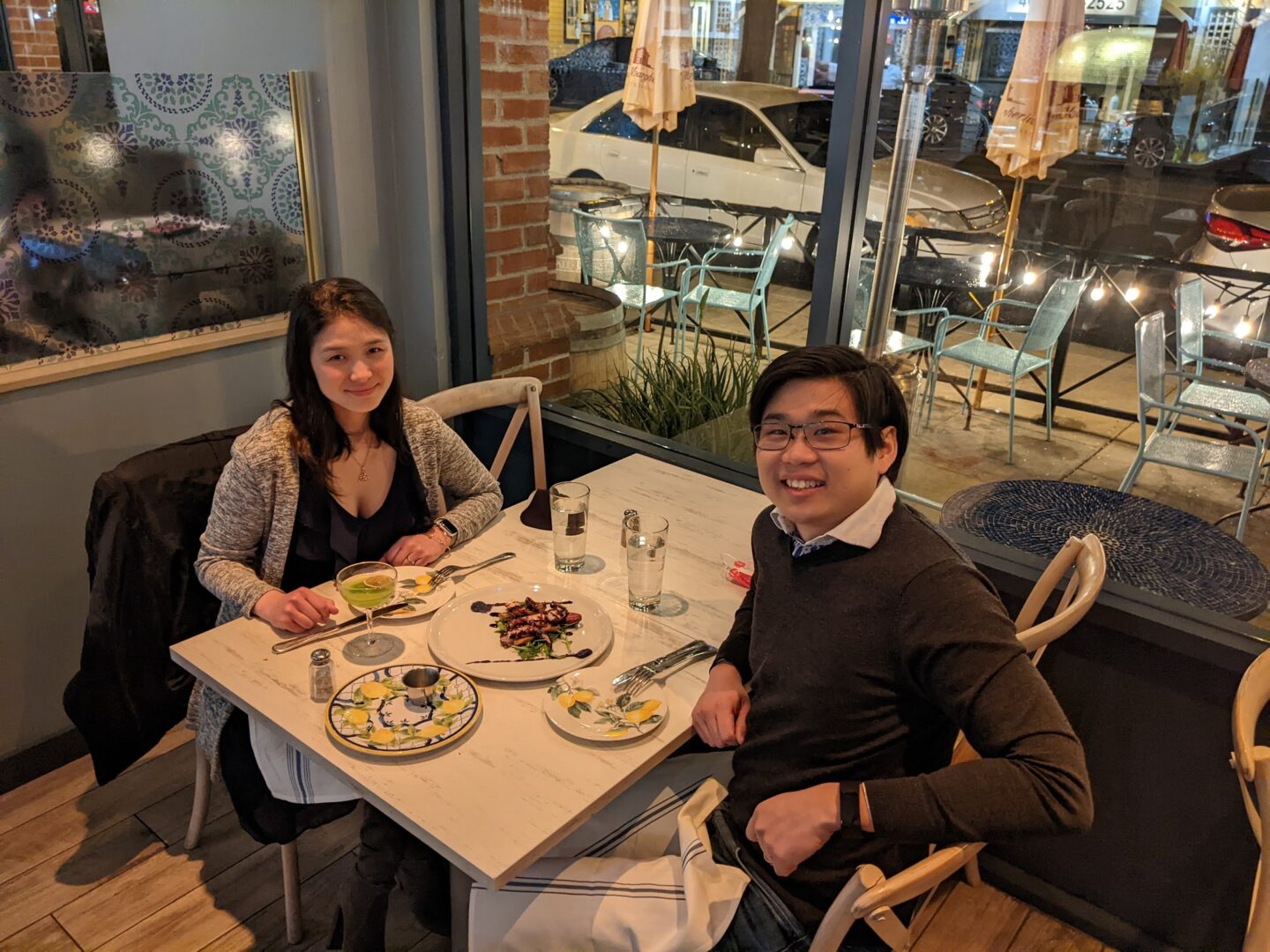 Last night we got dressed up and went out. It was Twosday 2/22/22, and happened to be our 2 year wedding anniversary (though our actual marriage date is 9/1/19 – and yes, both dates were intentional hehe). To be honest, I was feeling a bit lethargic and it was sooo cold outside. We had both just finished up work, and we hadn't really found a good 'celebration' restaurant because the one we originally wanted to go to was closed.
Our back up choice was a restaurant that we discovered last month and have since been a few times for lunch. The food was great, but it didn't necessarily feel like a special occasion restaurant. We are indeed very blessed that we are able to afford to eat at places like this on a semi-regular basis. Still, after a little bit of back and forth, we decided to go after all.
Immediately I felt glad that we did. It'd been a while since we dressed formally and went out for a nice dinner. I haven't worn a dress and heels in so long. I even put on make up for the first time in I-don't-remember-when. Sure, most of my make up is now expired but who cares? The vibe just hit different and I felt all grown up haha.
When we arrived, I think they saw how dressed up we were and gave us one of the best seats in the house – a four-seater table behind the front desk right beside the window. It was a quiet corner but not isolated. I really loved the ambiance and soft lighting. The restaurant was about to close in an hour or so but there were still plenty of patrons there.
I started with my new favourite drink – the Basiltini made with gin – and we got the octopus to start. My drink was fantastic, but the octopus didn't taste as tender as when we had it last time. This isn't really going to be a proper restaurant/food review but I can safely say the food was *chefs kiss*. I ordered the lobster ravioli main (I was thrilled to learn it didn't have cheese in, and can I just say? YUM) and Jacky had the carbonara.
Yes, he was hella excited for it. Can you tell? He can eat a lot and initially thought the portion looked small, but towards the end he declared, "Nope. Portion is not small, it's just the plate that's massive. I am very full." Hehe. But also that lobster ravioli + gigantic shrimp on top was honestly the best ravioli I've ever had. I must go back and eat it again.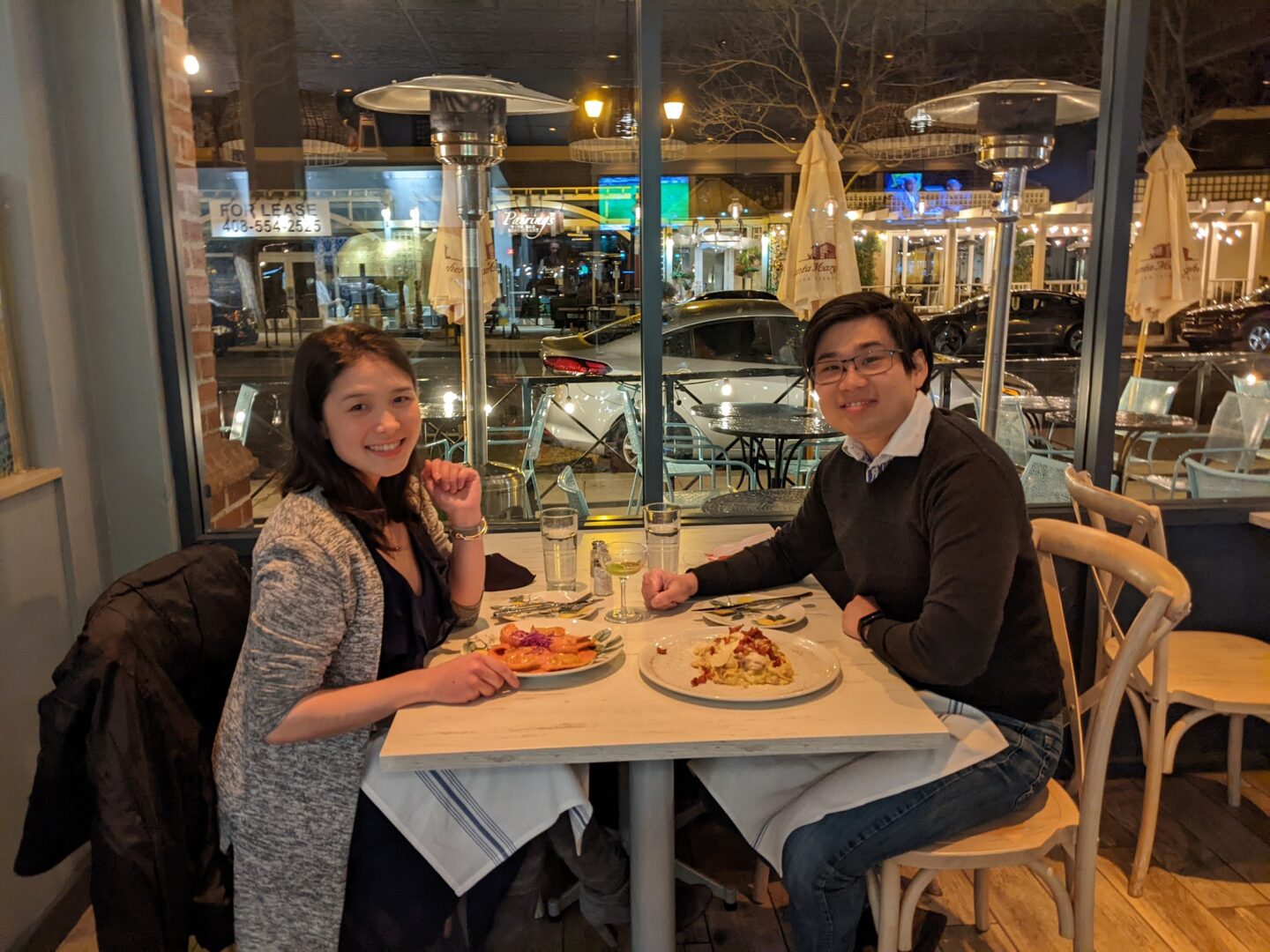 This is when I decided to get a little crazy and get a second drink. I wanted a second Basiltini but our server offered to make me something else that I had originally been inquiring about. He said that if I didn't like it, he'd go ahead and make me a different drink, so we decided why not.
Here I am trying to tell you a story about how gigantic this drink is. I honestly don't think I was ready for it. I was already happily buzzed by this point and… um… yeah. I joked that Jacky might have to carry me out after this. Not gonna lie, it tasted good! And in terms of value for money, it looks like you get twice the amount of drink.
I thought it was great at the time. But, tiny Asian girl + gigantic gin-filled drink + designated driver hubs who can't help drink it = prob not the best idea I've ever had in my life. I probably should have stuck with the Basiltini or just not got a second drink.
Jacky got himself a cappuccino. He enjoyed one the first time we came here, but was a bit grossed out by how they didn't clean the steam wand of their espresso machine. But he still wanted one and so one he got!
The restaurant also brought us a dessert on the house to wish us a happy anniversary! Yay! That was so kind of them. We were going to ask for the dessert menu but instead of giving us the menu they just went ahead and gave us a tiramisu.
I thoroughly enjoyed it, and the biscuit on top was deliciously crunchy and just the right amount of chocolatey. I couldn't really taste any alcohol in it but at that point I had so much alcohol in me that it's not exactly surprising I couldn't taste it in the food.
It was a really lovely anniversary dinner. I'm so glad we went out. The only thing I'd change is not getting that second drink. I paid for it today with an awful, awful hangover. Ugh. I felt fine after I got home last night but clearly I'd forgotten that 1) I'm old and 2) I should have drank my weight in water before sleeping.
I didn't intend for this post to be a restaurant review, but I'd be doing the restaurant a disservice if I didn't give them a shoutout. Locanda Amalfi in Pleasanton is probably our new favourite spot. Usually I get the pizza because there are very few options for authentic Italian pizza near us, but last night I wanted a slightly heftier main and boy am I glad I got it.
I still love their pizza, don't get me wrong, but that lobster ravioli… mmmm. So creamy yet light… you can actually taste and see the lobster pieces inside, and perfectly cooked, tender shrimp on top. I'm still thinking about it. In fact, we've ordered different things every time we've been there (only repeat item is the octopus) and so far nothing has disappointed. We will certainly be back. I'll stick with one drink max next time.
Muchos love,
Bobbie