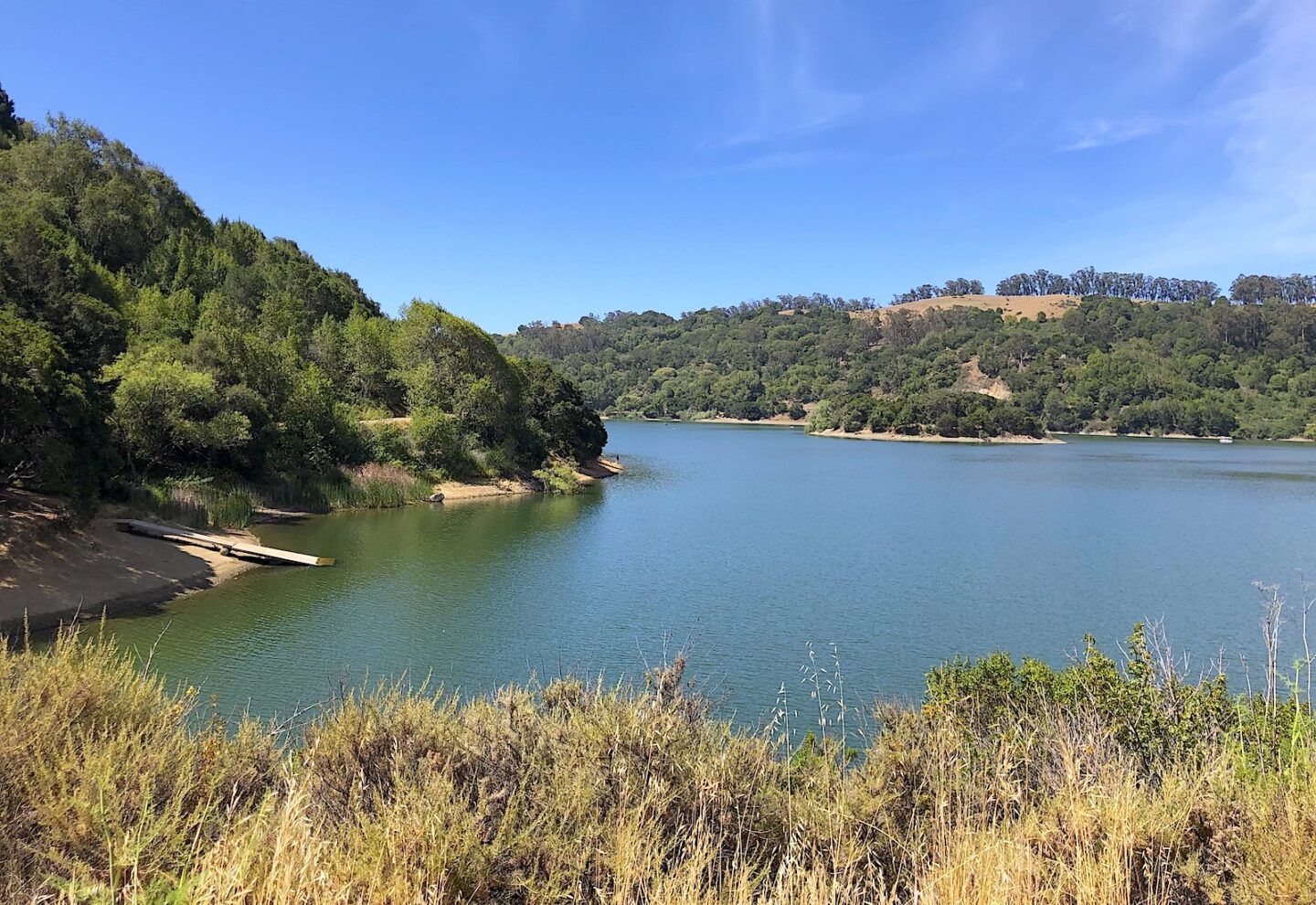 On Saturday Jacky and I went for a hike with Jacky's colleagues, followed by lunch and boba and some grocery shopping, then on Sunday after church we went over to another friend's house to help with redecorating, followed by boba and takeout as we had our weekly call with Jacky's parents. Putting it this way sounds like a rather hectic and busy weekend, but in reality it was rejuvenating and restoring for my soul.
Now that we're both fully vaccinated and many of our friends are also vaccinated, we're able to more confidently go outside and hang out with friends. Being out in nature and being in the company of others again felt liberating. I'm an introvert and can typically just stay home alone easily, but after very limited human interaction for such a long period of time, even I was reaching my introversion limit. I can't imagine how my extroverted friends would have felt during this extended quarantine.
The hike we went on was by a large lake and it was beautiful. I also appreciated that it wasn't too long and the elevation on the route we took was manageable. I loved being outside to breathe in some fresh air; we were able to take our masks off once we were away from the more heavily trafficked entrance, and taking in some beautiful scenery while getting in some fitness steps was something I appreciated so much. It also helped that the weather was perfect.
The hike path was mostly shaded and there was a gentle breeze the accompanied us throughout. We stopped by a sunny vantage point and enjoyed some warmth as we chatted. I have really missed human interaction!
The hiking grounds also provided plenty of picnic tables and BBQ stations, as well as boats and kayaks for hire. I thought the lake was so pretty and the weather was so nice that it'd be lovely to go for a boat tour around the lake, but the only boats available were pedal ones. It was getting to lunch time so we agreed that next time we'd make a day of it, bring some food for BBQing then rent a pedal boat after we'd eaten and had energy.
We went for lunch in a neighbouring city and it must have been the first time I've experienced indoor dining since… March last year! Not too sure about the health and safety standards of that place to be honest but the company was great. Jacky and I then introduced our friends to my favourite boba place: Yi Fang. We don't have one near where we live, but there was a branch less than a mile away from where we had lunch, so naturally we had to stop by before heading home. Oh my goodness, will drive for boba, guys. It is definitely a cut above the rest; Jacky's colleagues loved it too.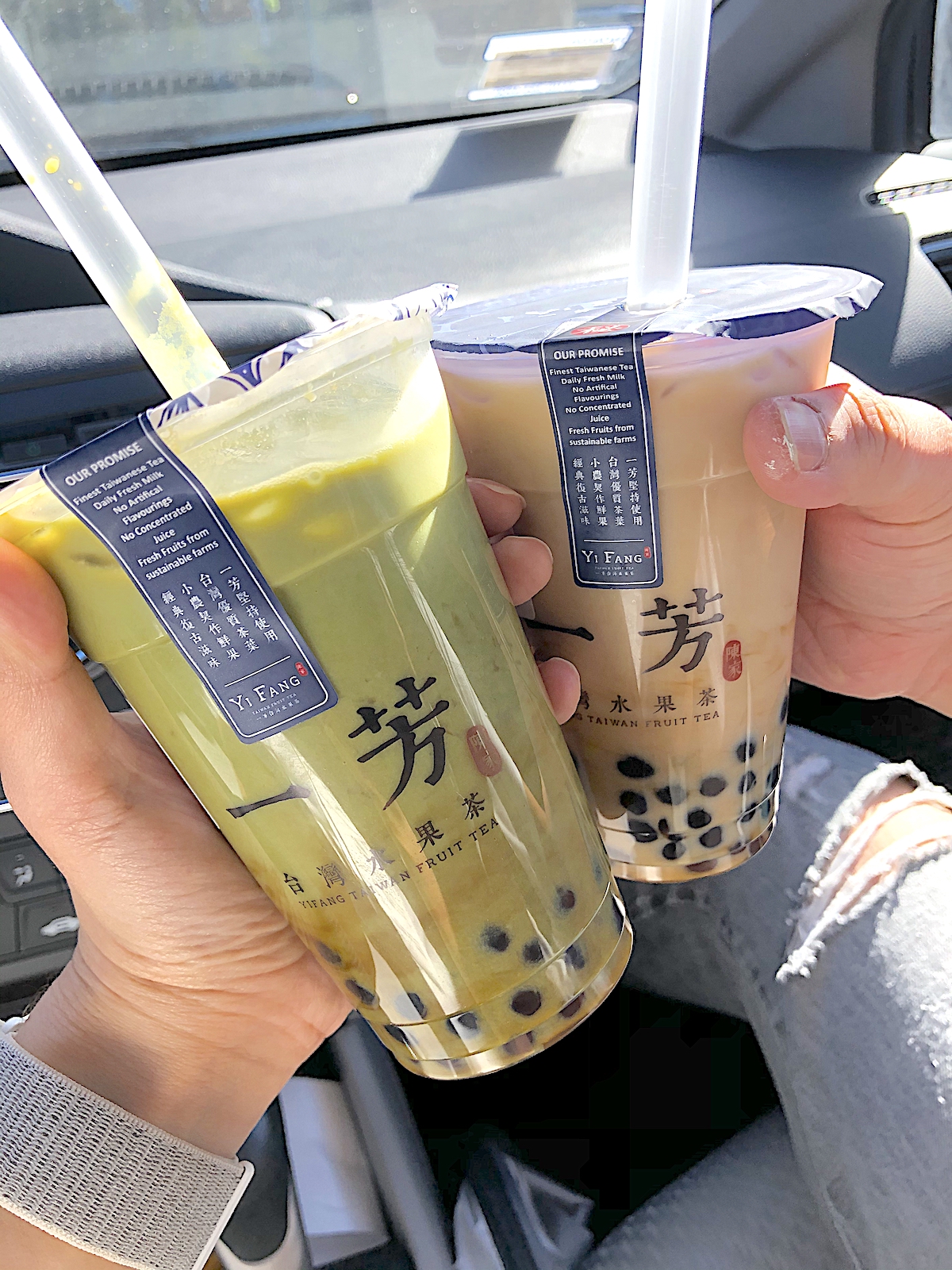 I got the brown sugar pearl matcha latte, light sweet with oat milk and it was just divine. The pearls are freshly made in-house and you can really taste the difference; they melt in your mouth and are a delight to eat. Speaking of Yi Fang, you might think the photo on the right is from this trip… nope!
The very next day we went to visit our friends who are in the process of moving into their newly purchased condo. We hadn't seen them in over half a year and it was so nice to catch up and hang out again.
We went over to help paint, but what ended up happening was Jacky helped paint and I chatted with them then played with their baby, who just happened to be the most well-behaved baby on the entire planet haha.
She is not shy, has the cutest smile, didn't cry at all when I just took her to play without her parents (they asked me to take her out of the house to get away from the paint fumes) and on our way to the nearby park, she fell asleep in her stroller.
Again the weather was lovely and sunny but not too hot. It was windier than the day before so I'd move between the shade and sun to remain comfortably warm.
On our way home we stopped by a different Yi Fang since our friends now live less than 5min away from a branch and I got my usual again. Jacky tried the brown sugar pearl oolong tea latte with light sweetness and said he didn't like it as much as my matcha one. I quite liked both to be honest!
Before this weekend we hadn't been to a Yi Fang in maybe a year. When we were there last, they didn't allow sugar level adjustments on their black sugar drinks, so I'd gotten the matcha one in hopes that the mild bitterness of the matcha would balance out the sweetness of the sugar. I remember it being delicious due to their homemade tapioca, but because the tapioca itself has a degree of sweetness to it already, I found the drink still a little sweet in the end. I'm really glad they allow adjustments to the sugar level now, and they even recommend the drink 'light sweet'. It was the perfect amount of sweetness for me.
We got some Korean takeout and friend chicken for dinner as we talked to Jacky's parents, during which time I got notice that USCIS had received and were processing my green card application! Woohoo! Never have I been more thrilled to see money leave my bank account hahaha. We both did a little more work in the evening, and it was just the perfect weekend, really.
Muchos love,
Bobbie