It's been a long time since I had a tablet, and I really felt like I needed one again because using the Apple Trackpad 2 was starting to hurt my fingers. After a bit of research I decided to go with the XP-PEN Deco Pro Small. It comes in a small or medium size, but as you can see from the above photo, it is really not that small! In fact, it's larger in width than my new M1 MacBook Pro. I've only had it for a couple of days, so this review is just my initial thoughts.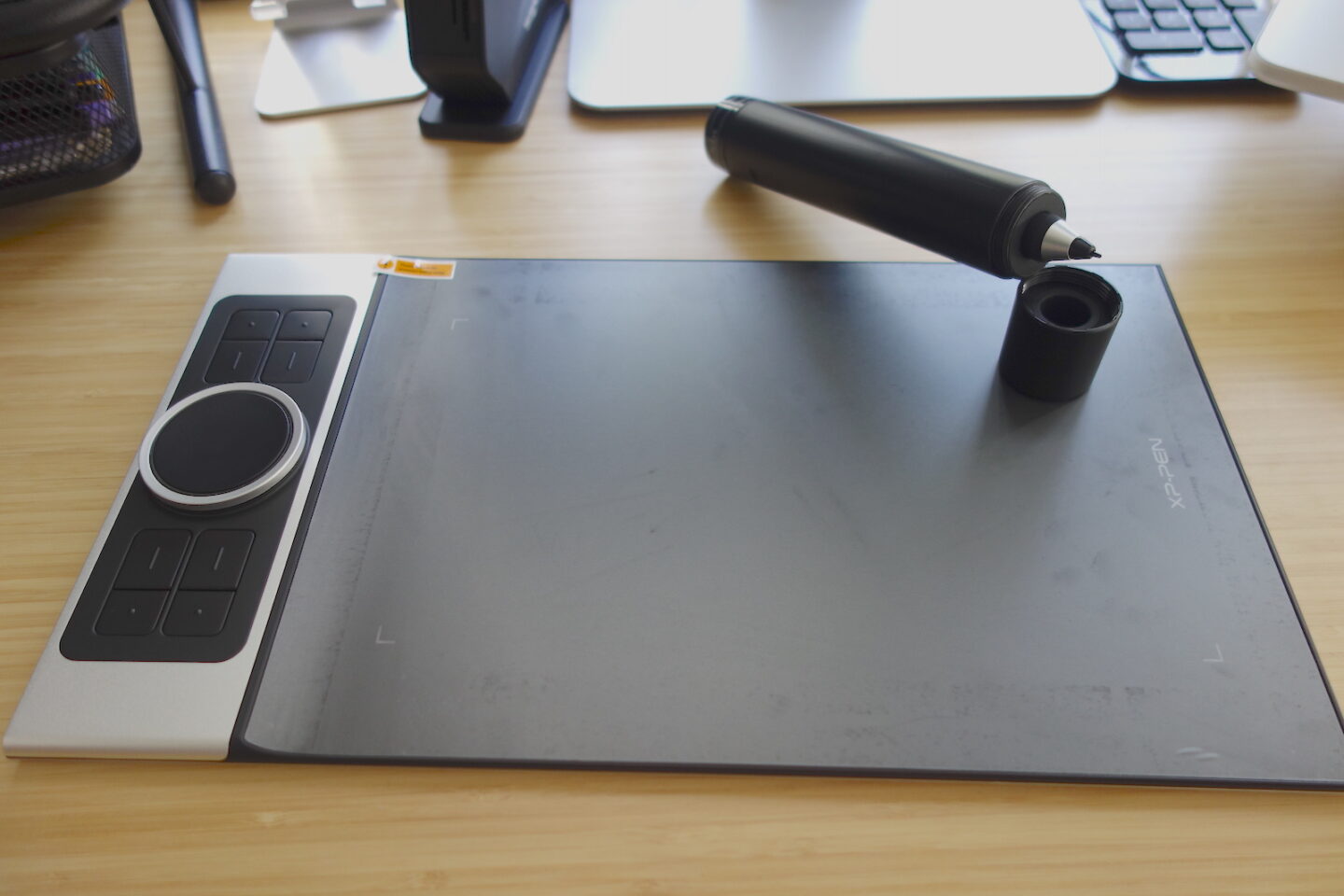 It comes well-packaged, everything is individually sealed so I was very confident my product was brand new. Upon opening the box, you'll find the tablet and a pen holder that contains both the pen itself and 8 replaceable pen nibs. The lid of the pen holder can be used as a pen stand. As well as the tablet being sealed, there is another layer of protective film over the surface.
After taking out the tablet, you'll find two small packages: one that contains the USB-C to USB cable to connect the tablet to your laptop (in my case, I'm connecting it to my dock). In the other, you'll find the warranty card, usage and driver download instructions, glove and two adaptors. One of the adaptors is USB to USB-C, which I'll most likely need to use if I want to use my tablet without plugging my laptop into the docking station.
The tablet will support a USB-C to USB-C connector cable but it doesn't come with the cable. Still, the ability to use a connector cable like that is one of the primary things I was looking for. I did consider a wireless one but I wanted the smaller sized tablet and 8 hot keys… while still being affordable.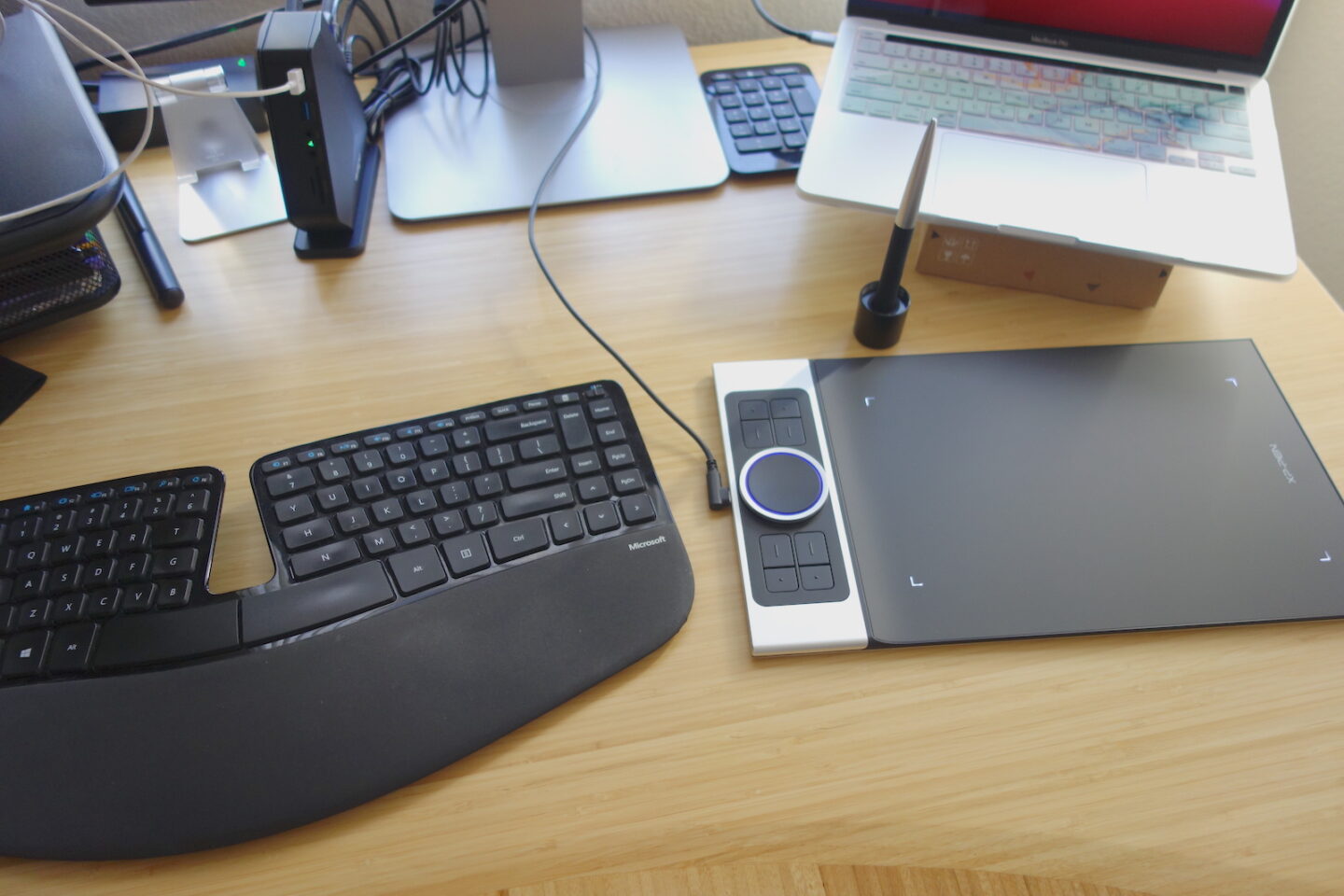 Day 1 in terms of the actual usage… I realised that with my multiple monitors, it was painful for my arm to stretch so far, so very shortly after installing the drivers, I chose to start using my tablet portrait rather than landscape. It's taking me some time to get used to, and the driver is not without its bugs, but so far it is okay. It cost less than $100, so of course I can't expect it to work like a Wacom tablet.
It works on M1 MacBook Pro though; the driver is compatible. In fact, they have 2 drivers available on their website. I originally installed the new driver, but either it was an issue with me not restarting after installation or an issue with the software itself, but I wasn't able to configure the keyboard combos that I wanted for the shortcut keys. I ended up uninstalling the new driver and installing the original, basic driver, and then was able to set the hotkeys just fine.
The original driver works, but I do notice issues during use like the pen sometimes jumps a little on screen, I can't draw in a straight line (might be my fault though), and my handwriting looks very different probably due to the mapping of the tablet surface area and my dual-sometimes-triple monitors. That last gripe I suppose I can't really hold it against the tablet.
I tried to have it where the tablet would only map to 1 screen at a time, and use a hotkey to change the monitor it was controlling, but it was so slow that every click saw the spinning beach ball of doom. You know the one I'm talking about; that was something I hadn't seen and haven't missed since I purchased this laptop. So I decided the function was unusable and stopped using it.
I also find the mechanical wheel quite finicky; it feels really loose when you spin it, the scrolling itself is clunky (you'll have better luck just pressing the up and down keys on your keyboard) and unfortunately there's also no option to customise mapping the direction the wheel spins to the scroll direction. For me, turning it anti-clockwise to scroll down is quite counter-intuitive, and unfortunately sometimes the scroll doesn't even work at all.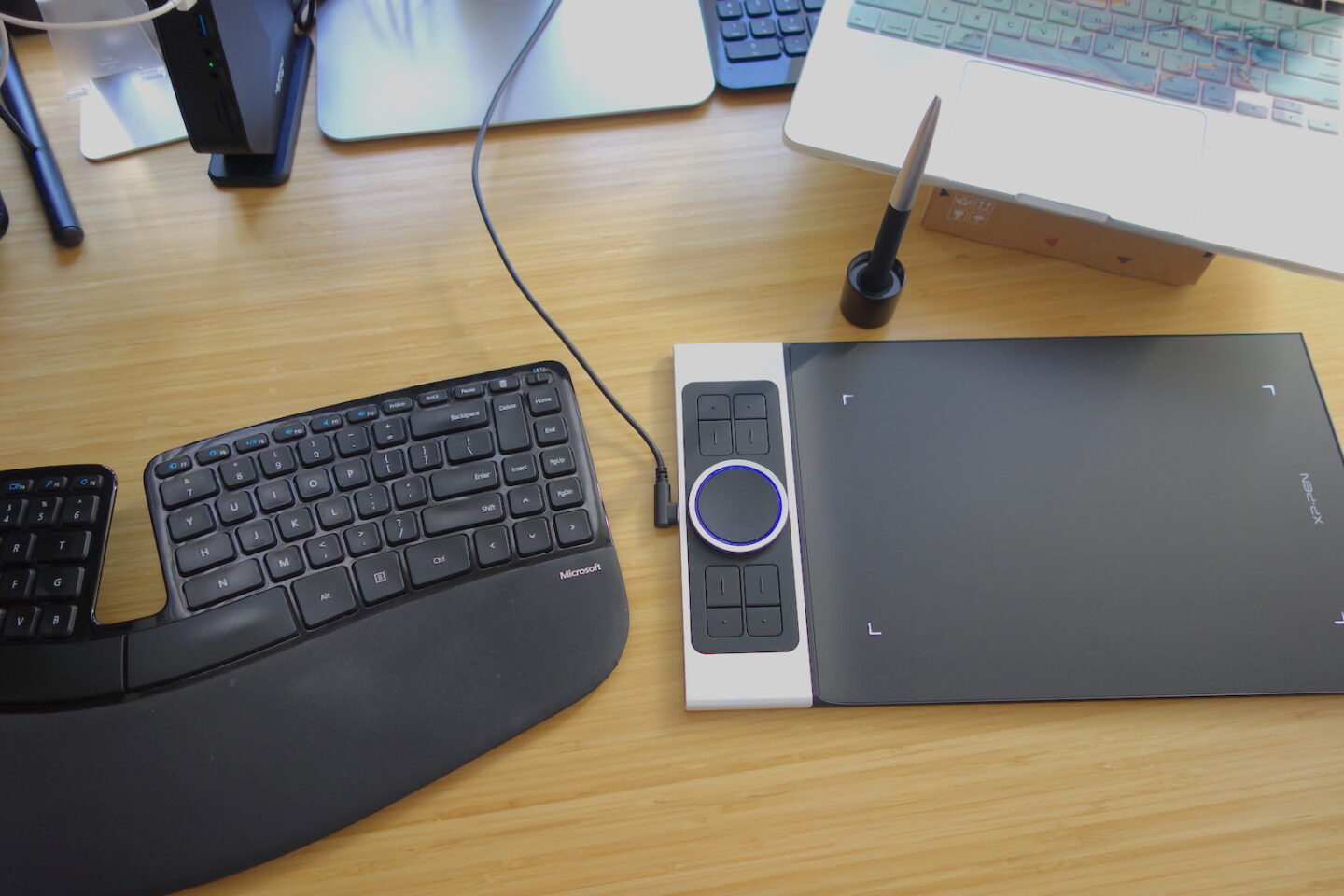 Day 2 I realised that with the old driver, unfortunately there was no way of manually mapping the tablet surface area to the usable space. Meaning, when I had the tablet upright, the 'edge' of my screen was basically the middle of my tablet! It was so squished and weird. I ended up having to uninstall the old driver and reinstalling the new driver so I could use the area mapping function, and ensure the edge of the usable tablet area was mapped correctly to my screen. Once I did that, most of the pen jumping and drawing issues were resolved.
I ended up solving the hotkey issue by temporarily disabling the shortcut function that I wanted to assign a hotkey to, adding the keyboard combo to the tablet settings and then re-enabling the shortcut function. For example, I wanted to assign a hotkey to a screenshot function using Cmd+Shift+5. So I went to my Mac System Preferences -> Keyboard -> Shortcuts settings and temporarily disabled the shortcut, which enabled me to add the keyboard combo into the tablet settings without activating the shortcut, and then I re-enabled the shortcut and everything works fine.
The mechanical wheel built-in scroll function remains finicky but I've figured out a small workaround for using it to scroll in Chrome: customise the scroll function by setting the wheel spin to your up and down arrow keys: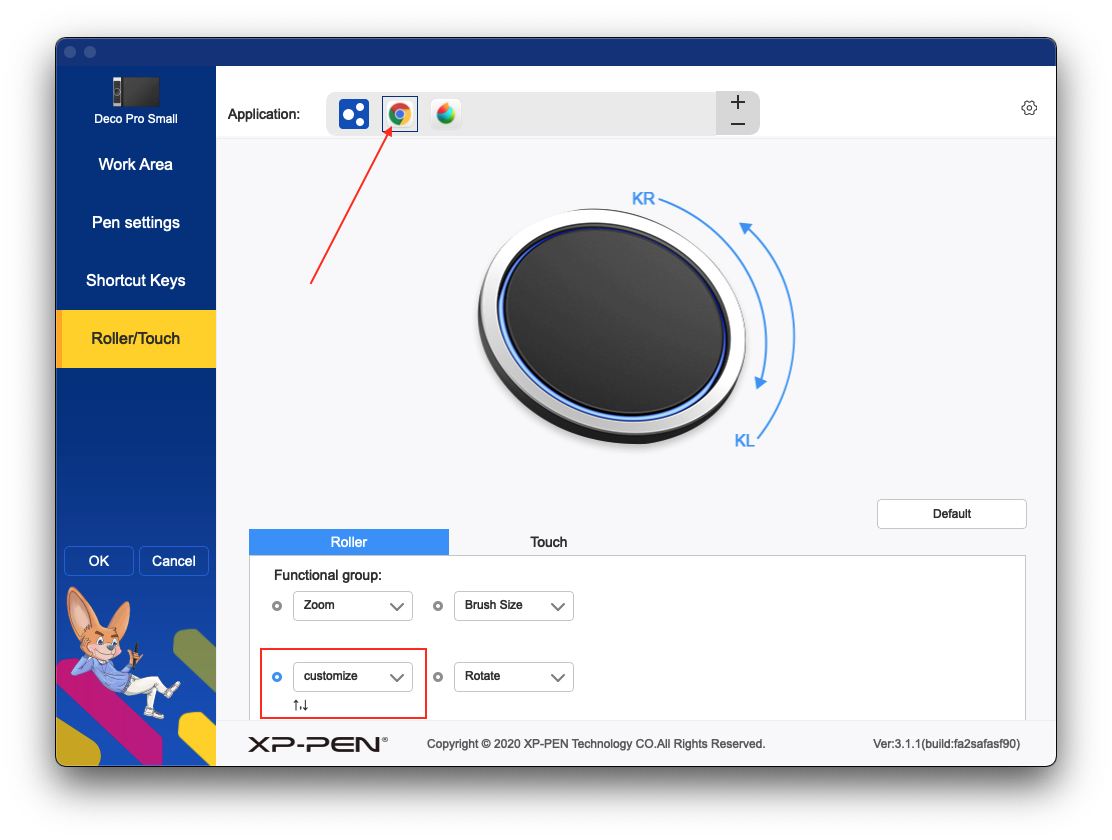 I set this for Google Chrome only since the up and down arrow buttons function differently on other apps.
My final gripe is that the app itself must be open for the tablet to work. I don't like having XP Pen's bulky icon on my dock to be honest. For most people this probably won't be a problem but unfortunately it does bug me. I don't mind its icon being in my menu bar and out of the way, but it's in both my menu bar and in the dock. I can minimise the app but it doesn't change the fact that it's permanently open. Bleurgh. I wish it could be like Dropbox or Magnet, both of which just run happily in the background without requiring the app itself to be open.
All that being said, some of these problems could just be growing pains as I re-learn to navigate my screen through a tablet. I have to say I do think my old Wacom Bamboo tablet was far superior in performance, was far smoother and just all round a pleasure to use. However, having read recent Wacom reviews, I think they may have gone down the planned obsolescence route with their new, rougher surface tablets, which I'm not into.
I reached out to them about the app being required to remain open for the driver to work and I have to say their customer service team is great; prompt and polite in their responses. They didn't resolve the issue for me unfortunately, but they've advised that it'll be something they pass on to their dev team. I guess I'm the only one who is irked by the app needing to be open? Haha.
I also like the smooth surface of this tablet, which reminds me of my old Wacom Bamboo tablet. It's early days yet, but having used it for a few hours there are no signs of usage on it at all, which apparently was an issue with some of Wacom's new tablets. I like that, for the most part, it does work well as a more ergonomic mouse alternative. Jacky plans to use it to do some artwork as it does have decent pressure sensitivity, and for a device that costs under $100, it really isn't bad.
I also installed some art software on my laptop. I used to draw a lot as a kid… maybe I can get back into it.
Muchos love,
Bobbie