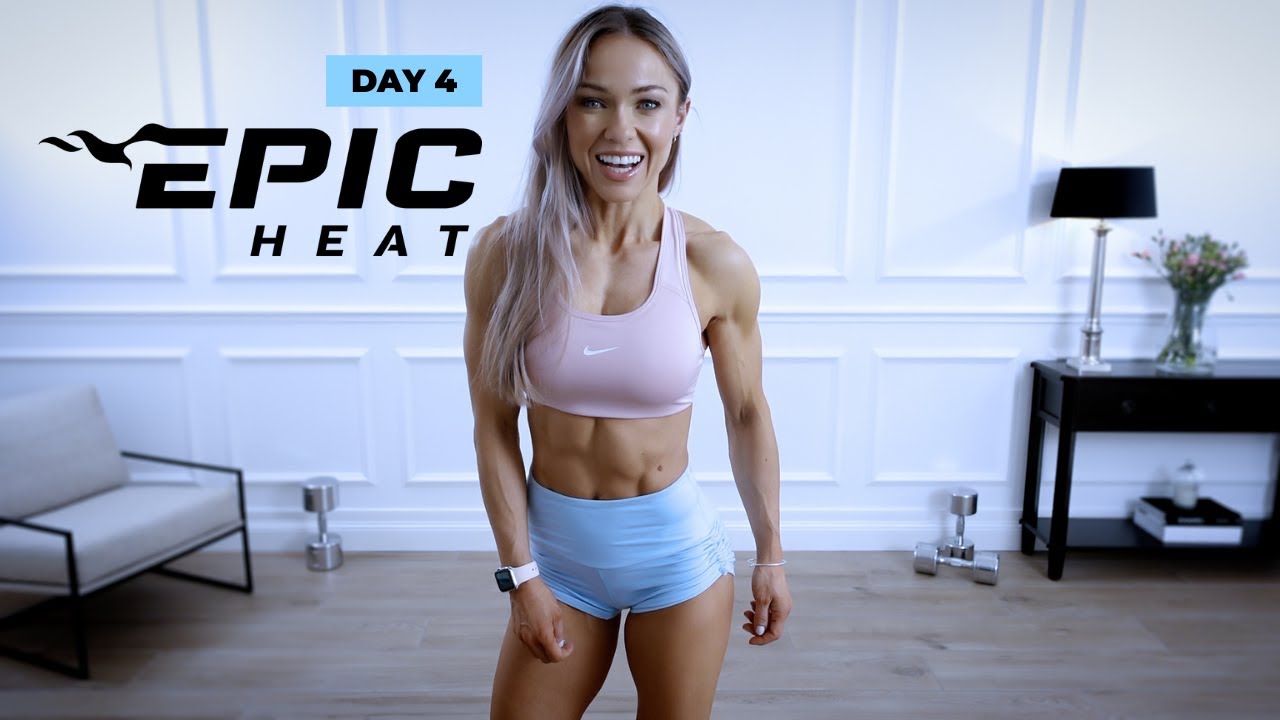 7/10 – Day 4: Completed 18:36.
Videos Completed: 5min Warm Up, Epic Heat Day 4.
Equipment used: 5lb dumbbells, medium resistance band.
Hello, it is us. We have just finished day 4 of Caroline's Epic Heat. Honestly I am very tired, feel generally quite fatigued and, despite my bright smile, did not like this workout overall. I am amazed I got through it, but the transitions were rough.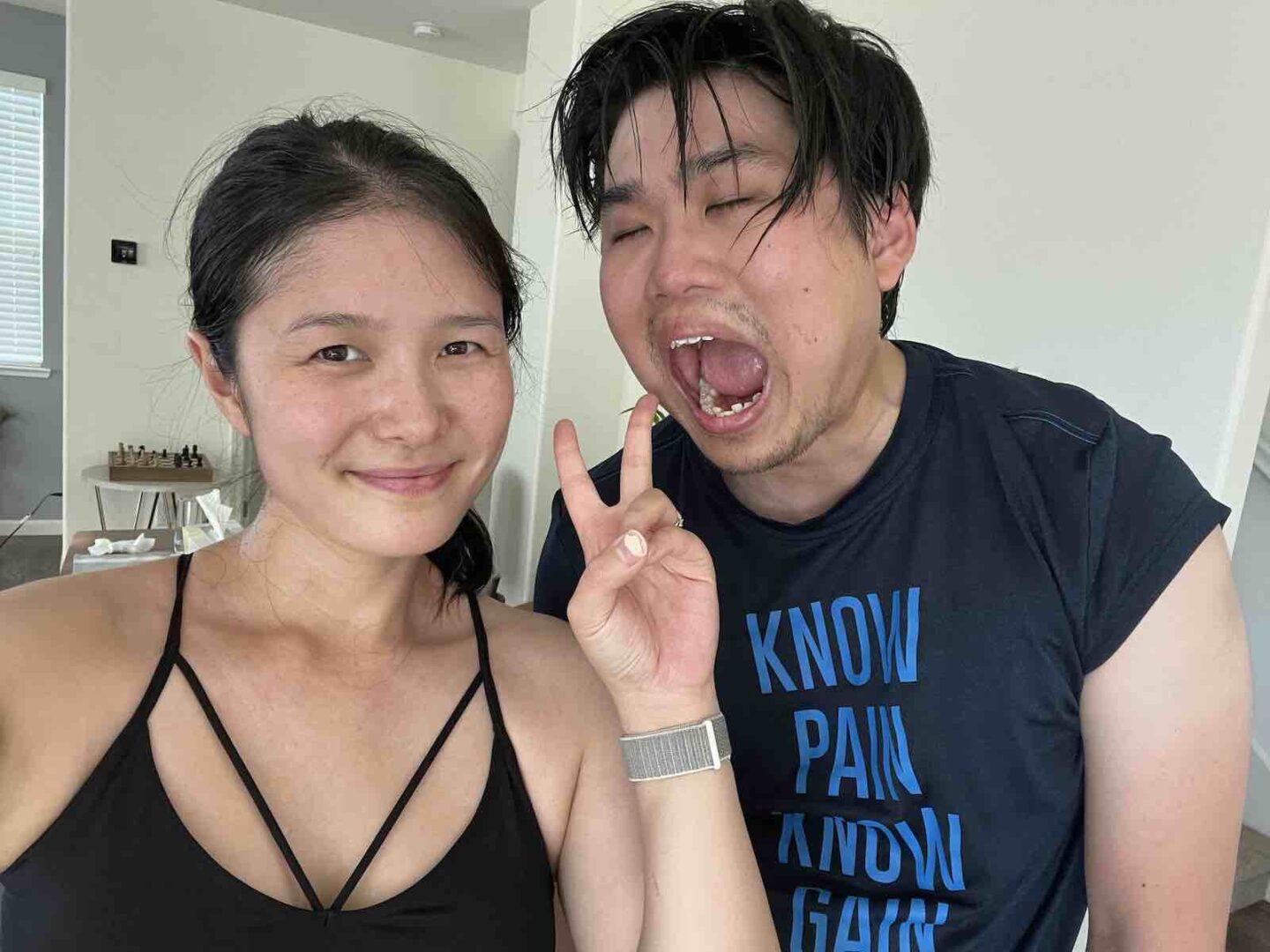 Even though Caroline showed what was to come, the 40s->20s->40s sets were a bit too much for me. Especially when the transition was more difficult to do, like the chest press -> pushups -> chest press. I found that I barely had time to get into position for the pushups before it was time to grab my dumbbells again for the chest presses. If I had been using heavier dumbbells, I might have injured myself trying to pick them up too quickly.
Jacky definitely struggled with trying to figure out what the exercises were, and a lot of the time, by the time he figured out what the exercise was, Caroline had moved on. This was especially the case with the 20s exercises.
I think my leg/glute strength has increased since I was able to do the squats for longer and the medium band was perfect to push me hard enough so that I needed to stop a couple of times but not give up. The jumping squats were a big phat n-o for me haha. I tried a few each set and dang, back to the regular squats it was.
The 5lb dumbbells were easy for the hip thrusts despite having my medium bands on. So that was kind of exciting… finally time to level up, methinks! Increased leg strength makes sense (and is kind of vital) since I've been doing wushu that requires different types of kicks and deep squats, but it is encouraging to feel a noticeable difference during my workouts too.
My upper body, however, was still aching from day 5 lol. Those pushup burpees, man. Today I barely attempted a real pushup and stuck with either knee or incline pushups. My energy levels today were insanely low. Not as bad as yesterday, but still low.
I have also been extra lethargic lately because I've been fuelling my body with a solid diet of junk food and carbs for the past few days, so unsurprisingly all I wanted today was a big fat salad (which I thoroughly enjoyed for lunch).
Today's workout was originally planned for yesterday, but I had absolutely no energy yesterday after eating way too much McDonald's (I kid you not. They got me good with the $2 Big Mac offer. I had like 2.5 Big Macs and way too many chicken nuggets and fries), as well as some pizza and pastries. Talk about a massive cheat day… or 3. Lol.
That said, even if I were feeling in tip top condition, I still don't think I would have liked today's workout. The quick switches were just too much for me. Glad it's over!
Tomorrow Chloe's new challenge launches and I feel like it'd be better for my current fitness level, so I might switch over. I think I'll take tomorrow as another rest day because… well, my body needs rest. Tuesday is my wushu day again, so let's catch up again on Weds!
Muchos love,
Bobbie