It has officially been an entire year since I purchased and started using this notebook as a bullet journal. I am still using it and enjoying it immensely, so it's about time for a review, I think. The product I purchased was The Daily Paper's A5 dotted notebook with numbered pages because, honestly, way too lazy to number all the pages by hand.
At the time of purchase, it was only $9.54 + tax, which, for what you're getting, I feel is an absolute steal. As a bullet journaling novice, I wasn't about to spend $40 on a dotted notebook, and this one turned out to be perfect for me. I'm slightly devastated that it no longer seems to be in stock and their website is currently down for updates because I can't recommend this notebook enough.
I apologise in advance for the inconsistent lighting in these photos. I'm bad at photo editing, especially in Mac Preview. That said, I did try to get the colour of the notebook to as true-to-life as I could.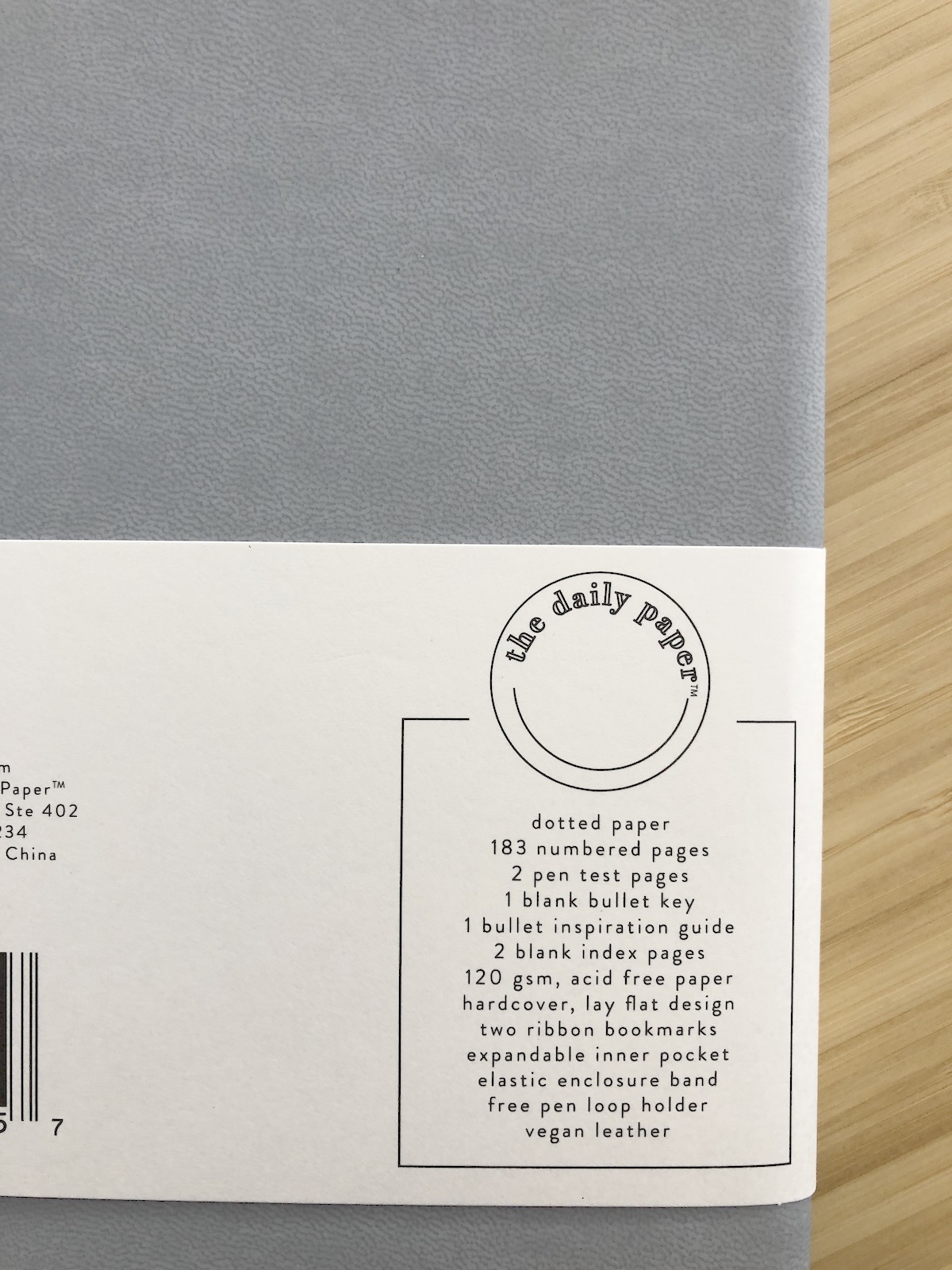 There are 183 total numbered pages, along with multiple other helpful pages that a BuJo may need. If you are an avid bullet journalist and enjoy creating your own spreads for everything then it probably won't be the right fit for you. I'm a very basic beginner who had very little idea what I was doing, so the default spreads helped a lot.
The 120 gsm paper has been great for me, it's decently thick and bleeding through pages is hardly a problem unless I'm really going for it with my highlighters. I switched to Mildliner Brushes a few months ago and they've been brilliant on this paper with minimal bleeding.
The vegan leather cover is delightful. It's soft and durable, and while I have made sure to take good care of my notebook in the first place, there are barely any signs of wear on the cover, and it still feels as smooth and soft as the day I got it.
I'm also impressed with the elastic band and pen enclosure. It's a thick elastic band that has not lost any of its elasticity over the past year (though to be fair, I am not a heavy BuJo user). The pen enclosure is large so I've been able to squish a couple of pens in there at a time, but you'll definitely only want to hold pens with clips to keep them in place. A singular pencil will undoubtedly fall out.
It starts with a nice intro page that also offers you a place to note the date you started this journal and its volume, and on the final page there's a default space to write the date you completed the journal. Both of these pages are made of a thick card material. You can go wild with art and I am pretty certain there will be zero bleeding.
The second page of the notebook contains a pre-made space for a key, and the penultimate page contains inspirations for your key selections at the front. I feel like the square guide box for the key icons are too large. I tried to fill them and it looked ugly, but of course you don't need to use all the space given and that's what I'd recommend.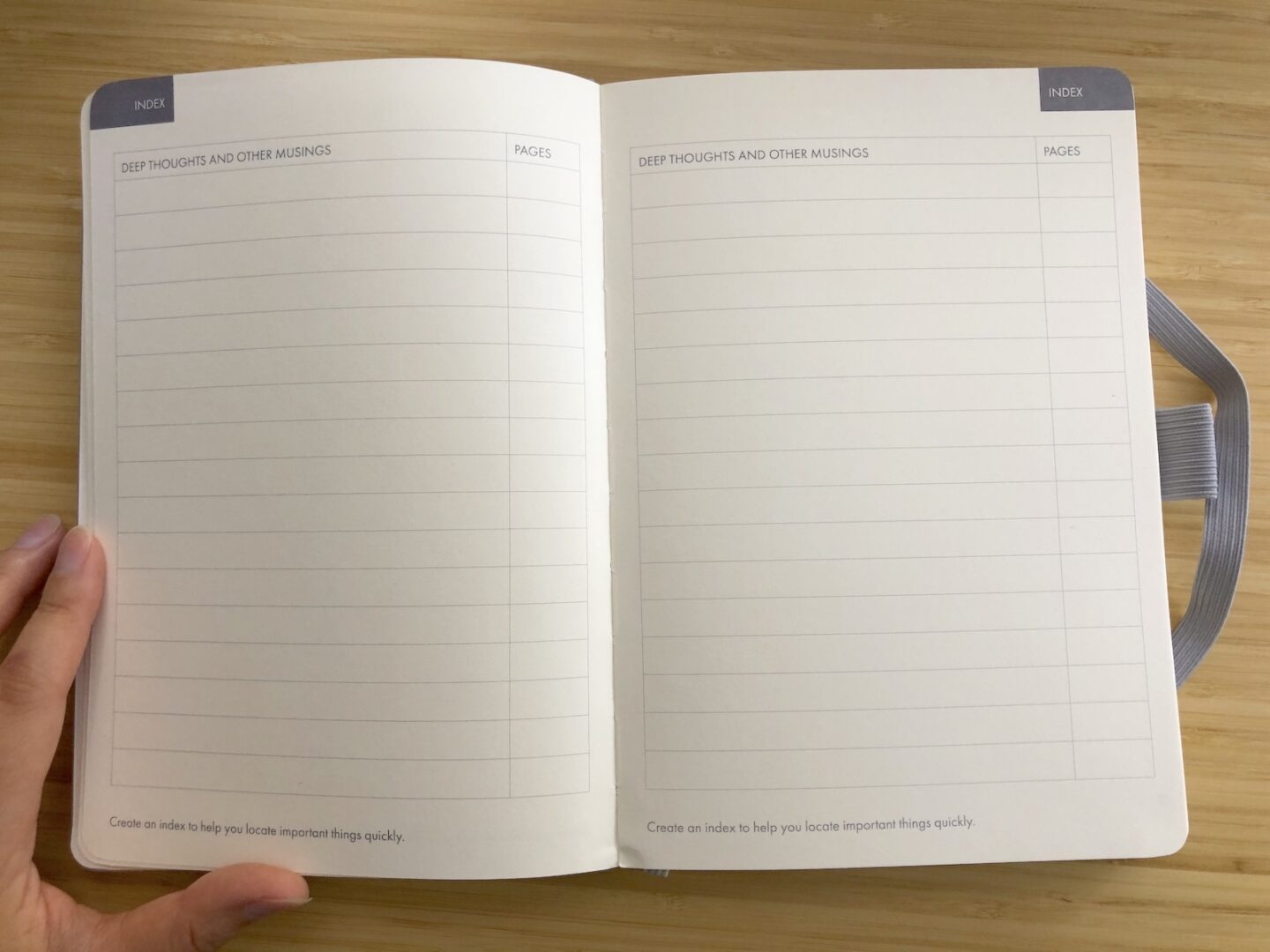 The following 2-page spread is a dedicated index space before you begin your 183 numbered dotted pages. I… haven't used this index at all. Now that I think about it, I don't know why I bothered to get a numbered bullet journal when I don't actually use an index and kind of know where everything I need is in the book anyway. So, if I finally complete this and move on to a new notebook, I'll probably forego a book with page numbers, which will give me more space to use on each page.
This was my first ever bullet journal notebook and, since I saw other bullet journal YouTubers laboriously numbering each of their pages by hand, I assumed it was a feature I'd need too. That said, I'm not even half way through the book yet so it's entirely possible I'll need to use this index later on, so I'm glad I bought one with the page numbers anyway.
For now, so far, the two attached bookmarks have been more than enough for my needs. I love that the bookmarks are different colours so it's straightforward to identify the relevant bookmarked page you're looking for. I also love that the pages lay flat so are effortless to write on.
Last but not least, there are 2 pen test pages toward the back, and a large expandable back pocket. The face of the pocket is double-thickness card, but expansion folds seem to be made from some sort of fabric, which would ensure it never rips or tears. I find this rather genius.
The entire notebook feels high quality to the extent that I can't believe I paid only $10 for it. I haven't been shy about sharing how basic my bullet journal spreads have been; I use colour but not too much, and currently the extent of my artistic talents are a few minor decorations or attempted calligraphy with a Mildliner Brush pen, so the 120 gsm thickness paper has been perfect for my needs.
Anyone who plans to paint Monets on their journal should probably invest in an Archer & Olive or other thicker paged notebooks, but if you're just starting out like me, I'm sure something like this would be more than sufficient. Trust me to post a review once the book no longer seems to be purchasable, but I'll keep my eye out for you and link it when it comes back in stock if you want. Just leave me a comment and I'll get back to you!
Muchos love,
Bobbie