I want to let you all in on a secret.
But then I worry more and more people would discover it and overcrowd the place until there's no more room for me.
But at the same time it's way too good to keep to myself…
Ah, heck, I'll just tell you guys: Tucked away in a remote side street in Covent Garden is a little gem.  This particular gem goes by the name of "PJ's Bar & Grill", and does the best meal I have ever tasted at under £20.
There. I told you. Now stop reading so you don't find out exactly why it's so darn amazing.

Or not.
I found the place online and arranged to meet my friends there. It was me, a couple I'd known from my Uni days (my friend's bf is heading off to Saudi Arabia this week so I had to have a goodbye meal with them at any rate), and another friend the couple had invited, and from entering the building and not expecting an awful lot, we'd spent half the evening gushing over how unexpectedly delicious the food was.
My mouth is watering as I think back… Mmmmm…
I'm going to apologise about the quality of these images first. You can tell I was not prepared for how fantastic the meal was going to be, so crappy ol' phone camera it is! Don't let these darkened images fool you. The food was fantabulous.
Starter: Soy Glazed Tuna Belly with Soba noodle galette, bok choi and mirin glaze.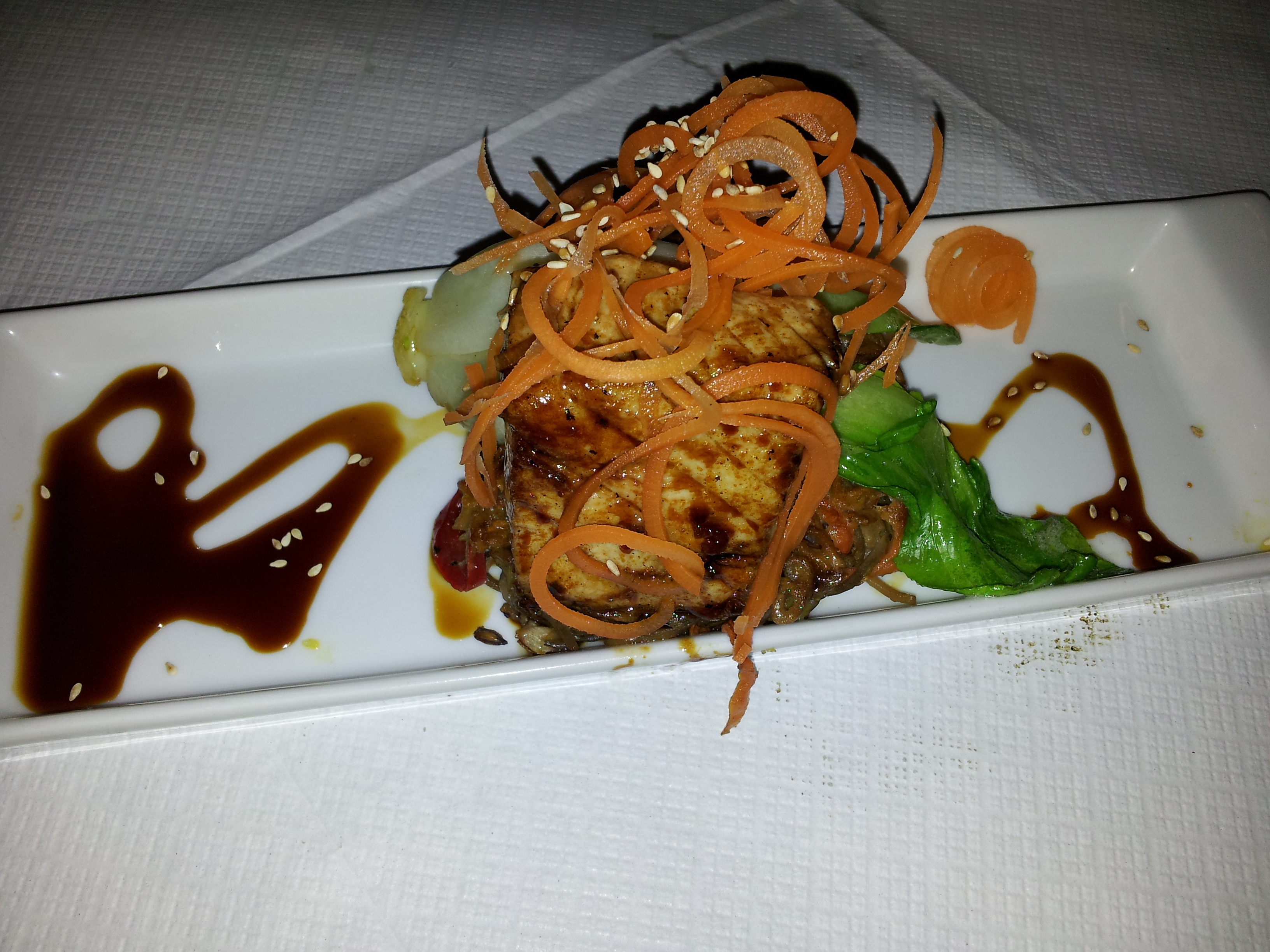 Janice and I had the same starter. Here's another photo of it all separated out (if you can see it, sorry!)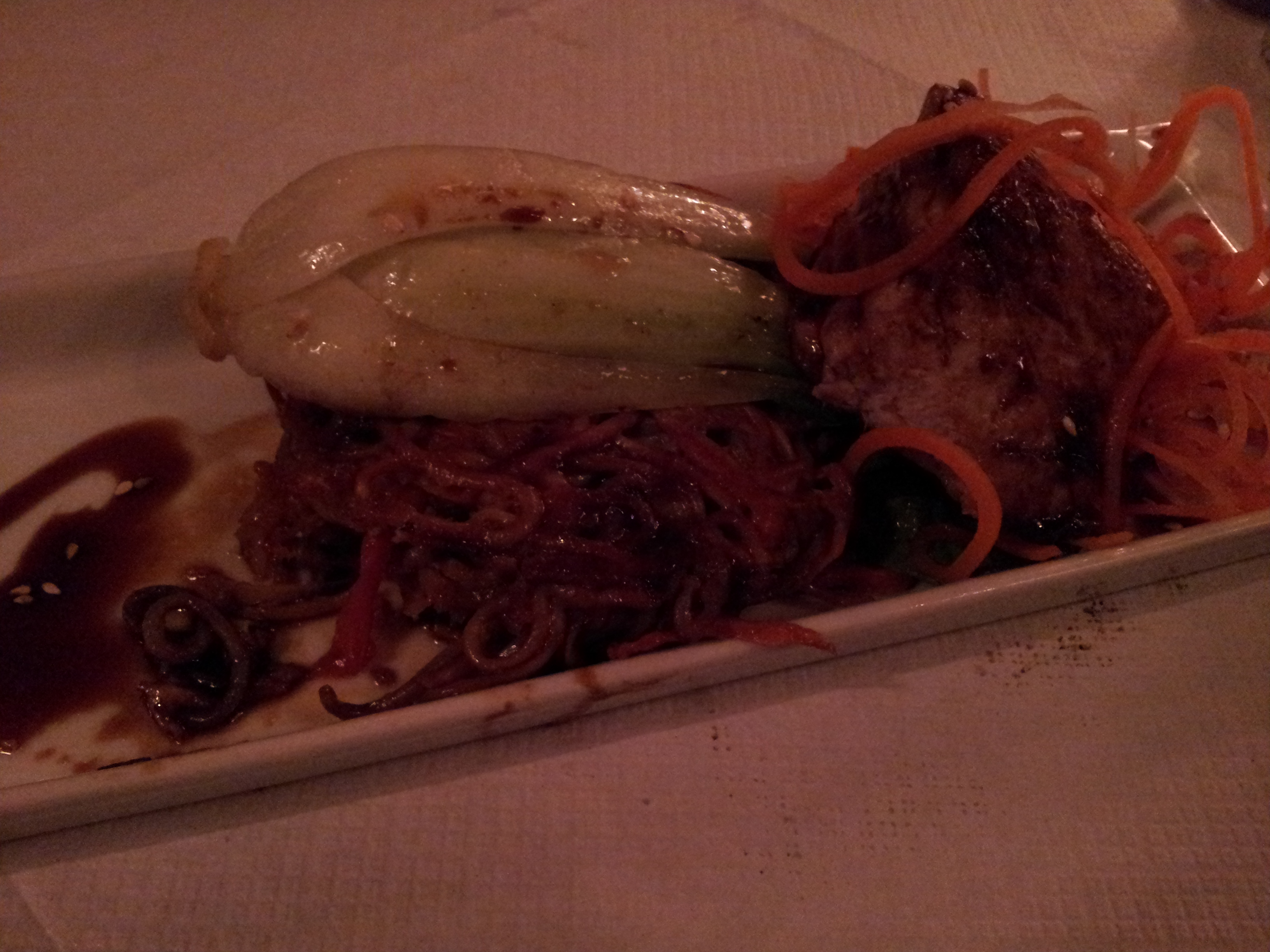 The tuna was so perfectly done – just the right amount of slightly crispier on the outside, tenderly cooked on the inside, all the way to a small sashimi-like centre. The soba noodles and bok choi were cooked just the right amount: soft but still chewy (crunchy for the bok choi). None of that sometimes soggy stuff you'd expect in a "Bar & Grill". Finally, the mirin glaze and extra sesame seed sprinklings were the ideal complement to this starter.
I have no idea how they did it, but the entire course was perfect. The boys enjoyed a Ragstone Goat's Cheese & Onion Tart Tatin with oven dried plum tomato and rocket (no photo, I was too busy chowing down). They couldn't stop gushing about it even after the meal ("I thought it was gonna be some glorified Cheese & Onion tart, but it was just soooo nice"). I'll hazard a guess and say it was almost as delicious as my starter ;)
Main: Sirloin Steak with portabello mushroom & tomato, French fries, and a choice between peppercorn or bearnaise sauce, or garlic & herb butter. I chose garlic & herb butter.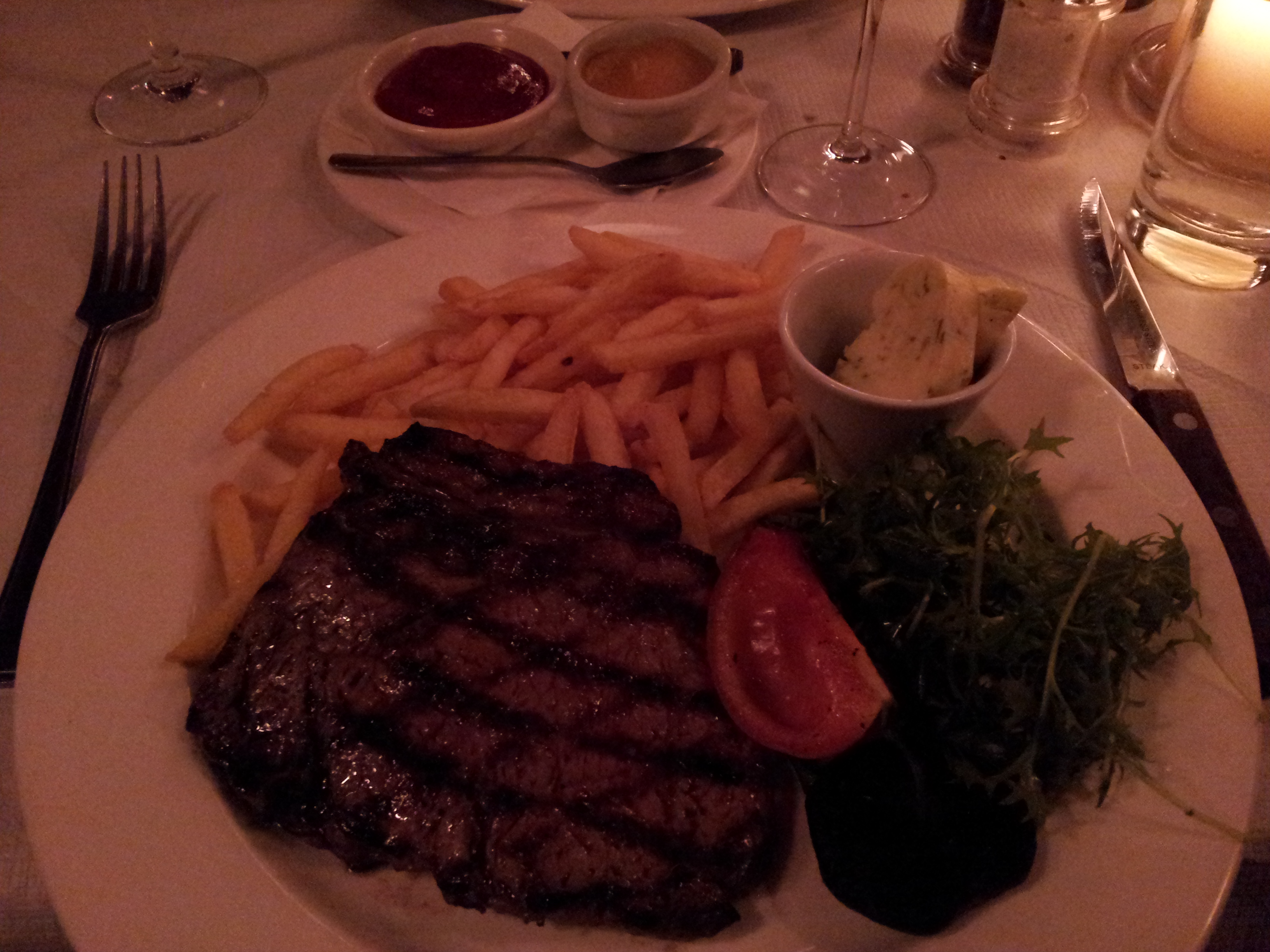 I'm not joking. I've been to other Bar & Grill places before in search of a good steak *cough*Roadhouse*cough* and they were either too dry, or too 'well-done', or too chewy, or all of the above, or— you get the idea. So, naturally, I did not have my hopes up.
I am still gushing over how tender the meat was, how crisp the fries were, and how everything was just so darn delicious. I had to take a photo to show you how perfectly medium-rare this was inside.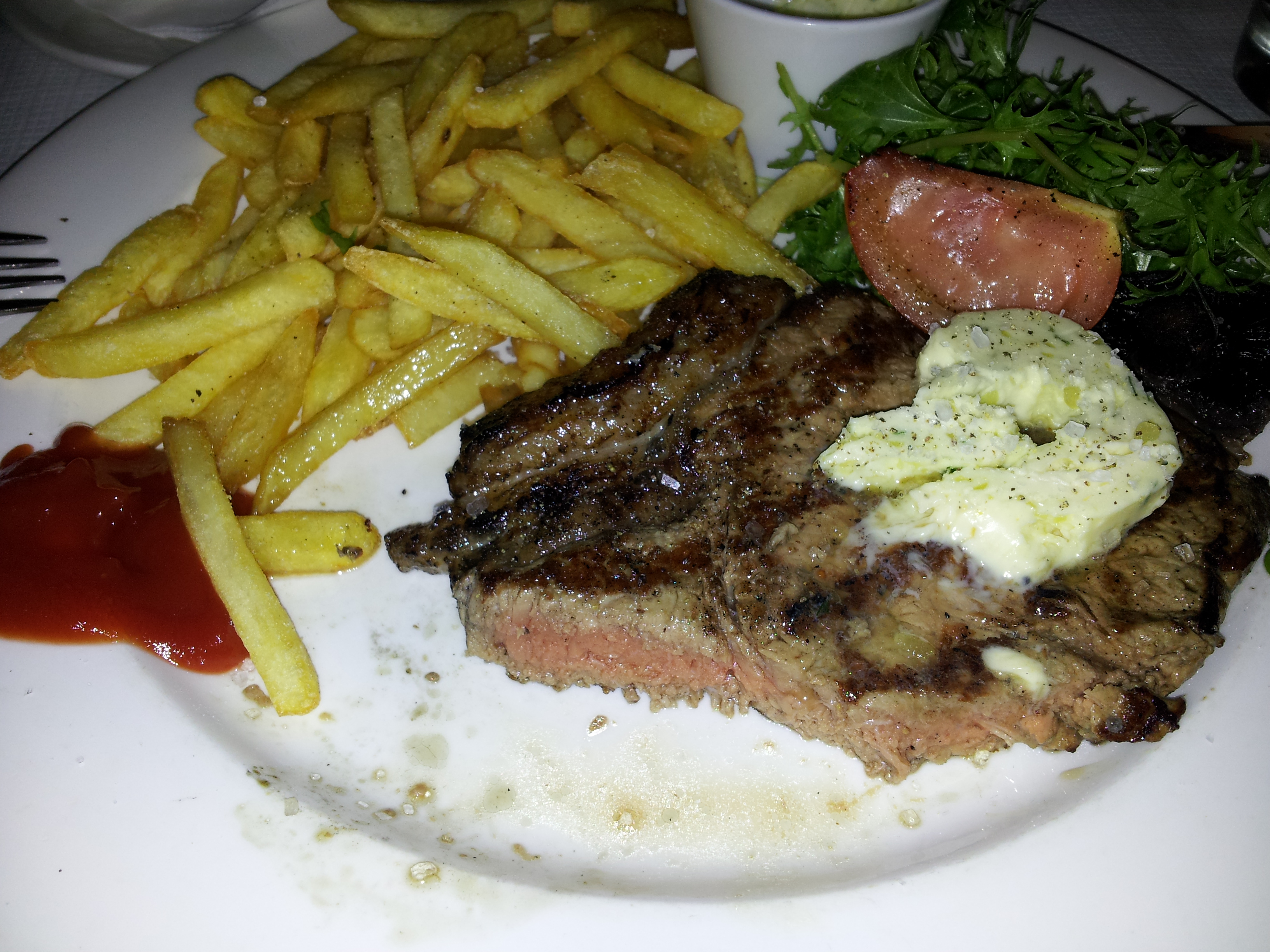 The boys had a Herb Crusted Salmon Fillet with hearts of palm, green beans, pea and herb sauce. ("Oh my days this is so good…" "Oh my word, the salmon literally just melts in your mouth!" "I seriously can't believe how good this is") Janice had a Rump of Lamb with spinach, Dauphinoise potatoes and cardamom sauce. I don't quite remember her verdict anymore as I'd died and gone to Steak heaven.
We were trying to decide if we had enough room for dessert after all of that, but the unanimous decision was that we'd all eaten more than enough. The portions were all very good sizes. Viv was exclaiming how he didn't even need his main, the starter had already filled him up, but he wasn't about to say no to melt-in-your-mouth salmon.
How much was all of this? £16.95 for two courses. With, of course, a complimentary glass of champagne or bellini. How could I say no to champagne?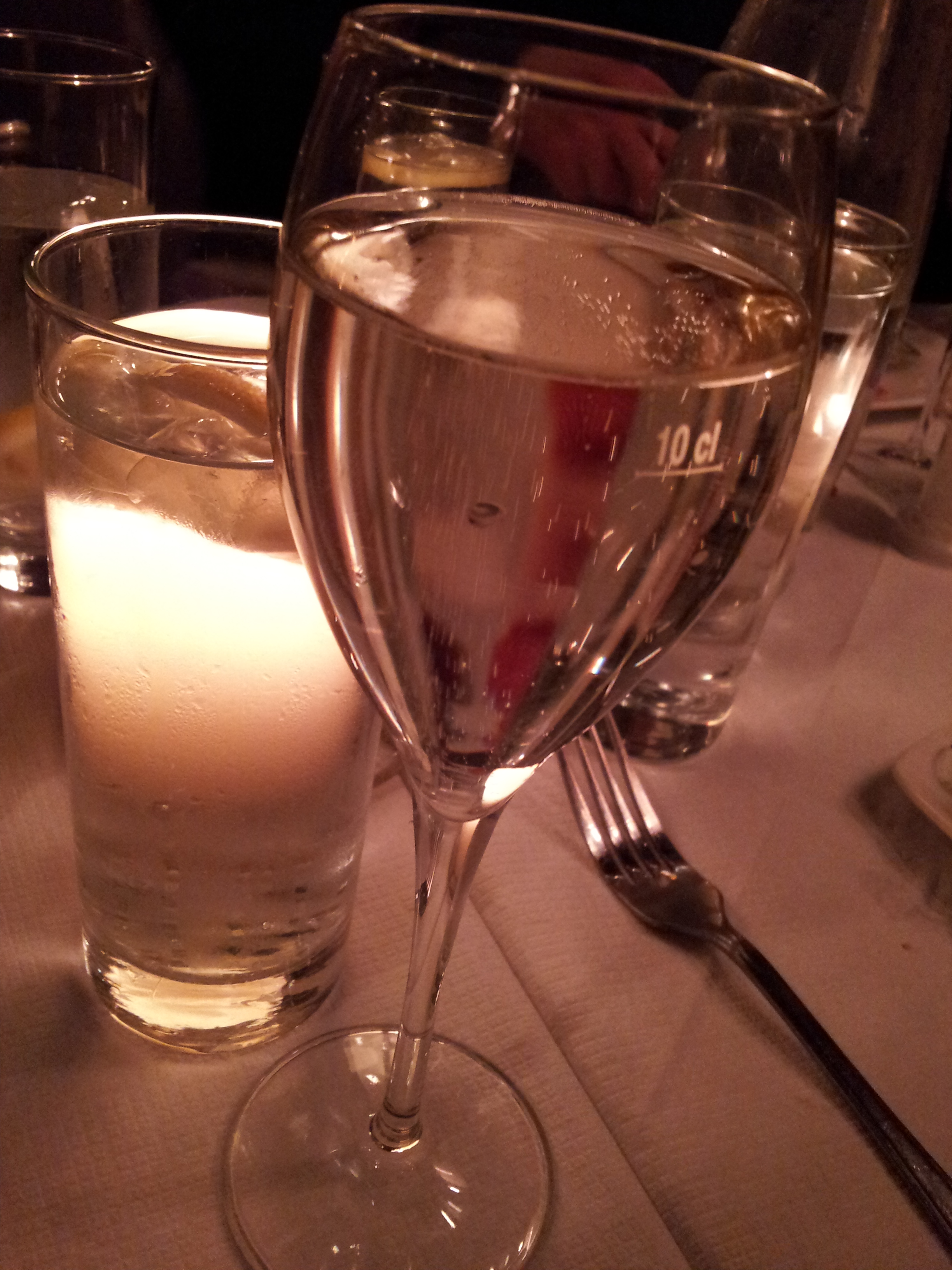 They were certainly generous with their servings – I took this photo after taking a few sips already. The champagne wasn't the best I'd ever tasted, but it was still champagne!
If you wanted 3 courses, the total food bill would only come to £19.95. Service charge is 12.5%, but it was pretty much worth it. From the initial confusion of where we were supposed to be seated (me originally having booked for 3 when 4 of us turned up) right up until we'd left the restaurant, they were kind, accommodating and attentive throughout. We dined for 2 and a half hours and not once did we get the feeling they wanted us to leave. Given that this was a Friday night at 8pm aka peak time, this is something worth noting.
"How!! How is it so cheap??" I hear you exclaim! I booked via TopTable, where they currently have the 2 courses and a drink for £16.95 offer. Booking through TopTable gets you a different, TopTable-specific set menu (this particular set menu has a larger selection than any other set menu I've seen) and you can choose from there.
They also have a special selection of cocktails on the set menu that are cheaper than their regular cocktails too. We didn't try them out as we aren't that big on drinking.
Depending on when you book though, they also have a 50% off food offer, 2 courses and a drink for £13.95 (until 19:30), and Sunday Roast 2-course meal for £16.95.
I'm just waiting to drag another friend over so I can re-indulge in their delicious noms. Be sure to check them out either on their website or through TopTable!
Edit December 2016: 2016 me would like to apologise for the ridiculously poor photo quality in this post. No idea what I was thinking when I gushed that you guys would get hungry looking at the pics. The meal *was* really good though.
Muchos love,
Bobbie