I have to admit I am very blessed. In my line of work, you get to meet some amazing people and join them for amazing events. Back in October I had the honour of being invited to a dining experience at Michelin-starred Roux at the Landau with one of my favourite Merchants, Reiss, and boy am I excited to share it with you!
In a private dining room to the side of the rather grand and luxurious Langham Hotel, a long dining table had been meticulously decorated with gifts for every guest: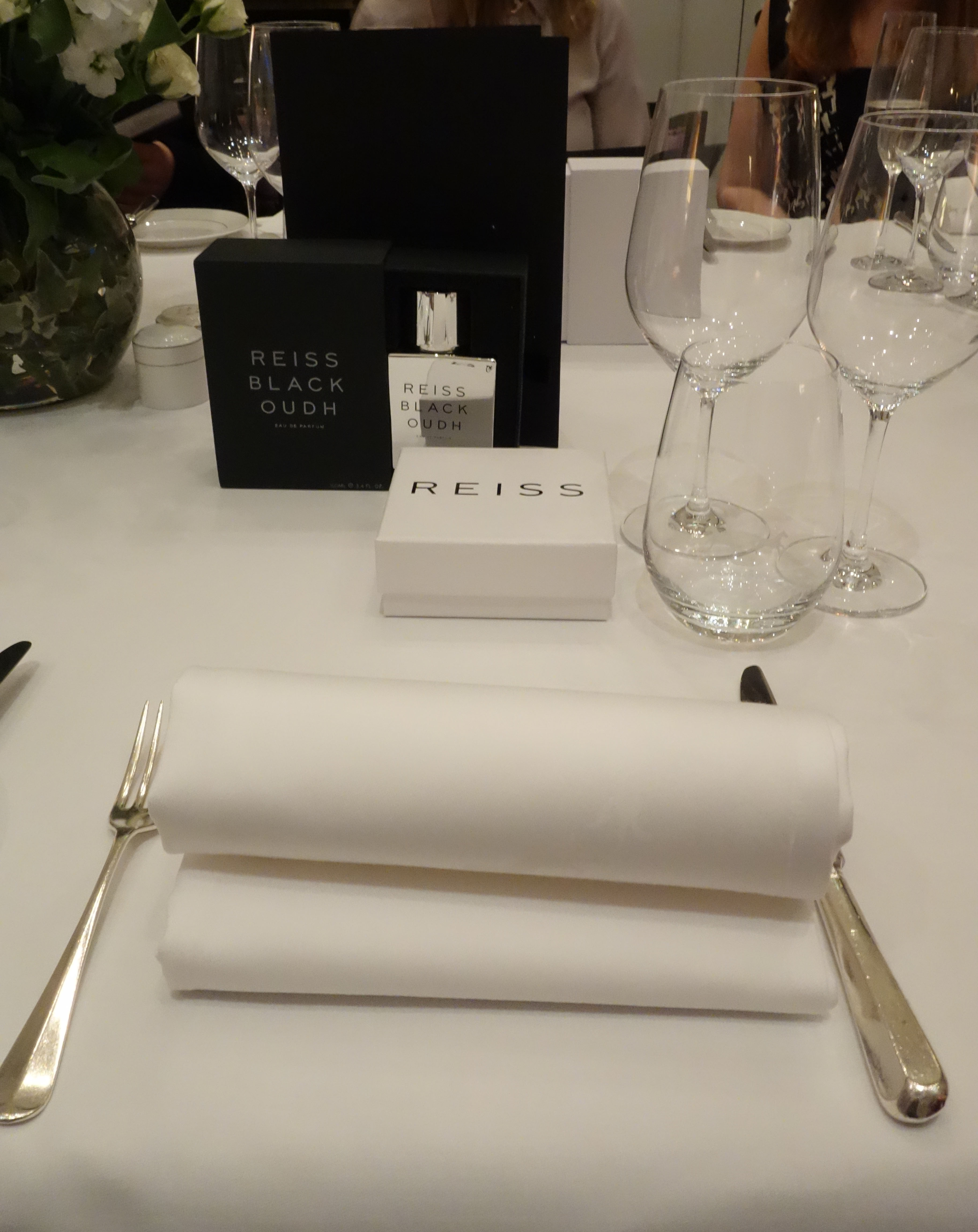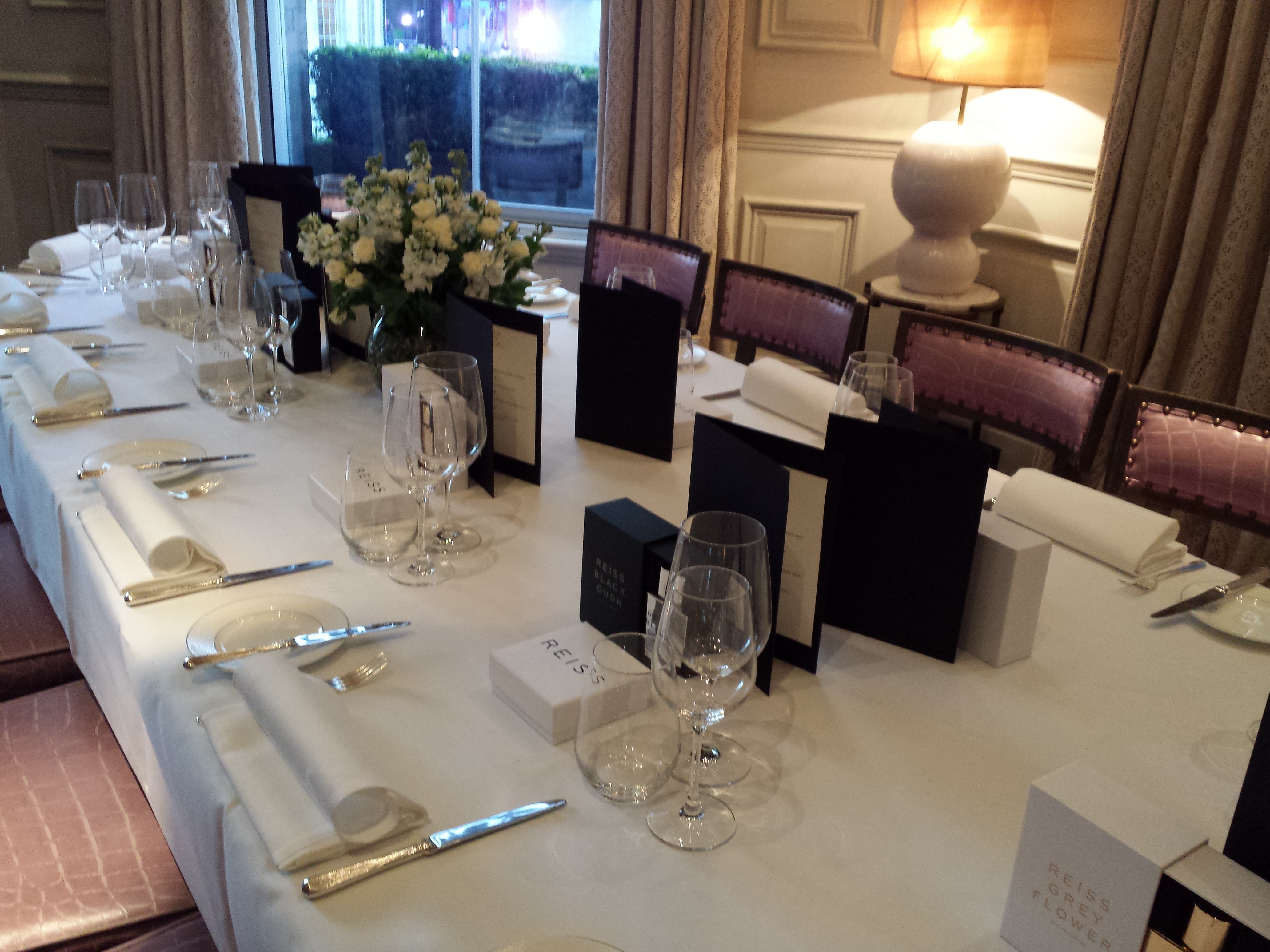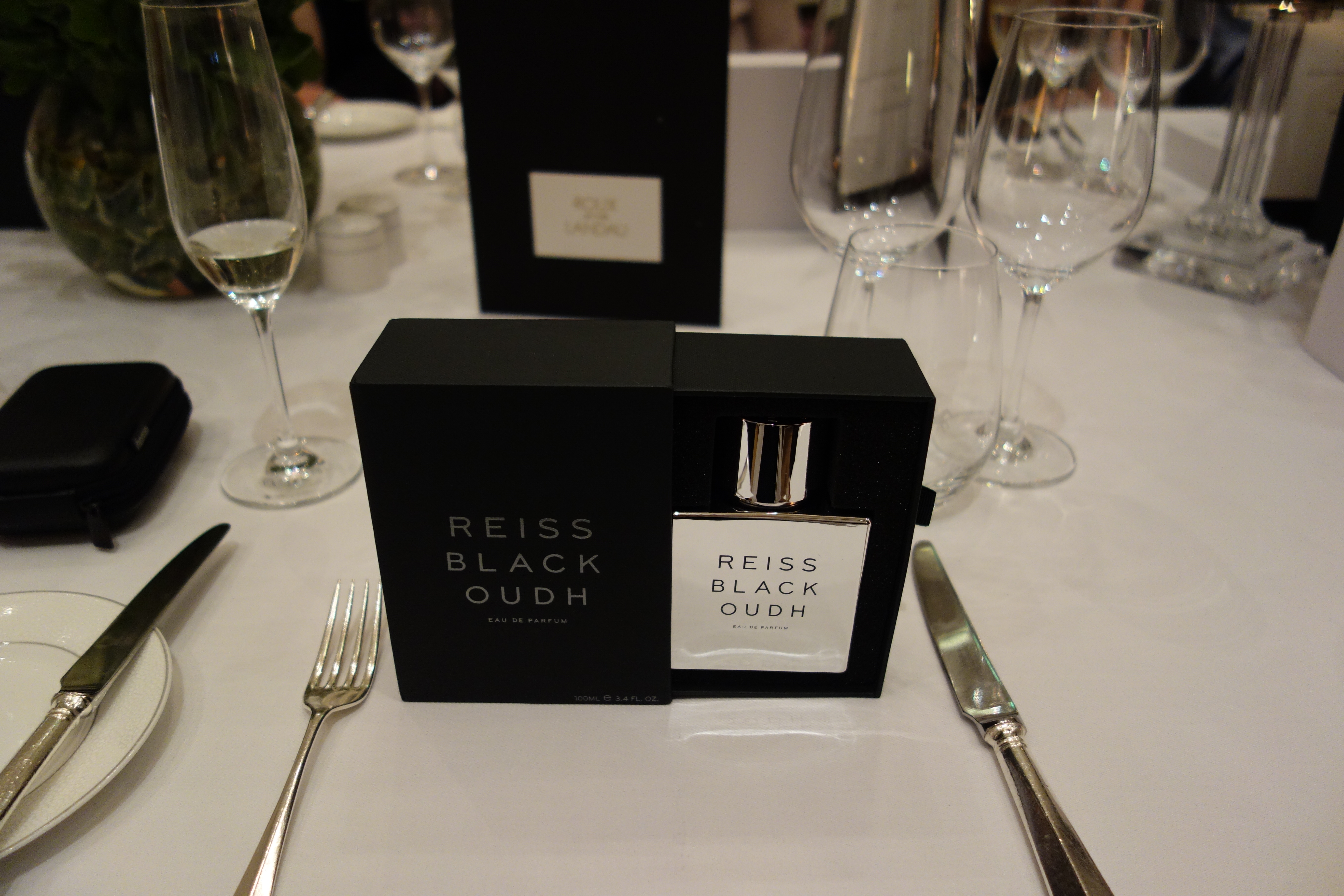 As if a four-course meal wasn't already generous enough!
The beautiful Giedre rose to deliver a touching thank-you speech whilst inwardly every single one of us was thanking her.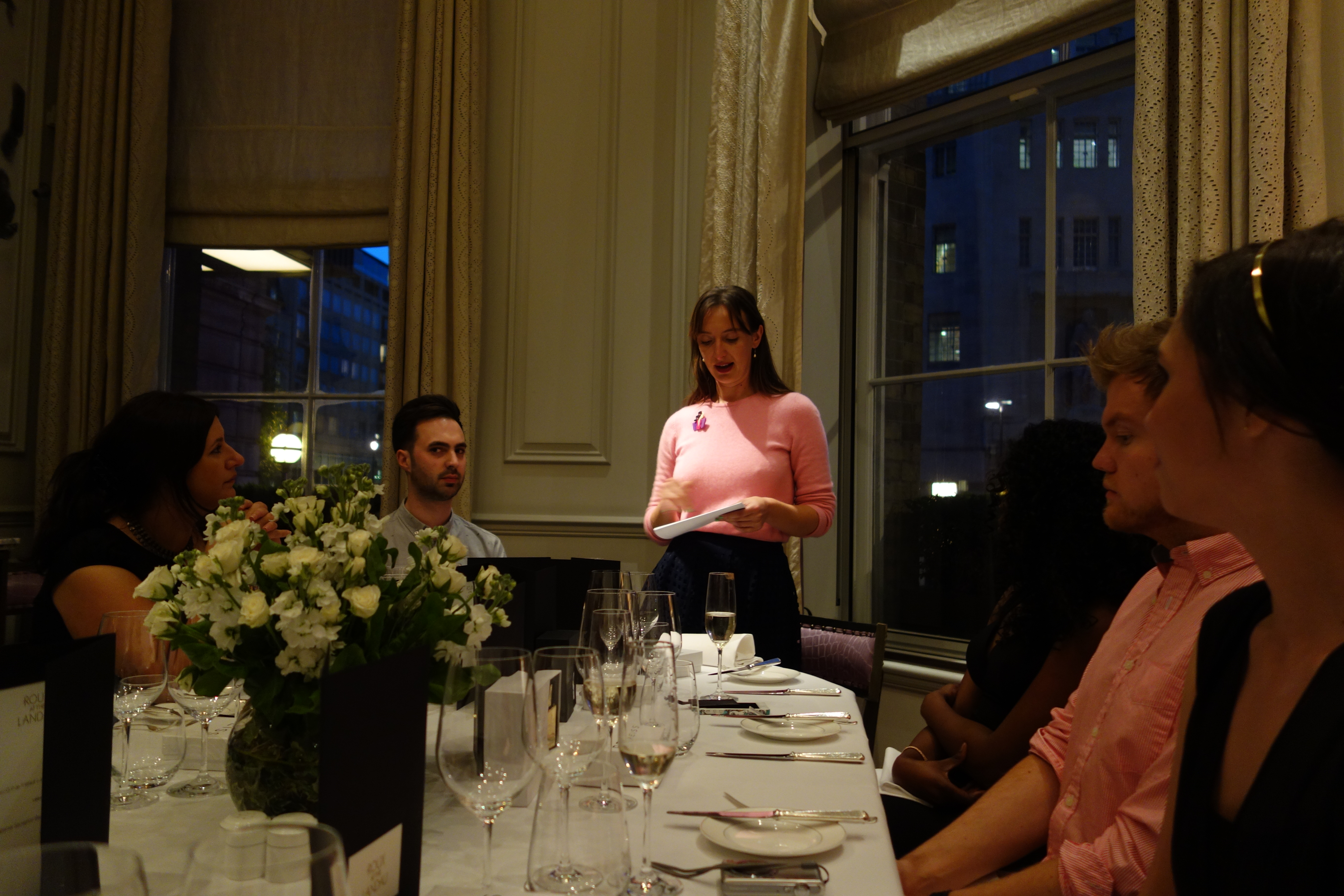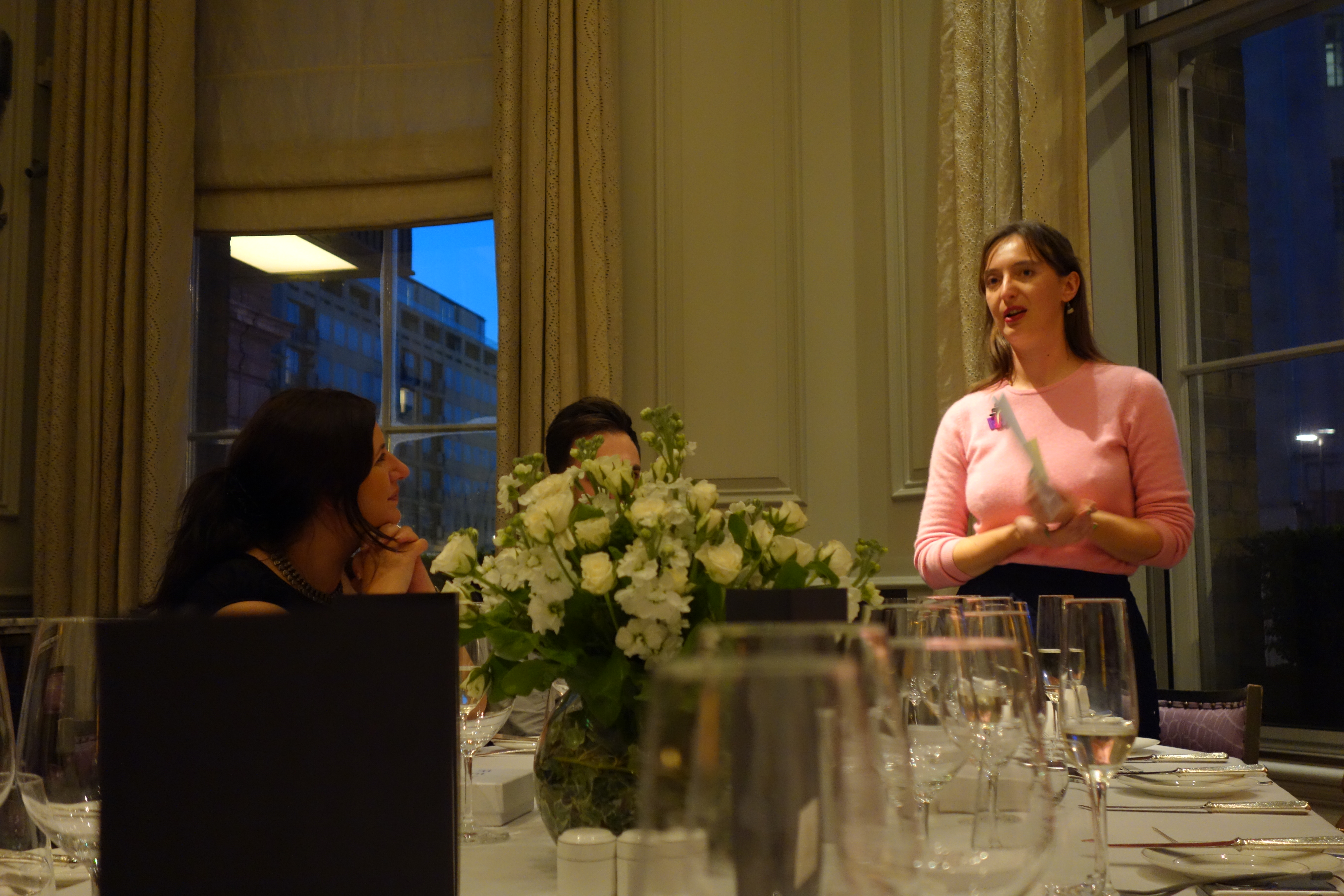 We applauded, toasted and thanked her before mentally preparing ourselves for the feast to come.
And not to make you jealous or anything, but here's what my neighbour got: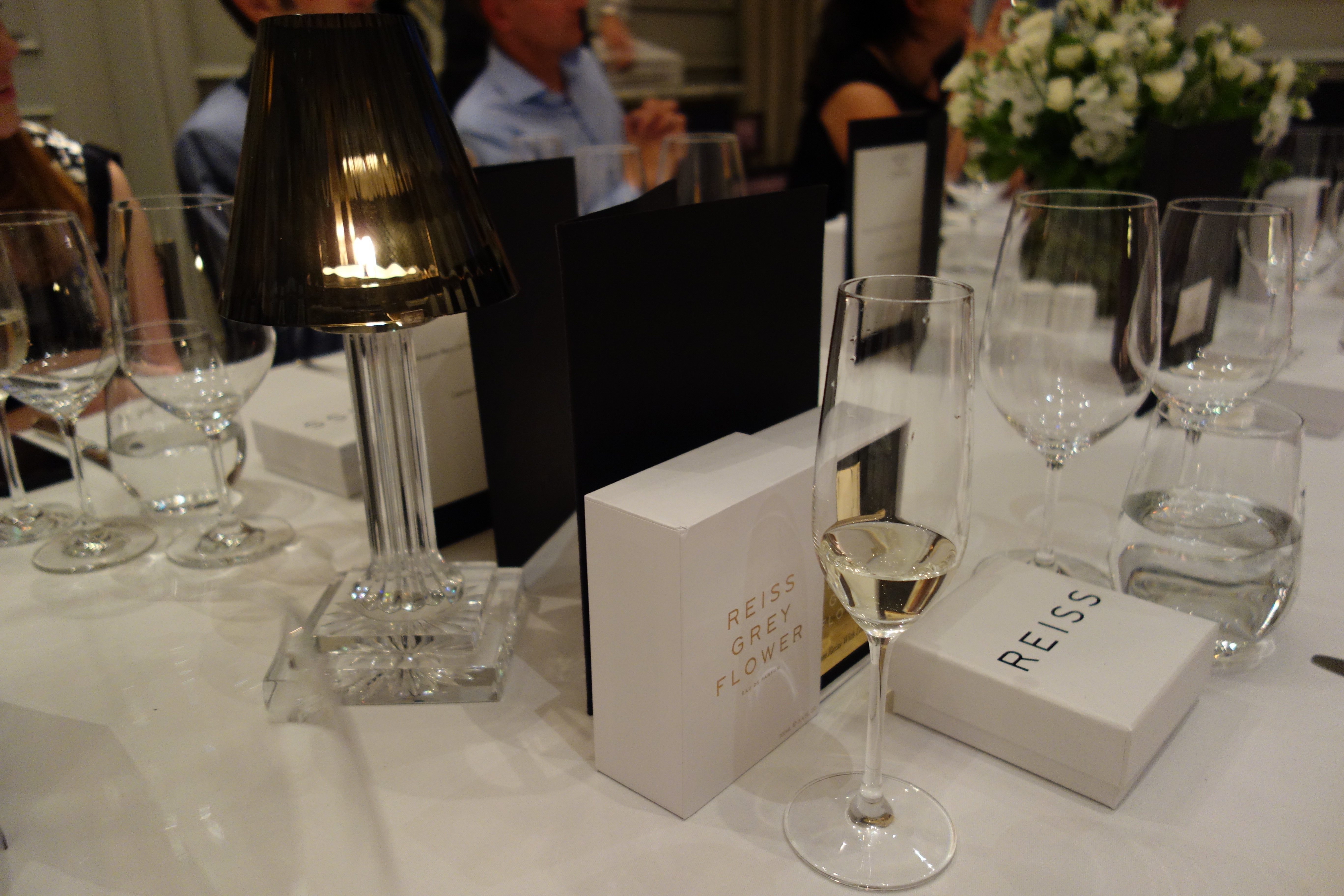 They offered us all a choice between their new Grey Flower or Black Oudh Eau de Parfums, both unisex scents although the packaging and name of the Black Oudh sounds slightly more suitable for a gent. I wanted to gift mine to J so opted for the manlier scent! And we each got a gift card. Amount undisclosed ;p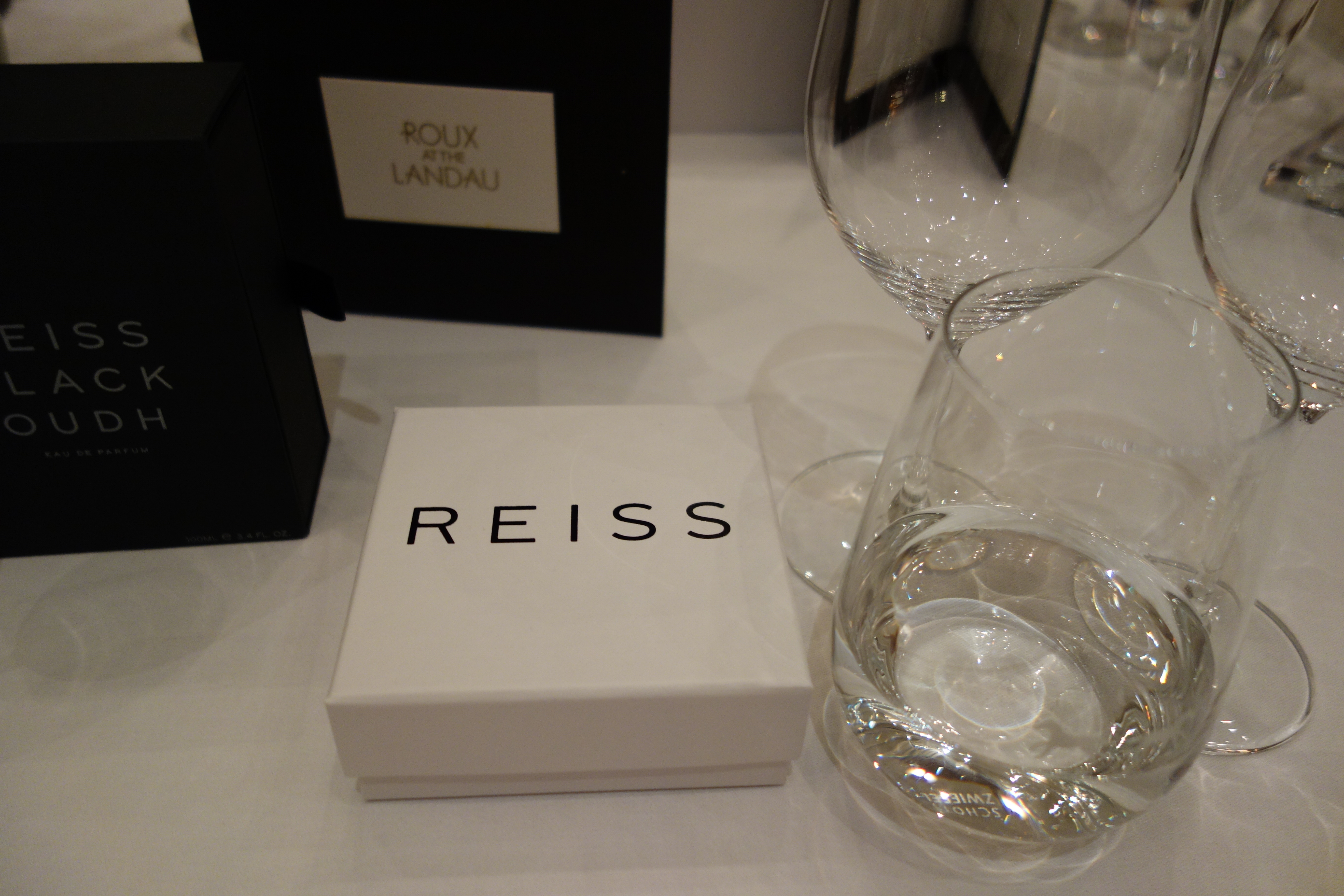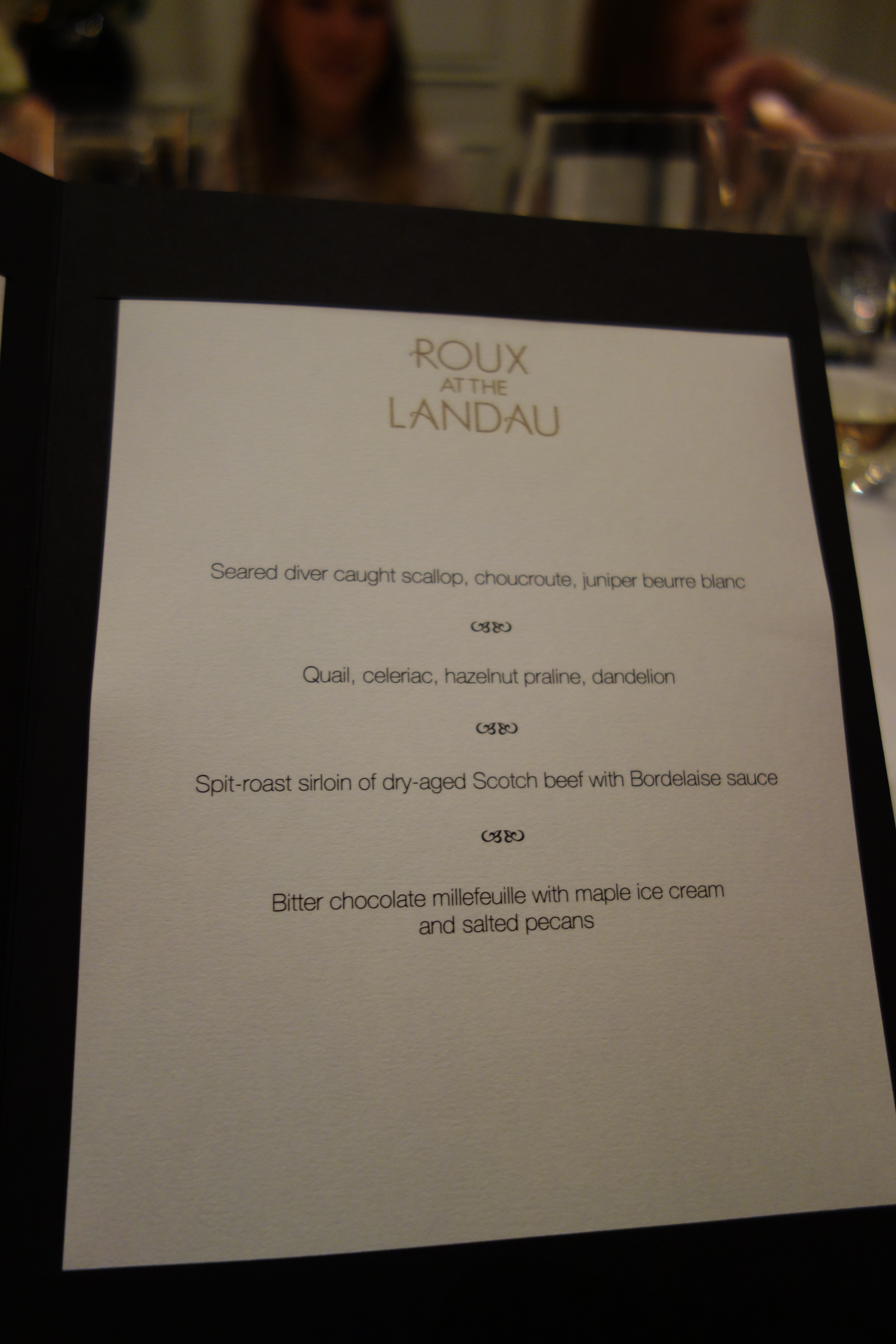 Eh-heh-heh-heh (that's my sheepish chuckle). I'm going to shut up now and let the food do the talking. Are you ready?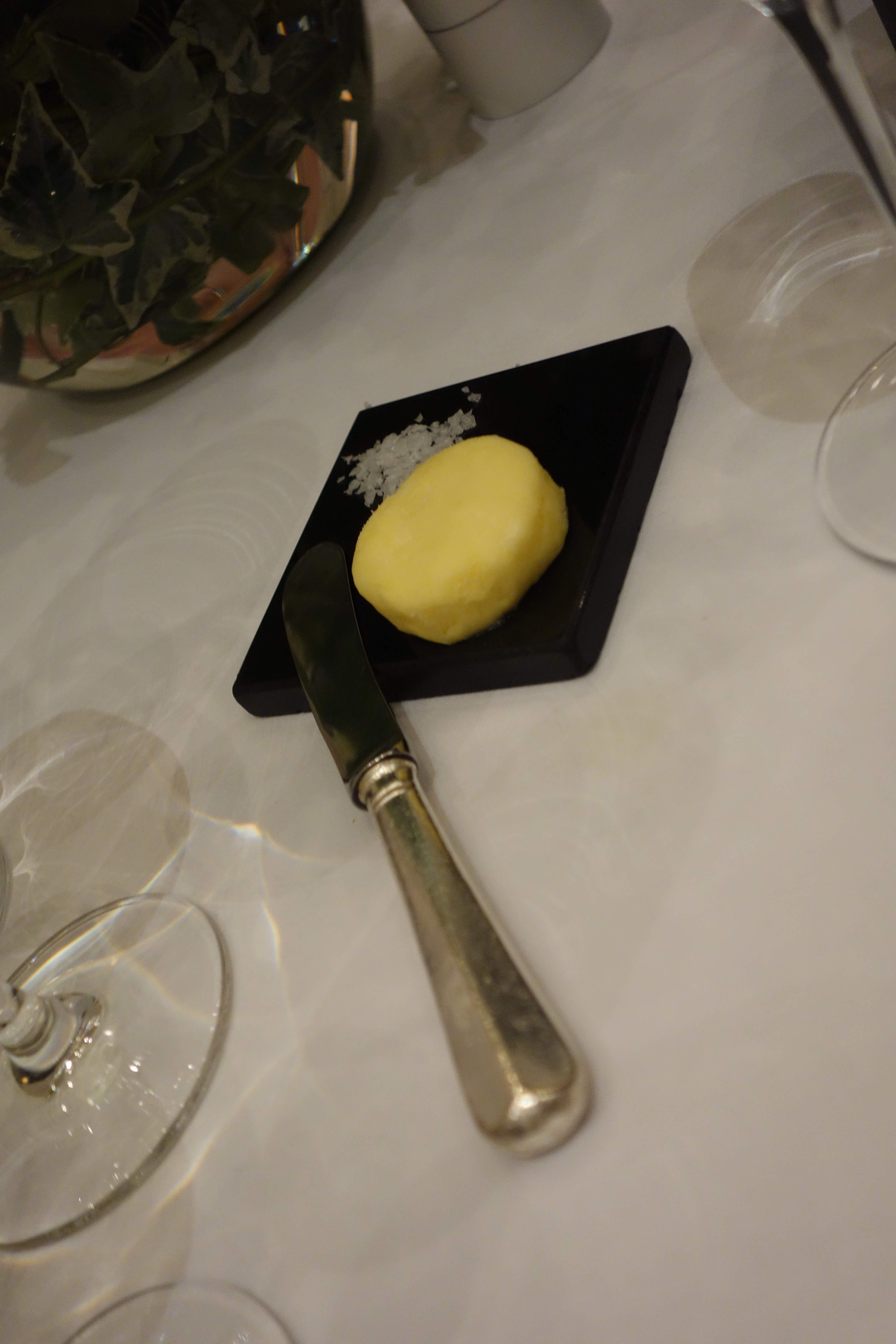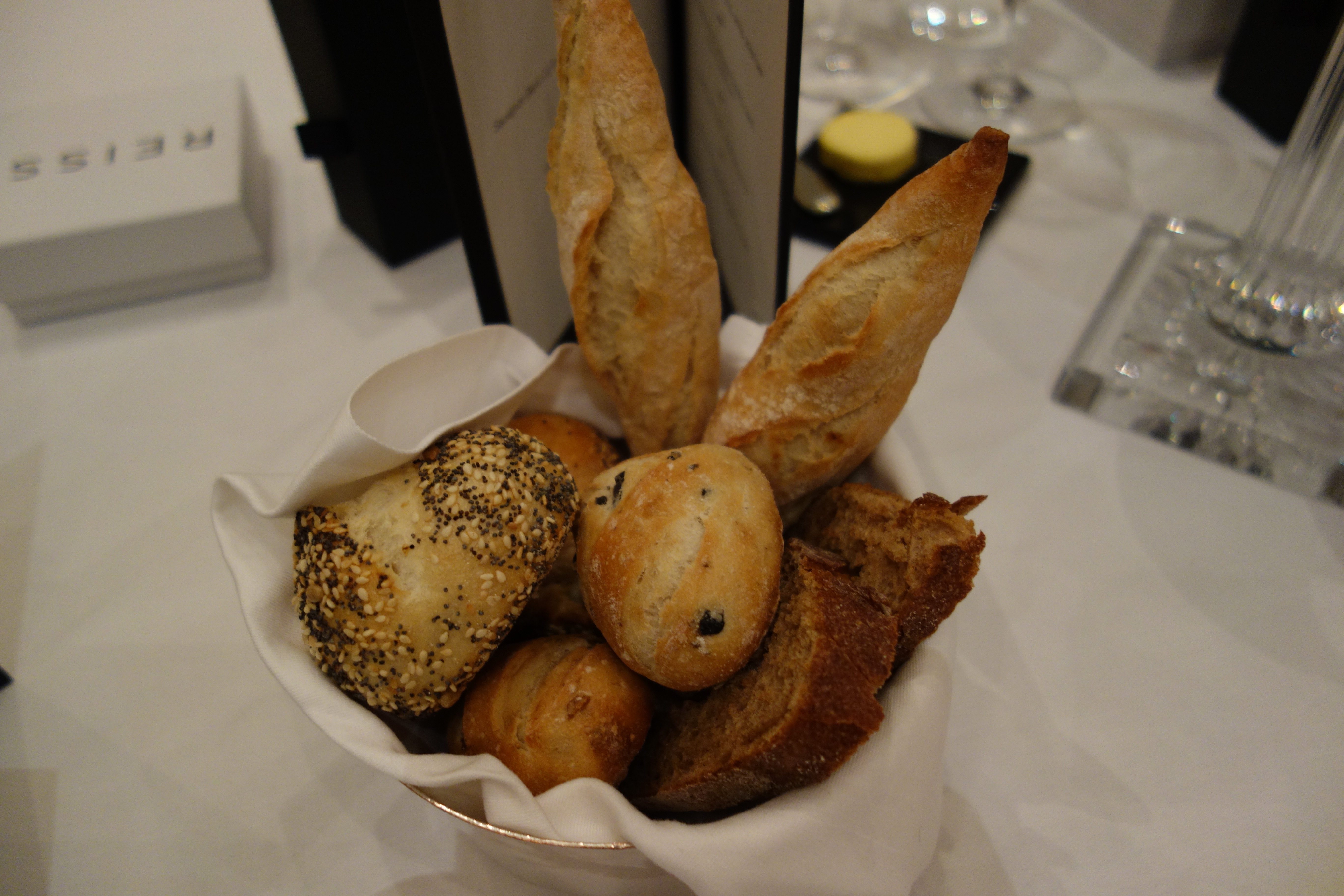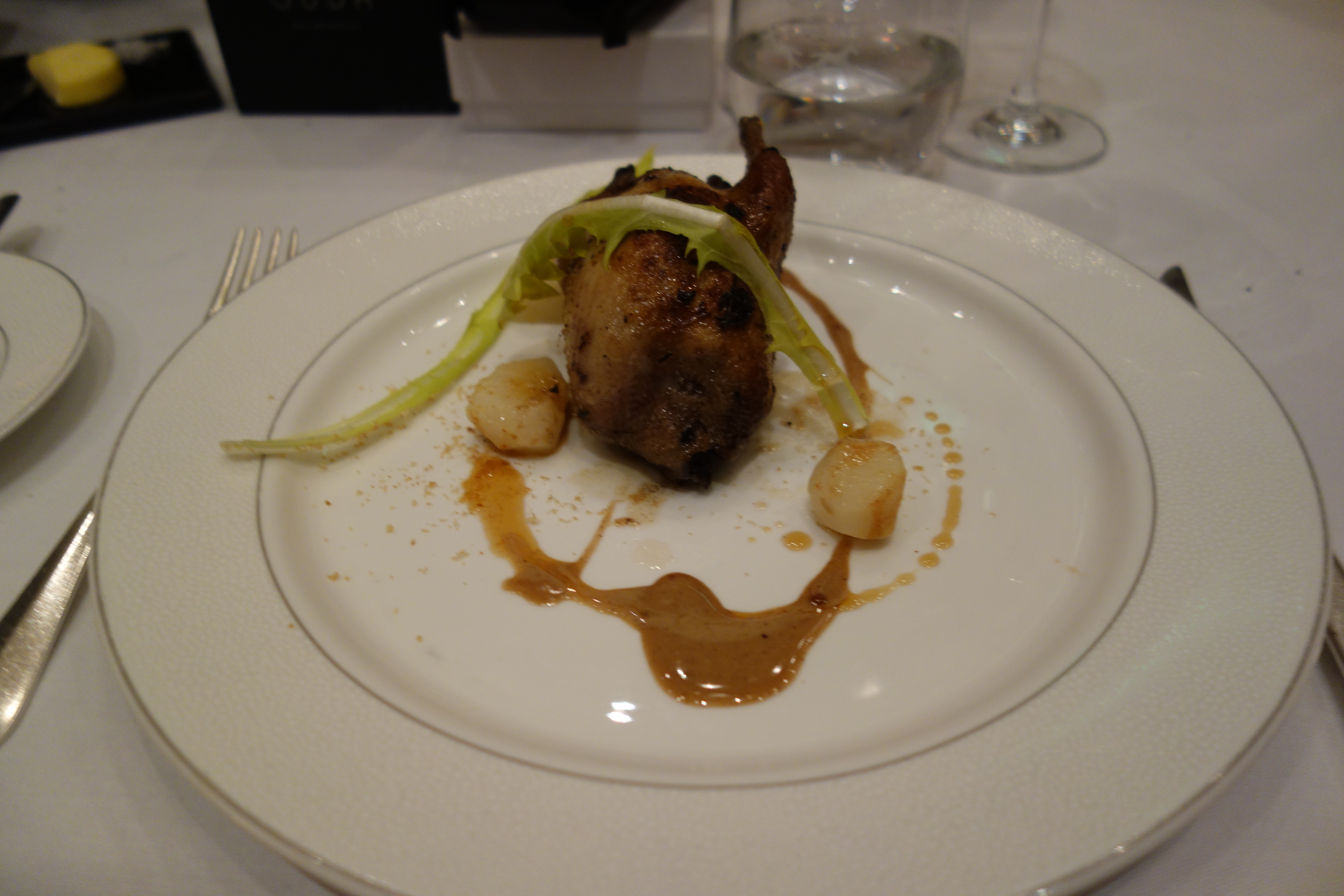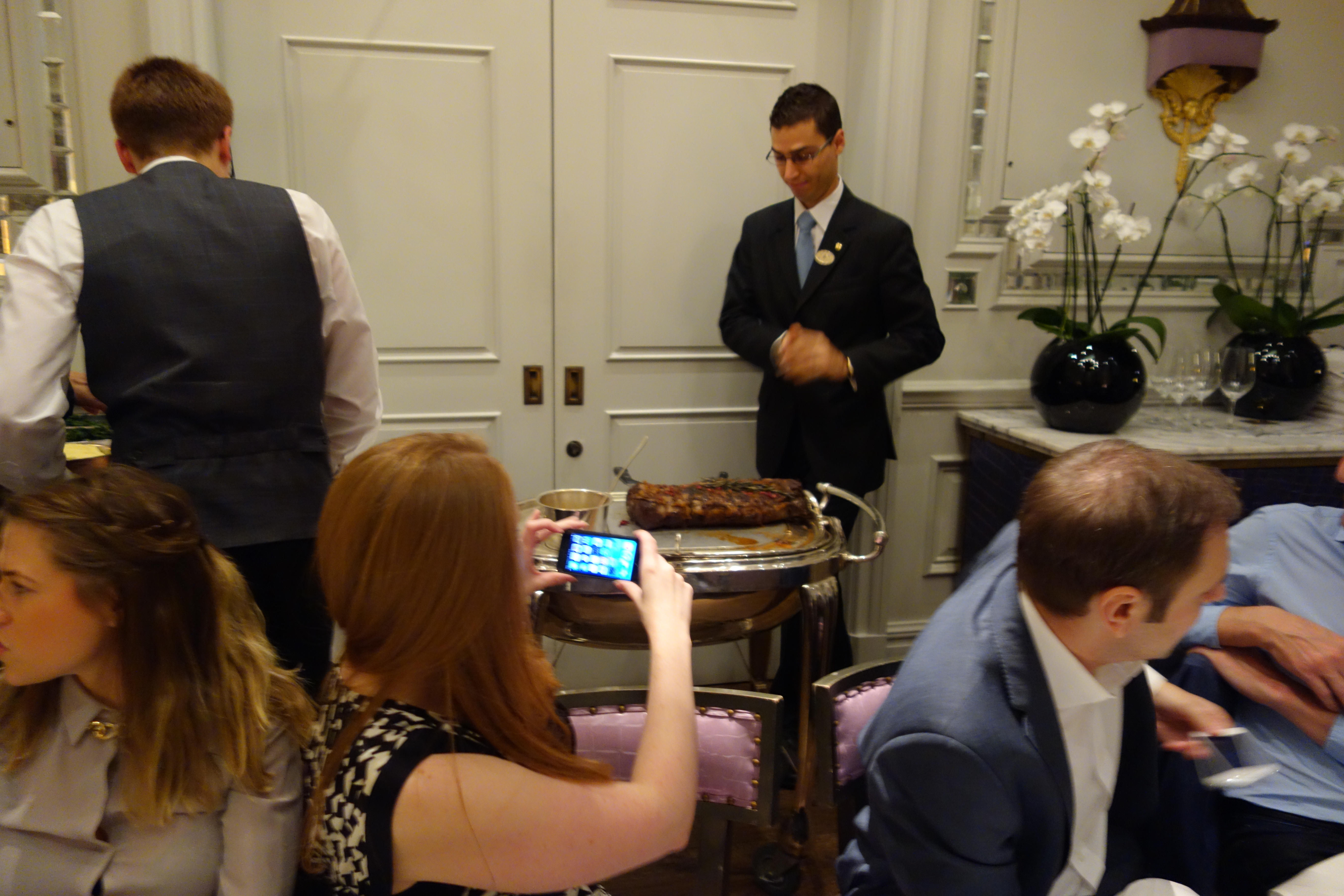 There were gasps of excitement as main event was wheeled in on a silver cart. Everyone began whipping out their cameras to get a piece of the action.
A perfectly medium-rare sirloin steak was expertly cut and plated before our eyes.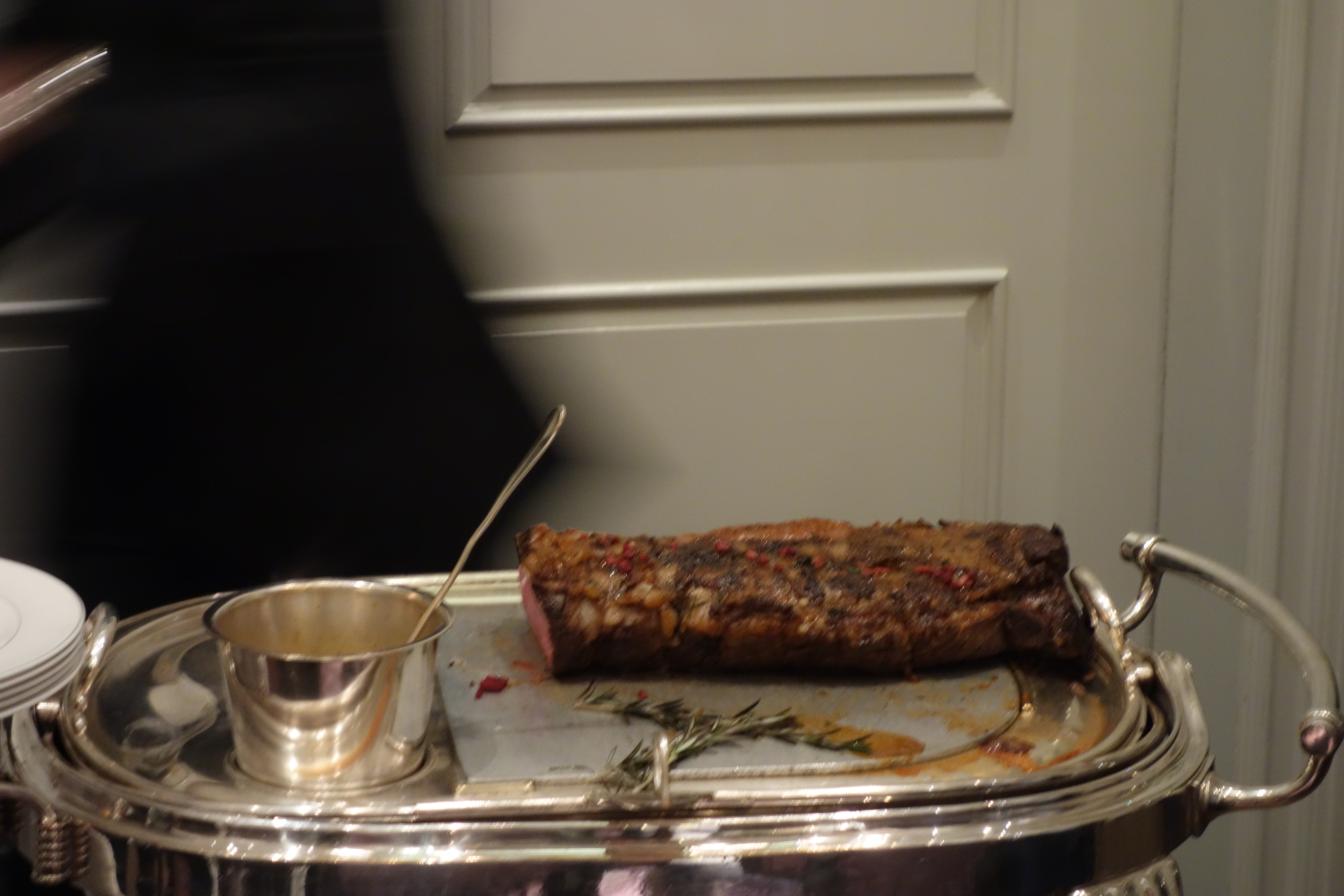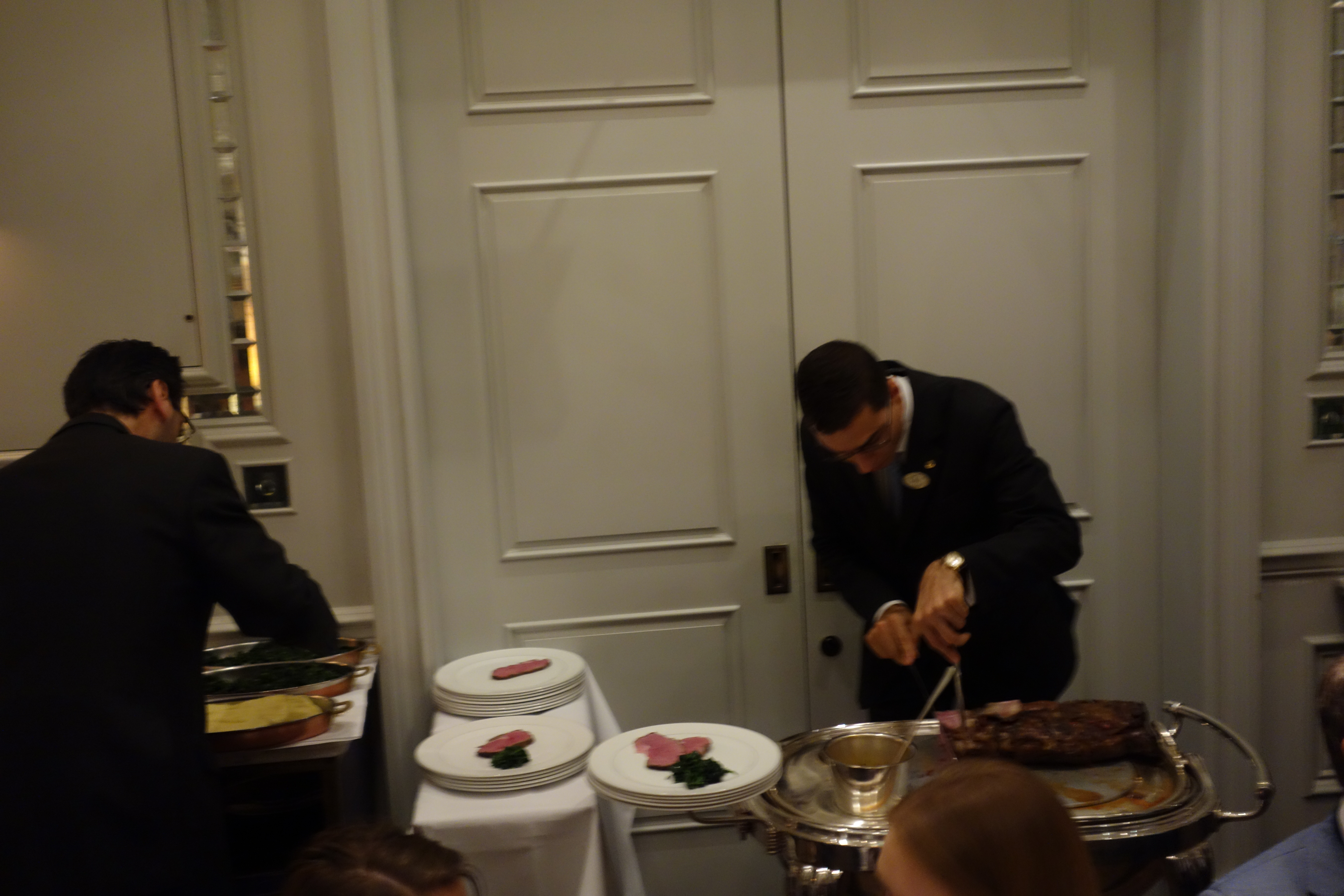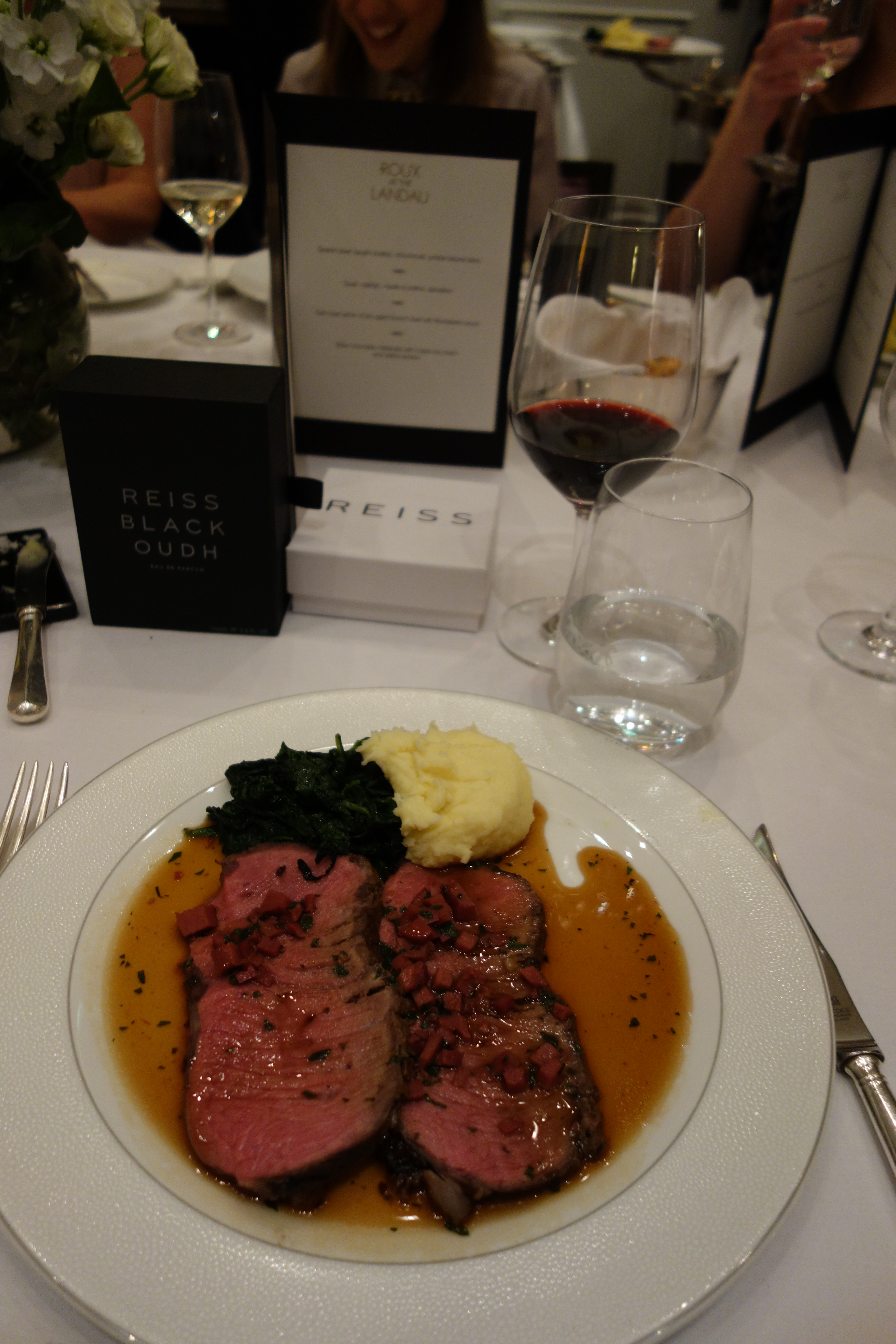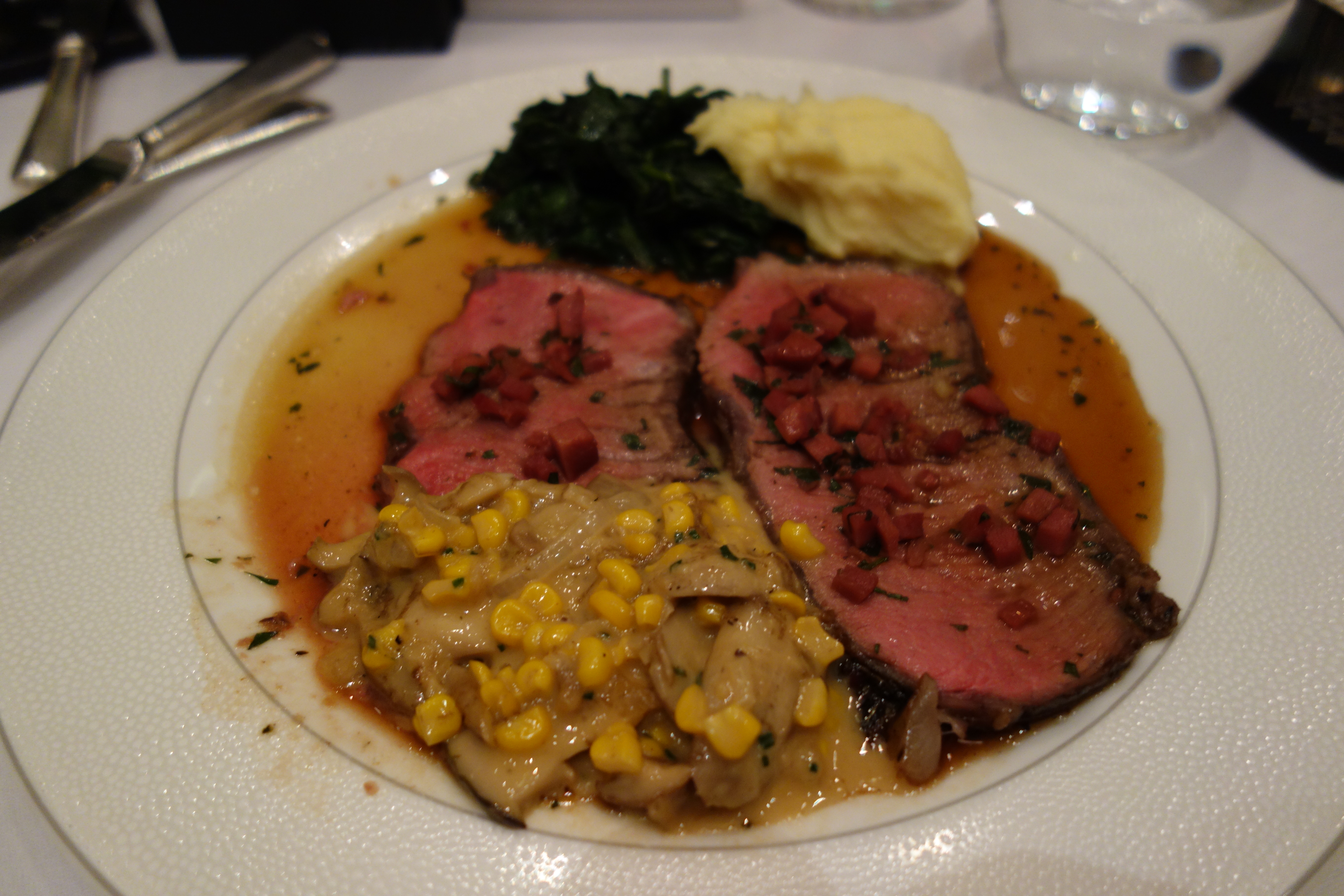 Someone came around with a large tray of what seemed to be a truffle mushroom sauce. I have to admit, it doesn't look very appetizing and I think the strong flavours of the truffle, sirloin steak and Bordelaise sauce with pieces of oxtail became a bit much. It felt like each flavour was trying to overpower the other rather than complementing one another, so overall the whole dish just didn't work for me.
Such a shame! Or perhaps my peasant tastebuds just don't know how to appreciate Michelin food! The scallop was unbelievable though… Mmmmm.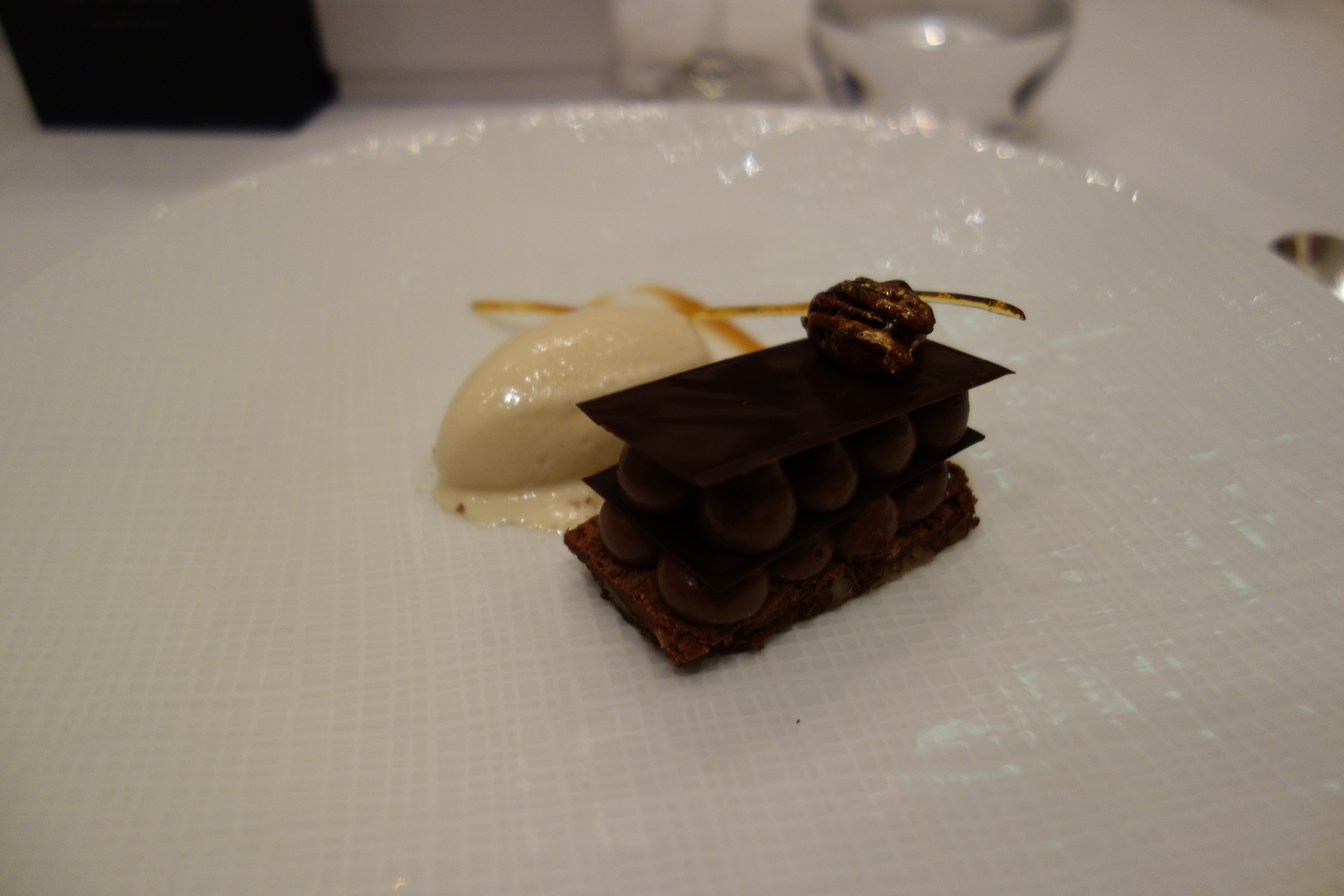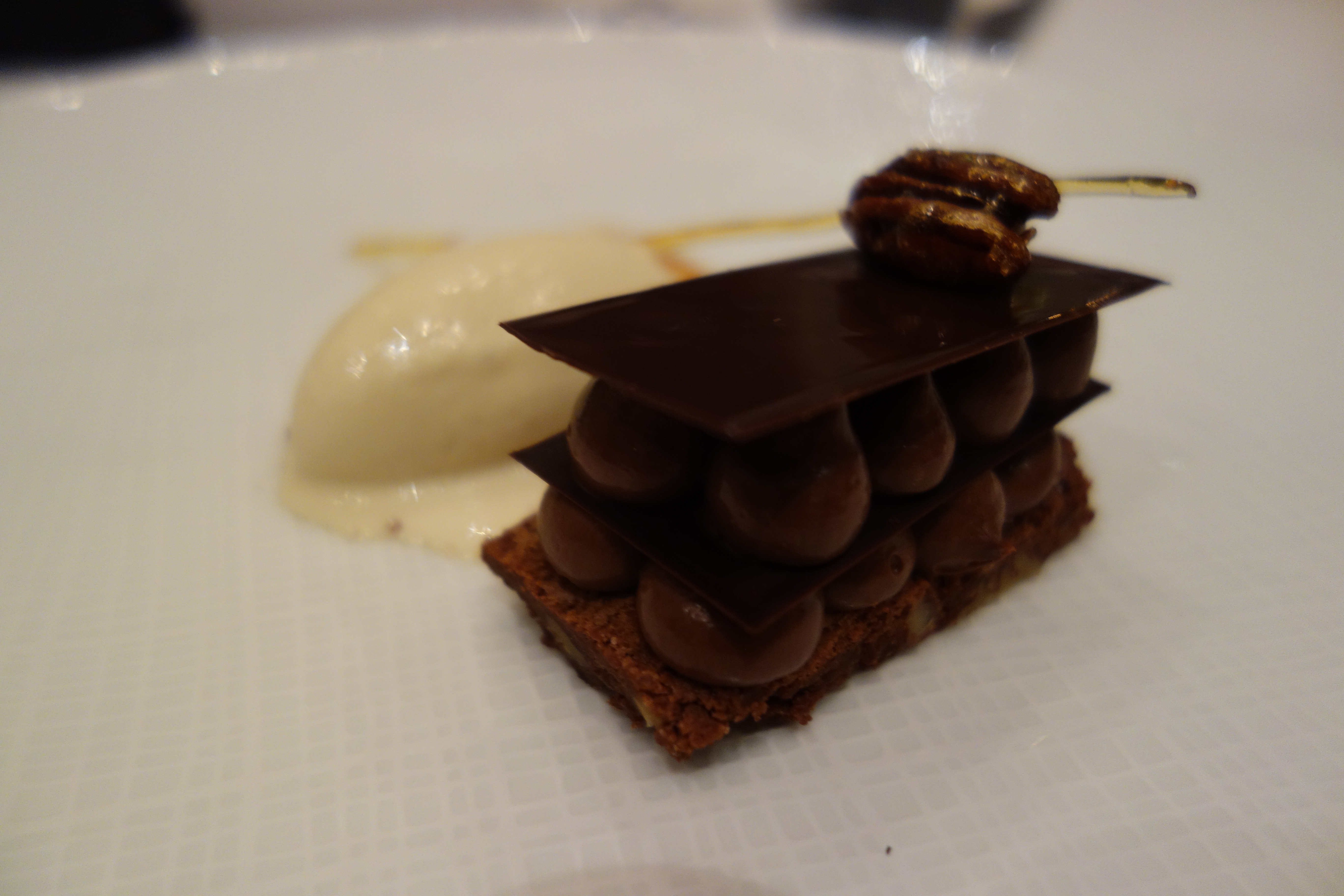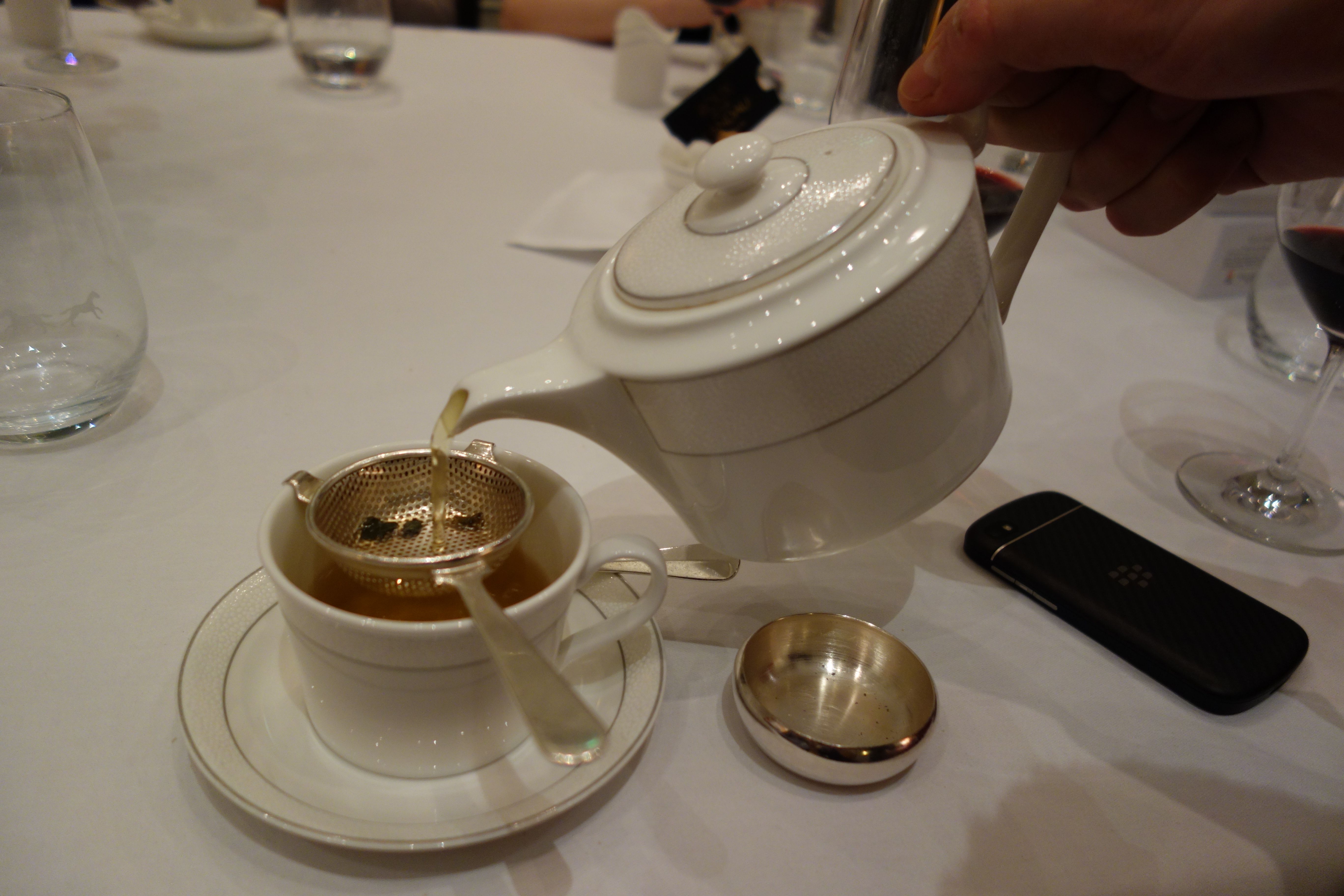 I ordered a peppermint tea to wash down my heavenly dessert, although I could practically feel the pounds piling on and was already mentally calculating the amount of exercise I'd have to do to balance out this meal. Ah well, worth it!
Finally petit fours came out. By then I was so stuffed I could barely move. But apparently that still didn't stop me.
You'll never guess which ones I chose.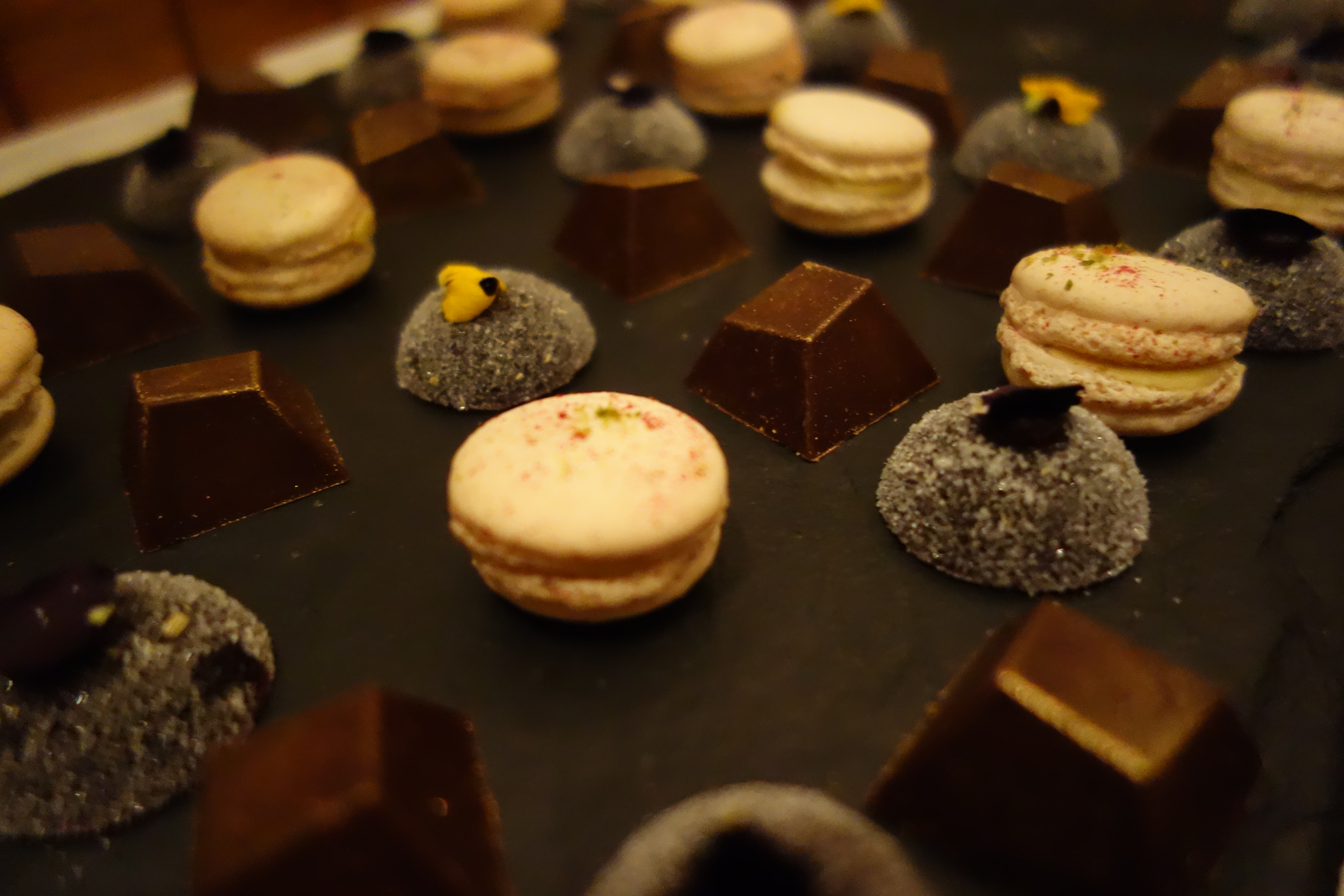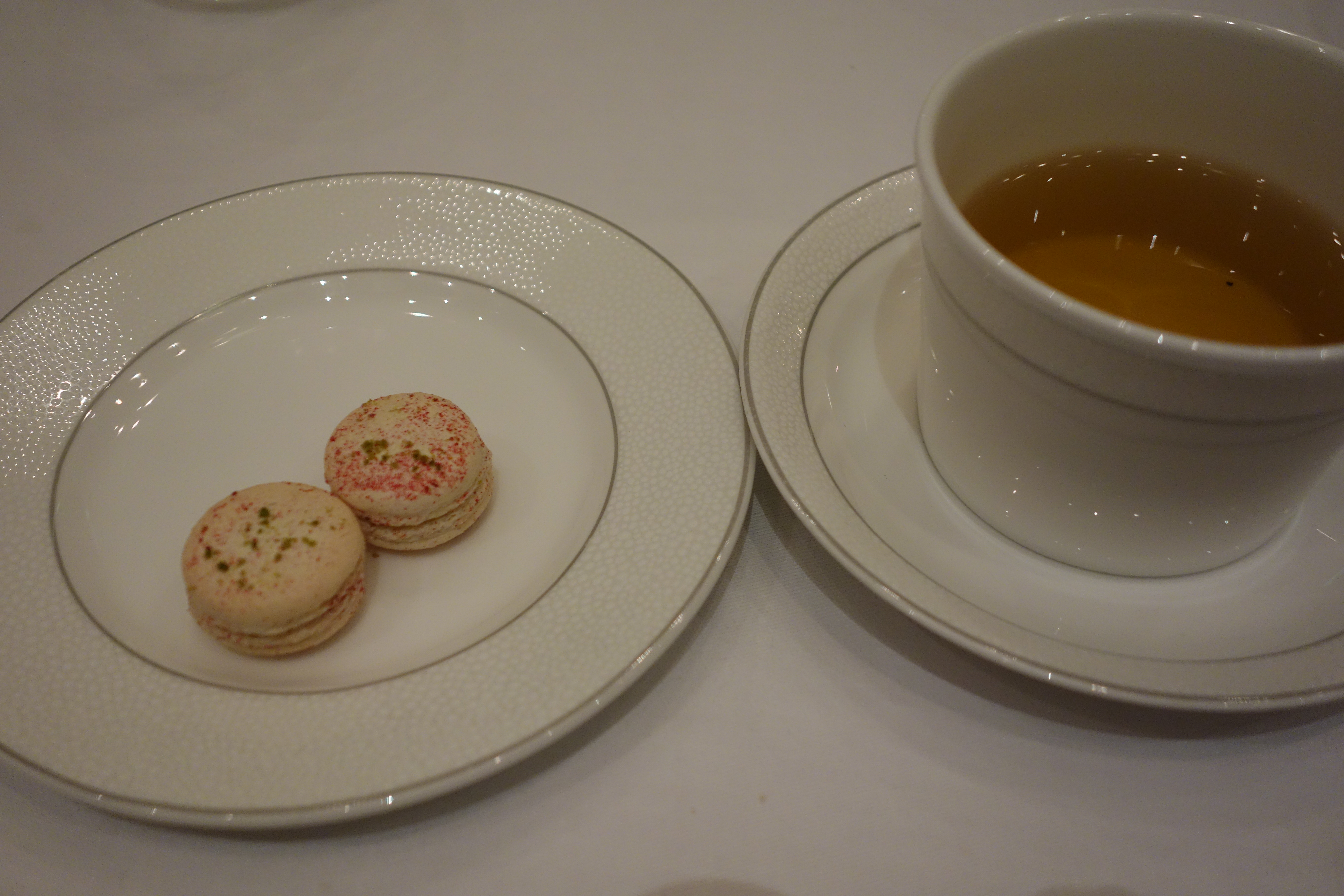 Yum.
Overall, a wonderful dining experience with absolutely wonderful company. Thanks so much for having me, Reiss!
If you'd like your own Roux at the Landau dining experience they currently have an offer of 3 courses, coffee & petit fours for £35 at OpenTable. Well worth it, I'd say, and who knows! You might even get to meet the Rouxs (I didn't, sadly. In fact, if you do, you must tell me all about it).
Muchos love,
Bobbie