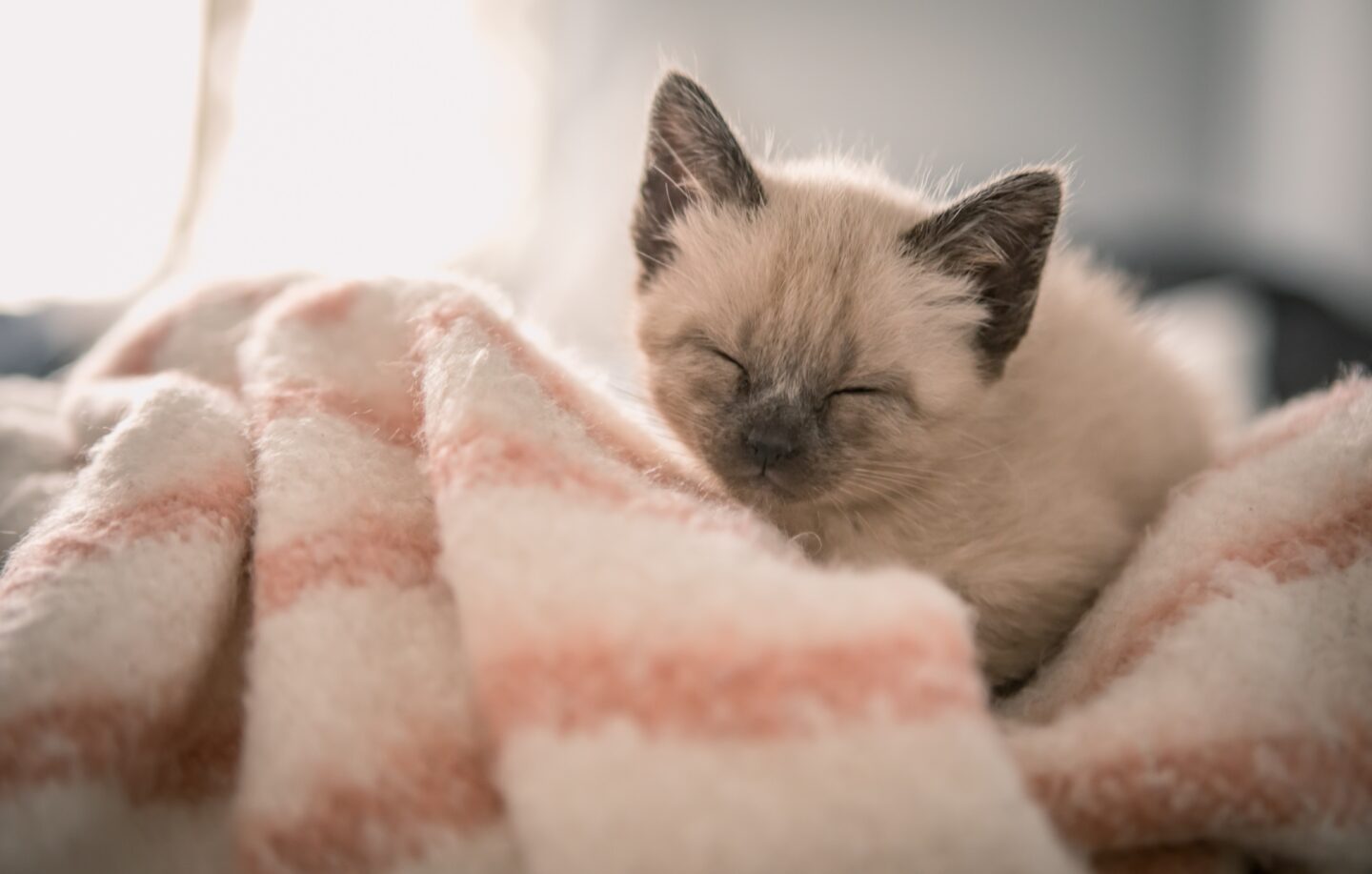 This post was updated daily and completed on 7/1/2020.
Jump to final thoughts & results.
Hello, now that I have your attention with the adorable kitten image, thanks for joining me on this challenge. Mwahahaha.
As you may be aware, the last challenge I gave myself was to cut out excess sugar from my diet. That one, I had no idea how long I'd track it for and also no idea what I was doing, and I didn't even realise it was a challenge to myself until the last day. Needless to say, it was a spectacular fail!
This time though, I'm actually setting myself a challenge. Why? Because it's hard. And I want to do it. And I want to be kept accountable.
I've been sleeping late recently and it's just wrecking my health. I nursed the worst headache I've had for a while today after sleeping at 3am last night. I then took a 3hr nap in the afternoon and my head still hurts. It wasn't even like I was doing anything important. I was just watching anime. Clearly I lack self-control and it's a problem.
Challenge Details & Goals
Through 30th June, my challenge will be this:
> Turn off all electronics by 10:30pm to prepare for bed
> Be in bed by 11pm
> Wake up by 9am by the end of the first week, 8am by the end of the second week and 7am by the end of the final week.
> Note sleep time (night before) and wake time (day of) etc. using a sleep tracker app to track data. I am using SleepWatch.
I aim see how sleeping earlier affects my fatigue/lethargy, headaches and will also do a weigh-in every 7 days. Also, Jacky will eventually have to go back into the office for his job (maybe as early as next month?) so I want to be able to wake up early to make us breakfast and pack a lunchbox for him like this woman does for her husband — I've been inspired!
This means changing my wake up time from 10am to 7am in the next few weeks. I'll be setting alarms to begin with, but ideally by the end of the 3 weeks I'll be waking up naturally around 7ish. I need a good 8-9hrs sleep/night so that means going to sleep around 11pm. They say it takes 21 days to build up a new habit, and I have exactly 21 days of this challenge.
Please do check back in to see how I get on and keep me accountable. I'll be updating this daily and will do my best.
Notes:
Dates are written in American format since I live here now. That's (M)M/DD, even though it doesn't make sense :p
For the headaches and lethargy, I'll be noting them as "Yes" and its severity (for headaches) if they occur any time throughout the day, and persist for longer than 30mins.
"Total Time" will be listing the total time I spent actually asleep. If it doesn't match the sleep/wake times, it's because I woke up in the middle of the night.
My 1st, 8th, 15th and 22nd (final) day weigh-in numbers will be towards the bottom. Jump to weigh-in section.
* These dates have additional info below – please read for further information. Click on the date to jump to the corresponding info.
Date
In Bed
Sleep Time
Wake Time
Total Time
Fatigue/
Lethargy
Headache
Notes
6/10
23:05
23:55
10:00
9hr 55min
None
None
It took a long time to fall asleep, prob cos I had a headache and hadn't slept that early in a long time. I also woke up twice during the night.
6/11*
23:00
01:10
09:00
7hr 35min
None
None
I had disrupted sleep last night as well though I'm still feeling better physically. See additional info for why I slept so late.
6/12
23:10
23:30
09:05
9hr 30min
None
None
I still woke up a couple of times in the middle of the night but they were so brief my app didn't register most of them as disrupted sleep. I was able to get up within 10min of my alarm sounding.
6/13*
23:30
00:40
09:10
8hr 15min
Yes
Mild– Medium
I didn't get to bed early enough – that was my bad. The good news is I was actually getting sleepy around 11pm, but then since I wasn't in bed my tiredness passed and I couldn't get to sleep till much later thereafter.
6/14
23:25
23:55
09:50
9hr 50min
None
Mild
I was so tired and honestly ready to sleep at 11pm but I tried the DivaCup for the first time and could not get it out. Then I accidentally squirted peppermint & tea tree oil shampoo in my eyes in the shower. All with a headache. It was not fun.
6/15
23:25
00:05
08:50
8hr 35min
None
None
Same ordeal. The fact that taking out the DivaCup took me so darn long was really disconcerting so I did more research to figure it out before I could go to sleep. I slept decently well though!
6/16
23:05
00:45
10:15
9hr
5min
None
None
Last night was stressful and my sleep was very disrupted for multiple reasons. I permitted myself to sleep overtime and will be actively addressing the causes of that stress and anxiety today.
6/17
23:05
00:15
08:55
8hr 10min
None
None
Last night was pretty ideal (except the sleeping late part) – I'd finished getting ready for bed early and both Jacky and I had time to read and pray together before sleeping. It was hot so we opened the window and switched sides of the bed so he could sleep on the window side – that prob threw me off, I'm not used to sleeping on the other side.
6/18
23:30
00:30
08:15
7hr 45min
Yes
None
I was so sleepy by 11pm but Jacky didn't get to bed until a little later so it kept me up as well. Also note to self: don't try to grow pineapple and celery right before bed. On the bright side, we both woke up early! I am tired though.
6/19
23:40
00:15
09:05
8hr 45min
None
Medium
I started reading up on the drama "Another Oh Hae Young" last night and okay I ignored my time limit on Google twice. I was so tired I just couldn't wake up when my alarm alerted me to it being 8:30 so I allowed myself to sleep in.
6/20
23:20
00:25
09:50
8hr 55min
None
Mild– Medium
My sleep was disrupted at least 4 times and I woke up with my head hurting still. I took some vitamins per my dad's suggestion and felt better after resting more. I guess trying to change my sleep schedule and waking early is taking a toll on my body, but it's important and will improve.
6/21
23:15
00:00
07:45
7hr 45min
Mild
None
Last night was the first night in a long time that I had entirely undisrupted sleep! I read in bed for about 30min and then fell asleep after only 15min, maybe because we exercised yesterday. I just woke up naturally at 7:45am and loved it.
6/22
23:35
00:30
08:40
8hr 5min
None
Nono
We had a busy day yesterday and I had quite a bit of personal grooming to do before bed, so I didn't get to bed until quite late. I didn't set an alarm so didn't manage to wake up before 8am.
6/23*
23:10
00:15
08:55
8hr 30min
None
None
I really tried to sleep early last night but I couldn't, and because I couldn't get to sleep I ended up not being able to wake early either. More info below.
6/24
23:15
00:10
08:35
8hr 20min
Mild
None
I opened my eyes at 7:45 and thought, "Great! I naturally woke up before 8am! I'll just turn around and rest my eyes for 5min more." The next thing I knew, it was 8:40 and I was groggy. I feel like I overslept, but the good thing is I slept well last night and my sleep was barely disrupted.
6/25
23:50
00:05
08:55
8hr 45min
None
None
Last night I took a long, exfoliating, relaxing hot bath followed by refreshing cold shower before moisturising my face and blow drying my hair. It took almost 2hrs, then I fell asleep very quickly. I may have overslept again because my alarm didn't work, but I don't feel as dead as I did yesterday.
6/26
01:25
01:50
08:00
6hr 10min
No
None
I spent a long time writing out my savings blog post. It took hours before I finally finished it, posted it then polished it and finally went to bed. Jacky was also working late and didn't get ready for bed until after 1am. Somehow I woke up naturally at 8am but am feeling quite tired.
6/27
23:45
00:15
08:05
7hr 50min
Yes
None
We should have slept earlier but we decided to watch some TV after fellowship so went to bed late. I woke up early without an alarm but ended up so exhausted I took a 2hr nap in the afternoon.
6/28*
??
01:10
08:30
4hr 15min
Yes
Mild
We've been emailing management about the smell of weed coming into our bedroom through the drains for a month and our requests for this to be resolved have fallen on deaf ears. It never got too bad so we toughed it out. Last night, the smell was so strong I couldn't breathe. We had to vacate our bedroom. I barely slept. Needless to say, I am exhausted. See notes for further info.
6/29
22:30
22:45
09:25
10hr 35min
No
None
I woke up at 7am to use the bathroom but went back to sleep because I was still tired. Now that I've caught up on some much needed rest, I'm feeling significantly better.
6/30
23:45
00:20
08:30
8hr 10min
No
None
I was actually tired pretty early on last night but then we got distracted watching Penn & Teller Fool Us videos on YouTube, so by the time I finished showering and getting ready for bed after that it was already kinda late, sigh. Okay, P&T, you win this time. I feel great now though.
7/1
02:55
03:05
10:40
7hr 35min
Great to end this off so terribly! Jacky and I got into a disagreement over a TV show we watched right before bedtime and I ended up being so stressed I didn't want to sleep. We reconciled before we slept, but it took a while, during which time I just watched Netflix.
Additional Info
6/11 – Jacky's work set up is in our room and he has been working late the last couple of nights. I couldn't fall asleep with the sound of his keyboard clacking and the light coming from his computer and monitor screens, especially since my body is no longer accustomed to sleeping so "early" (I was able to fall asleep the night before because he wasn't working during the hour I was falling asleep).
Eventually I gave up trying to sleep and just turned the light on to read for a bit until I got tired… which was around 1am. We've now moved Jacky's laptop onto our dining table so he can continue working as he needs to at night.
6/13 – I had been feeling fatigued and weak all day and didn't sleep well the night before, but these symptoms are more likely attributed to menstruation in this case.
6/23 – I had half a matcha latte after 3pm, and I could feel the caffeine in my veins. I can't drink coffee after 3pm because it keeps me up at night, so I'm guessing this is why I wasn't able to sleep early. In addition, Jacky made lamb for dinner and we'd had some red wine with it. It's the first red wine I've had in a couple of months, so I think my body was in a bit of shock from both alcohol and excess caffeine in its system.
In the end, I couldn't sleep so I turned on the light and read until approx 23:50, after which I was able to sleep not too long after.
6/28 – We have an en-suite where the sink is in our bedroom but the shower and toilet can be closed off by a door. Since June 1st we've noticed the smell of weed coming into our bedroom through the sink and the shower drains. We can close off the door to the shower, but the sink is literally in our bedroom and there is no way we can avoid it. Even plugging in the drain plug does not stop the smell from getting in.
The smell of weed was unbearable last night. We'd asked management to email our neighbours to request that they don't flush whatever CBD products they're using down the drain, but after ignoring us for 3 weeks and multiple follow up emails, our community manager finally emailed back suggesting they'd just try to flush out the drains in case a blockage had been causing the smell to get into our room.
She never submitted the work order for us.
My body reacts really poorly to the smell of smoke or weed or such things. Last night, the smell was so strong that breathing in our bedroom caused my throat to close up, my eyes to tear, my heart rate to increase and I couldn't breathe. I almost had a panic or anxiety attack from it.
We ended up shutting the door to our bedroom and migrating to our living room to sleep on the sofa. This was already way past midnight and we had church in the morning. I finally managed to fall asleep after 1am but I guess I was so upset and my body was going nuts that I ended up waking up at 2:45am and just couldn't sleep after.
At 3:20am I decided to call emergency maintenance. We live in a community where smoking of any sort is forbidden. I can't imagine that having our room flooded with the smell of weed is acceptable in any way. They said they'd dispatch someone, so I ended up waiting up until 5:30am for someone to call me or show up but nobody did. I finally went to bed and slept from exhaustion at 5:50am… then woke up again naturally at 8:30am. Clearly, this is causing me extreme anxiety.
Jacky and I had decided to re-join our LA Church's service for the time being, which was supposed to be at 9am. When I slept so late I was worried I'd miss it, but I thank God that we were still able to attend — on time, too — because I was reminded of God's faithfulness, and my spirit was just generally refreshed from such a deep, restorative, Christ-centred service.
I'm still physically exhausted, of course. It's now 12:05 and still nobody has shown up, but my spirit is no longer as parched and weary as it has been for the past I'm-not-sure-how-long now.
Update: It turns out there had been errors in their system where the technician who received the request only saw Jacky's number, so had been trying to contact him when I submitted the request at 3:30am. We realised this when he called again after I'd contacted emergency maintenance in the afternoon (having seemingly heard nothing), and Jacky's phone rang. Jacky had seen the missed call on his phone in the morning but dismissed it as spam so never called back — whoops.
However, thanking God for answered prayers — the complex is now taking this very seriously as a matter of urgency. The technician has already come over to pour something down our drain to mask any smells, and will be speaking with our community manager about it tomorrow.
Weigh Ins
6/10 – Day 1: 122.6lbs
6/17 – Day 8: 123.0lbs
6/24 – Day 15: 123.7lbs
7/1 – Day 22: 123.2lbs (after breakfast & coffee)
Final Thoughts & Results
Today is 1st of July and it's clear that I failed the challenge towards the end, especially on the last day. I'd even forgotten to weigh myself this morning, despite having it in my calendar to do so (I'd set the reminder for 10am, which I slept through), but I am impressed that after eating so much I was still 0.5lbs lighter, which suggests that overall I may have lost even more weight. This is likely also attributed to me being in the middle of Chloe Ting's 2020 Summer Shred Challenge but I'm glad to see there's a difference.
The goal of this challenge wasn't to lose weight anyway, but it would have been interesting to see if sleeping earlier made a difference to my ability to lose weight. I'm now realising there's no way to accurately measure this so… lol. Whatever. It's interesting for me to track anyway!
Struggles
1. I notice that on the days where I was working on my laptop or playing on my phone before bed, I was more able to consistently stop myself to get ready for bed before 11pm, but if Jacky and I were watching TV, there's nothing on the TV to automatically turn itself off at 10:30pm, so we often watched past that. I think moving forward it'll simply require more self-discipline from me to just decide it's bedtime, to be honest.
2. Jacky doesn't sleep as early as me, neither does he need as much sleep as I do. Our different sleep schedules are a major challenge because I'll often be kept awake by him getting ready for bed if I'm trying to get him to sleep at the same time as me, or I'll be woken up when he finally does come to bed later. It doesn't always wake me immediately, but my sleep seems to be disrupted whenever this happens.
3. Trying out the DivaCup for the first time when I'm on a sleep-early challenge was probably a bad idea. Not being able to get it out was just stressful, and knowing I needed to sleep early but couldn't because of this stressed me out even more. I'm guessing that trying to sleep with elevated stress hormones either just didn't work, or probably caused me to not be able to sleep soundly so I needed more sleep to recover.
4. There were days where it was just difficult for me to sleep in our bedroom because of the smell of weed coming into our room through the drainage pipes in our sink and bathroom. I am very sensitive to the smell, and there were at least 3 nights where it bothered me but was just about tolerable, then a final night where I just couldn't take it at all. All these instances caused me distress that in turn caused sleep disruption.
Learnings & Next Steps
I learned a lot about myself, my sleeping habits and my self-discipline (or lack, thereof) through this process. I'm surprised that I literally forgot about my weigh-ins half the time (originally I'd planned to weigh-in on day 7, 14 and 21, but I'd forgotten to do it on day 7 so pushed it back a day), even though I'd written it in my calendar and knew I was doing this challenge.
It's like half way I forgot that this was even a challenge and just decided to do whatever. I'm not sure why that happened, but I'm wondering if it was because I got discouraged by how much I seemed to be failing given all the difficulties I'd had trying to complete this challenge and just gave up.
In the end I did not manage to sleep by 11pm, but I am very happy that I am consistently able to sleep around midnight and wake between 8-9am, when previously I'd gotten into the habit of sleeping at 1 or 2am and waking up at 10.
I'll count that as a win, and am proud of myself for being able to do that. No need to beat myself up over this because now I'll take all the learnings from those struggles and do better next time. 11pm was a long shot and just looking at the challenges I had (especially #2) I realise it was very unlikely to happen within such a short period of time.
What I want to do now is give myself a longer period of time to try and change my wake time to 7-8am, building on what I've achieved in the past 21 days. I realise that it's less about the duration of sleep or the time I go to sleep that matters as much, but my sleep quality makes a huge difference.
For July, I'm going to challenge myself to consistently wake up between 7-7:30am by the end of the month. I'll focus less on the time I fall asleep, because I don't think it matters what time I fall asleep as long as I can hit my wake-target. If I'm hitting my wake-target, I reckon I'll be so tired I'll end up sleeping earlier anyway.
I may have failed this challenge, but I am not a failure because I'm taking what I learned and will use that to improve in future. I failed this time, and I may still fail next time, but as long as I fail better next time, that means I've improved, and that's what matters the most.
Thanks for joining me on this challenge, see you in the next one?
Muchos love,
Bobbie