Do you notice anything different about the site? If the last time you checked was last year, then the answer would probably be no – and that's a good thing! Pretty much exactly one year ago, my host at the time, Servage, suffered a DDOS attack and lost more or less the whole of my site – all 3 sites I had running at the time, actually. One of them was incredibly personal to me that I kept but nobody visited (I liked it that way – it was a sweet site with a beautiful layout called Summer Sonata, I believe I still own the domain), one was BobbieRecommends, that I gave up in favour of Bobbieness but still kept it up, and of course there was bobbieness.com, this site here.
When Servage lost my site, I was frustrated to say the least. I felt like years of me disappeared. The last time I'd backed up Bobbieness had been March 2015, and Summer Sonata had never been backed up (my bad). Even upon retrieving the majority of Bobbieness, there were still issues on the back end that I couldn't figure out how to resolve and Servage were altogether not helpful at all. WordPress support advised that they'd need a ___ file from me for them to check the logs, but Servage naturally didn't have them. Then WordPress noticed that the host I was using was running incredibly old code and full of security holes, and recommended I switched hosting provider asap.
So I started host shopping earlier this year, and with help from an amazing friend/colleague, I switched to Webfaction. Apparently, it's all backed up for me, my developer friend recommended it, so I'm going to take his word for it that I won't be losing my site again.
The transition was complete a couple of months ago, but in my life there have been a lot of changes since then, so I haven't really had time to work on it. Now that I'm officially funemployed (story to come) and back in LA with time, I finally did more work on this site. With the help of the Web Archiver I was able to recover 95% of my previous posts that I had up on Bobbieness. I migrated some over from BobbieRecommends and I think the rest are fine to lose. It was really incredible when I discovered that a USB of files my dad gave to me back in April contained a bunch of photos and posts from BobbieRecommends and here that I thought I'd lost for good, so PTL I was able to recover those too!
I am somewhat sad I've lost Summer Sonata but it's okay, those posts were super angsty anyway :p It was something like 40 pages long though… I am upset I've lost all those (although I may check out the Wayback Machine for those too at some point haha, if I find myself with time to spare I will try to recover it too, but at the moment I just don't have the energy to do it all again). I think it spanned something like 2010-2014.
I do love that I've left parts of myself on the internet. Recovering my lost posts meant I could read back on life. My thoughts back then, the person I was back then – even one photo can trigger powerful memories and remind me of the amazing journey I've been blessed to call life so far. I did make some minor edits on some of them though, I was definitely getting some second hand embarrassment from some old posts. Ah well, good to know I've changed since then!
Anyway, I can't believe 2016 is more or less over. What the, how did this happen? Looking back on some old pics, I want to end this post with how I started off the year: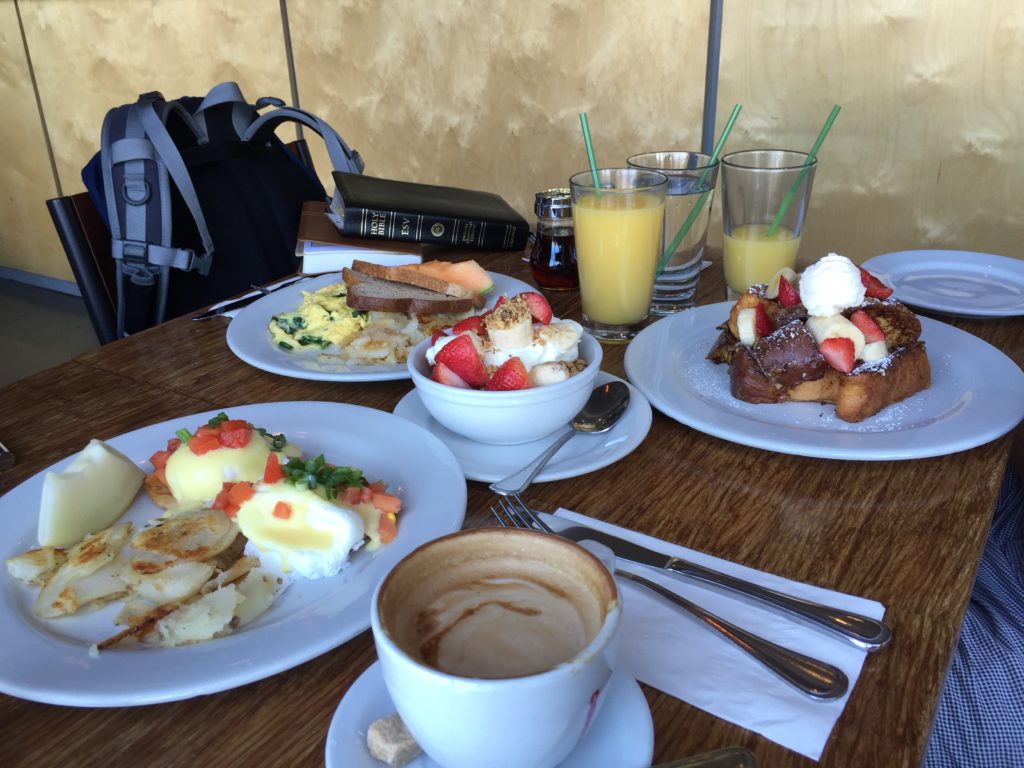 Brunch & Bible Study (+ coffee, of course). Starting off the year right, hehe. I hope I can end it right too.