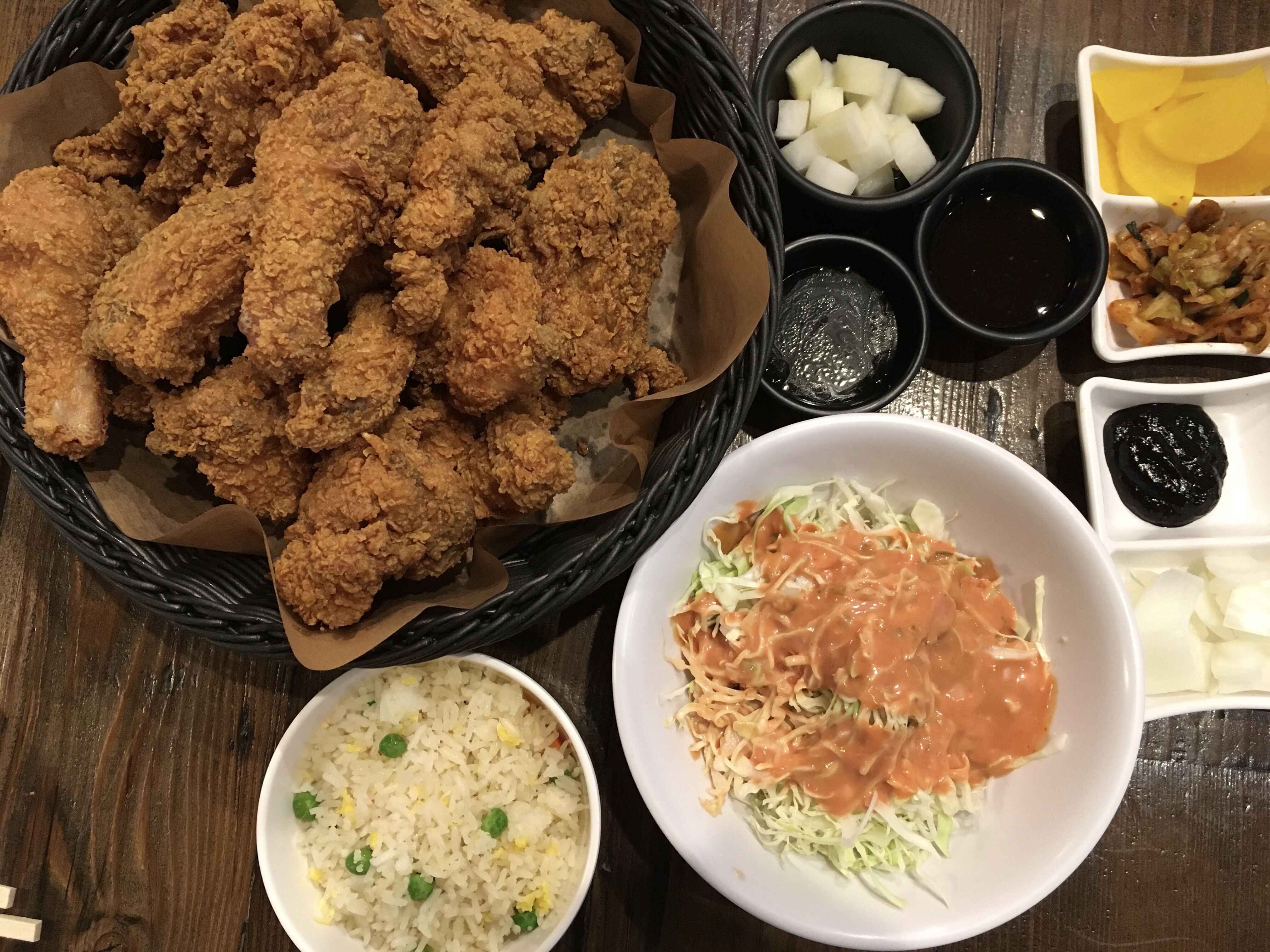 For the superstitious, Friday the 13th is an unlucky day. For my mum, the number 13 is lucky. In my case, it happened to be one of the most blessed days I've had so far this year. I love that my previous post documented my anxiety during this job hunt and the importance of not losing faith. That was a short week and a half ago, and in the following 7 days of that post, miracles have happened.
The picture above was my celebratory dinner on Friday the 13th, because in those 7 days from 6th – 13th Jan, I was blessed with not one but two very attractive job offers, both at impressive companies, and finally accepted an offer with one of them. I've signed the contract and start a week on Monday.
It also happened to be my mum's birthday (happy birthday, mummy!) and she was thrilled at the offer I'd ended up accepting, saying that was the best birthday gift ever (I feel sorry I couldn't be there to celebrate with her, but I did work hard to show her daughter was worth 2 offers and felt fuzzy butterflies when she wrote in our family chat that she was proud of me <3)
The crazy thing is, the company I ended up accepting the offer for only got in touch last week, and initially I thought it couldn't possibly work out because I was pressed for time and at the end stages of interviews with two other companies already, and I'd begged for Him to let me complete the process that week already.
But I should know by now that that's never the way He works :) And in a way, I love that – the fact that things just worked out so perfectly, so wonderfully, at the very last minute, are a sign to me that miracles still happen on a daily basis. Some people like to call it fate, but as a Christian, I call it grace, not least because I know that it's not something I could have ever accomplished on my own.
Another reason I know it wasn't my own doing, was because the other offer I'd received had more or less been exactly what I thought I'd been looking for in the next stage of my career. I have been thinking about starting my own company for a while now, and while I've had a few ideas (and even privately written some up with a business plan), I genuinely don't think any of those were good enough to make anything out of them, let alone ask for others to invest. If I can't guarantee they'll get their money's worth, I can't in my heart of hearts bring myself to take money from them.
So that led me to thinking that I'd love to join a smaller albeit more established start up, ideally being one of the first 15 employees, so that I can be part of the strategic team and really help build the company from the ground up. It would give me experience as a leader without the burden of any major financial impact should anything go wrong. My background has been in sales/digital marketing/affiliate marketing/client development, and I felt like I'd learned enough to make enough of an impact wherever I was to go.
But of course, finding a company that was willing to invest in me, trust my strategy, be small yet large enough AND sponsor my visa (and be in LA and pay me well) was pretty much impossible to come by. And it just so happened that a company came by and offered me all of this. AND was only 10min walk from my house AND offered damn good perks too.
Wasn't this exactly what I'd wanted? Apparently, yes, I'd thought so. So when it was offered to me, was I an idiot to decline this offer and go with the other? No, I don't think so.
Because somewhere along the line of my interview process (whereby I'd already interviewed with 7-8 different companies, most with 2-3 rounds at least, one of them had like 7-8 rounds on its own – that was killer) I realised I was not ready to jump in at this end just yet. I realised I still had so much left to learn. I realised I was a lot less experienced then I fancied myself to be, and like it or not, I probably also need a good few more slices of humble pie before going any further in my career.
At one of the companies I interviewed with, the CEO was probably one of the most humble men I'd ever met (and most certainly the most humble CEO – and I have met a few), and that was inspirational. I saw how he ran his company, and thought that should I one day really start my own, I would hope to be that kind of CEO as well.
I know there's a lot that I can give, but there's also so much more that I need to learn. And so with the offer I ended up accepting, I am so excited to give and grow. Finally, I think a big part of me just doesn't want to focus on affiliate anymore. It was fun and it is a great industry, but I think it's about time for a change.
The religious part of me also really loves the deeper meaning behind these two choices: we often pray for things we want – things we desperately want. And at one point, God says, "Okay, here you go. But here is another path – one that I have chosen for you, that will be infinitely better for you. Which will you choose?" and we suddenly realise that what we thought we wanted isn't what we wanted after all – or, maybe while it's what we wanted, it wasn't what we needed.
God really is too good to me – and I have to say I am thrilled with the final offer I'd accepted.
That afternoon, I had my weekly catch up with Annie. She's been my best friend for so many years. Somewhere along the line, life happened and we stopped contacting each other as much, but I've never stopped thinking of her as my best friend.
We got back in touch again recently and I'm so happy we're back to our chats of old (meaning, 3+hrs of phone call and STILL not done catching up haha). That day, she asked me a loaded question: "What if I only had 24hrs left to live, what would be the one thing I'd want to do before I die?"
My answer was, "I desperately want to see the people I care about come to Christ, so that I know we can meet again one day in heaven." From there, we had a most encouraging discussion about faith and the Bible. I'd shed tears of joy at being able to evangelise to her and even thinking back now, my heart is glad that she was open to speaking with me about it.
Later on, a sister from CBCWLA asked me for some advice about major changes going on in her life, and I felt so grateful that she was willing and trusted me enough to come to me as one of the friends she'd chosen for help.
Overall, a very blessed Friday the 13th indeed.
Funnily enough, the day after I accepted the offer I received another informal offer from a Chinese publisher who'd reached out for advice about Skimlinks, lol. It looks like I'll be staying in LA after all :) The first thing I did was get a car.
Tomorrow I'm getting a haircut.
I'm slowly starting to settle myself in fully… I'm excited!!
On another note, my friend took me to Chick-Fil-A for the first time in my life the other day. I ordered a large meal, y'know, expecting a regular large meal. I'm not sure what neuro-systems decided to give in on me that day that made me forget how ridiculous American sizes are compared to UK. I mean, I even watched Supersize Me and have heard stories, for goodness sake.
Anyways. This is me with soda the size of my head.
Oh, 'Murica. I do love you sometimes.