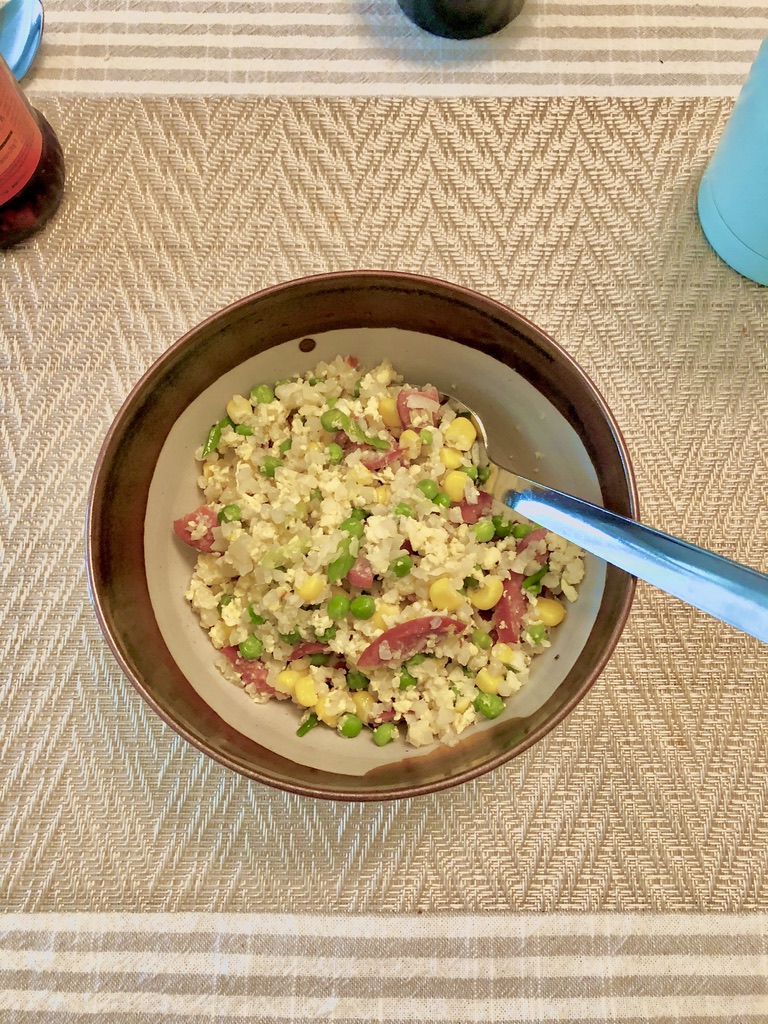 This is less of a recipe and more of a throw-everything-in-a-pan-and-stir-fry-it sort of thing. It's so easy to make, tastes good, saves on washing up, and is healthy (literally a bowl of veggies + protein).
These are instructions for using frozen produce, because we can't finish Costco-sized packs of meat and veg in a day. Feel free to make substitutions, just alter your cooking time accordingly.
Also, as much as I'll try and give instructions and provide cooking pointers, it's not a fool-proof recipe; your appliances will differ from mine so adjust accordingly. Neither will I have accurate measurements of salt/pepper/oil etc. – I prefer my food a little less salty, but you season it how you like.
Let's get started.
To serve 2-3 adults you'll need: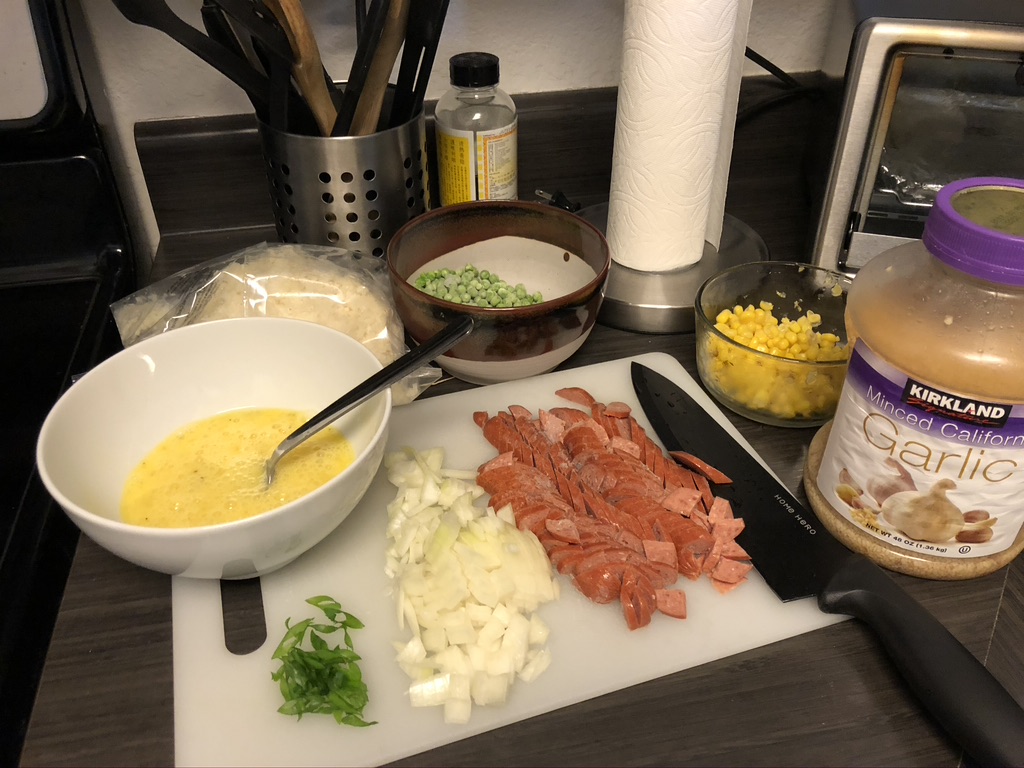 1 frozen Costco beef sausage (as in, the ones they use in their food court. They are sooo yummy!) – cut up into pieces. I'd quarter it then slice it because it's so large, but it's up to you.
1 pack of Costco frozen riced cauliflower
Quarter of a large white onion, diced
Some frozen peas
Some sweetcorn (we used the canned, cooked sweetcorn from Costco, drained)
Some spring onion (aka scallions), sliced
A teaspoon of minced garlic (as you can see, I'm using Costco's cheat version. 2 cloves of freshly minced garlic would be preferred but I'm lazy.)
2-3 large eggs, add a dash of salt and however much pepper you like, beat to mix well
More pepper
Soy sauce
Chilli sauce (optional)
You can adjust quantities of veggies to taste of course :)
Start by heating some olive oil in a pan on medium (I pour in a blob. This the only time I'm adding oil so no need to be too stingy). Once your oil is warm, add your minced garlic, then your sausage, then turn up the heat and fry until the sausages have browned a little.
Note: you control the temperature here. I start with lower heat because my sausages were frozen so I wanted them to cook through before turning up the heat. If yours aren't frozen, just go in at high heat.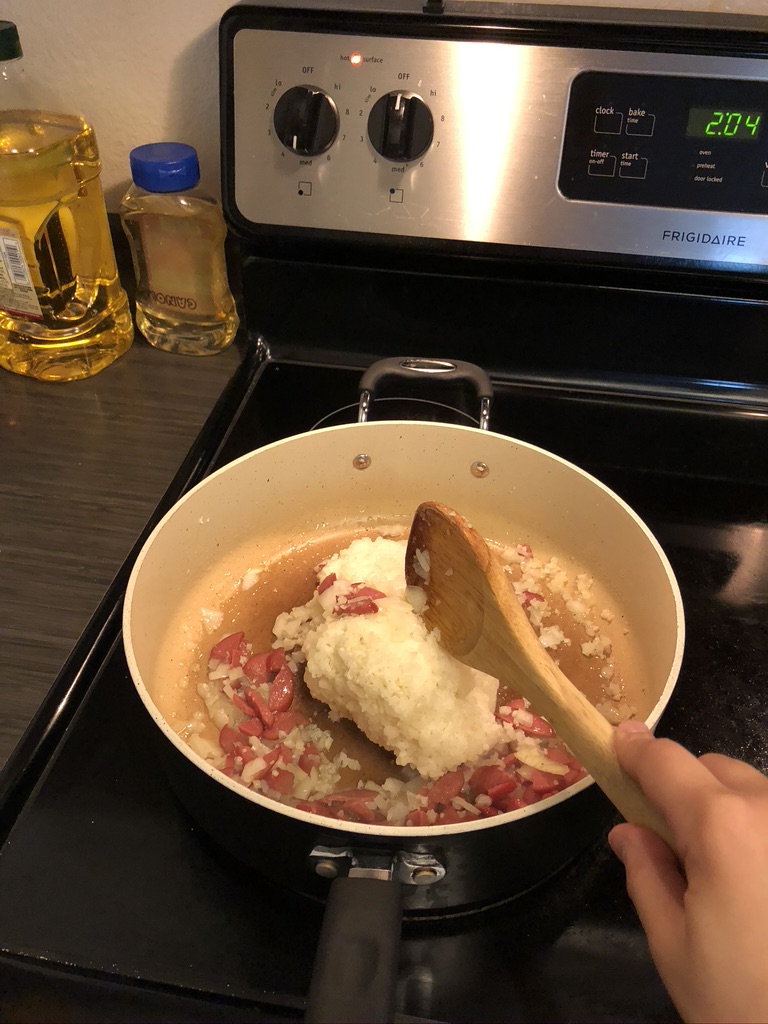 Then turn your heat down to medium and add in your bag of frozen riced cauliflower and cook while breaking down your block of cauliflower. Stab it with your wooden spoon, turn it around and scrape off the bits that are cooked… be creative.
Once your riced cauliflower has broken down, cook a little longer, stirring frequently, then add in your frozen peas. The cauliflower doesn't need to be fully cooked at this point, and your peas will probably have melted a little by now.
Continue to cook, stirring frequently, on medium heat, for about a minute or two, until your peas look more or less done.
Add in your sweetcorn, then, if you're using an electric stove like me, turn your heat up and continue stirring. Cook for a little longer before forming a well in the middle of it all. You're about to add your egg, and you want the pan to be hot. If you use a gas stove, you can leave your heat on medium until now.
(Turn your heat up…) Pour your egg into the well and then immediately begin stirring. Keep mixing until everything is coated with egg and you have some eggy pieces in there too.
If you're on an electric stove, turn off your heat now and let the residual heat do the rest. Add your soy sauce and pepper. I added about a tablespoon of this type of soy sauce, which is pretty salty already, so no need for extra salt. That said, I am not shy with my pepper quantity haha.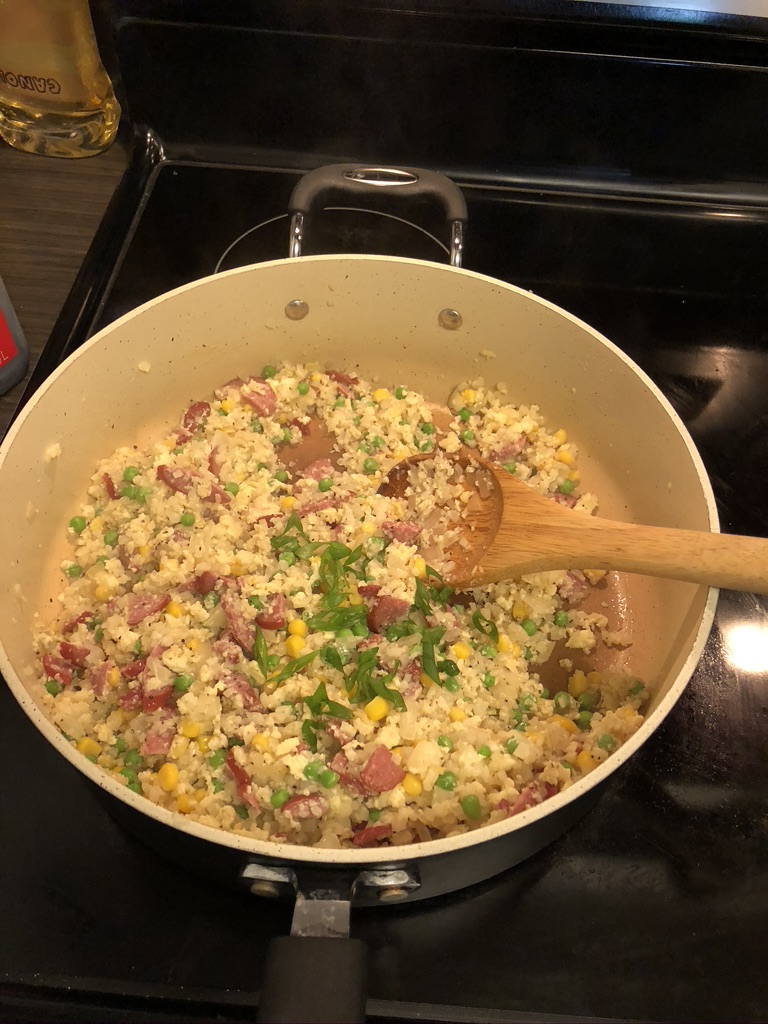 If you're on a gas stove, turn off the heat now. In both cases, add in your scallions, give it another mix, and you're done!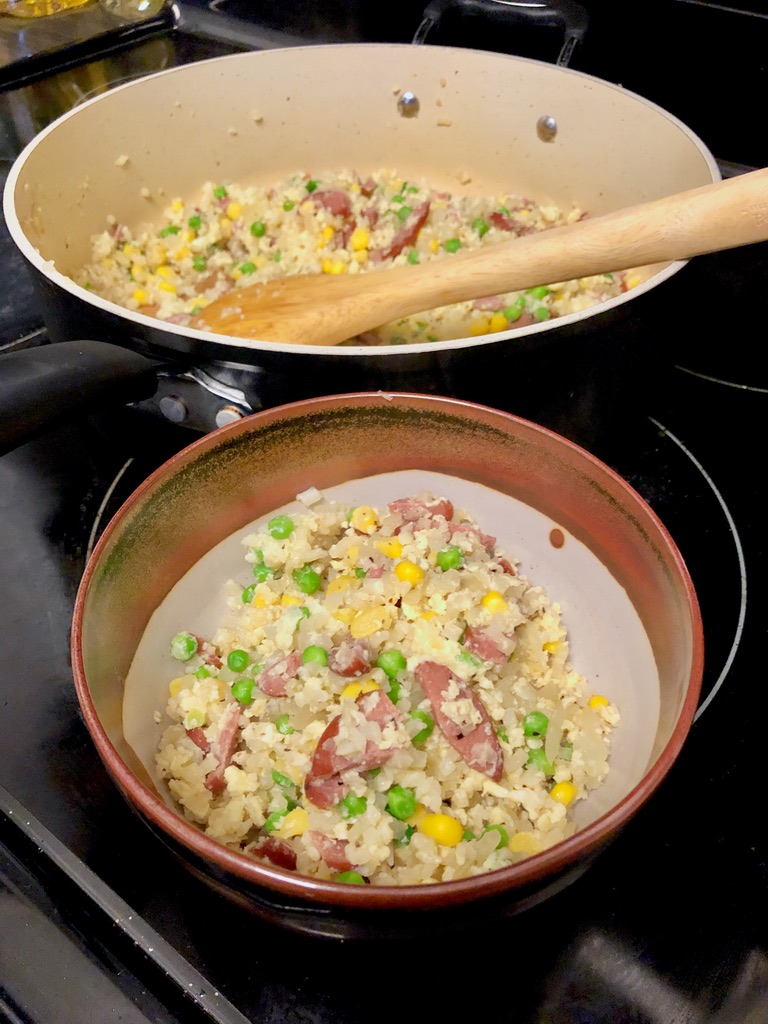 Add some scallions to garnish if you like. (I don't like, so I'm not doing it.) Serve with your favourite chilli sauce, or just eat as is :) Yummy!