Wow, am I posting this spread on the first day of the month for once? Goodness me, it has been a productive start to the month! You may notice a couple of new pens below… that's right! Last week the Zebra 15ct Mildiner Brush Pens that I'd been eyeing for months went on sale (still on sale right now for only $23+tax; they used to be $42) so I took the plunge and purchased them.
It'll take me some time to get accustomed to using them I'm sure, but so far I'm liking them. The red colour isn't as vibrant as I was expecting/hoping but it's fine. I probably should have tested it before just going ahead and drawing but what's life without a few risks.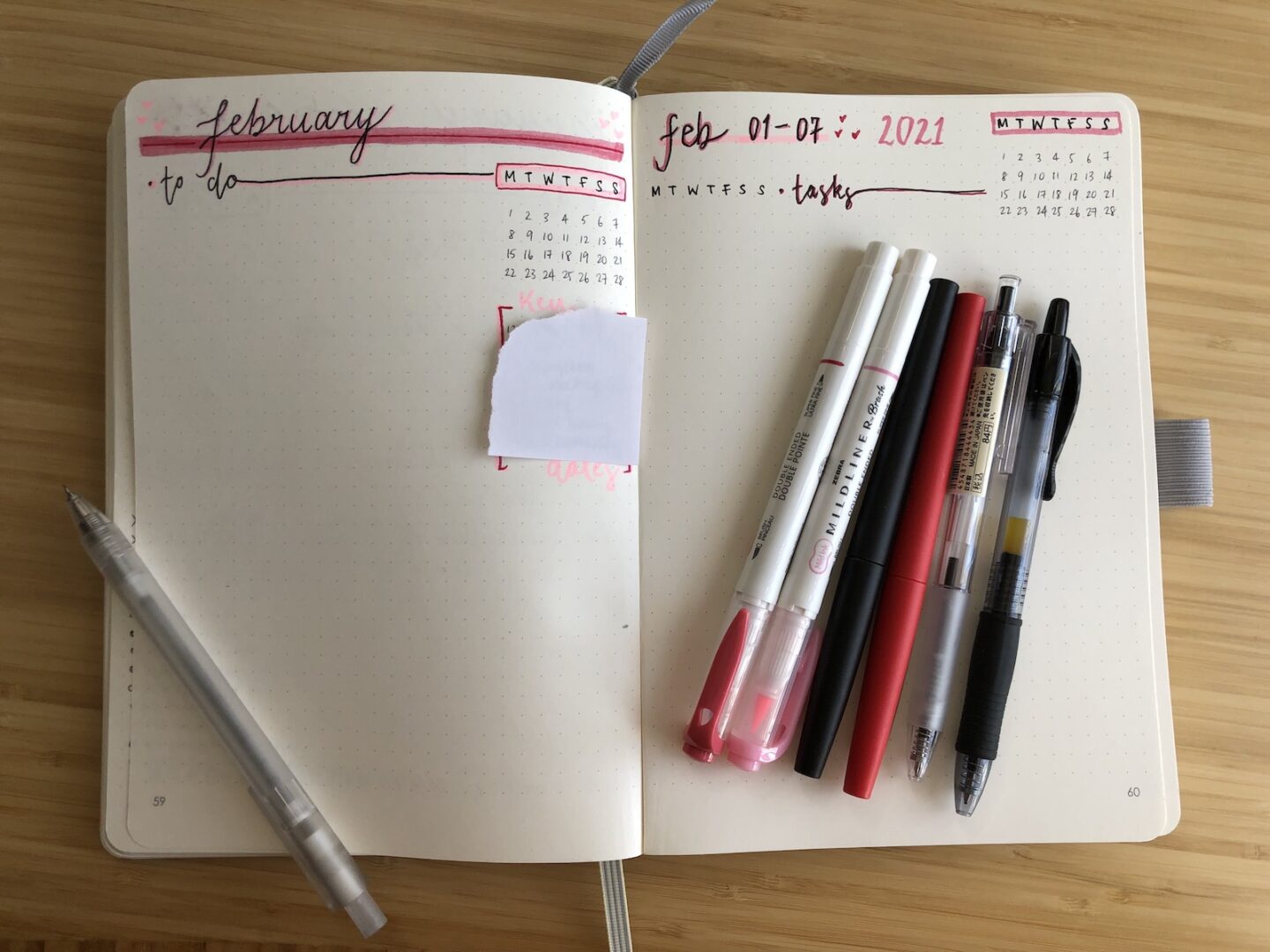 I really enjoyed setting this up actually. I didn't really have anything planned when I drew it out and it looks a little empty from the above picture, but I've already almost filled the two pages to the max with the things I want to accomplish during this period.
Essentially on the left side I have my monthly to-dos, which are just high-level things I want to accomplish at some point this month, and on the right I have a weekly spread.
I'm still using the rolling task list I learned from Plant Based Bride here to track my weekly tasks. This will be to assign my monthly to-dos to a specific day of the week, and also break down high-level tasks into smaller action steps where necessary. When I complete them all of the action items for that task, I'll also tick it off my monthly to-do.
I date some of my monthly to-dos if I know they need to be accomplished within a certain week so that I can make sure I assign it when that week comes along.
Finally, my February mini-resolution tracker will be done on a weekly basis, since I plan to post weekly updates on my blog, so I'll track them on my weekly spread.
I'm probably making a pig's ear out of this description, but I know what I mean and it works for me haha. Sorry if it's really confusing, but it is basic and I really like it. It's been a while since I had to break down my monthly to-dos to a weekly task list, so this is kind of exciting for me.
Muchos love,
Bobbie