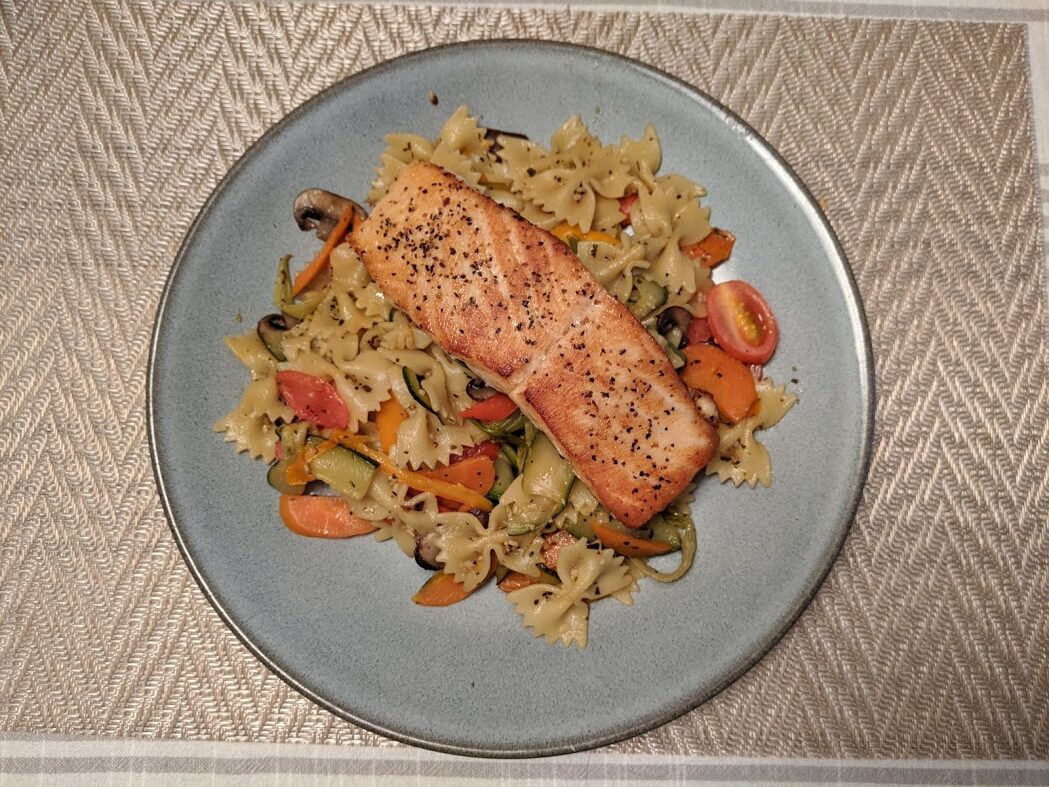 This is my hubby's recipe that I asked him to write for me because the first time he made it, I loved it. Now he'll make it for us about twice a month and it'll last us 3-4 meals. It tastes great on its own as a vegetarian dish, or you can serve it with pan-fried salmon if you're feeling fancy.
And also because it's his recipe, he included far more detailed ingredient quantities and also wrote it in a much neater format I usually do haha.
Thank you hubby <3
Ingredients (4 servings):
Farfalle ("bowtie") pasta, 6 oz
Carrots, 2x medium sized
Zucchini, 2x medium sized
Celery, 3x stalks
Mini portabella mushrooms, 8-10 shrooms
Mini bell peppers, 5x bells
Cherry tomatoes, 10-15 toes
Garlic, 1 whole, finely diced
Basil, 5-6 leaves or flakes
Oregano flakes, 1 Tbsp
Salt
Pepper
Olive oil
Butter, 1 Tbsp (optional)
Instructions:
Heat a few cups of water for the pasta. Season the pasta water with salt to taste (no oil needed).When the water is brought to a boil, dunk the pasta in and cook for 14-16 minutes on medium-high heat, stirring occasionally. Remove from heat when pasta is al dente.
Peel the carrots; remove ends of zucchini and mini bell peppers; remove bottoms of celery stalks.
Halve the carrots, zucchini and mini bell peppers lengthwise. Thinly slice all the above plus the celery with lengthwise diagonal cuts into 1.5″ slivers (about the length of your finger).
If you didn't opt for pre-diced garlic like the lazy bum I am and haven't finely diced your garlic yet, now is probably a good time to do that.
Heat 3 Tbsp of olive oil on medium high in a deep and flat frying pan and dunk the carrots, bell peppers and celery in. Add salt and pepper. Stir occasionally.
While the veggies are cooking, thinly slice the mushrooms. Add the mushrooms, zucchini and garlic into the pan. Add additional salt and pepper to taste, if needed.
Saute everything for another 8-10 mins, or until mushrooms are well-cooked and zucchinis are soft and changing colour. Veggies should be moist but not wet (if too wet, stir more to release moisture).
While the veggies are cooking, slice cherry tomatoes lengthwise into 3-5 slices each.
When veggies are almost done, with a holey ladle, scoop pasta directly from water into pan. Optionally, add some butter to taste.
Stir-fry for another 5 mins, or until the pasta begins to absorb the veggie juices and change colour.
Roughly chop basil leaves and add to pan. Add basil and oregano flakes to taste.
Remove pan from heat and stir in the tomato slices.
Plate pasta primavera when tomato slices begin to wilt. Serves 4.