Hello hello! This post is late, I do apologise! I have no excuse except I was in the throes of an awful YouTube addiction last week, so I never got round to writing this post. Then I quit digital entertainment (story for another time) and I'm finally back on track with writing.
September's set up is fairly different because I realised that I really wasn't using my journal much in August. Probably because of aforementioned YouTube addiction that was causing me to not want to do anything except lazily let my brain rot through hours of entertainment on a daily basis so production level was at an all-time low, but also I realised there were just some pages that weren't working for me.
Bullet journalling is all about exploring and amending to fit your individual needs, so for September, I have made a few amendments: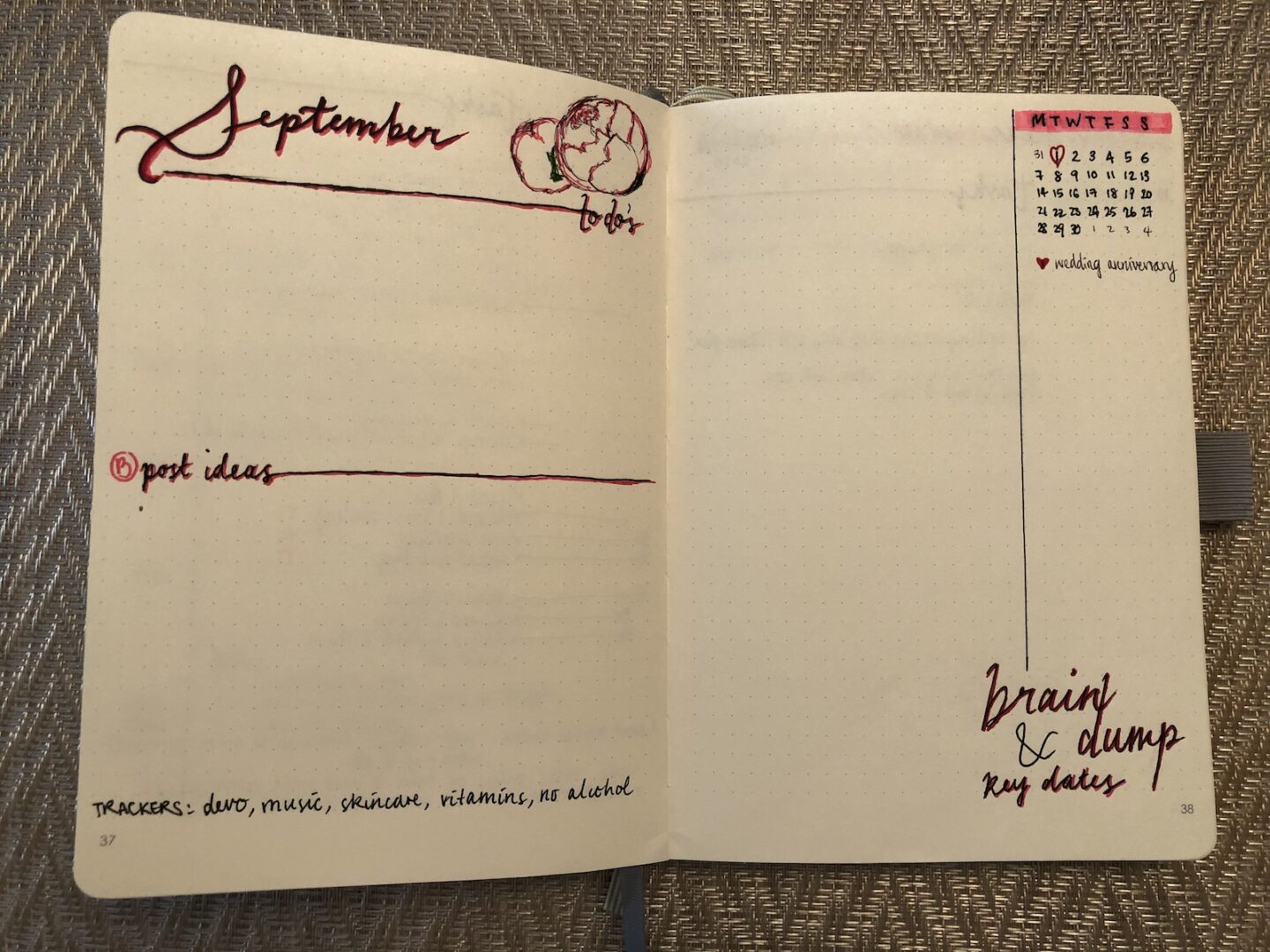 Removed my reading and dates tracker – I realised I really… didn't need those.

In terms of reading, it was to track reading books as a habit, but it's no longer something I care to track. I am not really interested in how many pages of a book I read in a month anymore.
In terms of dates, Jacky and I hang out together regularly at home and we still aren't really going out-out due to COVID; I realised it wasn't really important for me to track all the different TV episodes we were watching together and put a 'date' label on them.

Added a "Bobbieness post ideas" section – so I can write down post ideas that I want to do for the month without necessarily scheduling them for any specific day.
Added a 'key dates' section, as well as a mini calendar on each page. I wanted one, so I added one. It makes life much easier than having to refer to my Google calendar each time I wanted to check the dates.
Shrunk my brain dump section – I'm trying out a notes section on every weekly spread so I don't need a large monthly brain dump page anymore. I've mainly been using those for recipes and meal planning anyway.
Changed up my habit trackers – I didn't want to keep turning to the front page, and I realised I was trying to 'track' too much. I decided to just turn the habits I wanted to keep tracking into tasks on my weekly spread, but noting which ones I wanted to track on my month summary spread.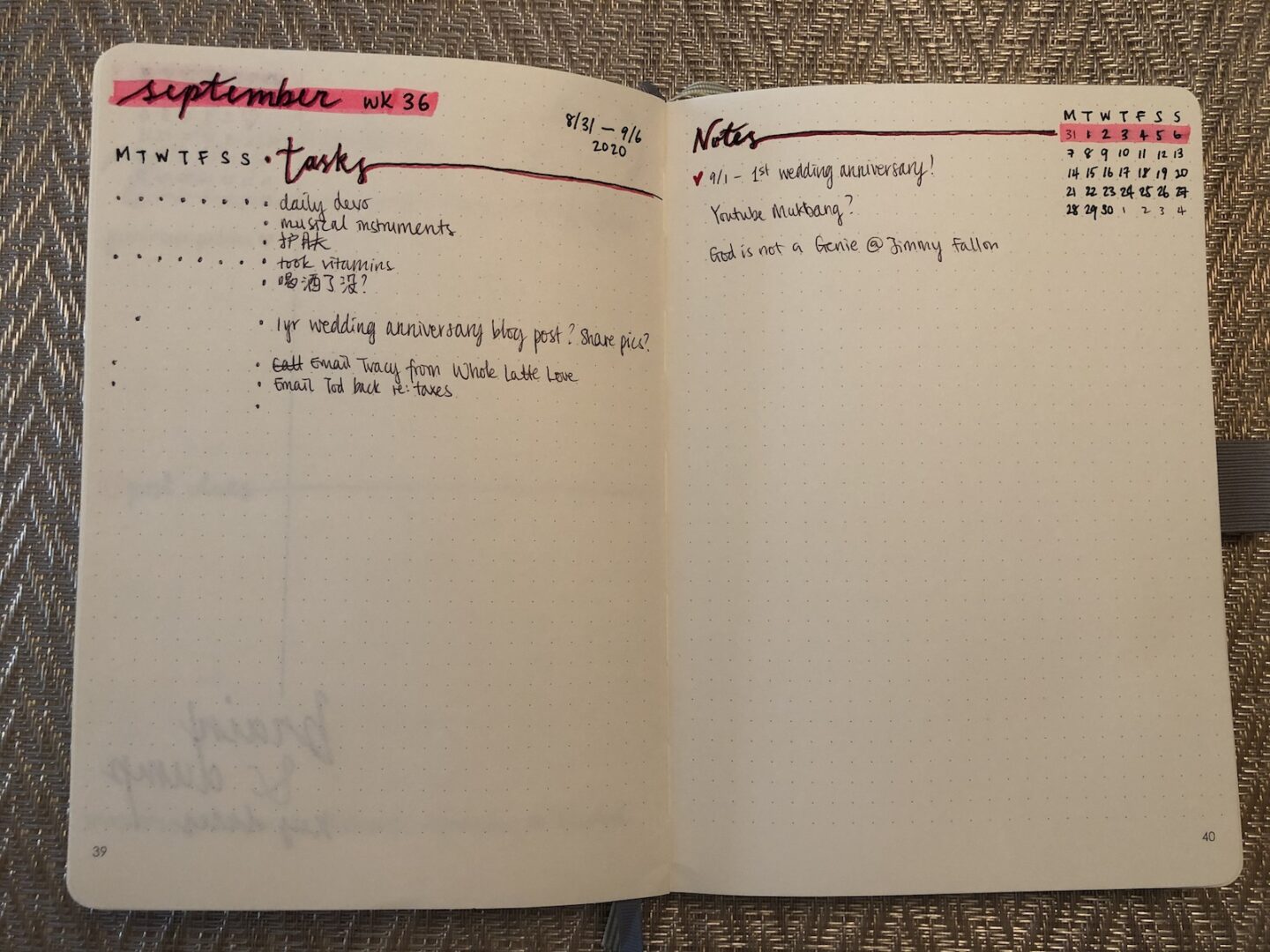 For my weekly spread, I also changed it up because I found that having 4 lines per specific day wasn't working that well for me either. So, I decided to try out having my tasks on the left page, and the right page for additional notes (probably YouTube ideas or meal planning).
You can see my habits at the top as 'tasks' and I added a few additional tasks I immediately wanted to get done below it (I have done them already; these photos were taken last week). I haven't done our 1yr anniversary blog post yet haha. I feel a little uncomfortable at the thought of writing a lovey-dovey message to Jacky online… that's what the card I bought him was for heh heh heh. We'll see!
I started writing the week number at the top because I have been tracking my fitness journey according to the week of the year, so that is helpful for me to refer to. I also highlighted the corresponding week on the mini-calendar on the right.
Finally, this month's colour scheme is red/pink! I drew some very basic peonies because I love them, and pink is the colour I associate with love hearts. It's the month of our marriage anniversary, so I felt like pink would be very fitting. I don't love pink, but I do like how the spread turned out. It's supposed to be basic anyway and it certainly does the job for me.
I'll see how it goes! So far it's working well for me; I am using it more. That could also just be because I'm more productive this week with my entertainment ban (half-ban now… heh heh…) so I'm actually doing the stuff on my to-do list. I'll change it up again next month if necessary, but if it works, I'll keep it.
On a different note, I finally filled in August's quote page a couple of weeks ago! I left it empty in my setup post because I just couldn't decide which verse I should go with. In the end, Philippians 2:3 really spoke to me: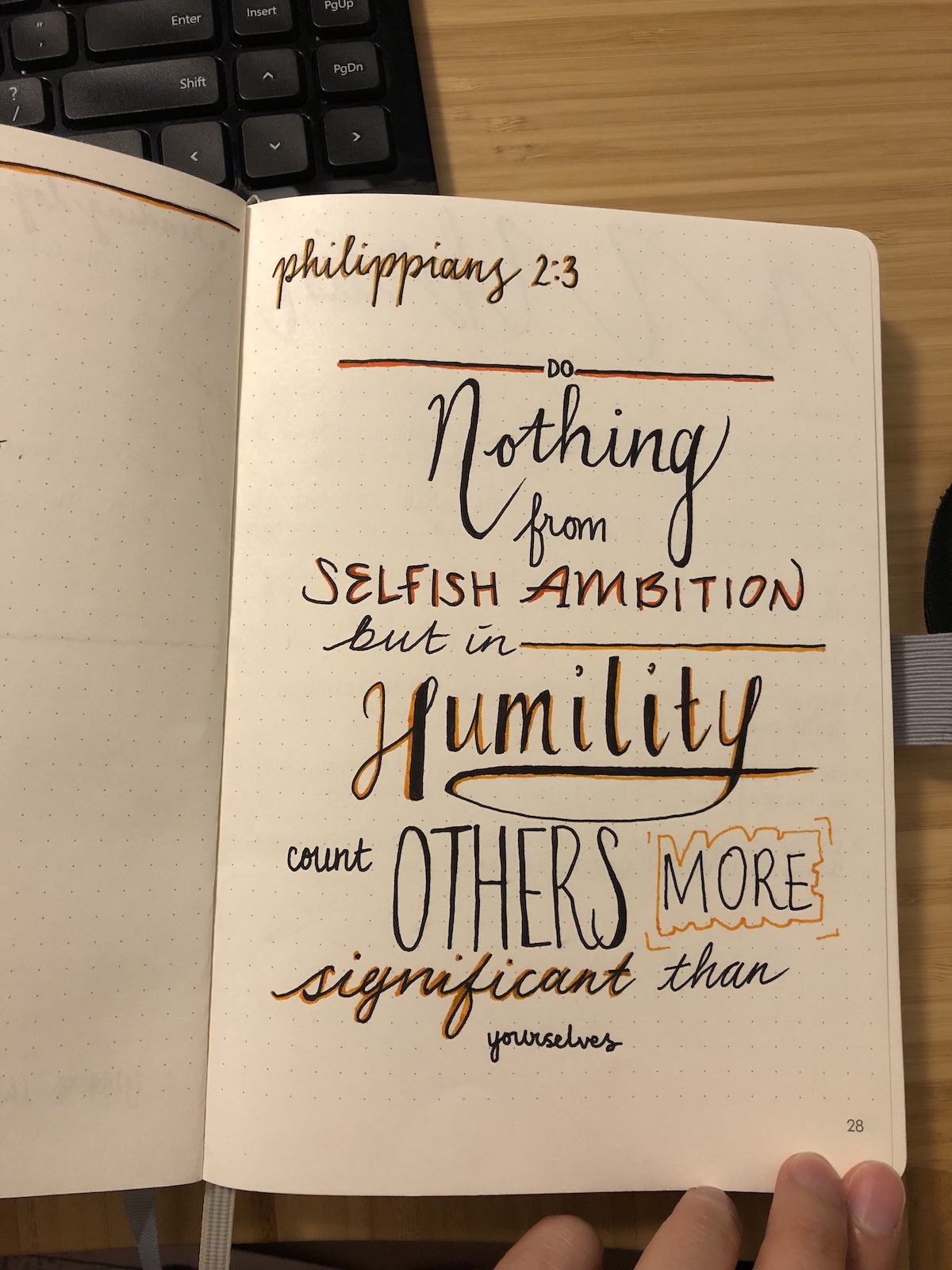 The whole of Philippians is something that I'm working on, but definitely this one is something I will need to continuously be reminded of and grow in. Humility is a lifelong learning process, but I thank God that it is He who works in me, both to will and to work for His good pleasure (Phil 2:13).
I am certain that He who began a good work in me will bring it to completion at the day of Jesus Christ (Phil 1:6) while I continue to work out my own salvation with fear and trembling (Phil 2:12)!
Muchos love,
Bobbie