Week 36 runs from Monday 31st August — Sunday 6th September, 2020.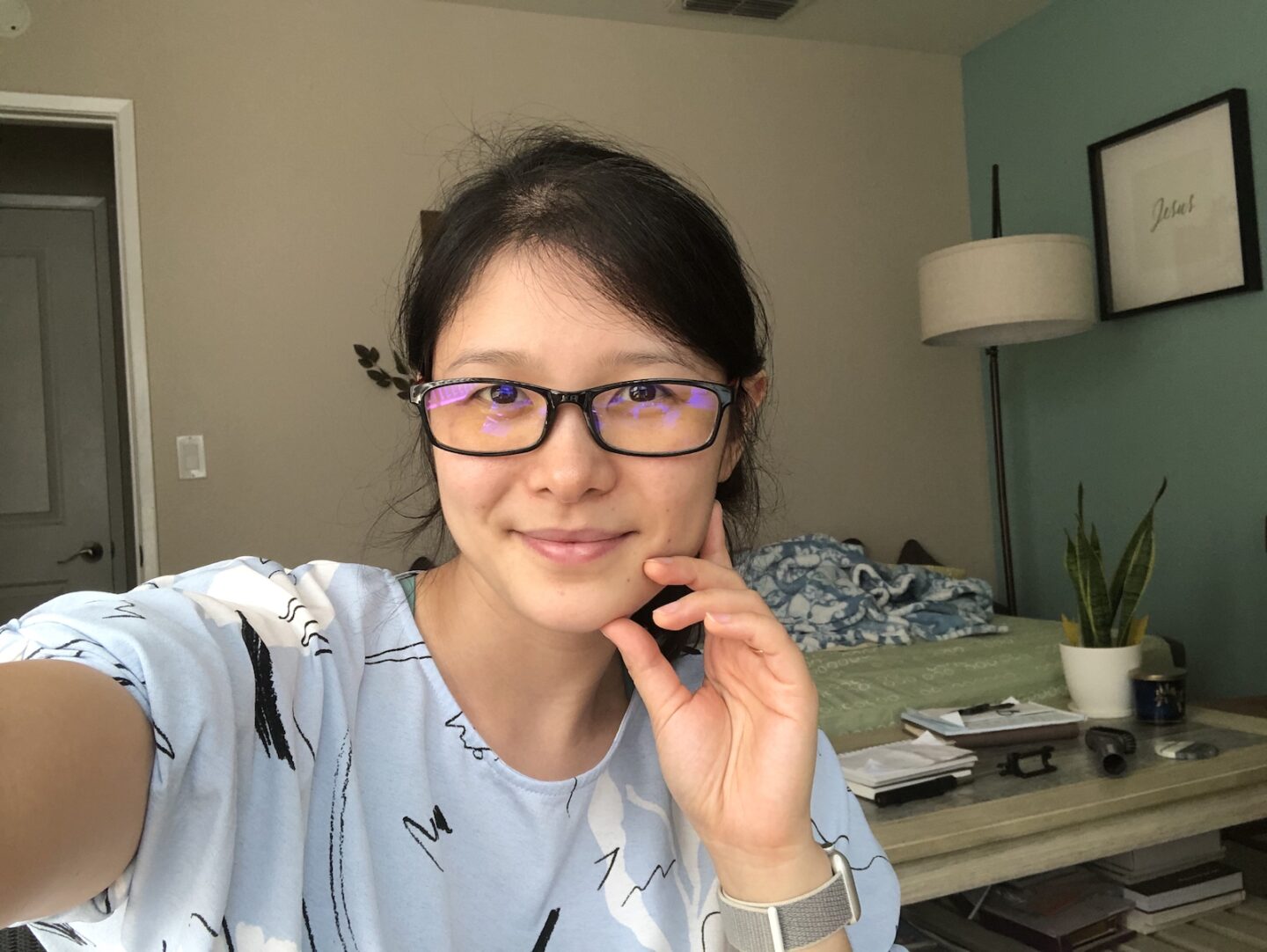 For more information on what, why and how I'm tracking everything, including my health & fitness goals, please click here. To skip to the end of week summary, please click here.
The Week in Fitness & Food
8/31 – Monday. Completed 11:21.
Videos completed: Natacha Oceane 10min Warm Up, Natacha Oceane 20min Full Body Workout, MadFit 15min Folklore Dance Workout, MadFit Ariana Grande 7 Rings Workout, MadFit 15min Stretch & Cooldown.
Today was really cool! I managed to get through the entire workout without taking breaks outside of the ones that were built in/letting the video play til completion. I have been recording myself to watch my form and um, looks like there's a lot to be desired at times. But for many of the movements, my form was really not bad at all.
I realised that my pushup form is actually poor. Despite how much it hurts and kills to get back up, it turns out watching my form in the mirror was one thing, but actually recording it to see how it looks is an entirely different beast. I will probably have to reset my pushup count, sigh.
I do think I was able to do one arm-in, knee pushup with good form though. Natacha's video has them built in, so I was able to watch back the footage and see how poorly I'd been doing.
I'm really glad I added in Natacha's 10min warm up to this set because (aside from no longer being weak from PMS) it really helped to prepare my body for her actual workout. She said in the video that she used the first movement as a workout, but she is 10 different levels of athlete above me, so my poor body definitely needed a proper warm up.
Flora was amazed I was able to keep going (to be honest, I was too) because she was really struggling, and her fitness level is typically way above mine. I also struggled hard the first time for Natacha's video because my body was just not used to moving that way (see last week Thursday).
But today, my body was more familiar with the movements so it was a matter of stamina. Flora wasn't feeling her best anyway so that probably made it harder. I imagine next time she does the video it will be no problem for her!
I didn't manage to sleep well last night unfortunately. Technically there were no sleep disruptions and I suppose the restful sleep figure is great, but I had vivid dreams that kept me from sleeping soundly. I was also in bed by 00:30 but I just could not sleep.
I kept trying to figure out what it could have been because I literally did not remember drinking any coffee in the afternoon, but then I realised it must have been the 2 diet cokes I had after our Costco run, one of which I had at like 9pm. Lesson learned.
Thus, I'm even more pleased that I managed to have a really good workout today! Yay for getting stronger. My average heart rate for Natacha's video was 148bpm, and for the two MadFit videos it was 162bpm! SO pleased with that because I think it means I am now able to go harder by maintaining that higher heart rate for a longer period of time.
I took the photo above just now. If I look healthy, it's because I really feel it too. Yay!
Sleep
Time
Wake
Time
Hrs
Slept
Restful
Sleep

Disruptions

Awoke Feeling

Weight
01:30
09:15
7hr 45min
4hr 20min
None
Groggy but decently rested
122.8lbs
---
9/1 – Tuesday. Completed 10:59 (videos), completed 13:46 (walk).
Videos completed: MadFit 5min Warm Up, MadFit 15min Ballet Abs Workout, MadFit 20min Lower Abs Workout, MadFit 5min Cool Down.
Video incomplete: MadFit 15min Love Handle & Muffin Top Workout.
Today is when I finally acknowledged that… I have no core strength. I have finally accepted that when I do ab videos, most of the time I am not actually engaging my core (because it's too weak) and am just making up for my weakness by using my leg / arm / butt / back / neck muscles instead.
I originally thought I could try doing 3 ab workout videos but by the end of the second video, my form was all over the place and it'd already been an hour since I started exercising. I would not have been able to handle a third.
I struggled through the Ballet Abs video but I did enjoy it. To be honest, I think the 20min Lower Ab video is still too advanced for me, and I think it would actually make more sense for me to just try to train abs on my own to build up some strength first (rather than following these videos) so I maaay switch to doing that at some point. Either way, I'm removing the 20min Lower Abs video from my playlist for now.
For now, I will stick to the 10min Beginner Lower Abs and the Ballet Abs video and try to improve on these videos first. In the afternoon I went for a nice walk and came home with donuts :p
Weight-wise, this looks to be the first Tuesday in a while where my weight hasn't gone up! So I guess my caloric intake yesterday was where it should have been for maintenance? I'm not sure. I did track my calories yesterday, but today it's mine and Jacky's 1st wedding anniversary so I won't really be tracking as we'll be going out for a nice meal this evening.
Sleep
Time
Wake
Time
Hrs
Slept
Restful
Sleep

Disruptions

Awoke Feeling

Weight
00:05
00:40
8hr 35min
6hr 10min
None
Well rested!
122.8lbs
---
9/2 – Wednesday. Rest.
I had planned to exercise today. Really, I had. It's just that after I woke up bright and early and my body just felt sluggish and really not up for it, I decided maybe it would be best to give myself a break. So, I rested today.
I did consider going for a walk in the afternoon, but I ended up so busy with my fellowships and cooking and recording for YouTube (reading 1 Timothy) then getting annoyed at my computer's internet connection (it's still being disrupted) that I just didn't.
I'm very glad I rested though. We had this for dinner: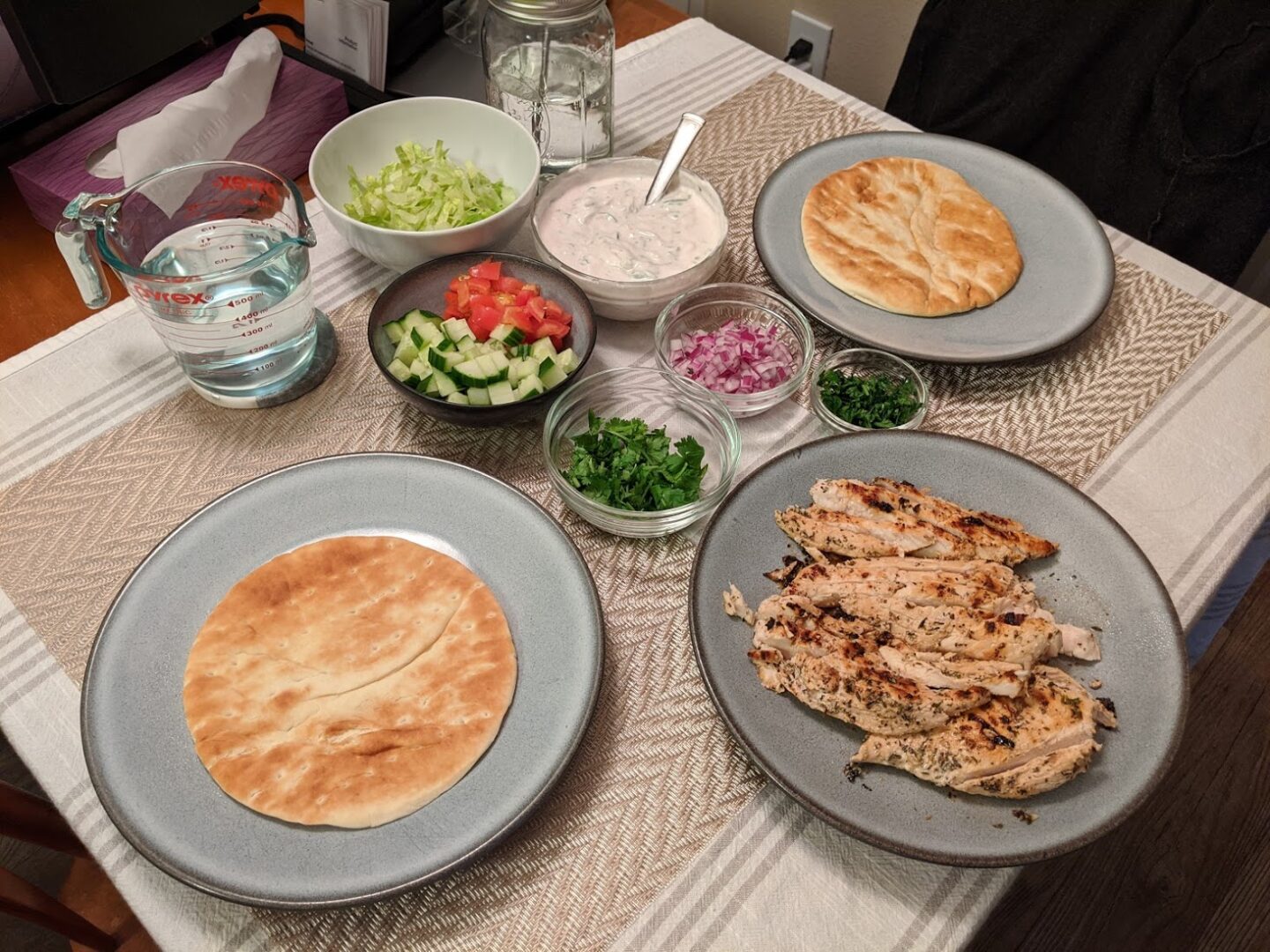 Jacky bought pita bread last time we went to Costco and I wanted to make something with it. I followed this recipe though I wanted more crunch in my tzatziki so just finely diced the cucumbers and mixed the ingredients rather than blitzing it.
Why yes, it did take me a long time to make, and yes, it was very tasty. I ate so much yesterday that I think my body was just not very hungry today though (probably also why my weight increased). I barely ate a third of mine before I gave the rest to Jacky. Don't worry, he did not mind that at all :P
Sleep
Time
Wake
Time
Hrs
Slept
Restful
Sleep

Disruptions

Awoke Feeling

Weight
23:45
08:20
8hr 35min
5hr 20min
None
Somewhat rested
124lbs
---
9/3 – Thursday. Completed 11:14.
Videos completed: Natacha Oceane 10min Warm Up, MadFit 15min Dancer Leg Sculpt Workout, MadFit 15min Leg/Butt/Thigh Workout, MadFit 15min Folklore Dance Workout (partial), Pamela Reif 15min Daily Stretch.
Videos incomplete: MadFit Ariana Grande 7 Rings Workout.
I was very optimistic (to say the least) when I tried to do 50min of legs + 25min stretching today, especially when I was unfamiliar with the 2 leg workout videos that I chose to do today. The second video was extra challenging because there were no breaks!
I enjoyed her new dancer sculpt leg workout and I liked it paired with the leg/butt/thigh workout video too. The dancer workout was more cardio and the other was very much strength. I couldn't do the jumps at the end of the dancer video so I did some additional tip-toe wide squats instead.
The second video was where I felt vast improvement because I was finally able to do single leg glute bridges on my left leg. My left side is typically my weaker side and previously I have used other stronger muscles around my glutes to compensate for my lack of strength, or I just can barely lift my hips half way up.
I went into today with the mindset that I wanted to focus on engaging the right muscles, even if I can only do 5 reps in 45 seconds. My body finally figured out what muscles to use and I was able to engage my left leg and glute properly, for the first time ever. I also felt like my left side got stronger because I was able to actually lift my hips up properly in the second round.
That said, it did mean that when I attempted my usual Folklore dance video I just could not past the first 2-3mins. My left leg was quivering so I stopped and just did a cool down video instead. I know I worked my legs hard today and I was definitely able to see improvement in my strength; I'm so happy about that!
My weight went back down to 122lbs, probably because I didn't overeat yesterday. (Side note: I was very pleased — and impressed — when I realised that the new scales we bought from Amazon were accurate; I tested them by weighing one of my half-filled oxo containers on a kitchen scale, and then weighing it on the bathroom scale and it showed the same weight at 0.8lbs.)
I slept decently well last night, though I slept late because I was trying to fix internet issues on my laptop and then got distracted thereafter. It did make me feel a little tired in the morning and kind of not want to exercise again, but discipline kicked in and I exercised anyway.
I'm glad I did; that feels like a win on both a physical and mental and spiritual point! I have issues with self-discipline, so being able to decide to exercise regardless of not feeling up for it — and having a really good workout too — was highly encouraging.
Sleep
Time
Wake
Time
Hrs
Slept
Restful
Sleep

Disruptions

Awoke Feeling

Weight
01:05
08:30
7hr 25min
4hr 15min
None
Somewhat rested
122lbs
---
9/4 – Friday. Completed 18:34.
Whatever it was that I did yesterday, I was feeling it today. I was originally planning to work on my abs today but I was tired from sleeping late last night and my lower abs were quite sore this morning. I think it's probably because I actually worked hard on tightening my core during the workout yesterday and could feel my lower abs working as I worked on my legs and glutes.
As a result, I ended up not doing any videos today. However, I did walk/jog/power walk for 1.5miles in about 27min. The actual time probably would have been faster had I not been stuck at a pedestrian crossing for a good 2-3min and forgotten to pause my 'workout'.
I am still very pleased with my average walking pace of 15:08/mile for the second half of my journey! (The first half was only 18min/mile due to being stuck at multiple red lights in the city centre.) I semi-power walked, but it was only marginally slower than some of my previous outdoor runs (at my best I was running at a pace of 12-13min/mile when I was exercising to lose weight for my wedding).
Today I felt my walking pace was fast but fair, and I was not out of breath from it either; it felt quite comfortable for me. Had I not already reached my destination, I think I definitely could have kept walking for another 30min. It's a strong improvement on my previous best of about 17-18/mile.
I did try jogging very briefly because I felt like I had begun walking so fast, I may as well jog. However, I probably tried to go too fast and my body wasn't ready for it. I was only able to jog for 2min 30sec before I felt a bit out of breath and needed to go back to walking.
I did not need my inhaler at all, though I brought it along just in case. I'm really, really happy with how much stronger I feel I've become! I almost didn't go out to walk today but at the last minute I decided I wanted bubble tea, so I walked to the boba shop half way between home and Jacky's work so we could meet there after he finished work and drive home together. It was such a fun walk for me and I totally look forward to doing it again.
Weight-wise, I did think my weight would drop a bit more today but I was not expecting it to have dropped that much. It doesn't worry me because if I consider it relative to the week before my period bloat, it's not a large enough drop to be concerned. I haven't seen my weight so low in a long time so that was a pleasant surprise.
I've not been counting my calories tbh, and I have more or less eaten what I wanted, but I have been eating more intuitively: instead of eating til I'm full, I've been eating until I'm no longer hungry. That sometimes means I'm done being 'not hungry' in like 3 bites, but then I eat a little more when I'm hungry again 2-3hrs later.
If anything, it's just proven to me how little I actually need to eat and how much I've been overeating before. I've been balancing deliciously healthy, low calorie-dense meals with junk snacks haha. It's only been a couple of days since I've started trying this so the scale may change again tomorrow, but we'll see!
Sleep
Time
Wake
Time
Hrs
Slept
Restful
Sleep

Disruptions

Awoke Feeling

Weight
01:05
08:50
7hr 45min
5hr 20min
None
Somewhat rested
121.2lbs
---
9/5 – Saturday. Completed 14:37.
Videos completed: Natacha Oceane 10min Warm Up, MadFit 15min Dancer Leg Sculpt Workout, MadFit 15min Leg/Butt/Thigh Workout, MadFit 10min Beginner Lower Abs, MadFit 15min Full Body Stretch & Cool Down.
My Sleep app didn't register the 3x I opened my eyes in the middle of the night last night so I'll keep my disruptions as "none" but I definitely did get woken up by Jacky coming in after I'd fallen asleep, as well as waking up a couple more times to adjust the blankets.
I felt a bit tired and hungry in the morning so we had breakfast before I decided to exercise. I really loved my workout today! I wanted to challenge myself to do the same two leg videos from the day before plus a lower ab video because I felt like my lower abs were being worked well already, why not try adding the beginner lower ab video that I previously enjoyed as well.
I felt so much stronger today! I was able to do all 3 videos and actually keep my core engaged throughout most of the workout. That's definitely a first for me, because looking at previous footage of my workouts, my belly was kinda just… hanging out. Today I had decent form throughout and could see my body working hard.
I wasn't able to keep up with Maddie and had to take a couple of extra breaks, but I thoroughly enjoyed this set of videos and definitely plan to do them again. I love the intensity and I know it still gave me a great workout; I was still struggling and my legs were still trembling a little when I went to wash my sweat cloth after heh heh.
It's possible that it also felt easier because I had less body weight to lift. This morning I dropped below 121lbs for the first time in… well, I don't remember the last time my weight was this low actually, but I'm pretty certain I didn't have the strength I have now back then!
My average weight for the week is back to 122lbs, which is the same as 2 weeks ago :)
Sleep
Time
Wake
Time
Hrs
Slept
Restful
Sleep

Disruptions

Awoke Feeling

Weight
01:10
09:30
8hr 20min
4hr 35min
None
Somewhat rested
120.8lbs
---
9/6 – Sunday. Rest.
Today is so. unbelievably. hot. It's a max of 45°C (113°F). Even indoors it's 35°C (95°F). I was planning to take a rest day today anyway but yep the heat just solidifies my need to sit on my butt and do nothing today. Well, maybe not nothing; I have still been eating and drinking haha.
Last night we slept with just a sheet because it was way too hot to use any form of blanket. Reminds me of the times I spent summer in China; apparently it's been hotter in NorCal than it has been in Beijing. Meanwhile, UK has had a lovely warm summer. Not saying I'm jealous or anything, but…
I first 'woke up' at 7:30am, checked the time and went back to sleep. Then I woke up naturally at 8:30am and we got up for church. I think I slept okay, but given that I woke up naturally (usually a sign that I'd slept enough), I was surprised how tired I felt during service.
It might just be that I'm not used to getting up that 'early' or having my brain function before 10am again. Perhaps I need to re-do my waking up early challenge heh heh.
Weight-wise, I'm back up a little, which is to be expected! Weight fluctuates so much, after all. It's still lower than 2 weeks ago, and I think I should probably upload some updated photos too. I will try take some photos tomorrow morning and update this post again.
Sleep
Time
Wake
Time
Hrs
Slept
Restful
Sleep

Disruptions

Awoke Feeling

Weight
00:40
08:30
7hr 45min
4hr 30min
1x
Somewhat rested but still sleepy
122.4lbs
---
End of Week Summary
Days Exercised: 5
Pushup Count: 10 elbows-out knee pushups, 1 elbows-in knee pushups.
Median Weight (Tues – Sat): 122lbs
Weight Change (if any): -1.2lbs
Days Slept 7.5hrs+: 6
Days Slept Before Midnight: 1-2
Workout Summary
I thoroughly enjoyed my workouts this week! I felt stronger, I felt muscles being engaged that I never knew existed. I finally have muscles there to actually engage… haha. I was able to engage my core in a way I never have before.
I also just really enjoyed the videos I did this week. They were the perfect level of challenging for where I'm currently at; they pushed me to work harder, but did not push me so hard that I despaired.
Excited to do more next week!
Weight Summary
My median weight this week dropped back down to my median weight 2 weeks ago, and my lowest weight fell 0.6lbs below my lowest weight 2 weeks ago. That's super encouraging to me!
I am glad I am not losing weight too quickly, but am also glad I am still trending down.
Diet Summary
This week I typically ate what I wanted but aimed to lose weight whilst eating intuitively by stopping when I was no longer hungry. In principle this works well, but in practice, there were definitely times I got frustrated that I was no longer hungry so quickly so I kept eating until I was full.
I did try to eat very balanced, healthy meals though! They were pretty much all homemade with lots of veggies and healthy fats. I also snacked whenever I wanted to but balanced my snacks between chocolate and fruit.
I started drinking diet coke this week; the carbonation actually causes my stomach to feel more full on 0 calories so I guess that's helped too? I think it'd be interesting to share what I eat on a random day next week so I'll try to do a what I eat in a day post soon.
Sleep Summary
I was originally going to say that it's really interesting to see how my restful sleep is affected depending on whether or not I sleep before midnight comparing 8/31 and 9/6. However, then I saw I slept the same time on 7/4, sleeping at 1am actually allowed me to have even longer restful sleep. Go figure!
I'm not sure that's to say I should therefore keep sleeping around 1am though, because it's not like I had more restful sleep on the other nights I slept at 1am either. Plus, given that I'd had so much restful sleep, it's strange that I didn't wake up feeling fully rested.
One thing is for sure: it doesn't look like my sleep has an impact on my weight loss after all. I'm sure if I cut my sleep down to 4-5hrs/night then it certainly would, but even when I had been tracking my sleep and not losing weight before, I was still sleeping at least 7hrs/night for the most part.
Looks like I was definitely trying to overcomplicate or make excuses for my lack of weight loss when it really was just a matter of calories in, calories out. Sleep wise, 7.5-8.5hrs/night is definitely a sweet spot for me so I'll still be aiming for that.

Date
Sleep
Time
Wake
Time
Hrs
Slept
Restful
Sleep

Disruptions

Awoke Feeling

Weight
8/31
01:30
09:15
7hr 45min
4hr 20min
None
Groggy but decently rested
122.8lbs
9/1
00:05
00:40
8hr 35min
6hr 10min
None
Well rested!
122.8lbs
9/2
23:45
08:20
8hr 35min
5hr 20min
None
Somewhat rested
124lbs
9/3
01:05
08:30
7hr 25min
4hr 15min
None
Somewhat rested
122lbs
9/4
01:05
08:50
7hr 45min
5hr 20min
None
Somewhat rested
121.2lbs
9/5
01:10
09:30
8hr 20min
4hr 35min
None
Somewhat rested
120.8lbs
9/6
00:40
08:30
7hr 45min
4hr 30min
1x
Somewhat rested but still sleepy
122.4lbs
Muchos love,
Bobbie