Week 41 runs from Monday 5th October — Sunday 11th October, 2020.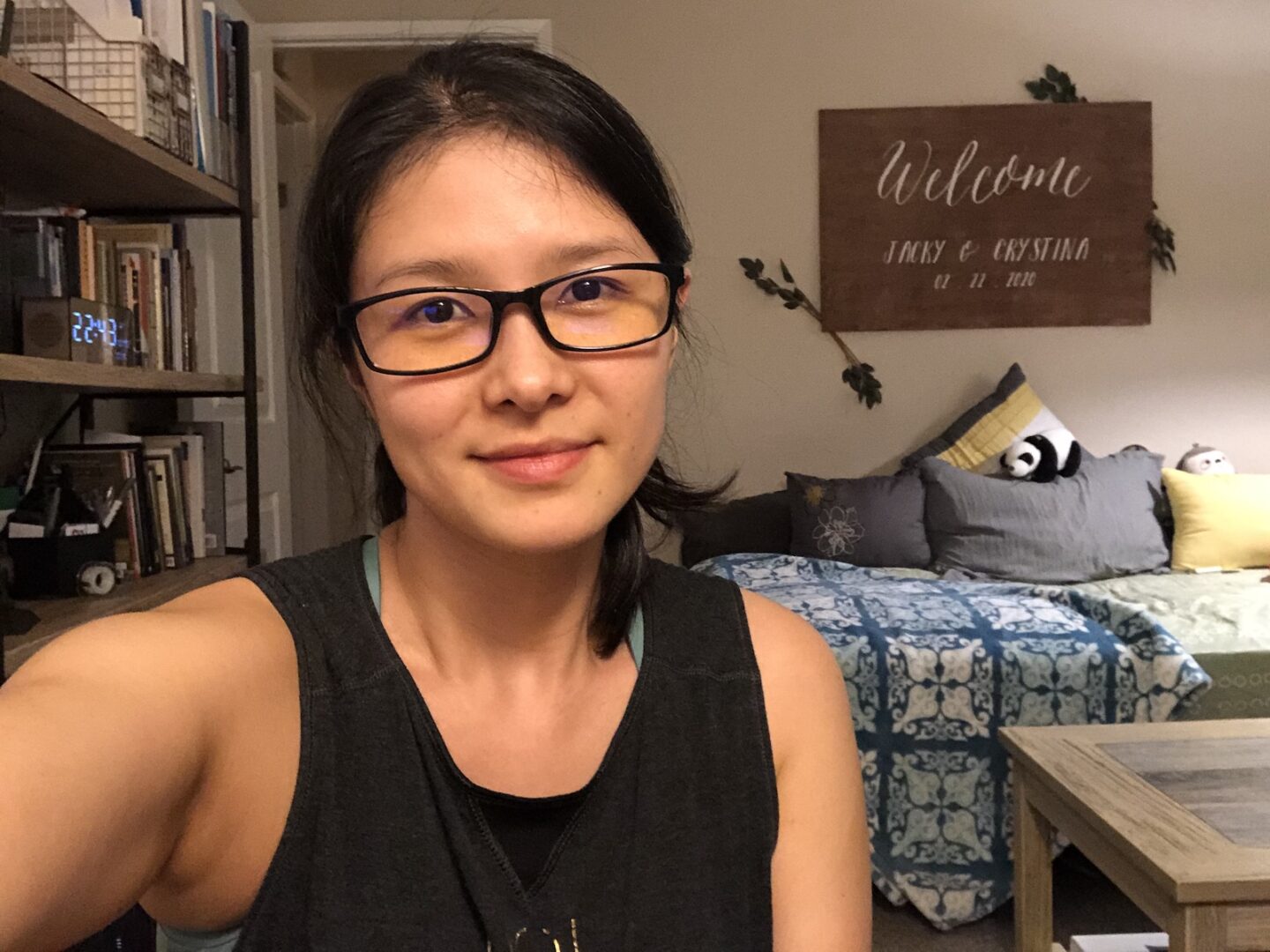 For more information on what, why and how I'm tracking everything, including my health & fitness goals, please click here. To skip to the end of week summary, please click here.
The Week in Fitness & Food
10/5 – Monday. Cleaned apt.
I'm not sure what is up with my sleep app but it's still acting up. I managed to get some of the data from my Watch app before my phone app, once again, wiped all the data clean. I slept decently last night and awoke feeling decently rested too.
Today I had plans to clean the entire apt, which is something we'd been putting off for a while, so I did just that. Cleaned, vacuumed, tidied, did a load of laundry and the dishes too. Not quite a workout, but still moderate 'cardio' to a degree. I worked up a sweat anyway.
I had a greek yoghurt bowl for breakfast, a bowl of jajangmyeon from the Korean place we went to on Saturday for lunch, a scallion and egg pancake as an afternoon snack, then for dinner we ordered a feast from our favourite local Burmese restaurant. I plan to blog about that! But needless to say, I ate quite a lot today lol.
I feel a bit thrown off my diet this week, I think it's because we've sort of run out of wrap ingredients and I haven't really been craving wraps the past few days. I hope my weight will be around the same tomorrow, but I am expecting it to increase a little.
I'm really pleased I went back down to 120.4lbs today though :) I hope and expect to drop below 120lbs this week!
Sleep
Time
Wake
Time
Hrs
Slept
Restful
Sleep

Disruptions

Awoke Feeling

Weight
00:40
08:35
7hr 55min
5hr 25min
None
Decently rested
120.4lbs
10/6 – Tuesday. Completed 10:25.
Videos completed: Natacha Oceane 10min Warm Up, MadFit 10min Toned Arms, MadFit 10min Beginner Lower Abs, MadFit 5min Cool Down.
Today was a rare day where I actually worked out in the morning again! We ate a lot last night and so I wasn't hungry this morning, plus I felt decently rested despite waking up with a mild headache. Thankfully, the headache disappeared shortly after. All in all, finally everything aligned and I exercised again.
I went fairly easy today because it's been over a week since I last did these videos. I didn't sweat much but I definitely felt my arms and abs working whilst I was doing the movements, though they recovered fairly quickly afterwards. Doing Natacha's warm up helped significantly to prepare my body for the workout, I think.
We had a coffee in the morning (neither of us were particularly hungry) and ate some of last night's takeout leftovers for lunch (there's still another portion left, which Jacky is going to take to work for lunch tomorrow). The food, whilst absolutely delicious, is also covered with oil. It made me feel a bit heavy afterwards and I just wanted a big fat salad. So dinner is going to be a wrap and an apple.
Weight-wise, I weighed in at 121.4lbs after an unsatisfactory morning bathroom sesh. Then after my coffee and a lot of water due to the workout, I went to the bathroom again. I usually weigh in higher after drinking coffee/water regardless of a bathroom break, but this morning my second weigh in ended up at 121.2lbs haha. So I'll go with that figure.
I'm absolutely not surprised that it's higher given the amount of oil we must have ingested with last night's dinner. But sooo worth it.
Sleep
Time
Wake
Time
Hrs
Slept
Restful
Sleep

Disruptions

Awoke Feeling

Weight
01:00
08:30
7hr 30min
5hr 45min
None
Decently rested
121.2lbs
---
10/7 – Wednesday. Rest.
[Written on Thursday!] I hadn't intended to start the day off by resting, but I ended up so busy that I didn't actually have time to exercise. In fact, I had so much going on that I didn't even get to writing this update on Wednesday.
I definitely appreciated the change of pace and having a lot to do though. I ended up having a gigantic brunch that was full of protein with some healthy fats and less healthy carbs that kept me full until dinner haha. Veggie burger, veggie sausages, scrambled egg + egg whites, hash brown, spinach and a blob of ketchup for extra flavour: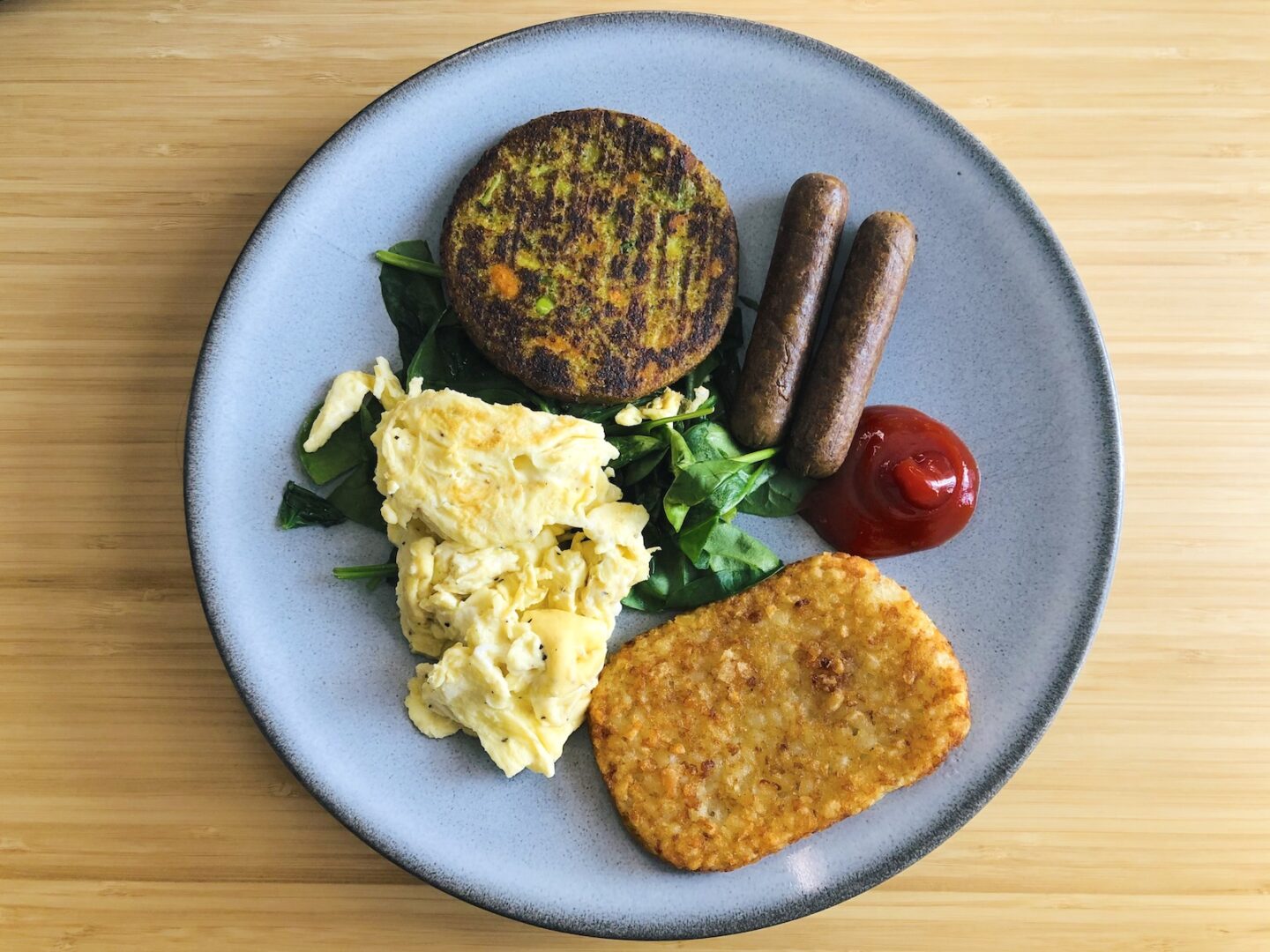 I ate some brioche, a protein bar, and leftover lamb and potato curry with rice for dinner. Throughout the day, I drank a lot of water. Like, a lot. Because I did a lot of talking so my throat went a bit hoarse at one point. Oh yes, I just remembered I also ate a throat lozenge in the evening and had coffee with some creamer in the morning. Maybe there was more but I don't remember.
Why is this even a thing? Well, it's mostly related to my weight the next day. I definitely ate normally and ate whatever I wanted, though I tried to increase my protein intake in the morning. I love the veggie burger and veggie sausages in general and it was really filling for me so I definitely intend to eat it again at some point.
Sleep-wise, my sleep app is so messed up and I forgot to take photos of what it showed yesterday morning. Today it says I only slept 3hrs yesterday, so I pulled some numbers from Apple's new generic Sleep app, which looks to be fairly accurate. It just doesn't have as much data as my regular sleep app but it'll do.
Sleep
Time
Wake
Time
Hrs
Slept
Restful
Sleep

Disruptions

Awoke Feeling

Weight
01:15
09:10
7hr 55min
??
??
Decently rested
121.0lbs
---
10/8 – Thursday. Completed 18:35.
I was barely able to wake up this morning. By the time I finally felt like I'd slept enough to get up, Jacky had to leave for work already :( Ah well. I needed the sleep, I guess. I woke up feeling fairly well rested this morning, thank God! Yay.
I wasn't keeping a close eye on what I ate yesterday because I was so busy, but I made the effort to remember what I ate so I could write it down (it helped that I was so pleased with my brunch I took a photo and sent it to Jacky) because this happened: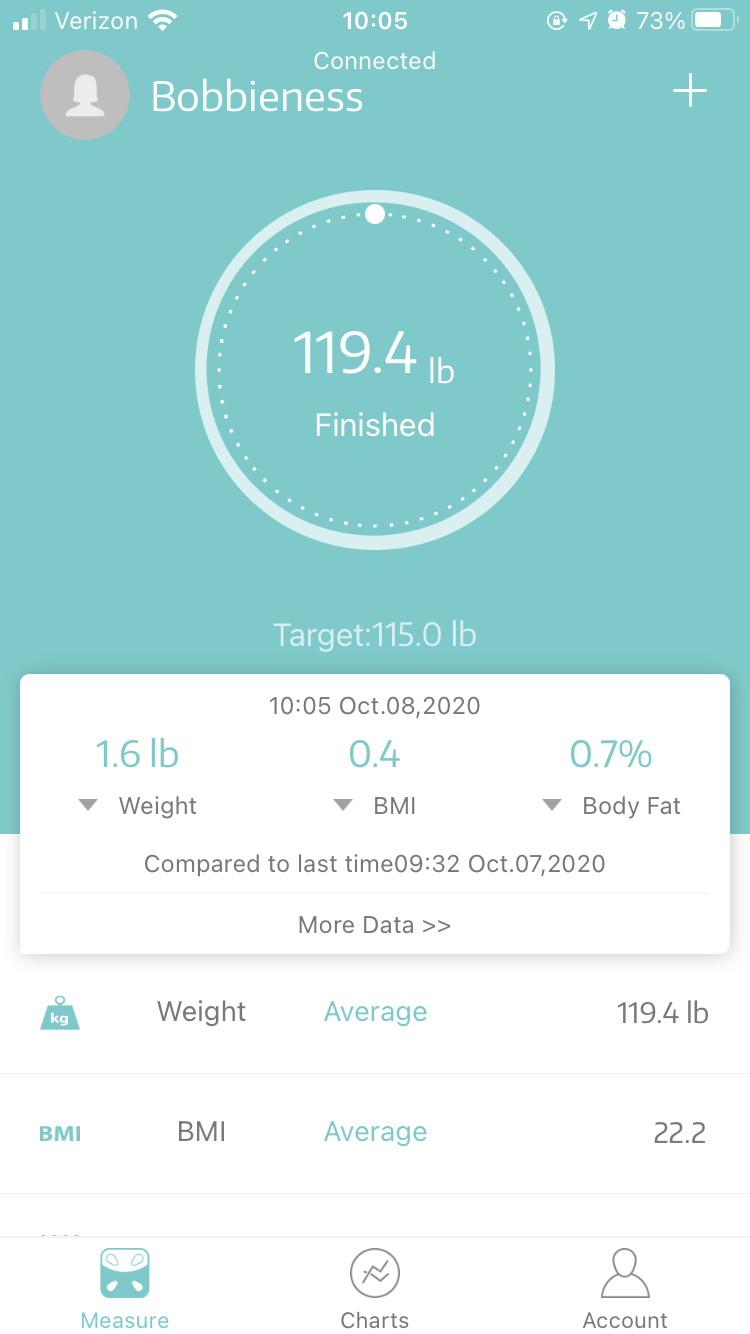 I mean… I was expecting to drop a little below 120lbs but not this extreme. Though, it did help that I had a very good bathroom sesh this morning. I almost anticipate my weight increasing a bit for the rest of this week but we'll see what happens.
I found this very interesting video this week that spoke about a study on diet breaks (eating at maintenance) during dieting. The study compared 2 groups of people who dieted for 16 weeks – 1 group dieted the entire time and another dieted for 2 weeks followed by 2 weeks of eating at maintenance.
The diet break group took longer to complete their diet due to the breaks, but at the end of the study, they found that the diet break group ended up losing more fat, retaining more lean body mass, kept off more body fat after the diet was over, and experienced less slowing of their BMR. As such, it's possible that I'm experiencing that because I have sort of inadvertently dieted and then done diet breaks. I've felt hungrier on some weeks (shark week, ehhem) so have eaten more, yet my weight loss on diet weeks doesn't seem to have slowed. There's a lot more detail on the video so definitely recommend having a watch.
The video linked above is a bit old, but here's a newer video by the same trainer that still talks about diet breaks. I really appreciate him saying that the more weight you lose, the more it could benefit you to do diet breaks more frequently. I've been eating intuitively and I realised the more weight that I've lost, I'm finding myself hungrier more frequently than when I first started dieting.
Either way, slow and steady wins the race, methinks! I'm actually really surprised at how quickly I seem to be losing the weight now – I honestly did not expect to see 119 on the scale already, though I suppose it's already been… 7-8 weeks since I started? It looks like I may hit my 115lb target in 8 weeks' time. Then I'll start buying some new clothes hahaha.
In terms of workouts today, I didn't do much except go for a short walk in the evening. I only walked for about 20min, and I wasn't really able to go hard. I averaged a 17'31″/mile. I think some of my iron deficiency symptoms are coming back – the waking up with headaches, the fatigue, and today, the tingling pain inside my legs came back moderately hard.
During my last walk, I could feel the tingling inside of my legs very faintly and didn't think much of it. Unfortunately, today, it got so bad that I had to stop walking and wait for Jacky to pick me up. I'm going to try and get more iron in my diet to see if that helps, and if it doesn't, I'll make another appointment with my doctor.
In other news, I took a look at Chloe's most recent workout challenge ("Get Peachy Challenge") and I am actually very interested. It looks like she's learned a lot about fitness just from the way that she's put together her new challenge, especially since her new challenge is in collaboration with Bret Contreras.
So today I went to Target and got some dumbbells, as well as purchased a set of resistance bands on Amazon (they should be arriving on Sunday) and I will be trying out her Get Peachy Challenge from Monday! I've been moving towards more reps-based workouts and almost all of the videos on this new challenge are reps-based. Her form seems to have improved quite a bit as well. It's like she read my mind. Not that she'll ever read this, but amazing job, Chloe!
For dinner we had Indian food from our favourite local Indian restaurant. I definitely ate too much… but it was sooo good!
Sleep
Time
Wake
Time
Hrs
Slept
Restful
Sleep

Disruptions

Awoke Feeling

Weight
01:20
09:40
8hr 20min
5hr 25min
None
Well rested
119.4lbs
---
10/9 – Friday. Completed 14:46.
I had a few errands to run and so ended up making a nice outdoor walk of it. To my surprise, my Apple Watch did save this 'workout' though it didn't save my previous one. Anyways, I'm glad I finally have it stored even though some of the data is missing.
I took it easy and didn't walk harder than last time – my average pace was 21min/mile but I was able to walk for an hour whilst running my errands (post office, grocery shop and I also went to our local donut place and got donuts, which we haven't had in a couple of months). Part of the walk also included carrying almost 25lbs worth of groceries home haha. I didn't feel the pain in my legs this time and I wonder if it's because I increased my red meat (iron) intake recently?
Anyways, my weight more or less stayed the same, which I'm kinda expecting for tomorrow as well. I got home so late from running the errands I basically had one giant protein-filled meal and then didn't eat again until much later.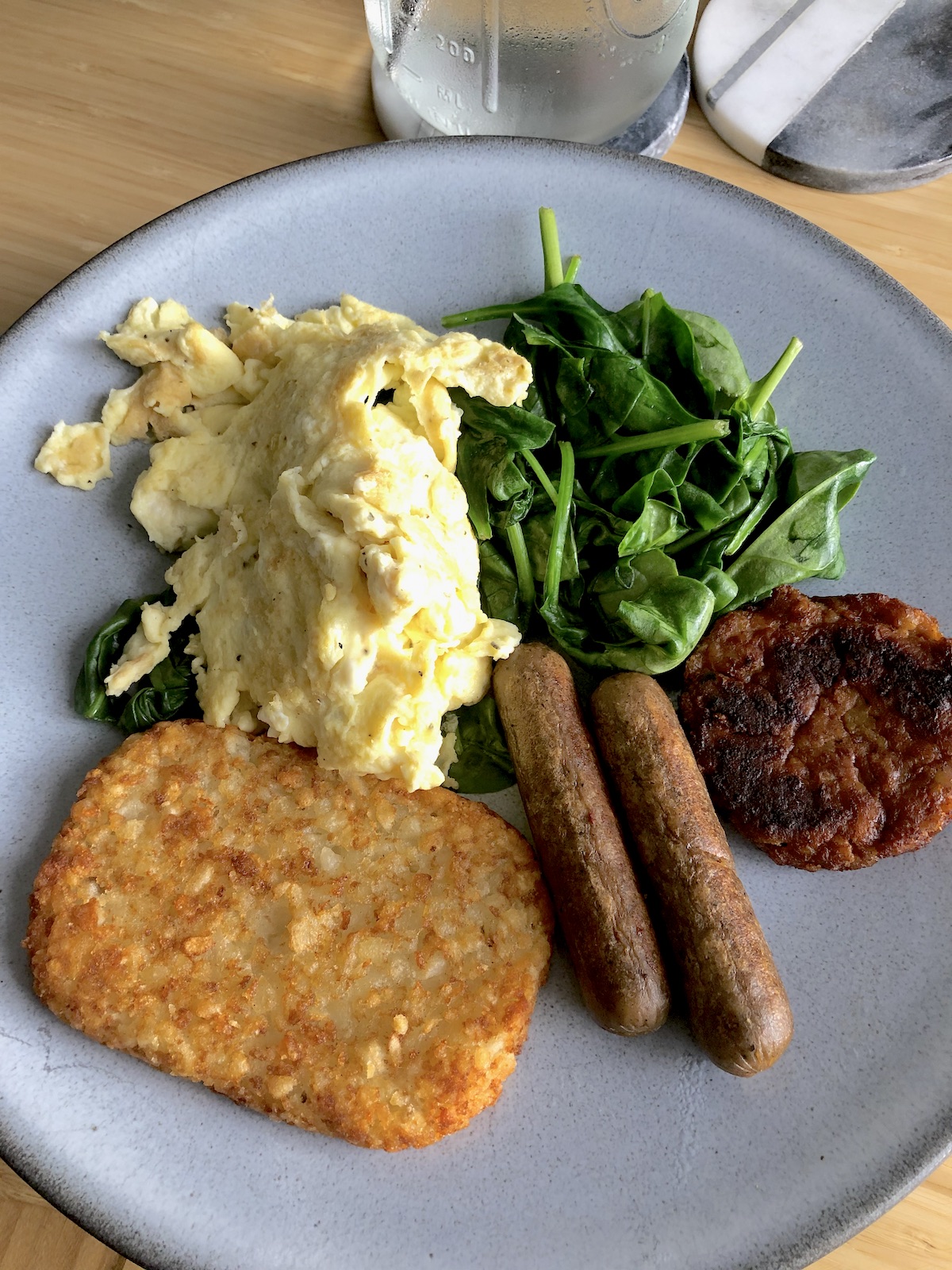 Veggie sausage, veggie breakfast patty, 1 egg + extra egg whites, spinach, hash brown
I also ate 2 chocolate donuts, 0.5 glazed donut plus a couple of donut holes, 2 tangerines, a protein bar and another veggie breakfast patty with savoury 'french toast' spread throughout the afternoon/evening when I got hungry.
I slept really late the night before but woke up at 9ish thanks to my alarm and couldn't get back to sleep, so I was drifting in and out of tiredness the entire day. I loved my walk though; temperatures have finally dropped this week and it was the perfect mix of warm with a cool breeze outside.
Sleep
Time
Wake
Time
Hrs
Slept
Restful
Sleep

Disruptions

Awoke Feeling

Weight
03:05
09:00
5hr 55min
3hr 5min
None
Somewhat rested but pretty tired
119.6lbs
---
10/10 – Saturday. Rest.
I've learned to save my sleep data before my SleepWatch app destroys it haha, so all the data is in. I slept late again last night and was not able to wake up early this morning. My alarm woke me up at 8:30 (hence the 1x disruption) and I immediately regretted that I set a daily alarm for 8:30am. I've turned it off now haha.
Weight-wise I am still the same, and my median weight for the week is in :) Looks like according to my Tues – Sat median weight, I have lost another 1.2lbs this week. I am focusing on getting enough micronutrients in my diet these days so I may need to start eating at maintenance for a while soon, but we'll see how hungry I feel.
We had a bit of a packed day so I ended up not doing any exercise.
Sleep
Time
Wake
Time
Hrs
Slept
Restful
Sleep

Disruptions

Awoke Feeling

Weight
01:20
10:30
9hr 5min
6hr 35min
1x
Well rested
119.6lbs
---
10/11 – Sunday. Rest.
Today was another non-exercise day though we did finally go to the Chinese grocery shop for the first time in like 6mo. I have still been pretty tired all day and ended up taking a nap after lunch.
Food-wise I ate exceptionally well (read: maybe a bit too much haha). For breakfast I had an oat milk latte plus a greek yoghurt bowl with chia seeds, flax seeds and a golden kiwi. Lunch was baked potato with vegan butter (basically oil lol) and tuna mayo topping (I needed the protein!)
For dinner, I made the simplest yet yummiest century egg with silken tofu side-dish and some gourmet instant noodles where I made a pack of Sichuan spicy instant noodle on the stove and put some fish balls, fish tofu, egg and bok choy in it. These were new noodles we hadn't tried before, but I wanted to give it a go because it looked yummy and they were on sale. The instant noodle packet contained enough flavourings that I didn't need anything else, and it tasted amazing to me. Because I added more water to accommodate all the other ingredients, the spice level was mildly diluted and it was the perfect amount of kick for me.
Quick recipe for that side dish in case I forget: 1 pack of silken tofu, 2 century eggs, 1 clove garlic diced, 1 green onion sliced, some soy sauce, some sesame oil, pepper. Put silken tofu on a plate, slice it then sort of fan out the slices a little. Cut up 2 century eggs and scatter the pieces over the tofu. In a separate small bowl, mix the garlic, green onion, pepper, soy sauce and sesame oil together. Pour sauce mix over the egg and tofu – voila. SO tasty. My soy sauce was already salty so I didn't add salt. Also, I kinda just… eyeballed it but I'm guessing it was about 1 Tbsp soy sauce and 1 Tbsp sesame oil.
I was very stuffed afterwards, but I also wanted some Cinnabon that I'd had in the freezer for over a month now… so I rested my stomach for an hour or so and had half a Cinnabon too. Mmmmm. Unfortunately taking photos of my food was not on my mind when I'd tasted the dishes as I cooked and could not wait to start eating them haha. But maybe next time :p
I didn't exercise very much this week either so I'm looking forward to trying Chloe Ting's new workout challenge starting tomorrow!
Sleep
Time
Wake
Time
Hrs
Slept
Restful
Sleep

Disruptions

Awoke Feeling

Weight
01:30
08:35
7hr 5min
4hr 45min
None
Somewhat rested
119.0lbs
---
End of Week Summary
Days Exercised:
Pushup Count:
Median Weight (Tues – Sat): 119.6lbs
Weight Change (if any): -1.2lbs
Days Slept 7.5hrs+: 5
Days Slept Before Midnight: 0
Workout Summary
Weight Summary
Diet Summary
Sleep Summary

Date
Sleep
Time
Wake
Time
Hrs
Slept
Restful
Sleep

Disruptions

Awoke Feeling

Weight
10/5
00:40
08:35
7hr 55min
5hr 25min
None
Decently rested
120.4lbs
10/6
01:00
08:30
7hr 30min
5hr 45min
None
Decently rested
121.2lbs
10/7
01:15
09:10
7hr 55min
??
??
Decently rested
121.0lbs
10/8
01:20
09:40
8hr 20min
5hr 25min
None
Well rested
119.4lbs
10/9
03:05
09:00
5hr 55min
3hr 5min
None
Somewhat rested
but pretty tired
119.6lbs
10/10
01:20
10:30
9hr 5min
6hr 35min
1x
Well rested
119.6lbs
10/11
01:30
08:35
7hr 5min
4hr 45min
None
Somewhat rested
119.0lbs
Muchos love,
Bobbie