Last month was Amazon Prime Day and if you were browsing my blog in the past few weeks you may have noticed I had a little widget on the side of my blog showing some workout clothes I purchased that day.
It's now been a month and I think I can finally provide a solid review — at least for one of the products. Out of all the sets I purchased, I decided to keep only one thing: these Lululemon Dupe yoga pants.
In case you're interested in a set of Gymshark or Lululemon dupes, please do read on because I can at least give you my thoughts on all of these items I purchased, and the reasons I decided to return most of them.
It's Black Friday today so many of these items are back on sale or even cheaper than when I'd purchased them. So here's my quick summary of why I kept (or didn't keep) the following items:
1. OLCHEE Crop Top Yoga Activewear Set in "E: Pink and Grey", size 2-4 – Returned.
I bought the crop top & shorts set and intended to mix and match this with another pink/grey Gymshark dupe set (see below), but the material was slightly different and the colours were slightly off. This wouldn't have been a dealbreaker had it not been for poor fit as well.
This set didn't fit me well. I have thicker upper thighs, and the elastic around the bottom of the shorts is fairly tight. The shorts aren't long enough to reach down to my slimmer lower thighs, meaning the elastic pinched in the fat on my upper thighs and made it look incredibly unflattering. The bra fit okay-ish, but I felt like it was a little large on me around the ribcage area. I didn't really like it enough to keep, and especially not given the ill-fitting shorts.
2. JOYMODE Crop Top Yoga Leggings Set in "Pink", size 2-4 – Returned.
This was the set that I thought would be good to mix and match with. Unfortunately, you may be able to tell from the photos that this grey is lighter. The slight colour difference wouldn't really be enough to bother me, but the issue with these was that the pink on this set is fairly close to skin colour.
This set is squat proof, but the pink colour actually runs through the entire fabric, especially on the lower layers. This meant that when I squatted, the light pink would show through more, making it look like my skin was being exposed.
The material itself is quite nice though, it's a thick material and the fabric is stretchy and decently comfortable. I think it'd look lovely on anyone with a darker skin tone.
3. Aoxjox Shorts with Sport Bra Set in "Slate Lavender", size small – Returned.
I almost, almost kept this set. It really is a great Gymshark dupe and I loved that the bra had adjustable straps. It actually fit perfectly. Again I had a slight issue with the elastic on the shorts causing them to look a little less flattering but it wasn't nearly as much of a problem as set #1. The fabric was stretchy and I felt like it was decently comfortable. It was also 100% squat proof.
However, I realised that after wearing it for a little while, the skin on my chest started to feel itchy and was beginning to turn red. I don't plan to keep anything my body has an allergic reaction to so I have to return it unfortunately. My skin is more sensitive than most, so I'm sure if you don't have really sensitive skin this set would actually be fine.
4. WodoWei High Waisted Yoga Leggings and Sports Bra in "Black", size medium – Returned.
I don't really have much to say about this set. It was simply too big haha. I purchased a size medium according to the guidelines on the page because I am definitely not a 24in waist (for size small), but it was just way too big when I tried it on.
Since it was too large, it naturally wasn't flattering. The bra straps aren't adjustable either so I don't think I'd want this even in a smaller size. I was almost able to pull these down so the bottom of the sports bra hit my waist and I doubt the smaller size would make much of a difference.
I'm very petite, so regular sports bras don't tend to fit me. It would probably fit a regular sized human just fine though haha.
5. YUNOGA Women's Ultra Soft High Waisted Seamless Leggings in "Black", size x-small.
This was the one I kept. This was the one I loved. This was the one I actually plan to buy more sets of because I am so happy with them. These are supposed to be one of the best Lululemon Aligns dupes per my research, but dupe or not I can tell you it's fantastic.
I read reviews on Amazon about sizing and I'm glad I went with x-small. These are very stretchy and incredibly comfortable. The material feels soft like butter, and just moulds to your shape perfectly whilst smoothing out any lumps haha. It's a thick material but not suffocating. Of course, it passes the squat test perfectly.
To be honest I haven't exercised in these. They're just so comfortable as everyday pants so I've just been wearing them as that. I took a few photos of what they look like on me below. I am 5'1 and my waist is 65.5~66cm: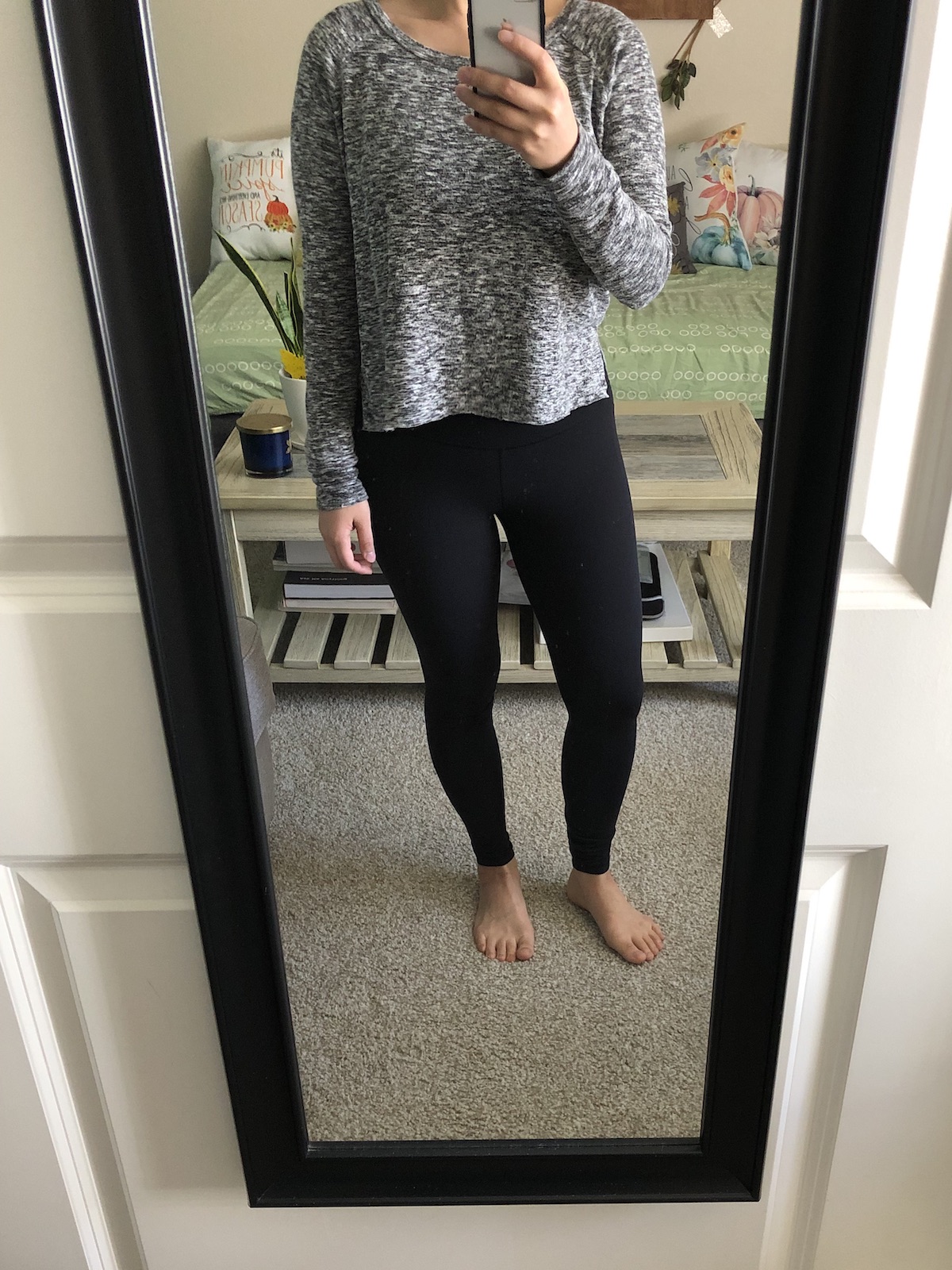 For good reason, it looks like these just literally never go on sale. I bought them for $25.99+tax and I wholeheartedly recommend these. To save you from scrolling, here's the link again.
Let me know if you decide to get a pair!
Muchos love,
Bobbie