Hello! Or, I should say: holo. I promise the Seattle posts are still coming, one has been in my drafts for 5 days. I've just hit a bit of a writer's block and there's too much to write about so I'm overwhelmed. Plus the sheer level of busy that I've been lately is… insane.
Anyway, it's been almost exactly 2mo since I received my first ever Holo Taco order. I have since, um, ordered so much more that I'm already Holo Royalty lol. That said, a solid 75 points came from bonus ways to earn. I realised a couple of days ago that I could have just signed up for SMS messages and become Royalty before a bunch of recent Holo Royalty surveys were sent out so I totally missed out on those.
But with the new launch releasing this week, I'm glad I'm now Royalty and able to receive advanced teasers woo! And yes I'll be buying more polish this weekend, lol. I guess let me know if you want me to actually review everything else I got from Holo Taco too. So far, I've been purchasing polish from them exclusively.
In my first Holo Taco review, I mentioned that I used Peely Base and it lasted a total of 5 hours.
After I followed the tips and tricks from Cristine's video about how to make your Peely Base/mani last longer, I was able to make my Peely mani last 3 days… then 4-5 days… and most recently, a full week or more, if we count the day I did my nails as day 1.
Above shows days 3 and 7. I was already getting bored of this mani and was planning to get rid of it soon anyway, so it deciding to yeet itself came at the perfect time. Oh dang look at that nail growth… and this boomer finally learned to start watermarking lol.
Allow me to share how I did this with more progress pics below. And the weird ridges in my nails will be explained as well. If you only care about the tips & tricks, click here.
I don't actually have a proper before/after because I never took photos of this mani when I first completed it on last Tuesday afternoon (27th Sept). I wore a full mani of Sunken Secrets on one hand and Amber Apathy on the other. It wasn't anything noteworthy, but when I went outside on Thursday to walk my cat I thought my nails looked pretty in the sun so took a couple of photos.
Here's the progression of my left hand on Thursday 29th Sept, Saturday 1st Oct and finally Monday 3rd Oct (yesterday) before and after a corner came off in the shower, after which I popped them all off and re-did my mani: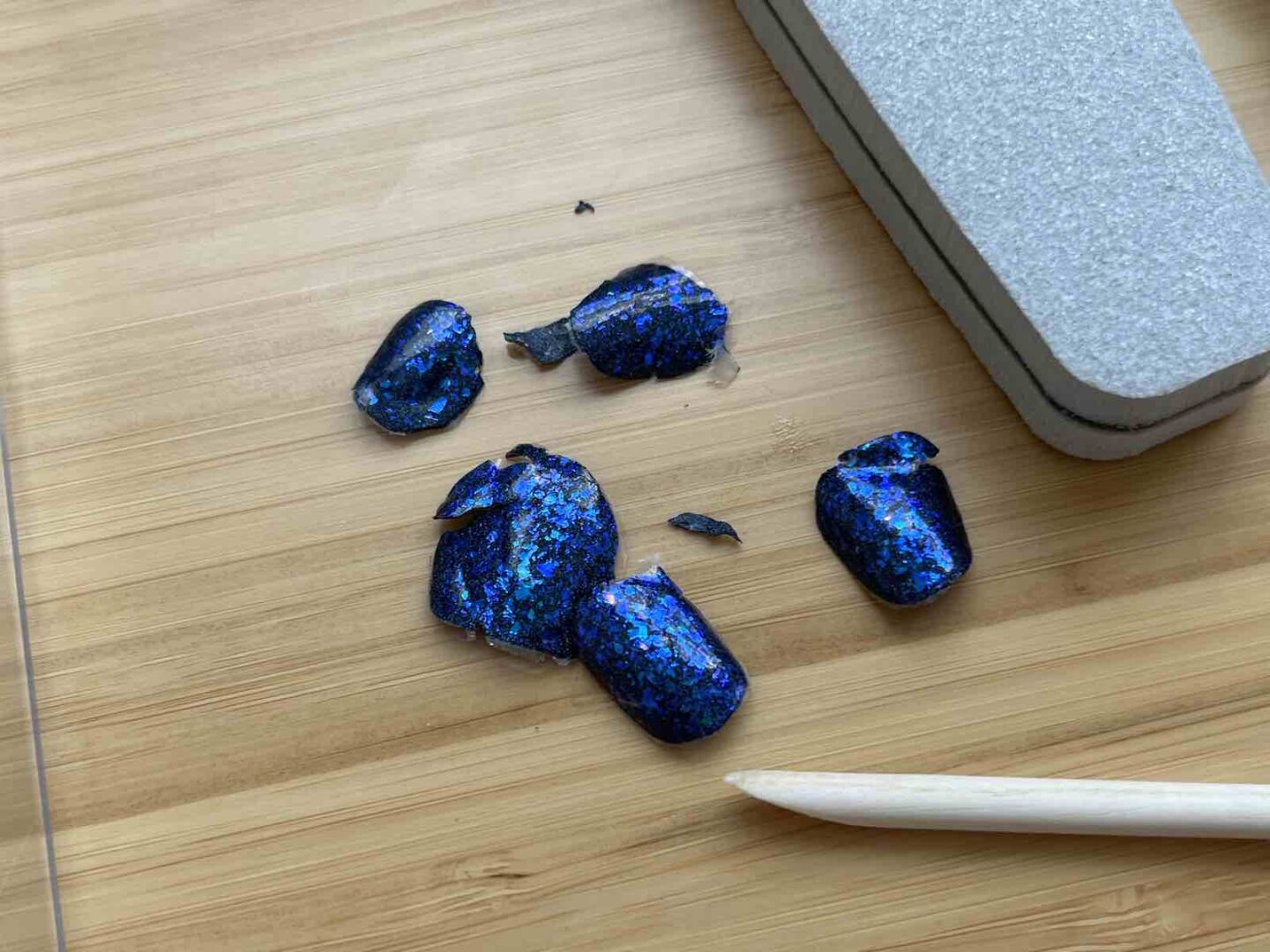 For my right hand, the story is similar: Thursday 29th Sept, Saturday 1st Oct, Monday 3rd Oct, and finally Tuesday 4th Oct (today).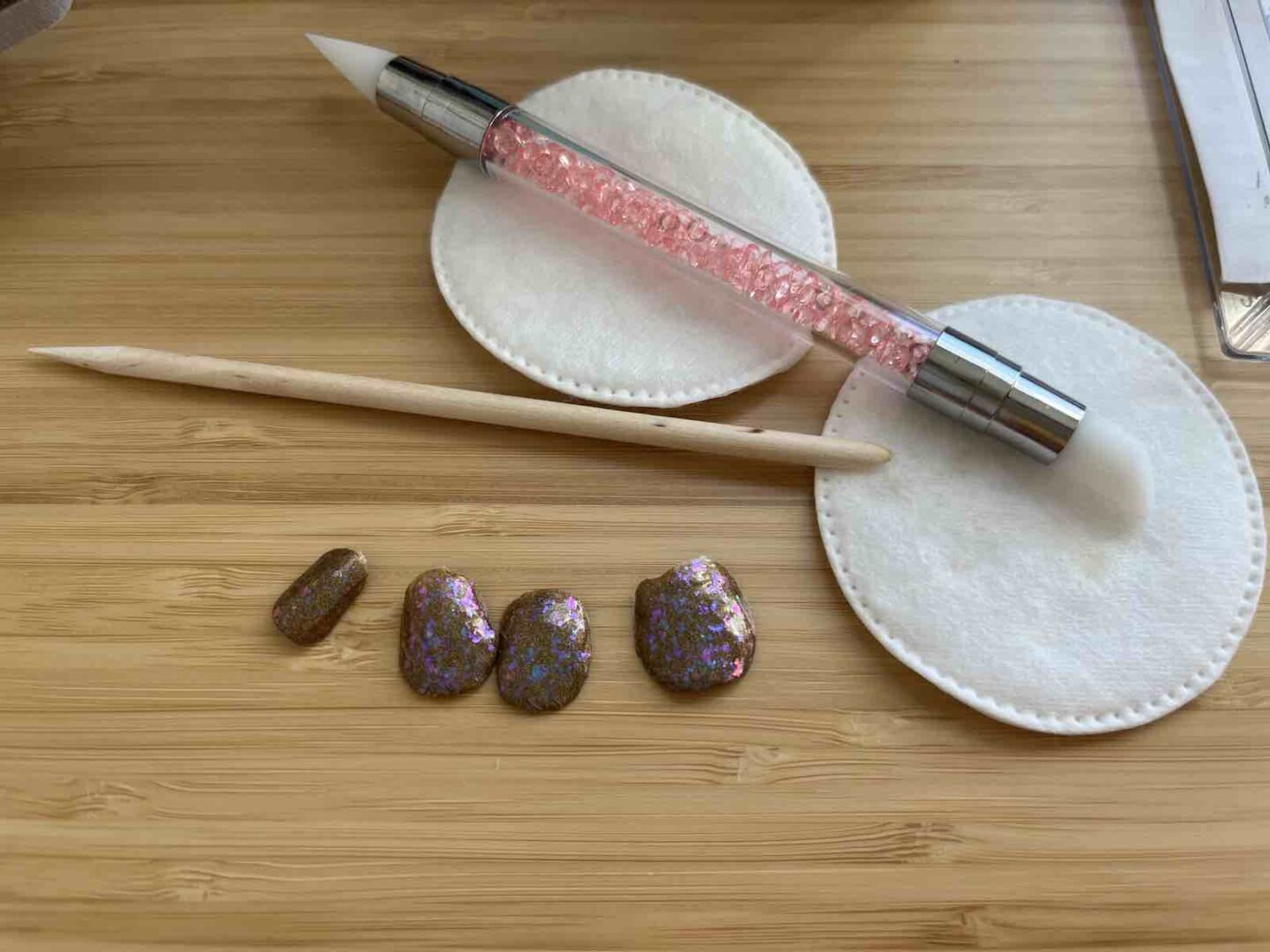 I lost my peely while I was out running errands so I couldn't find it to include it in the peely pic. Sadge. Excuse the changing skin colour but are you seeing the nail growth? I took some photos of my new mani and I've gone with Violet Nightmares with an accent nail of Indigo Away + Gold Flake Taco.
My other hand features what I believe to be the perfect easy fall mani for a non-nail artist and you cannot convince me otherwise: Amber Apathy, Crimson Void and Burnt Bridges skittle + Solar Unicorn Skin on all nails:
I think my nail painting skills have definitely improved since the beginning, don't you? :D
How I Made My Peely Base Last 7 Days
I wore nail polish frequently. Since I got my first order of Holo Taco, I have not had naked nails except for a brief period when I was testing out a new nail oil.
I pushed back my proximal folds and removed my cuticles. I read this blog post by Bliss Kiss about the cuticle and that helped a lot with my understanding of how to actually remove cuticles! I use Sally Hansen's Cuticle Remover, and even fixed up my cuticles during the week. My mani still lasted ~7 days.
I used nail glue & the teabag method to fix some of my cracked nails (Google/YouTube can tell you more if you haven't heard of it), hence the gigantic protrusions in some of my nails for the original mani. On my left hand, I'd done more buffing so the nail glue + teabag didn't stick out as much, but I hadn't done enough buffing on my right hand so the glue/teabag line was still visible from beneath my polish. I fixed that for my new mani though so now my nails look smoother.
Per the point above – I buffed some of my nails. I don't recall buffing the nails that I didn't use glue on and the mani still lasted a week so I'm not 100% sure how much of a difference this made though.
I applied additional polish and another coat of Glossy Taco during the week. My original mani was plain colour but I started getting bored of it. When I realised my peelies weren't going to pop off on their own, I added a coat of Unicorn Skin to spruce things up a bit, and of course another layer of polish meant I needed to seal it in with a Glossy Taco.
I built up the polish in thin coats, and had to do 3 coats for Amber Apathy.
I used a lot of nail polish thinner. I've not needed thinner for the Peely Base yet, but I've had to thin out every other polish, Smoothing Base and Glossy Taco every time, sometimes during the same session. Cali is hot so my polishes often thicken really fast, especially Glossy Taco. It's almost impossible to do thin coats of polish otherwise.
Don't apply Peely Base all the way to the edge of the nail, but I did still apply it pretty close to the edge.
Wrap the tips, of course.
You can check out Cristine's video on how to make your Peely Base last here, but I'll tell you what I did not do this time and it surprisingly still lasted a week:
I did not dehydrate my nail plate. That's right, I doused my nails in oil, rubbed it in and went straight in with the Peely Base. Hence I started off with a boring mani because I literally did not expect it to last lol.
I did not buff all my nails.
I did not… not do stupid things with my nails. Lol, sorry for the double negative, but things I did included:

Dousing my nails in oil regularly and rubbing it in
Removing my cuticles with cuticle remover and an orange wood stick
Washed my hands regularly and took long, hot showers
Pick at my nails because I'm probably undiagnosed ADHD and I can't sit still
The most that happened was wear on the tips that I wrapped. Full disclosure: I re-did my left pinkie on 1st Oct because I'd caused a massive chip in it while I was removing my cuticles. That was 100% user error though – shockingly, one shouldn't poke one's wood stick into one's nail polish. Profound advice, I know.
One thing I noticed during removal is that Peely Base stuck on to the teabag sections on my nail, so they were actually harder to peel off, and hence most of my left hand peelies being in pieces. I considered that potentially being the reason my mani lasted so long, but I realised that couldn't be it because my right pinkie never had glue/teabag on it and it was still going strong.
I know, I am as shocked as you are that my mani didn't chip or come off for this long. When I got them done at a salon, my mani would last maybe 3-4 days before chipping but this is just insane. Also I'm going to have to update my verdict on the Dark Rainbow Collection because I think I was unfairly negative and hadn't tested it for nearly enough time before posting my review.
With my Peely Base mani lasting me on average 5-7 days, my go-to base moving forward will be Peely Base then Smoothing Base on top so I get the stain protection & ridge filling properties of SB but the easy removal of PB. There's no reason for me to only use Smoothing Base on its own and needing to soak my nails in acetone to remove my polish ever again.
You can get all the polishes I mention above from the Holo Taco website. Just don't shop on Saturday because I don't need more competition fighting for the new limited edition polishes okay? And in case it needs to be said, I am not in any way affiliated with them, I'm just a fan.
Muchos love,
Bobbie