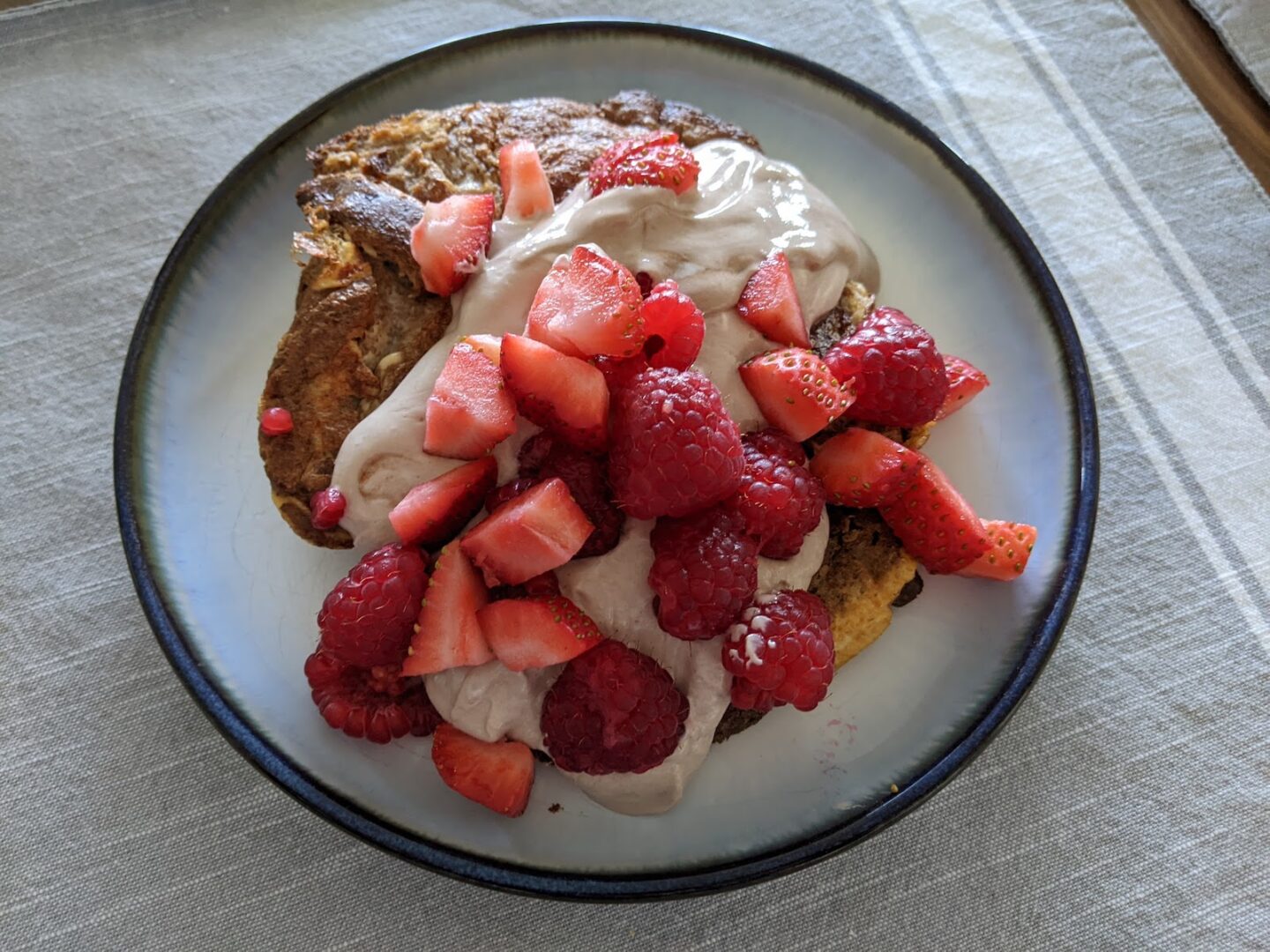 I need to write this down before I forget. During the Great Lockdown of 2020, I started really getting into fitness and changing my diet. I dropped about 5-6lbs in the course of a year and a half, but unfortunately I wasn't able to maintain it and have since gained back about 3lbs.
There were multiple new recipes I tried during that period – some that I really enjoyed, but many that I only tolerated. I didn't really understand how a bunch of fitness influencers / bodybuilders were saying, "Mmmm, it tastes sooo good," when I only thought it was okay while my husband wouldn't eat it.
One such recipe was Coach Greg's high protein french toast recipe. That was one that I quite liked, but always found to be too dry unless I added loads of honey, which defeated the purpose of a low calorie, high protein french toast recipe.
I haven't watched his videos in a long, long time but one thing I remembered him always harping on about was Walden Farms Chocolate Syrup to go on the french toast. So the last time I wanted french toast, I purchased some to try and hated it. It ended up sitting in my fridge since, barely used.
This morning I had a craving for french toast. So I tried something new with my toppings… and oh my gosh, I'm in love. Well, I mean, it went from a 6/10 to an 8.5/10. And I am very happy with 8.5/10, and could happily eat it again and again. In fact, I want more now haha.
I didn't take a photo before I dug in because I honestly wasn't expecting to like it this much, but not only did I love it, but my husband also enjoyed it. He went from "I only want one bite" to "I should stop because I am eating all your food and I said I wouldn't."
It's all in the sauce, which is also high in protein, low in calories and only uses 3 ingredients. Plus now I finally can make use of the Walden Farms Chocolate Syrup I purchased like half a year ago and can't return at this point. So allow me to share with you this incredible and incredibly easy recipe that changes french toast from dry and a bit meh to moist and delicious.
368 kcal: 41g carbs / 6g fat / 32g protein – serves one.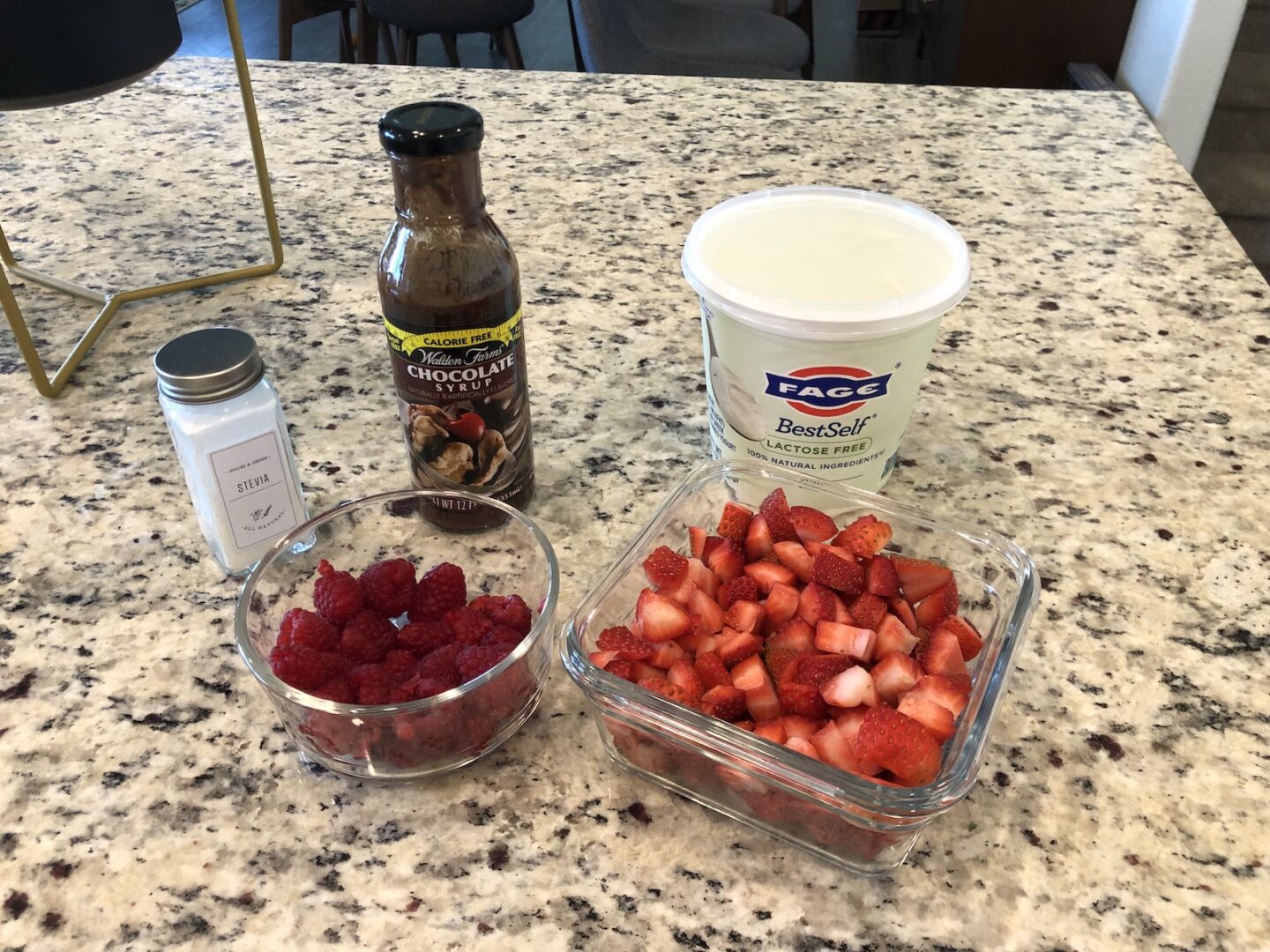 For the french toast:
2pcs bread (I used Cheesecake Factory Brown Bread)
150g egg whites
1 tsp vanilla extract
1 tsp cinnamon
Dash of zero calorie sweetener
(I used monk fruit sweetener)
1/4 tsp oil
For the sauce / toppings:
50-100g low fat Greek yoghurt
2 Tbsp Walden Farms Chocolate Syrup
Monk fruit sweetener
Berries / fruit to top (I used strawberries and raspberries)
Instructions:
Step 1 – make french toast
You can follow Greg's recipe here. I only used about 1/8 tsp of monk fruit sweetener, which is plenty sweet enough for me.
Step 2 – make sauce & add toppings
> In a bowl, combine Greek yoghurt, Walden Farms Chocolate Syrup and sweetener to taste (I probably only used 1/4 tsp).
> Stir to mix well. Adjust quantity of chocolate syrup / Greek yoghurt as you like.
> Dollop over your french toast, then add extra fruit and berries on top.
That's it! Enjoy! Ridiculously easy, and instantly elevates your french toast to even higher protein heights. The Greek yoghurt provides more creaminess to the french toast and helps to balance out the artificial taste of the Walden Farms, while absorbing its mild chocolatey flavour.
Note: make sure to use low fat Greek yoghurt – either 0% fat or up to 2% fat. These provide the highest ratio of protein to calorie count, while also being creamy but not too thick.
Note 2: you can use any other Walden Farms flavoured syrup, but make sure you use Walden Farms or a similar 0 calorie syrup to keep this low calorie.
The berries add extra sweetness and juiciness, meaning no more dry french toast, or french toast dripping with high-calorie honey. Being high in protein also helps to keep you fuller for longer. I have also started prepping my fruits when I get them home from the store and would highly recommend that to everyone.
Prepping my fruit in advance (washing and chopping up as necessary) makes it so much easier to just grab and use/eat whenever we want, which reduces any barriers to eating and thus lowers the chances of wastage. I'd highly recommend doing that if you guys experience something similar.
I didn't get a photo of my dish before I started eating (and after we started eating, that was it.) But I am probably going to make this again tomorrow and may add a photo then.
Update: Made it again the next day, thoroughly enjoyed, photo updated.
Muchos love,
Bobbie