Mmmmhmmmm… I promised a Holo Taco Dark Rainbow review and here it is. I managed to purchase the Dark Rainbow Collection with the box on launch day and had been looking forward to receiving it since I made the purchase.
The colours looked stunning on the website and via Simply's launch stream. As a self-professed non-fan of holo, this collection was enough of my vibe for me to justify it being my first foray into the Holo Taco linear holo formula that I'd heard so many good things about.
Don't come for me, but after having had it for about a week and the initial novelty has worn off, I must say… I don't love it as much as I thought I would. Don't get me wrong, I still like them a lot! But at present I feel like these are probably my least favourite polishes out of all the Holo Taco polishes I currently own, and allow me to explain why.
Positives
Let me start with the positives: the packaging was great – my box arrived in perfect condition.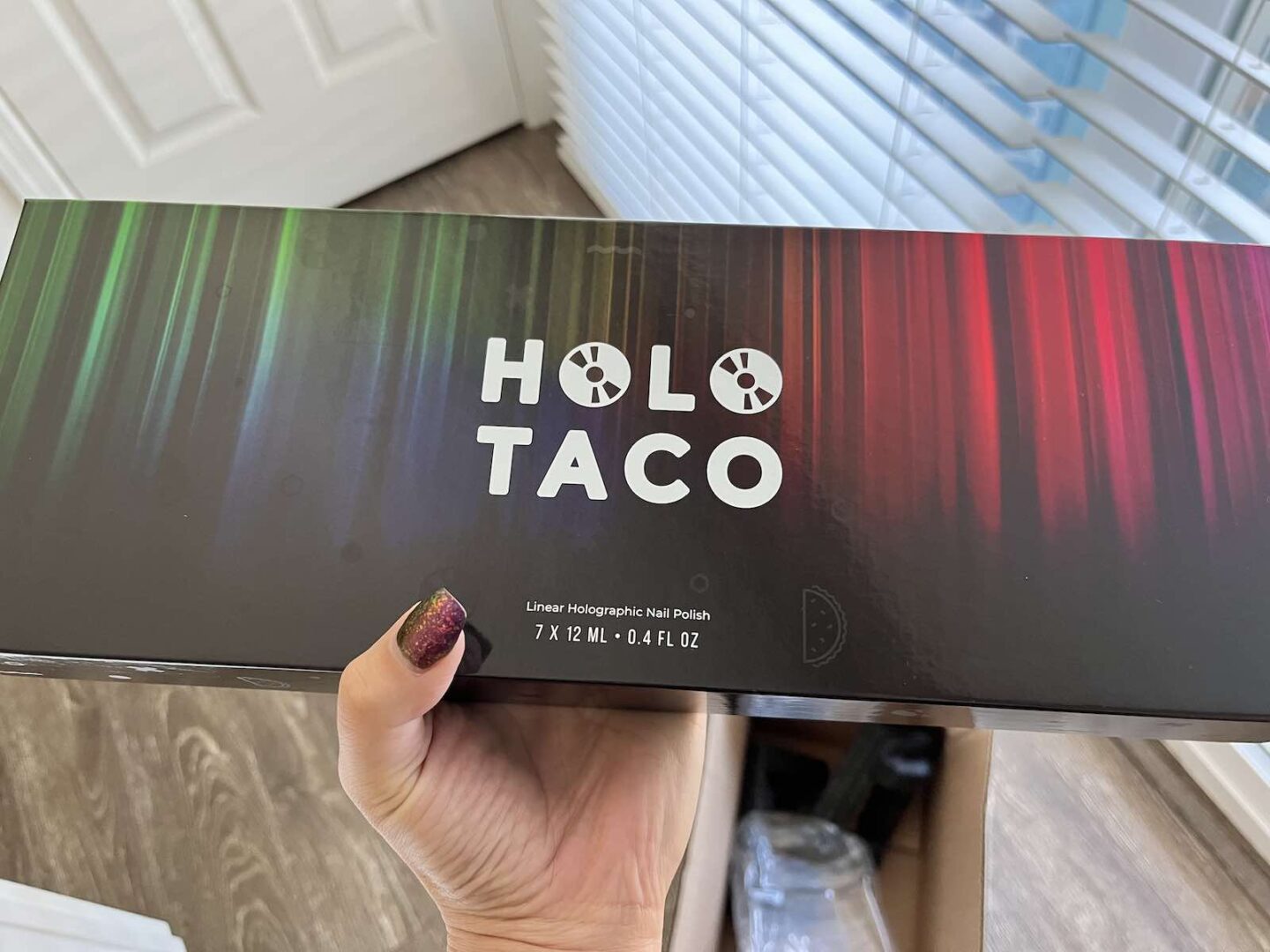 The colours themselves are very pretty.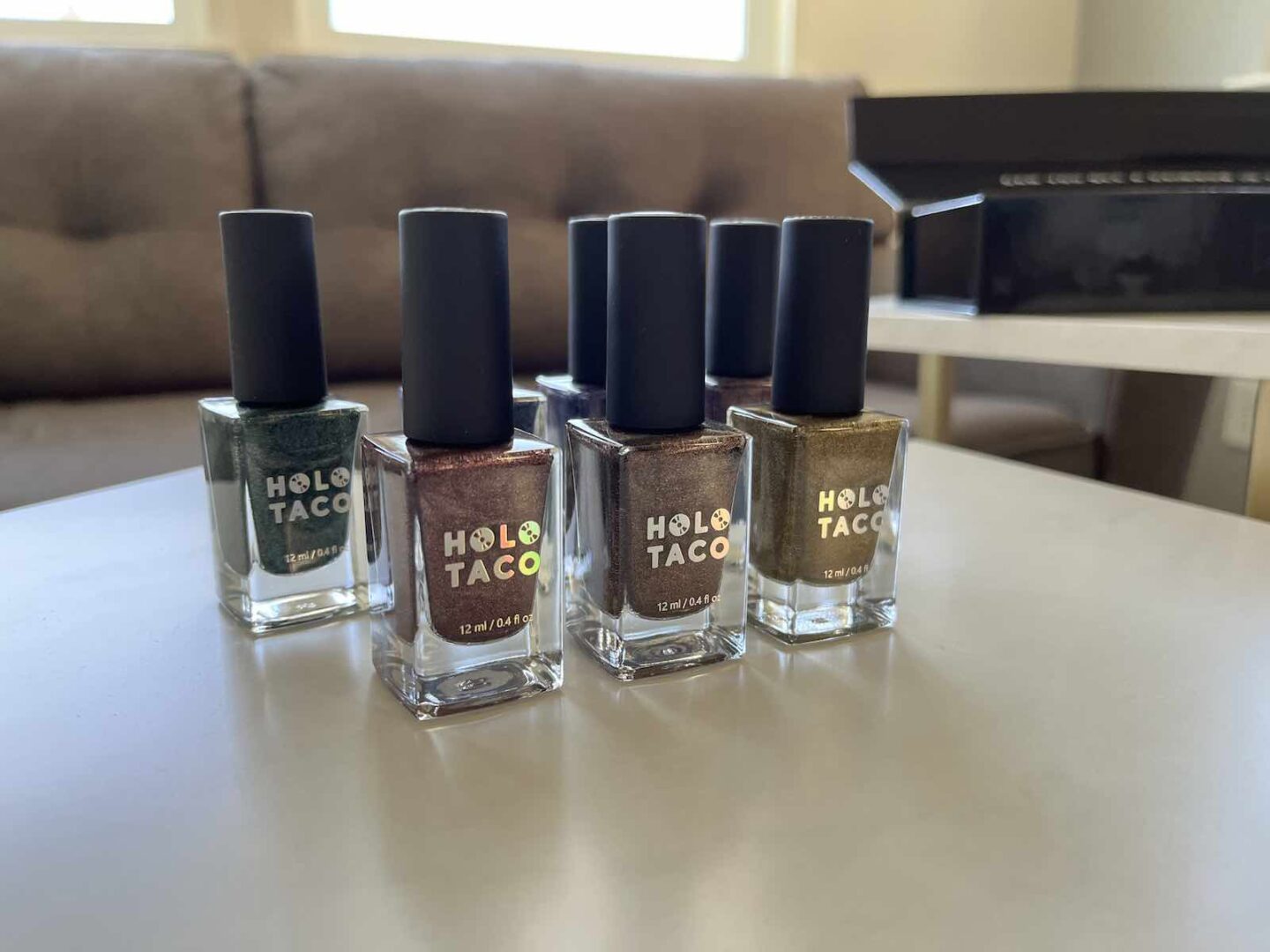 I immediately did a skittle mani. On my left hand I have: Crimson Void, Dead Petals, Violet Nightmares, Sunken Secrets and Lost In The Woods. On my right hand, I am wearing Burnt Bridges with an Amber Apathy accent nail. I am using the Holo Taco's Smoothing Base below and Glossy Taco on top.
In the sun, they look stunning; the holo is strong, and I'm fairly happy with how most of them look without direct light as well (more on that later).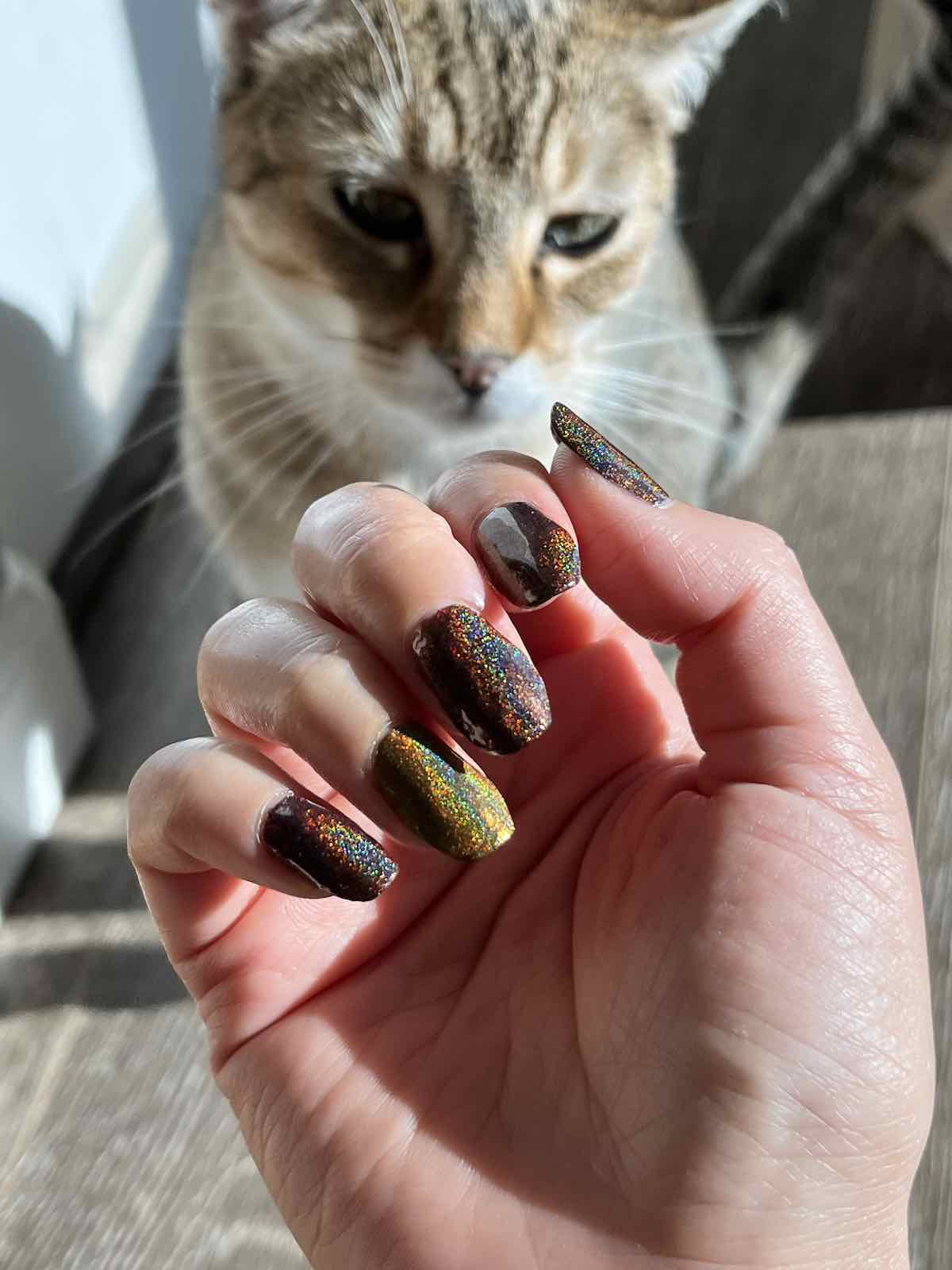 Negatives
The Box
This is my first time ever purchasing and receiving a collection box and I guess I just wasn't blown away by the box. The design is fairly plain and the dark holo flare is quite subtle. I wouldn't mind the subtlety if it hadn't been marketed as brighter and more vibrant on the website.
I am not mad at the box, I am just not in love with it. Still, I'm glad I got it once to see what the boxes were like. For the most part, it is the one that suits my personal style the most out of all the boxes I've seen so far (apart from the Tea Cremes one! I'm gutted I missed out on that one). I guess I probably won't get them again in future.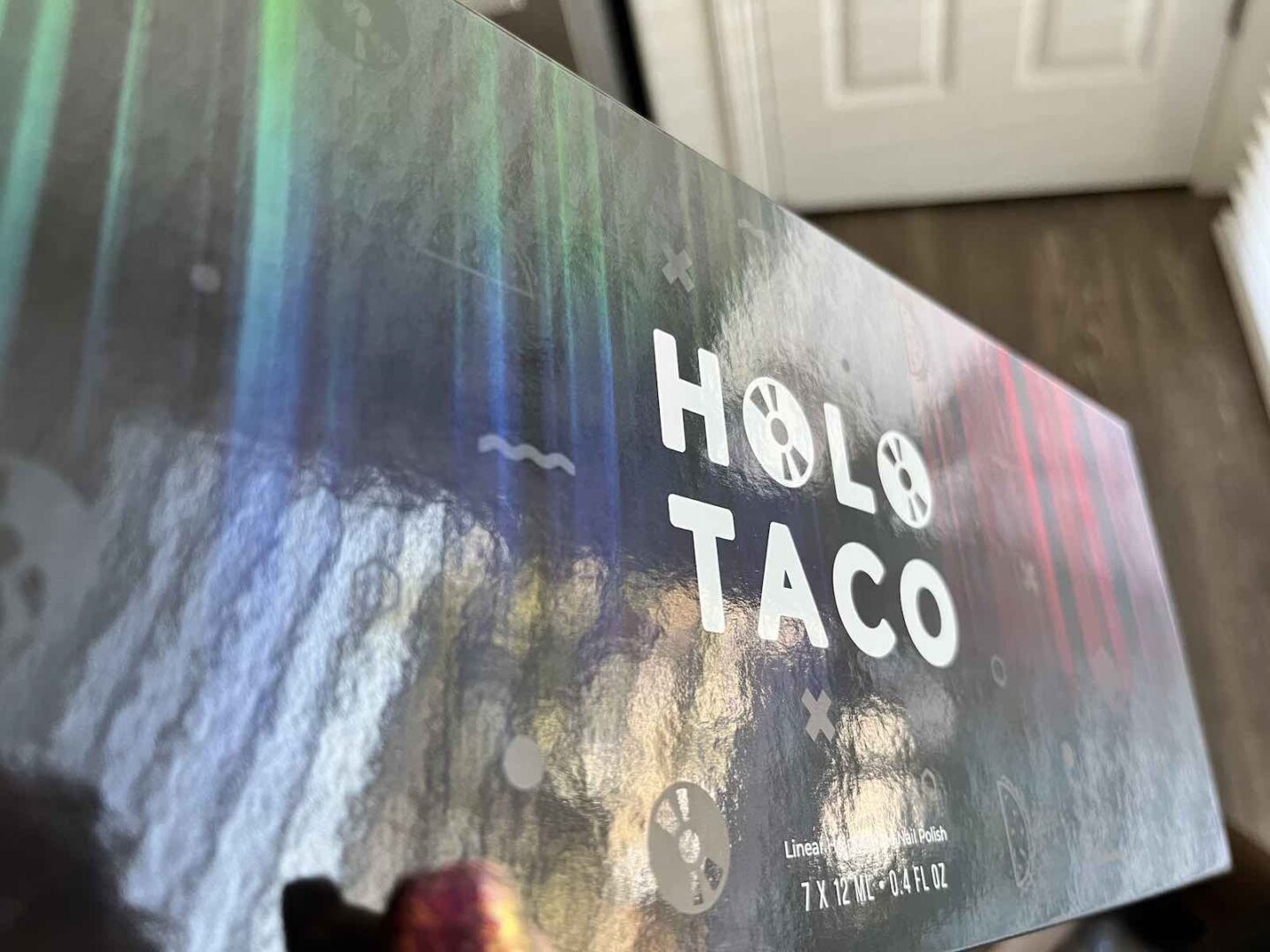 The Formula
This was my first time purchasing any type of holo nail polish (holo isn't really my style), and I've only ever heard great things about Holo Taco's linear holographic formula – how it was easy to apply, self levelling, great for beginners etc. All of those sounded good to me as a nail polish n00b and holo virgin.
However, I actually found all of the polishes very thick and rather difficult to apply. I loved the self-levelling aspect, but it was so thick and dried so fast that it was hard for me to do thin coats. If I tried to do thin coats, the polish would dry before I was able to spread it out across my nail properly.
If I tried to do thicker coats, I found that the polish got a bit gloopy and wouldn't spread out, OR I'd end up using too much polish and it'd flood my cuticles. Either way, I needed quite a bit of cleanup. I'm pretty sure most of this is user error but, given that people keep saying this formula is great for beginners, I personally don't really think it's suitable for beginners.
It got easier to work with only after I'd put a decent amount of nail polish thinner in, however, I feel a bit disappointed that I needed nail polish thinner pretty much immediately after receiving the polish. Surprisingly, I found the multi-chrome polishes easier to work with, and those are often said to be harder to get right.
That said, despite all my difficulties during the application process, I noticed that it did actually look a lot more level after drying, so perhaps that's what the "self-levelling" part meant.
The Colours
Violet Nightmares vs Purple Slushie
Before the polishes arrived, I was a little worried about the similarities between Violet Nightmares and Purple Slushie – in some lighting, the two looked very similar on screen. I personally don't own Purple Slushie, so I guess it didn't matter that much.
Crimson Void vs Dead Petals
After the polishes arrived, however, a lot of users were saying that they couldn't tell the difference between Crimson Void and Dead Petals because Crimson Void leaned too purple; Crimson Void did not look red enough, and it certainly wasn't the deep, vampy red that was being portrayed on the website. Adding to that disappointment was the fact that these two very similar shades were in the same collection. Here's a screenshot from the website: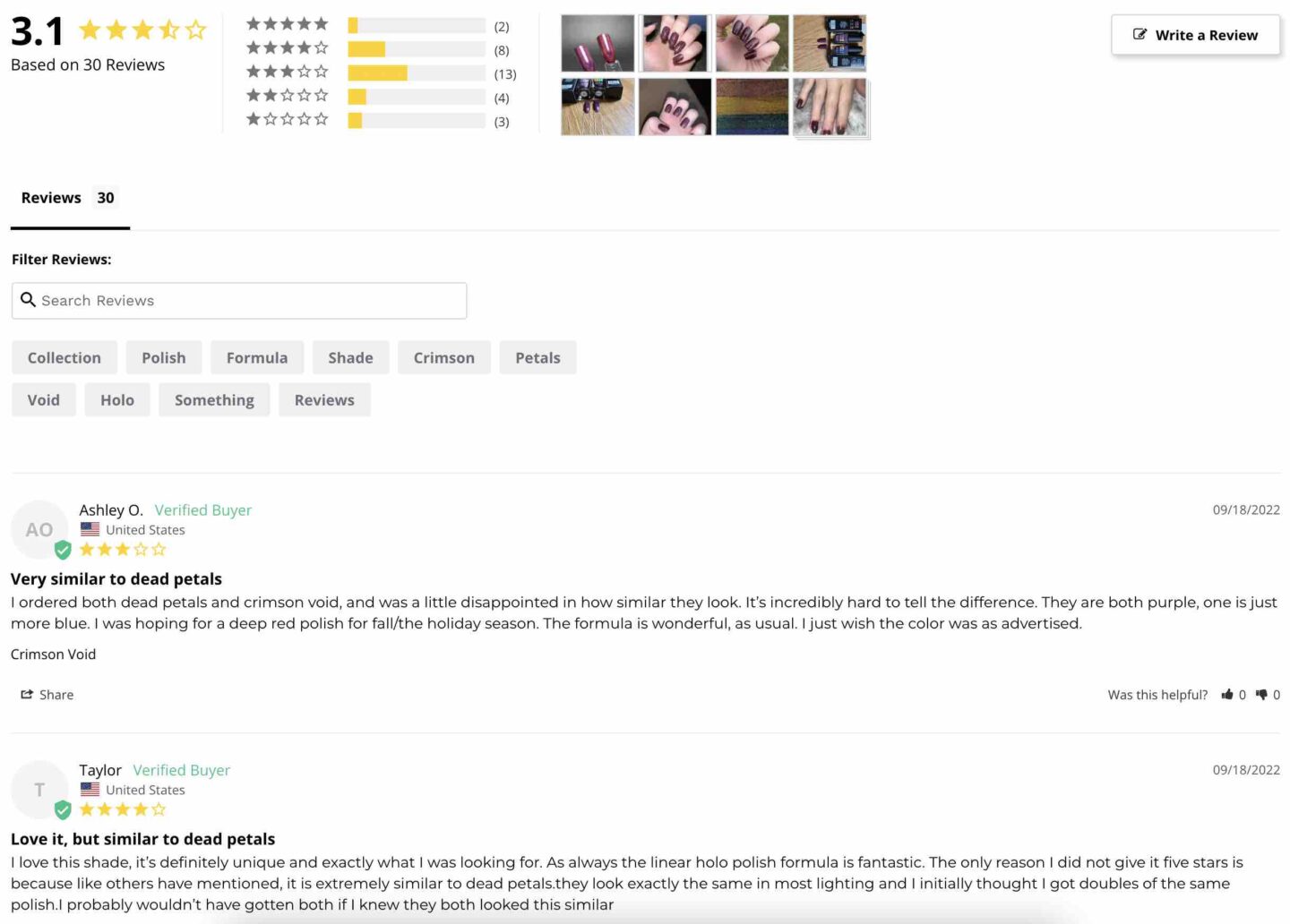 To be honest, when I was first applying the polishes, I had them planned out in a specific order and momentarily freaked out when I thought I'd accidentally used Crimson Void instead of Dead Petals. After double checking the bottle, I hadn't made an error after all. Once I applied both, I was able to tell a difference. In some lighting, Crimson Void did look like a delicious vampy red, especially with my recessed kitchen lights shining on it:
However, I'd have to agree with the reviews that, without some form of direct light shining on it, the two can look very similar. After I cut my nails shorter and did a full mani in Crimson Void, I often found myself questioning if it was red or plum, so I wonder if it just appears less red on shorter nails when there's less polish to give off that richer red effect:
If we were to compare the bottles I received to the photos on the website, I can definitely understand the consumer frustration over the colour discrepancy. The website photos show both polishes as far more vibrant in colour, and I'm not sure I've ever seen such colours in person: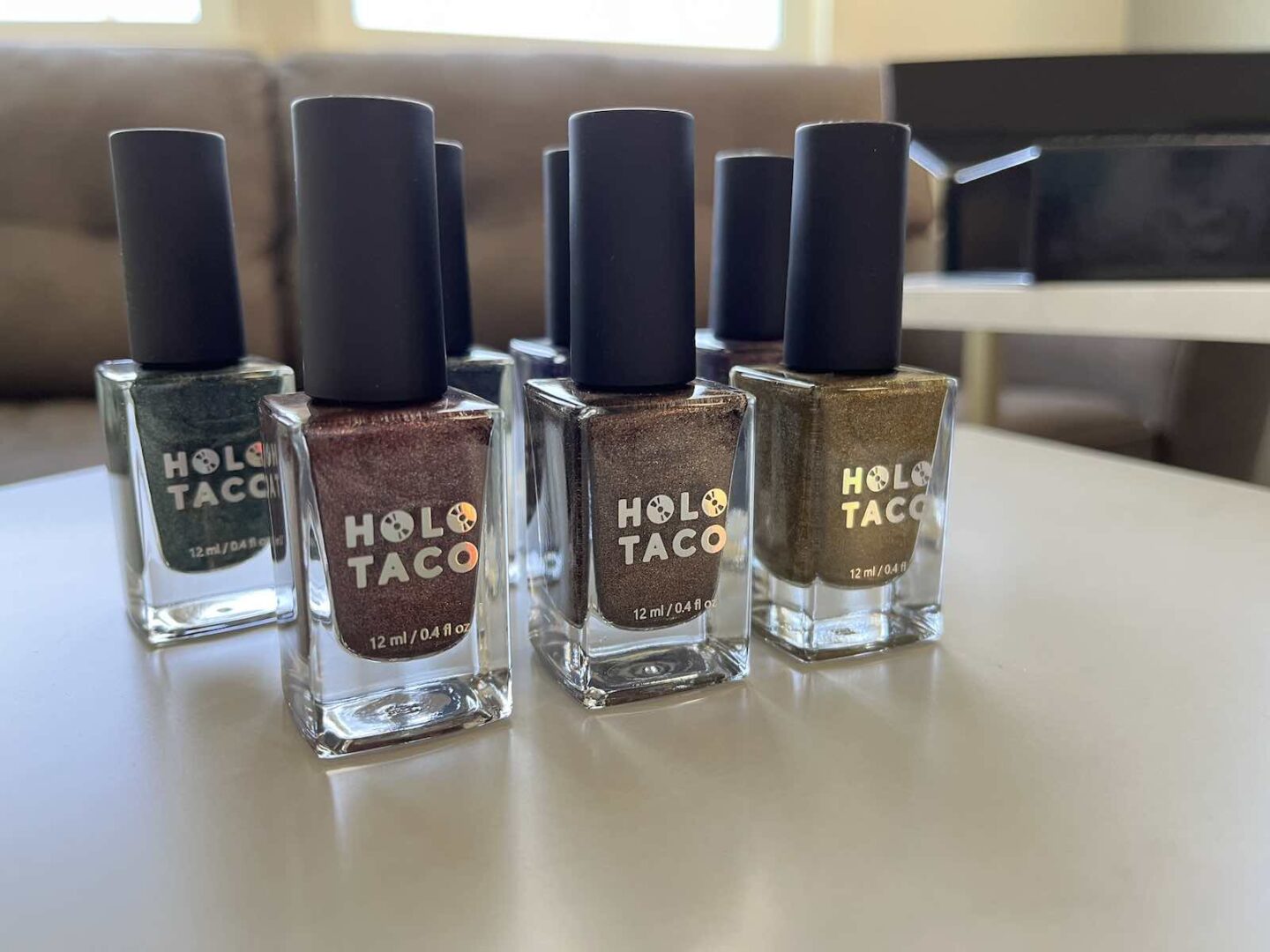 Crimson Void is in the front row on the left. Here's another photo of all the polishes below. It's fairly obvious which is which when they're all lined up, but compared to the website photos they just don't look as saturated in real life: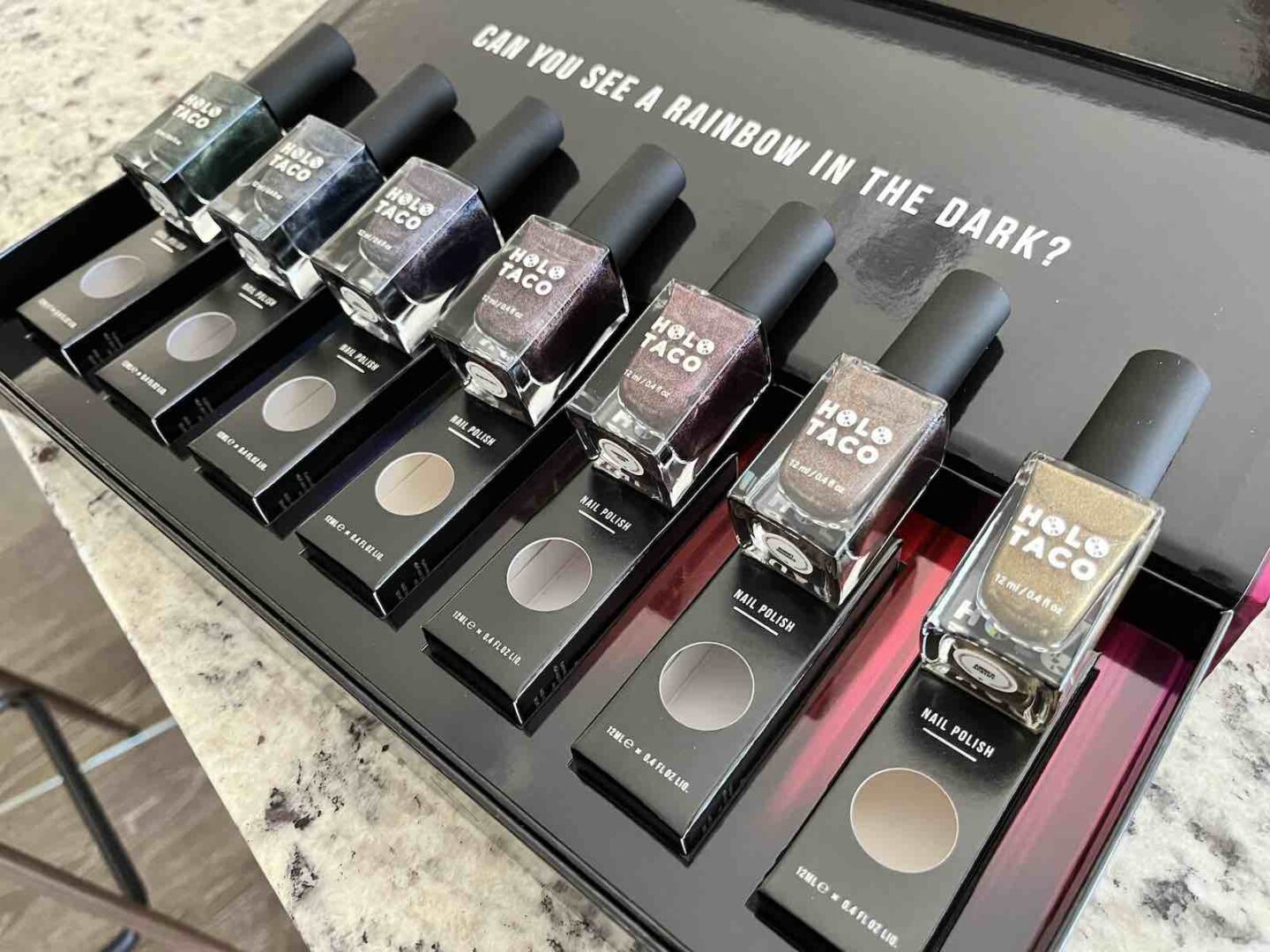 Burnt Bridges – Just Brown?
Another minor gripe with the colours is that Burnt Bridges really just looks brown. Cristine's photo shows it with beautiful orange/coppery undertones, but mine just looks a dull brown.
Even in the sun, it's still mostly brown. I've managed to capture one photo where you can see some faded copper if you squint, but it's just nowhere near as saturated or pretty as the pictures on the website:
Amber Apathy – Dull?
Finally, Amber Apathy was a shade I was very much looking forward to since I loved the golden tint to it on all of the website photos and swatches. However, you can see that in the shade it just looks so dull, and not really golden at all. It's like a… dirty, almost brown/green-leaning shade. I suppose it could be considered an ugly pretty shade, but I'm just disappointed with how ugly it looks against my skin tone.
It does look beautiful in the sun, however. So I guess it's a good thing I'm in California and we get plenty of sun haha.
The Longevity
I'm not sure if it's user error via application or otherwise, but my polish started chipping within 2 days. So I removed my polish and cut my nails and changed my mani. Usually after a Holo Taco mani I'm thrilled and can't stop looking at my nails because of how pretty they are. But with this mani, I was actually relieved to have an excuse to get rid of the colours from my nails.
I cut my nails short and used Peely Base, opting for a full hand of Crimson Void and Amber Apathy. This time, the edges started chipping within a day, and I lost 3 peelies within 24hrs. Just as well, since my new nail oil was arriving and I was going to remove all of my polish to do a 3 day intense nail hydration session anyway. (Blog post on that coming soon.)
However, it is definitely the worst performing polish that I've purchased from HT so far. Previously I've been able to wear Peely Base with a multi-chrome mani for 5 days. I guess I haven't tested it for long enough yet, but early results are looking rather poor.
It's also worth mentioning that these polishes might have travelled through intense heat to get to me (there was a heatwave happening during the time it was in transit), which may have affected the formula, but I don't know. Cristine posted about waiting for the polishes to come to room temperature or add nail polish thinner if needed. I did both, and the results were still underwhelming.
Summary
Given all of the above, I hope you'll agree it's no surprise these are so far my least favourite polishes from Holo Taco. At their price point, I don't think I'd recommend them. It's possible I received a bad batch, but I don't know. I just think there are far better polishes on the website. At $14 per polish, these are also the most expensive ones I've purchased, and neither the colours themselves or the formula justifies that price point for me.
While this was the most disappointing set for me, I will still shout out Lost In The Woods and Sunken Secrets, which are both beautiful shades in their own right. Violet Nightmares and Dead Petals are pretty nice too, so if you're thinking of picking up individual shades, I'd probably go with these.
Muchos love,
Bobbie