Restaurant: Shwe Myanmar Burmese Cuisine, Livermore
Date ordered: 5th October, 2020
Dishes ordered:
Crispy Yellow Tofu – $10.00 – 9.5/10
Rainbow Salad – $11.00 – 9.8/10
Paratha with Coconut Chicken Curry – $12.00 – 9.5/10
Lamb and Potatoes Curry – $16.00 – 10/10
Coconut Rice – $3.00 – 10/10
[Bonus] Dessert – Gifted
Portion sizes: Excellent! They changed their packaging recently and the salad came in a gigantic container that we put into one of our large glass bowls at home for ease of mixing with the tamarind dressing. The lamb curry came in a large upright container, and the chicken curry came in a shorter upright container with 2pcs of paratha (fried, layered, flaky flatbread). I think they also gave us extra pieces of fried tofu <3
When Jacky went to pick up our order, the owner said that he'd just made dessert and that it had been a slow day, so he gifted us a carton of dessert too! I'm not sure what it's called, but it tasted very creamy — almost milky, and had some coconut flakes sprinkled on top. To be served warm.
It's potentially the shwe kyi cake listed on their website, which Google tells me is a sweet, Burmese semolina cake. Unfortunately I wasn't a huge fan of the milky flavour but Jacky enjoyed it. I did like that it wasn't very sweet though. Either way, it looks like we got a very large portion of it too. Huge thanks to Shwe Myanmar for their generosity!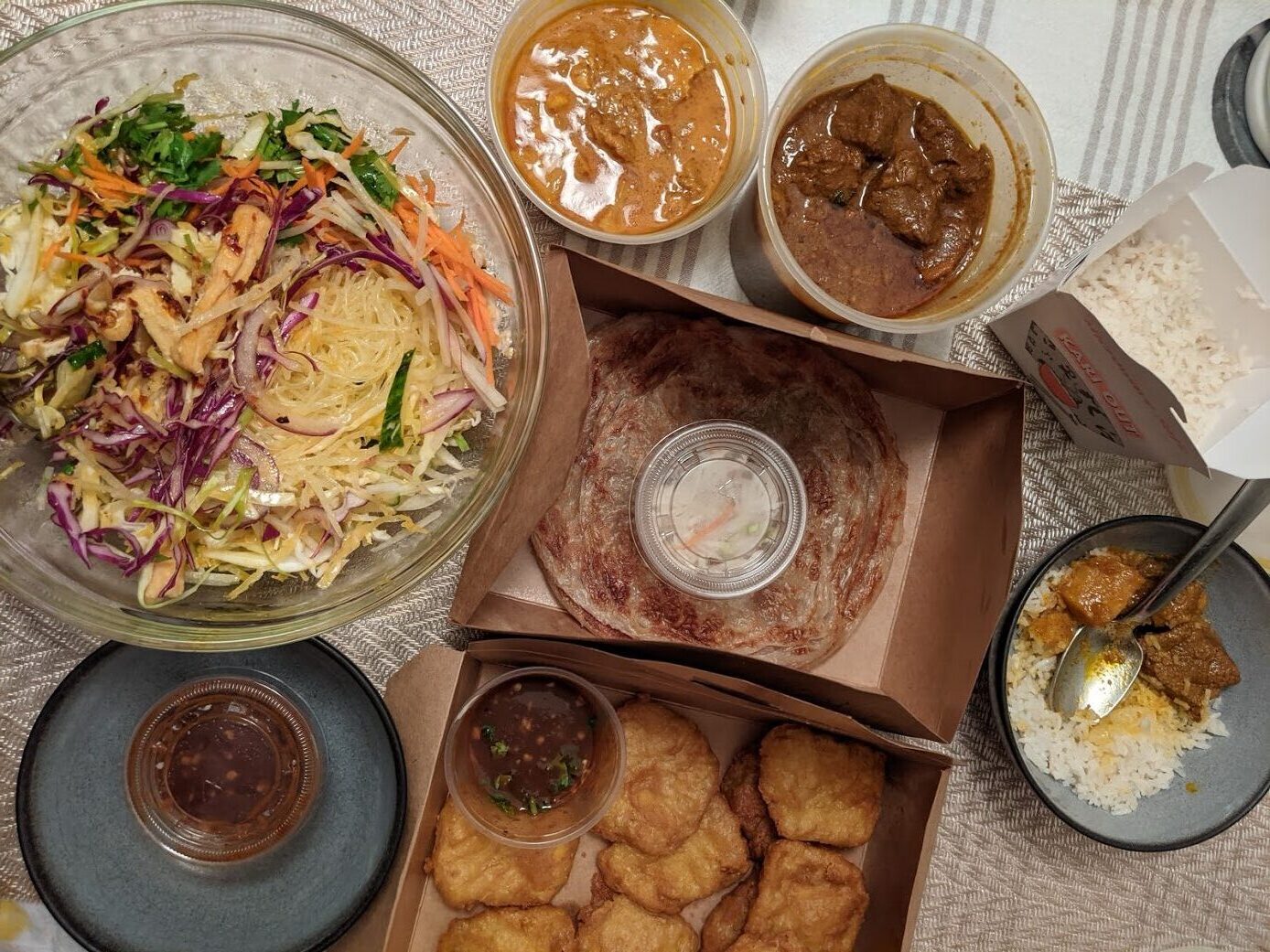 Flavour: Okay, I absolutely loved everything we ordered. I mean, crispy yellow tofu, chicken paratha, lamb curry and coconut rice are pretty much staples in our home, but I was also pleasantly surprised by how much I enjoyed the rainbow salad.
I recall getting it once and not loving it, but I really enjoyed it this time. It was the perfect mix of fresh herbs, crunchy vegetables, soft tofu and potatoes, brought together by a sweet, tangy dressing with a kick. If I'm honest, sometimes the kick got a bit too much for me (hence I docked it 0.2 points), but it was perfect for Jacky's liking.
I loved how refreshing it was; it perfectly balanced out the rest of our dishes. I also love the variety of ingredients in one salad; you can never get bored of the taste.
The curries were full of flavour as well, and both were very creamy with tender meat that fell apart on your fork. I am a huge fan of potatoes, and the potatoes in the lamb curry were perfectly soft whilst retaining their structure, and had absorbed the flavour of the curry wonderfully. The curries were heavy on the oil but they didn't taste greasy or heavy.
Unfortunately, I did feel like there was too much oil on the paratha and tofu that did cause them to be a bit too greasy for my liking. But that doesn't mean they weren't good; the lowest score I gave is 9.5! Food here is outstanding. I enjoyed both dishes a lot more after dabbing off the majority of the oil actually haha. Plus I am a huge fan of the paratha's flaky pastry – you can just pull it apart if you want.
Value for money: 10/10
For this meal I'm giving it a 10/10. The portion sizes were really exceptional this time. We ended up eating our fill for 2 full meals, have enough for Jacky to take to work for lunch and still have a little left over. I think we both overate for our first meal too haha. But also the fact that the flavours are so rich whilst the prices are still reasonable merits a high score anyway.
Other: There is a reason this is one of our favourite restaurants. The food is always excellent, service is excellent… we just all-round love this place. It's the restaurant we bring friends and family to whenever they visit. It's the place we eat at so regularly we know the owner. I don't write about it much because it's become a habit to eat there and I don't usually pull out my camera for habitual meals.
But since COVID times are hitting local restaurants hard, I wanted to write another review for them because they deserve to be written about. We always aim to tip well when we visit to support them. Especially now that it's 7 months into quarantine, we're hoping to support our local restaurants even more. If you're ever in the area, please do give them a try!
Would re-order: 10/10.
Overall Rating: 9.83/10