Click here for my overall setup & June half-month spread.
It's getting to the end of the month (what!) and I figured I'd set up my July spread in my bullet journal. I am only planning to use it for monthly trackers because I have other notebooks for other things, so figure this one journal can last me a long time.
There's a bit of a story behind the setup of this one, but I feel that as I'm getting more accustomed to my journal, I'm also learning and better understanding how I want to use it. If you just want to see the spread, here it is! My original draft and the final spread: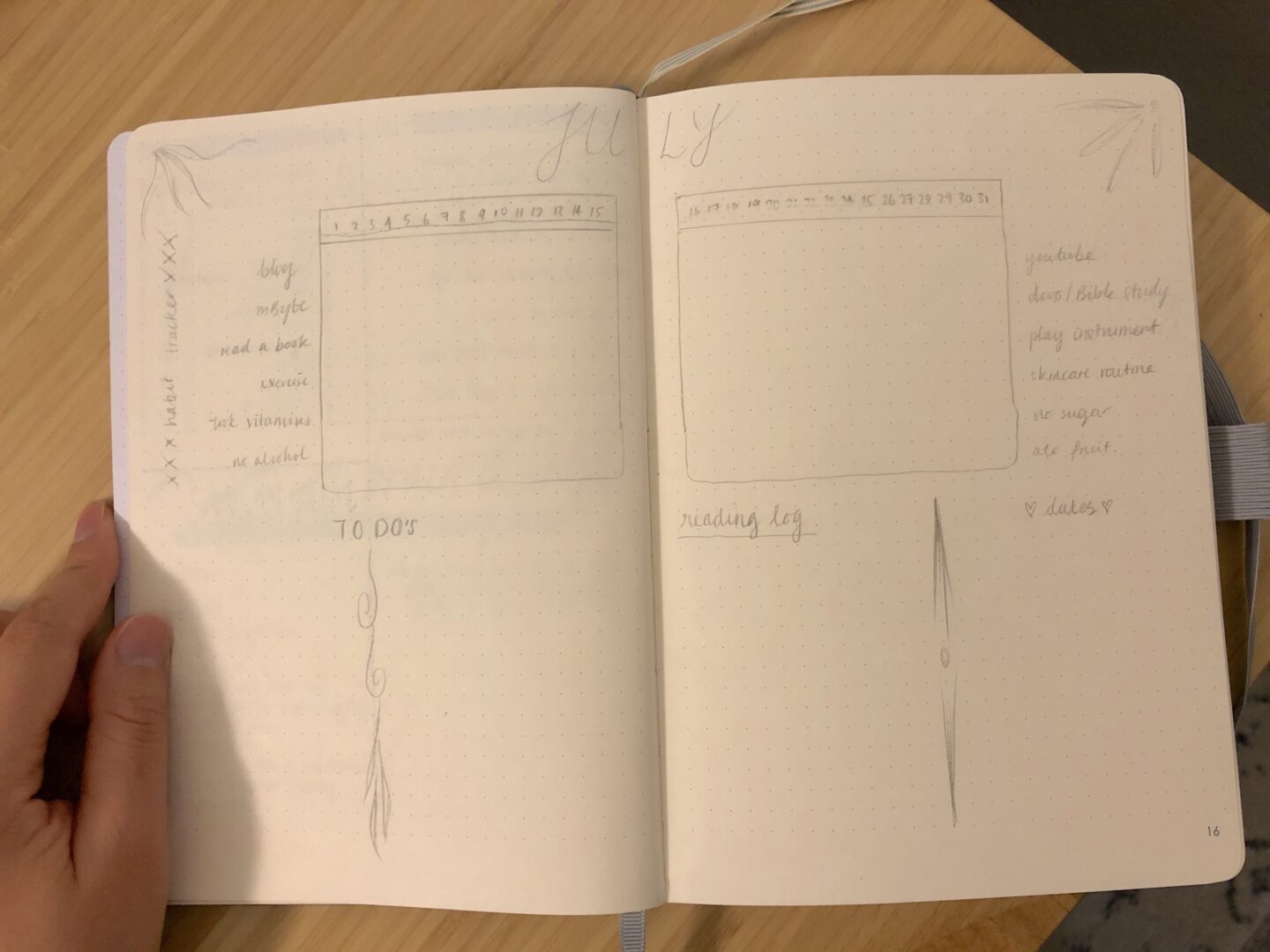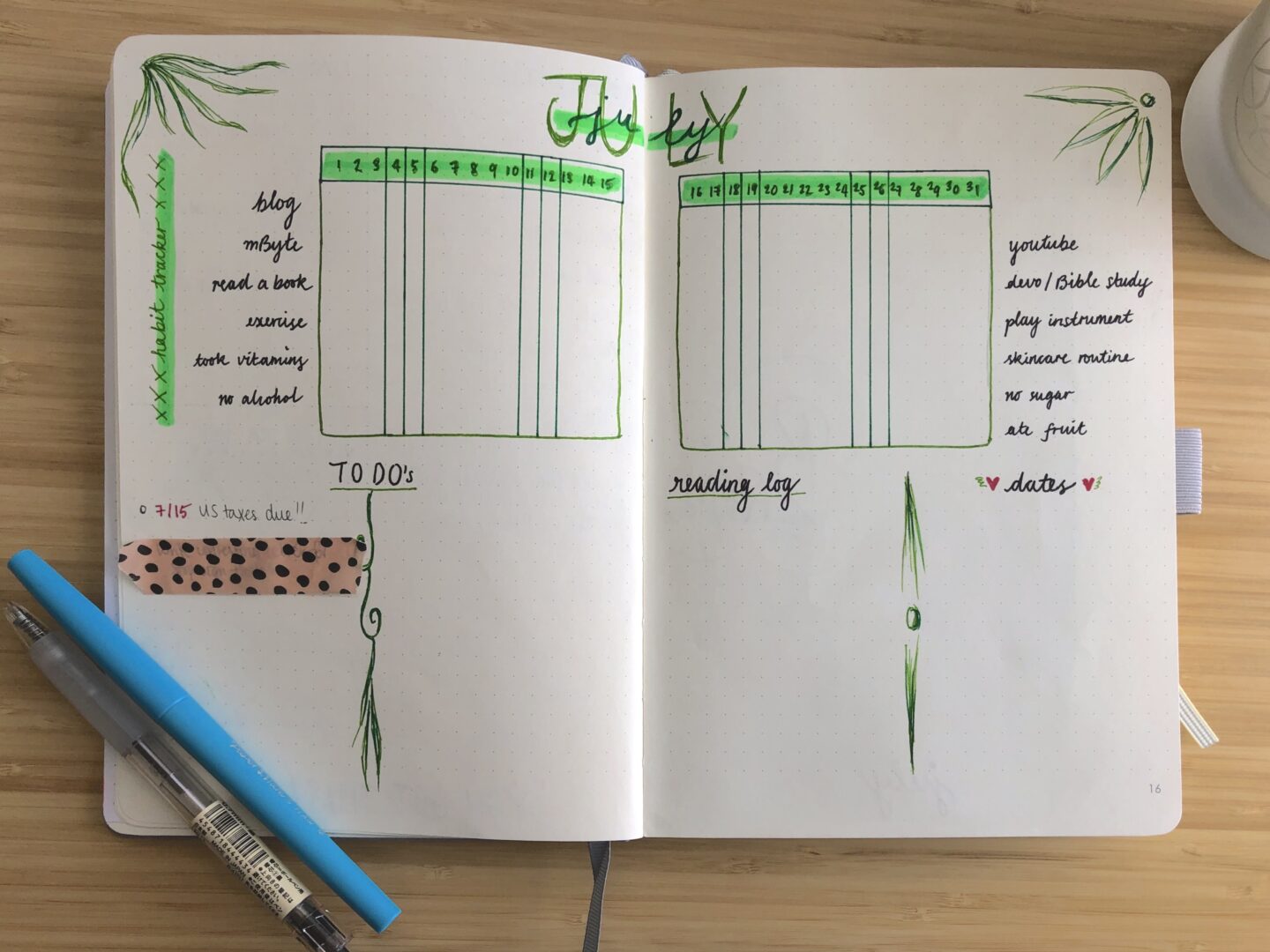 July's colours were green, so I just did some basic doodles in green and left it at that. I used a light and dark green Paper Mate pen (I have this set), and a green highlighter.
I don't plan to change the habits I'm tracking for the moment so they're the same as last month, but I've written them on alternating lines on either side of the tracker so each row has a bit more breathing space. I'll be indicating each habit done with an 'x', as per the x's by my "habit tracker" title.
For July I highlighted the weekends of the month by outlining them with my dark green pen, which I felt would be helpful for myself. I went back and did the same for June with my purple pen too. The washi tape conceals a semi-private task.
Now onto the story and my August draft…
I originally pencilled out the 2-page July spread, followed by a 2-page "brain dump" spread, of which one page would be for July and the second for August. I figured it would be enough space because I'm not using it for much. I was satisfied with the way it looked, so I inked it all in.
But then, when I pencilled in my August 2-page spread, I realised that I would probably need a lot more than just half a page for my to-do list and only one A5 page of brain dump space. I watched some videos on where others went wrong on their bullet journals, and one of the pieces of advice that stuck out to me was not using the brain dump space as intended.
The brain dump pages are for you to get anything out of your head and onto a page so that it no longer has to fester in the brain. Once it's out of your head, you can move on and/or come back to it without worrying that you'll forget about it. If it's important, you can deal with it later.
I've already used up my June brain dump space and it took less than 5 days. The rest of my June spread is already looking cramped and it was a 2-page spread for just half a month. I have a lot of stuff running through my mind at any given time and I didn't want to be limiting myself on space, especially when July has an extra day in it!
It was also at this point that I decided I wanted to have different Bible verses for each month, and really liked other bullet journals that kept blank pages for quotes and/or just left pages blank to give a sense of spaciousness. I hate clutter, and a cluttered page makes a cluttered mind as well, so relieving my page of clutter allows both the page and my mind to breathe.
That's when I went back to my July/August brain dump page, found some green paper, loosely ripped it with a ruler and stuck it over the top, converting the 2-page spread to one large brain dump for July only. Some washi tape and a green note strip decorates the page.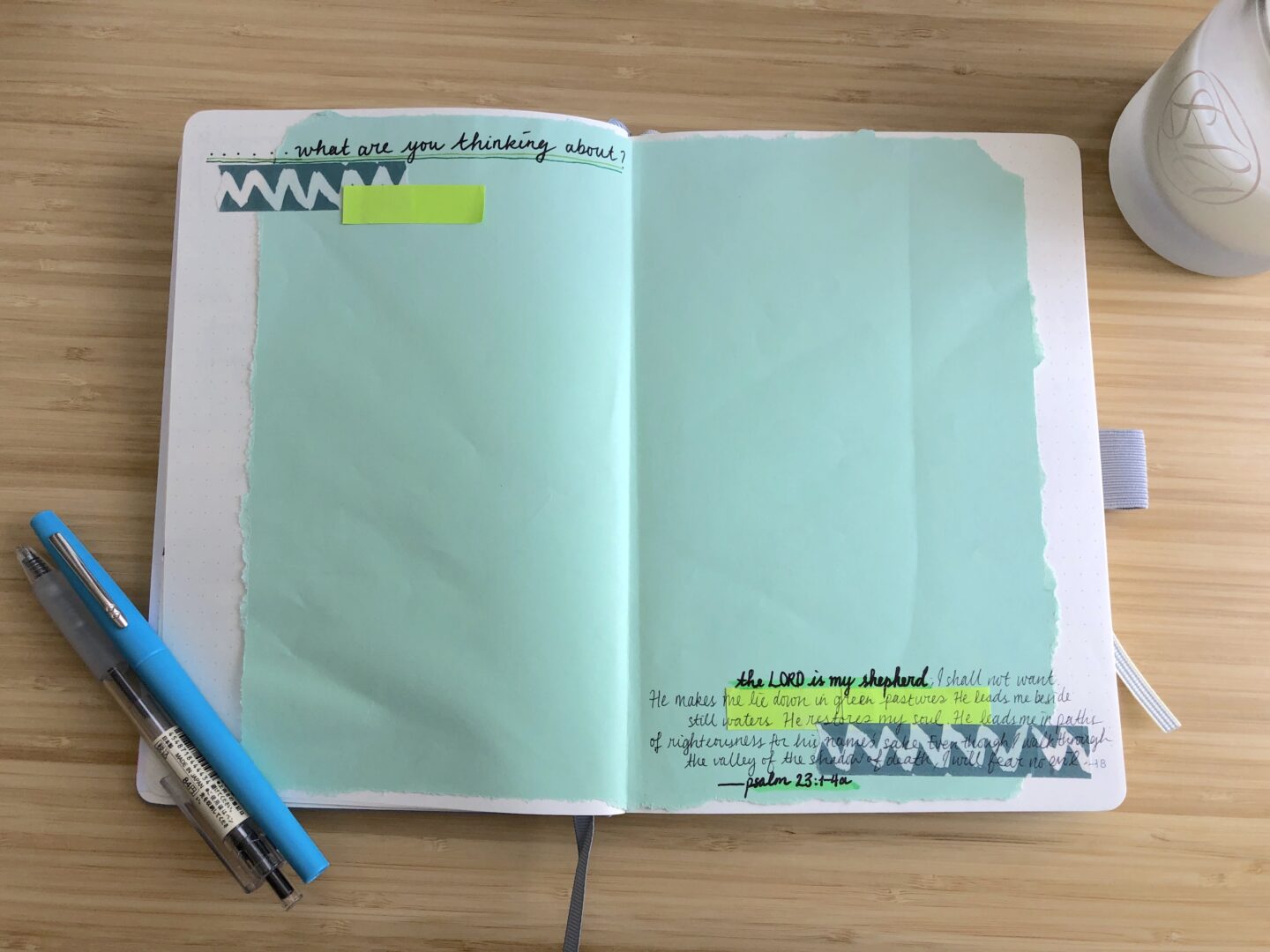 If I hold it up to the light, you can kinda see the 'Brain Dump' bubble I'd written on the original paper, with an orange bubble around the word 'Dump' because yellow and orange are supposed to be August's colours: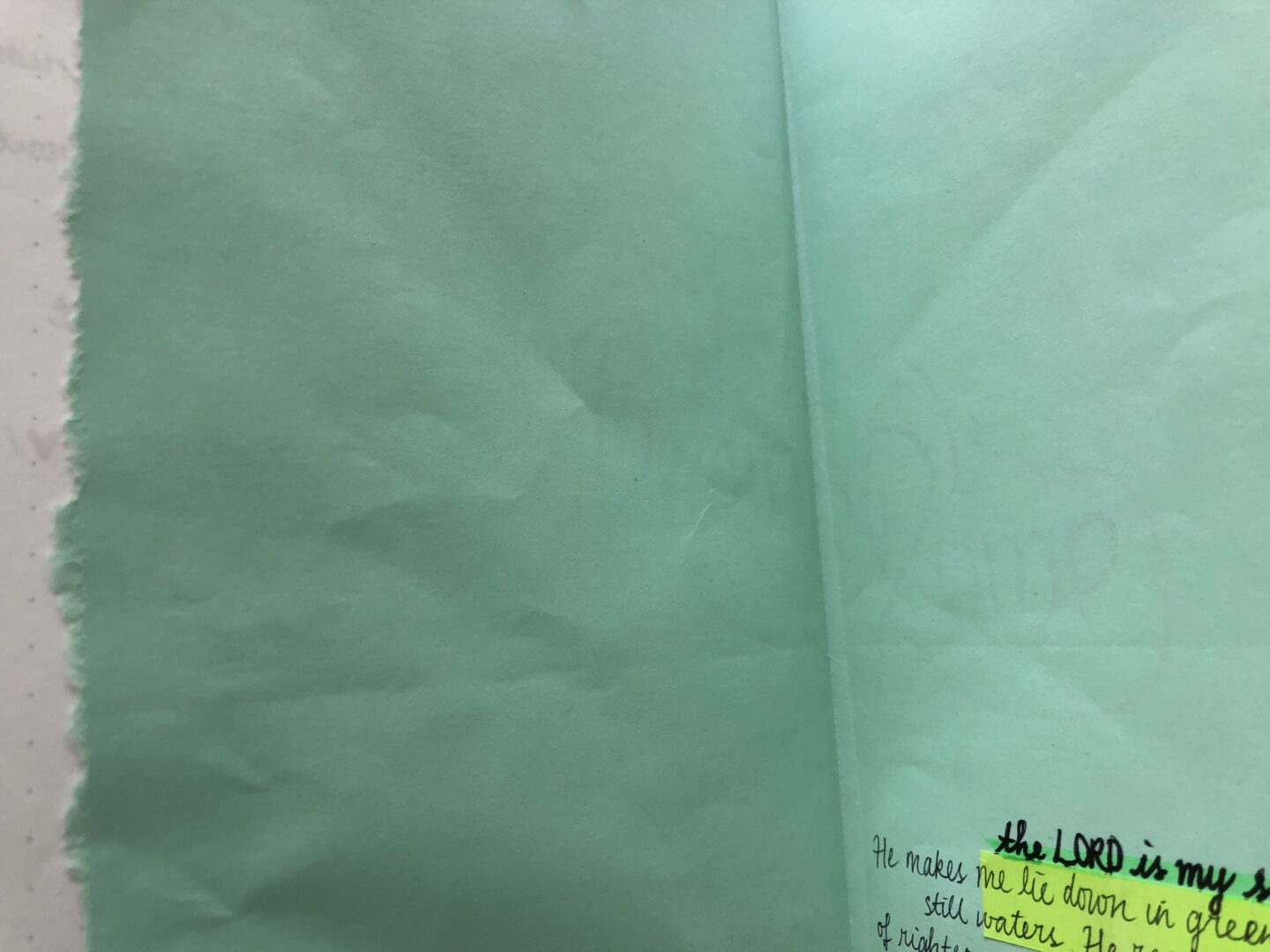 When I was thinking of verses, Psalm 23:1 just came to mind, so Ps. 23 it was :) I continued the chapter until verse 4a because that was just what worked out on the paper.
I'm probably going to run out of space on my original July spread, so I'm going to allow myself to continue to the pages following the brain dump spread as much as I need. For June, I tried to limit myself to the 2 pages total and I'm already feeling a bit suffocated by the amount of text I've got going.
Here's my August draft, which I like a lot more, because it's prettier but most importantly because it gives breathing space: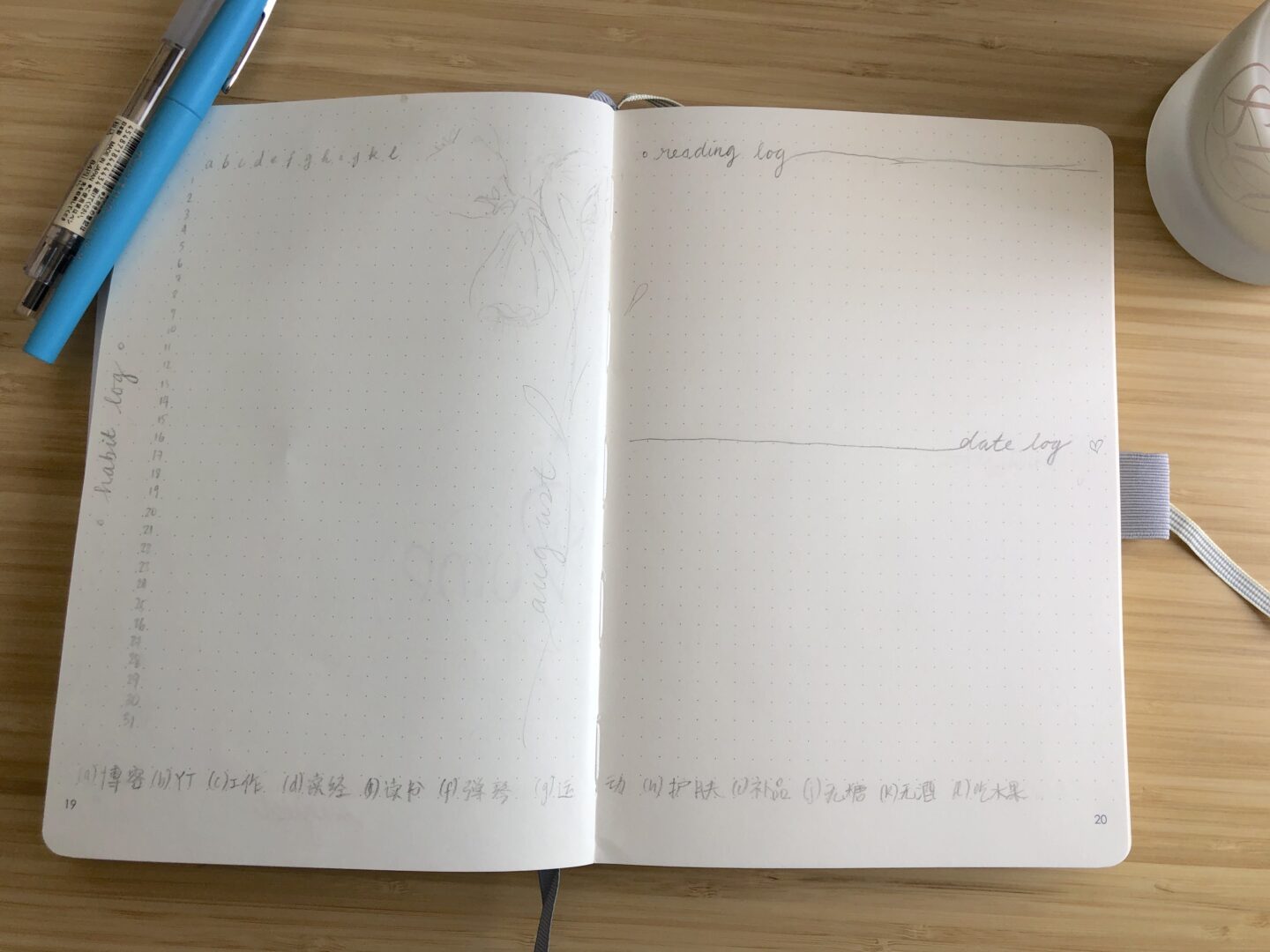 I've got my habit tracker on the left with letters of the alphabet indicating each habit. On the very bottom row, I've written out the corresponding habit in Chinese. On the left, I've got my reading log and my date log with a simple line extending from the 'g' and the 'd' to separate the page – oooh, so artistic lol. My task log will be on the following page and I'll let it extend as far as it needs to go.
In the very centre, I've got a stem, 3 unnamed flowers and 'august' written on the stem all fancy. I've been watching Shayda Campbell's Plan With Me videos and she inspired the flowers in the centre of the page and the extended-letter-line-break. I think that's as decorative as I'm going to go, but I have to admit opening up my journal and seeing the pretty just makes me feel extra happy and creative.
What I have is so basic, but just a little colour here and there, and a mini doodle or a piece of coloured paper stuck in with a bit of washi tape makes a huge difference!
On the practical side, I've loved having my habit log and being able to carry my bullet journal around with me. I can log my habits just before bed, and it's reminded me on numerous occasions to take my iron supplements, as well as prodded me to get some of my other habits done so that I can finally fill in that row. It is very satisfying to fill in days where I've done almost all the habits I've been tracking hehe.
On one of my other notebooks I've also taken a bullet journal approach to handle the tasks I want to get done for any given week. This I learned from Plant Based Bride and I don't think I can go back to my previous ways of task tracking again haha.
I feel like I've learned a lot recently about how to better organise my life, change my lifestyle and build healthier habits. Bullet journalling would definitely be a part of that and I highly recommend you give it a try if you think it could work for you.
Don't spend a lot on a notebook, just grab a piece of paper like I did and test it out. Start small and go from there.
Join me next month for my August spread and an update of how I'm getting on with my July spread?
Muchos love,
Bobbie