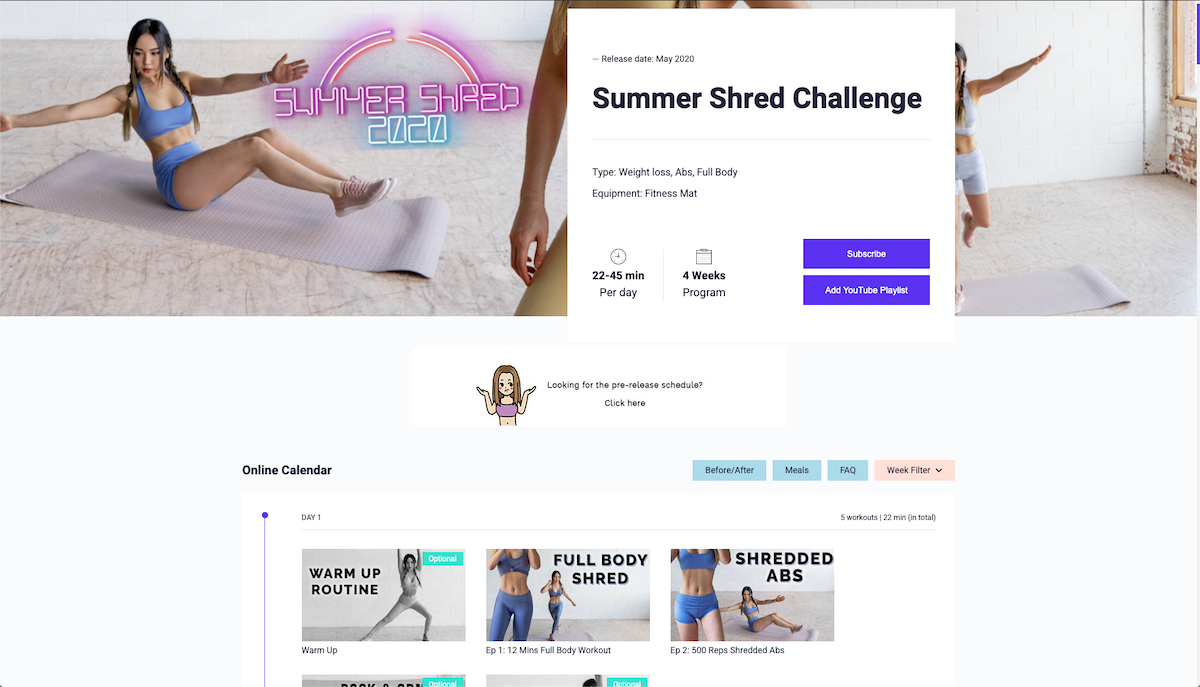 Edit: Click here to read my first Chloe Ting challenge experience – 2 Week Shred
Click here to read my third Chloe Ting challenge experience – 2019 Flat Belly
Click here to read my fourth Chloe Ting challenge experience – Get Peachy
This post was completed on 7/21/2020.
Jump to starting numbers.
Jump to week one or end of week one update.
Jump to week two or end of week two update.
Jump to week three or end of week three update.
Jump to week four or results and final thoughts.
It's that time again where Jacky and I take on another one of Chloe Ting's workout challenges. Yes, last time I said that we would start the new workout on Wednesday and that did not happen. We were both very tired that week and then my period started and I ended up feeling way too tender.
I was still nursing a headache this morning but I finally decided enough was enough, I can't keep excusing myself from exercise, and now I can finally fill in that 'exercise' column of my new bullet journal, lol.
I checked out a number of her programs and ultimately decided this one would work best. Jacky's a trooper and is just happy to do any exercise with me so he let me choose. He's the best <3
I'm glad this challenge has a lot more rest days. But of course, you can afford to take more rest days if it's more of a long-haul program. I think after doing her 2 Week Shred Challenge I'm less intimidated by a slightly longer program, it's only approx. 22-45min per day, and now that we have a bit more strength from completing the previous challenge I do feel it's a lot more doable. Oh! And I actually like the music for this one haha, which I learned is more important to me than I thought it would be.
We had a noise complaint from our downstairs neighbour last time (with whom we've now made peace by the grace of God and some homemade banana bread hehe) so we've decided to replace her "Ep 1: 12min Full Body Workout" video with her "Ep 4: No Jumping HIIT" video. This should also be easier on our bodies while still giving us a great workout.
Unlike last time, I'm not going to post my weight, but I will still post my waist and hip measurements. This time, Jacky made sure to take photos of where on my body I measured my 'before' from so we can make sure the measurement results are accurate.
Last time I measured my hips at the smallest part, but this time I've taken the measurement from the largest part of my hips as you're supposed to. In addition, I've made mini-videos of my progress pictures so we'll be able to better perceive if there is a difference.
I took these photos just before we started exercising. I ate in the morning (albeit not a lot) and had an iced coffee in my system, but these are pretty close to what I'd look like in the morning anyway.
Without further ado…
Starting Stats & Details
Start Date: 20th June 2020.
Workout Program: Chloe Ting's 2020 Summer Shred Challenge.
Duration: 4 weeks.
Modifications: Replacing Ep 1's HIIT video with Ep 4. No Jumping HIIT.
Measurements
Waist: 70cm
Hips: 108cm 100.8cm (see end of week one update for an explanation for this)
Again my goal is to get into the habit of exercising regularly and feel fitter at the end of it, and any inches that may be lost throughout the duration of this challenge is going to be a big bonus.
I will not be changing my eating habits for this challenge either, but do in general aim to eat less sugar.
Week One
6/20 – Day 1: Completed 17:51.
Videos done: Ep 4. No Jumping HIIT, Ep2. 500 Reps Shredded Abs.
We had a great workout today! I was thinking the no jumping HIIT meant that it might be a little easier. Um, lol. I must have been born yesterday.
She really kicked our butts, but we only paused 4x, and we both actually just really enjoyed it. Like, really enjoyed. I could feel my core working, I could feel my body hurting but it was the good pain and it was controlled and all the movements were doable without me getting light-headed and feeling faint.
My abs were burning in the second video but I just love that we were both able to follow along well and get a really good workout. And just the fact that we both worked out after a 2 week hiatus! Very, very happy.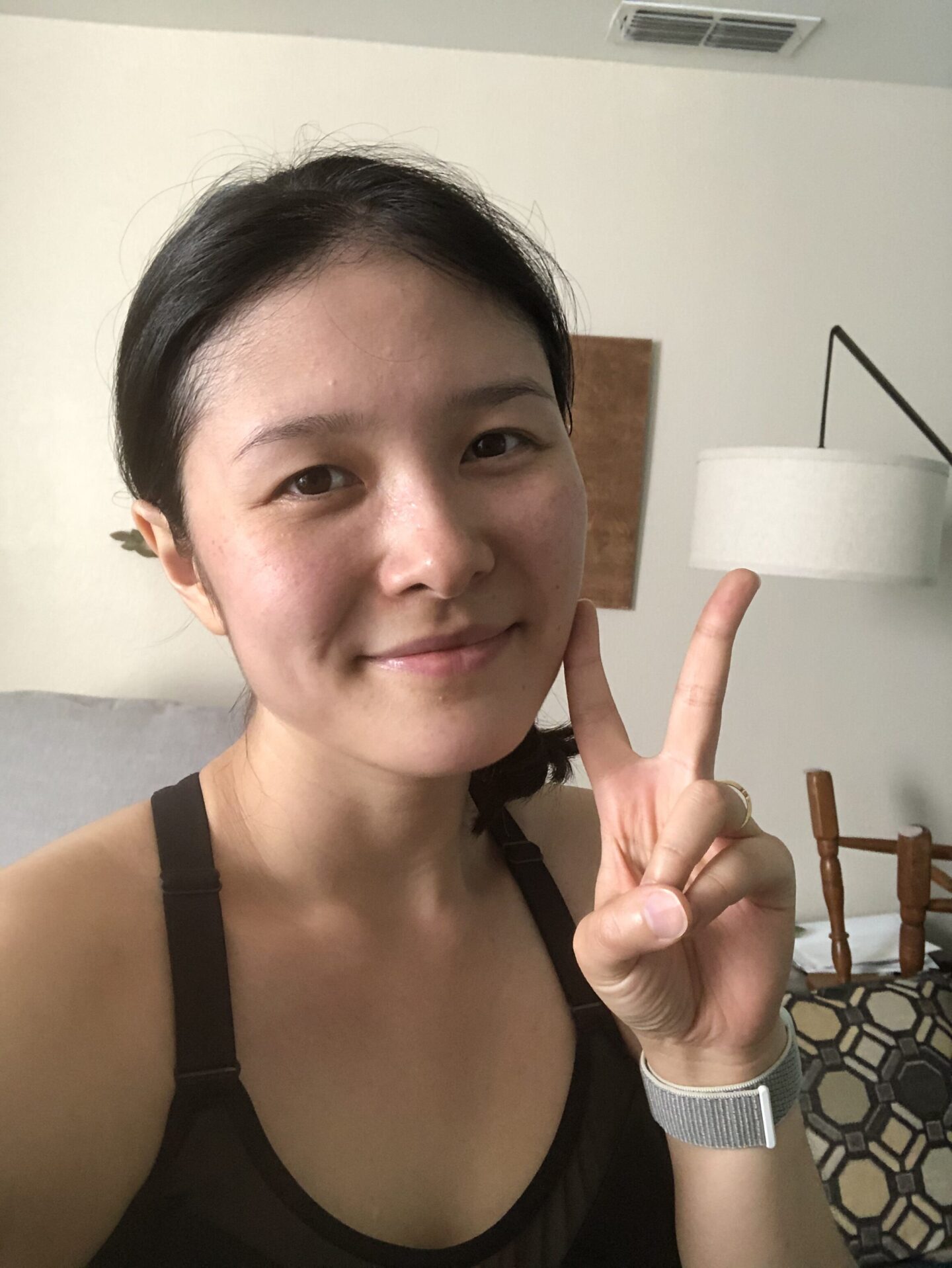 ---
6/21 – Day 2: Completed 20:22.
Videos done: Ep 2. 500 Reps Shredded Abs, Flat Belly Round Butt.
Today we had a power outage and had a humongous Costco run. I think we bought enough groceries for the next two months. Jacky had to carry the groceries from the car all the way up to our floor so he was exhausted by the time it came to exercising. We're also aiming to clean the house today… it's a lot! Eventually Jacky decided he'd just take today as a rest day.
The old me probably would have just given up on working out today too, but for some reason I was determined to exercise. I am really enjoying this program; I think it helped me have good sleep last night and the more I do it, the more energy I seem to have. I had to take a break part way through because my nose started bleeding a little, but other than that it was a great workout.
---
6/22 – Day 3: Completed 10:15.
Videos done: Ep 4. No Jumping HIIT, Ep 3. Upper Body & Arms Workout, 10mins Toned Arms.
We worked out in the morning as Jacky has work on weekdays. We were planning to work out earlier but unfortunately I wasn't able to wake up early enough. Our friends joined us on vid call as well, which was very fun albeit a little distracting haha.
My body was aching from my exercise last night, and my arms were clicking and going a bit numb so I did have to stop a couple of times to rest, but I still really enjoyed the workout today. I then made us both egg white breakfast burritos and iced lattes.
Honestly, I loved that. I didn't think I was capable of being a morning-exercise person, but I think today proved me wrong. Since Jacky will probably have to start going back into work again soon we'll be trying to exercise in the morning morning (then have breakfast together) on weekdays permanently moving forward. This will mean we'd eventually need to wake up at 7am but that's what I'm aiming for anyway :)
---
6/23 – Day 4: Completed 16:29.
Oh my gosh. Today is an active rest day, so I figured I'd "rest" by doing the house cleaning I didn't do on Day 2. It pretty much took all day since I started in the morning then took a few breaks along the way. My Apple Watch says total cleaning time was over 2hrs – this did not take into account the cleaning that I'd already done before I decided to start tracking it on my watch, and I also paused the timer when I was resting.
I didn't sleep that well last night either, so I. am. exhausted.
On the bright side, I did more or less all the cleaning I was planning to do and the apt is a lot sparklier, yey.
It's kind of weird but I was a bit disappointed I didn't have any workouts to do today. If we'd cleaned on Saturday like we'd originally planned to, I told myself I'd just do her 500 Reps Shredded Abs workout anyway because I still wanted to exercise. This is very different from how I felt doing her 2 Week Shred Challenge; I now realise that that one was probably too intense for me to do properly and as a result I'd probably done many of the moves incorrectly to make it easier for myself, which also likely affected my results.
So far this challenge is pushing me in all the right ways – I feel the burn where I'm supposed to when I'm doing it and I feel the mild aches the day after that tell me it's working, and that's just really exciting for me. I am glad I started with the 2 Week Shred though, because I don't think I'd have been able to commit to a longer fitness regimen when I was just getting back into exercise. I'd consider myself to be at a beginner-intermediate level of fitness and quite commitment-phobic, in case that helps you decide a specific challenge to take on haha.
---
6/24 – Day 5: Incomplete 09:44.
Videos done: Ep 4. No Jumping HIIT, Ep 2. 500 Reps Shredded Abs (partial).
Videos incomplete: Ep 3. Upper Body & Arms Workout.
This morning I woke up very groggy. I think I overslept so I'm just sluggish in general. We started exercising within 30min of me waking up, and just during the first video I could feel myself taking shortcuts on the movements and not working my muscles like I was supposed to. When I did try to work harder, my heart rate went up so much it made me feel light-headed so I had to take multiple breaks.
I did manage to complete the first video, but I was not feeling well at all – faint, dizzy, light-headed… hungry. After spending the majority of the first two movements of Ep 2. in a child's pose, I called it quits to get some food in me. I figured if I'm feeling better later, then I'll do the rest of the videos for today. If not, I'll leave it there because my body needs rest.
Jacky struggled through the second video but went away immediately after. It turns out that he felt like he was going to throw up so he just finished the video and ran off to cool down with a shower. We were originally aiming to do all 3 videos plus the optional "Sexy Back & Abs Workout" but clearly that is not going to happen, and that's okay.
I weighed myself this morning and I have gained about 0.5lbs, and I'm kind of excited about that because my body typically puts on muscle faster than it loses fat. More muscle is conducive to fat-loss anyway, and any time I get really into working out I always gain weight before I lose any.
Plus, right before the workout, I was texting my friend Annie and telling her how great I thought I was looking haha. I really do feel like my body looks tighter and my workout clothes are fitting better (I was starting to get a bit chubby for them). We're going to try to work out together tomorrow.
---
6/25 – Day 6: Completed 10:53.
Videos done: Ep 4. No Jumping HIIT, Ep 2. 500 Reps Shredded Abs, Abs in 2 Weeks.
Aw man, doing that "Abs in 2 Weeks" video again today just reminded me why I hurt so much during her previous challenge haha. I realised today that her music is too fast for me in that video, meaning that I either take shortcuts on the movement to keep up or fall flat on my face from exhaustion because I can't handle the burn, neither of which is conducive to to an effective workout. Nevertheless, I still feel I had a really good workout overall, I only felt light-headed briefly when we went from standing to lying down, and I've definitely recovered since yesterday's failed attempt (I didn't end up trying the other workouts later on in the end. I was pretty knackered all day).
We worked out with both Jon and Annie today. I put together a little playlist on YouTube so we can all go through the day's exercise together. Took a while to figure out the technical difficulties but it was really fun to exercise together. I feel like it was motivational for me at least.
We have another rest day tomorrow! Again I'm a little surprised and disappointed since it feels like every other day is a rest day lol, but working out 5x/week probably makes most sense so that my body can rest. Annie suggests doing a yoga stretch routine for the rest days so if I feel alive enough I'll aim to do that tomorrow.
I'll also post some end-of-week-1 updated photos. I'm really liking the changes I see so far!! Annie told me to take the photos with my camera lower down so the pics aren't as slanted, which I tested yesterday and it really does look more true-to-life, so do check back for those :)
---
6/26 – Day 7: Rest & Update Day.
Good morning~ It is day 7, I am tired because I didn't sleep much last night, and I noticed that the left side of my neck is hurting. I'm wondering if it's because I was straining my neck whilst doing the "Abs in 2 Weeks" video yesterday because it was starting to hurt before I went to bed last night. I stretched it out this morning and it's a lot better but there is still a mild pain when I turn my head too much or rotate my arms.
Anyway, the point is, I need the rest day. Lol. So I'm definitely just going to rest today. Also, it's the end of the first week so that means I will post some update thoughts and photos!
Measurements
Waist: 70cm (+/- 0cm)
Hips: 100cm (-8cm -0.8cm)
End of Week Thoughts
Firstly: woah, what? I had to double check the hips thing because I don't recall them being that much, and to lose 8cm in a week is ridiculous. Then I went back to the photo Jacky took of my measurements and lol it turns out my 'before' hips were 100.8cm, not 108cm. BIG difference haha. I've updated the 'before' measurement now.
So yes I lost 0.8cm. In one week! Yay. My hips are the area I carry a lot of fat on so I'm really happy to see that shrinking. My waist measurement hasn't changed but honestly I don't care, I can see my abs getting tighter and I love that.
Also worth noting is that my green sports bra is in a size 'Small' but the black sports bra is sized 'Medium'. Before I started Chloe's 2 Week Shred, my green sports bra was honestly a bit small for me with all the excess chub I was carrying on my underarms and back. I didn't measure those but just from how well the sports bra now fits the difference is obvious. I already liked my body before but seeing results makes it even more encouraging for me to keep going.
These are just the visible changes.
Mentally I've noticed I have more energy, I don't get sick as easily or frequently, I don't have as many headaches and even when I do they aren't as painful and don't last as long as before. But the main thing I'd really like to combat is my perseverance, or lack, thereof.
I have the habit of exercise yo-yo-ing, meaning I'll exercise hard for a short period of time, lose some inches, then stop working out while eating fatty foods and gain those inches back, then rinse and repeat.
I really hope this can be the start of a long-term lifestyle change. I want to be able to keep it up as a regular habit; a marathon, not a sprint. I don't want to just stop exercising when I drop down to a certain number on the scale or measuring tape. I want to keep going for the health benefits, and not get lazy or complacent when I feel like I'm doing fine.
This is just something that I struggle with in general. It's a bad habit of mine that I get overly obsessed with something, go all-in for a period of time, then burnout and ditch it for a period of time, then go back. Little by little, I'm trying to build up regular habits that can persist for a lifetime by keeping things in moderation so I don't lose motivation.
So far, I think the Summer Shred challenge has been perfect for me in terms of difficulty. I am really enjoying the pace, workouts, music etc. so I do think I can keep going for another 3 weeks and then try another of her longer challenges. I love that she has so many to choose from so I am unlikely to get bored from doing the same one over and over. I really appreciate the number of rest days too, so I can give my body a break without feeling guilty for not exercising on a day I should have been.
I think the intensity of her short-term challenges is definitely too much for me at my current fitness level, but maybe one day when I'm strong enough I'll do another one of those.
Week Two
6/27 – Day 8: Completed 19:47.
Videos done: Ep 2. 500 Reps Shredded Abs, Ep 3. Upper Body & Arms Workout, Ep 4. No Jumping HIIT, 10mins Toned Arms, Cooldown (partial).
Today our friends Ryan and Noah joined us for the first three videos. It was really fun to work out together and I am infinitely proud that Noah joined in on exercise for like the first time EVER haha. She actually enjoyed it and said she'd join us again some time!
I am also very proud that I was able to do real plank jacks for the first time ever. Usually I do the non-jumping variation of plank jacks because I just can't, but today I tried them and suddenly I was just… able to do them. Properly. For 10 seconds, anyway. I hate them and was also worried about disturbing our downstairs neighbours so went back to the easier variation because I can do those more controlled. Still, If that's not a testament that I gained some strength, I don't know what is :)
I also thought I'd do Chloe's Cooldown video today but I got about half way through and then didn't want to follow it anymore haha. I love her workout videos, but she's really not the most flexible so the duration of her cool-down stretches leave something to be desired.
To be honest, I almost thought we wouldn't work out today because I was so tired I took a 2hr nap in the afternoon at the time we'd originally agreed to exercise, then I woke up groggy and hungry (that's right, I'm a pig). But then I really didn't want to just give up, especially when I felt personally responsible for ensuring Noah exercised today (mwahaha), so after a smoothie and an hour's rest, I called her up and we went for it.
So far there have been many different things that have kept me going and motivated to exercise even when I didn't want to. Today was wanting to make good on my word that I'd drag my friend to exercise with me. It worked out, it was great. Physically I feel great and more energised. Mentally I feel accomplished. Big thumbs up today.
---
6/28 – Day 9: Incomplete.
Honestly the chances of exercise happening today were slim to none in the first place. Last night I was only able to sleep for 4hrs with majorly disrupted sleep throughout because of the pungent smell of weed coming from our bedroom sink and our en-suite bathroom.
After complaining about it for almost a month, I finally escalated the issue as an urgent matter because of the toll it is taking on my health. Thank God that our apartment complex is now taking serious measures to prevent it from happening again, but it doesn't change the fact that I am exhausted from the entire ordeal. I'm resting up today.
---
6/29 – Day 10: Incomplete 16:52.
Videos done: Ep 4. No Jumping HIIT, Ep 2. 500 Reps Shredded Abs.
Videos incomplete: 15mins Sexy Legs & Booty.
I guess we're not doing the 15min Sexy Legs and Booty vid this challenge because Chloe doesn't bring it back, heh. Anyways, after being able to sleep well last night, I was surprised at how tired and weak I was in the afternoon, but I suppose my body is still in recovery mode.
We were aiming to do Day 9's videos today because we skipped a day yesterday, but right at the start of the first video I injured my left thigh. It hurt to put my weight on it so I had to be careful throughout the work out and, coupled with my lethargy, I just decided to not the leg workout video.
I was also hungry so that could have contributed to my lack of energy (heh heh), so I cooked us a large, protein-filled dinner immediately after. Whew, I may have eaten too much because I'm now feeling sleepy. Wow, I'm such a pig haha.
---
6/30 – Day 11: Completed 10:20.
Videos done: Ep 4. No Jumping HIIT, Ep 5. Lower Abs Workout, Back Workout.
Oh man… I just realised that the Lower Abs Workout was a new video for her Summer Shred Challenge and it is coming back multiple times. Gosh, that one was actually killer. I was barely able to do half of the reps Chloe did and I was questioning if my fitness level had even increased given the amount I was struggling.
The Back Workout was a huge struggle as well oh my gosh. The video thumbnail says,"Back & Arm Workout," so I thought it wouldn't be that bad (because I'd been enjoying her arm workouts and have been able to complete them) but NOPE. I was wrong. So wrong.
My left leg was still hurting so I'd taken it easy on the HIIT video, but my leg being in pain when I rested on it would've had absolutely nothing to do with how difficult I found the other two videos. Good job, Chloe, you kicked my butt today and I really enjoyed the challenge.
We had so many people working out today that we had to split into two groups haha. Apparently 4 more people are now regularly working out to her videos because of me, hee. You're welcome, Chloe ;p
Today was supposed to be a rest day and we completed her Day 10's set today, so we're now officially caught up to her regular schedule. There are only 2 more days to go before the next rest day anyway, which works for me just fine! (That said, the next two days are gonna be super intense… gah!)
---
7/1 – Day 12: Incomplete.
Welp… looks like exercising isn't going to happen today. Firstly, I slept stupidly late last night so didn't wake up early enough to work out. Secondly, even after waking up I haven't had time because I've been on the phone to a friend all day. Jacky and I are planning to meet up with her and her hubby for a couple of days over the weekend now that small-scale gatherings are permitted. We are still going to be very careful, but this is the first time in 4 months that we made plans and didn't cancel due to COVID so we're really looking forward to it!
Finally, I am just in freaking pain; that Back & Arm Workout from yesterday has clearly been working and, well, it's now 21:35 so it's time to throw in the towel and accept that there's no way I'll be able to do all those videos today (especially that Upper Body & Arms Workout video — that's a big fat nope from me.) Looks like Chloe really knew what she was doing when she put a rest day after Day 10 haha. It also looks like me and that Ep 3. video just aren't meant to be, because this is now the second of three times that I haven't been able to do it.
Tomorrow I'll add the Ep 2. 500 Reps Shredded Abs video to the workout list to make up for not doing it today, and we'll give up on trying to catch up on the workout days we didn't do. We're going to be busy on Friday and walking around a lot, so we'll definitely be taking that Active Rest Day.
---
7/2 – Day 13: Completed 11:00.
Videos done: Ep 4. No Jumping HIIT, Ep 5. Lower Abs Workout, Grow Booty Not Thighs, Ep 2. 500 Reps Shredded Abs.
Whew! What a workout today. Jacky did not join but I exercised with my friends Jon and Flora. The Lower Abs video hurt like hell but we got through it all in about an hour. My left leg is no longer hurting, and I really felt my core engaging, so I was able to have a much more effective workout today. We took a bit more of a break after the first two videos, but we managed to do it all without stopping otherwise.
I definitely feel stronger — compared to the Lower Abs Workout, that 500 Reps workout was almost like a break haha. That said, it was a lot today, and I'm glad I had friends to exercise with otherwise I probably would have given up.
Mental fortitude was everything today. I felt myself getting tired then suddenly something clicked in my mind saying, "No! Ease in to the burn, focus, enjoy the burn; that shows it's working. You can do this; your friends are doing it too!" — And I was able to push through.
I definitely feel like I earned that rest day tomorrow! I just realised that we're already half way through, how the time has flown. I was looking at Day 15's videos last night and I am not looking forward to that "Ep 6. Intense Full Body HIIT" video — we haven't even been doing the regular Full Body HIIT video, gah!! Just watching it makes me shudder. But we'll see how it goes… I'll most likely stick to the non-jumping variations and do as much as I can. Baby steps :)
Update photos tomorrow!
---
7/3 – Day 14: Active Rest & Update Day.
Ahhh goodness I am so tired. It is 22:57, I am sitting in a hotel room (review to come) and have been walking around for half the day before coming back for evening fellowship. I took an extra rest day this week, but I think I made up for it by how active I was today.
In terms of update photos though…
Measurements
Waist: 70cm (+/- 0cm)
Hips: 99.5cm (-0.5cm)
End of Week Thoughts
I am really happy with how my hips are slimming down. Surprisingly my waist has continued to remain the same but there are definite changes in how defined my upper abs are becoming. I realise you can't see my lower abs with the bottoms that I'm wearing, but don't worry — there aren't any anyway. I think there's also less fat on my back, which I'm thrilled about.
In terms of workouts, I have continued to enjoy her Summer Shred series. I like the variety, I still like the exercises, I am also happy that she adds other, more challenging videos into the mix too (like that Day 11 Back Workout video — ohhh my goodness).
I'm exhausted and need to sleep now. 2 more weeks to go!
Week Three
7/4 – Day 15: Completed 10:07.
Videos done: Ep 2. 500 Reps Shredded Abs, Ep 6. Intense Full Body HIIT.
I'm so glad we were able to exercise in a ground floor hotel room this morning because when we jumped, the earth shook. I'm also very glad we did not attempt the Ep 5. Lower Abs Workout video as well because we would have well and truly died.
Ep 6. was so difficult, I was dying hard throughout the first two sets. We did have to pause half way through to take a longer break because, well, dying. My sweat soaked through my towel and my back sweat imprinted my bra outline onto my yoga mat, mmmmm…
I really enjoyed the workout though, it was sooo hard but I completed it at my own pace (which was much slower than Chloe's but hey! I did it) and felt very accomplished afterwards, especially since I did all the intense moves except high knees. Jacky managed to get through most of it too! We were rushing to meet our friends this morning and he was exhausted so he stopped before the last set and went to shower first.
Someone said in one of the comments on YouTube that, "You know Chloe's been working you hard when a plank feels like the best thing ever." — I finally understood what that meant and ohmygosh I agree wholeheartedly hahaha. But I'm also then very impressed at how strong my body has become, in that I literally felt like a 30 second plank was a break. Thrilled!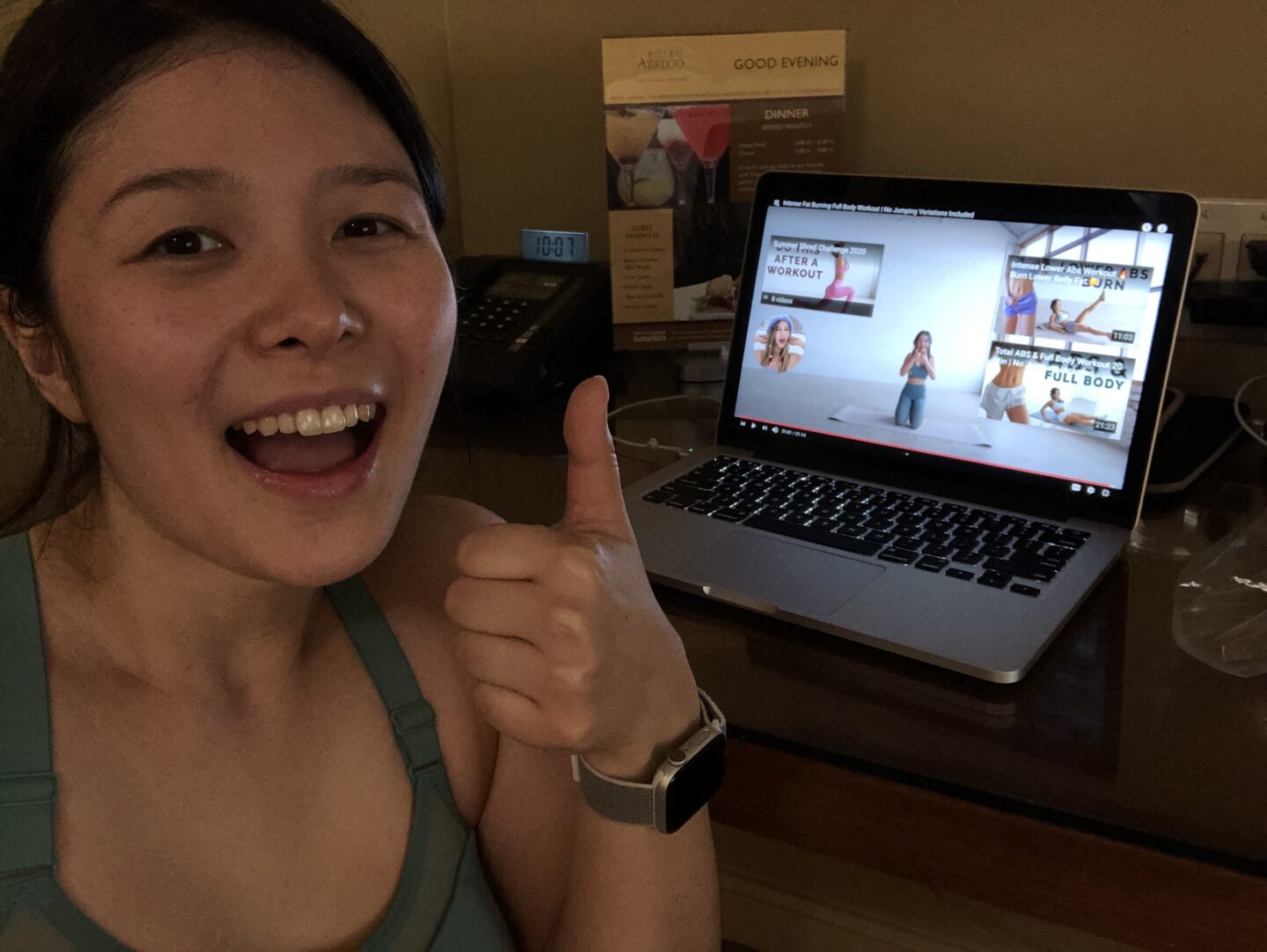 ---
7/5 – Day 16: Incomplete.
I am feeling extremely tired today. It's probably all the lost sleep catching up on me while still having to wake up early for church, as well as having drank wine again yesterday, and having had a sip of wine for communion this morning.
Tomorrow is a rest day but I'll be taking that rest day today otherwise I fear I may be sick. I have a very mild headache right now and don't want to push myself. Jacky is doing the workout with our friends Jon and Ryan and Noah, plus one of Jon's friends. I'll try to catch up tomorrow.
---
7/6 – Day 17: Completed 10:22.
Videos done: Ep 3. Upper Body & Arms Workout, Ep 4. No Jumping HIIT, Ep 5. Lower Abs Workout, 10mins Toned Arms (partial).
I did yesterday's videos today :) Today is supposed to be a rest day, but Jacky wanted to challenge himself to the insane Ep 6. workout video anyway. I advised him it's on the list for tomorrow, along with 2 other videos so he should probably rest… aaand he promptly nodded in emphatic agreement. Lol.
Noah and Jon joined me from Ep 4. onwards. We were going to do the 10min Toned Arms too but I started my IF journey yesterday and was hungry by then. It was time to break fast; Noah was hungry too, so we stopped.
I struggled quite a bit today because I slept funny and woke up with neck and shoulder pains. It felt a little better after I stretched and Jacky helped to massaged it but I was (am) still in quite a bit of pain. I'm going to take it easy for the rest of the day and hopefully will recover enough to be able to do the workout tomorrow.
---
7/7 – Day 18: Completed 10:17.
Videos done: Ep 2. 500 Reps Shredded Abs, Ep 6. Intense Full Body HIIT, Flat Belly Round Butt.
Welp, as if the first two vids weren't hard enough, Chloe decides to add another one to the list today haha. It was difficult for me at first because I was still nursing my aching neck and shoulders but some time during the workout I realised they had basically sorted themselves out and it didn't hurt as much anymore (the epsom salt bath I took last night and the stretches I did this morning prob helped too).
Our downstairs neighbour said he doesn't take his morning walks anymore because he's so busy these days so we did all the non-jumping variations for Ep 6. It's frustrating because we've been trying our best to be considerate but we also want to be able to do our best workout. The non-jumping version is definitely a lot less intense, but it worked out well because I didn't want to hurt my neck again, and Jacky started feeling so unwell he had to sit out the rest of the video before joining back in on the last one.
Annie and Jon joined us today. I'm glad Annie struggled as hard as I did two days ago ahahaha she did really well though, what a trooper! Jon, on the other hand, I have decided must be a robot because he wasn't even out of breath. Meanwhile I'm usually bathed in my own sweat O_O;;
I can't wait for amenities to open up again so we can book the gym or clubhouse to actually workout properly.
---
7/8 – Day 19: Completed 10:22.
Videos done: Ep 4. No Jumping HIIT, Ep 3. Upper Body & Arms Workout, Ep 5. Lower Abs Workout, Sexy Back & Abs Workout.
I am beginning to find the No Jumping HIIT less challenging so I think it's time to move to her Ep 1. video and just do all the non-jumping variations for a change.
Today we had Jon and Flora joining us and it was a fun workout. We were able to do all 4 videos. The last one wasn't bad at all, and I am very happy that I was able to really focus my energy on working my core and back. My lower abs hurt like crazy as usual.
Tomorrow we have the main video from her 2 Week Shred. GAH, just listening to that intro music makes me shudder >< I do believe I'm much stronger than I was when I first attempted her 2 Week Shred though, so I hope that it won't be too bad. But that music… still… shudder.
I'm a bit in shock that we are almost on her final week! It feels like time has flown, even though we're still in quarantine, because I'm really enjoying these exercises :)
I've started looking at what challenge I'd quite like to take on next and I'm leaning towards the 25 Day Hourglass Challenge. It won't be as appropriate for the men that join us though, so maybe they can do their own thing instead? Jacky will start going into work physically soon, so this is a viable option.
One thing's for sure: I will not attempt her 15 Days Intense Core Challenge. I've pre-watched some of those videos and, uh, I'm definitely far from that fitness level right now. It'll be something to aim for, though.
---
7/9 – Day 20: Completed 10:07.
Videos done: Ep 2. 500 Reps Shredded Abs, Ep 4. No Jumping HIIT, Abs in 2 Weeks.
I was not looking forward to that last video. Aw man, those songs haunt my nightmares and that video kills me to this day. I turns out I still cannot complete that video in full, and clearly I had not been doing the exercise right in the past because otherwise surely it would have been more manageable. No wonder I never got the abs that others had by the end haha.
I really felt my abs on fire and had to stop multiple times to catch my breath. Flora and Jon joined us today. I'd have paused the video probably 10x if they weren't working out with us haha. But if they weren't working out with us, I may have just skipped it.
Jacky and I were both a bit weak from our fasting though, and I think that may have impacted our performance. However, I think my grogginess could also be attributed to not enough sleep, or sleeping late last night, because I didn't particularly feel that hunger was a major issue. I'm so tired today.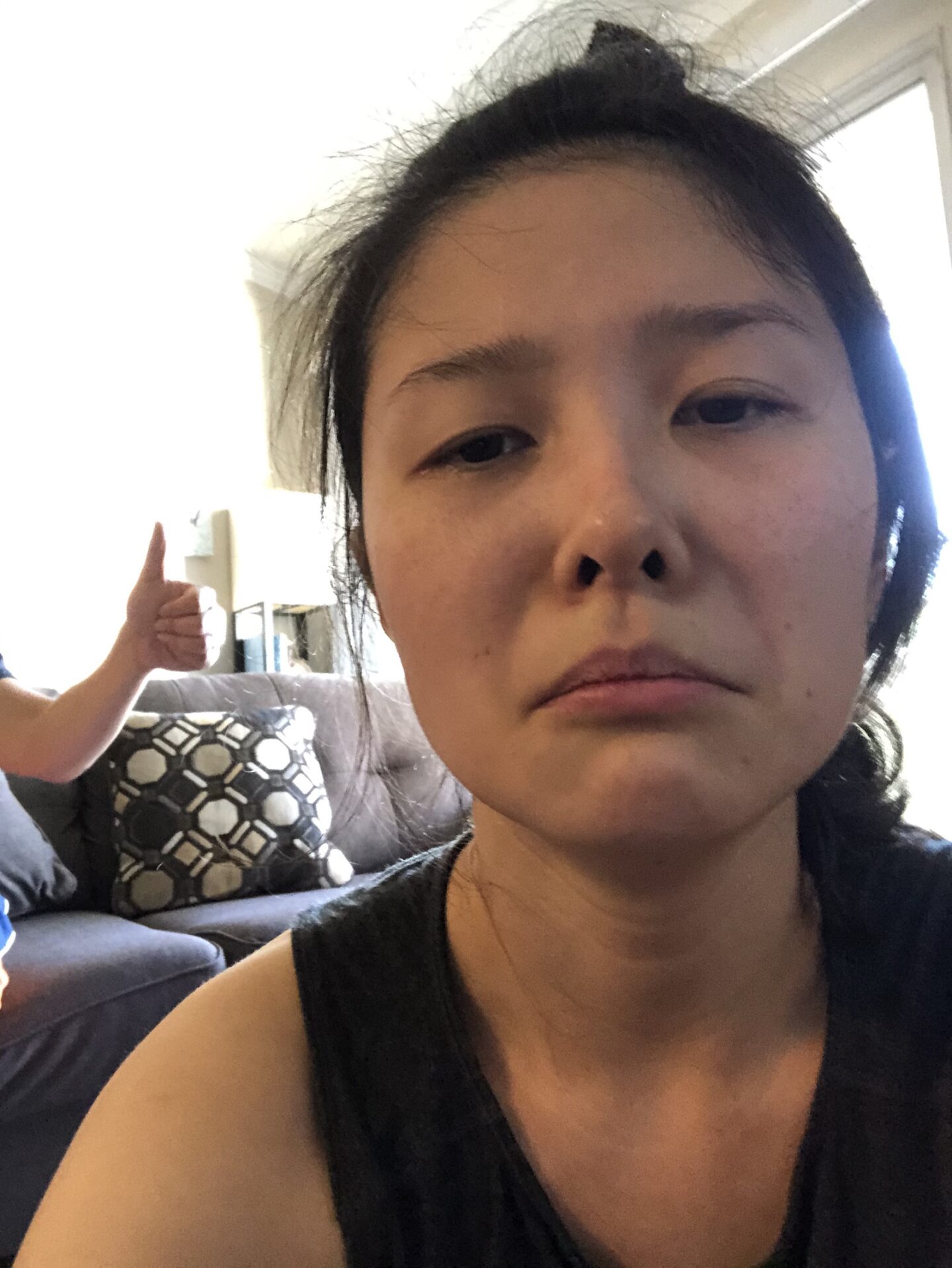 Jacky, on the other hand, was glad that we ended on the ab workout and not Chloe's Ep 6. Intense Full Body HIIT. If only you knew how much he used to hate ab workouts, you'd realise just how much he fears that video haha. Thankful for the rest day tomorrow. I'll use that opportunity to clean the apt.
---
7/10 – Day 21: Active Rest & Update Day.
I am glad today is a rest day because I would have just rested anyway. I did a bit of cleaning this morning but I have a ridiculously long task list today so the rest of cleaning will have to be postponed until this weekend.
I took these pictures in the morning and figured it would be a good time to get photos in that black sports bra again to compare the fit. It's starting to feel a little big, and I'm noticing the material of my bottoms are stretching further too (I think I'm starting to wear it further up on the waist, and lower down on my calves too).
Measurements
Waist: 69.5cm (-0.5cm)
Hips: 99.5cm (+/- 0cm)
End of Week Thoughts
This is the first time since starting the challenge that my waist has slimmed down a little. Jacky and I started intermittent fasting this week so that may have something to do with it. Either way, I'm really happy with how my body is changing slowly but surely.
My lower belly remains a problem area but I'm still working on it. I didn't measure my underarms or thighs but I think there are some decent changes there too.
I also started feeling like the Ep 4. non-jumping HIIT video was getting easier, so I'm glad for the inclusion of the Ep 6. Intense HIIT video. I think for next week I'll give her Ep 1. HIIT video a go, and maybe sub the Ep 4 videos with it too, depending how strong we're feeling, since I just realised we only have the Ep 1. video included one more time.
I can't believe next week is the end! Has it been almost a month already? How time has flown. I've thoroughly enjoyed this program so far :)
Week Four
7/11 – Day 22: Completed 10:02.
Videos done: Ep 2. 500 Reps Shredded Abs, Ep 6. Intense Full Body HIIT.
I'm beginning to notice many positive changes with my body that aren't just related to looking slimmer: I'm able to function well on less sleep as well as wake up earlier, I'm feeling stronger and less breathless from the exercises, and I have also barely been sick, which is a huge win because it means I have more hours in the day to be productive. Sometimes it feels like I'm coming down with something, but the max I'll get is a headache for a day or two and then I'll be back to normal.
I wasn't expecting to exercise this morning since we usually get up late and then it's time to call my parents for our weekly Saturday morning Bible Study, but this morning we were both up before 9am, so we were able to exercise, shower and eat before the study. I could definitely get used to this!
Annie joined us today, and I didn't find the two videos as deathly challenging as I did when I first started. In fact, I'm pretty okay with the abs video now. I noticed that when I have my hands on the mat I tended to use my arms to help with the movement and thus not actually work my abs. I've since started lightly resting my fingertips on my abs with my elbows off the mat to ensure I'm actually engaging my core.
Since we aren't doing any of the jumping moves, even the Intense Full Body video wasn't too bad, though we did have to stop quite a few times for Jacky to catch his breath, which was fine by Annie and I! (By the end Jacky literally looked like he'd showered with his clothes on and just walked out without drying himself hahahaha I wish I could show you the photos because his unimpressed face looked adorable).
At one point I felt a little bit dizzy, probably from lack of food. We're still trying to figure out how to safely intermittently fast whilst still doing her workouts. We don't currently have a solution, but we only have 7 days to go! We'll get through it, then figure out next steps from there.
---
7/12 – Day 23: Incomplete.
We had church in the morning. I didn't sleep enough last night so needed to rest thereafter. In the afternoon we did our monthly Costco / Trader Joe's run (we actually walked to Trader Joe's and carried our groceries back from there). While we cleaned most of our apt yesterday, there were still a couple of major areas that still needed cleaning so we did that today also.
Needless to say, by the end of it all, we neither had the time nor energy left to do Chloe's workout today. However, I think that's fine :) We are going to just push everything back a day so we'll continue from Day 23 tomorrow, end the challenge on Saturday (originally supposed to end on Friday) and I'll do my final results next Sunday, perfect!
I'm beginning to realise that we really just need Sunday as a rest day. It's the Sabbath for us, and we also need the weekend to do errands, so for our next challenge I'll adapt it more to suit our schedule and lifestyle. I'm also quite keen to try out some yoga/stretching videos but also recognise the need to actually rest on rest days, so I'm thinking of following Chloe's program for weekdays, doing some yoga on Saturdays and then having every Sunday as a rest day from the next challenge onwards. Yay :)
---
7/13 – Day 23: Completed 15:23.
Videos done: Ep 4. No Jumping HIIT, Ep 5. Lower Abs Workout, Grow Booty Not Thighs, Hip Dips Workout.
We're in the last stretch now, it's the last week of this challenge so we're going to go hard and do all the optional videos too! Today's workout was good, despite me still being a little fatigued from lack of sleep. I felt light-headed and bloated but pushed through. This was the first time we exercised after breaking our fasts in the morning and I'm not sure I prefer it.
I don't particularly feel like I had more energy tbh, but again it could just be my body getting used to IF, needing more sleep, etc. etc. I definitely feel stronger though and the movements are no longer as challenging in the videos we've done regularly, so I'm looking forward to trying out the Ep 1. HIIT video tomorrow.
---
7/14 – Day 24: Completed 10:20.
Videos done: Ep 1. 12mins Full Body Workout, Ep 2. 500 Reps Shredded Abs, Ep 3. Upper Body & Arms Workout, 10mins Toned Arms.
I finally slept a decent amount last night so I think I had more energy today. Ep 1's HIIT video wasn't as difficult as I had mentally prepared myself for it to be, but that could be because we weren't doing the jumping variations. It still worked me hard, I just wasn't as dead as expected. Since it was just Jacky and I today, we allowed ourselves to take more breaks so we could go harder with the moves (I took a few in the first video, and Jacky needed longer between each video).
I also felt like I was able to concentrate better without the distraction of friends on the screen as well. Don't get me wrong: it's great to work out with them and they provide great motivation, but it can also be quite distracting to have them there because we still try to interact to check on each other's forms etc.
For some reason I found the last video fairly easy and was considering adding weights. I wonder if that's a reason I haven't seen as much change in my body recently. One thing that continues to absolutely destroy me, though, is the Boat Twist move from Ep 2. UGH. My poor abs.
I also noticed that today, I was able to actually straighten my legs fully for the straight leg upward crunches. That just added a new level of pain to the workout, but also shows I reached a new level of strength, woohoo!
In the afternoon I moved the furniture around in our spare bedroom/my office by myself, with relative ease. Dang I was impressed with myself because at the beginning of quarantine, when Jacky and I were moving things around in the room again, I was barely able to drag the recliner across the floor, let alone the heavy coffee table.
This afternoon, however, I just busted through it all like a boss, and surprised Jacky with the new layout after I was done. (We make changes to this room quite regularly but I was never fully satisfied with it. I use this room the most and really wanted to try this layout that we'd previously dismissed because we thought it'd eat into the space too much. Turns out, it looks great, works well and Jacky likes it too, so it's going to stay now.)
---
7/15 – Day 25: Rest day.
I'm so glad today was supposed to be a rest day because I would have just taken it anyway. It's tax day, I hate it. Thank God I have Christ otherwise my anxiety would be through the roof. I haven't slept well lately probably due to stress and I keep feeling like I'm coming down with something, so I'm just taking it easy and fully resting today.
---
7/16 – Day 26: Completed 11:09.
Videos done: Ep 4. No Jumping HIIT, Ep 5. Lower Abs Workout, Abs in 2 Weeks, Tight Core & Arms, Lean Arms Workout.
We wanted to go all out today because it's the last week of the Summer Shred Challenge, but oh my gosh the number of up-and-down planks in this workout was just not even funny. When I was preparing the video lineup in my workout playlist, I stupidly thought her Tight Core & Arms workout wouldn't be as difficult because most of her arm workouts are fairly doable, so figured we may as well do the Abs in 2 Weeks video to really challenge ourselves. Let's just say, I did not have a good time.
Oh. Man. Today was intense. I'm glad I did not replace the Ep 4 HIIT video with Ep 1 after all because otherwise I don't think we'd have been able to get through it. After the Lower Abs Workout video I really considered dropping the optional Abs in 2 Weeks video because I knew how difficult it was going to be, but Flora was joining us today and Jacky had mentally prepared to do it, so that helped motivate me to keep going too.
I still feel like I'm coming down with something and didn't have that much energy this morning to begin with, but I was still able to get through all the videos (albeit with more breaks than Chloe took, ehhem). Jacky got through almost everything except one set of the last video, Flora hasn't been doing these workouts for as long as us but she kept going as well, so I'm super proud of us all.
On the downside, today was the first day I really wanted to quit a video because I could not stand the music. I've never been so frustrated or distracted by her song choice as this. Half way through the Lean Arms Workout video — what the heck is that noise? It's like a cross between someone furiously scratching a record and the sound of a car crash on repeat. Jacky says it sounds like someone is watching a video on 2x speed… either way, it was so off-putting I considered muting Chloe or even just quitting entirely.
Well, thanks to this video, at least I know I won't be taking on the Lean Arms Challenge ever. I'm very glad that Chloe hasn't put that track in any of the other challenges since.
We have 2 more days to go! Woohoo!
---
6/17 – Day 27: Completed 10:02.
Videos done: Ep 5. Lower Abs Workout, Ep 6. Intense Full Body HIIT.
Jacky went back into work today so I woke up early to prep his breakfast and coffee in the morning before he left. By the time it came to starting the workout I was already pretty tired. Flora joined me today!
Neither of us were able to do the jumping moves due to being upstairs, so that definitely made it easier, but we were both still worn out from yesterday's videos so that probably balanced it out.
We only paused for one longer break during Ep 6 but otherwise kept going, which I'd say is a win. Flora said today's videos worked up a larger sweat for her than yesterday's, which is what I experienced the first time I did Ep 6, but today I didn't sweat half as much as I usually do. I probably subconsciously took some shortcuts with the moves because I was so tired, which is my bad.
Tomorrow is the last day, I'll do my best!
---
7/18 – Day 28: Incomplete.
It's not going to happen today. We are both exhausted and we just need to rest and take a break. We'll probably rest tomorrow as well, and then I'll aim to complete the challenge on Monday.
I've noticed I don't have as much energy as of late and I think that's due to poor sleeping habits again, so that's the first thing I need to change.
Technically IF is supposed to give you more energy so I am hoping that's not been the issue here (though it is difficult to do a HIIT work out on an empty stomach in the mornings). I also keep feeling like I'm coming down with something, but thankfully my immune system has been strong enough to keep whatever it is at bay.
Either way, I don't plan to over-exert my body because, while it's great to look in the mirror and see myself slimming down, the primary purpose of these workout challenges is to improve my health and fitness. If that means not exercising so I can recover, that's what'll happen.
---
7/19 – Day 28: Incomplete.
Yep, not going to happen today… I am still not feeling my best and am still incredibly tired. I now realise it's likely stress-induced, and my poor sleeping habits recently have probably been stress-induced as well. If my body is already under so much stress, the least I can do is let it continue to rest.
I'll hopefully be well enough to exercise tomorrow, and then I'll finish the final day before showing my end results and thoughts from this challenge.
---
7/20 – Day 28: Completed 10:26.
Videos done: Ep 2. 500 Reps Shredded Abs, Do This Everyday To Lose Weight, 1000 Reps.
I have to admit, I didn't think I'd be able to exercise today either. I struggled to get up this morning, and thought that I'd go back to sleep after making Jacky his breakfast/coffee and sending him on his way to work. I woke up tired (as usual) and still feeling unwell. If Flora and Jon hadn't called me, I probably would have taken today off as well.
Thankfully my symptoms seem to ease up after I get up in the mornings and the headache doesn't persist, and through their encouragement I was able to do all 3 videos and complete the challenge. I definitely owe it to them today!
There were a few times during the workout where I felt dizzy and faint (we didn't really eat dinner last night – just a few pieces of watermelon before beginning our fasts) but I rested a little and persisted. I am very pleased to say that it was only a few moves towards the end of the last video that I wasn't able to do.
Flora already did the entire set yesterday then did it again with us today. What a champ. Our other friend DC also joined and, well, both he and Jon found it fine – fine! Fine! Some people are just much stronger than me, okay? Haha. It's not like we're comparing anyway. They're much further along in their fitness journeys than I am. I'm proud to be where I'm at, and this isn't the end anyway.
I'll post final update photos and thoughts tomorrow, but for now, YAY! We did it!!!!!! Summer Shred Challenge 2020, COMPLETE. With a well-deserved latte after. Ahhh, that's the life.
Results & Final Thoughts
Completion Date: 20th July 2020.
Measurements (compared to starting numbers):
Waist: 68cm (-2cm)
Hips: 99cm (-1.8cm)
Photos:
(Yep, remember when I said I'd moved furniture around in this room again by myself on Day 24? This is how it looks now. I'm loving our daybed and having the recliner on this side to catch the natural light and beautiful views out the window.)
Here are the pics side by side vs the beginning. Front view:
Side view:
Other side:
I don't know if you can really see from these photos, but my pants are looser – so much so, that in the front view image you can see it bunching at the waist a little. I pulled the pants up just so you can see how much material is now left over: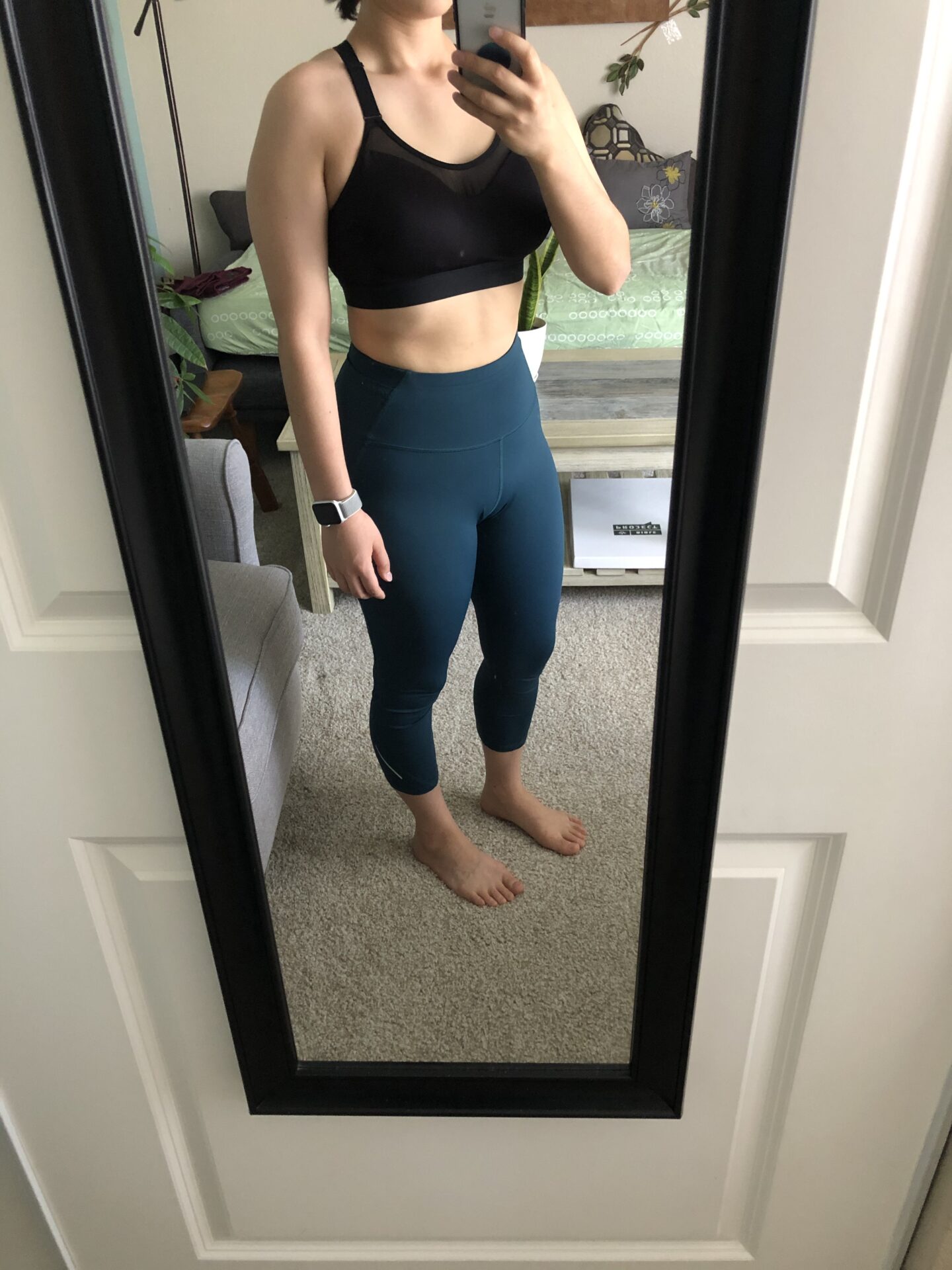 I would not have been able pull my pants up that high at the beginning without giving myself a major wedgie. My sports bra sits lower as well. The black bra is a size Medium, and at the start of my 2 Week Shred Challenge, definitely fit me better than my size Small sports bra.
Though my arm is raised higher in 'after' photos, you can still see a clear difference in my waist, and even more so in my hips. In addition, my arms have slimmed down and my back fat has decreased. Bonus pic:
Thoughts On My Body
My waist is now even slimmer than it was when I completed the 2 Week Shred ("2WS") challenge, as is the rest of me, I believe. Personally, I think I look great. I wasn't doing this challenge necessarily for the visual results, but I knew that if I continued with exercise I should still see some results, so wanted to document that.
I still don't see defined ab lines, but you know what? That's okay. Rome wasn't built in a day, and I'm not going on some crash diet to get to a 'desired body' – I love my body; I just want to take care of it better, and I'm sure that if I do, it will start looking its best too.
Before I started my 2WS challenge (I have to keep mentioning it, because that really was what kicked off this longer-term healthy lifestyle journey), I had begun to develop some debilitating health problems: I woke up daily with a headache, feeling weak and lethargic.
I couldn't get up 2 flights of stairs without clutching onto the banisters for support to catch my breath and regain my balance. Any time I stood up too fast I'd fall right back down again because I felt so dizzy. Jacky and I took a 5min walk to the supermarket and I literally felt like thousands of needles were stabbing my legs from the inside. I had to scratch my legs constantly to soothe them, or just sit down until the pain subsided. My nails were brittle and getting deformed. My hair lost its shine. My skin had always been okay though. Oh, and I was always getting sick. I was just so sick of getting sick. It's likely a lot of these symptoms were attributed to iron-deficiency anaemia and they did start to improve after I started taking iron supplements. However, my core strength did not come until I started working out.
Now, I can run to the supermarket easily; we literally walked there a couple of weeks ago and we each carried a large bag of groceries back by hand. When we go to Costco, I have no problems carrying 5 bags of groceries up the stairs in one fell swoop, then continuing to wipe them all down with disinfectant wipes and put them all away immediately after. I feel like I'm getting ill but the symptoms don't take over. I am far stronger — I CAN DO UP-AND-DOWN PLANKS! Haha. I can cook all day and still manage to do the washing up after. I no longer need 10hrs sleep/night just to wake up still feeling fatigued.
Seeing physical changes has been great, but nothing beats the strength I've been able to achieve. Nothing beats the fellowship and friendship that's been built from the energy I now have. Nothing beats the community I have with my workout buddies. And you know what? My weight is now 123.7lbs. That's +1.1lbs from completing the 2WS challenge, and probably higher than what I started with when starting this Summer Shred challenge.
Jacky and I have started intermittent fasting to see if it can help us lose weight. I am interested in losing weight because my BMI is in the 'overweight' category, as is my body fat %, but my measurements have shrunk and I think that's more important than a decrease on the scales. It seems this weight is what my body is naturally comfortable with at present, so I'll not force it to be lower just to appease my pride.
I'm slowly getting back down to my lowest waist measurement (previously at 65cm) and I think that's what I'd ideally like to be at to maintain. Again, it'll be a slow journey; a lifestyle change – a marathon, not a sprint – for us. I'm in no rush to slim down and lose weight only to gain it back a week later. For now, I'm just enjoying getting back into exercise and feeling strong again.
Thoughts on This Challenge
I have to admit, I enjoyed this challenge a lot more than her 2WS. It's something I suspected since the challenge began and can definitely confirm it now that it's complete: I think this one really was more suited to my fitness level.
Given my health and fitness levels at the start of her 2WS challenge, I really don't think that was the right one for me because my body wasn't able to cope well with the difficulty level. I must have not been doing the moves properly because I just didn't have the strength to, though I was able to see good results from it regardless. Still, it was great to get me back into fitness because I genuinely would not have been able to commit to a four-week challenge from 0.
I'm really glad I did both, because I now realise how much more strength I need to build before I can tackle her 2WS again (yes! One day I'd like to be able to do it again and really do it well). I remember omitting all the optional videos for the 2WS because I just could not, but for this challenge I was more excited to do all the optional videos as well.
I also think that because she filmed this Summer Shred Challenge later, the video quality and music changes improved significantly. I really enjoyed the music she chose, and for the most part they really pumped me up to keep going. I find songs with lyrics in them can be distracting, so I'm glad she kept those to a minimum for this challenge. I also really appreciated that she did the song changes during the beeps/move switches rather than half way through a rep in this challenge.
I loved the pace of this challenge too – it wasn't too much, and I only began to struggle towards the very end because I was just not feeling well overall. I was very glad for 2 rest days/week. That, for me, seems more like a regular workout routine for a long-term lifestyle change, which is what I'm aiming for.
In terms of whether or not I'd recommend it: YES. Wholeheartedly. I think if your fitness level is more beginner-intermediate, this would be a great starter challenge as long as you don't find the length to be too daunting. If you're scared of committing to a 4 week program right from the get-go, then try the 2WS instead. Don't get disheartened if you can't do it though – it's so hard, and even when we were re-doing some of the 2WS videos for this challenge I still couldn't get through them properly. However, I imagine that would get you pumped to do another once you're through with it, then you'll try this one! Haha.
Something I found helpful this time was watching the videos within the challenge in advance (2x speed, fast forwarding too) to familiarise myself with the movements. This helped me mentally prepare for what was to come, so they weren't as daunting when it came time to do the exercise. In addition, I didn't need to waste time staring at the screen to figure out what she was doing for the first 10 seconds of each move.
I also really recommend getting a workout buddy. When you have that accountability, it will spur you on even when you just really, really, really don't want to exercise darnit. That was me yesterday… but I felt great and proud of myself after exercising. It's the dragging-yourself-up-when-you-don't-feel-like-it part that's most difficult.
I don't know about you, but my willpower is pretty weak. Had I not had different groups of friends messaging me daily about exercise, I may have just given up and regressed for a month, no matter how much I like Chloe's workouts. Finally, thank you for reading my blog, because for some reason Google has decided my blog posts are worth ranking, so I'm getting a lot more traffic for these posts. As such, I'm much less inclined to be lazy about them. I feel like I owe it to myself, my friends and to you to update as I said I would. So I did. And I'm so glad I did.
My Next Chloe Ting Challenge
So what's next? I flirted with the idea of trying her 25 Day Hourglass Challenge (I am kinda self-conscious about my hip dips) but since we have guys who work out with us, it's less appropriate. As such, I'm now leaning towards her 28 Day Flat Tummy Challenge. It's much less time-consuming (only 10-40min/day!), doesn't require any equipment, and is probably more suited for my long-term health & fitness goals.
That said, if you're reading this and would like for us to take on any challenge in particular, please let me know in the comments section below. I'm not particularly averse to any of them except the 15 Days Intense Core (just way past our fitness level right now) and the 3 Weeks Lean Arms (see Day 26 notes) challenges.
I wrote about it earlier in this post but, for the next challenge, we'll be taking Sundays off because that's our Sabbath. We'll also take off Saturdays because that's usually the day we get errands done, and exercising on top can be a bit much. If we do exercise on a Saturday, we'll probably try some yoga to get those much-needed stretches in. So whatever challenge we undertake will take longer since we'll only be doing them on weekdays.
She has another program coming out soon, which I'm looking forward to! But for now, I'm going to take the rest of this week off and start a new challenge next week. Please join me if you like!
Muchos love,
Bobbie