Hello! I figured I could try to do one of these posts so, if you're interested, you can see what my diet looks like these days. I do seem to be consistently losing a little weight every week right now while eating these foods — that was the goal, after all — and what I'm eating is definitely a little different from what I was eating before. I am really not used to doing these so I kinda forgot to take photos half the time (gah!) but at least I can write down what I ate.
I try to switch up my meals daily but keep them healthy and balanced as best as I can. I also like to have at least one of Coach Greg's recipes every day. What I eat really varies a lot, but here's a snapshot of one day!
Date: 8th September 2020
Meal 1: greek yoghurt, figs, berries, oat milk latte.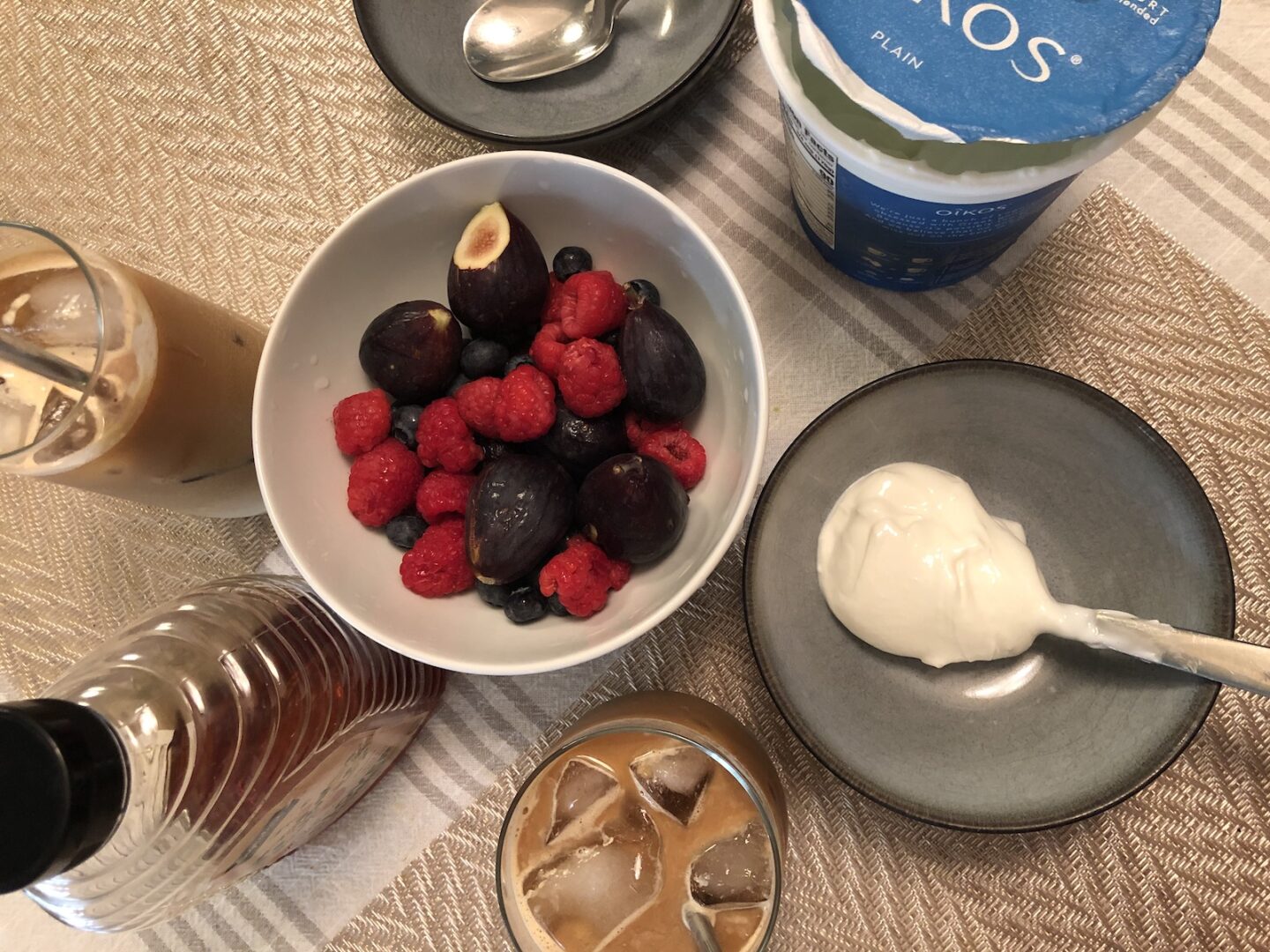 I did not add honey to my bowl because the figs were sweet enough for me. The latte in the tall glass was for Jacky. I am lactose intolerant but it seems that no-fat milk is actually acceptable for my stomach.
I don't love the taste of greek yoghurt though, and my yoghurt-to-fruit ratio was a bit high for my liking, so I actually gave some of my spoonful to Jacky because I felt like it was too much for me. I definitely enjoyed it. I loved the fruit, and I'm glad I ate the greek yoghurt for the health benefits.
Meal 2: wrap with 8″ tortilla, spinach, sweet mini pepper, mushroom, sweetcorn and chickpeas. Seasoned with paprika, oregano, garlic powder, salt and pepper before microwaving. Then topped with cilantro, sriracha, yellow mustard and dijon mustard.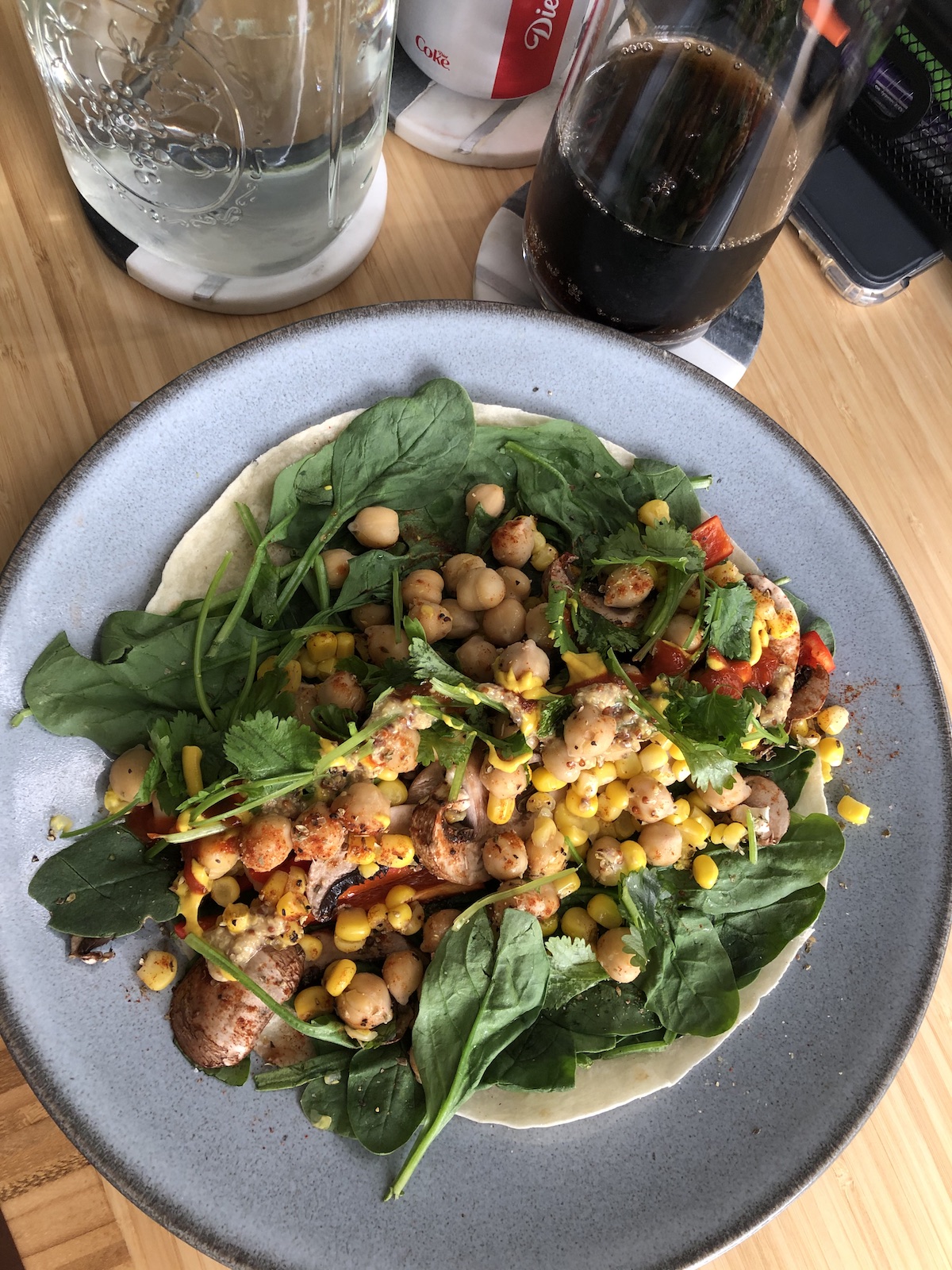 Washed down with water and some diet coke. The wrap was overflowing, very tasty and very filling. I love vegetables so this was right up my alley. I ended up not being able to finish the last 1/5 of it so I gave it to Jacky. (My condiments weren't playing ball today, don't judge my sauce spraying skills pls… I promise they're usually better than this!)
Snack: 2 fresh mango slices, one golden kiwi (not pictured) – eaten after workout. I was pretty hungry at this point so no photos taken.
Meal 3: leftovers – chicken & broccoli stir fry, egg & tomato dish, white rice.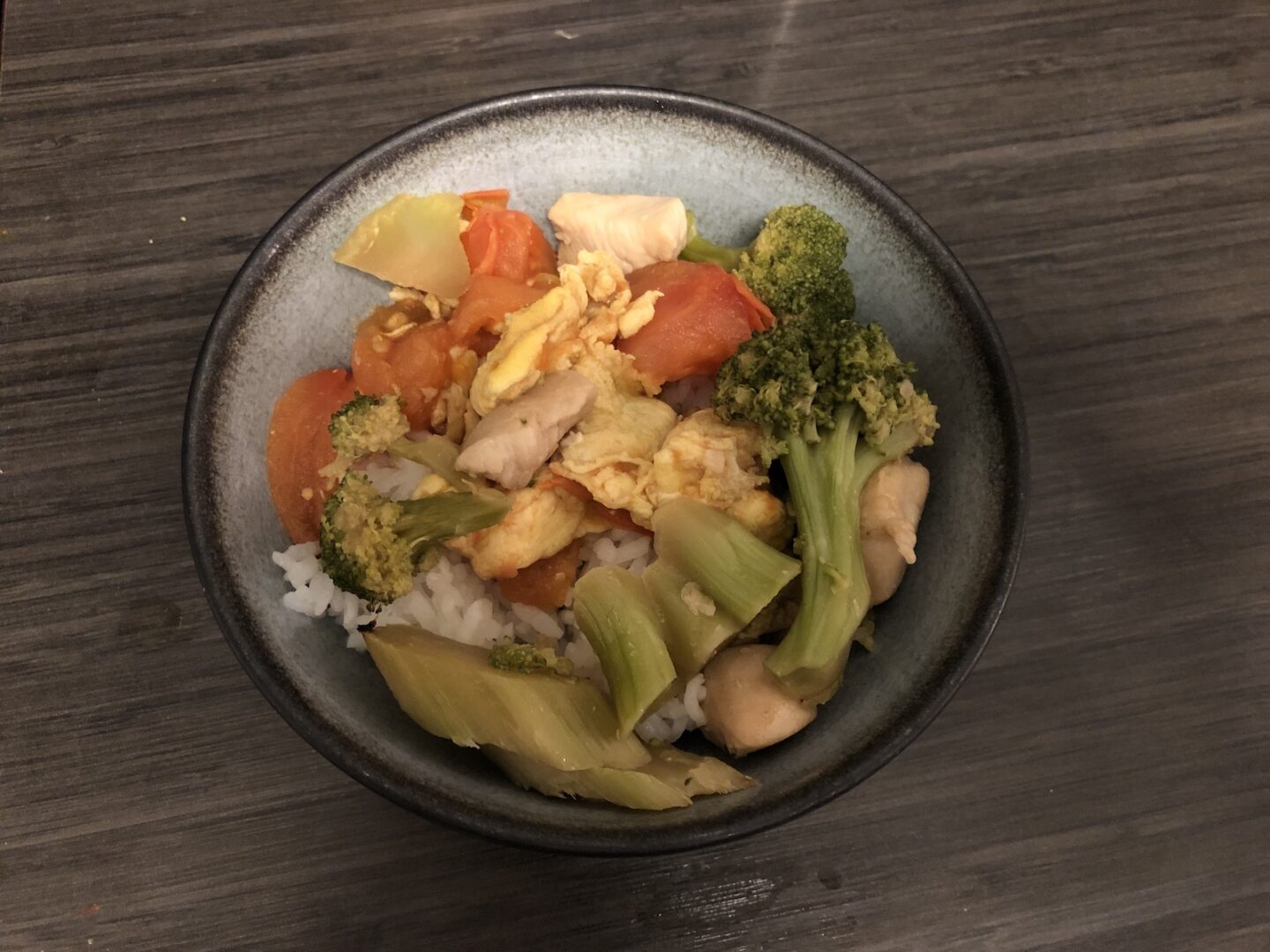 Apparently people hate dieting on chicken, broccoli and rice. But actually, I love chicken & broccoli stir-fry eaten with rice. Heat up a little oil and garlic, cook the chicken, throw in the broccoli (par-boiled beforehand – I overcooked mine a little but I like the broccoli to be soft), add soy sauce and ta-da! YUM. Egg & tomato is a very traditional Chinese dish.
Meal 4: same as above. I had another small bowlful 2hrs later.
Snack: leftover Cinnabon lol. I didn't think I had enough calories for the day (the bowls for meals 3 & 4 are very small) and I wanted the Cinnabon, so I microwaved the 1/3 that was left and ate that (Jacky had some yesterday too).
Snack: 2 coconut rolls and an apple.
You can clearly tell when I'd begun to forget I was supposed to be taking photos of what I eat lol. The leftover Cinnabon I reheated and ate during a video call with some friends anyway. I also don't like apples very much, but I do eat them for health purposes and they're a great late night snack, especially to avoid eating an entire pack of coconut rolls. I was satisfied after eating it anyway.
That's what I ate in a day! Lol – what a weird day, starting and ending with foods I'm ambivalent about?? How bizarre. I do usually really like the food I eat haha! I think because I didn't eat that healthily yesterday my body just really wanted protein, fruits and vegetables today.
I'll do another one of these posts some other time so you can get a better idea of my diet these days :)
Muchos love,
Bobbie