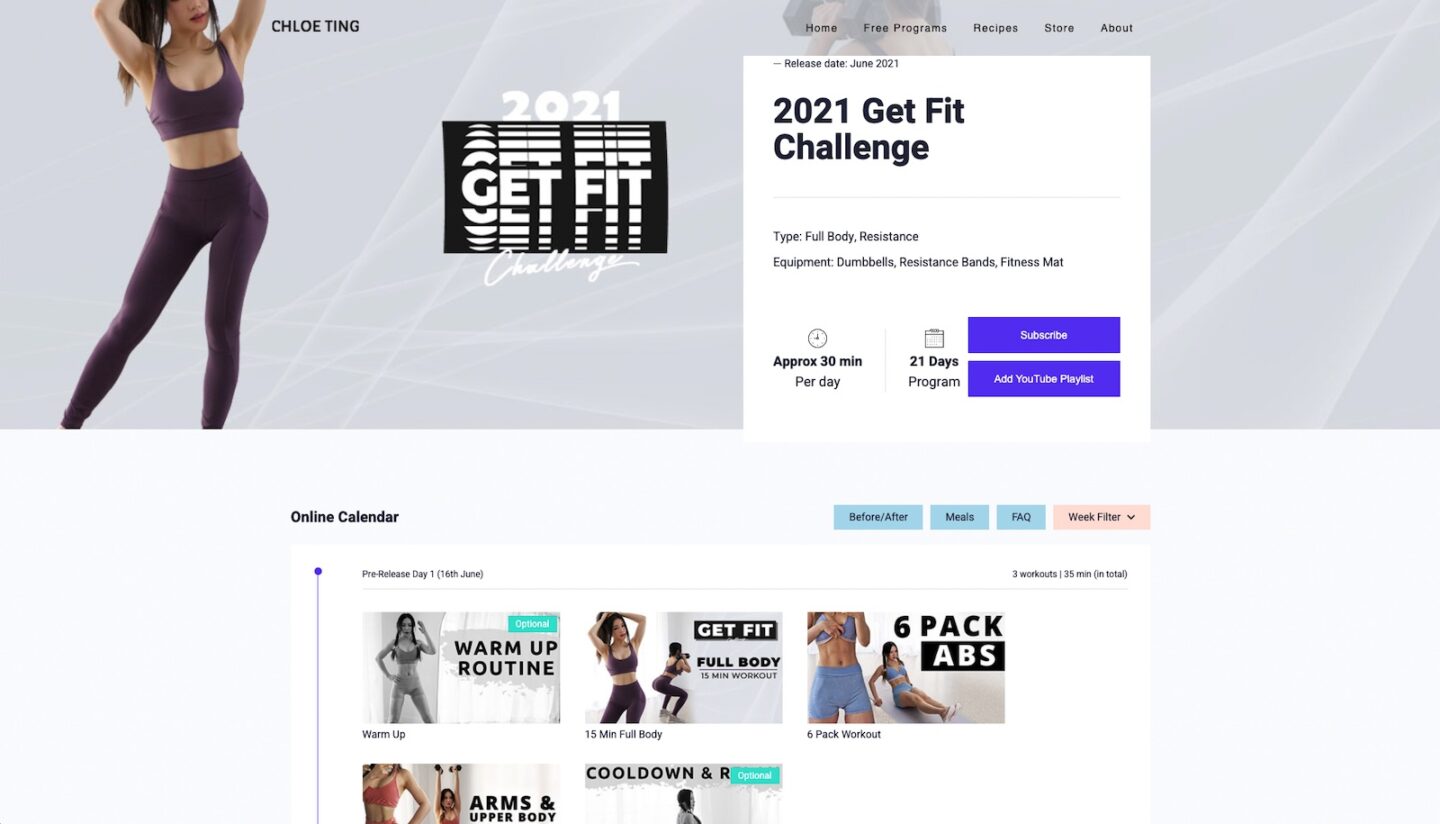 This post contains my workout summary for week 1 of the Chloe Ting 2021 Get Fit Challenge.
It's here! The challenge has launched. I watched the new 6 Pack Abs workout this morning and I must say it looks both exciting and enjoyable. I fully admit, perhaps I've gone a bit bonkers but it genuinely looks like a hoot. I don't think I'll be able to use weights for it because my core is weak, but I'm loving the look of the new exercises. The non-weighted alternatives already look challenging enough. I'm looking forward to improving my strength and getting back into exercising with this program.
As before, I don't really want to take before/after photos for this program because 1) I shouldn't expect a gigantic change over one program, especially not one that's focused on strength training because muscle is not that easy to build, come on and 2) my room is in a constant state of dishevelled chaos and I genuinely don't have the energy to keep shifting clutter around to get some good photos without the messy background.
In 3 weeks' time we expect to be fully moved in to our new place, so to say life will be a little hectic is putting it, uh, very lightly. I'm already in a state of perpetual exhaustion from all the trips we've made to and fro with the packing and moving and painting and initial furnishing, which I'm already feeling somewhat overwhelmed by. There will likely be more days where I simply do not have the time to complete the workout but I'll do my best.
I'll be updating this post daily for week one's workout schedule, so do check back on my progress if you're interested and are following along too!
Week One
6/21 – Day 1: Completed 16:45.
Videos scheduled: 5min Warm Up, 15min Full Body, 10min 6 Pack Abs, 15min Cool Down.
Whew!! I thoroughly enjoyed today's workout. Both of the new videos were incredibly fun for me. Unfortunately I noticed some muscle pain in my left thigh during the warm up so it's possible I sustained a minor injury so I had to be cautious during the full body workout to avoid further injury. However, I did notice during my recording of the workout that my abs look more defined and my thighs are looking slimmer already.
I could see my abdominal muscles tensing during the compound movements and I noticed further improvements in my form. But also in general, I just had so much fun with it! I found the exercises enjoyable, difficult yet doable. Again I used my 5lb weights for the non-ab moves, and I stuck with the low impact moves for the ab video. The low impact variations were more than challenging enough for me.
I'm very pleased that what little core strength I'd managed to develop in the past was coming back to me as I was able to do more of the exercises for longer, and was able to better engage my core, but those contralateral knee taps and the dead bug move? Ohhh my body did not like those. I also had to pause the video half way through to let Chloe know that, although it wasn't a HIIT workout, I was still very much out of breath and apparently my body didn't get the memo that it was supposed to be chill :p
Level of sweat isn't an indicator of how good a workout is but… I was legitimately swimming in my own sweat during it, halp!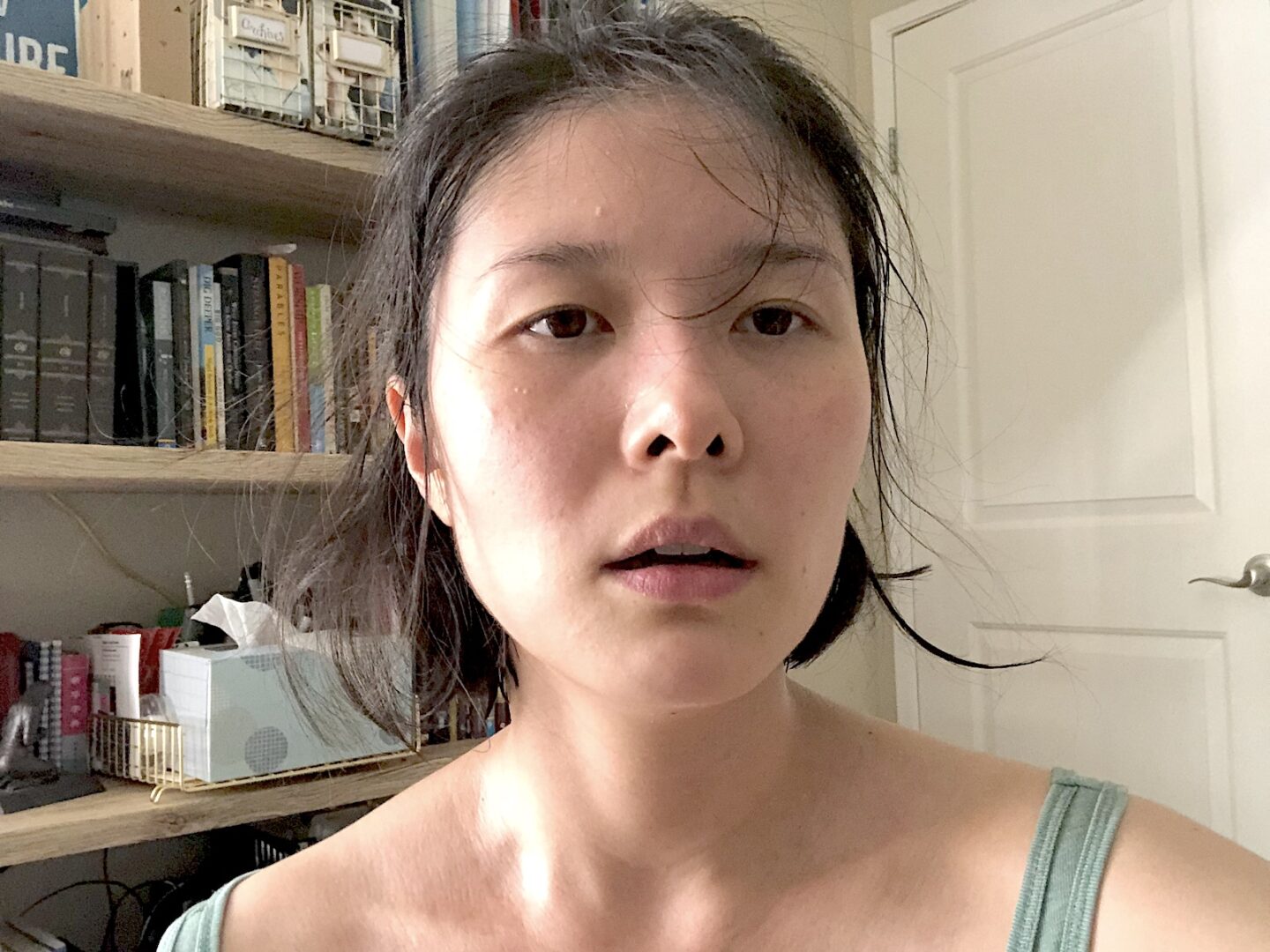 ---
6/22 – Day 2: Completed 18:10.
Videos completed: 5min Warm Up, 15min Legs & Booty (x2), 15min Cool Down.
Gosh, my booty and legs were feeling it today. I switched between using both of my 5lb dumbbells, or only one, or just a light resistance band, or nothing at all depending on the exercise. My legs were already shaking from the first round so I am very impressed I managed to complete both rounds. And yes, I definitely took a longer rest after set 2 for both rounds.
I am very glad tomorrow is arms + abs only, and the day after is a rest day. That suits me perfectly because the chances of me being able to do more legs any time soon are slim to none. I am worried about day 6 though – oh my gosh that plank challenge is absolutely no joke. It's been really hot these days and I'm exercising in what must be the hottest room in the apt. I took another shower in my own sweat and my hairband came off.
Yep. today was intense.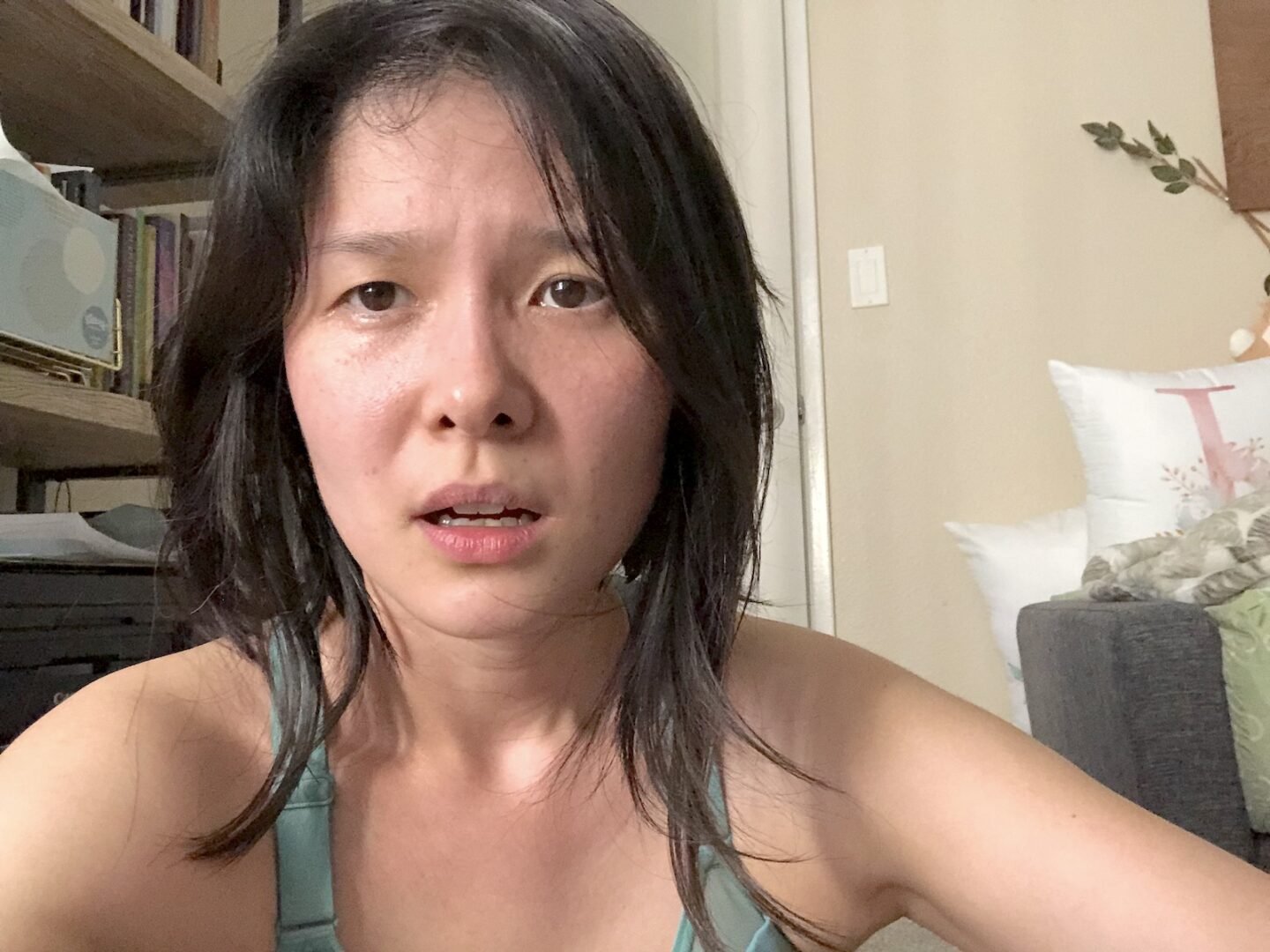 ---
6/23 – Day 3: Completed 18:31.
Videos completed: 5min Warm Up, 15min Arms, 10min 6 Pack Abs, 5min Cool Down.
Oh hey now I know why I was particularly exhausted yesterday: I started my period today. Amazingly, it didn't hurt this month and I was fine to do my workout. I used my 5lb dumbbells for non-plank exercises as usual, took a couple of extra breaks when I felt like I needed to, and did all the low-impact moves for the ab video.
I realised my arm strength had decreased substantially when Chloe said to do pushups, so I spent an extra 30sec training narrow pushups on my knees. I'm excited to be working on my strength again! Jacky says it looks like I've slimmed down a bit again recently so I think that means I'm getting back to where I was before I took a workout break :D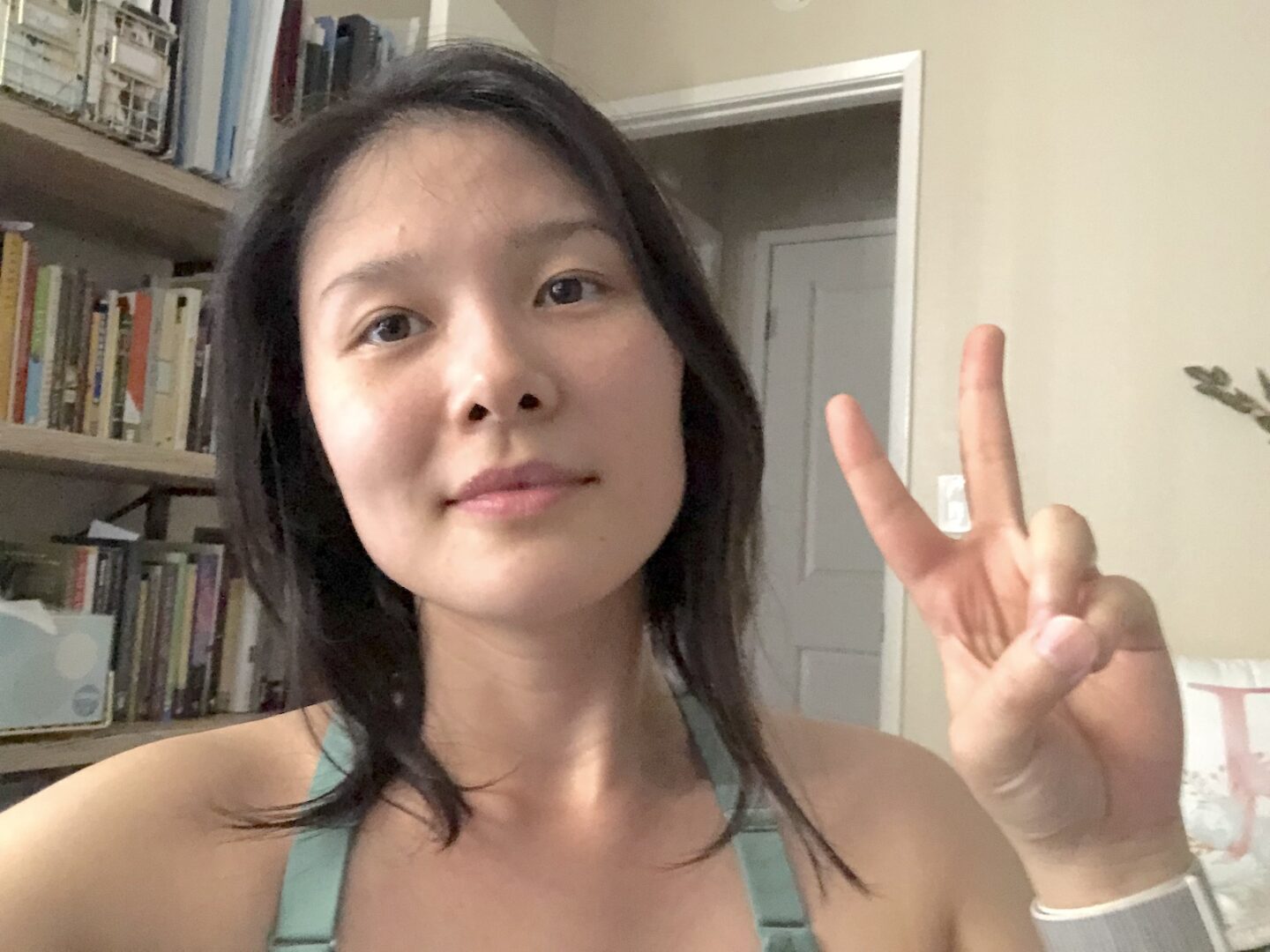 ---
6/24 – Day 4: Rest.
---
6/25 – Day 5: Completed 19:09.
Videos completed: 5min Warm Up, 15min Full Body, 15min Legs & Booty, 5min Cool Down.
I must say I love these new videos; it has been a joy to complete. This challenge has so far been the perfect level of difficulty for me, and I love that I'm able to control the difficulty level by using heavier or lighter equipment. I've so far enjoyed all of the exercises. I know it's still early days, but dang I'm loving it.
It's also been the perfect duration for me so far. 30-40min/day is such a perfect sweet spot. I'm not too exhausted, I'm still able to do the exercises in good form and I don't feel like it takes up too much of my time with my warm up and cool down included, especially since I often need longer to complete each video.
My left knee felt a little weak today but I was still able to complete the workouts, I realised the pain was caused by poor form and also not engaging the right muscles, which was causing my joints to take the extra strain. Once I focused on using my muscles and getting the right form, I also stopped feeling the pain in my joints.
For the full body video, I preferred the deadlifts to burpees so I went for another round of deadlifts instead of the second set of burpees. I used my 5lb dumbbells as usual, no dumbbells for the planking exercises, and used only one dumbbell for single-leg exercises.
For the legs & booty video I used either my dumbbells or a light resistance band. I did donkey kicks with my 5lb dumbbell for the first time and ohhh boy did they hurt! I took another sweat shower and also needed an extra long water and breathing break haha.
We've got the plank challenge video tomorrow. Oh my goodness. Chloe, whyyy!!!!! Usually that video only comes at the very end of a challenge, but this time it's in week 1? Not gonna lie, no matter how many times I complete that video, my heart rate still increases and the fear still automatically hits me like a truck whenever I see it on the lineup. It's like my body has developed a visceral reaction to it because it knows what's coming.
Am I ready for my abs and arms to be slaughtered by it tomorrow? Am I though? Am I really? Hmmm… Let's just say I'm glad Sunday is another rest day!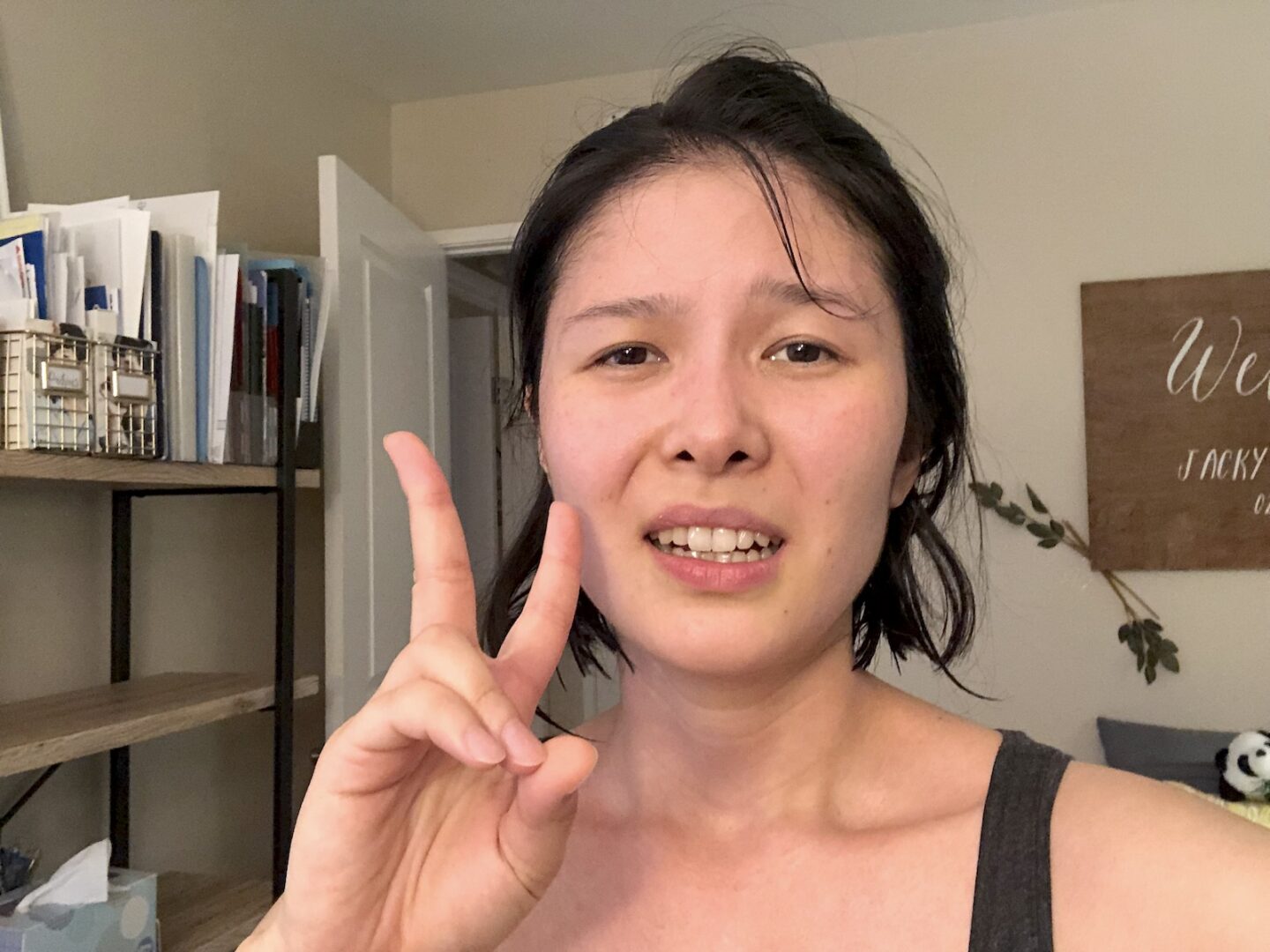 ---
6/26 – Day 6: Rest.
Videos incomplete: 5min Warm Up, 15min Arms, Plank Challenge, 10min 6 Pack Abs, 15min Cool Down.
Ah… After all that fear of the plank challenge, I didn't even do the video! To be fair, I think I will try to do it tomorrow, but today we spent more or less the entire day just packing and moving. I'm pleased to report that we made huge progress in our moving today.
A lot of our kitchen stuff has been moved in and organised, the majority of our books are packed up, the majority of our shoes have been moved over, half of our wardrobe has been moved over, most of our bathroom stuff has been moved over… We still have more to go, but we've done really well so far.
That said, we didn't get have dinner until 9pm because we'd been packing and moving stuff non-stop. Okay, we took a bit of a break here and there because, well, exhausted. But you get the idea. No way did I have energy left to work out, especially not after having to climb up and down the kitchen counters multiple times to get to the higher shelves in our new place.
We will probably move more tomorrow but we need to make sure we don't move anything that can't be stored away since we need to paint first. If I can do a workout tomorrow, great. If not, rest day it is, and I'll take all the lifting and moving as today's workout. I am already feeling sore from it.
---
6/27 – Day 7: Rest & Review!
Gahhh… the desire to do the workout was there, but the time and energy unfortunately were not. We did more packing and unpacking as well as a little more painting, and afterwards we sold one of our cars, which took up the majority of our day after church in the morning. Again we didn't get home until fairly late, and didn't get to eat dinner until almost 9pm. I don't like to workout immediately after eating so I decided to just skip it.
So far, overall though, I have to say I've been loving this program! I've thoroughly enjoyed all the videos and have found them challenging yet fun to do. I feel a little bad that I wasn't able to complete day 6's videos, but I'm pretty sure all that packing and unpacking counts as a workout. It certainly exhausted me more than a workout normally does.
I guess I have successfully albeit unintentionally avoided the plank challenge haha. Onwards with week 2!
Muchos love,
Bobbie