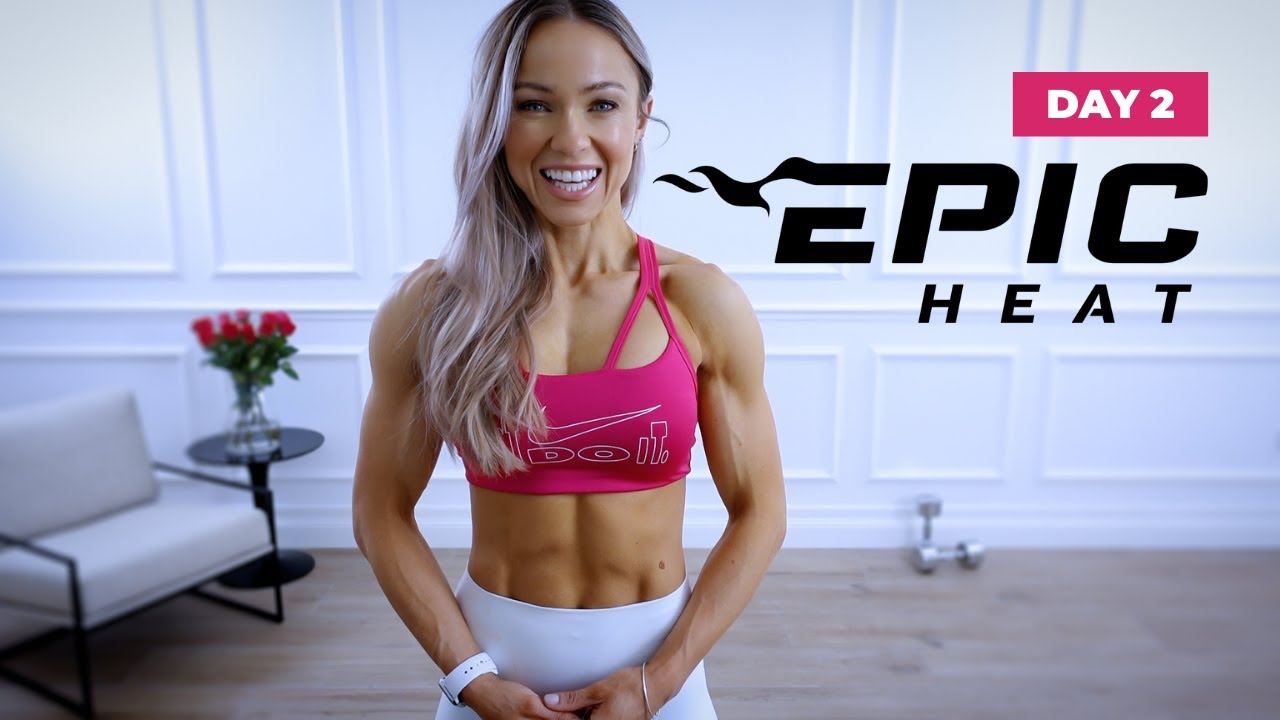 7/1 – Day 2: Completed 19:02.
Videos Completed: Epic Heat Day 2.
Equipment used: 5lb dumbbells.
Welp, as you can see from my completed videos list and my workout completion time, I absolutely was not about to have a good time with this workout haha. I'm actually amazed I managed to complete the workout at all because I was feeling absolutely exhausted all day.
I felt fatigued and groggy and ended up (unintentionally) taking a solid 2hr+ nap on the sofa after eating way too many rice cakes smothered in chocolate hazelnut spread. Lol, even after knowing how bad sugar is for my body I just craved it even more and overate. Ah well, it was one of those days.
It was also getting close to dinner time my hubs was hungry, I didn't want to delay our dinner too much so I decided to skip my warm up. That very likely affected my performance at the start of the workout since I felt like I needed to stretch more first.
I was able to get into my stride shortly after though and still enjoyed the workout overall. My legs were already aching from the previous workout and, well, now my shoulders are aching too haha. I tried to keep my core engaged, but I also felt a lot of it in my forearms too. Ah, my weak lil noodle arms.
I liked that there were exercises that focused on one side first then the other, and for the movements where you used both arms at the same time on one dumbbell, I tried to let my left side take more of the weight. Oh man, those diagonal pushes were so hard. And I have never struggled to 'drive a car' as much as I did during this workout.
The 30sec rests between each superset was much appreciated and necessary haha. That's something I really appreciate about the way Caroline structures her workouts. I can confirm I was definitely getting close to failure for a lot of the exercises during this workout. 5lb dumbbells were plenty heavy enough for me with the amount of time under tension per movement.
Unfortunately there was no time for me to do any wushu practice after the workout because we needed to head out for dinner, but I don't think I would have been able to lift my arms anyway and my legs definitely needed a break haha. There wasn't that much for me to practice anyway though, so it worked out fine.
Wushu-wise, I've finished learning my first form today! We did the Lian Huan Fist since I have no belt yet, and my Shifu said I could take the test to get my first belt, woohoo! White belt, here I come :D I'm particularly pleased since I only started learning it last week.
I'm very much still enjoying Epic Heat so far and am looking forward to day 3, which I'll be doing on Monday since tomorrow will be a rest day. I'm a bit apprehensive since it looks like it'll be an intense lower body workout and I… kinda need my lower body for my wushu class the day after lol.
I also don't have a yoga block, so, um… yeah I guess we'll see how it goes lol. I hope the DOMS don't destroy me.
Muchos love,
Bobbie