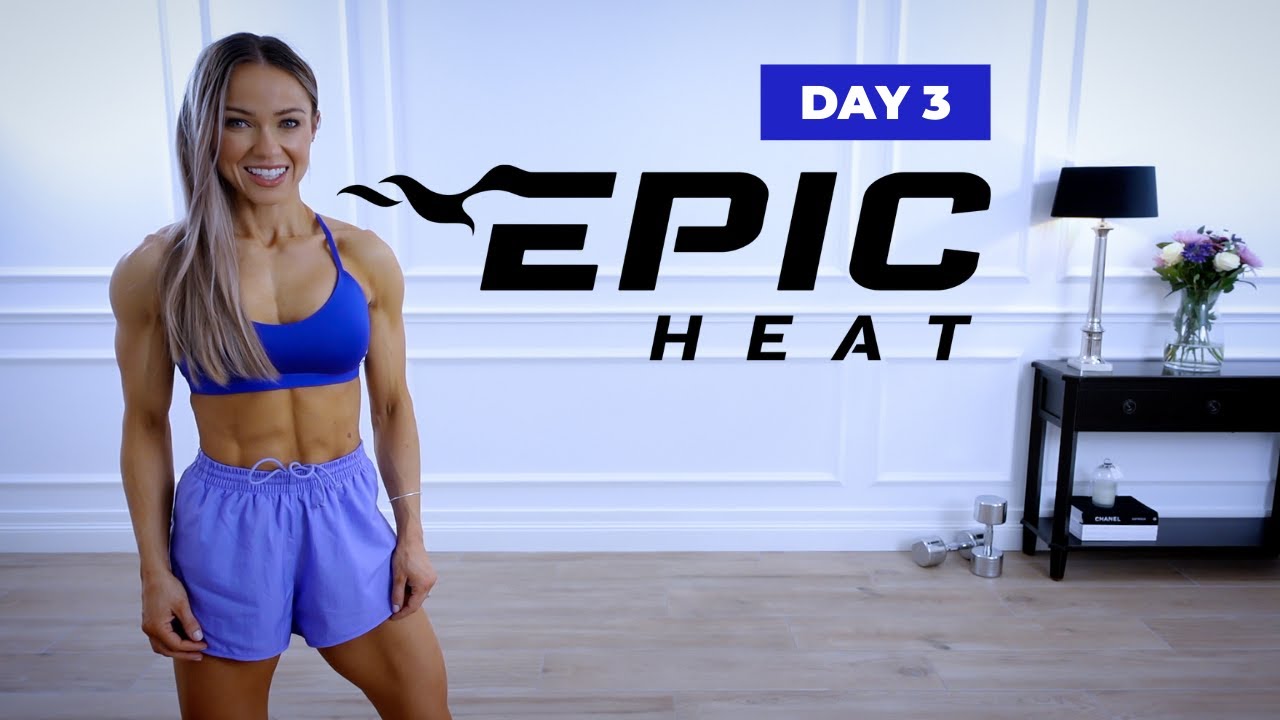 7/4 – Day 3: Completed 17:13.
Videos Completed: 5min Warm Up, Epic Heat Day 3.
Equipment used: 5lb dumbbells.
Let's not pretend today's workout didn't absolutely kick my butt. To be fair, I think I'm recovering something because I literally took a 2hr nap yesterday afternoon then promptly fell asleep again at 9pm, only to wake up at 10…am. Yep, I slept for about 15hrs and I'm still not feeling my best.
In fact, my right lower back was hurting a little and my right leg was stiff even before I started my workout, then within 3min of the Epic video, my head started hurting too. As the workout progressed, I realised my left knee was starting to hurt a little as well. It was not the best of circumstances so I'm just proud of getting through it. I'm also very proud of Mr. Bob who did the workout with me haha.
We both struggled pretty hard, and you can bet I dropped my equipment for plenty of the exercises and my lower body was still getting very much destroyed. Oh, and I 100% am not doing jumping lunges lol. Regular lunges are plenty enough for me for now. I actually laughed out loud when I saw Caroline's final tip of "Go low!" for the finisher squat pulses. Caroline, girl, if I tried to go any lower than this (more or less) standing "squat" of mine, I'll just drop straight to the floor.
I don't think I got to failure for most of the exercises because I was trying to avoid exacerbating any injuries. I wanted to be careful not to use my back or knee to compensate for my weak legs. Don't you worry, I still felt like a massive weakling today. Like, I felt like I went to failure, but my perceived rate of exertion was probably higher than my actual rate of exertion, just because I wasn't feeling my best to begin with.
Mr. Bob managed to get through most of it but had to give up after the toe lunges. My legs were shaking during those but he said his legs were completely destroyed from them haha. He did super well though, I'm proud of him! I'm also proud of me for actually getting through the whole thing.
I mean, I survived an entire Caroline Epic Heat video and did all the exercises, despite being sick/injured. I'd consider that a win. I didn't have energy to practice my wushu form after the workout to be honest. I wasn't feeling well and my body was hella weak.
I already had a rest day yesterday and I'm very glad I did. We were originally planning to go to a relative's house for a July 4th celebration dinner but decided against it when I couldn't wake up from my afternoon nap. We're glad we didn't go in the end because I don't think my body would have been able to handle it. I'm also very glad I have the day off from work today because I am still not feeling my best.
Hopefully I'll be back to normal tomorrow!
Days 4 and 5 look absolutely insane. I'm scared but I'm still looking forward to them. I'll be back in wushu class tomorrow, so hopefully I'll be doing day 4 on Weds, then day 5 on Friday. We will see! If I need an extra rest day, I'll take it. I'll need a lot of mental preparation
Muchos love,
Bobbie