Believe it or not, the above two photos were taken within minutes from one another and both in the same room, and neither were taken with the lights on. Ah, the magic of sitting by the window vs not haha.
Today was a day where I felt a rare burst of productivity and energy when I woke up and I liked the way my skin looked after having done my 5-step Korean skincare routine (okay so it's more like 5-7 steps depending on when you do it) so I decided to put on some make-up. And take this opportunity to write about a few of my favourite products.
In these pictures I am wearing:
– No Poreblem Primer (part of the Korean skincare routine)
– Billion Dollar Brows Mad About Brows eyebrow liner*
– Lord & Berry Line/Shade eyeliner in Dark Black*
– Annayake 24hr Nude Moisturizing Veil in Clair (kinda like BB Cream – it's very lightweight, comes out dark but then magically matches your skin tone once on)*
– Physicians Formula Bronze Booster (apparently discontinued – similar)*
– Shu Uemura Rouge Unlimited Supreme Matte lipstick in shade 342
– Mac Mineralize Blush in Warm Soul
– Blinc Mascara
Items marked * were gifted to me back when I worked in the industry (yep, they're old. I probably shouldn't be using them but I like them and don't want to waste them) and to be honest, I never knew the value of these until now. Oh my gosh some of them are PRICEY O_O
But we're not here to talk about all of those. We are here to talk about these three beauties: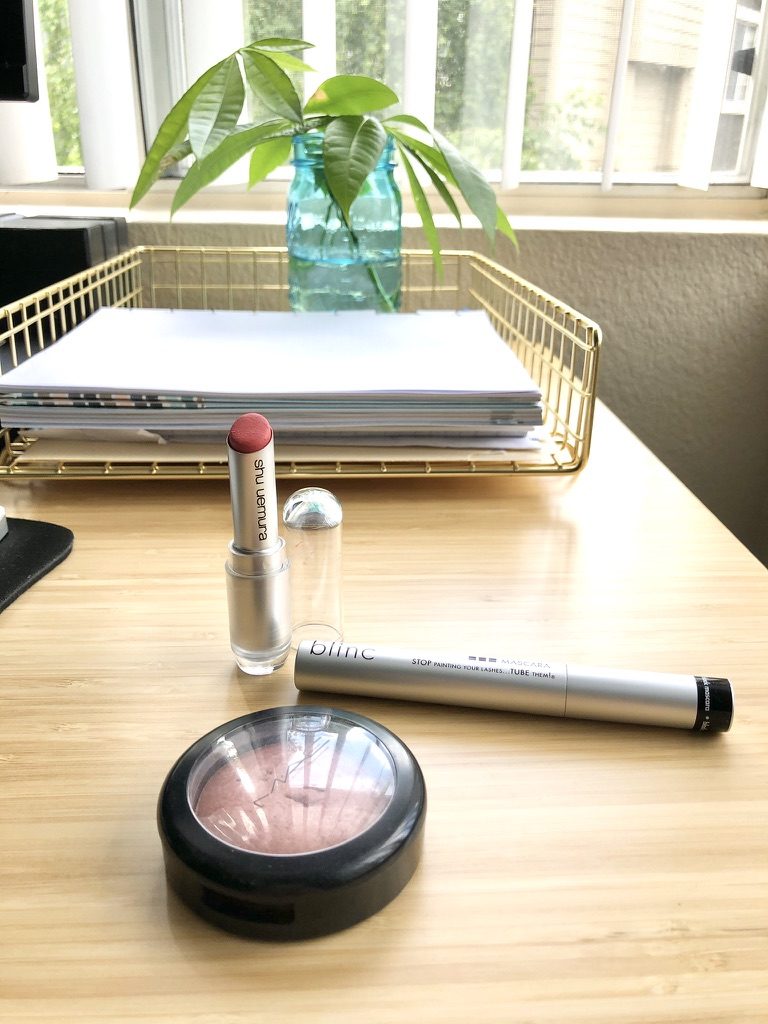 The last 3 on my list; I absolutely adore these and I'll tell you why.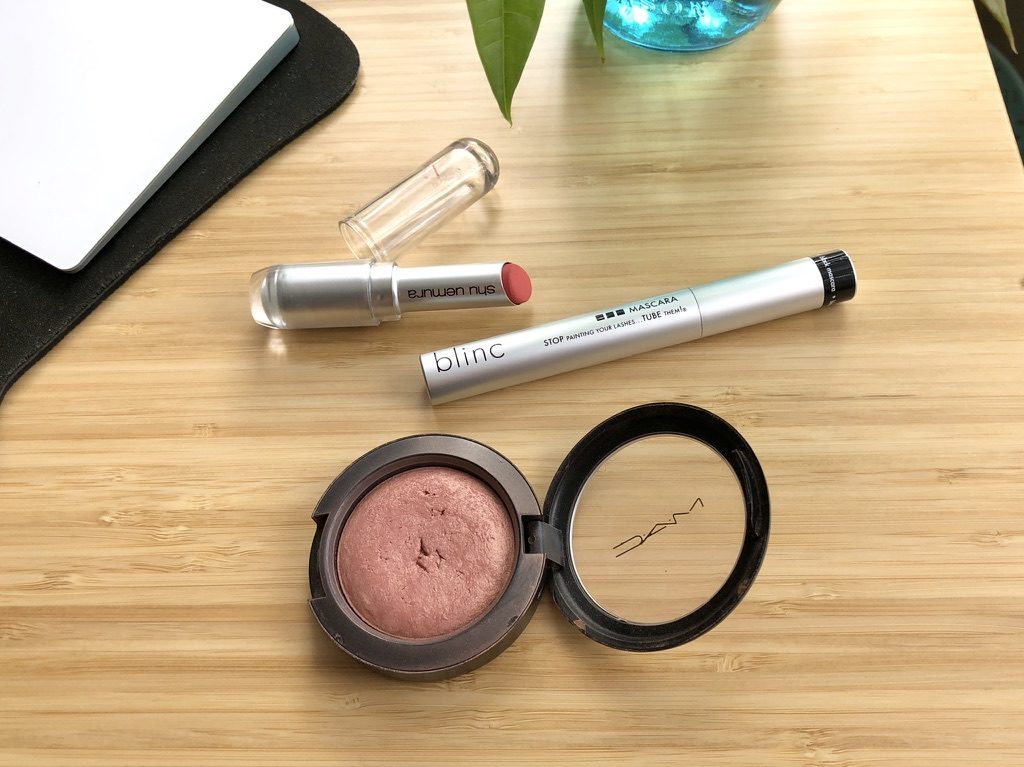 The Shu Uemura lipstick (in colour 342) was actually gifted to me by my sister-in-law. I have no idea how she did it, but she managed to pick out a shade I absolutely loved. Yay! Thank you, Jenny!
I have a thing for peach or grapefruit flavoured/coloured items at present it seems, and this lipstick is a most stunning colour. I love the coral tone of this, and I think it matches my skin colour well. It reminds me of the lipsticks used in Korean make-up looks, where you colour in the inner part of your lips and let the lipstick fade around the edges of your lips to give an ombre-effect, which, I love. It doesn't stay on as well as I'd like, but there's nothing wrong with just reapplying it. You can apply it as a matte lipstick or add a layer of lip balm to gloss it up a little. Anyway, I like it a lot.
The Mac Mineralize Blush in Warm Soul is a warm blush that faintly glitters so it acts like a highlight too. I've had this blush for years and it's the only one I own, purchase and re-purchase and actually use. My friend Emma introduced it to me like 10 years ago and it's been my go-to ever since. I guess my love of coral tones started a while back but I didn't realise or embrace it until recently haha.
Last but certainly not least (and in fact it's probably my favourite one and the reason I even wrote this post in the first place): the Blinc Mascara, which is freaking AMAZING. It's not so much a mascara as more of a lash coverer… if that makes sense. Their slogan is "STOP painting your lashes… TUBE them!" and is perfect for someone like me who likes lighter make up.
It coats your lashes in a layer of… whatever their innovative formula is, and once it's dry, it's water-resistant and dries very smoothly like another layer of lash. You can layer it by re-applying once it's dry but I personally think one layer is enough.
And the most important reason I love it: it comes off easily without damaging your lashes. Because it coats them in a lash tube, the coating just comes off once you wash it with warm water. First time you wash it off may scare you a little because it literally looks like your lashes are falling off, but fear not! It's just the coating falling off in warm water, leaving your real lashes totally in-tact and undamaged.
No more scrubbing with make-up remover, no more lashes falling out from scrubbing with make-up remover either or at least so much time saved from having to leave the cotton bud of wet makeup remover on your eye to loosen up the mascara to prevent having to scrub your lashes off (can you tell what my biggest pet peeve about wearing mascara is?).
I really can't think of any negatives about this mascara except that it won't give you hugely thick lashes if that's the look you're going for, and you'll probably have to reapply after crying lol (hey, tears are warm apparently). But that's it! I love it and can't recommend it enough if you're also not much of a makeup person like me.
After all, what other makeup brand do you know that literally has a namesake mascara as their primary product?
And in case you were wondering, here's a blurry Insta pic after the skincare routine last night. The low-res and warm lighting helps to make my skin look smoother, but there was a noticeable improvement regardless: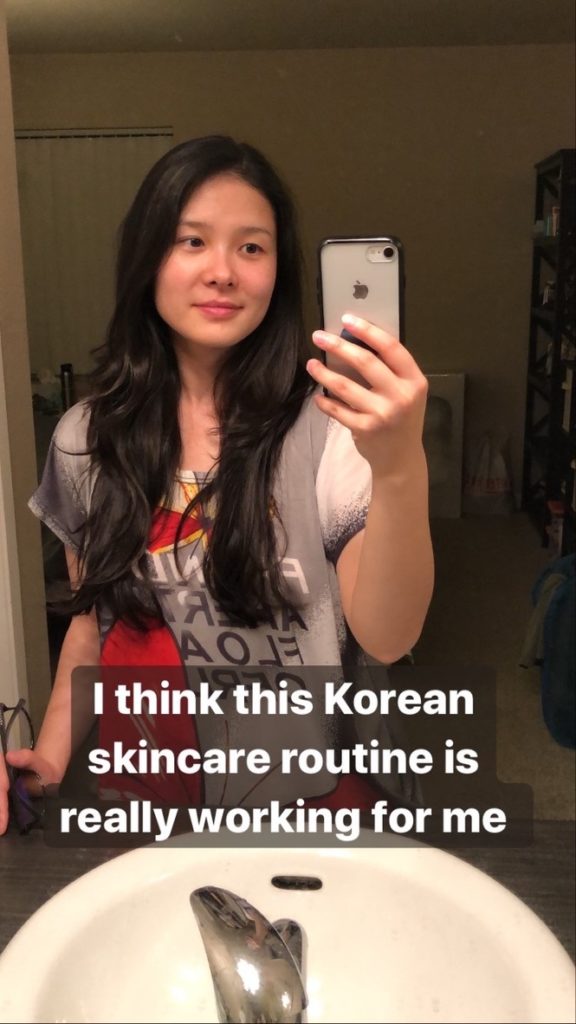 (Okay yes you got me – I am currently wearing that top as my PJ's. It's light and flowy and it's getting warmer these days. Yes, I know I need a haircut too, and yes, I am very much considering posting my skincare routine at one point.)
Toodles!~