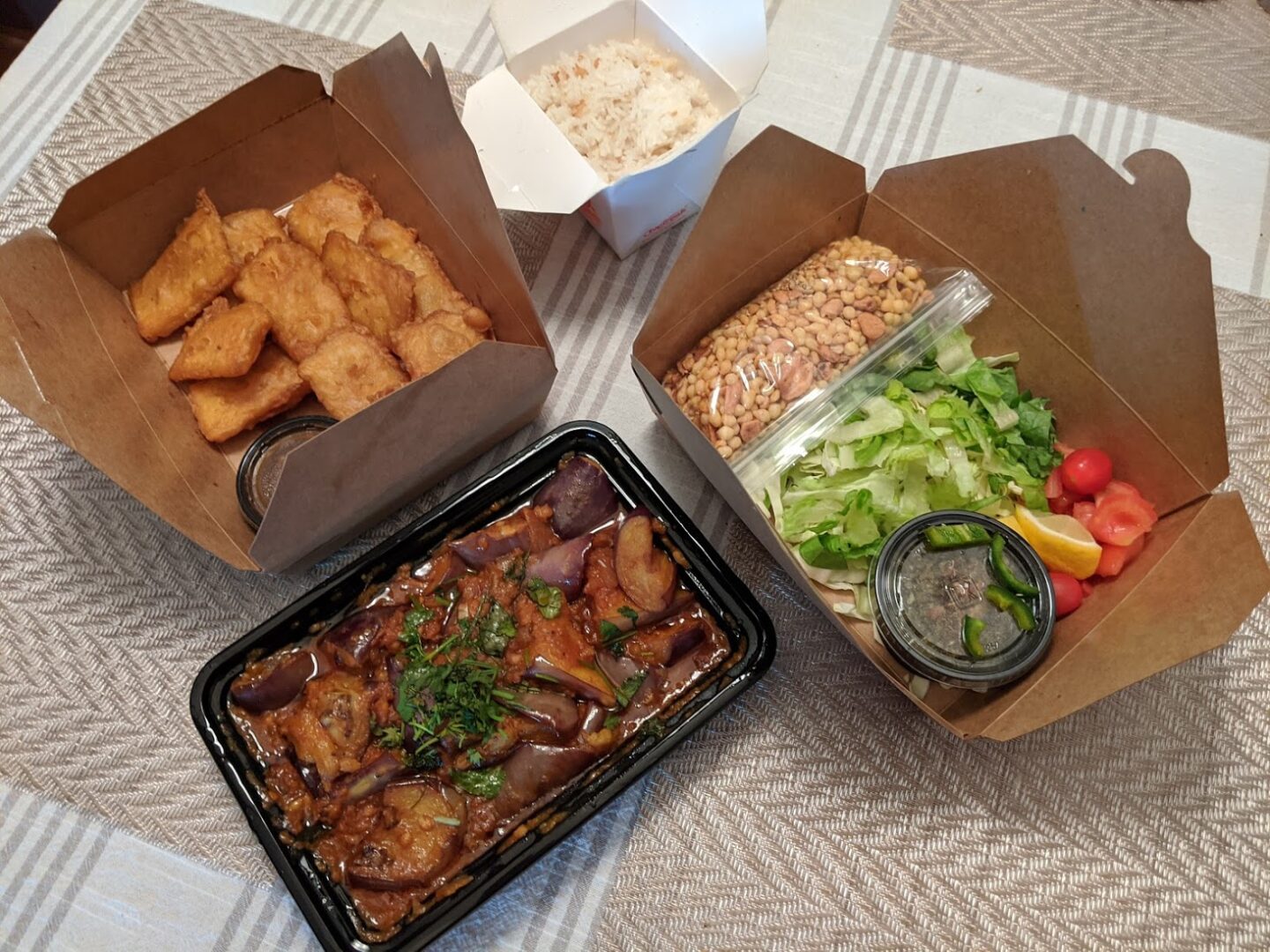 Restaurant: Shwe Myanmar Burmese Cuisine, Livermore
Delivery service used: DoorDash
Date ordered: 28th May, 2020
Dishes ordered:
Crispy Yellow Tofu – $10.00 – 9.8/10
Shwe Myanmar Tea Leaf Salad – $12.00 – 9.5/10
Eggplant Curry – $12.00 – 9.8/10
Coconut Rice – $3.00 – 9.8/10
Portion sizes: Good. The eggplant curry was a little more substantial but the other dishes were sized for one portion… or it could have just been due to us being SUPER hungry that we pretty much wolfed the entire thing down.
This is one of our favourite restaurants and before the lockdown, Jacky and I used to eat there every other week. It's a family-owned small business and the owner is so lovely. I feel like the portions are slightly larger in the restaurant, but perhaps it's also because we go there so frequently they just see us and give us a little extra <3
That said, the crispy yellow tofu typically comes as 8pcs according to the menu, but we received 12! I think it's because some of them were 'older' and had been re-fried, but I really appreciate them giving us the extra pieces, and the re-frying made them even crispier. We love this dish; without a doubt it is the one item on the menu that we absolutely must order every single time.
Flavour: There is a reason Jacky and I went to this restaurant every other week at a minimum, and that's because the food tastes consistently incredible. We love the depth of flavour in all of the dishes, the tenderness of the meat (if we order a meat dish) and the perfect textures of almost every single dish we've tried.
You may have noticed that the entire order is vegetarian – this is the one place where Jacky not only doesn't mind eating solely vegetarian dishes, but he loves them.
If we had this order at the restaurant, I've no doubt our rating for them would be 10's across the board. I do think they've struggled with the limitations of the quarantine, and like other local restaurants may also have had supply chain issues with some of their regular ingredients. Plus, it's just a bit harder to get the same food quality when you're serving it in boxes.
Jacky thinks they may have had someone less experienced preparing the salad too because the slicing of the ingredients weren't as even as we usually see, and now that I think about it, he's probably right because the proportion of base ingredients like lettuce, tomatoes etc. vs the add-ons and dressing was just so out of whack.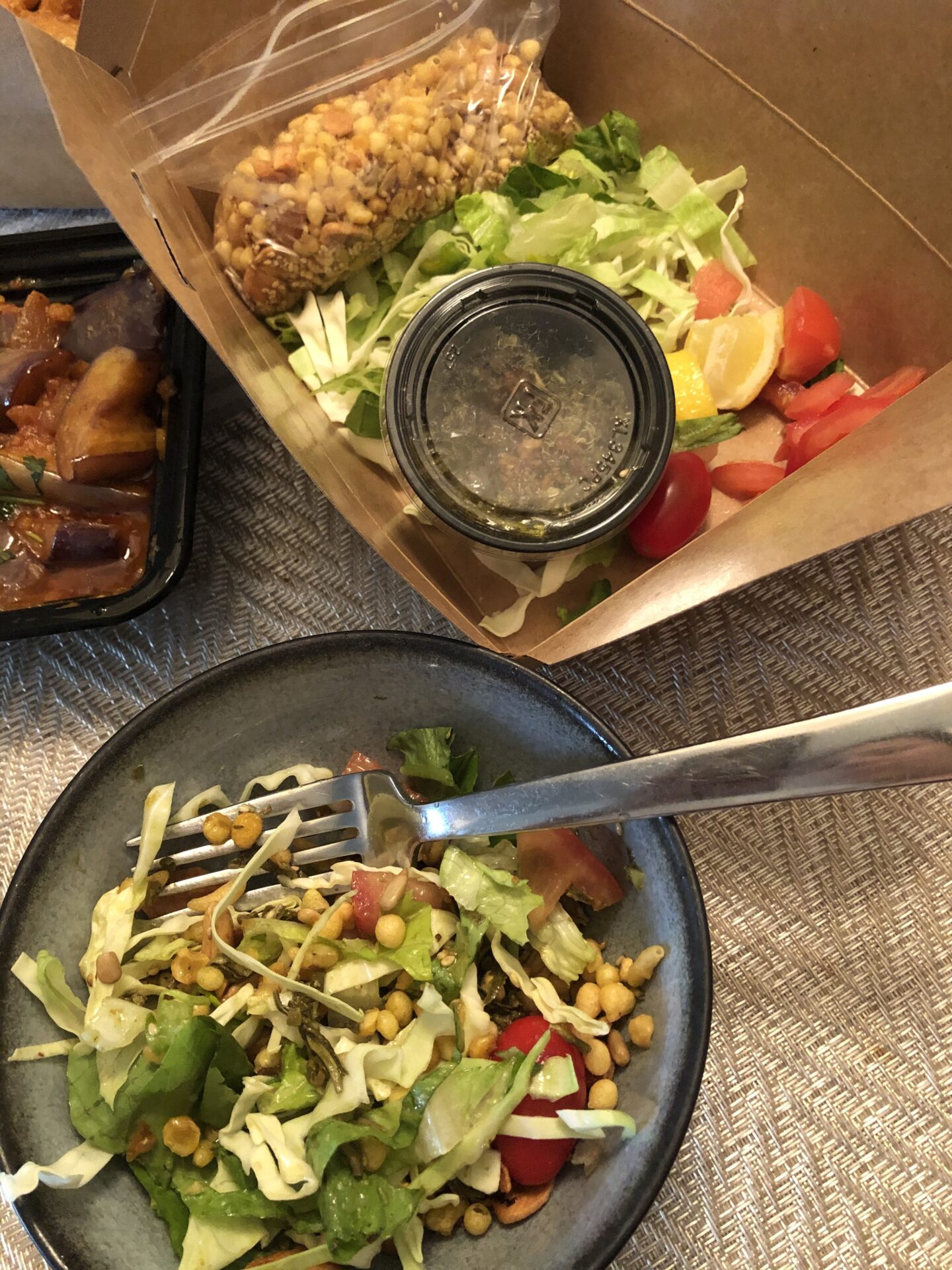 Last time we went in, their daughter was helping out at the register, so we wonder if she is now helping out in the kitchen too. That's fine by us :) It still tasted good. I mean, my lowest 'disappointed rating' for them is a 9.5! Let the significance of that not be lost on anyone.
Some of our favourite dishes include all the ones in this order, but also the following:
Parata with Coconut Chicken Curry
Chicken Biryani Rice (though it can get a little dry, so best to order with a curry)
Shwe Myanmar Lamb and Potatoes Curry
Though there were some that I've previously ordered that I didn't love:
Vegetarian Biryani Rice – this one they serve the biryani part separately to the veggies; you get a veggie curry-like thing on the side. I found the 'curry' part to be a bit on the watery side, and didn't like how crunchy the vegetables were.
Crunchy Coconut & Ginger Salad – I think this was a little dry.
Burmese Yellow Peas Fried Rice – I love their yellow tofu. It's divine. But unfortunately I recall this dish being a bit too dry and greasy. And we only got 2 pc tofu with it.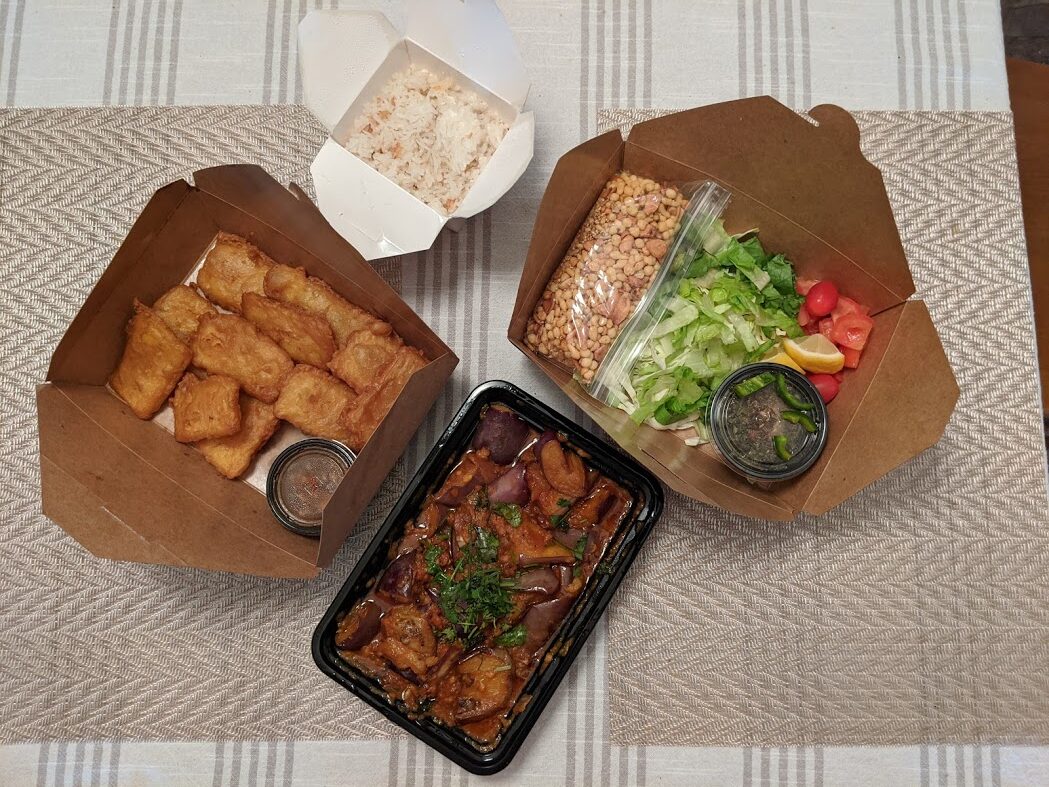 Value for money: 8/10
Portion-size-wise I'd be more tempted to give it a little lower, but the flavours merit the higher score. Usually their portions are larger in the restaurant though. We typically order the same number of dishes, eat our fill and have quite a bit to take home.
(Also affecting the score, to be fair… this was my day 6 meal: the meal that I wolfed down after barely eating all day, in between sets of intense exercise, that I ended up barfing out half of. Sad, sad times.)
Other: I really appreciated the way they packaged it with the salad at the bottom and the hotter dishes at the top, so my salad still stayed fresh, cool and crisp. Heat rises and I hate when restaurants put salads on the top because they're lighter. I don't want soggy, lukewarm salad, thank you. Shwe Myanmar did not do that and I thank them for it. It's the little things.
Would re-order: 10/10.
Overall Rating: 9.48/10