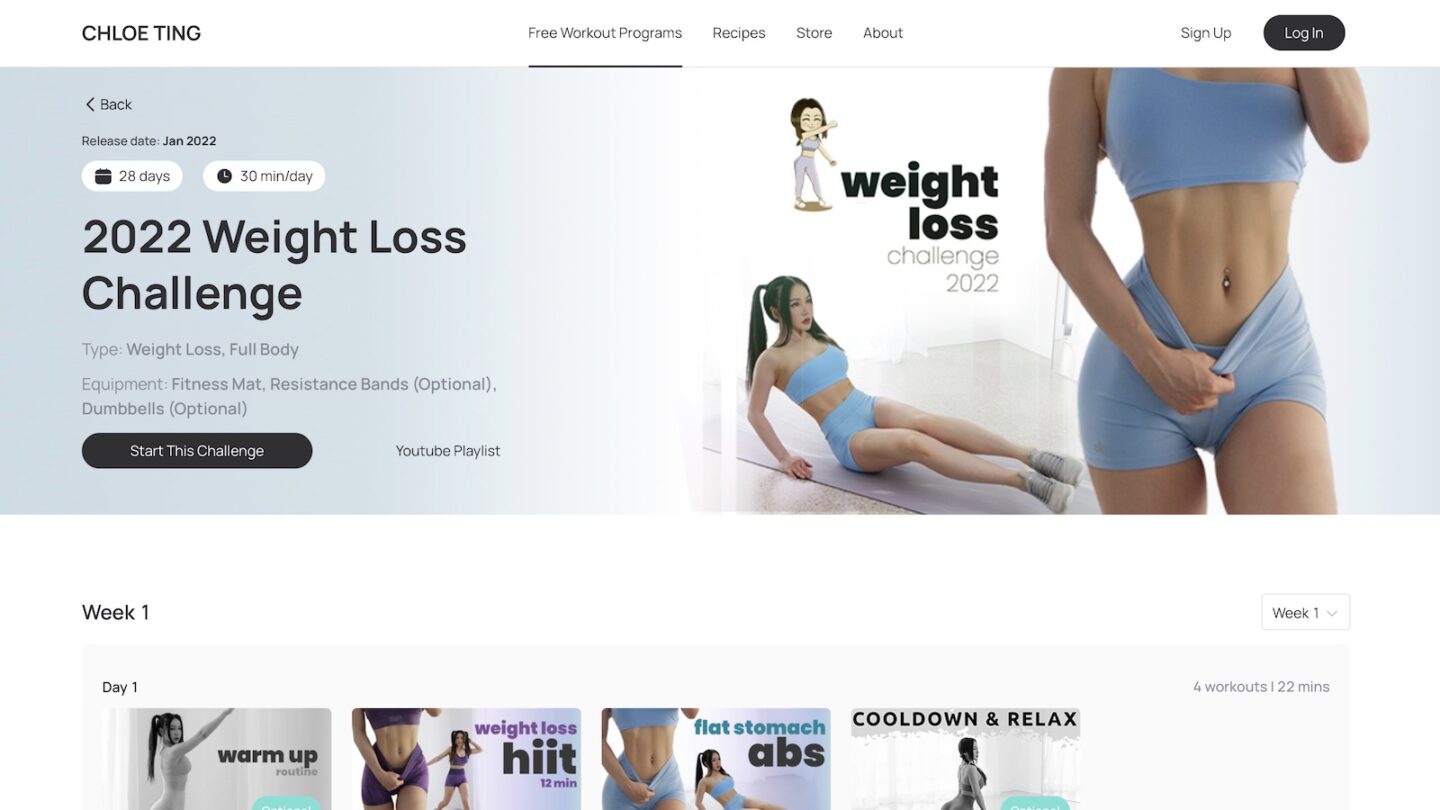 This post will be updated for days 22 – 28 of this challenge.
Click here for week three's updates of this challenge.
We are finally in Week 4! I started this challenge on 3rd January and, a month and a half later, I'm finally starting Day 22 haha. I really did take almost a full month's break from working out, but now that I'm back into it, I'm feeling great.
As with last week, it's still early days yet with my workout routine, but it's working for me and that's the important thing. It's a routine, and I love that I (kind of) have one. Now if only this routine carried through to being productive the rest of the day heh heh.
I haven't figured out what I'll do after this challenge, but there are at least a few challenges I'm interested in trying out. I'm also considering doing a thing where I subscribe to a few fitness YouTubers, and on any given day I'll just do whatever new workout is uploaded for the day.
That might really backfire on me though because I don't really want to do intense full body workouts plus intense workouts targeting every body part on the same day sooo we will see. I haven't really thought it through properly yet, can you tell?
Anyways, I'll decide that next weekend! With that, let's get into the final week.
Week Four
2/18 – Day 22: Completed 13:19.
Videos completed: 5min Warm Up, 15min Full Body, Flat Stomach Abs, Arms & Core, Taylor Swift Abs Routine, 15min Dance Party.
Today was… interesting. I was simultaneously exhausted and invigorated to exercise haha. I overslept and ended up feeling a bit lethargic this morning. It didn't help that my entire schedule was also pushed back by at least an hour. By the time I started exercising, it was my usual lunch time.
The full body HIIT knocked me out pretty hard, and I struggled my way through the abs workout, but by the time the final video rolled around I was feeling so weak I wanted nothing more than to lie down and eat something. So, half way through, I went and ate a banana before coming back and completing the last few exercises. That meant I probably only completed 60% of the video, but that was enough for me.
I really wanted to do a bit more cardio today, so ended up doing a couple of MadFit's dance workouts to end my workout today. I had so much fun doing them. I skipped the Hey Ya dance because I can't stand that song, but I thoroughly enjoyed the rest of them hehe. It's Friday and I'm not working out over the weekend, so go hard or go home, right?
---
2/21 – Day 23: Completed 11:59.
Videos completed: 5min Warm Up, Legs & Booty, 15min Legs & Booty, 9min Butt & Leg Stretch.
It's President's Day today so Jacky has the day off. We were planning to meet with friends for lunch and hang out for the day before I had to get back and do some work, but our cat got sick yesterday and it's made me sick with worry.
We think we've identified the cause and are monitoring her closely today while giving her small amounts of food throughout the day to see if she can hold it down and are prepared to go to the emergency vet at any minute if necessary. Needless to say, properly leaving the house plans are currently on hold.
Since Jacky has the day off, he exercised with me today (though he skipped the cooldown, which wasn't a big deal – I have been trialling some new cooldown videos lately and still haven't found one I really like). I really needed that laugh and something to get my mind off being nervous about my cat. We've prayed about it a lot and she's already looking much better and has been able to keep 2 small meals down.
I personally loved the videos and enjoyed watching Jacky suffer, mwahahaha. I used my 5lb dumbbells and resistance bands for the first video and half of the second video. I love that all the workouts this week are only 30min long, apart from Friday's, which is 35min to finish up the Challenge.
I am so excited to finish it! I'm also thrilled that tomorrow is the no jumping full body video again, woohoo!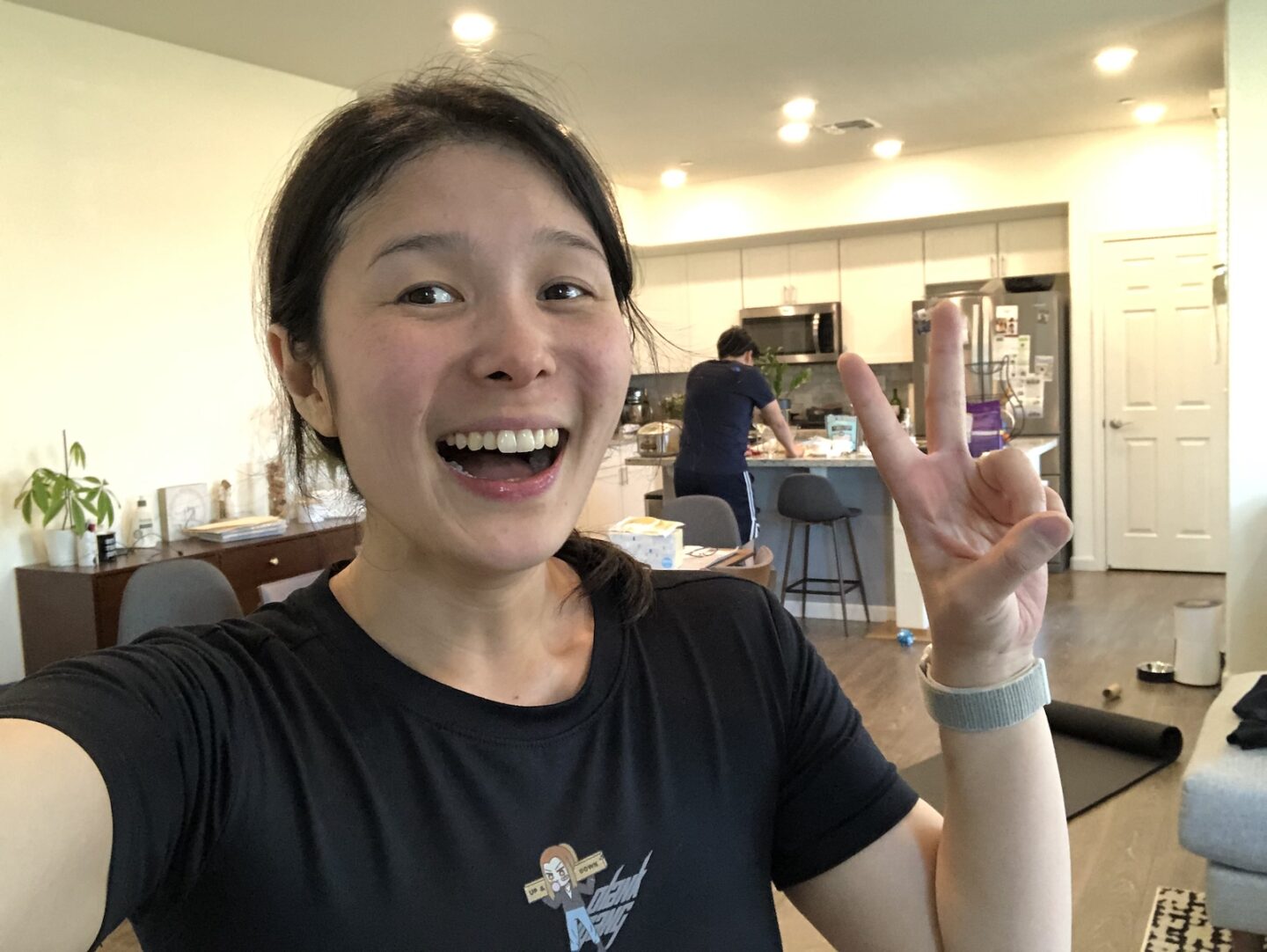 ---
2/22 – Day 24: Completed 12:35.
Videos completed: 5min Warm Up, Full Body No Jumping, Abs in 2 Weeks, 5min Cooldown.
Happy 2/22/22! Too bad today wasn't Day 22 as well haha. Also too bad I was not feeling my best either. I woke up late and by the time I was half way through I just totally lost motivation and wanted to stop and eat. Jacky was feeling epically sore but my body wasn't feeling too bad for the most part, just a bit weak.
I really felt it in my glutes and lower body today, maybe because of soreness from yesterday, but probably more because there are finally muscles to feel it in haha. As exhausted and unmotivated as I was feeling, I did try hard to keep my mind-muscle connection. I was really struggling to engage my core today for a lot of the exercises but I definitely pushed my glutes to work harder.
I kind of just wanted to do more cardio today for some reason, so I didn't actually enjoy the workout as much as I thought I would and took extra breaks, but I'm still glad I did it. Gosh, it's been a while since I did that 2 week abs video… I'd forgotten just how difficult it was. I had to do low impact for at least half of it! Hopefully tomorrow I'll feel more energetic.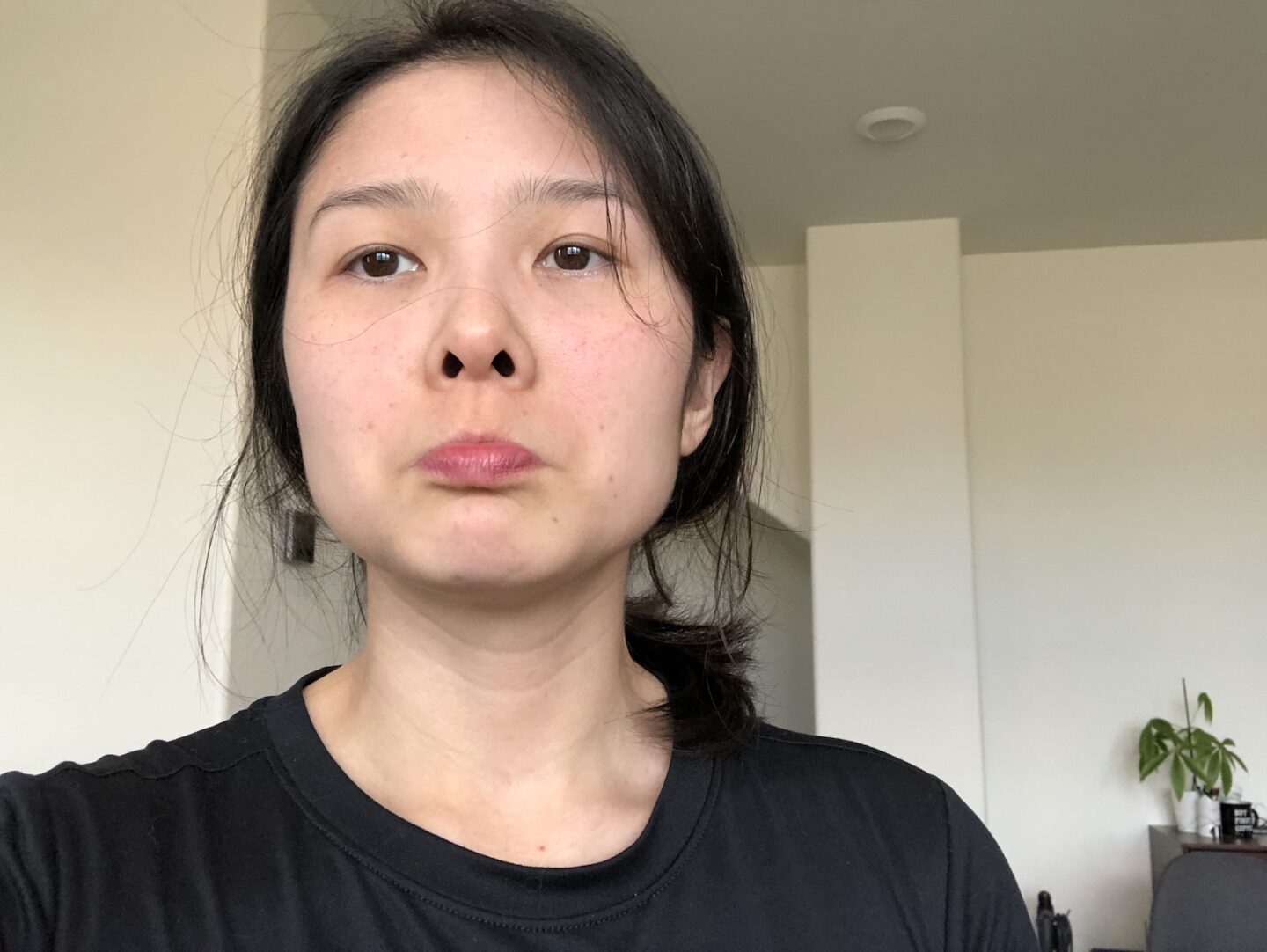 ---
2/24 – Day 25: Completed 13:09.
Videos completed: 5min Warm Up, Full Body Burn, 10min Booty.
Gah. I am a day behind. Why? Because I woke up with a hangover yesterday. I really shouldn't have had that second drink and my body absolutely paid for it. The last hangover I had was something like 5 years ago. I barely remember what a hangover felt like, let alone how to handle one, so I ended up making it worse by starting my day off with black coffee.
I woke up late feeling tender with a headache and mild nausea, but after drinking the coffee my body just was not having it. Let's just say I ended up getting to know my sink in a far more familiar manner than I would have liked. I couldn't even hold down water. There was absolutely no way I was going to do any exercise.
I ended up sleeping until almost 4pm, after which my body was thankfully recovered enough to keep down some light food and water. I did consider working out after, but I decided it'd be best to just rest.
Today, though, I woke up feeling far better. Still not at my best, but at least I no longer had a hangover. Unfortunately, I started exercising late this morning because my phone was going crazy. My iPhone Photos has recently decided to start telling me that I had no space on the iPhone (I had 3GB space) and no space on my iCloud (I had 5GB space) and would not record any of my workouts further. In fact, the sync function on my phone had basically fallen apart.
I thought it'd be an easy fix but it ended up taking me over an hour, which just really messed with my workout start time and mental fortitude. No, it's still kinda broken, and I wonder if it's because my phone is something like 4.5years old and Apple have been crap with their iOS releases lately. I still haven't finished fixing it, but whatever.
By the time I finally got to starting the workout, it was so late in the day that my aircon had switched itself off so my house was suuuper cold. (Okay, like 19°C but like 0 humidity or direct sunshine so it felt more like 10°C and my body had turned into a popsicle.) I had to turn the heating on before I finally was able to focus on mind-muscle connection instead of having my muscles shivering.
All that is to say… today's workout wasn't terrible given the circumstances, but it was not the best workout I've had by far. I also wonder if I'm starting to lose steam due to it being close to the end of the Challenge. It's strange because I'd have expected me to be more excited about completing it, but I am a weird one.
I took extra breaks and did low impact for pretty much the entire workout today and used absolutely no equipment, but I completed it and that's what matters. I didn't even do a cooldown today, I'll probably feel it tomorrow but whatever.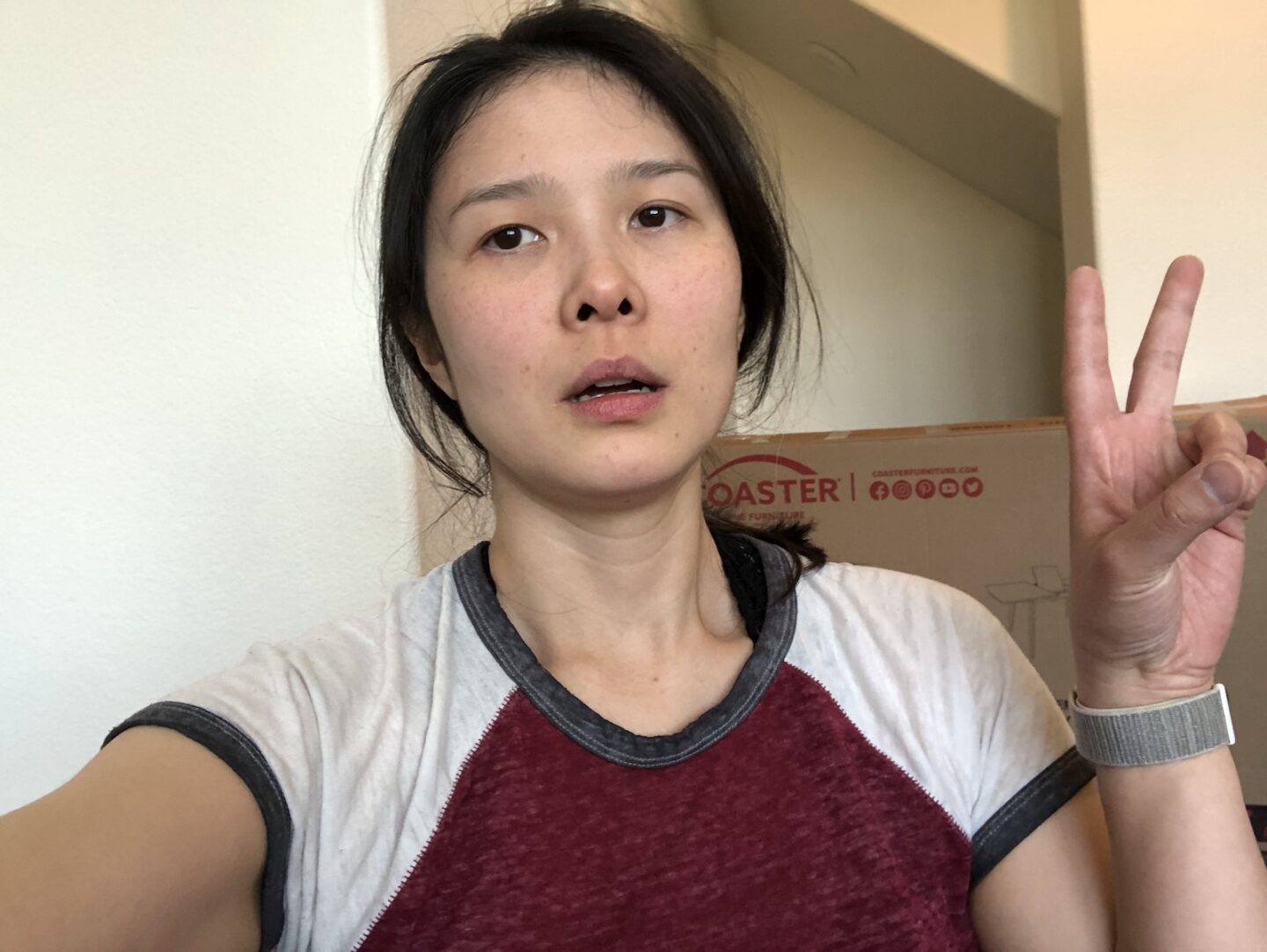 I've just looked at the rest of the schedule and I can't believe it! Only 2 days left… Tomorrow's workout will be arms and core focused, which I am very thankful for because, despite my forced rest day yesterday, my booty is very much done with me lol. I feel re-invigorated. I can do this!
---
2/25 – Day 26: Completed 12:30.
Videos completed: 5min Warm Up, Sexy Arms & Back, 10min Upper Body & Core, Flat Stomach Abs, 5min Cooldown.
Okayyy! We have ONE DAY LEFT after today! So after being on the phone with Apple yesterday it turns out their iCloud system was throwing errors. Wish I'd known that before I removed photos from my phone and the lady told me to clear out my recently deleted files. That kind of sucks, but at least I know it's not an error on my side.
On the bright side, I realised that Apple had fixed an error where Airdropping files caused the exif data to be replaced, and now I can easily transfer all of my workout videos to my computer/external HDD. But that's neither here nor there. How did I get on with today's workout? Meh. It was okay.
I struggled. I worked and slept late last night so couldn't wake up early this morning. Starting my workout late meant I was starting to feel a bit hungry and therefore weak. I did enjoy the workouts though! I can literally feel that my arm strength has improved. My ab strength though? Hah, what ab strength…
When I was doing the 2nd video I realised I'm pretty sure I've done the 2021 2WS at some point but for some reason never noted it down? Unless I really just never did it? That surprises me. If I haven't done it, then I gotta do that next. Chloe's next challenge starts on 14th March, so I have exactly 2 weeks before it begins. Perfect time to do the 2021 2WS!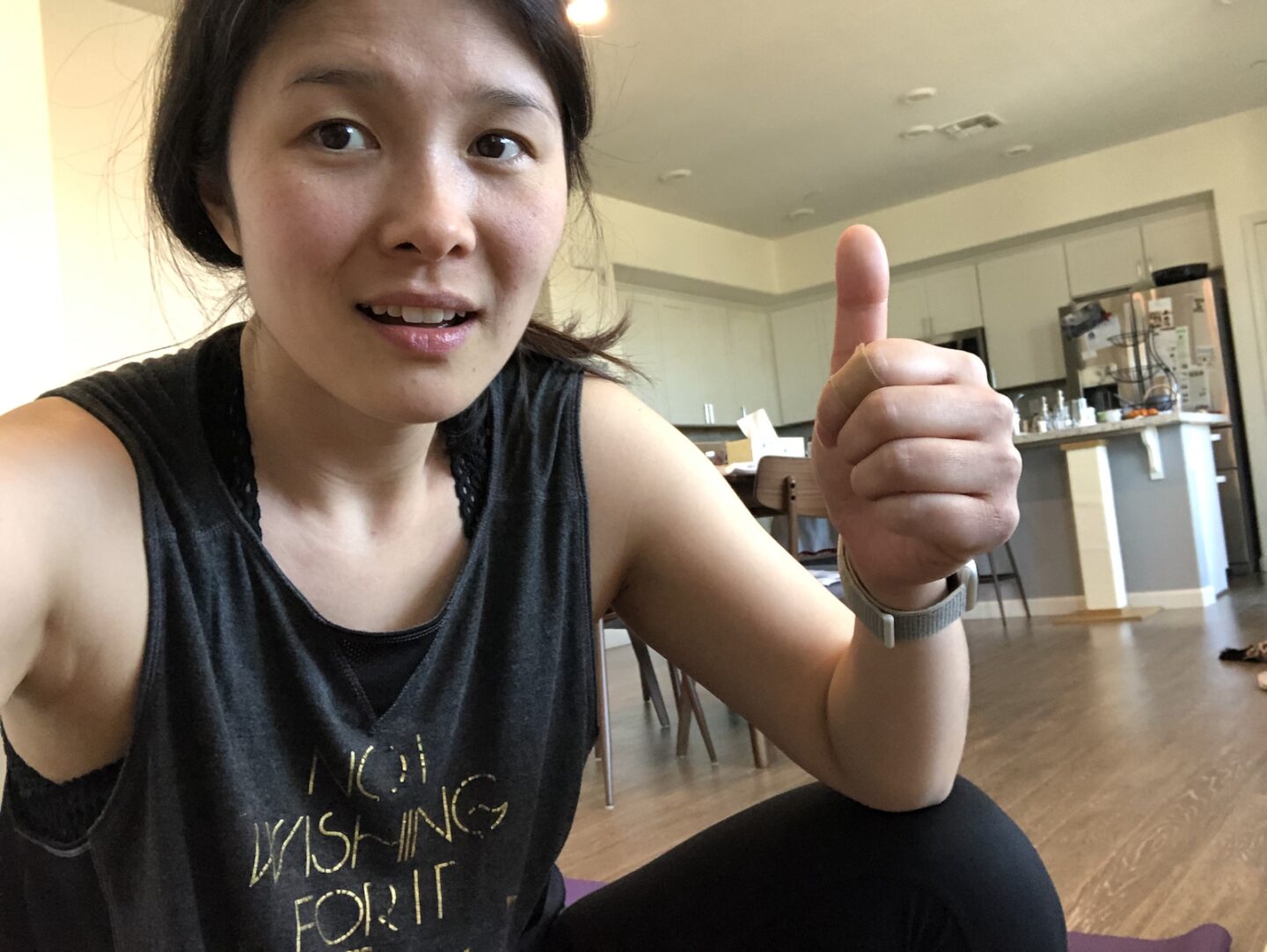 ---
2/27 – Day 27: Completed 12:08.
Videos completed: 5min Warm Up, 20min Full Body, Small Waist & Round Butt, 15min Stretch & Cooldown.
WE DID IT!!! And by "we", I mean both thank you for joining me on this journey, but also my husband decided to complete today's workout with me.
I had planned to finish it yesterday, but yesterday was just an entire day and a half. I woke up feeling unwell, spent the entire day groggy, took a 3hr nap in the afternoon and also had a bunch of work to finish. So I took another unintended but highly necessary rest day.
Initially I was apprehensive about today's workout because it was 35min, but also the first video was 20min and from last year's Get Fit. I don't recall what happened but I do remember not finishing the challenge, so in my mind I must have thought that I didn't like it that much.
However, I thoroughly enjoyed that video. Jacky and I both enjoyed the pacing. I used 5lb dumbbells and Jacky used 8lb dumbbells throughout. Some parts felt more challenging than others but I was able to feel all the muscles I was supposed to feel, and I definitely feel stronger; I was even able to do renegade rows with great form with the dumbbells.
We both dropped our equipment for the second video, and that was already plenty enough to destroy my booty with time under tension and progressive overload. After that first video, my legs and booty were shaking and my abs were crying in pain. Jacky almost gave up half way through because his legs were sore from his 2-3hr hike yesterday (I did not go) but he continued like a trooper.
I was mildly distraught when it felt like we'd already been at the video for ages and it should have been over soon when Chloe announced, "We're half way through." I still kept going to the best of my ability though. Looking back at the footage, I'm really proud of how good my form remained despite my complaining and cries of pain.
I'm so happy with today's workout. What a fantastic way to finish off a program. Technically tomorrow is the last day, but since it's a rest day I won't be counting it. So this is it! Woohoo!
Overall I loved this challenge. It might be my favourite one thus far. I loved the videos, I loved the variety, I loved the pacing and I also loved that it was only 30-35min a day. Just perfect. I enjoyed the music for the most part as well, which is an important factor of my decision to even do a challenge in the first place.
I'm now interested in doing the 2021 Weight Loss Challenge just because some of the videos from that challenge were so fun. I'm still debating on starting the 2021 2 Week Shred because the 2WS challenges tend to be intense. I think it's doable, but I'd be skipping some of the videos daily to keep the workout time to around 30-35min. I just don't think it's possible for my body to handle 45mins in a day to be honest.
But if I do the 2021 WLC, I won't be able to start the new challenge upon launch. Gah… Okay well, we'll see how I'm feeling tomorrow, and that'll determine what I end up doing! With that, we're done! 10/10 recommend.
Muchos love,
Bobbie