Um, yep. It's been almost a month since we took our Seattle trip, but let's be real: neither of us are surprised that it's taken me this long to post about it. In fact, I think we're both more impressed that this post has even come as soon as it has, no? :D
We arrived in Seattle on August 31st so that we could spend the entirety of our anniversary exploring Seattle rather than travelling. When we chose September 1st as our (legal) wedding day, we actually hadn't considered the additional benefit of it being so close to labour day. Now we will always have the added benefit of a national holiday that doesn't need personal PTO to take off.
We actually came to Seattle last year for our anniversary, but unfortunately were only able to stay for a few days during the week since the US government scheduled my biometrics for the Friday (USCIS also decided to schedule my green card interview on my actual birthday so they certainly have interesting timing).
(Also, hey Bobbie, where are the posts about your trip last year? Yeah, um, remember we agreed to just be impressed about me getting this post up, okay?)
During our short stay last year, we ended up enjoying one of the best sushi omakase meals we've ever had and vowed to return this year for more. So we did!
Last year we stayed at the Grand Hyatt and loved the service, amenities and walkability of the hotel. In particular, I loved their gorgeous marble bathtub because if I'm going on vacation, I'm going to take long, relaxing baths. Unfortunately when I tried to book it again this year, there were literally zero rooms available and calling their booking service made me want to smash my head against a wall.
Disappointed but not to be deterred, we went with the Pan Pacific Hotel instead. Based on our research, it would also be decently walkable, easy to get to from the airport and some of their rooms have a great view of the Space Needle. Guess which room I picked.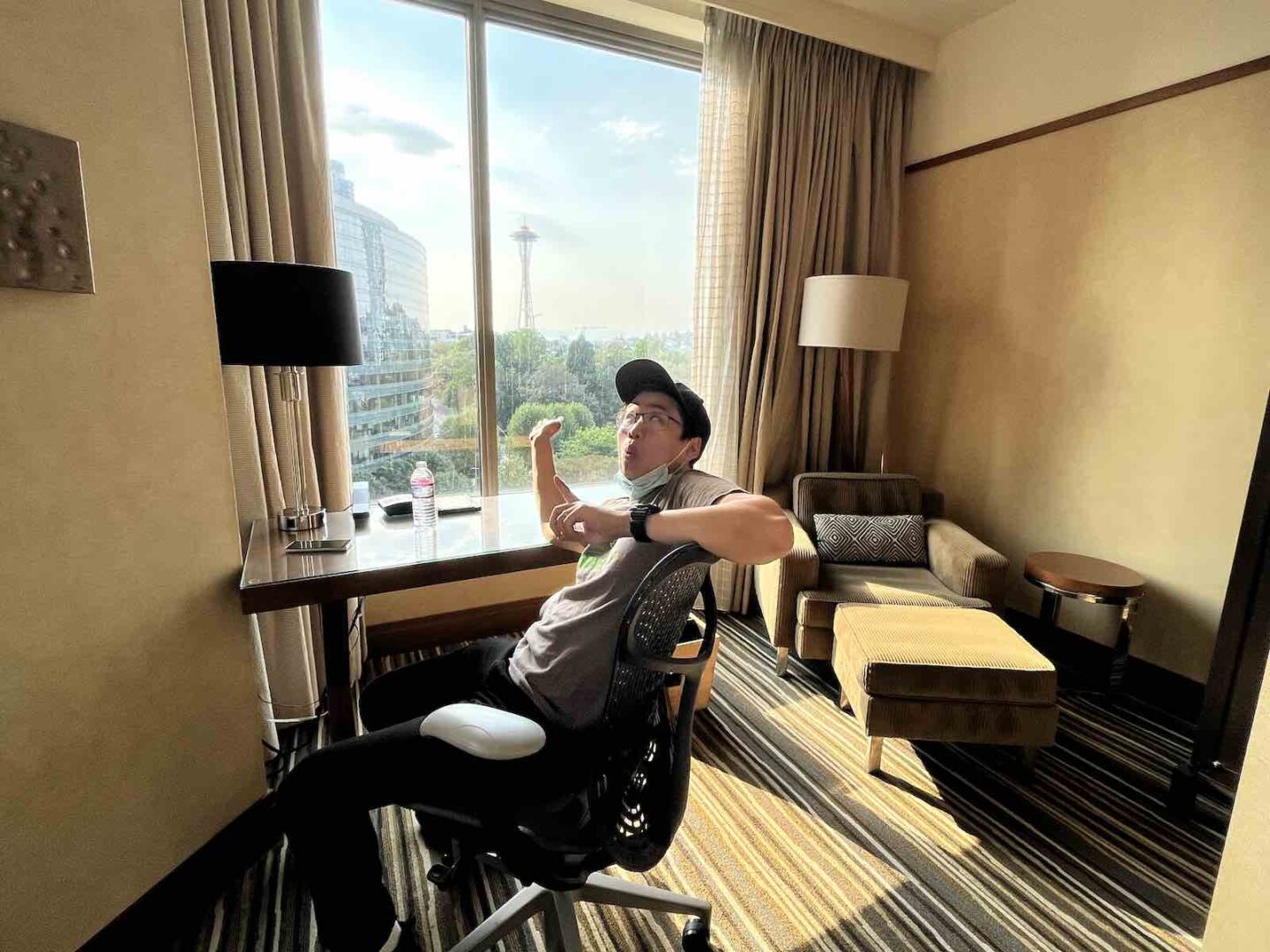 Being an executive Teletubby is fun.
The timing of our arrival was perfect: we got there just before 5pm and check in began at 4pm. Happy hour was at 5 so we were able to check in, drop our bags off in our room then come down to the front desk for a complimentary glass of wine.
The Room
I like that we got the view of the Space Needle from both of the windows in our room. You get to see it both from the window in the bedroom area (although you basically need to be standing right by the window to see it) and a far better view from the office area, which is also the large window you see when you first enter the hotel room.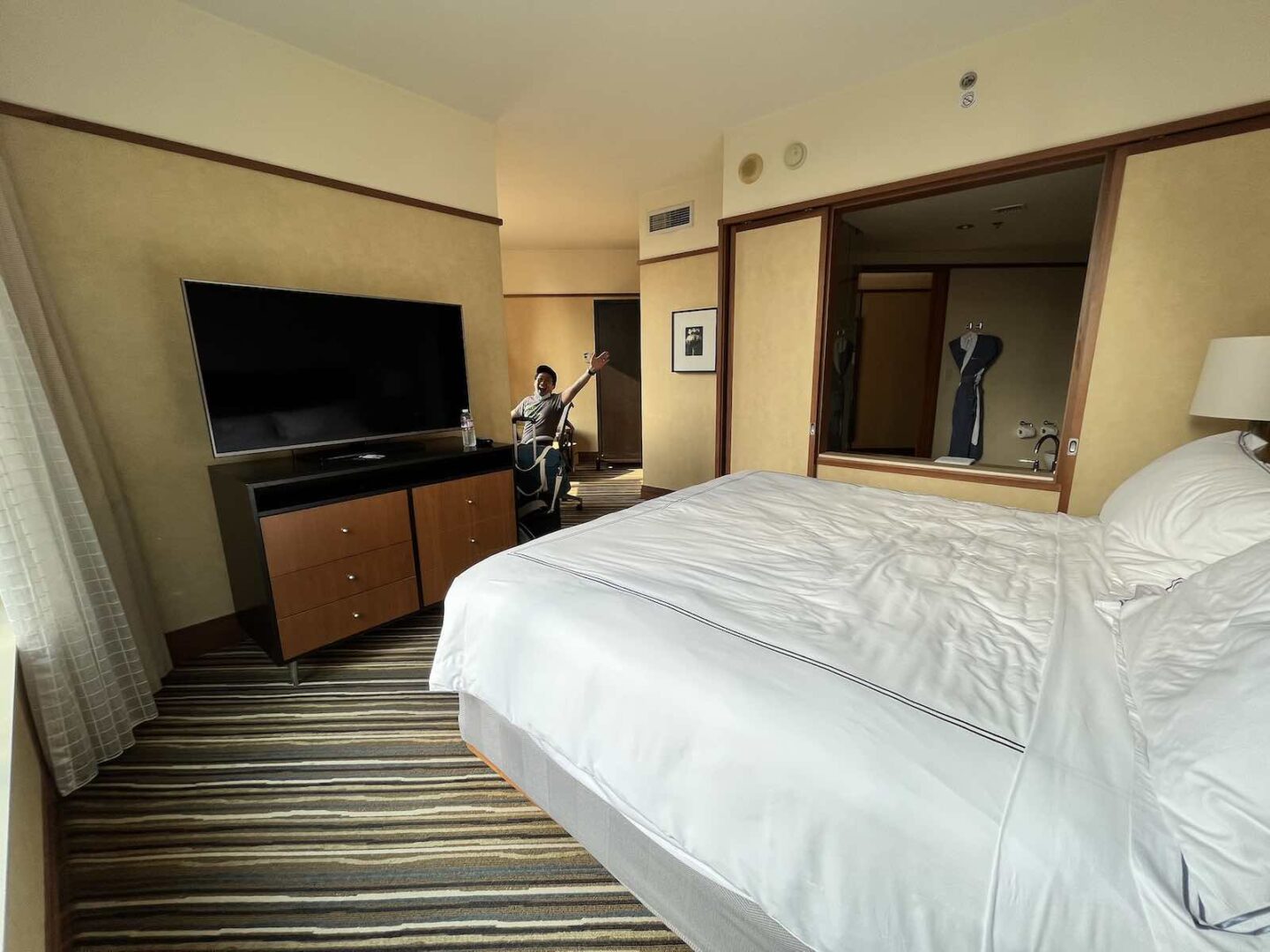 The room is kind of shaped like a sideways "V", with a small hallway being one line, the desk at the point and the bed area as the other line. Inside the V is the bathroom. Oh? Bathroom in the middle? That's right… the hole you see in the wall is actually our bathroom!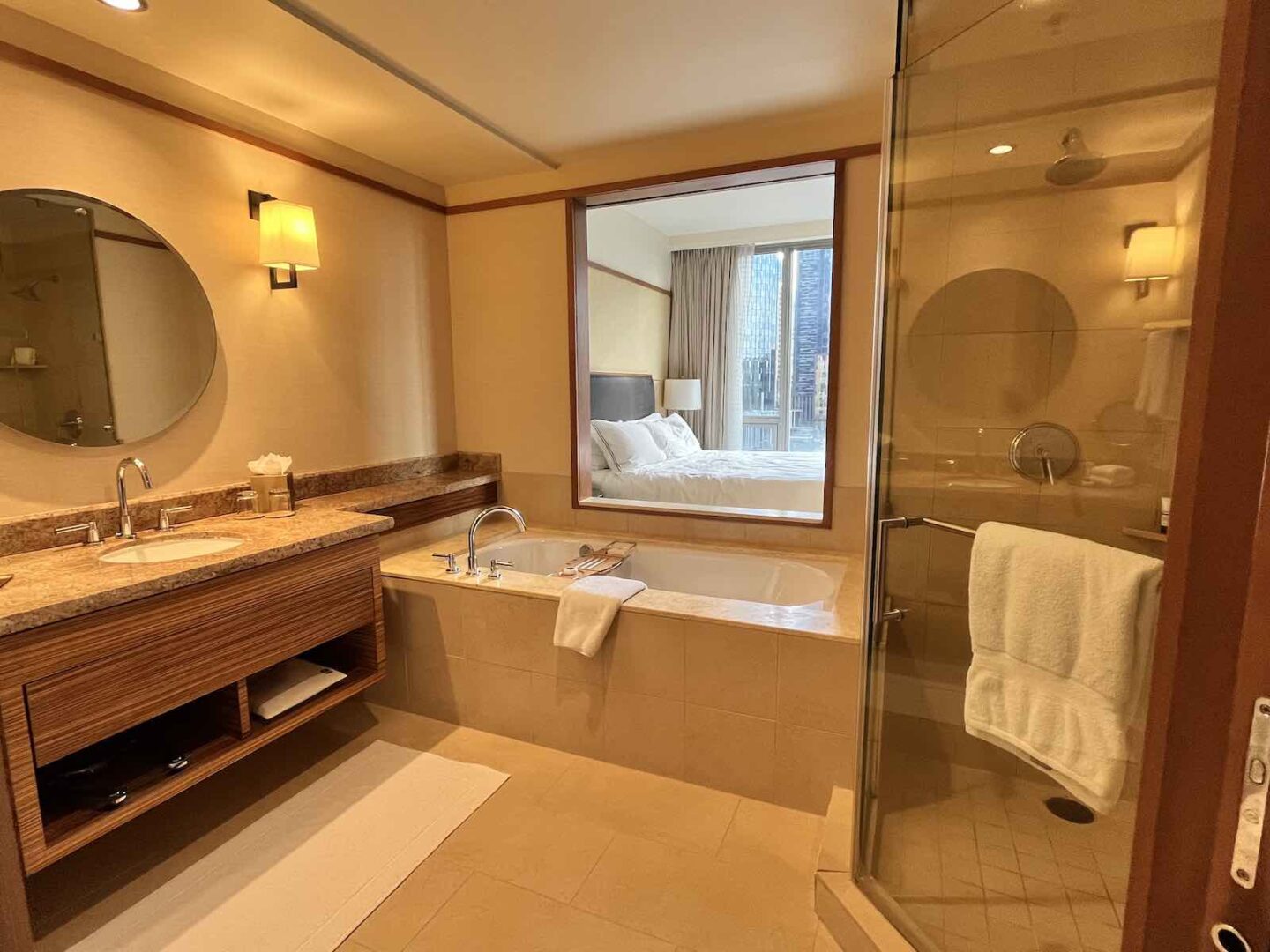 Not gonna lie, I thought I booked a different room based on the photos that I was looking at in advance, which would have given us a direct view of the Space Needle from the bed itself and from the bathtub, so I was quite disappointed that we got this awkwardly shaped room instead where you could only enjoy the view from the desk.
I literally chose this hotel for the bathroom and the bathroom view, so yeah. I didn't really want to look out into the city skyscrapers, which was the direct view. I did, however, love this view pahahaha:
In the hallway there was a large closet with some beautiful wooden hangers, slippers, safe, coffee maker (which we never used. Hello? Seattle), an umbrella (which we also never used) and everything you'd need to iron your clothes. As well as a large mirror.
We were going to be staying for 5 nights so I actually unpacked and hung up all my clothes for the first time ever. Usually I just flip through my suitcase for whatever I need, but I found hanging my clothes to be very helpful when choosing what I wanted to wear and not forgetting what I had.
The bed was gigantic and actually very, very comfortable. I took a peek at the mattress before we left but ingeniously didn't write it down so I've since forgotten what brand it was. I feel like it was medium-firm. It cushioned my joints without swallowing me in. I slept incredibly well.
The Amenities
The hotel has a number of amenities, of which I recall only a vague awareness before arriving and being advised of these more fully at the front desk. There is a daily room charge of $15/night, which is mandatory regardless of whether or not you use the following amenities, but we definitely took advantage of some of these:
Coffee & tea in the morning in the lobby
Happy hour – grab a complimentary glass of wine from the front desk between 5-7pm (and yes it was good wine!)
Gym with sauna (I was wishing I'd bought my swimsuit and workout clothes, but we wouldn't have had time to use these anyway during our stay. Next time, though… Only thing to note is that their fitness centre is separate from the hotel – you need to walk a few steps across the street to get to it.)
Use of house car – the porters will drive you anywhere within a 2 mile radius from the hotel. They won't pick you up, but if the car is available they'll drop you off. This was excellent for us on our final day when we needed to get to Pike Place with our suitcases
Free wifi, both in room and throughout the hotel
Comfy lounge chairs with a large, warm fireplace
Room service from the hotel restaurant
There's apparently free use of their business centre too, which we weren't told about and I only just found out by checking their website lol. It was on their second floor. I had been curious about what was up there so we'd poked our heads around one evening and saw that most of the rooms looked locked. Plus we didn't have any business to attend to anyway. I'm sure I haven't covered everything, but those were the ones that we cared about.
We have so many good things to say about the hotel restaurant but I'll save it for another post. I did get room service one night but I was shocked at the $5 delivery charge given that the hotel was literally right downstairs. There was also a service charge already added, plus an extra line for gratuity.
I asked if the service charge went to staff but neither the restaurant staff member who delivered the food nor the front desk staff knew. There was no menu in the room, and the front desk did not know how we could access a menu either (I had to Google it).
We found out on the last day that the 'service charge' item did actually go to the staff, and gratuity was if you wanted to add extra, which was great to know.
The Service
I got the feeling a lot of the staff were new, but they were still nice and friendly. The guy who delivered our room service, for example, said that he only started last week and was working behind the bar at the restaurant but they were short staffed so he had to run up to deliver the food.
There were other signs that people were new (like one of the front desk staff saying to another "Oh! I didn't think you'd know that!" when I had questions about the hotel), but it wasn't a big deal. We loved the lady who checked us in on the first day though. She was wonderful and friendly, and also poured us the happy hour wine, so was an excellent friend to make on day 1 ;)
There was also a porter who really helped us out with ordering at restaurant on the last day. That was a whole separate ordeal that I will include in my hotel restaurant post, but shout out to him (Kevin?? Sorry, don't remember his name but we saw him for the first time that day) as well as the head chef. They were all fantastic.
The only issue we had during our stay was probably a case of miscommunication. We were told during check in that housekeeping typically don't come daily unless requested or if we stayed 5 nights or longer. We were staying for 5 nights, so they offered to have housekeeping come every day. We declined, and said we'd request it ad-hoc.
We requested housekeeping after our second night and were told that housekeeping needed 24hr notice, which worked perfectly – housekeeping would come on day 3, half way through our stay, and that was enough for us. What we didn't anticipate, though, was that housekeeping would show up uninvited every day thereafter as well.
Thankfully we avoided any awkward encounters, but there's definitely improvement needed in their internal communication.
The Verdict
Aside from the little housekeeping hiccup, we absolutely loved this hotel and would 100% stay here again. The location was great and easily walkable to all the attractions we wanted to get to, or at least had easy access to transport links for everywhere else.
We took the metro from the airport that cost us a fraction of what an Uber would have been, and got to enjoy the scenery from the metro too. The hotel was also walking distance to bus and other modes of public transportation. The hotel food was amazing. I am literally still thinking of the breakfast that we had there.
The bathtub wasn't as nice as the Grand Hyatt's, but it was fun to watch TV from the tub while Jacky chilled on the giant bed and it felt like we were in the same room! In the end, it didn't matter too much that our room didn't have the Space Needle view from the tub or bed. We didn't spend that much time in the hotel, and I wouldn't have bathed with the curtains open at night anyway.
The Rest of the Day
I don't actually recall what we did on our first evening except for walk around for a bit then go back to the hotel to rest. We'd eaten decently well at the airport thanks to Priority Pass giving us free access to a yummy Thai restaurant close to the airport exit as a late lunch, so maybe we didn't need to eat again that night.
We were tired from travelling anyway, so– wait, was that the evening we went to The Pink Door for dinner? Ah I think it was. No wonder I didn't really remember it. The meal was nothing special, Jacky's food was too salty, their white wines tasted like sour grapes, their cocktails otherwise too strong and/or sweet and just generally didn't taste nice, their wait staff were accommodating but fairly inattentive and possibly overworked.
The view from their patio looked stunning but we were seated inside, though we were able to enjoy front row seats to their live music, which was lovely. My squid ink pasta was actually really tasty, but I had to ask about it based on photos we saw on Yelp. It turned out to be the perfect dish in terms of what I wanted, but was just off menu. Our server didn't suggest it despite hearing my dietary requirements and only confirmed it was actually available after I asked.
It was difficult to find and the wait was weird. We were flippantly told it'd be an hour, so I got myself a snack so I wouldn't be hangry, then immediately after finishing my snack (giant, warm, gooey chocolate chip cookie mmmm) they messaged us saying our table was ready. I almost considered just not going back based on the take-it-or-leave-it/I-don't-care-if-you-eat-here expression on the hostess' face but the Yelp reviews lured us in.
Anyways, I guess it wasn't bad to try once, but 4/10 would not go back. We didn't even take any photos to commemorate because we felt the attitude of the staff was so off. It was like a forced welcome-but-not-really vibe. A forgettable experience – one that I literally did forget, save for trying to remember what the heck happened to write this blog post lol.
To be fair, I was also a bit stressed out because it was the first time we had a new cat sitter coming to our house, and she was coming for the full 6 days. We had some last minute changes in our instructions to her and she wasn't following them. Anyways, that was sorted soon after, but it was a stressful evening for sure.
The rest of the trip was amazing. More to come later!
Muchos love,
Bobbie