Woah it's mid-October already? Ehhem, well, allow me to share with you what I was doing in early September heh heh. I did say that this restaurant deserved its own post so here it is, though I have had this in my drafts since 1st October but haven't been able to finish writing it until now.
The South Lake Kitchen + Bar was our hotel's restaurant. The entrance is through the hotel, but even if you weren't a guest of the hotel it's still worth a visit to eat here. I had one of the best brunches of my life at this very restaurant, and if I lived in Seattle I'd be here every week.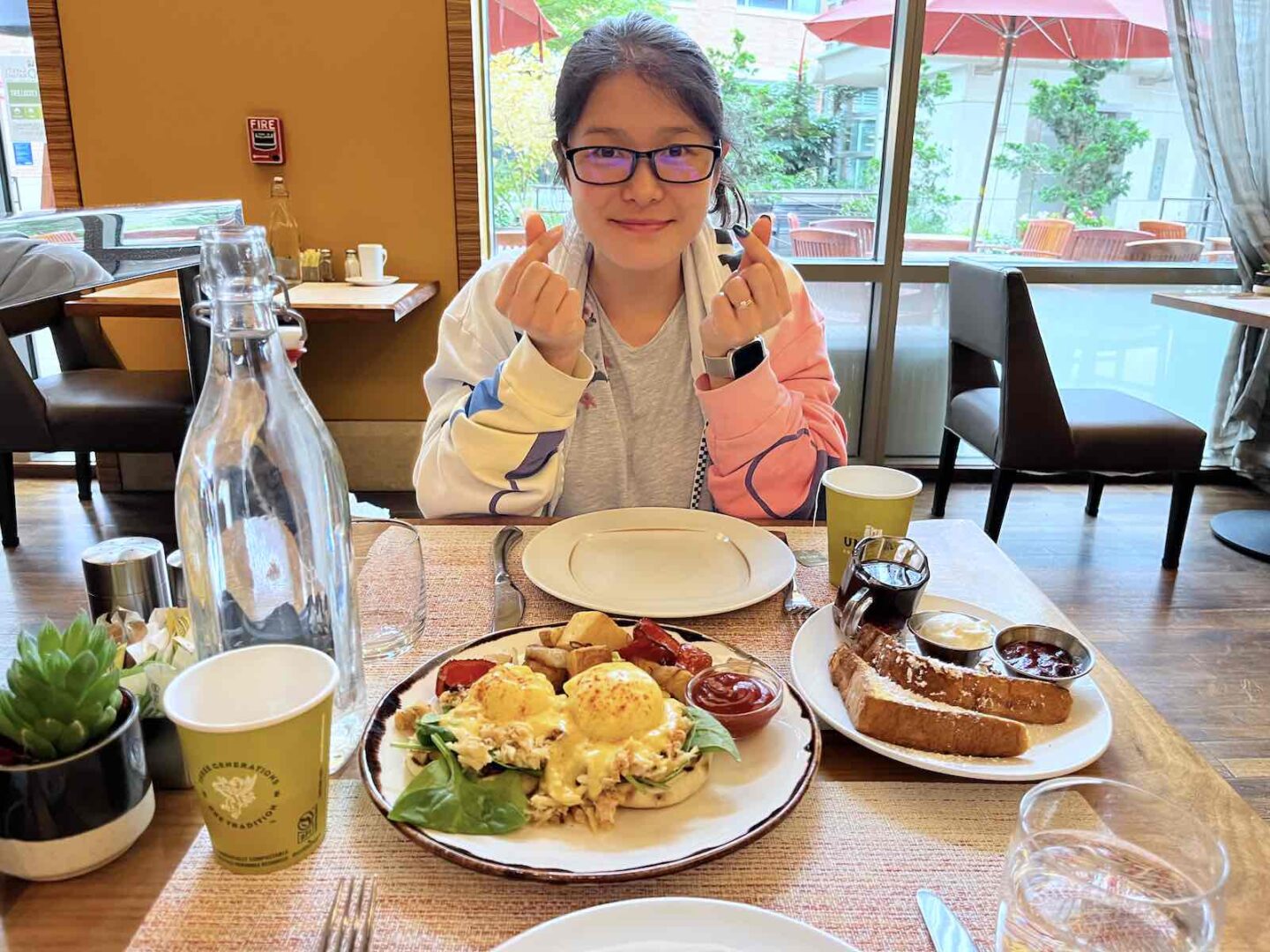 Their brunch menu had a Dungeness Crab Benedict, and I'm not sure if I've ever blogged about my love for eggs benedict before, but let's just say I love eggs benedict so much I asked my chef friend to make it for me on Christmas Day once lol.
I literally go hunting for the best (or at least a decent) eggs benedict in every city I live. So far I haven't found a good one close to me, not for lack of trying. I might start an Eggs Benedict section on this blog for all the places I've tried an eggs benedict. I'm surprised I haven't done that already to be honest.
Either way, we decided to give it a try on our first morning there. I am not joking when I tell you it's one of the best eggs benedict I've ever tasted, to the extent that I decided as soon as we tried it that we'd need to have it again as our final meal before we leave to go back home. We were only going to be in town for a total of 6 days and ended up eating here 3 times – twice for brunch and once for dinner.
Mildly regrettably, I only have photos from the first time we ate here. Honestly we weren't expecting the food to be that good so we didn't even bother taking close ups of our meal lol. But I'll walk you through everything we had:
Brunch (2x):
Dungeness Crab Benedict – not joking when I say the. best. eggs benedict I've ever had. The eggs were perfectly poached, the hollandaise was creamy yet not too thick or heavy, as well as perfectly seasoned. The spinach helped to balance out the overall texture of the dish. The crab… ohhh so good, so tender and juicy. They were not stingy with their crab portions, and the proportions of each ingredient was on point.
The potatoes were sometimes a little undercooked for my liking depending on the size of the piece, and it wasn't really crispy, but it was still wonderfully seasoned. The red peppers had a beautiful char. I loved that this dish was not greasy either. Ugh, perfection.
Side of French Toast – fluffy, not sickly sweet, and the homemade jam was delightful. I just wanted to order this so we could get something sweet after the benedict, and it worked wonderfully as a small 'dessert'.
Dinner:
Grilled Octopus – darn I wish I had photos to show you. Perfectly seared, crispy on the outside, soft and tender on the inside… an explosion of flavours with the caramelised onion & carrots. The fingerling potatoes were crispy and paired well, the microgreens were fresh and the lemon oil brought the ideal hit of acid to cut through any grease. It was salty, sweet, crispy, crunchy, soft, juicy, fatty in the best possible way.
Chicken Katsu Sandwich – crispy, juicy chicken katsu on fluffy brioche that had been toasted to give a bit of a crunch and hold up the rest of the sandwich well. Well balanced and deliciously umami tonkatsu sauce. Delicious (if I recall correctly, slightly acidic) cabbage and excellent balance from the citric onion. The fries were also to die for.
Honestly we were blown away by the quality of the food here. We shared everything because the portion sizes were sufficient for us, plus we were either planning to eat more throughout the day or had already eaten a lot throughout the day and didn't want too much more. But my goodness if our stomachs had been bigger we'd have eaten here a lot more.
The best thing I'd say about their food is that it's all so well-balanced. You never feel like you're getting too much of one element of the dish. Each element is cooked to perfection and the flavours all work wonderfully together.
I would recommend dining in because I don't think the room service delivery fee is worth it, and the tray it came on was not fully blocked off on all sides. Some water had spilled onto the tray that then spilled over the edge onto our bed when we set it down.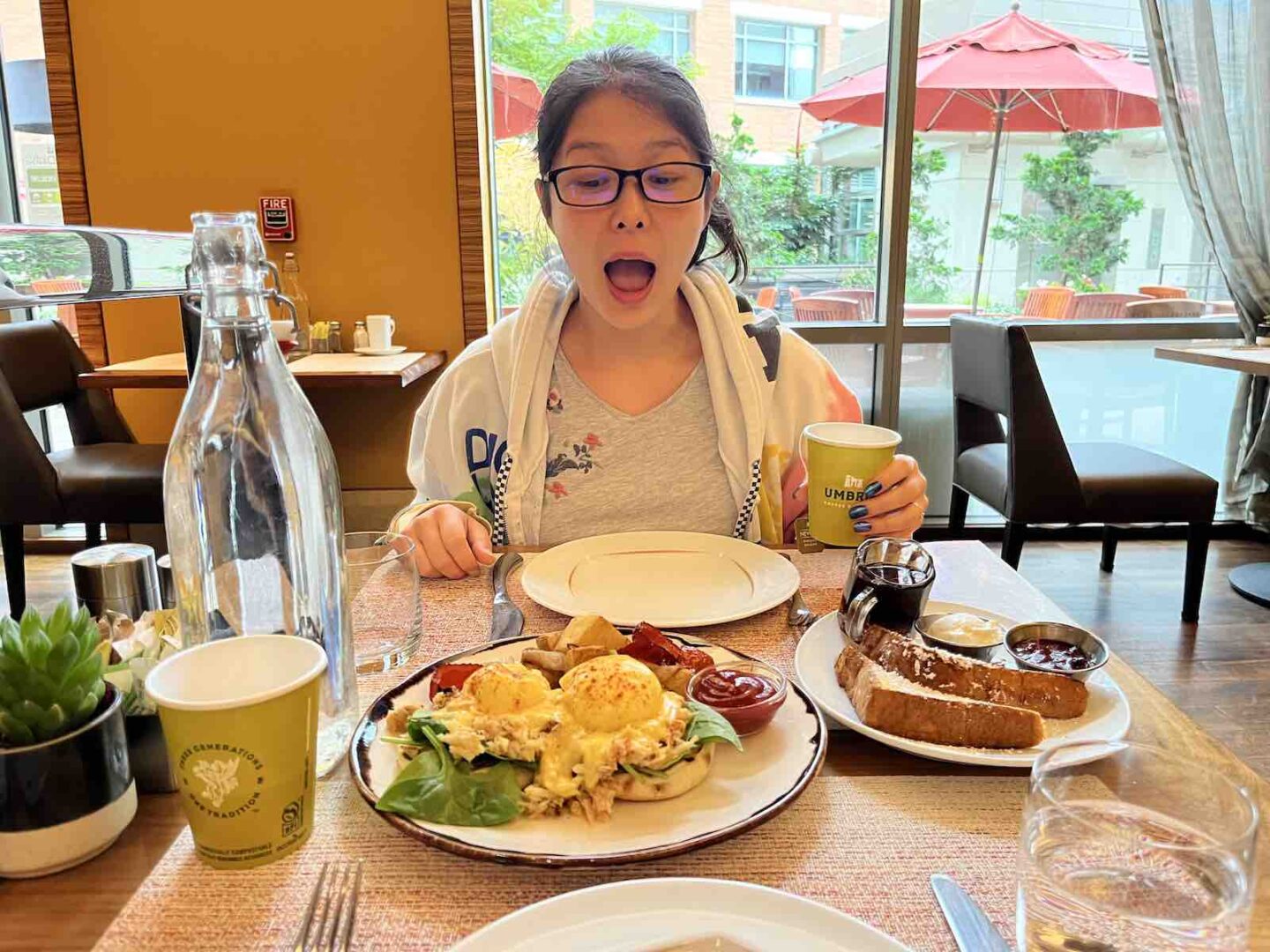 The first time we visited we saw the chef walk out and had to stop him to compliment him. He's one of the staff that we would say went above and beyond! Our final day in Seattle was Labour Day and we'd had our heart set on our Benedict + french toast brunch, but our hearts sank when we came downstairs to find the restaurant was closed.
After going on a wild goose chase of a hunt for a new brunch spot, we hangrily and dejectedly came back to the hotel to re-strategise. It was then that one of the porters saw how downtrodden we looked and asked us what was wrong.
We shared our woes, about how all we'd wanted was the Dungeness Benedict and the side of french toast again, and he was like, "You know, let me check with the chef, but I'm pretty sure you can just order brunch as room service. The restaurant is closed but you can probably still get room service!"
We'd actually checked out by that point already, but both the chef, porter and front desk staff made it work for us by punching in our order as a room service request, and since we'd already given up our room and the restaurant was empty anyway, we ended up being able to dine in the restaurant in the end. Wow. God was too good to us, and everyone was beyond gracious.
It turns out that a series of unfortunate events occurred so that the restaurant didn't have enough staff to open in the morning, but it was getting close to the end of what would have been lunch service, and the chef graciously said that if it's just those two dishes we wanted he could whip them up for us.
So we were able to enjoy the mouthwatering Benedict and french toast one last time. I'm salivating as I write this. No wonder it's been so hard to finish this post, I am continuously reminded of delicious food that I can't have! Lol.
Ugh, I can't recommend this place enough. The food is incredible and the staff go above and beyond. Can I go back tomorrow please? No? I guess you'll just have to go there for me then. Let me know what you end up getting!
Muchos love,
Bobbie