This post is totally overdue but I've been a bit off my posting schedule lately. I also probably shouldn't be writing this at 9pm during my fasting hours but I shouldn't keep delaying it.
You can read my first review of the restaurant here, my second review of the restaurant here, and my third review of the restaurant here.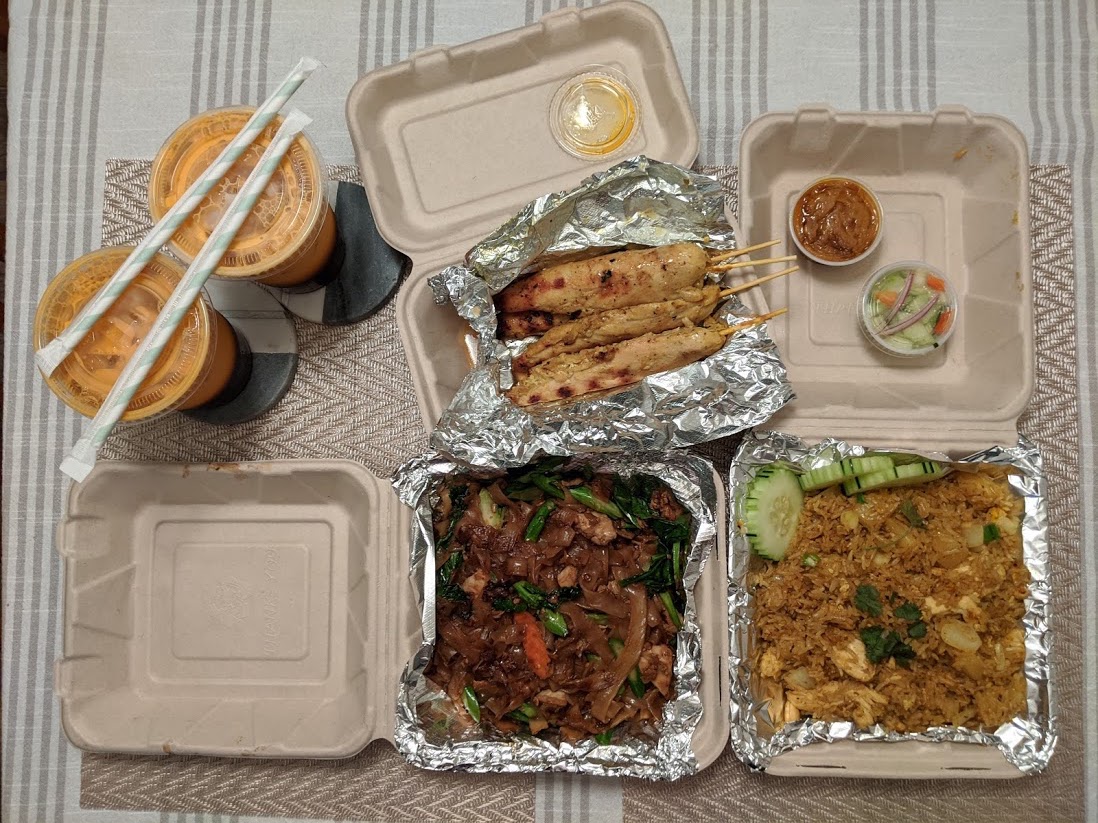 Restaurant: Ros Yi Nom, CA, Livermore
Delivery service used: The restaurant's own (free over $30).
Date ordered: 27th June, 2020
Dishes ordered:
Chicken Satay – $10.00 – 9.9/10
Pad See Ew Chicken – $12.50 – 8/10
Pineapple Fried Rice – $12.50 – 8/10
Thai Iced Tea – Free Gift <3 – 10/10
Okay so after we were quite put off from our last experience, we really went from ordering once a week to not ordering from them for an entire month… after which we decided we still wanted Thai food, and this place has been great 2/3 times, so we tried again.
Imagine our surprise when the delivery guy from the restaurant introduced himself as one of the chefs who worked there and gave us two free Thai Iced Teas as he'd read my reviews and learned that I had been disappointed last time. Awww! That was so nice of him. (First of all, wow, how did they know it was me?? Also, hello!!!! Thank you for reading my blog posts and reviews!)
Flavour: This one was a bit of a mixed bag, but we really appreciate that they were doing their best! You may have noticed that the Chicken Satay even increased by 0.1 point ;) That's because Jacky rated the chicken 10/10 this time — and believe me, he does not give this score liberally.
Again the chicken was juicy and tender. We really appreciated that they gave us a lot of the peanut satay sauce, but this time the texture was a bit coarse. You can see from the photo too that the sauce could have done with a little more blending – it was more chunky, and interestingly the colour was even darker than the previous times we ordered this too.
Either way, it seems like one dish they always get right is the Chicken Satay.
Again I'm wondering which chef cooked our mains today (kinda regret not asking the one who delivered it to us what the situation is! But I'm sure once restaurants re-open we'll go talk to them in person) because the flavour of the Pad See Ew was on the strong side, surprisingly.
It was a little heavy on the umami, and again if you compare to the first couple of times we ordered this the colour is darker than before. In addition, the chicken itself was on the drier side. I get it though, restaurants are still really struggling through COVID times so I'm sure it'd be extra super tasty if we were able to eat at the restaurant.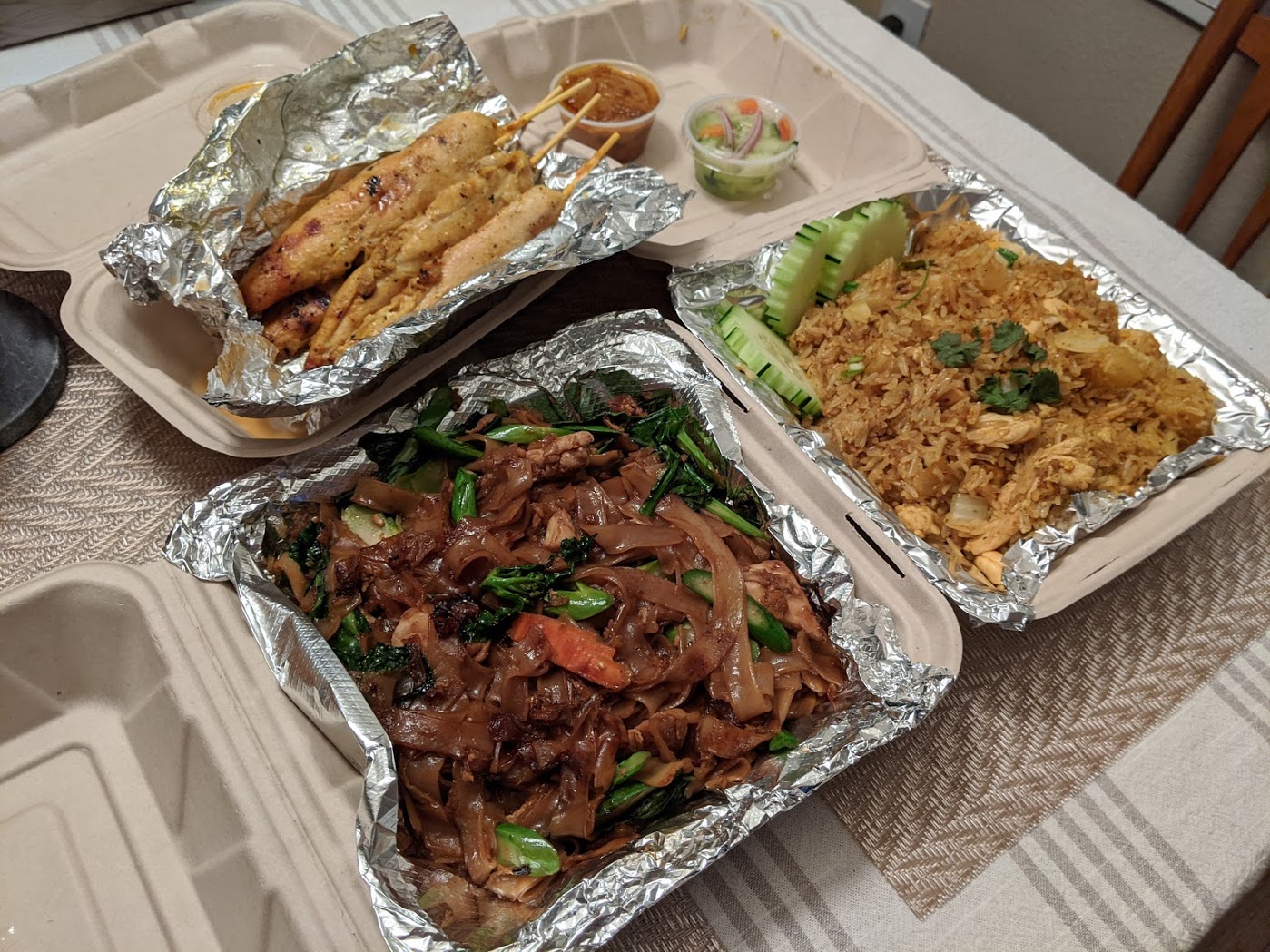 I'd probably say the same for the chicken in my fried rice. I didn't love it like I have done some of their other dishes, and although it was still a little dry, it definitely wasn't as dry as last time. Again, due to it being delivery, the dish wasn't very hot by the time it reached me so the flavours were a bit muted whereas fried rice should be eaten piping hot. It tasted much better when I reheated it the next day though, haha!
This is the point I started wondering if the chef had read more of my posts than just the reviews of his restaurant because for the first time in my life, I did not find the Thai Iced Tea too sweet. And that is saying something because at this point, I was already trying to cut sugar from my diet (which, judging by my notes in my bullet journal, I'd actually managed to do for the entire week prior to this) so everything with sugar in would have tasted extra sweet to me.
I just had to rate it 10/10. It was very refreshing, I thought it had the perfect ratio of ice:liquid, and it actually tasted of tea with a hint of vanilla and not, I dunno, pure sugar. I genuinely enjoyed the taste of their tea as well.
I'm guessing it was some form of black tea… with some form of milky substance, and obviously some form of sweetener that somehow accentuated rather than overpowered the taste… and, well, I'm a Brit, I love tea, and I really, really enjoyed this one. Thank you, chef, because I'll probably order it at one point as a special treat to myself once I lose 10lbs hahahahaha *sobs in overweight*.
Also I would like to take a moment to acknowledge their use of paper straws rather than plastic ones (same for containers) – thank you for taking care of the environment!
Value for money: 9/10
As usual the portion sizes were great (totally feel free to throw in an extra chicken skewer aaaanytime though ;)) and I am really grateful for their generosity in gifting us free iced teas! 10/10 for service!
Other: During this time of COVID, I just really want to encourage everyone to give local restaurants some extra love. They're going through a really tough time, and ones like Ros Ni Yom are just so delicious it would be tragic if they had to close down.
If we had the financial means we'd order from Ros Ni Yom, Shew Myanmar and Caraway Indian probably on a daily basis. Please support your local restaurants wherever possible!
Would re-order/consistency: 9/10
I think I'm going to stop posting reviews for this place because, well, my blog will probably be inundated with them otherwise haha. This is just going to be our go-to place for Thai food, and at this point I already know which dishes I like and which ones I don't. I may post new reviews if we venture out and try other dishes too, but for now I think this is enough.
If you like Thai food, order from here. Please let's keep it open! I LOVE FOOD. Trust my judgement. Here's their website, here's their online ordering page. Free delivery over $30. Go!
Overall Rating: 8.98/10